New Mexico's state bird, the roadrunner, is the basis of the famous cartoon character Road Runner, a bird that uses his speed and cunning to outmaneuver his antagonist, Wile E. Coyote. As I kid, I loved watching Road Runner and Wile. E. Coyote cartoons on Saturday mornings. From a travel perspective, Wile. E Coyote taught me a valuable lesson; poor planning trumps intelligence every time. If you're planning a family vacation to The Land of Enchantment, read Trekaroo's top 10 things to do in New Mexico with kids before you hit the ground running. Meep Meep!

We're an affiliate of Booking.com. When you book through us, you still get their lowest price guarantee and we get a few dollars. Thanks for helping to keep Trekaroo free.
10. Play cowboy and cowgirl at a ranch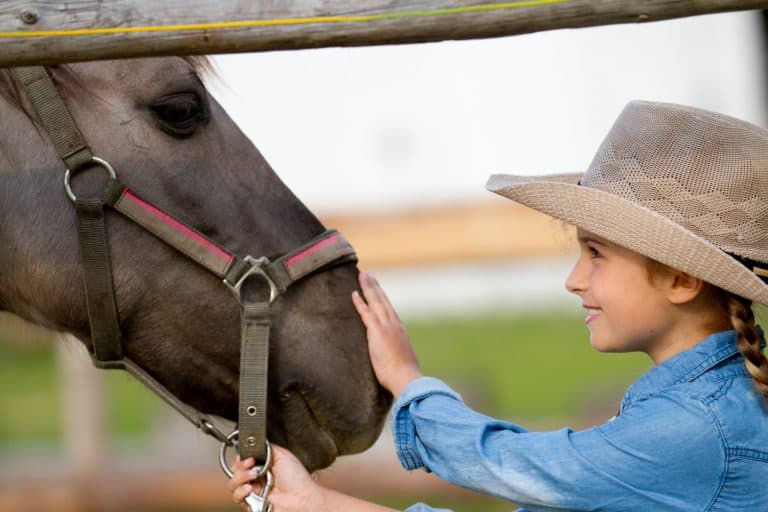 Photo by: Shutterstock
New Mexico Dude Ranches and Resorts offer guests a chance to experience the cowboy life. The historic Bishop's Lodge Ranch Resort & Spa (currently under renovation and set to re-open in spring 2019) offers a beautiful, upscale location in Santa Fe where generations have enjoyed horseback trail rides in the nearby national forest. Roadrunner Tours in Angel Fire offers a more rustic experience with family overnight trips including dinner, breakfast, and camping gear. Hyatt Regency Tamaya helps families get the most out of their visits through its Srai-Wi (My Children) family program. Children ages three through eight will have great fun riding a pony while friendly handlers guide them safely around the stables corral.
Read Trekaroo's list of New Mexico Chuckwagon Suppers & Western Shows.
9. Become an amateur UFOligist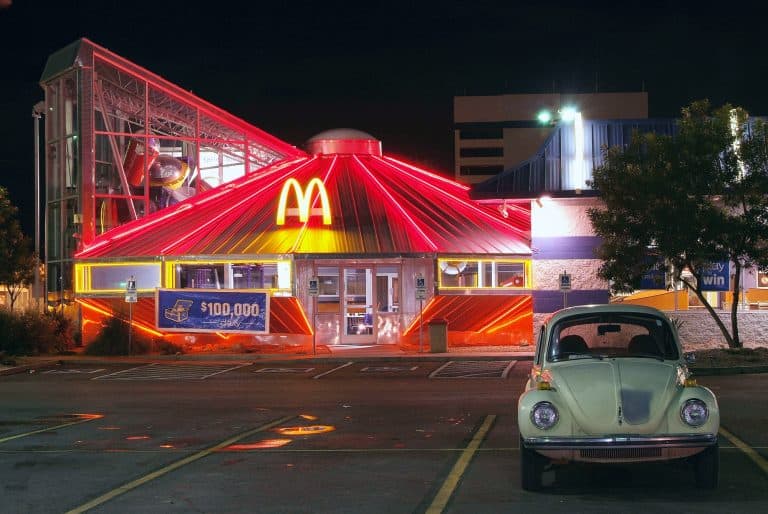 Photo by: Shutterstock
Celebrate the intrigue of the 1947 Roswell incident with UFOlogists, an alien costume contest, a motorcycle rally, fireworks, and an air show at the Roswell UFO Festival. The Robert H. Goddard Planetarium presents a variety of free shows for both children and adults featuring the constellations, planets, and other celestial sights on a regular basis.
Read more about New Mexico's National History, Science & Space Museums.
8. Ski Taos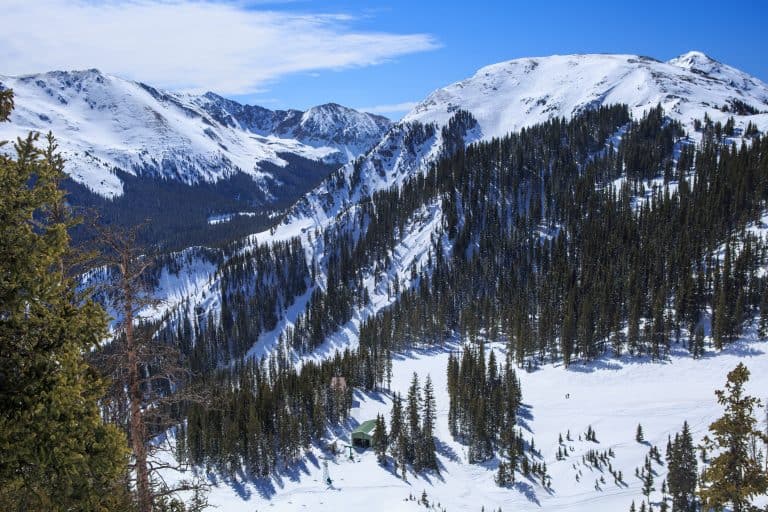 Photo by: Flickr/MurrayFoubister
Taos Ski Valley, located at the southernmost subrange of the Rockies in northeastern New Mexico, is legendary for its steep slopes and high altitude of over 9,200 feet. It's one of the few places in the Southwest that gets enough snow for skiing. The views are stunning, the pine trees majestic, and, like many of New Mexico's most beautiful locations, it's remote. The drive up to Taos Ski Valley is quite the adventure in itself; the mountainous road winds past many of Taos' adobe-style mud homes, pueblos built from the solid red earth beneath.
Find a spot to rest your head in Taos, New Mexico.
Read about a Trekaroo family's experience skiing in Taos, Ski School: Learning to Ski as an Adult at Taos Ski Valley.
7. Stand in four states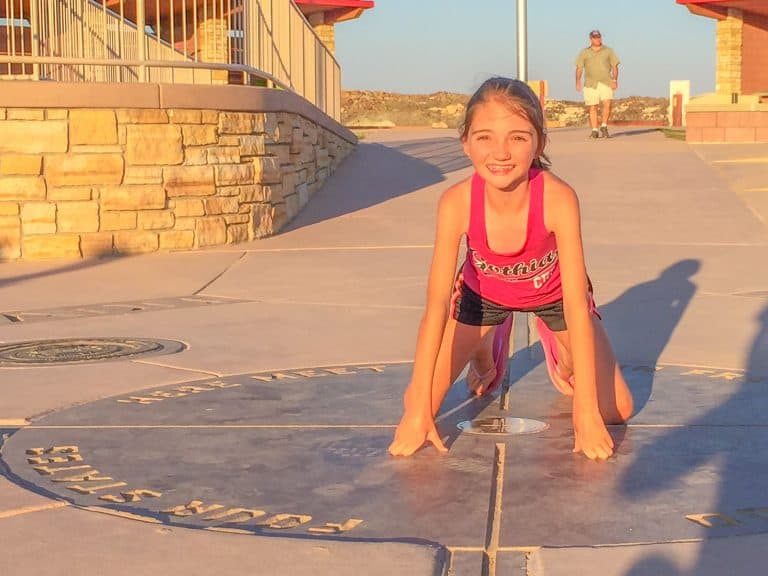 Photo by: Sharlene Earnshaw
Four Corners Monument marks the point where the states of Arizona, Colorado, New Mexico and Utah meet. It's the only point in the United States shared by four states. Anyone and everyone with a United States travel bucket list travels out to this remote point for the classic photo op.
Check out Trekaroo's Top Ten Things for Families to Do in Arizona, Utah, and Colorado.
6. Slide down a sand dune at White Sands National Monument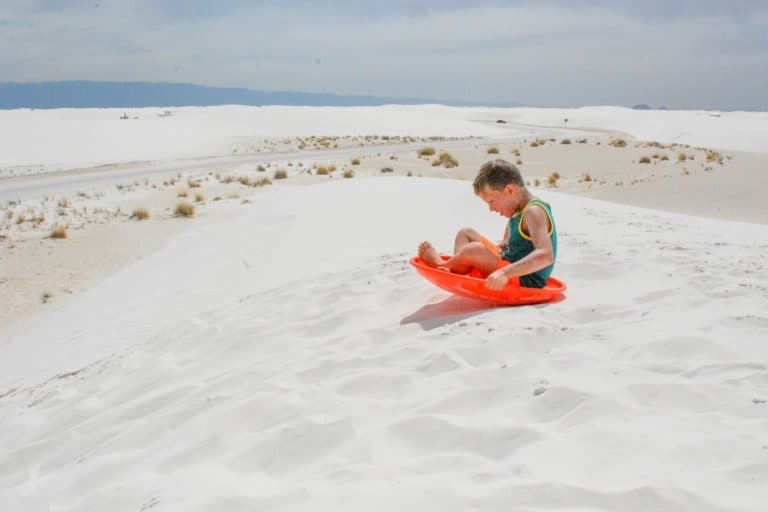 Photo by: Melissa Moore
At White Sands National Monument you can climb to the top of the dunes for a photograph and then sled down on a plastic snow saucer purchased from the park gift shop. Even with the bright sun beaming down, the pure white gypsum sand stays surprisingly damp and cool. With dune after dune, this is the perfect place to simply let the kids play; go fly a kite, make "sand" angels, run, roll, or slide down the dunes.
To plan your adventure, check out what you need to know when visiting White Sands National Monument.
Feeling nutty for snow? Read where to go sledding/tubing in New Mexico.
5. Climb inside cliff dwellings at Bandelier National Monument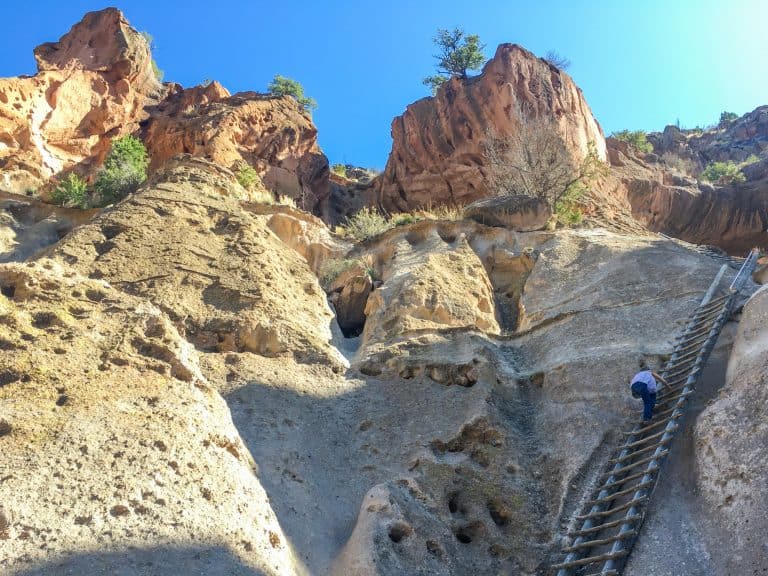 Photo by: Melissa Moore
Bandelier National Monument offers up-close views to ancient cliff dwellings and 11,000-year-old petroglyphs. For adventurous older children, the highlight is climbing steep, nearly vertical ladders up into the Alcove House. If you have a fear of heights or have tots in tow, there are plenty of reconstructed cavetes that even the littlest explorers can reach using ladders only a few rungs high. Rarely have I seen my children experience so much joy while learning about history as they did exploring the rocky dwellings at Bandelier National Monument.
4. Discover the petroglyphs and views at El Morro National Monument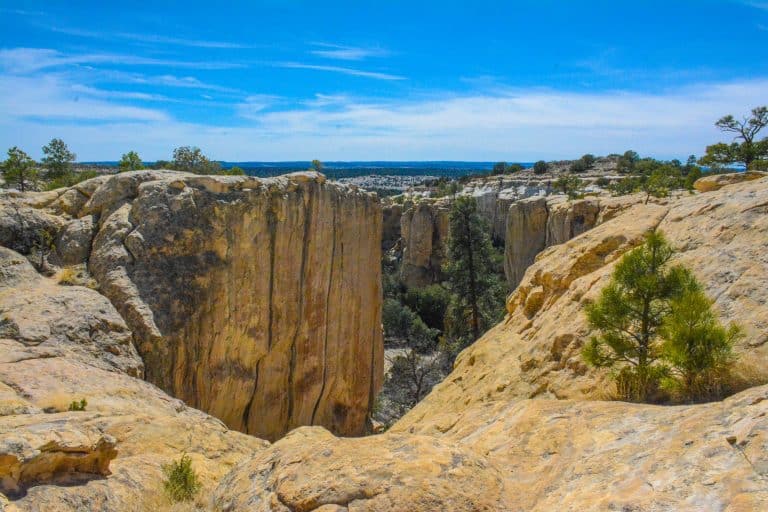 Photo by: Melissa Moore
There are over 2,000 inscriptions carved into the sandstone bluffs at El Morro National Monument. These range from ancient petroglyphs created by ancestral Puebloan people hundreds of years ago to Spanish poetry artistically and carefully left behind for future travelers to enjoy. The national park visitor center at El Morro provides hikers free laminated guides to borrow that translate over a dozen of the more recent inscriptions. It is intriguing to read words, phrases, and dates left behind by travelers centuries ago.
Adventurous families won't be able to resist the rocky trail along the top of El Morro's scenic bluffs. The trail atop the bluffs afford some far-reaching views of the valley below and the Zuni Mountains all around. There are also excavated Atsinna ruins dating back over 700 years up on top of this striking rock in the middle of the desert.
Petroglyph National Monument in Albuquerque, about two hours east of El Morro on I-40, is another beautiful place to see ancient petroglyphs. Take a hike, enjoy the beautiful sunset, and examine the estimated 24,000 carved images residing here.
There are many national monuments scattered across the region. One Trekaroo family took a road trip to visit several of them. Read about their experience, Epic Southwest National Parks Road Trip with Kids.
3. Ascend to new heights in
Albuquerque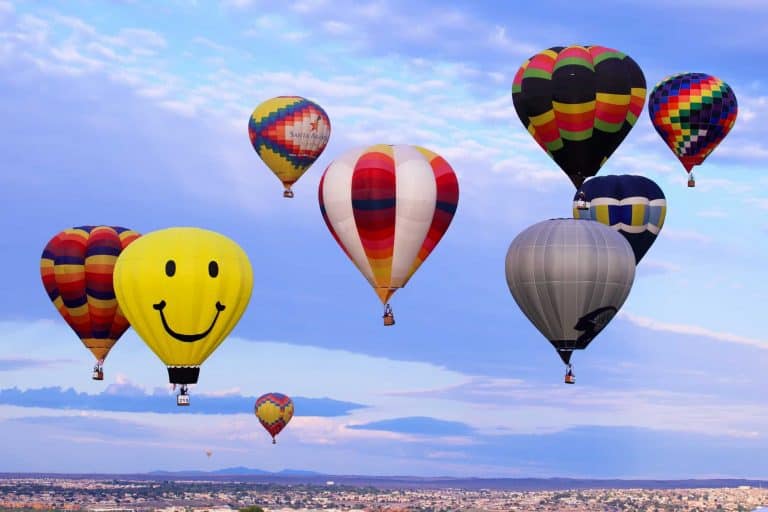 Photo Credit: Shutterstock
Take to the sky for the ride of your life. With all of the ballooning activity in New Mexico you have several balloon ride companies from which to choose; in Albuquerque, Rainbow Ryders offers families the chance to drift over the Rio Grande Gorge. How about 600 hot air balloon rides launching all at once? The Albuquerque International Balloon Fiesta is a world-renowned attraction and destination for kids of all ages. For more than three decades, the first week in October brings once in a lifetime photo opportunities as hundreds of hot air balloons sail silently through the crisp fall air. Besides the balloons, there are bands, children's acts, fireworks shows, and interactive education at the Balloon Discovery Center.
Back on the ground, Albuquerque is a town full of "not to miss sights." Explora Science Center and Children's Museum combines the best of science and pure kid fun. The ABQ BioPark is comprised of Rio Grande Zoo, Botanic Garden, Tingley Beach, and the Aquarium. At Aquarium Overnight, parents and children sleep next to the sharks!!
Find the best hotel deals in Albuquerque, New Mexico.
2. Eat Sopapillas and Chile Rellenos in Santa Fe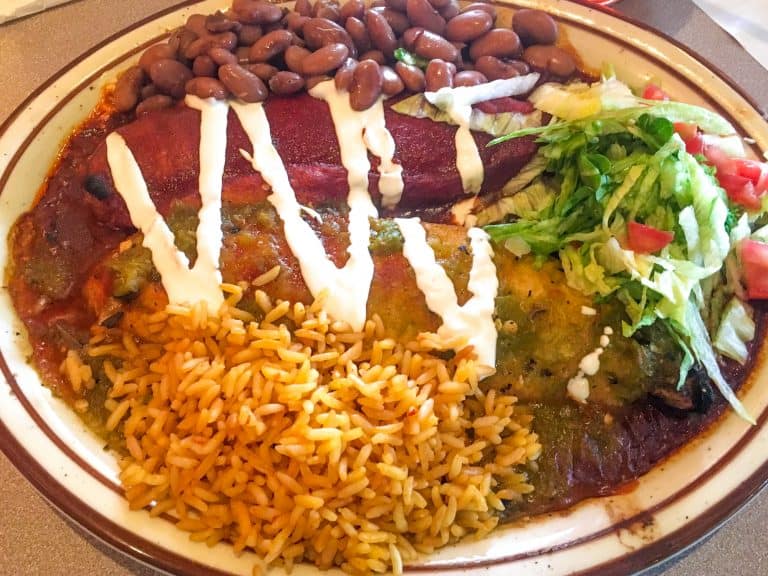 Photo by: Melissa Moore
New Mexico has a cuisine all its own and the best place to indulge is in Santa Fe. The food is inspired by local Native American tribes as well as Mexico just across the border; it is also uniquely spiced with the state's famous chili peppers. My kids loved drizzling honey on their sopapillas before every meal; this traditional fry bread is served in most restaurants as an appetizer — but, don't fill up before the main entrees come out! My best advice: eat chile rellenos and enchiladas whenever you have the opportunity; you won't be disappointed.
People in Santa Fe sure know how to celebrate their history! In early summer, kids can join in on the crazy fun at Rodeo de Santa Fe. This traditional old-time rodeo features a parade and kids' events such as "mutton busting" (little ones ride a sheep) and a hilarious calf scramble (kids try to catch a calf for a prize). However, Santa Fe is fun for the kiddos year around. At the Santa Fe Children's Museum, kids learn water conservation and ecosystems through interactive exhibits. Families can also visit El Rancho de las Golondrinas (The Ranch of the Swallows), is a ranch turned living museum that recreates 18th Century Spanish colonial ranch life. Guides are dressed in period clothing and demonstrate how people once lived.
Looking for ideas on where to enjoy Santa Fe's art scene with kids or where to stay? Check out Trekaroo's Top Five Things To Do Near Santa Fe with Kids and Santa Fe with Kids: For Artisans and Adventurers
1. Go deep underground at Carlsbad Caverns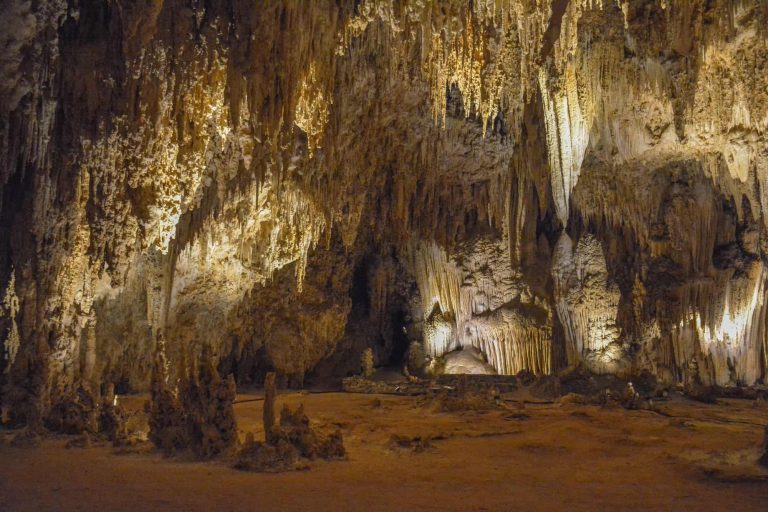 Photo by: Melissa Moore
Set in limestone that predates the dinosaurs, Carlsbad Caverns National Park is full of archeological treasures, from fossilized prehistoric plant and animal life to Ice Age native artifacts. The caverns are a full day's drive from any other major attractions but are well worth the long journey. All visitors should tour the main section of the cave, the Big Room. Carlsbad Caverns offers 6 guided tours. Minimum age requirements differ for each tour. Good times to visit are either spring or fall when the desert is in bloom. From May through October, you'll see more than a quarter million Brazilian bats spiral up from the sky at sunset to hunt for dinner each night.
Visit Carlsbad Caverns National Park and stay at these family-friendly hotels!
Read Trekaroo reviews of Carlsbad Caverns National Park.
See more about things to do in New Mexico:

Lead image by: Bigstock/Cascoly
What state do you want to visit next?
From coast to coast, we're determining the Top 10 Things to do with Kids in each state of our great nation. Head here to see what tops the list in your favorite state.
SaveSave
SaveSave
SaveSave
SaveSave
SaveSave
SaveSave
SaveSave
SaveSave
SaveSave
SaveSave
SaveSave
SaveSave