Last Updated on
Trekaroo generates revenue from purchases made through links to our partner brands.
Kentucky can't wait to roll out bluegrass-covered hills and Southern hospitality to welcome you to their state. Among the big cities and the charming small towns, you will find much to discover: outdoor adventures, history, museums, and horses are just a few of the journeys that await you.
10. Enjoy Hot Brown and Derby Pie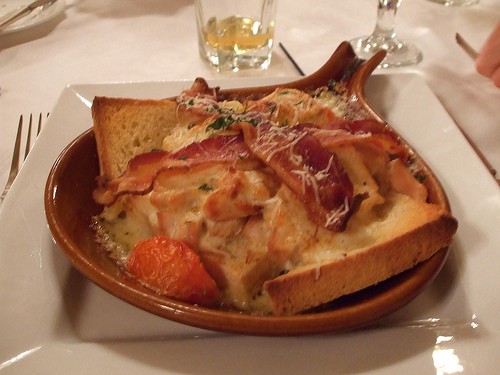 Photo by: Flickr/Gavin St. Ours
What are Hot Brown and Derby Pie? I'm glad you asked because I had no idea myself. When I was cooking up ideas for this article I was told you won't find these dishes outside of Kentucky and you must give them a try. The Hot Brown, an open-faced sandwich dish of turkey, bacon, and Mornay sauce, originated at the Brown Hotel in Louisville in the early 1900's, and this is still the place you want to enjoy this meal! Derby pie, a chocolate nut pie, was created more than 50 years ago as the specialty pastry at the Melrose Inn. The recipe took a long time to create and has been kept top secret. One may try but never succeed at duplicating the original! Pie lovers can be enjoy a slice of the original distributed by Kern's Kitchen at restaurants across Kentucky such as The Old Spaghetti Factory, Mammoth Cave Hotel, and Lotsa Pasta.
Tell us about your favorite restaurant.
9. My Old Kentucky Home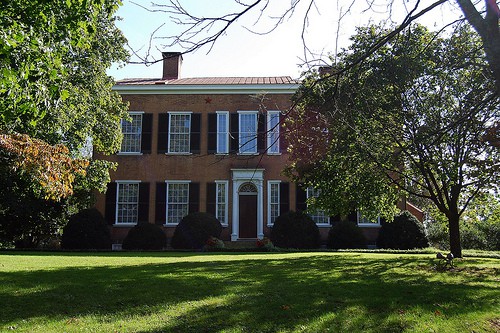 Photo by: Flickr/Patricia Drury
Federal Hill Mansion, affectionately known as "My Old Kentucky Home," was made famous by Stephen Foster's ballad which went on to become Kentucky's state song. The home was originally part of a plantation where Stephen Foster's uncle resided. This famous landmark represents Kentucky on the back of the quarter. The mansion is located in My Old Kentucky Home State Park where visitors can not only tour Federal Hill but also take in a show at the outdoor theater, browse local crafts at the gift shop, play a game of tennis, go birding, or spend the night camping.
While in the area, explore the Civil War Museum of the Western Theater, the fourth largest Civil War Museum in the country. If you are looking for something a little different and don't mind a splurge, take a ride aboard the Kentucky Dinner Train. You will embark on a scenic train ride while being served a delicious dinner or lunch.
Have you visited the Bardstown area? Leave your reviews and help other Trekaroo families find great spots to visit.
8. Visit Kentucky's First Settlement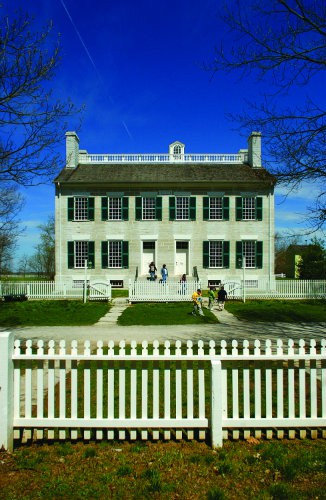 Photo Courtesy of Harrodsburg/Mercer County Tourist Commission
Harrodsburg, KY was settled in 1774; it was the first permanent English settlement west of the Allegheny Mountains. It remains a small town rich in history and offers families plenty to do. The Shaker Village of Pleasant Hill takes guests back in time as you explore this living history village. Costumed interpreters will impart their knowledge of the Shakers and provide demonstrations of crafts and trades of the times. While there, be sure to take a river cruise aboard the Dixie Belle Riverboat. At Old Fort Harrod State Park visitors can visit a replica of the fort James Harrod built in 1775. From April through October, costumed interpreters demonstrate pioneer crafts. For families looking to have some old-fashioned fun, pull into the Twin Hills Drive-In and watch a movie on the big screen. For a real throw back, visit Dedman Drug Store on Main Street and pull up a seat at the original soda counter.
Book your room in Harrodsburg.
7. Stay in a Houseboat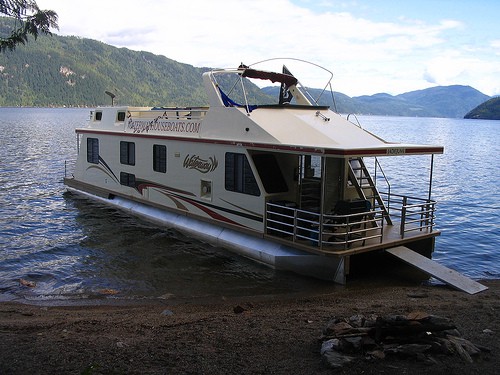 Photo by: Flickr/plusgood
Kentucky has some large and beautiful lakes to explore. What better way to do that than by actually staying on the lake? A houseboat can offer you all the comforts of home along with the beautiful scenery and serenity found on the water. Boats come in different sizes, feature different amenities ranging from basic to luxury, and guests will be provided with all the information on how to operate the houseboat upon boarding. Families will be able to cruise by day and find a cozy little cove to anchor in at night. For convenience, guests may want to consider renting a personal water craft to go ashore for site seeing or necessities without having to dock. Dale Hollow Lake is a large, picturesque lake located in South-Central Kentucky on the Tennessee border. While aboard your house boat enjoy fishing, swimming, and water sports, or dock and explore the shores. Lake Cumberland State Dock rents houseboats on Lake Cumberland which offers 1,200 miles of shoreline, beautiful waterfalls, and secret coves. Green River Lake features some of the best bass, muskie and crappie fishing amid the clear waters.
Find other unique lodging options across the US.
6. Visit the Niagra of the South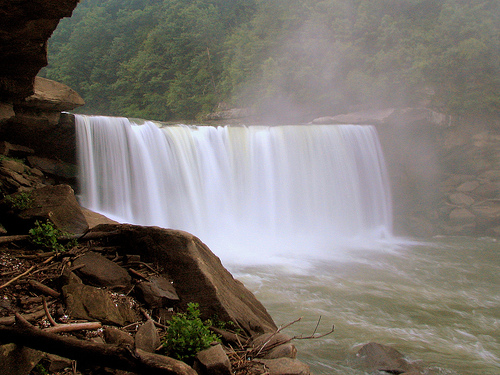 Photo by: Flickr/SeeMidTN.com (aka Brent)
Cumberland Falls, located in Cumberland Falls State Park, is known as the Niagra Falls of the South. This beautiful water fall is 68 feet tall by 125 feet wide and offers a look at a stunning and rare moonbow visible during the full moon. Aside from the beauty of the falls, there is plenty for families to do within the park. There are over 17 miles of trails to hike and explore, a pool to swim in, picnic areas with grills and playgrounds, tennis courts, stables with horseback riding, and fishing in the Cumberland River. For the adventurous outdoor lover, book a rafting trip! For those wishing to extend their stay, overnight accommodations can be arranged at the campground or book a room in the Dupont Lodge.
5. Land of Lincoln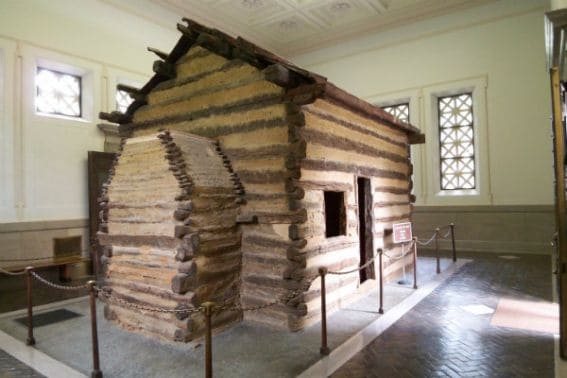 Photo Courtesy of National Park Service
Do you know where the famous president Abraham Lincoln was born? Right here in Kentucky. You and your family can visit Abraham Lincoln's Birthplace and learn more about him and the area where he grew up. Children of today will be amazed at how small the cabin is compared to the homes we live in today. Take in the video presentation at the visitor center, visit the spring where his family drew there water, and visit Lincoln's childhood home in Knob Creek. These sites are located in a national park so be sure to check out the Ranger Programs, hiking trails, and picnic areas.
Find a nearby hotel to rest your head.
4. Learn the History of Horses
Photo by: Flickr/Heather Moreton-Abounder Photography
The Kentucky Horse Park is the largest tourist attraction in the Bluegrass Region of Kentucky. It is owned and operated by the state of Kentucky and dedicates itself to sharing its love of horses through live presentations, rides, movies, shows, and special events. Take a horse drawn trolley tour and learn some history of the park. For a more in depth tour, visitors can sign up for a van farm tour and get a behind the scenes tour of the facility. If you've always wanted to try your hand at riding, here is your chance. Visitors can embark on a trail ride or, for the youngest of visitors, a pony ride. Beautiful sculptures adorn the park appealing to both horse and art lovers alike. In addition, you can learn more about the history of the horse by visiting the International Museum of the Horse.
Discover some other activities in Bluegrass Country.
3. Take in the Races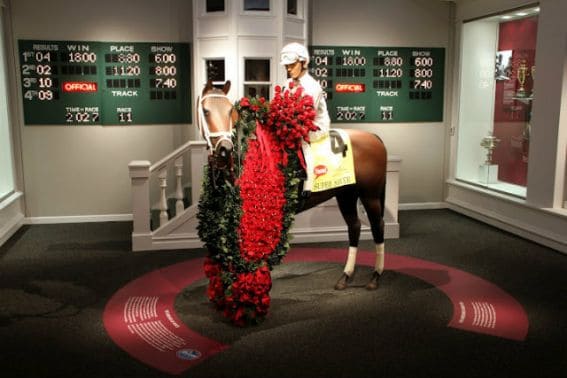 Photo Courtesy of the Kentucky Derby Museum
Horse racing has a long and rich history in Kentucky, dating back to the late 1700's. I've been told by a Kentucky insider that a trip to Churchill Downs or Keeneland is worth the visit, even if it isn't a race day. Historic Churchill Downs opened in 1875 and is home to the famous Kentucky Derby. The racetrack features Family Fun Day each Sunday during the Spring Race Meet. Kid's activities occur in the Paddock Pavilion and include story time, a walking tour through the garden to visit the resident miniature pony, bingo, and more. Located on the front steps of this historic spot is the Kentucky Derby Museum. Here, visitors can explore two levels of exhibits and take a Historic Walking Tour of Churchill Downs. Additional tours are available that offer looks behind the scenes and at the barns.
Keeneland Thoroughbred Racing is another racetrack that offers visitors a great experience. Their race season is in April and October. On race days they invite you to arrive early to take in the morning workouts. During race season visitors can also enjoy their Saturday Morning Breakfast With The Works program. They are open all year for self-guided tours and breakfast at the Track Kitchen. Stop by to browse their gift shop or visit the library.
Find more Vacation Spots for Kids Who Love Horses.
2. Discover Baseball's Greats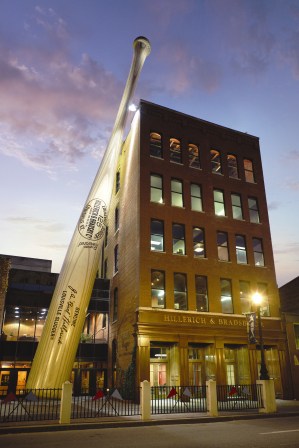 Photo by Hillerich & Bradsby Co., Courtesy of Louisville Slugger Museum
Every request I made on family friendly activities in Kentucky led me to one place: Louisville Slugger Museum and Factory. Bats are produced seven days a week in the factory and guests have the opportunity to take a guided tour to see the process. You will even go home with your own miniature version! Catch the short film The Heart of the Game and visit the galleries and exhibits where visitors will explore all sorts of memorabilia including the Louisville Slugger used by Joe DiMaggio during his 56 game hitting streak. Guests mingle with life-like sculptures of some of baseball's greats such as Babe Ruth, Ted Williams, and Derek Jeter and kids will enjoy climbing all over the 17 ton Glove Sculpture. You can even step into a batting cage and try out your swing! Outside, as you stroll down Main Street, discover the Walk of Fame featuring some of baseball's best players. Each player honored has a bronze cast of the Louisville Slugger bat they used and a home plate featuring their career stats. After you are done exploring here, be sure to take in a game at Louisville Slugger Field.
Do you have your own favorite baseball destinations? Try your hand at creating a list to help other Trekaroo families find the best spots.
1. Explore Mammoth Cave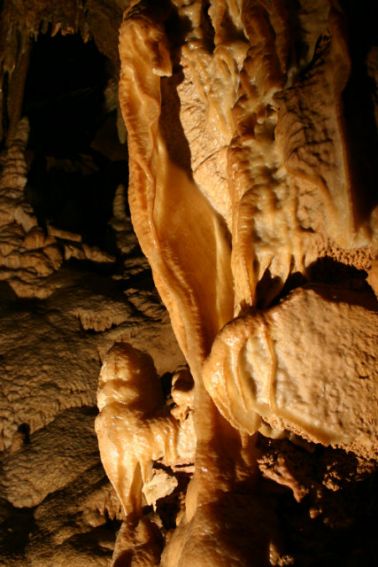 Photo Courtesy of National Park Service
Mammoth Cave National Park offers plenty to do for the nature enthusiast. One of the highlights here is embarking on a cave tour. Many different tours are available varying in length, difficulty, and areas covered: there is a tour for everyone! The Frozen Niagra Tour is perfect for small children and those who can't walk very far, while the Trog tour is a kids only tour for those ages 8-12 years. There is plenty to do above ground as well. If you like to camp, there are three campgrounds to choose from as well as backcountry camping available. If pitching a tent isn't your thing then be sure to look into Mammoth Cave Hotel. Along the rivers there are many recreational opportunities including fishing, canoeing, or take a ferry ride. There are miles upon miles of trails to explore on foot, bike, or horseback. Don't forget to check out the Ranger programs!
We've got you covered on National Parks. Check out tons of tips and tricks for your kid-friendly National Park vacation.
Lead Image by: Bigstock/SeanPavonePhoto
What state do you want to visit next?
From coast to coast, we're determining the Top 10 Things to do with Kids in each state of our great nation. Head here to see what tops the list in your favorite state.