Many travelers focus on the Black Hills and the headliner parks of western South Dakota, and rightly so, it's lovely there! But, on the eastern side of the state, there are lots of great things to do in Sioux Falls with kids Hugging the border of Minnesota, Sioux Falls offers a grab bag of family fun including indoor and outdoor adventures for all seasons.
Explore more of the state! Here are our favorite things to do in South Dakota with Kids.
Things to Do in Sioux Falls with Kids
Washington Pavilion
Washington Pavilion is centered in the downtown area of Sioux Falls and offers a myriad of entertainment and innovative fun. What was once a high school building was transformed into a one-stop entertainment and learning facility in 1999. This complex is filled with indoor kid activities.
The Box Office is your key to enjoying live dance and theater performances at the Husby Performing Arts Center. Performances at the venue include Broadway headliners and beloved classics as well as Wellmark Family Series designed for family-friendly matinees and school trips.
Washington Pavilion also includes the interactive Kirby Science Discovery Center, a planetarium, and the Wells Fargo CineDome with not only mainstream media but also thought-provoking documentaries and traveling features.
The historic building is vast and can't be missed from the street. Huge (and small) dinosaurs and a physics demonstration with an actual car await in front of the entrance.
The science center is impressive, even for the older kids, with over 100 exhibits. There are four stories of discovery and fun, with highlights such as the dino quarry dig on the third floor along with the farm and dairy room. The South Dakota state facts learning stations are vibrant and fun.
A tornado simulator is sure to thrill; it's like a phone booth with winds gusting and swirling to around 80 miles per hour. iIt will tangle your hair and touch a nerve if storms are one of your fears.
The fourth floor features a health and body station which engages the kids in tactile learning with giant demonstration areas relating to human body and health concepts.
We spent so much time in the science centers many levels that we didn't have the time to squeeze in performances or movies into our Saturday, but we were really interested in several of the showings in the Wells Fargo CineDome. Plan well so you can really take in all the areas of Washington Pavillion– or just dedicate more than one day to explore!
Spend some time charting your course for adventure by checking out the calendar of events, laying out dates for performances, free admission, and what's playing where and when.
Trekaroo Tip: The first Friday of every month is free!
Falls Park
A simple and idyllic afternoon can be spent frolicking amongst the rocks and water of Falls Park. Summer can be a tad humid in this region, but autumn is lovely and doesn't have the same thick air.
The Park is open from 5am until midnight. There is a farmer's market open on Saturdays. The five-story viewing tower and Visitor's Center offers sweeping views of the park and much of the city. The site is year around and only closed on major holidays.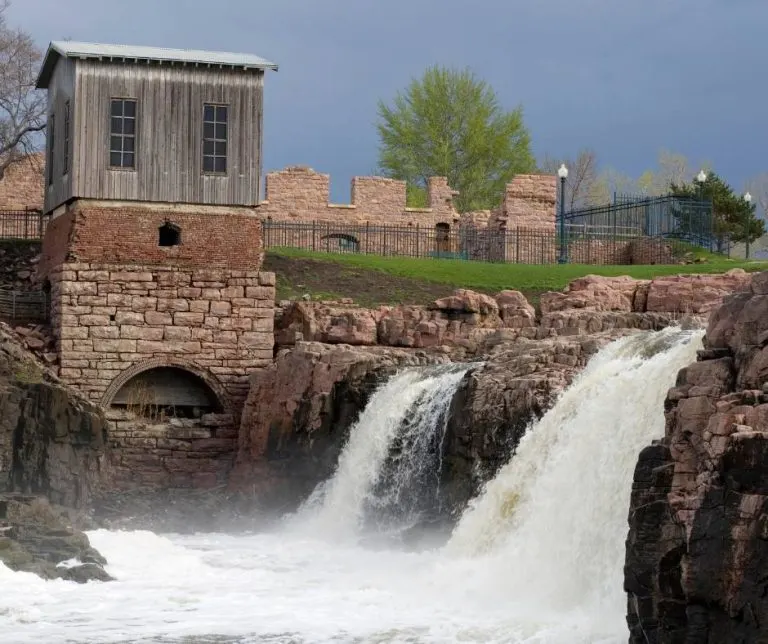 The Overlook Cafe is our favorite while visiting the neighborhood. The restaurant and ice cream shop has a small but flavorful lunch menu, including street tacos which are truly delicious. All the plates are well-crafted, and an assortment of beer and beverages are offered alongside the scooped ice cream offerings and a kids menu.
If you're hoping to catch a lunch break or ice cream, pay attention to the hours of operation and plan ahead. The cafe has condensed hours and closes for private events. Check out the Visitor's Center website for more.
Great Plains Zoo & Delbridge Natural History Museum
One doesn't expect to step into Africa or the Outback while in the heart of the Midwest, but the Great Plains Zoo delivers visitor encounters with these far flung exhibits and animals at each turn. The delightfully detailed motifs illustrating each geographic zone inside this super accessible zoo makes it a mini Disney's Animal Kingdom experience without the coasters, of course, though there is a train and carousel.
The Black Rhino enclosure really captivated us. In speaking with one of the friendly zookeepers, we discovered that rhinos are like giant puppies! The residents, Jubba, Imara, and Komati make up a small rhino family.
The animals are worked with constantly and can perform activities which could be considered "tricks" – like raising a foot or presenting their tongue, but these maneuvers, carefully practiced and learned over time, are integral in helping the veterinarians and keeper staff administer routine health checks to the giant creatures.
The zoo hosts Rhinopalooza, a special event to give visitors more insight and interaction with these very cool animals.
Another spot which has such detailed and vibrant themed infrastructure is the Fortress of the Bears area. Many bears lumber around the area and large totems line the perimeter. After visiting Sitka, Alaska, this enclosure looks like it was plucked from the rainforests of Alaska and placed in South Dakota; it's really a great display.
The Delbridge Natural History Museum is a collection of taxidermy work and specimens from around the world on display inside the entrance building and also has a gift shop. The mongoose enclosure has a viewing bubble to pop your head in and the little mammals (which are not rodents) are rather inquisitive and may interact while you're inside the clear dome.
There are a plethora of events to participate in at the zoo, so make sure to take a look at the schedule of special events and the calendar on their website, so you don't miss Zoo Boo or another signature event sure to make lasting memories and encourage conservation themes to ponder.
Country Apple Orchards
The Country Apple Orchards, south of Sioux Falls by only a few minutes drive is a historic apple orchard established in 1984. The U-Pick apple orchard has thousands of apple trees on 50 acres of land ripe for autumn adventures!
During the fall harvest season, there is no better place to be for apples to pumpkins and family fun festival events for weeks on end! As their website states: Country Apple Orchards are more than just apples!
Surprisingly, this has the vibe of an apple orchard, pumpkin patch, and county fair all combined. The parking area speaks to the popularity of this ephemeral family festivity, with parking attendants to help guide you to a spot in the open field for vehicles.
Food trucks, cotton candy, and apple everything delight your senses as you enter the admissions area and pass by all the delicious options for snacking (or feasting.)
Petting zoo areas and pony rides, along with motorized fun like a lawnmower kiddie train will keep kids smiling. Hay bale mazes are a mainstay in midwestern fall fun and are not absent from the Fall Festival.
The corn pit is a favorite spot for kids and their grown ups because it's a huge area covered by a shaded tent and therefore is nice and cool in the hot sun. A hay ride around the orchard will give you a lay of the land in laid back, traditional farm fun style! Kids (and maybe adults, too) will love trying the apple cannon! You read that right!
There are several seasons of celebration here. October is when you'll play and roam during the end of the season, savoring the sunshine before winter and passing pumpkins positioned all over the property. Before that, apples are the main event. If you want to take part in orchards and apple picking, this is best done in the early fall.
Fall festival is every weekend in September and October.
Butterfly House and Aquarium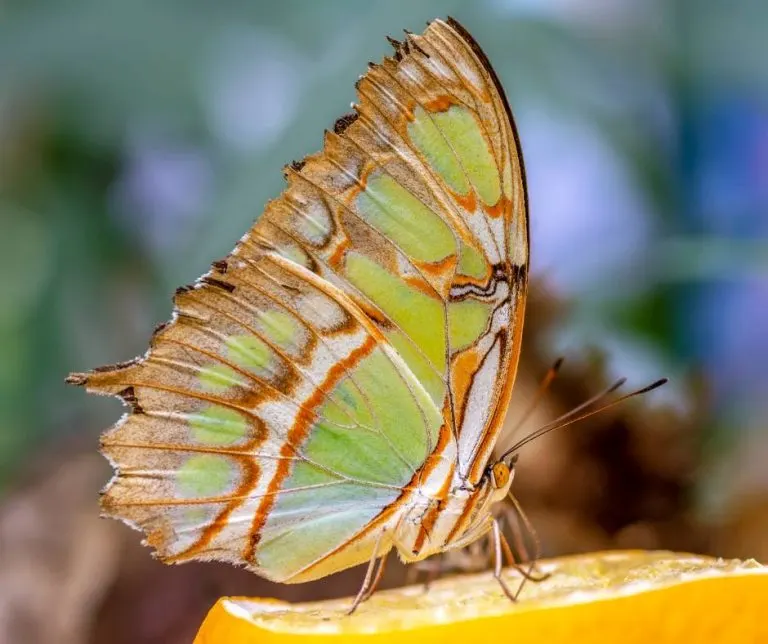 If you're interested in having many varieties of butterflies flutter by and perhaps even intimately land upon your hand or head, this is the activity for you!
The Sioux Falls Butterfly House & Aquarium features opportunities for visitors to learn and interact with butterflies and aquatic life.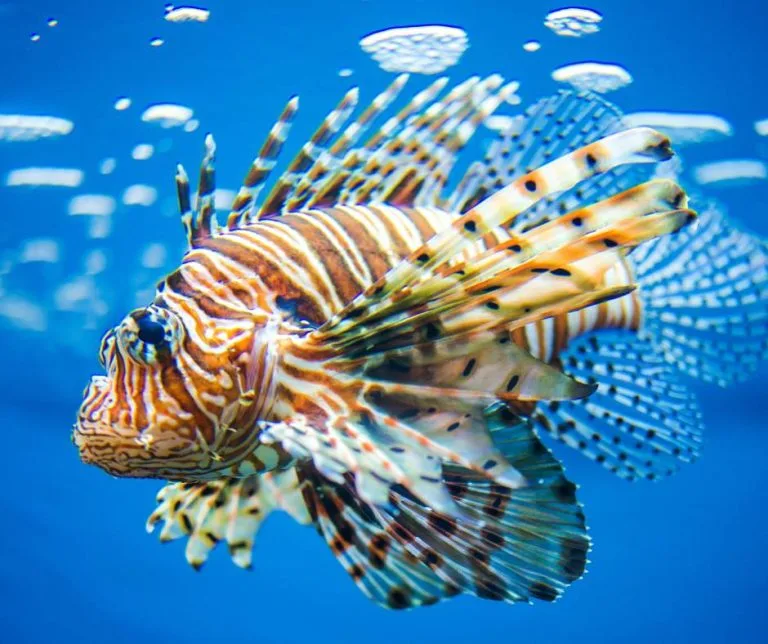 The touch pools are inconsistently open depending on the day of the week and trained staff being available. Make sure to call ahead and check whether that aspect of the aquarium will be available the day you want to visit.
A surprisingly thorough display and information in the aquarium makes it an easily self-guided learning experience. It is a small aquarium but what it does offer the site does well!
The butterfly enclosure is tropical, allowing you to step into the rainforest from the prairie landscape outside. Purchasing artificial flower pods is a must! A volunteer in the rainforest butterfly habitat will fill your vial with nectar to attract butterflies to you!
Allow one to two hours to see the property and experience the butterflies and fishes.
Palisades State Park
If you've ever imagined adventuring around the Floating Mountains of Pandora, this craggy spot hidden in the cornfields of Southeastern South Dakota might be a pretty close comparison on earth. The Palisades State Park literally manifests from a flat landscape. You wouldn't know it was there for afar unless you were flying above.
Fair weather travel to the area is best done with an overnight stay in one of the state park cabins (think primitive, KOA camping cabins) so that you can awaken with the sun and skip out to Split Rock Creek and the surrounding trails before the afternoon crowds descend.
Weekends in the summer will book well in advance, especially Father's Day weekend, in which the SD State Parks typically have special events. It's not uncommon for the limited cabins to be rented six months in advance or more. Consider it like booking your Disney lodging, do it as early as possible!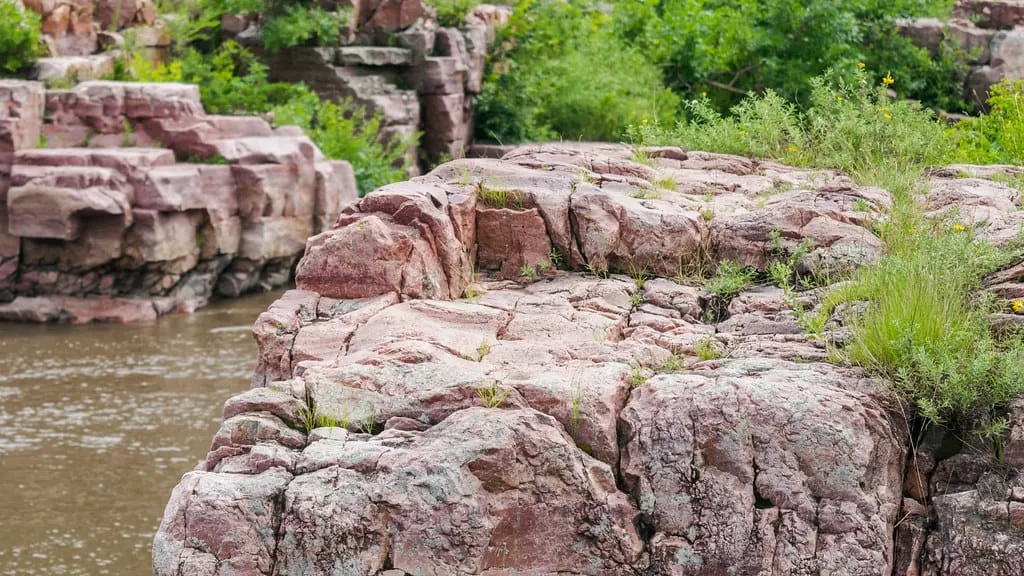 Sioux quartzite formations pop out of the landscape and tower above trails. If you're near the water the insects could be a bit aggressive (small no-see-um biting flies) so pack some bug repellent!
The shelves and cliffs are popular with rock climbers and are great for kids scuttling around seeking more thrilling moments on the vacation. You can book excursions with a well-respected climbing school, Sylvan Rocks which has roots in the Black Hills, but brings students to these rock faces for diverse climbing in the oft overlooked southeastern region.
CH Patisserie
These beautiful, decadent desserts may not look like something a kid will love, but the Chocolate Dream with the gold flake on top is still requested by my children today. This downtown French-inspired sweet shop has a small dine-in area and a line at the counter for those taking treats to go. Travel to Paris with each bite from CH Patisserie.
With macarons, croissants, and beignets a menu staple, you'll want to go early in the morning to guarantee you might be able to swipe your favorites from this sweet spot.
The shop's speciality from a world class Chef is the petit gateau which means "little cake" in French.The little mousse cake we split three ways was rich and heavenly, small in stature but bold flavor. The texture looks like wet chocolate syrup but somehow surprises your tongue when it is merely smooth. As you can imagine, the kids wanted the gold to themselves and were delighted to hear it was edible.
This tiny tasty treat was filled with fluffy chocolate mousse and a chocolate crumb crust.The stuff dreams are made of. Photo credit: Amanda Williams
Classy dessert is only a few minutes drive in Sioux Falls and while you might try to exercise some discipline, now is not the time for such notions! Eat the cake.
Take a Day Trip to the Children's Museum of South Dakota
Trekarooing means visiting all the children's museums when traveling. This one is hands down a top contender for best in class. The Children's Museum of South Dakota is in nearby quiet college town, Brookings, SD. While Sioux Falls has all the trappings of a city, this little side trip takes you to a suburb of the city in which parking is no problem and the hometown atmosphere is cozy.
These types of places can lead to phone scrolling and biding time, hoping the kids tire of playing soon. That's not at all the case here. Parents are compelled to be right in the thick of the action with their kids because the layout and immersive play areas are so welcoming and exciting!
Unique and completely curious play areas are not duplicates of every museum you've ever frequented. The Airway Adventures room with colorful scarves is a challenge for kids to watch the suction quickly move the spots of color around the clear tubes as they manipulate the pattern of the path it will take.
The floor to ceiling cloud climber is nothing short of amazing – even big kids are tempted by the nets and platforms slanting further toward the sky.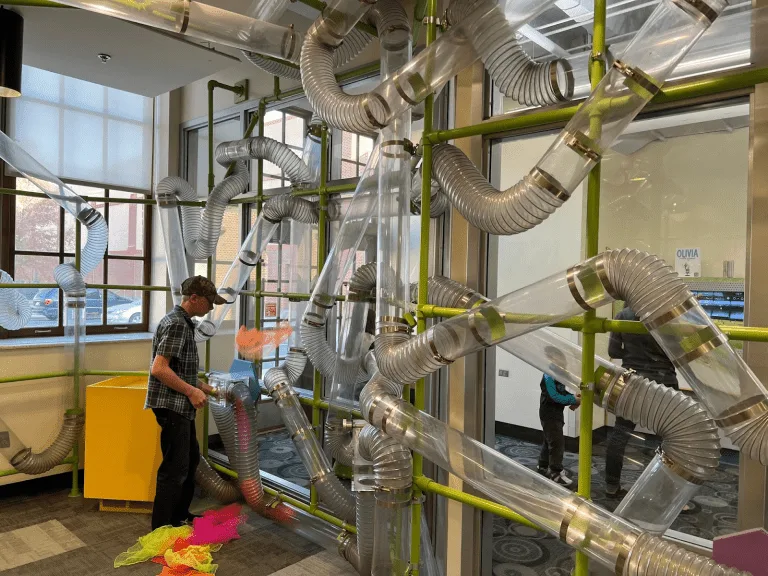 Even the Splash! the water play zone is so much more engaging than what we're used to. Each room we ventured to was better than the last. We spent a few hours trying to do all that was laid out before us and it was time spent really playing with the kids and watching them use their imaginations and create.
The museum grounds include an outdoor prairie park area with bunnies making themselves at home in logs and vegetation. A dino dig sand pit keeps kids entertained for hours on a picturesque afternoon. Gargantuan dinos dot the parkscape and there are water features there as well, making it a hotspot for fun in the summer.
Check for special events and hours to plan a memorable day of imaginative play with your family. There are a few closures to be aware of, so research ahead!
Nick's Hamburgers
Locals have known since 1929, the hamburgers from Nick's Hamburgers cannot be beat. Lunch time on a Saturday will mean a bit of a wait for your order, but it's well worth it!
Order a few – one burger is more like a slider in size. They come with or without cheese (and a list of condiments to flavor your patty) and many folks order entire paper bags of the meaty morsels.
Nick's supports the Brookings Half Marathon and offers runners (with a bib number to present) burgers after the race. We were in town for the event which made the very small shop quite chaotic, but it was so neat to see the assembly line hand pressing meat patties and cooking for the crowd.
Milkshakes and chips are really the only other menu items, so you must love burgers to fully embrace Nick's, but the juicy sandwiches will leave you wishing you'd ordered more than one if you make that mistake!
The Long Way Back via Pipestone National Monument
You really are just too close to skip taking the long way back from Brookings to Sioux Falls, instead of following I-29, simply take US 14 east bumping just over the border into Minnesota.
The area is desolate and the sole purpose of your trip will be to take a hike to see the neat pipestone ridge which is formed in the middle of the prairie and to collect your Junior Ranger badges from Pipestone National Monument.
This site is rich in Native American history and the ranger booklet can be completed on-site after a perusal of the museum in the visitor's center and a hike around the paved trail.
The short hike is just under a mile and is flat, save for a few optional stairs near a small waterfall. Historical placards and information help you learn along the way.
Where to Stay in Sioux Falls with Kids
While there are plenty of places in the Sioux Falls to find a room, a fantastic option for your weekend base camp is The ClubHouse Hotel Sioux Falls. Having a kitchenette to dine in over a long weekend is a perk seasoned family travelers love. This can save you stress and money.
The pool area while small has a slide perfect for big kids to spend hours splashing into the pool and hurrying back up the ladder. There is also a fountain in the kiddie pool for the smaller set. Having the suite to stretch out is nice for everyone to decompress from adventures each day.
Outside the back of the hotel in addition to having patio fire pits and comfy chairs (there are S'mores kits available for purchase at the front desk, too) there is also a bike trail which can be fun for a little evening stroll. The hotel has free breakfast and free parking, both major wins when on a road trip.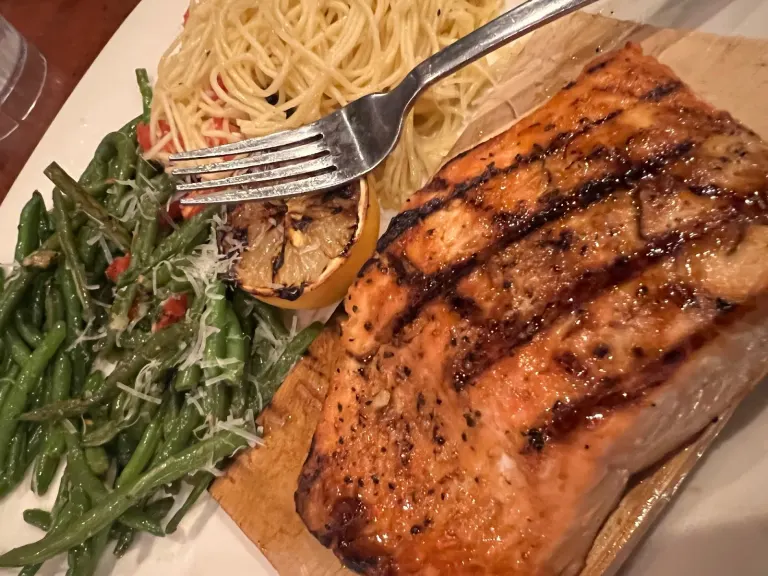 Though we wanted to experience the flavors of Sioux Falls, we appreciated the Carino's Italian restaurant only steps from the front entrance, where we enjoyed delicious plates and the kids menu, maybe a few frozen drinks and splurged on dessert, all while easily shuffling back to the room without need of the car. It is a chain, but sometimes consistent menu items meet expectations just fine when you're traveling!
Find Things to do with kids near you! Trekaroo has dozens of guides for locations all over the United States.