Last Updated on
Smooth Jazz, rhythmic Cajun and Zydeco music, superstitious folklore, spicy fare that has French, Spanish, Caribbean, and African influences, as well as varied landscapes including circuitous bayous, white sand beaches, and rambling prairies are just the beginning of what you'll find in the alluring state of Louisiana. There are also plenty of things for families to do in Louisiana.
While many may associate Louisiana with rustic hunting activities like those highlighted in the popular reality show Duck Dynasty or the adult happenings of a wild New Orleans Mardi Gras celebration, rest assured there are tons of activities and sites suitable for families to enjoy here. Let's get started on reviewing them!
Book your stay with Top Family Friendly Hotels in Louisiana.
Top 10 Things for Families to Do in Louisiana
10. Go Birding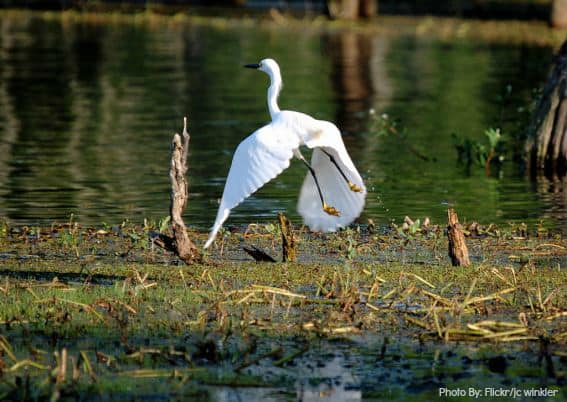 There are quite a few places where you can get up to speed on Louisiana bird life. The America's Wetland Birding Trail cuts through 22 Louisiana parishes (counties). With more than 115 bird watching sites to choose from, visitors can get a look at a huge variety of species native to the state. For those with limited birding time, it may be prudent to narrow explorative choices to a select few. Lake Fausee Pointe State Park is a perfect place to listen for the sweet call of the Prothonotary Warbler or watch for Little Blue Herons who nest and feed in the park's swamp, lake, and trees. At the Cypress Island Preserve, throngs of Great Egrets and Roseate Spoonbills among others, nest in the protected habitat of cypress-tupelo swamp and bottomland hardwood forest. Be sure to watch the distant treetops for Great Blue Herons and Neotropic Cormorants.
Closer to New Orleans, on the north shore of Lake Pontchartrain, birders visiting the Big Branch Marsh National Wildlife Refuge will see why Louisiana is sometimes referred to as the Pelican State. Brown Pelicans are among the species often spotted. A nature boardwalk makes it easy for birdwatchers to search out jays, wrens, rub-throated hummingbirds, gulls, and more.
Do you have tips for birding with kids? Please share them!
Have fun bird watching with the family and stay at these family friendly hotels in New Orleans and Breaux Bridge!
9. Sun Yourself on the Cajun Riviera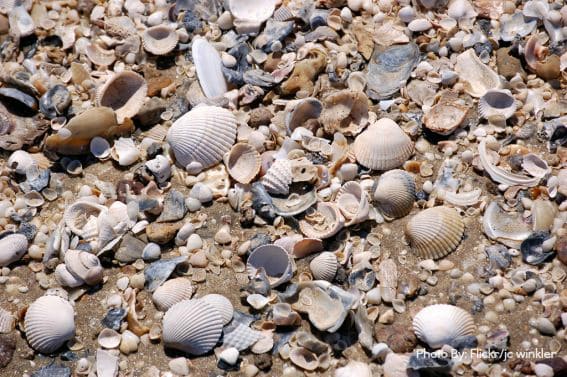 A collection of sugar sand beaches in southwest Louisiana, the Cajun Riviera spans from Holly Beach in Cameron Parish to Cypremort Beach in neighboring Vermillion Parish.
Whether you're headed to the area to cast a fishing line, go crabbing, sunbathe, or collect seashells, you're in for an experience like no other. The Gulf waters are warm and it's common for campers to pull their vehicles right up on the beach. So, imagine a scenario that involves your family gathered around a moonlit campfire cooking the day's catch and enjoying a seasonal Crawfish boil under the stars right there on the sand. Depending on the time of year you visit, crawfish can be purchased from local fishermen alongside the road.
Be warned though, services out this way are almost nonexistent. A pair of hurricanes wiped out much in the area and rebuilding has been slow and costly. While many locals have gotten creative with lodging options, this excursion is made for adventurous families. The payoff for your kids though is a bounty of nature's treasures to enjoy. Shell collecting at Mae's Beach can yield an abundance of lovely whole shells and pieces. Take your beachcombing onto the nearby Creole Nature Trail and you can add driftwood, moon snails, and sea beans to your trove. There are 26 miles of beach paradise to scour on the 180-mile long trail that also includes marshes and prairies. Drivable coastlines along the Gulf of Mexico are treated as byways so standard rules of the road apply.
Should you find your taste buds needing something other than seafood, then head an hour inland toward Lake Charles and hit the Southwestern Louisiana Boudin Trail. A popular snack in these parts, boudin is a combination of cooked rice, pork, liver, onions, green pepper, and seasonings like salt, pepper, and garlic powder. This mixture is put through a meat grinder, then stuffed into a sausage casing, and steamed. More than 20 boudin masters showcase their particular spin on the recipe with stops on this unique trail. While trying out variations of boudin may sound tempting to those unfamiliar with it, many locals have their loyalty to a favorite boudin spot.
Have you been to the Cajun Riviera? Please share your experiences.
Check out these great deals at Holly Beach & Lake Charles for your stay!
8. Visit Louisiana's Other Side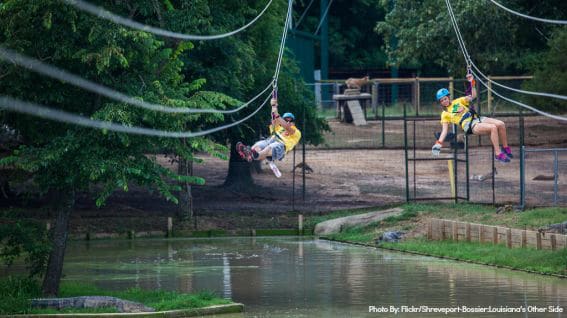 While Shreveport-Bossier is routinely referred to as Louisiana's Other Side, it could be argued that this label was meant to be more than a geographical definition. A colorful mix of Cajun and Texan attributes, you might say that Shreveport-Bossier represents another aspect of the state's personality. While the area is famous for riverboat casinos and venues that pair Texas steak with spicy crawfish, it also boasts some wonderfully fun and educational opportunities for families.
The Sci-Port Louisiana Science Center, a 92,000 square foot hub, has almost 300 exhibits designed to provide visitors of all ages with hands-on learning experiences in math, science, and space. Regional history and culture are subjects of the exhibits, frescos, and murals in the Louisiana State Exhibit Museum. Be sure to check out the 22 very detailed dioramas that depict Depression and Post-Depression era aspects of Louisiana's agriculture, economy, technology, and natural resources. Housed in one of the oldest buildings in the downtown area, the Spring Street Historical Museum is the closest you'll get to time travel. Vintage clothing, toys, firearms, and swords are among the large collection of artifacts displayed. There is also a complete Victorian parlor that will leave you feeling like you actually stepped into the late 1800's.
Looking for something more adventurous after all of that educational input? Get the family to the Gators and Friends Alligator Park and Exotic Zoo. This is no ordinary zoo — visitors can hold and feed the gators here! There's also an exotic petting zoo that includes miniature horses, kangaroos, a camel, and so much more! Visitors can even zip line right over the park's residents!
Has your family enjoyed a great adventure on Louisiana's Other Side? Please tell us about it.
7. Get Back to Nature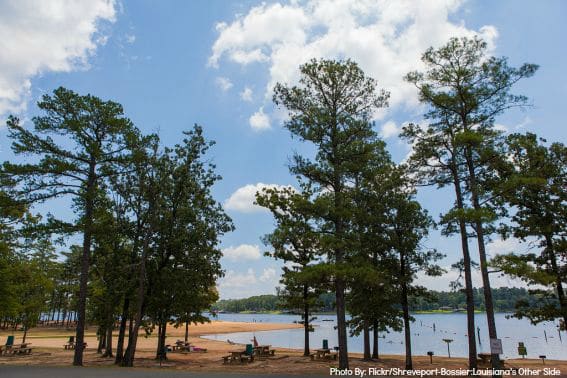 Louisiana is an outdoor enthusiast's dream! All 22 of the state parks offer a combination of tent-camping, cabin rentals, and RV sites. Many feature bayou-side camping as well. At Poverty Point Reservoir State Park, visitors can rent cabins on piers and paddle their way around the park from their front doors as well as enjoy boating, fishing, camping, hiking, or quietly watching for area wildlife. Cypremort Point State Park gives visitors access to the Gulf of Mexico via boat. Cypress Black Bayou has nature trails and a petting zoo. A fishing paradise awaits those headed to Grand Isle where the Tarpon Rodeo attracts thousands of fishing competitors each year. Canoeing in Chemin-a-Haut State Park will give one the feeling of being walled in by what has been described as a gallery of cypress trees. While at Tickfaw State Park, visitors can stroll through four ecosystems over a mile of boardwalks and experience the sights and sounds of swamp life.
Have you gone camping in Louisiana? Write a review!
Book your hotel in Delhi, Grand Isle, Bastrop, & Springfield for your family vacation!
6. Get Acquainted with the Cajun and Creole People

Acadiana is the heart of French Louisiana. This cultural enclave is born of the enduring spirit of the Cajun and Creole people who settled the prairies, bayous, and marshes here. Trace the history of these two vibrant and colorful groups by visiting the Acadian Village, which covers the daily life, music, and food of the area's early Cajuns or Vermilionville. It's a living history experience that allows visitors to walk through the lives of early settlers.
Dance halls are a big deal in Acadiana and when the accordions and fiddles come out, all ages participate in the fun. La Pousserie is a fine example of rural Louisiana's classic dancehall scene. In operation since 1955, many have said that the crowded dance floor also vibrates. This could be due to its low ceilings, hardwood floors, and the two-stepping, foot stomping moves of its patrons. Prejean's and Randol's Restaurants marry live Zydeco and Cajun music with a flavorful Southern fare. Just try to refrain from dancing once the music starts up! It's impossible to sit still!
During the daylight hours, your kids will enjoy the hands-on learning experiences at Children's Museum of Acadiana. Another not to be missed destination is the Atchafalaya National Heritage Area. Stretching across 14-parishes, it is one of the most culturally rich and ecologically varied regions in the country.
A certain commonly used pepper sauce originated here! The Tabasco Pepper Sauce Factory opened on Avery Island in the 1860s. Have you visited? Tell us about it!
Find great hotel deals in Lafayette & Baton Rouge for your vacation!
5. Get Up and Personal With a Gator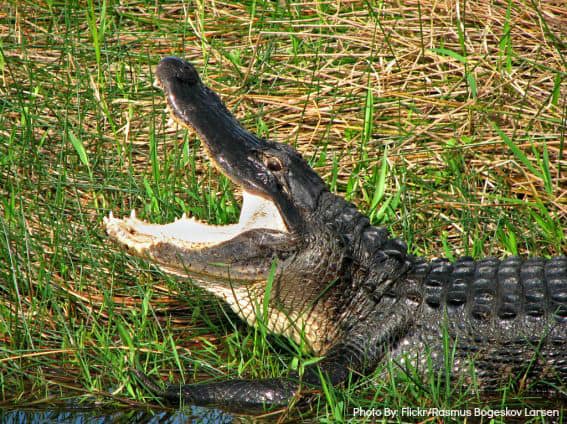 Swamp tours are a great way to see Louisiana's alligator population in their natural setting. The state's wetlands with their gnarled cypress and moss draping may seem a little haunting and dangerous but they yield unforgettable experiences. Guides have been known to possess a slew of colorful tales, as well as the daring to lure gators to the boat using marshmallows and chicken pieces as bait.
Cajun Pride Swamp Tours conducts multiple daily tours where boat sightings are so common to the animals, they respond to the captain's call. At Bayou Pierre Alligator Park, visitors enjoy a sampling of gator cuisine after a tour that includes opportunities to touch the gators and even have your own Kodak moment with them. Just a half hour outside of New Orleans, guided tours through the lush swamps of Honey Island offer opportunities to learn more about the ecology of the area as well as the residents living in them. Kids can even try a gator dog at the gift shop before or after the tour.
If the swamp is not your scene, there's another way your kids can get an up-close gator experience. At the Insta-Gator Ranch and Hatchery, kids can play with baby alligators in a touch pool or hold an egg in their hands and watch it hatch!
Rare gator sighting: an albino gator resides at the Audubon Zoo. Have you seen it? What did you think?
Head to Covington, LA with the kids for some memorable gator experience and book the best hotel deals nearby for this trip!
4. Get into All that Jazz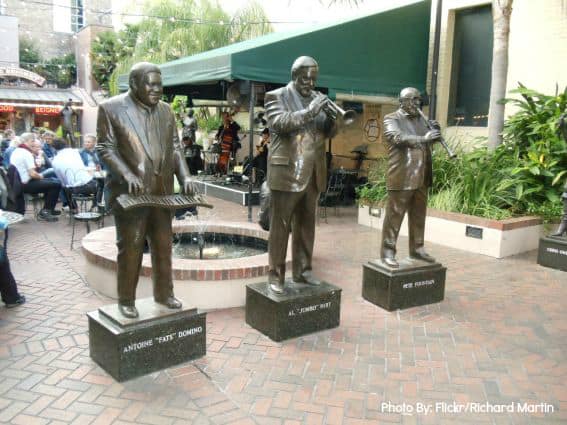 The Jazz music scene spills onto the streets in New Orleans. Legend has it that the nickname, the Big Easy, comes from the fact that there are numerous ways for a decent musician to make a living in the city. Walk into the French Quarter on almost any weekend afternoon and it won't take long to find musicians in action. They often gather and play right there on the street. New Orleans is where Jazz was born after all, so why not?
Preservation Hall is THE family-friendly venue for enjoying classic New Orleans jazz. All ages are welcome to the three performances offered nightly. New Orleans has two parks dedicated to jazz; New Orleans Musical Legends Park, a rich cultural haven on Bourbon Street celebrating icons like Fats Domino and Irma Thomas, and New Orleans Jazz National Historical Park where even the rangers perform!
Sunday brunch in New Orleans is a scrumptious way to experience traditional Jazz. The Palm Court Jazz Café has long been a gathering spot for New Orleans music and food enthusiasts. The Court of Two Sisters offers a daily jazz brunch, and families can book lunch and dinner jazz cruises on Steamboat Natchez.
Do you have a favorite venue for sharing Jazz music with your family? Please share your scoop!
Enjoy the music and all that jazz! Choose from this lodging options in the area.
3. Hit Up a Festival

From blues music, gators, chicken, and cotton, to frogs, hot sauce, jazz, and Mudbugs, everything seems to have a festival dedicated to it in Louisiana.
Whether your scene is two-stepping to the funky rhythms at the Cajun-Zydeco Festival, feasting on ocean delights served up with a southern flair at the Seafood Festival, cheering on jump contest participants at the Frog Festival, sampling gator inspired dishes (Newsflash: the rumor is true, gator meat does taste just like chicken!) at the Alligator Festival, giving into Mudbug Madness, embracing NOLA music and culture at the New Orleans Jazz & Heritage Festival, or exploring the French Quarter Festival, there's an event for you! And believe me when I tell you the events mentioned only scratch the surface of the breadth of festivals produced in this state!
Of course, everyone knows about the granddaddy of all festivals — yes, Mardi Gras! What you may not know is that Mardi Gras is not only raucous fun, it's family-friendly too! Families tend to picnic around St. Charles between Napoleon Avenue and Lee Circle. Many locals even have Mardi Gras ladders designed for the event. Typically consisting of a seat bolted to the top of a 6-foot ladder, these perches for the young ones must be placed back from the street and to keep them steady, an adult should stand on the back. You can either make your own or buy a seat at just about any hardware store in the area. It is also advised that parents make sure each child comes armed with a large bag for the numerous trinkets float riders to toss along the parade route. Can I get a shout of, "Laissez les bons temps rouler!!?" (Let the good times roll!)
Not ready for the crowds at Mardi Gras? Your family can still take part in the fun by visiting Mardi Gras World.
Reserve your hotel for the Mardi Gras!
2. Enjoy an Array of Family-Friendly Attractions

Historic and quirky, New Orleans has plenty of museums and family-friendly attractions to keep a curious family busy for some time! Let's start with one highlighting a little bit of local folklore — The Voo Doo Museum. While it may sound creepy, your kids will love the offbeat exhibits and artifacts explaining how this African religion came to New Orleans. The museum features plenty of voodoo dolls, skeletons, and potions to get imaginations going. Now, we've all heard the declaration that "the south will rise again!" but how much do you know about the period behind that phrase? Louisiana's Civil War Museum houses one of the largest repositories of Confederacy-related artifacts and memorabilia in the country. The American experience during WWII is highlighted at The National World War II Museum and delivered in a way to help generations of all ages understand the sacrifice made by our military and that freedom comes with a price. If your kiddos need free run of a place, take them to the Louisiana Children's Museum and let them pretend to pilot a tugboat on the Mississippi, become an anchor person, go rock climbing, and participate in a myriad of adventures!
Did you know that New Orleans is home to one of the nation's top-ranked zoos? The Audubon Zoo offers terrific opportunities to see exotic animals, reptiles, and even some rare animals. Among the favorite and famous residents here are elephants Jean and Panya, a Komodo dragon, and two California transplants — white tiger brothers named King Rex and King Zulu. On hot days the Cool Zoo, a wet and wild splash park, is a great place to hang out.
Depending on the time of year, it can be challenging to get around New Orleans, so hop on a New Orleans old street car.
1. Explore the Crescent City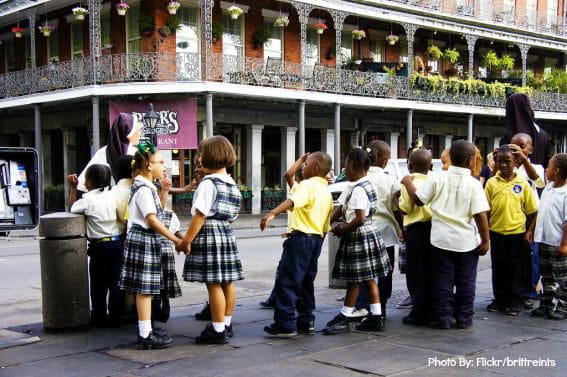 From the romantic architecture of New Orleans' oldest neighborhood, the French Quarter, to the grand mansions and pristine yards of the Garden District, there is no overlooking NOLA's charm and rich history. Wander the French Community Market looking for unusual treasures to purchase. Take a carriage ride to historic Jackson Square and check out the Cabildo, the place where the Louisiana Purchase was signed. While you're there, be sure to visit the St. Louis Cathedral, the oldest U.S. cathedral still in use. Adjacent to it is the Presbytere, a part of the Louisiana State Museum housing an elaborate and exquisite collection of Mardi Gras artifacts and memorabilia. Dine on classic Louisiana cuisine at K-Paul's, or try the legendary fried chicken at Willie Mae's Scotch House to find out why food is so rooted in the city's culture and traditions.
The nearby neighborhood of Tremé is home to one of New Orleans' most famous cities of the dead, as the above ground cemeteries here are called. Immortalized in the film Easy Rider, the St. Louis Cemetery #1 is the final resting place of civil rights activist Homer Plessy and New Orleans' most famous Voodoo Queen, Marie Laveau.
Grab some sandwiches at Mother's or Cochon Butcher and head to the lovely City Park for a picnic. The moss-draped oaks and lily ponds of this park surround great and surprising adventures to enjoy as a family. Kids can experiment with shape, concept, and so many other areas of art during Studio Kids sessions at The New Orleans Museum of Art. In Storyland, twenty-five beloved characters from children's books come alive in the form of life-sized figures sculpted by the city's top Mardi Gras float makers. Explore secret nooks and passageways, slide down a dragon's tale, sail with Captain Hook, and roll down Jack and Jill's hill as part of the whimsical fun. The nearby Carousel Garden has 15 rides, including a rare antique wooden carousel and a Ferris wheel. If a picnic isn't a part of your family's visit to the park, head over to Mr. B's Bistro to lunch on some Creole-style fare.
Plantation Country is a short and easy drive from New Orleans. Along the area's famous River Road, visitors can get a look into a bygone time of genteel culture in the perfectly restored antebellum mansions along the Mississippi River. These places aren't just filled with antiques of the period, each has quite a tale to tell, and many are rumored to be haunted by their former residents.
Explore New Orleans and fall in love with the city!
All of this exploring is making me crave something sweet! Take a break and get some beignets at the world-famous Café Du Monde!
Lead Photo by: Flickr/edbierman
What state do you want to visit next?
From coast to coast, we're determining the Top 10 Things to do with Kids in each state of our great nation. Head here to see what tops the list in your favorite state.