When planning a beach vacation for the family, you don't need to look any further than the Gulf Coast of Alabama! The beaches are some of the best in the country, complete with soft, white sand and clear, warm water. As an added bonus, there are lots of great things to do in Gulf Shores with kids beyond the beach.
Relax on the beach or pursue outdoor adventure in the surrounding waterways, wetlands, and maritime forest. Throw in some fabulous family entertainment options nearby, and you have the ultimate vacation. Read on to discover things to do in Gulf Shores, Alabama and why it is a perfect spot for family-friendly beach vacations on the Gulf of Mexico.
Things to Do in Gulf Shores with Kids
1. Soak up the Sun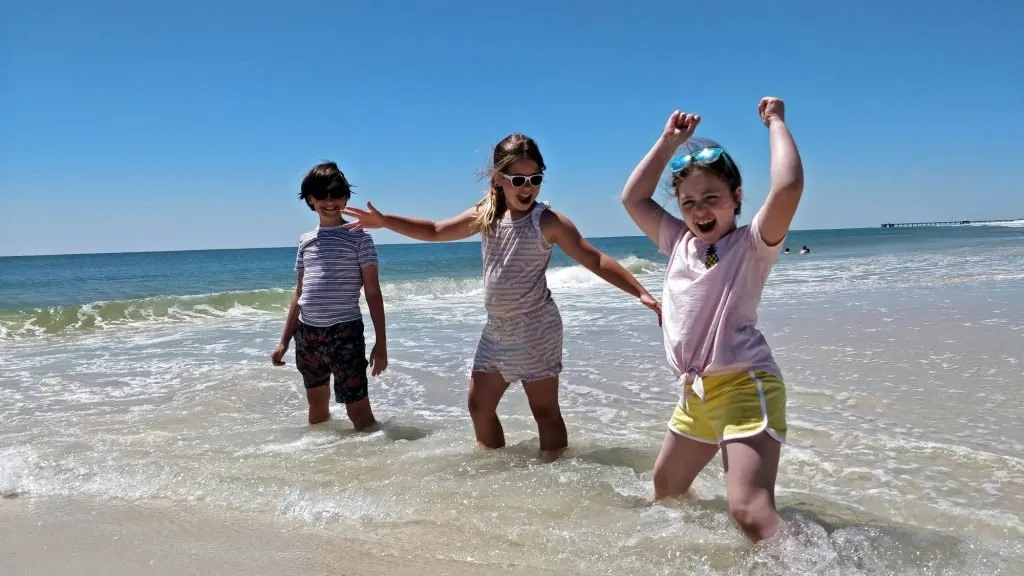 First and foremost, earmark a significant chunk of time to spend on the beautiful beaches in and around Gulf Shores, Alabama. Beach walks are rejuvenating year round due to mild temperatures in winter and the ocean breeze in summer.
The clear, warm gulf water is great for swimming from May through October, with an average water temperature of 80+ degrees June through September!
The spring and fall "shoulder" seasons are an ideal time to enjoy everything the area has to offer, because it is cool enough to hike and bike, yet still warm enough to swim.
Part of the beauty of this area is that there is ample oceanfront lodging. Ideally, stay oceanfront to maximize your hours at the beach and bask in the amazing views anytime of day.
However, if you can't stay on the beach, don't worry! Gulf Shores, Alabama maintains eight public access points to the beach. The Gulf State Park beach pavilion is another great access point with a large parking lot, interpretive center, and picnic/bathroom facilities.
Discover the Top 10 Things to do in Alabama with Kids.
2. Parasail Over the Ocean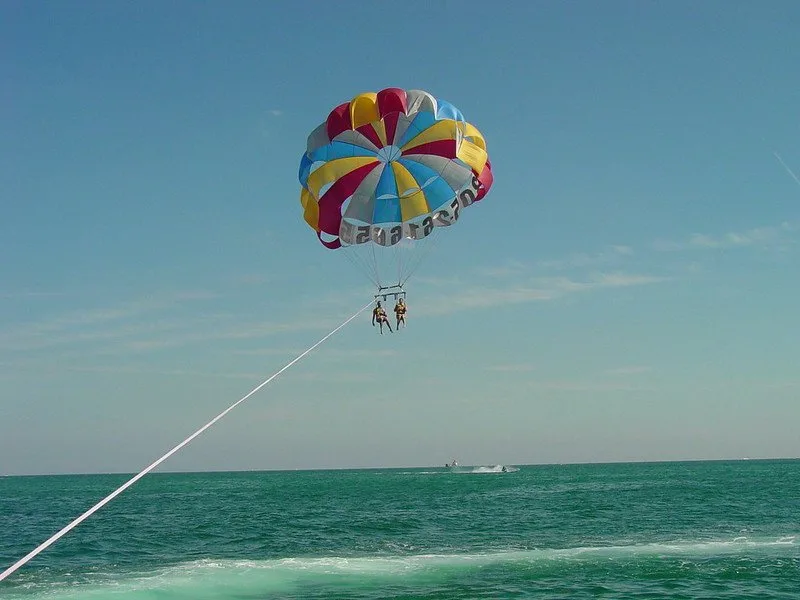 Kayaking, paddle boarding, parasailing, deep sea fishing, and jet skiing are some of the more active pursuits your family can give a go while in Gulf Shores.
Parasailing is a great activity to try because it's a surprisingly smooth, mellow experience. Blue Sky Parasail and Water Sports has several locations in the area and specializes in parasailing and banana boat rides.
Explore more of the Gulf Coast on this Texas to Florida Road Trip.
3. Hike and Bike at Gulf State Park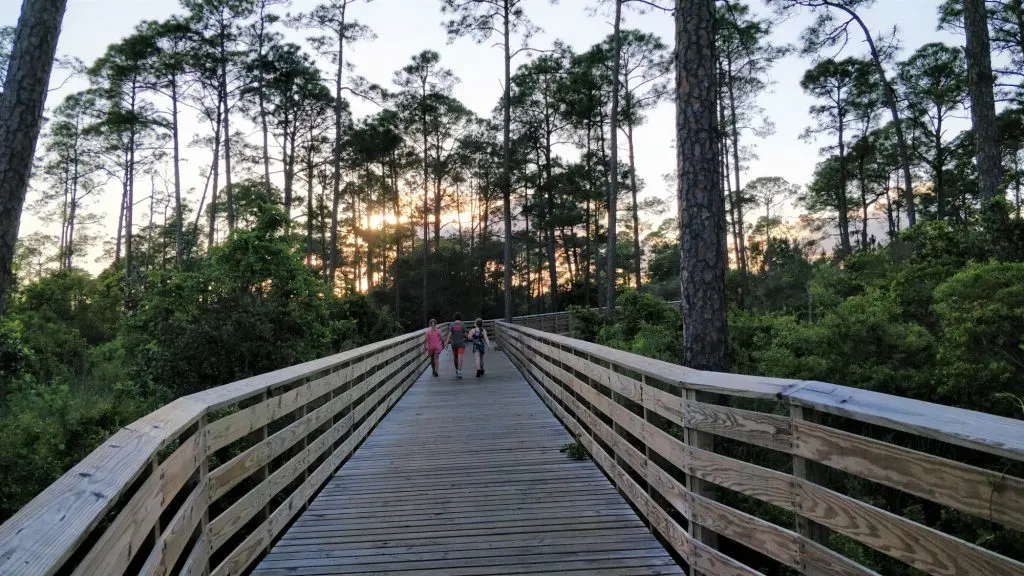 Watch the tall, Alabama pines morph to sea grass covered dunes right before your eyes as you explore the unique ecosystem of Gulf State Park.
Just east of Gulf Shores, the park is one of the last intact maritime forests in coastal Alabama. It encompasses over 6,500 acres of land covered with live oak forest, wet long-leaf pine savanna, freshwater wetlands and lakes, and 2.5 miles of oceanfront beach.
There are 30+ miles of trails and elevated walkways in the park, perfect for exploring by bike. Bike rentals are available at the entrance of the Rosemary Dunes Trail Head and from the park camp store.
Don't miss the 15 miles of trails that go through Gulf Shores via the Branyon Backcountry Trail.
4. Revel in Thrills at The Park at OWA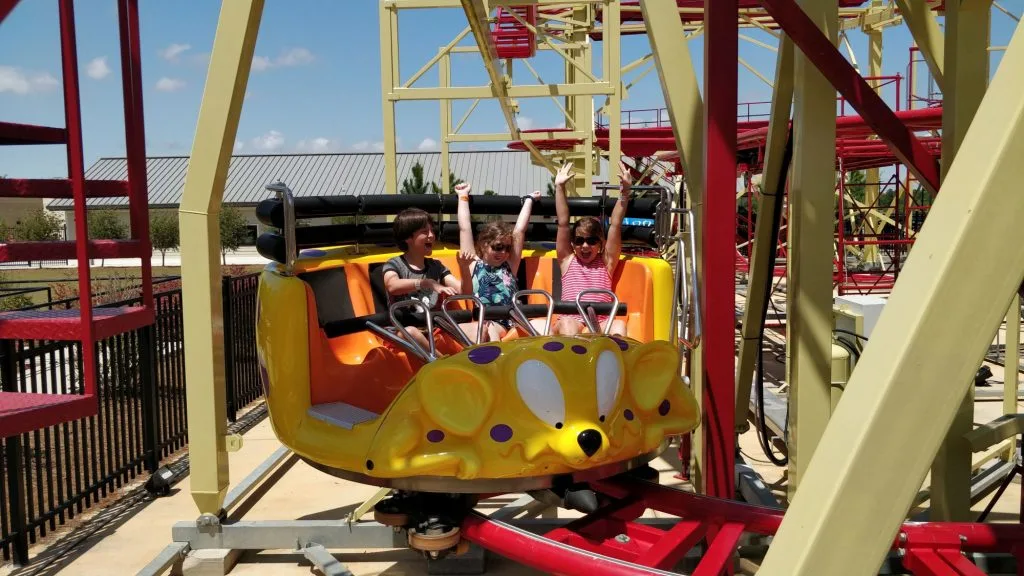 The Park at OWA is a family entertainment complex just north of Gulf Shores in the charming town of Foley, Alabama. It's got rides for every age group, from the centerpiece Rollin' Thunder Coaster to the tamer Crazy Mouse (pictured above), flying swings, and hang-gliders.
The park packs a lot of fun into a small area, making it incredibly easy to navigate. There are several restaurants to choose from, including the Groovy Goat sports grill. If you visit in the middle of summer, bring bathing suits and cool off on the inflatable obstacle course on the lake.
5. Get Soaked at Waterville USA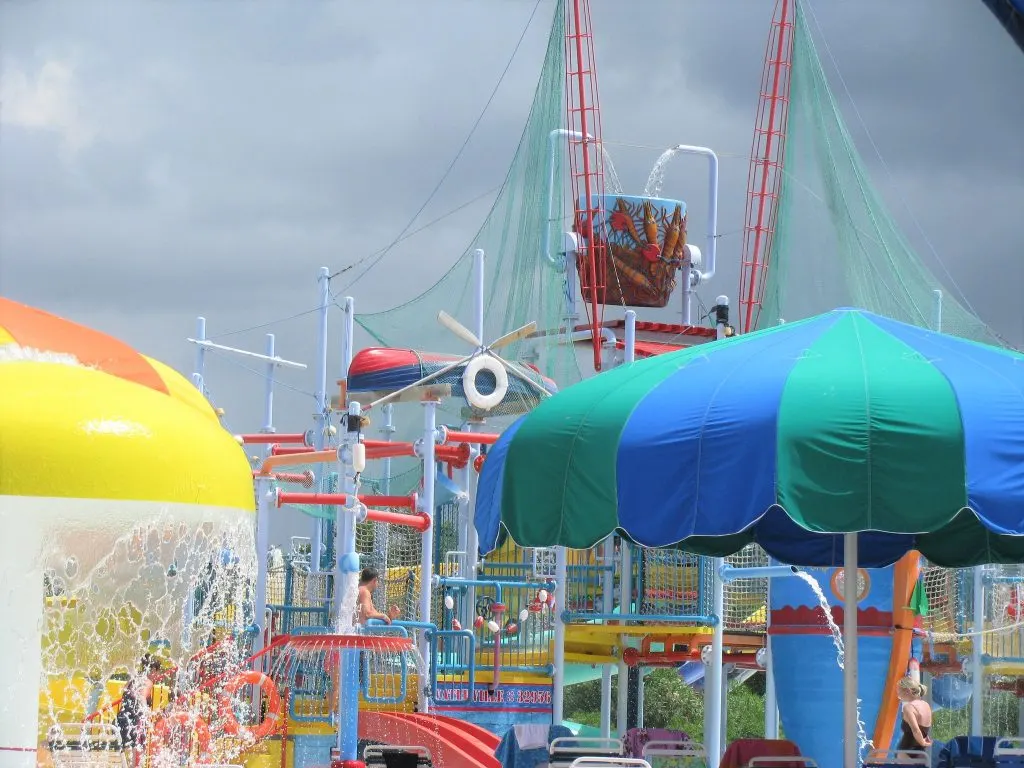 Beat the heat at Waterville USA. This waterpark has a wave pool, lazy river, several high-speed water slides, go-karts, and two differently themed escape rooms.
If you haven't tried an escape room with your family, give it a try, it's a great bonding activity! No, the doors aren't actually locked, you can come out anytime you like, and there is a guide in there with you to nudge you in the right direction when you need it.
6. Eat at Lulu's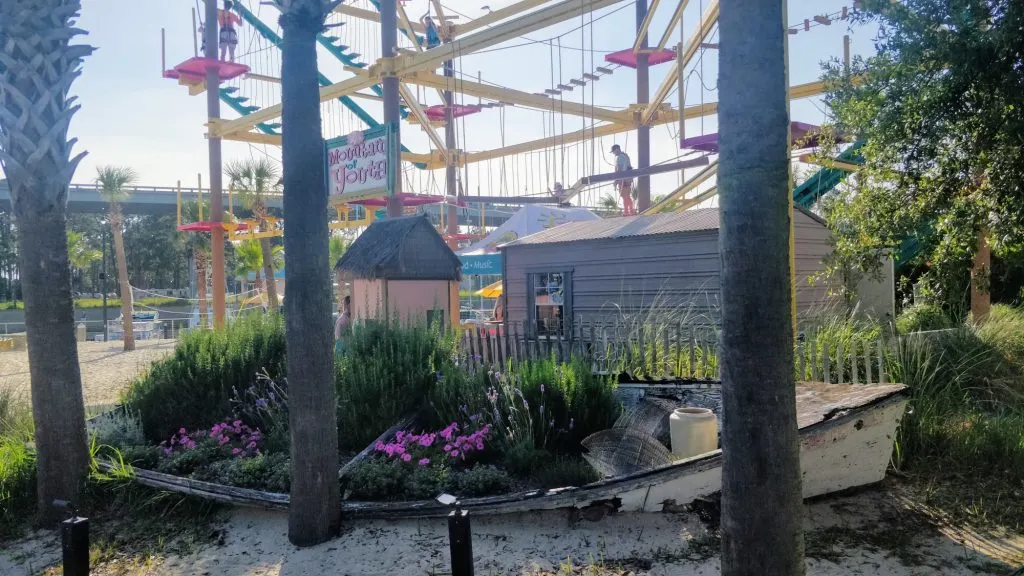 Lulu's is Alabama gulf coast native Lucy Buffet's (sister of Jimmy) restaurant. It's a sprawling complex on the intercoastal waterway with live music, all outdoor seating, a ropes course, arcade, souvenir shop, and a hair-wraps and henna parlor.
Go way before you plan on actually eating to enjoy all Lulu's has to offer and get your name on the "beat the wait" list as soon as you even think about heading over there. It's a wild time for sure, and an annual tradition for many families that vacation in Gulf Shores year after year.
Lucy's self-proclaimed favorite dish is the Crabmelt Nachos and the WOW sauce on the fish sandwich is a crowd favorite. They also have an extensive allergy-friendly menu.
Looking for other great places to eat in Gulf Shores, Alabama? Check out these Gulf Shores restaurants you need to try.
7. Meet the Creatures at the Alabama Gulf Coast Zoo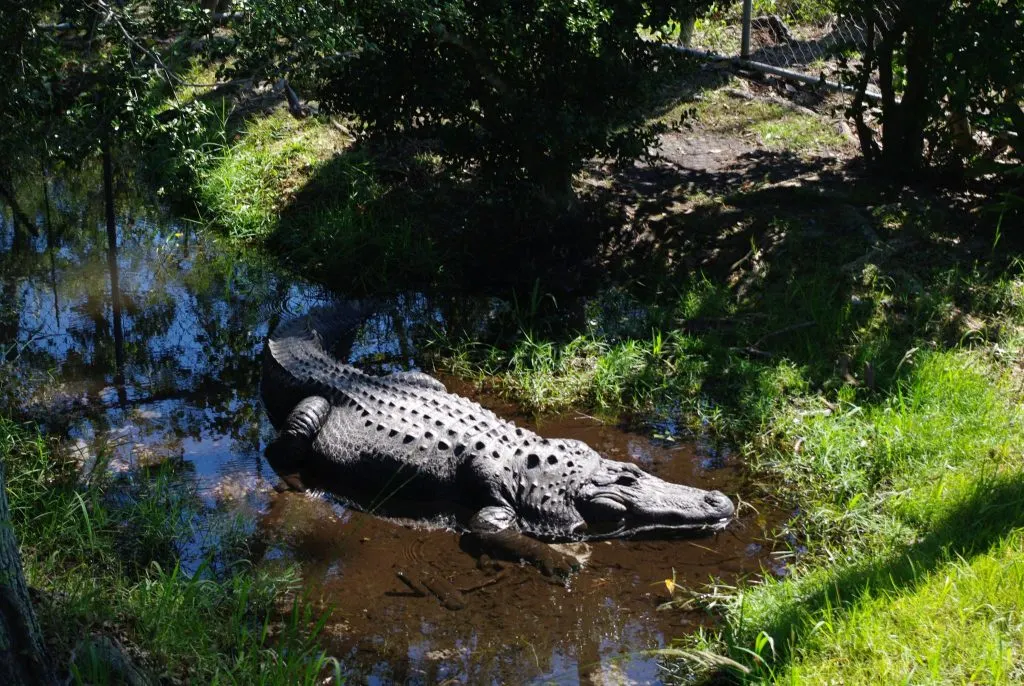 Don't miss a trip to the Alabama Gulf Coast Zoo if you have younger children. Known as "The Little Zoo that Grew", the Gulf Coast Zoo may be small, but it packs a mighty punch with its unique Animal Encounters program.
Kids of all ages can get up close and personal with a kangaroo, lemur, reptile, sloth, and anteater. Not too many zoos offer such a unique range of encounters, so this is a "must-do" if you have little animal lovers in the family!
8. Explore Fort Morgan Historic Site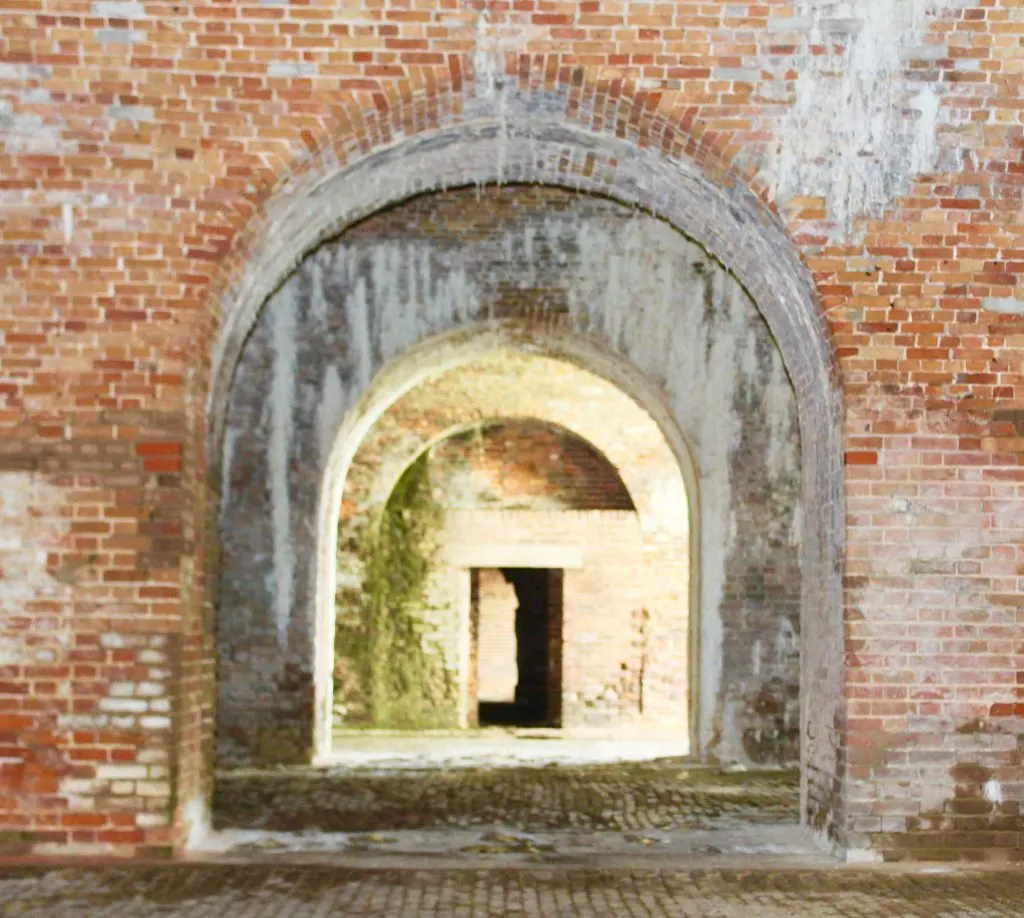 This is for the history buff's, military fanatics, and those in search of the quietest, most remote corners of the Alabama Gulf Coast.
Fort Morgan Historic Site is located on the far east end of the Fort Morgan Peninsula. It's a United States military fort built in 1834 that played an important role in defending the area during the Spanish-American War, Civil War, and both World Wars.
Take a self-guided tour to walk through the four batteries built at different times throughout the fort's military occupation to get a sense of the evolution of military tactics and technologies. There is also direct access to beaches and nature trails for fishing, swimming, and bird watching.
9. Treasure Hunt at the Pirates and Princesses Breakfast at The Hangout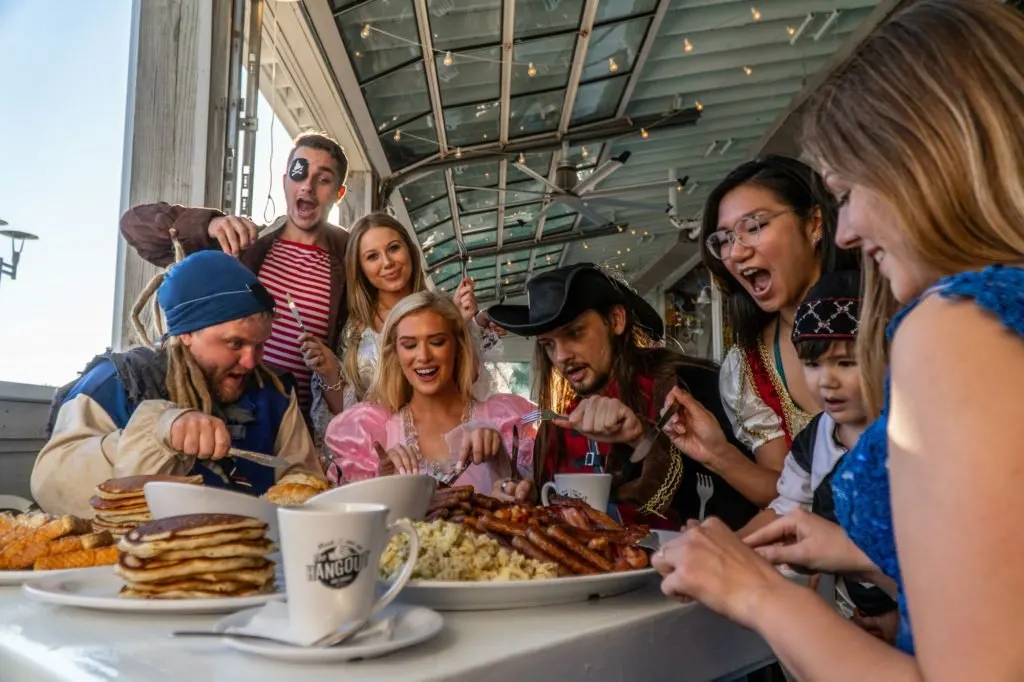 The Hangout hosts a breakfast show for your littlest pirates and princesses. It's an all-you-can-eat breakfast buffet accompanied by some pirate-themed activities including a treasure hunt, sing-along, slapstick jokes, and magic tricks.
There are three breakfast seating times per morning in the summer. The Hangout is a large restaurant right on the beach and also serves lunch and dinner and hosts live music events.
10. Go Fishing Out on the Gulf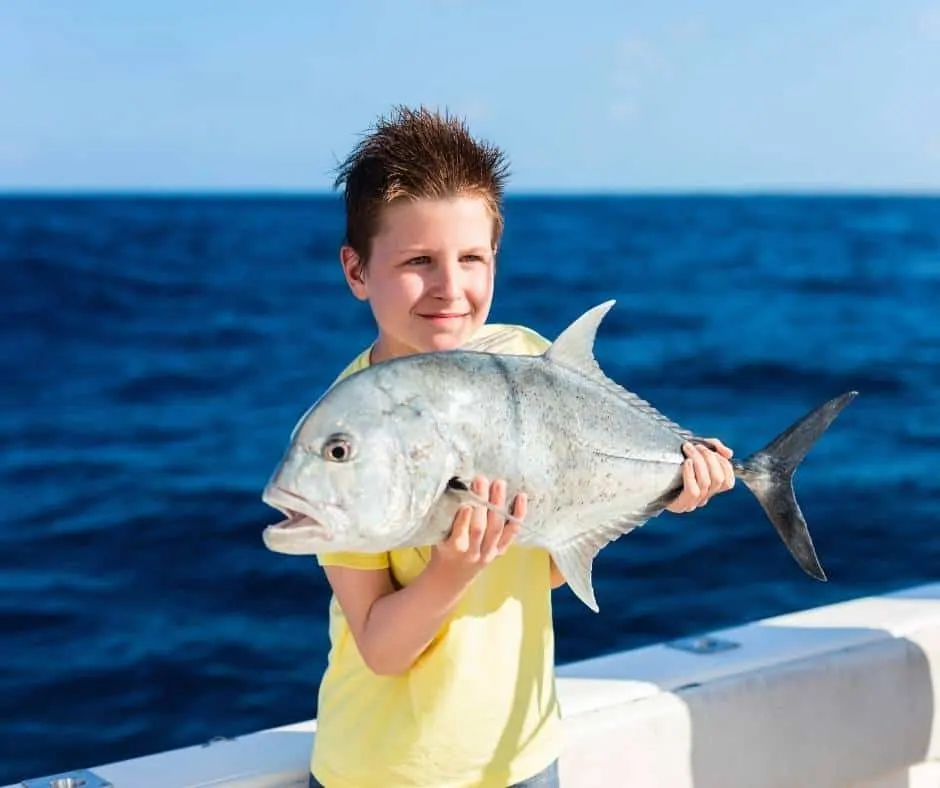 The waters off of Gulf Shores are a great place to fish. Triggerfish, Amberjack, and Red Snapper are all popular fish to catch.
If deep sea fishing seems a bit intimidating, several companies (Ugly Fishing LLC, Miss Brianna Fishing Charters, and Fins and Family Fishing LLC) cater specifically to families for a relaxed and fun fishing experience inshore and nearshore.
Don't be afraid to charter something tailored to your family's specific interests and attentions span.
Where to Stay in Gulf Shores, Alabama with Kids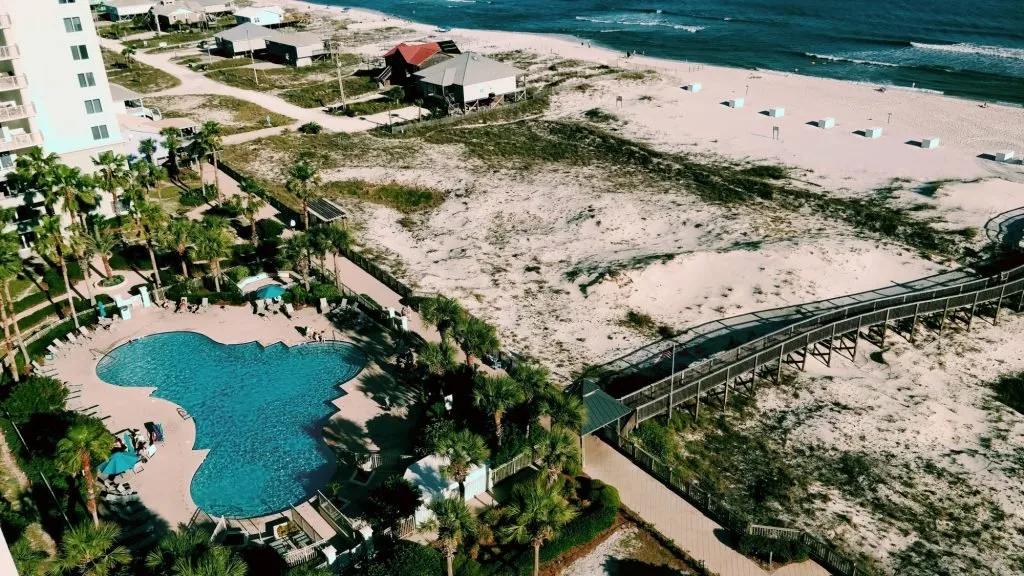 One of the best ways to enjoy quiet sunrises, early morning walks, and long evening reads on the beach is to stay at an oceanfront resort. Gulf Shores has plenty of oceanfront choices, but one of the shining stars of the area is The Beach Club by Spectrum Resorts.
You simply can't go wrong at The Beach Club! It's a large, family-friendly resort where you can spread out in multi-bedroom oceanfront condos. Every condo has a balcony looking out over the endless waves, providing the ultimate in both luxury and convenience. There is a large pool, pool bar, fantastic sushi restaurant, and pizza joint on the premises.
If your family loves to camp, Gulf State Park is another great choice for lodging. Check out our other favorites spots for Camping on the Gulf Coast.