From the thrilling coasters of Cedar Point, to the large zoos focused on education and conservation across the state, there are a stunning array of attractions in Ohio for families to enjoy. The residents of this state have made substantial contributions to pop culture and sports competition. Now families can learn about America's Rock and Roll history in Cleveland or attend a major league sports game; with eight major league professional sports teams, families have lots of opportunities to attend a game across the state. Here are Trekaroo's top 10 fun things to do in Ohio with kids.
Best Attractions in Ohio – Top 10 Fun Things to Do in Ohio with Kids
10. Stay at an Ohio State Park Lodge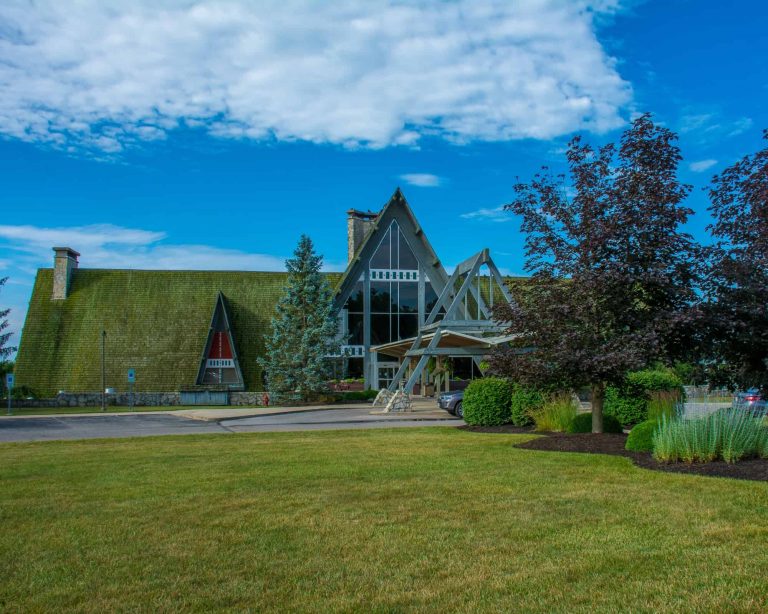 Sometimes on a family vacation you truly want to get away from it all and relax. Ohio State Park Lodges are the best place to do just that. Whether your family stops over at a lodge for a night while on a road trip or stays for a full week in a cottage, the time relaxing in nature will surely be the highlight of your kid's vacation. In total, there are 8 lodges spread across the state for families to enjoy.
At Hueston Woods State Park, families can enjoy 200 acres of virgin timber forest of beech and sugar maple trees that was set aside back in 1797 by Matthew Hueston for his descendants. There is a network of trails through the forest for mountain biking, hiking and disc golf. After a day spent outdoors families can return to the Hueston Woods State Park Lodge for dinner with a view of Acton Lake. Order the bananas foster for dessert; you won't regret it!
On the shores of Lake Erie, families can enjoy the waterfront and bird watching in the marshlands at Maumee Bay State Park. This is also a great place for families to bike because it has a great network of bike paths which are all quite flat. Families with tots love the indoor pool area with a cute splash pad and the adjacent indoor toddler play area in the Maumee Bay State Park Lodge.
Check out Trekaroo's full guide to your Ohio Weekend Getaway at an Ohio State Park Lodge.
9.   Be an Archaeologist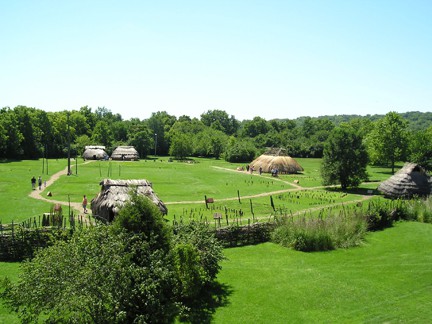 Photo by: SunWatch.org
Learn about the Ohio's Native American culture at SunWatch Indian Village/Archaeological Park, a 13th century American Indian village situated on the Great Miami River in Dayton. Archaeologists began unearthing a period settlement here more than three decades ago. When the work wrapped up, it became an educational center. A partially reconstructed village gives visitors an up close and personal experience with American Indian issues, modern archaeology, and prehistoric American Indian culture. Based on those earlier excavations at the site, the village was constructed. It now acts as an open air museum giving visitors an opportunity to travel back in time and experience how the original residents of the area spent their days.
Need lodging in Dayton? Find a great hotel.
8.   Head to the End Zone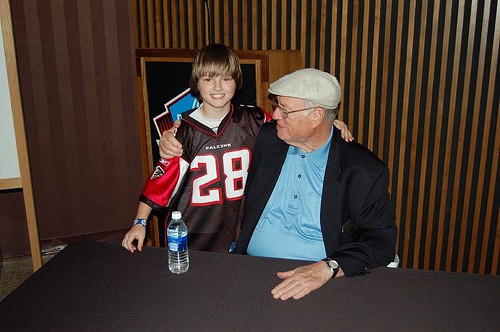 Photo by: Flickr/SteelCityHobbies
A temple for families to whom tailgating and tossing the pigskin around is a reverent activity, the Pro Football Hall of Fame celebrates all that is professional football. Not only does it honor those who've made outstanding contributions to the sport, preserve its artifacts and promote football's place in American culture, the Pro Football Hall of Fame hosts events for its dedicated masses throughout the summer. Among them is First Play, a commemorative event where nearly 2,000 youngsters line a two-mile route where they pass an official NFL football from the site in downtown Canton where the National Football League was founded to the front steps of the Pro Football Hall of Fame.
Check the best deals on Family Friendly Hotels in Ohio
7.   Go Wild at an Ohio Zoo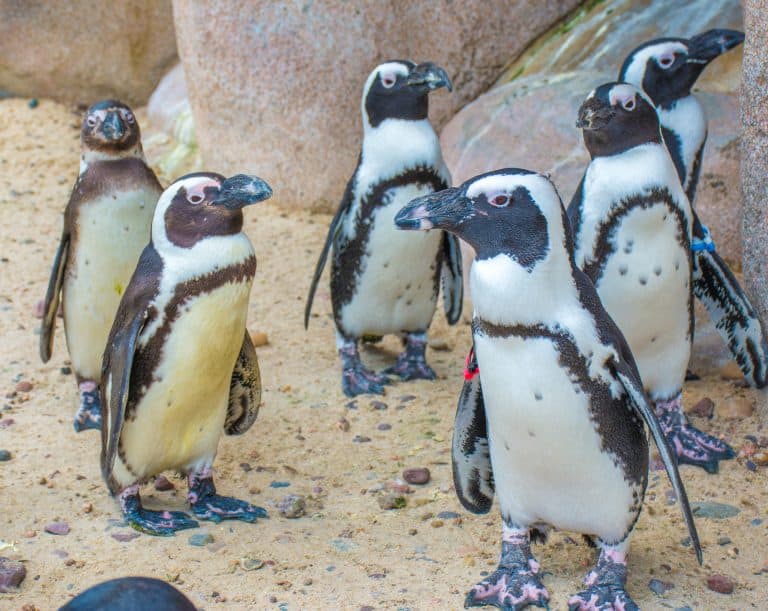 Made famous by Zoo Director "Jungle Jack" Hanna's frequent appearances on The Late Show with David Letterman, the Columbus Zoo boasts over 700 species of animals spread out over 90 acres and organized by regions like Asia, Africa and Australia. Your family will get exposure to Komodo dragons, lorikeets, Asian small-clawed otters, polar bears, Alaskan brown bears, Arctic foxes, cougars, wolverines and so much more.
Find a place to rest your head near the Columbus Zoo.
6.   Bring a Holiday Tradition to Life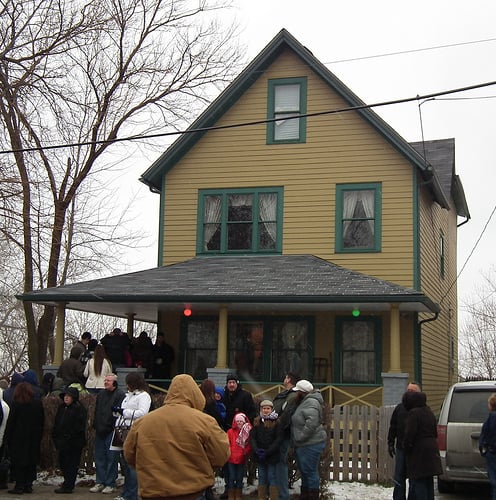 Photo by: Flickr/Erik Daniel Drost
If a viewing of the movie, A Christmas Story, is a holiday tradition in your household, then Cleveland has a treat waiting for you. You can actually visit Ralphie Parker's dysfunctional and fun household. The home used for the movie's exterior shots is open to visitors and the photo opportunities abound! Your family can try on aviator hats and pink bunny suits and gather around leg lamps for that wacky Christmas card picture.
Look for the best prices on Family Friendly Hotels in Ohio
Explore the Top 10 Things for families to do in Cleveland!
 Cleveland is incredibly close to the nearby natural wonder Cuyahoga Valley National Park. Don't miss it!
5.  Learn about Aviation in Dayton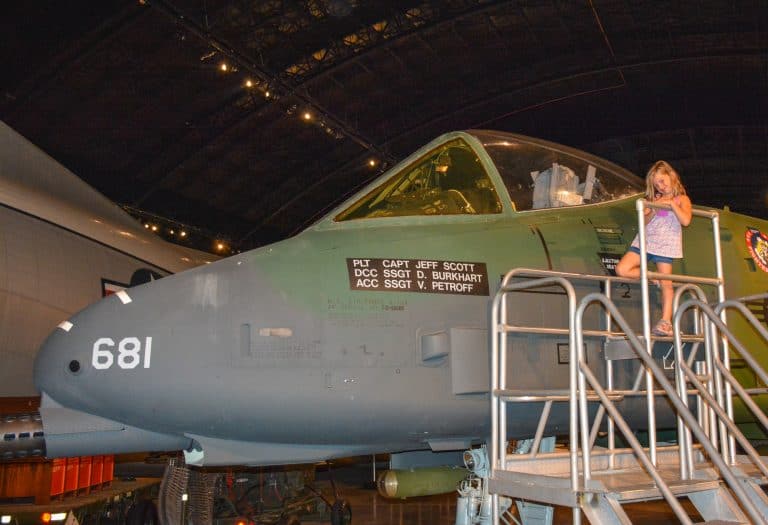 Ohio has so much to offer in the histories of aviation and space exploration. Neil Armstrong and the Wright Brothers are among the native sons who have taken flights of fancy whether on the earth or around it. The Dayton Aviation Heritage National Park marks the birthplace of plane travel. While the National Park Visitor Center doesn't look like much from the outside, the inside is full of exhibits that will inspire kids. There are interactive exhibits that demonstrate the physics of flight and some that tell the story of Orville and Wilbur Wright's childhood and early years in Dayton.
Looking to actually see some airplanes in Ohio? The best place to do that is at the National Museum of the Air Force, the oldest and largest military aviation museum in the world. There are four hangars full of US Air Force aircraft dating from World War II, the Korean War, the Southeast Asia (Vietnam) War, and the Cold War. The best part is that admission to this museum is totally free.
The state's contributions to space flight are celebrated in the Armstrong Air and Space Museum. Named for Neil Armstrong, the first man to set foot on the moon, items on display include a F5D Sky Lancer, the Gemini VIII spacecraft, Apollo 11 artifacts and a moon rock.
4.   Rock Out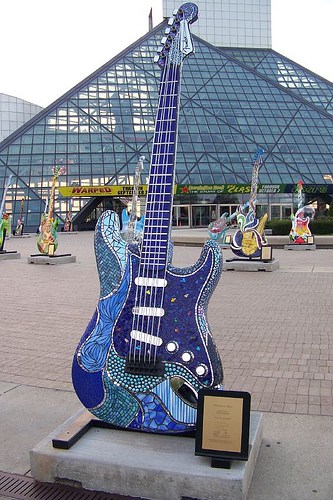 Cleveland deejay Alan Freed unwittingly put a match to a fuse in the early fifties when he spun an R&B record during his nightly radio show and called it, "rock and roll." Located in the epicenter he created, The Rock and Roll Hall of Fame houses the most impressive and iconic collection of music artifacts you'll ever find under one roof. Not only does the museum continue to expand its priceless collection which includes concert posters, rare recordings and offbeat items, it sponsors community festivals, discussion series, and even educational programs. So gather your rockers and beat a path to the door of this museum, it's a particularly good one to share with your teenager.
Rock Stars need a place to sleep too, find yours.
3.  Get Acquainted with the Amish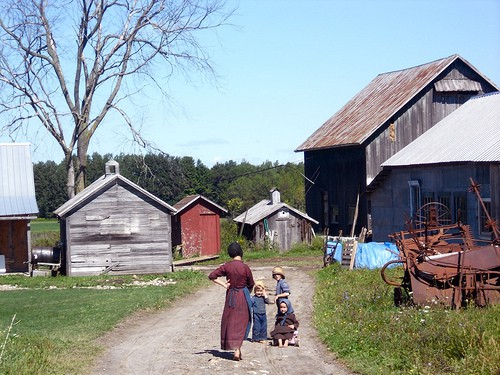 Photo by: Flickr/ilamont.com
Ohio is home to the world's largest Amish/Mennonite settlement. Located in the tiny city of Berlin, it's a nice way to take a break from the hectic pace of modern life and enjoy the peaceful and quite way Amish families live. At Schrock's Amish Farm, you can ride a horse-drawn buggy, tour an Amish home and learn about daily life in this community.
2.  Make a Break for the Peninsula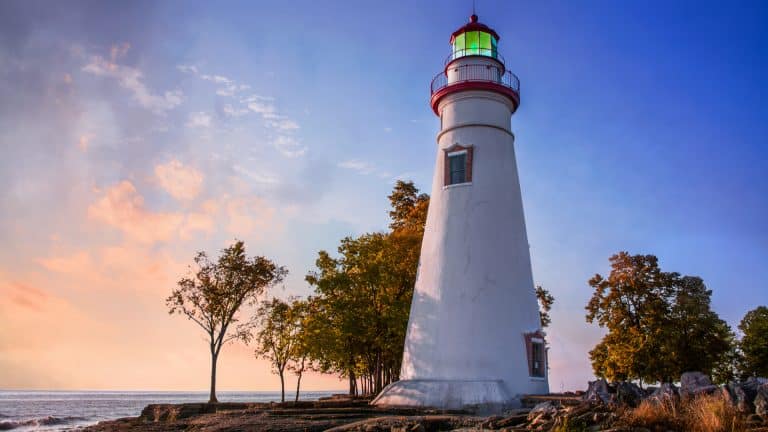 Ohio's Marblehead Peninsula, settled on the shores of Lake Erie, offers sailors, fisherman and cyclists an amazing haven. With picture perfect sunrises, mom and pop restaurants, charming pubs, a quaint waterfront village lifestyle and historic landmarks what's not to love? Out on the peninsula's jagged edge is a state park that is home to the Marblehead Lighthouse, the oldest continuously operational lighthouse on the Great Lakes. A beacon to boaters since 1822, the lighthouse is celebrated annually with a festival.
If this tranquil life becomes too peaceful, ultimate thrills are located just down the road at Cedar Point Amusement Park. Voted Best Amusement Park in the World, Cedar Point houses more roller coasters than any other park in the United States including the Mantis, a coaster ride with a 145-foot climb, followed by a dive into a 119-foot giant loop, then a 103-foot tall dive loop, then an inclined loop and a flat spin maneuver. Oh and did I mention you'll do all this standing up?
 

1.  Let Freedom Ring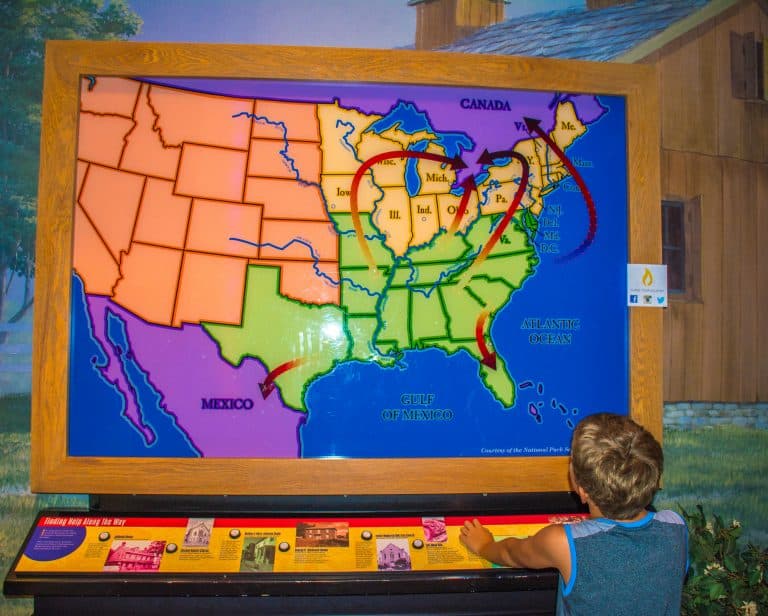 Hundreds of thousands of fugitive slaves once sought liberation on Ohio's Freedom Trail, a secret network of people and places that helped them escape into Canada.  Dubbed the Underground Railroad, the "conductors" along its route risked the ire of pursuant slave owners as they provided shelter and protection to these escapees during their journey. The homes, basements, attics, churches and barns of these brave helpers can now be traced from the Ohio River in the south to Ashtabula County on the shores of Lake Erie in the north as part of the freedom trail.  A visit to the National Underground Railroad Freedom Center is a great way to wrap up your tour.
Check for availabilities on Family Friendly Hotels in Ohio
Need a home base so you can take it all in? Book a room for your travel party.
Featured photo by: Shutterstock
What state do you want to visit next?
From coast to coast, we're determining the Top 10 Things to do with Kids in each state of our great nation. Head here to see what tops the list in your favorite state.
SaveSave
SaveSave