From theme parks and racetracks, to hall of fame museums and Amish Country, Ohio offers a stunning array of adventures for families to enjoy. The residents of this state have made substantial contributions to pop culture, sports competition and history. They took great risk to stand up against unfair laws, and faced the unknown while exploring outer space. Not only have they inspired amazing experiences for your family to visit, they've left great messages about courage, conviction and harmony that your family will be talking about long after your trip ends.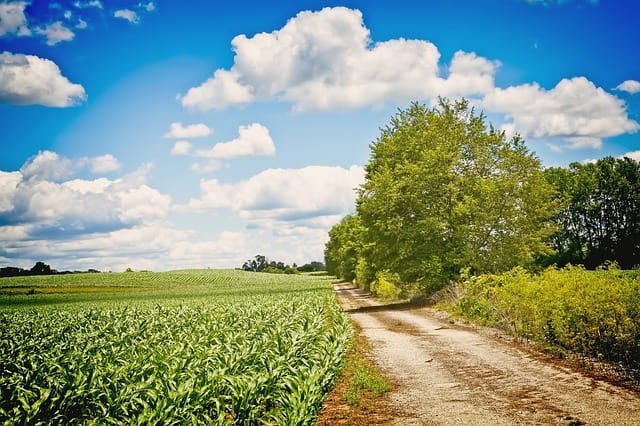 Check the best deals on Family Friendly Hotels in Ohio
Here is Ohio's top ten:
10. Feel the Need for Speed
Is there a Lighting McQueen fan in your family? You may want to get your pit crew out to the Mid Ohio Sports Car Course and let that little speed demon take in a race track first hand. Widely known as the most competitive road course in the United States, it features a permanent road-racing circuit offering an array of spectator experiences involving vintage sports cars, rugged trucks, Indy style race cars and motorcycles. Local, regional, and nationally sanctioned events for amateur, club and professional drivers and riders are hosted here annually. The facility expanded in 1993 to include the Mid-Ohio School, a world-class driving and riding program that has graduated over 34,000 students, including 11,400 teenagers.
Have you been to the Mid Ohio Sports Car Course? Give us your scoop!
9. Be an Archaeologist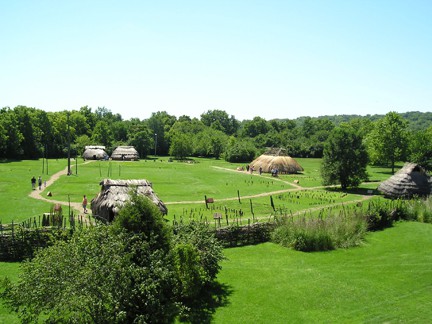 Photo by: SunWatch.org
Learn about the Ohio's Native American culture at SunWatch Indian Village/Archaeological Park, a 13th century American Indian village situated on the Great Miami River in Dayton. Archaeologists began unearthing a period settlement here more than three decades ago. When the work wrapped up, it became an educational center. A partially reconstructed village gives visitors an up close and personal experience with American Indian issues, modern archaeology, and prehistoric American Indian culture. Based on those earlier excavations at the site, the village was constructed. It now acts as an open air museum giving visitors an opportunity to travel back in time and experience how the original residents of the area spent their days.
Need lodging in Dayton? Find a great hotel.
8. Head to the End Zone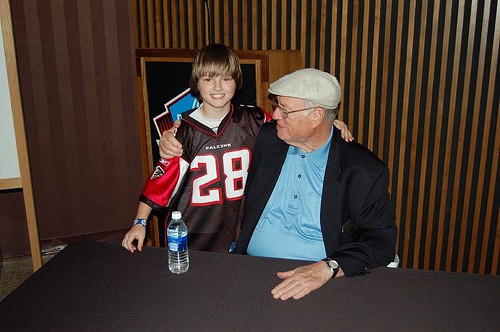 Photo by: Flickr/SteelCityHobbies
A temple for families to whom tailgating and tossing the pigskin around is a reverent activity, the Pro Football Hall of Fame celebrates all that is professional football. Not only does it honor those who've made outstanding contributions to the sport, preserve its artifacts and promote football's place in American culture, the Pro Football Hall of Fame hosts events for its dedicated masses throughout the summer. Among them are the Fan Appreciation Tail Gate Party to kick off the NFL season, First Play, a commemorative event where nearly 2,000 youngsters line a two-mile route where they pass an official NFL football from the site in downtown Canton where the National Football League was founded in 1920 to the front steps of the Pro Football Hall of Fame, and the Timken Grand Parade which attracts nearly 200,000 spectators along the 2.2 mile route to congratulate the next class of enshrines into the hall.
You look hungry! We'd like to suggest a place to eat.
7. Hang Out with Jungle Jack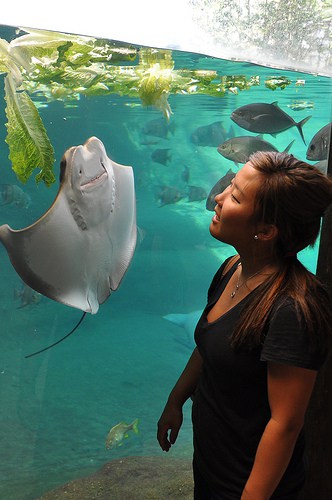 Photo by: Flickr/StevenJV
Made famous by Zoo Director "Jungle Jack" Hanna's frequent appearances on The Late Show with David Letterman, the Columbus Zoo boasts over 700 species of animals spread out over 90 acres and organized by regions like Asia, Africa and Australia. Your family will get exposure to Komodo dragons, lorikeets, Asian small-clawed otters, polar bears, Alaskan brown bears, Arctic foxes, cougars, wolverines and so much more. There's even a shores region where your youngsters can come eye-to-eye a West Indian Manatee, watch electric colored fish and sharks in a 100,000 gallon saltwater tank, and touch starfish in the Tidepool Touch tank. Other animal themed attractions include rides like the carousel, train, and pony rides as well as a collection of water rides.
Find a place to rest your head near the Columbus Zoo.
6. Bring a Holiday Tradition to Life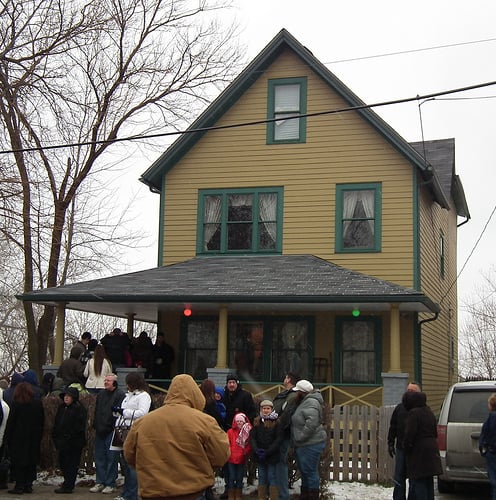 Photo by: Flickr/Erik Daniel Drost
If a viewing of the movie, A Christmas Story, is a holiday tradition in your household, then Cleveland has a treat waiting for you. You can actually visit Ralphie Parker's dysfunctional and fun household. The home used for the movie's exterior shots is open to visitors and the photo opportunities abound! Your family can try on aviator hats and pink bunny suits and gather around leg lamps for that wacky Christmas card picture. Visitors are treated to a short tour before they're encouraged to add creative shots to their photo albums while exploring A Christmas Story House and Museum. A small museum across the street offers a peek at memorabilia connected to the movie and an opportunity to pick up some fun and funky souvenirs.
Look for the best prices on Family Friendly Hotels in Ohio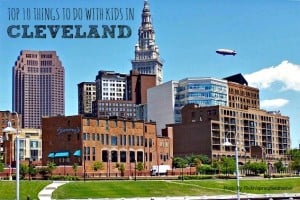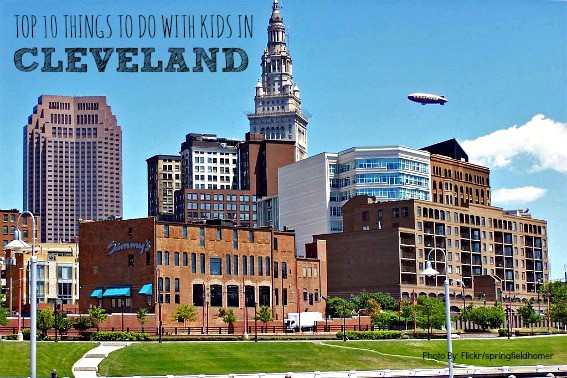 Explore the Top 10 Things for families to do in Cleveland!
Cleveland is incredibly close to the nearby natural wonder Cuyahoga Valley National Park. Don't miss it!
5. To Infinity and Beyond!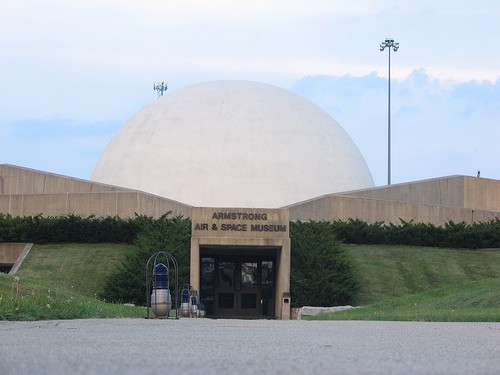 Ohio has so much to offer in the histories of aviation and space exploration. Neil Armstrong and the Wright Brothers are among the native sons who have taken flights of fancy whether on the earth or around it. The Dayton Aviation Heritage National Park marks the birthplace of plane travel. Follow the footsteps of the Wright Brothers at the Huffman Prairie Flying Field, visit their Hawthorn Hill mansion, and test your skills in the Wright B Flyer, a working plane built to mimic the original flyer the brothers constructed.
The state's contributions to space flight are celebrated in the Armstrong Air and Space Museum. Named for Neil Armstrong, the first man to set foot on the moon, items on display include a F5D Sky Lancer, the Gemini VIII spacecraft, Apollo 11 artifacts and a moon rock. Visitors are treated to multimedia presentations of the sights and sounds of space in the museum's Astro-theater. Families can also check out what it would look like to be in space surrounded by endless stars in the Infinity Room, get a demonstration of how the moon and artificial satellites maintain orbit around the Earth at the Orbit Table, experience the pressure and the thrill of landing the lunar module or space shuttle in one of three simulators, and so much more.
All of that air travel has made me hungry! Here are some places to fuel up.
4. Rock Out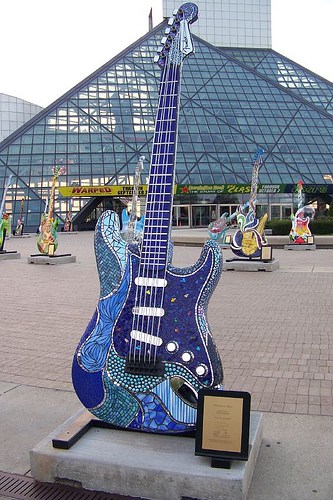 Cleveland deejay Alan Freed unwittingly put a match to a fuse in the early fifties when he spun an R&B record during his nightly radio show and called it, "rock and roll." Located in the epicenter he created, The Rock and Roll Hall of Fame houses the most impressive and iconic collection of music artifacts you'll ever find under one roof. Not only does the museum continue to expand its priceless collection which includes concert posters, rare recordings and offbeat items such as a rejection letter the band U2 once received from one quickly defunct record company, it sponsors community festivals, discussion series, and even educational programs that help budding musicians of all ages understand the deep impact that rock and roll has made on the world. So gather your rockers and beat a path to the door of this museum, it's a particularly good one to share with your teenager.
Rock Stars need a place to sleep too, find yours.
3. Get Acquainted with the Amish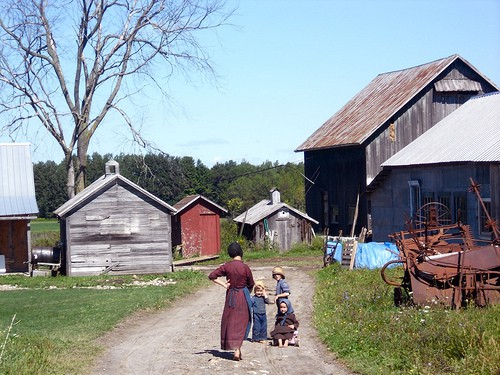 Photo by: Flickr/ilamont.com
Put down that Blackberry, power down your iPhone, and get off the grid with an adventure in Amish country. Ohio is home to the world's largest Amish/Mennonite settlement. Located in the tiny city of Berlin, it's a nice way to take a break from the hectic pace of modern life and enjoy the peaceful and quite way Amish families live. At Schrock's Amish Farm, you can ride a horse-drawn buggy, tour an Amish home and learn about daily life in this community. There is also ample opportunity to take some of that simple homemade world home with you in the form of a hand stitched quilt, a fine leather item or a unique antique.
Want to enjoy this pace a bit longer? Let's find you a place to rest your head.
2. Make a Break for the Peninsula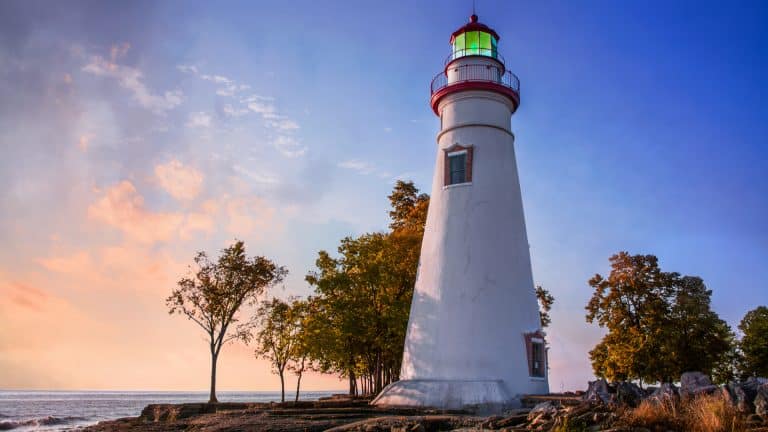 Ohio's Marblehead Peninsula, settled on the shores of Lake Erie, offers sailors, fisherman and cyclists an amazing haven. With picture perfect sunrises, mom and pop restaurants, charming pubs, a quaint waterfront village lifestyle and historic landmarks what's not to love? Out on the peninsula's jagged edge is a state park that is home to the Marblehead Lighthouse, the oldest continuously operational lighthouse on the Great Lakes. A beacon to boaters since 1822, the lighthouse is celebrated annually with a festival. If this tranquil life becomes too peaceful, ultimate thrills are located just down the road at Cedar Point Amusement Park. Voted Best Amusement Park in the World, Cedar Point houses more roller coasters than any other park in the United States including the Mantis, a coaster ride with a 145-foot climb, followed by a dive into a 119-foot giant loop, then a 103-foot tall dive loop, then an inclined loop and a flat spin maneuver. Oh and did I mention you'll do all this standing up?
Have you been to Marblehead Lighthouse State Park? Please rate and review your experience.
1. Let Freedom Ring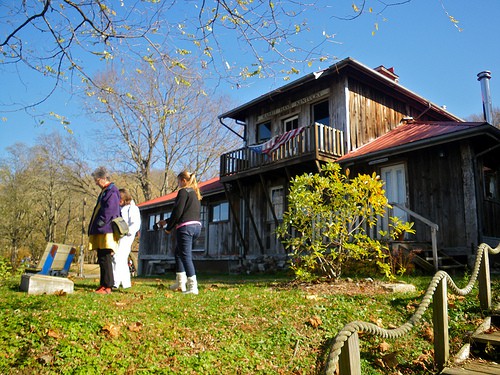 Photo by: Flickr/PunkToad
Hundreds of thousands of fugitive slaves once sought liberation on Ohio's Freedom Trail, a secret network of people and places that helped them escape into Canada. Dubbed the Underground Railroad, the "conductors" along its route risked the ire of pursuant slave owners as they provided shelter and protection to these escapees during their journey. The homes, basements, attics, churches and barns of these brave helpers can now be traced from the Ohio River in the south to Ashtabula County on the shores of Lake Erie in the north as part of the freedom trail. The serene countryside here provides a marvelous backdrop for starting a family conversation about standing up for what you believe in. It is important to note that the participants in this collective put themselves at great risk as they were breaking the law of the time: assisting or helping hide slaves was a federal offense. A visit to the National Underground Railroad Freedom Center is a great way to wrap up your tour.
Check for availabilities on Family Friendly Hotels in Ohio
Need a home base so you can take it all in? Book a room for your travel party.
Featured photo by: Shutterstock
What state do you want to visit next?
From coast to coast, we're determining the Top 10 Things to do with Kids in each state of our great nation. Head here to see what tops the list in your favorite state.