There are only a few moments in my life when I have felt more at peace than when I sat in silence watching the sunrise on our Lake Powell houseboat trip. The vast expanse of water shone like cerulean glass, not a single ripple disturbing its surface.
The Navajo Sandstone cliffs surrounding our private cove glowed in progressively warm shades of rust, salmon, pink, and gold as the sun crept up further towards the horizon, formally announcing its scorching intentions with a single gust of warm desert air.
It wouldn't take long before the sun's eye-awakening heat would rouse our children from their quiet slumber on our houseboat's upper deck. In that peacefully perfect moment, my chest filled with overwhelming thanks and admiration for the sublime beauty before me.
In just a couple of hours, the sounds of silence would be replaced with the humming of motorboats, the sizzling of bacon on the grill, and the splashes of a nine-year-old starting her day with a slide off the houseboat roof into the invigorating water below. But in that moment, Lake Powell was entirely mine.
Lake Powell Houseboat Trip
The Facts on Lake Powell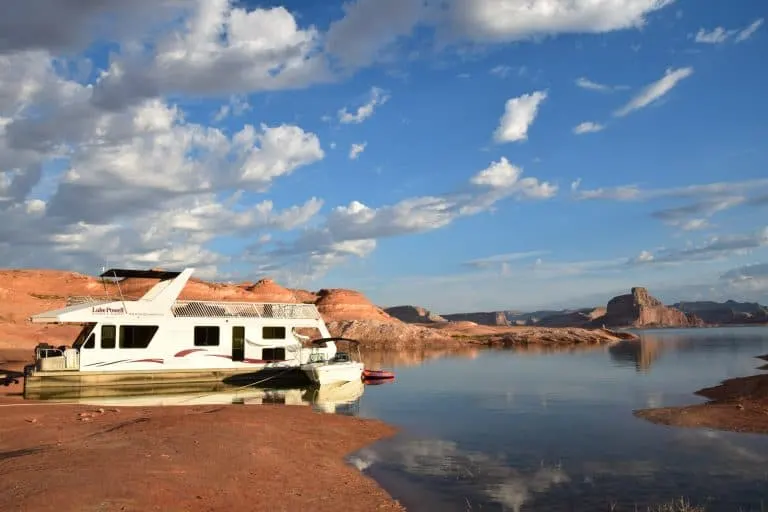 Lake Powell, at its most basic, is the 24 million acre-feet of water resulting from the Glen Canyon Dam holding back the waters of the mighty Colorado River. It the second largest reservoir in the country- Lake Mead is first.
It straddles the Utah/Arizona border and satisfies the demands of human and agricultural consumption in much of the Southwest. Its fingers reach out many of the canyons that make up Glen Canyon National Recreation Area. At full capacity, the lake stretches 186 miles in length, creating 2,000 miles of shoreline.
The typically hot, dry summer weather combined with the vast expanses of water make it ideal for houseboats and water sports. Three million people visit Lake Powell each year but the lake is so vast, you will often feel like you have the entire lake to yourself. A Lake Powell houseboat trip should be your new family tradition.
Explore more of the region. Here are the Top 10 Things to do in Utah with Kids and Top 10 Things to do in Arizona with Kids.
Lake Powell Houseboat Trip- A New Tradition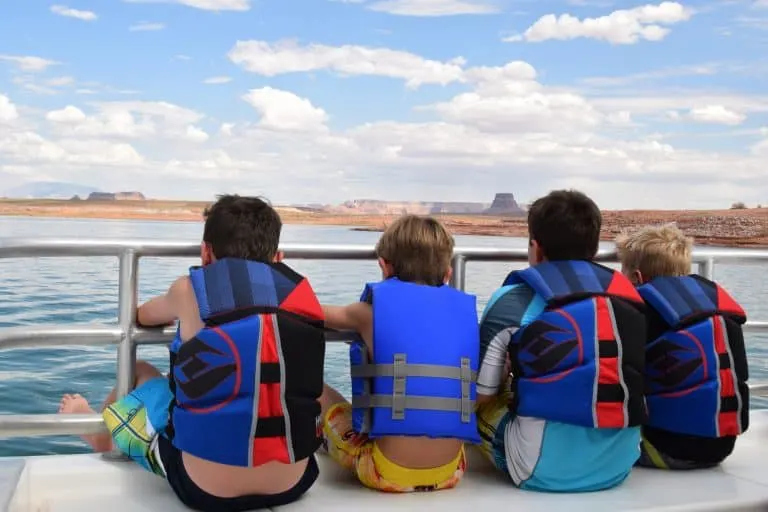 "So we are doing this again next year, right?" Less than 24 hours had passed since we began our Lake Powell houseboat vacation before my friend Chris had proclaimed that it must become an annual tradition. Many years had passed since our college days when vacation consisted of throwing a few blankets on the ground at a campsite and praying for dry weather.
While we all still loved the outdoors, our appreciation for creature comforts such as beds, refrigeration, air conditioning, and flush toilets had grown. For our three families, a Lake Powell houseboat trip was the perfect combination of nature, adventure, and comfort.
The solitude we found in one of the lake's many coves allowed us to play our 90's mix CDs as loud as we wanted and not worry about disturbing neighbors with our children's squeals of excitement resulting from epic battles of "King of the Raft." It also meant that the only noise we heard at night was the gentle lapping of waves against the side of our boat as we drifted off to sleep.
Lake Powell Houseboat Trip- Memories Made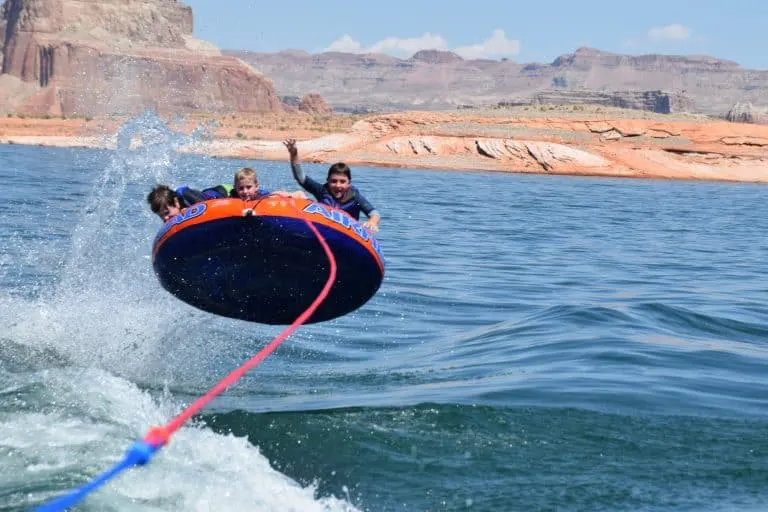 My memories from our houseboat vacation play through my mind like a highlight reel. Of course, there were the sunrises, but they were rivaled by epic sunsets which gave way to pitch black skies covered in infinite stars. Us city folks found it impossible not to stare up at the Milky Way, wowed by shooting stars as they streaked across the sky with brilliant trails behind them.
Mornings were the time for strapping on sandals and heading up into the hills to take in sweeping views and hunt for geodes before the August heat drew us back towards the water.
After breakfast, we would put on life vests and head out onto the water to watch the kids keep a death grip on to our tubing raft as they were bucked by waves like a cowboy riding a bull. It was epic, delirious fun.
Then there were the lazy afternoons where the kids took refuge inside our air-conditioned houseboat and watched movies while us adults floated, frosty beverage in hand, laughing at memories of the past.
Day Trip to Rainbow Bridge
Our day trip to Rainbow Bridge, the world's largest natural bridge, was definitely one experience we had to check off the bucket list. The 100-degree heat was a sweltering reminder that the trip is best taken in the early morning and that plenty of water is essential. The boat ride out to the bridge is lovely, especially the last mile through a narrow, shaded slot canyon.
The mile-long hike to the towering, 290-foot arch is not quite as lovely during the hottest month of the year. Shady spots are few and far between. Viewing the king of all arches up close and seeing my daughter sworn in as a Junior Ranger at the base of Rainbow Bridge was worth all that sweaty effort.
Trekaroo Tip: Dunk your shirt and hat in the lake before beginning your hike to help keep cool. Bring lots of water!
Read about kayaking on Lake Powell and 10 other great places to kayak in Arizona.
Lake Powell Houseboat Trip- A Family Affair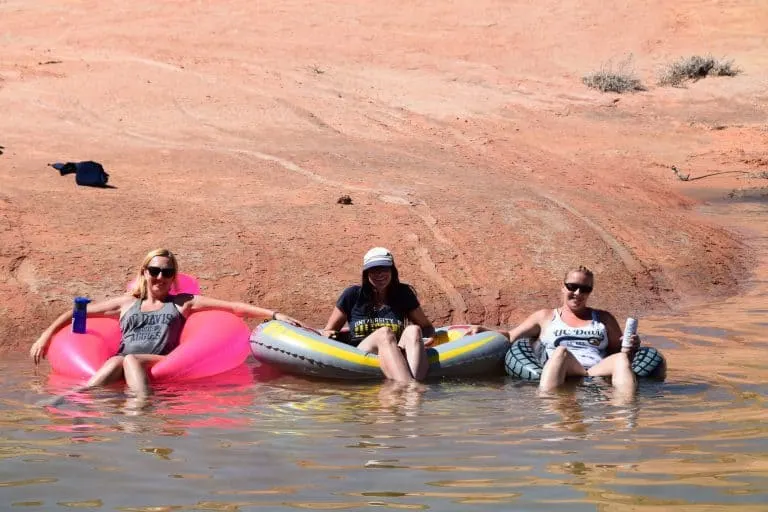 Lake Powell houseboat vacations are meant to be shared. On our own, the effort of planning and prepping for several days worth of meals, loading the boat, scouting the perfect cove with our power boat, and anchoring the houseboat to shore would have been overwhelming. With a few friends to share the experience, the trip became less about work and more about fun.
Each family was responsible for one meal per day to share. The full kitchen on board the boat, along with the barbecue grill, made prepping simple yet satisfying meals a breeze.
There were no complaints of boredom from the kids during our 4-day stint on the lake. Board games, books, and movies kept the children entertained when they were taking a break from the hiking, swimming, sliding, tubing, and marshmallow roasting.
Read my full review on Waheap Marina Houseboat and Watercraft Rentals.
Already been house boating and looking for additional ideas? Here's a few more great ideas for multigenerational travel.
Lake Powell Houseboating Tips- Know Before You Go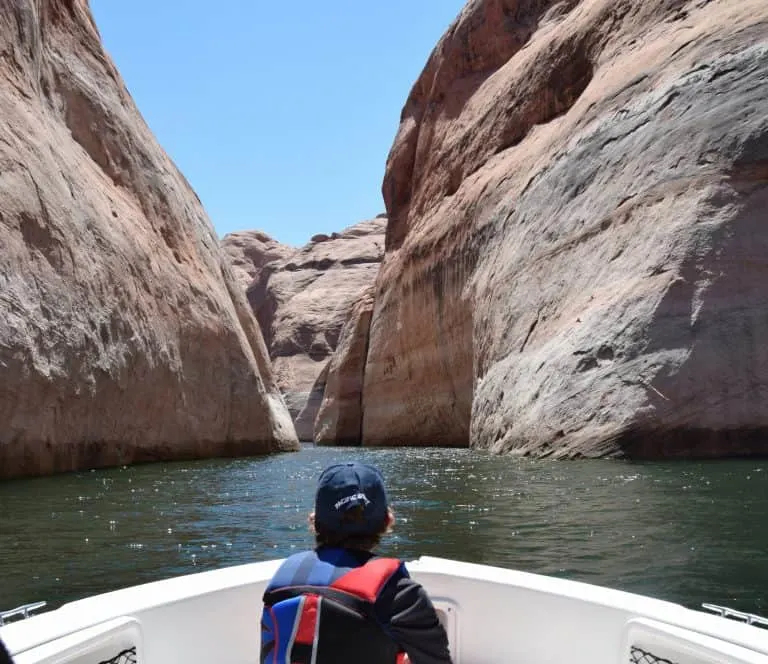 A Lake Powell houseboat trip is an ideal multigenerational or multi-family getaway. We found that anchoring the houseboat wasn't hard, but it would have been with just two adults. I suggest having at least 4 adults or teens on the trip just to keep the workload at a minimum. Having multiple adults also allows for the cooking and boat captaining duties to be shared.
Unlike powerboats, houseboats are not easily moved from location to location. Plan on docking your houseboat in the same spot for at least a couple of days at a time. If you want to further explore the lake, rental of a powerboat or personal watercraft is highly recommended.
There are porters at the dock which are available to help you load and unload your boat. Do yourself a favor and take advantage of this free service. Just don't forget to tip!
Try to arrive early on the day of check-in to get through the process quickly and get the houseboat on the water with plenty of time to boat to your campsite, anchor, and get settled.
Marine staff will happily drive your houseboat to the edge of the marina so you don't have to deal with getting the boat in and out of tight parking spaces. They will also help you park the boat after you fuel up for the last time on return day.
There is a large ice chest on board the houseboat which is ideal for storing drinks. We found that block ice melts slower than cubed ice.
The full-size kitchen on board is well stocked. The only thing I thought was missing was a cookie sheet.
Summers at Lake Powell are hot. July and August air temperatures are typically between 90 and 105 degrees. Water temperatures hover around a refreshing 80 degrees. Expect your kids to live in their bathing suits. Heck, expect yourself to be living in your bathing suit. Water shoes with good soles will come in handy as you head back and forth from land to water.
Bring your own life jackets. Life jackets are included with the boat but they are pretty basic. Even though they are good swimmers, we had our kids wear their life jackets any time they were in the water. Also, bring a variety of floaties. Expect a couple to pop and a couple to float away.
There is a CD player on the boat. Bring your old CDs and pump those jams! Pack DVDs as well. Encourage the kids to watch a movie midday so they can escape the most intense sun.
Rainbow Bridge is about 50 miles from Waheap Marina via powerboat. Plan your day accordingly.
July and August can bring monsoons to Lake Powell. These wind and heavy rain events can whip up quickly. Check the forecast and if you see any lightning or hear thunder, get out of the water until the storm passes. Luckily, most monsoons are short-lived.
LakePowell.com is a great resource. The website offers detailed information about the different types of houseboats, safety, and has a helpful packing checklist.
Page is the gateway city for Lake Powell. Here are10 Spectacular Things to do in Page.
Featured photo by Shutterstock
Disclosure: My family received a complimentary houseboat and powerboat from Lake Powell Resort & Marina in order to cover the houseboat experience for Trekaroo. The hospitality was appreciated but all opinions are my own.