The Twin Cities (Minnesota's Minneapolis and Saint Paul), can provide families with holiday fun from just after Halloween until well into the New Year! If you're willing to brave some real wintry weather in a true wonderland, you'll have many options for outdoor and indoor fun and festive activities. Here are some favorite Christmas Events in the Twin Cities that locals and visitors alike enjoy!
Look for current hotel deals in Minnesota
Holidazzle Village (Formerly Holidazzle Parade)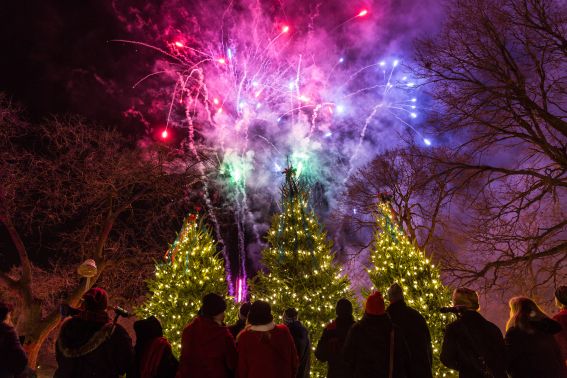 Holidazzle is a Minneapolis tradition. Visiting Holidazzle at Loring Park  is sure to warm the heart of even the Grinchiest of the family. The Holidazzle is a holiday market that is completely free and features an outdoor bazaar with unique gift vendors, areas for warming and indulging in treats of the season, and all sorts of holiday cheer, welcoming the public from November 24th – December 23rd. Live music, artisan booths, exquisite foods, visits with Santa, and holiday-themed weekly movies (including the classics) are all on the agenda for Holidazzle family fun. Special events and attractions can be expected throughout the season alongside the regular sights and sounds of the market. Bring your skates and enjoy the outdoor rink followed by a warm drink — all of this is taking place NOW at Loring Park, in the heart of Minneapolis.
Minnesota Landscape Arboretum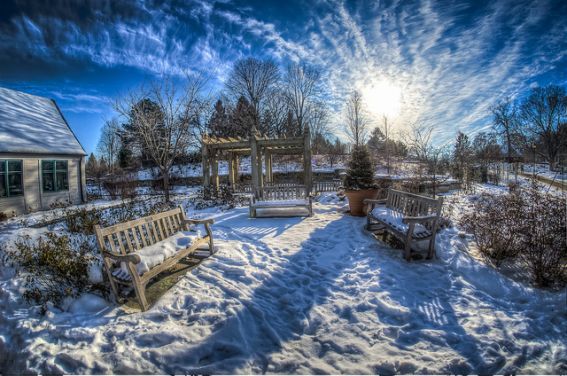 Enjoy the gardens and collections in the winter, too! The Minnesota Landscape Arboretum makes spirits (and trees) bright for the holiday season as visitors enjoy the Pointsettia tree, many lighted trees, the Land of Gingerbread Display, visits with Santa, and outdoor light displays. Located in Chaska, this is about a half hour drive time from the heart of the Twin Cities. You can enroll in a traditional Gingerbread workshop or enjoy holiday story times and live music. This is a unique way to enjoy the season! Be sure to visit the website for specific dates and times.
Breakfast or Dinner with Santa
Bring your appetite and your have your wishlist ready, kids! This VIP event is fun for the entire family, starting with breakfast in the Skyroom on the 12th floor of the downtown location (select dates, make reservations to secure tickets). Mom and dad can enjoy coffee and goodies while kids are entertained by Mrs. Claus, snow fairies, and the man of the hour. The spread is pretty extensive, including kid's favorite sugary items and more traditional appeal for adults! Think Buddy the Elf here; you can go wild with syrup on pancakes or French toast if that's what you desire! Balloon animals, face-painting, and a visit with the man in the red suit all happen while staying warm and enjoying the view from the 12th floor of Macy's in downtown Minneapolis! (Santa can also be seen at Santaland, but with breakfast the line is much shorter and the experience more personal!) Breakfast with Santa is sure to be a hit with your little ones! This event DOES sell out and return customers get a little advance preference for buying tickets, so make sure to plan ahead and get on "the nice list" right away! See the Minneapolis Macy's store site for more details.
Dinner is scheduled for December 13th and 19th at 6 p.m. at the downtown location, 12th floor Skyroom. As usual, reservations are needed and the best and most current information is always available on the Macy's website.
Macy's Santaland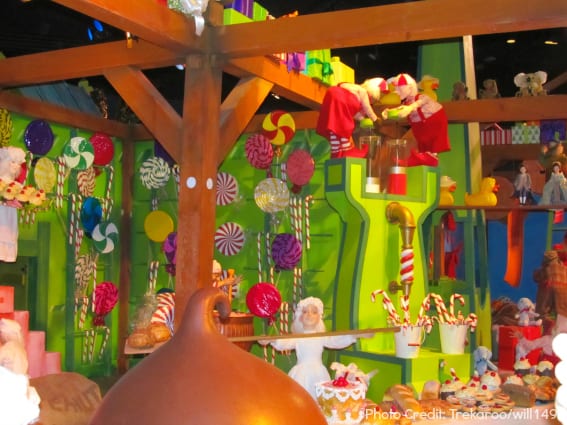 After you fill your bellies, head to Macy's 52nd Annual Santaland on the 8th floor and take in the walk-through tour of "a Day in the Life of an Elf," caroling Christmas trees, and more holiday-themed scenes. The line is lengthy, but the wait is remarkably short. Bring the camera! Strollers are welcome, but it's shoulder-to-shoulder at times, so do what will be the easiest for your family! After the tour through Santaland, which takes less than a half-hour, take in the Moose Crossing puppet show and the gift shop to round out the day. Santa arrives November 22nd and will be on-site for a visit until December 24th.
Check for hotel availabilities in Minnesota
American Swedish Institute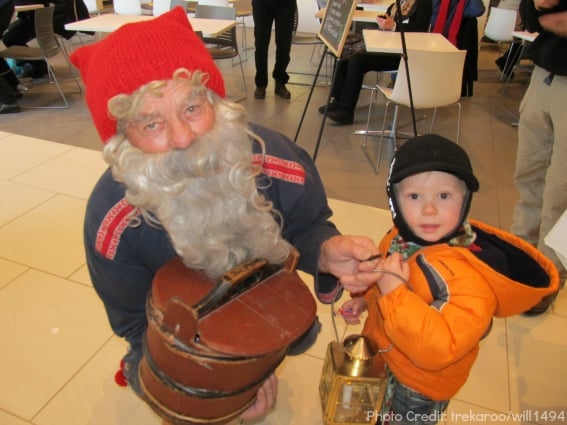 All of the holiday favorites, including baking, music, and shopping are represented with a Nordic twist at this holiday event. The American Swedish Institute (ASI) has a line-up during the holiday season that includes Julmarknad (which is a family favorite) and features a visit by Tomte (a Swedish Santa who hands out Swedish fish to the children and reads them a story), a wonderful and mostly warm market full of handicrafts (many that are very unique and have a Scandinavian touch to them), and tours of the enormous, decorated castle. There is a Dala horse for small children to take rides on if you are able to find it! Make ornaments or play a scavenger hunt, listen to a chorus or just take some time to get to know the roots of many Minnesotans (and Americans). This is a hit during the holidays for sure! Check out the website for all the details — it would take pages upon pages to mention it all. It sort of makes you want to set up a tent and just live on the ASI campus through the holiday season. There is just SO much magical merriment to enjoy!
Winter Walk in Northfield
This is a short commute from the heart of the Twin Cities into the suburb of Northfield and it's well worth the drive. Experience the quaint downtown area of the city by candlelight December 7th, 2017 from 5 p.m. – 9 p.m. Winter Walk fun includes reindeer drawn sleigh rides, cocoa, and caroling. This location is about 45 minutes from Minneapolis/St. Paul and a half hour from Mall of America — but to experience a "small town" holiday, this is a great place to explore!
Ice Castles (Stillwater, MN)
About thirty minutes from the heart(s) of the big cities is Stillwater, MN. This year, Stillwater is one of four cities in North America to host this gorgeous frozen structure complete with vivid lights and fairytale-like splendor! Each site must grow 10,000 icicles a day to make this happen and as you may have guessed, it's a super seasonal, weather dependent spectacle! Check the main Ice Castles website to determine the hours and opening of each site.
Be aware, strollers and wheelchairs are not real easy to navigate through the crushed ice pathways of the Ice Castles site.
See a Classic (Or Something Totally Different)
Perhaps your family loves to watch A Christmas Carol or The Lion in Winter? Maybe a version of The Nutcracker or the American Swedish Institute's Nordic Christmas could be for you and yours! If you like arts and culture and want a little holiday-themed story line for an evening outing, the Twin Cities won't leave you wanting for much! The famed Guthrie Theater in Minneapolis hosts a variety of shows and plays that will delight and dazzle the family. If it's something different that you're looking to see, the Brave New Workshop has a more bold offering, maybe for the older kids or teens, the annual Christmas show –in years past, patrons enjoyed quirky bits such as Twerking Around the Christmas Tree and The Drumpf Who Stole Christmas. This year promises more fun with The Brave New Workshop's 2016 Holiday Revue: What the Elf!? and The Danger Committee Presents – A Stocking Full of Awesome VI: Wreck the Halls.
Como Park Zoo & Conservatory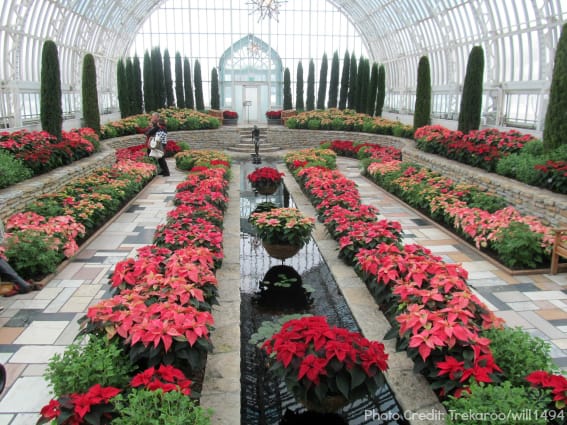 Special events like Holiday Tea & Behind the Scenes Tour (which is quite popular, call for reservations), and the annual Holiday Flower Show, a great place to take that perfect holiday family photo, are a blast at Como! Since admission is FREE (free will donations encouraged) and many exhibits are indoors, this can make a great winter escape if the weather takes a turn. Most of the animals can be seen (except the Aviary and Tortoises, things that are seasonal.) The Como is never a bad way to spend a day no matter the season, but there is a little extra holiday joy this time of year!
James J. Hill House Holidays 
A truly unique experience, experience the "servants" of the James J. Hill house usher in a Gilded Age Christmas as they prepare for the holidays, fully costumed at the Summit Ave. mansion. History, arts, fun! Tours leave every half hour, and Hill House Holidays runs Saturdays and Sundays from Dec. 3-24; reservations are recommended. The first date is already sold out! This would be a fun way to make history really spark for older children learning about this era!
A Victorian Christmas at the Alexander Ramsey House
Dating back to 1875, when Minnesota was still a territory, the house of the then governor is on display with the halls properly decked for all to see and experience today. Costumed guides will lead tours through the home–including original family ornaments on display, serve cookies, enjoy Christmas decorations and music. Tours are offered the day after Thanksgiving through Jan. 4. The house is located on historic Exchange St. and directions as well as event times and reservations can be found here and made by calling the site.
Mall of America
Being the mecca of shopping to satiate even the most ravenous bargain hunter, the Mall of America has decadent dinner options for the whole family, amusement park rides, special events (check the schedule to plan around something fun for kids), and so many offerings for families. MOA is a fantastic place to frequent if you're feeling festive. Staying in the area or looking to do so? Here's a helpful list of nearby hotels that are great for families. Don't forget, one of them has a gigantic waterpark and is just a stone's throw from the mall; perfect makings for a fun-filled holiday weekend!
Are you now excited about the prospects that the Northland has to offer your family for the holidays and beyond? Check out the Top Ten Things for Families to do in Minnesota to get started planning year-round fun in this playground of lakes – frozen or not!
Look for the best hotel prices in Minnesota
Pin this to bookmark all the holiday fun; we update it yearly: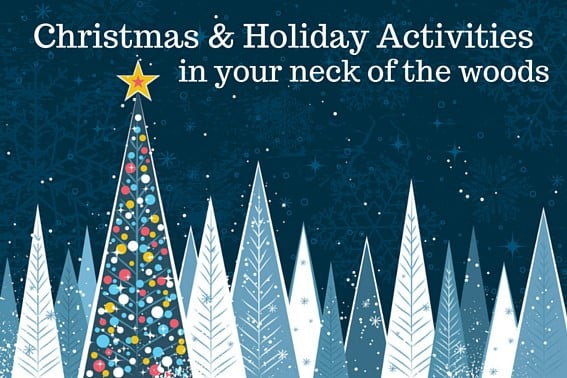 Featured photo by: Shutterstock