The Twin Cities of Minneapolis and Sr. Paul can provide families with holiday fun from just after Halloween until well into the New Year! There is certainly no shortage of St. Paul and Minneapolis Christmas events, and we know where to send you for the best!
Here are some favorite holiday events to celebrate a true Minneapolis Christmas and St. Paul-iday fun that locals and visitors alike enjoy! Updated for 2020.
St. Paul and Minneapolis Christmas Events
Holidazzle Village (Formerly Holidazzle Parade)
Note: Holidazzle will be a virtual eventin 2020 due to Covid-19.
Holidazzle is a Minneapolis tradition. The Holidazzle is a holiday market that is completely free and features an outdoor bazaar with unique gift vendors, areas for warming and indulging in treats of the season, and all sorts of holiday cheer.
Live music, artisan booths, exquisite foods, craft beers, and glühwein (festive, spiced red wine), visits with Santa, and holiday-themed weekly movies are all on the agenda. Bring your skates and enjoy the outdoor rink followed by a warm drink. All of this takes place at Loring Park, in the heart of Minneapolis.
A Norwegian Christmas at Eidem Farm
It appears as though this event is cancelled for 2020 due to Covid-19.
Enjoy carols, crafts, ornament making and a visit from Santa during 'A Norwegian Christmas' at the farm. The historic 10-acre Eidem farm takes visitors on a journey to the turn of the 20th century when the region was one of the top areas growing potatoes.
Enjoy hot cocoa as you walk around the Victorian house, meet the farm animals and put cloves in oranges to make scented pomander balls for Christmas. The farm is located at 4345 101st Ave., N., in Brooklyn Park.
Minnesota Landscape Arboretum Winter in Bloom & NYE Party
Holiday events at the Minnesota Landscape Arboretum have been cancelled for 2020 due to Covid-19.
Enjoy the gardens and collections in the winter, too. Special events are happening at the Arboretum. The Minnesota Landscape Arboretum makes spirits (and trees) bright for the holiday season.
Visitors will enjoy the Great Hall tree lighting event, many lighted trees, visits and winter brunch with Santa, and outdoor light displays. Located in Chanhassen, this is about 30-minute drive from the heart of the Twin Cities.
Be sure to visit the website for specific dates and times. Get in the holiday spirit as they unveil the Arboretum's 25-foot poinsettia tree and light up the trees of the Great Hall. Enjoy hot cocoa and cookies!
Check for amazing deals on family-friendly hotels in Minneapolis and St. Paul.
American Swedish Institute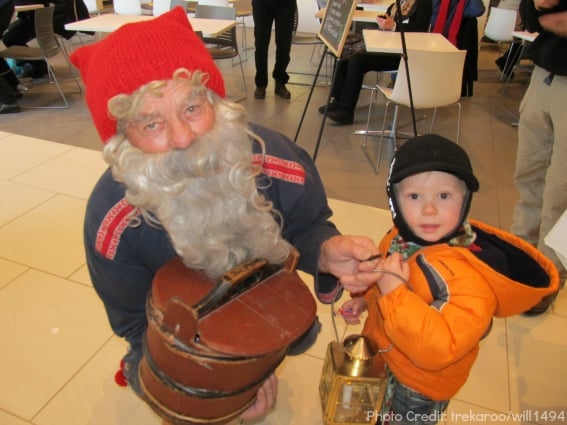 All of the holiday favorites, including baking, music, and shopping are represented with a Nordic twist at this holiday event. The American Swedish Institute (ASI) has a line-up called 'Handmade Holidays".
It includes Julmarknad and features a visit by Tomte, a Swedish Santa who hands out Swedish fish to the children and reads them a story. There is a wonderful and mostly warm market full of handicrafts, many that are very unique and have a Scandinavian touch to them.
Take a tour of the enormous Turnblad Mansion, which is a bonafide and decorated castle. There is a Dala horse for small children to take rides on. Make ornaments or play a scavenger hunt, listen to a chorus, or just take some time to get to know the roots of many Minnesotans. With so much going on, makes you want to set up a tent and just live on the ASI campus through the holiday season!
Note: ASI is still open but many of the traditional holiday events have gone virtual this year. Check the ASI website to see what is happening in person and what is online for 2020.
Winter Walk in Northfield
Experience the quaint downtown area of the Northfield by candlelight December 10, 2020 from 5 p.m. – 9 p.m. Winter Walk fun includes horse-drawn sleigh rides, cocoa, and caroling.
This location is about 45 minutes from Minneapolis/St. Paul and a half hour from Mall of America — but to experience a "small town" holiday, this is a great place to explore! Frosty the Snowman and Rudolph the Red-nosed Reindeer are reportedly slated to make an appearance.
Ice Castles (Excelsior, MN)
Cancelled for 2020.
About thirty minutes from the heart of the big city is Excelsior, MN. This year, Excelsior is one of six cities in North America to host this gorgeous frozen structure complete with vivid lights and fairytale-like splendor!
Each site must grow 10,000 icicles a day to make this happen and as you may have guessed, it's a super seasonal, weather dependent spectacle! Check the main Ice Castles website to determine the hours and opening of each site. Be aware, strollers and wheelchairs are not easy to navigate through the crushed ice pathways of the Ice Castles site.
See a Show
Perhaps your family loves to watch A Christmas Carol (this will be a virtual experience in 2020). Maybe a version of The Nutcracker? If you like arts and culture and want a little holiday-themed storyline for an evening outing, the Twin Cities won't leave you wanting for much!
The famed Guthrie Theater in Minneapolis hosts a variety of shows and plays that will delight and dazzle the family, including the classic A Christmas Carol, mentioned above. Penumbra Theatre is proud to bring you some diversity to a traditional story, enjoyed over the decades by families, entitled: Black Nativity.
Como Park Zoo & Conservatory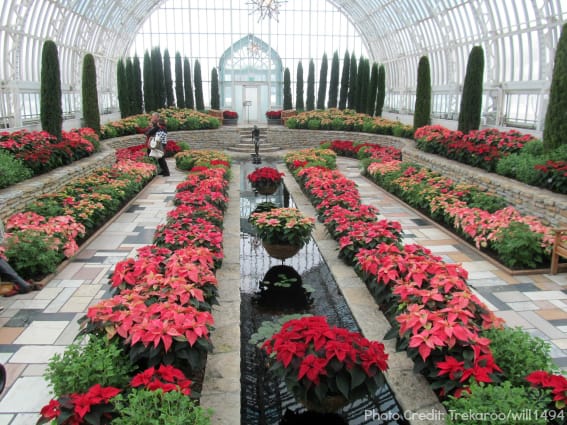 The annual Holiday Flower Show opens December 5, 2020. This is a great place to take that perfect holiday family photo!
Como Zoo is a wonderful reprieve from the cold winds of the frozen north, even if you opt for visiting the polar bears! Since admission is FREE (but reservations are required) and many exhibits are indoors, this can make a great winter escape if the weather takes a turn. Most of the animals can be seen, except for the tortoises and aviary which are seasonal.
James J. Hill House Holidays
This event is cancelled. James J Hill house is closed due to Covid-19.
Experience the "servants" of the James J. Hill house ushering in a Gilded Age Christmas as they prepare for the holidays, fully costumed at the Summit Ave. mansion. History, arts, fun! Get in the holiday spirit with a guided tour and learn about Christmas traditions for the Hill family and their servants.
Guides bring visitors through the basement, first and second floors while sharing family stories and memories, including Mrs. Hill's lavish seven-course holiday meal in 1910, how the servants kept their own holiday traditions, and family stories and memories that still resonate today.
Reservations are recommended. Often called Minnesota's Downton Abbey, this site also offers Christmas Traditions Guided House Tours on more flexible tour dates if a Saturday does not work for you.
Great Wolf Lodge – Minnesota
Snowland is a fun collection of annual festivities around the winter season at Great Wolf Lodge. Having experienced this first-hand with our family, we couldn't recommend it more for a unique and exciting way to spend your holiday season with kids.
During the Christmas season, Great Wolf Lodge becomes a magical winter wonderland. Trekaroo has a full guide to Christmas at Great Wolf Lodge with all the details.
Check out 15 things you need to know before you go to Great Wolf Lodge.
Mall of America
The Mall of America is the mecca of shopping designed to satiate even the most ravenous bargain hunter. It also has decadent dinner options for the whole family, amusement park rides, special events (check the schedule to plan around something fun for kids), and so many offerings for families.
MOA is a fantastic place to frequent if you're feeling festive. Staying in the area or looking to do so? Here's a helpful list of nearby hotels that are great for families.
Don't forget, one of them has a gigantic waterpark and is just a stone's throw from the mall; perfect makings for a fun-filled holiday weekend! The whole megamall is decked out in holiday lights and festive sights over the holly jolly season.
I recommend Flyover America, located at the entrance of Nickelodeon Universe (tickets sold separately from the theme park). The ride is similar to Disney's Soarin' but during the winter season at The Mall, you might just have extra magic mixed into a very thrilling ride.
Check out the Top Ten Things for Families to do in Minnesota to get started planning year-round fun in this playground of lakes – frozen or not!
Check for the best hotel prices for families in Minnesota.
Find more Christmas events near you! Trekaroo has guides for dozens of cities across the country.
Pin this to bookmark all the holiday fun; we update it yearly: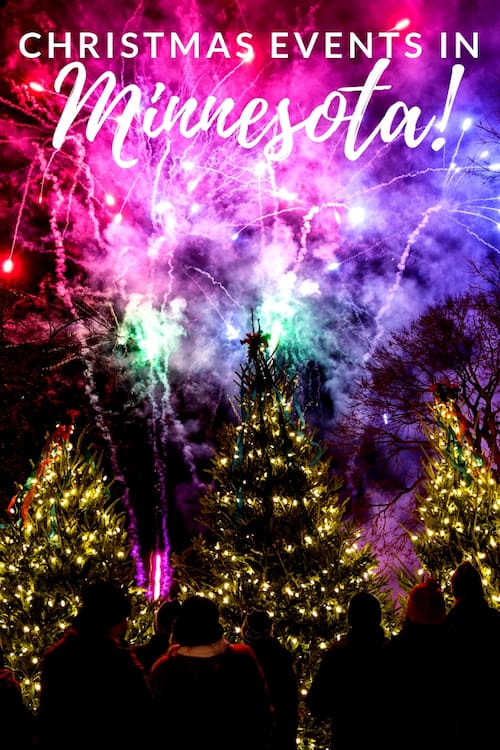 Featured photo by: Shutterstock