Orlando is an absolute playground of possibilities when it comes to family vacations. As animal lovers, we have long wondered, is Disovery Cove worth it? Truth be told, the cost was always a barrier and I wanted to be sure that the splurge was worth the splash!
After several memories made at Disney's Animal Kingdom over the years, we wanted a new way to learn about and interact with animals. With only one day before heading over to Crystal River to hang out with resident manatees, I decided to make the trip about responsible animal interactions and fostering ideas about ethical tourism. Discovery Cove was the perfect spot to add some depth to our itinerary.
As a former wildlife biologist and mom to animal-loving kids, zoos have long been a staple in our vacation albums.
Discovery Cove is under the SeaWorld umbrella of experiences, and offers a water-centric experience that is literally immersive. The reservations only, all-inclusive day resort comes at a cost (just like Disney, Universal, LegoLand, and other spots) and we wanted to know if it was worth it. Here's our complete Discovery Cove review.
Here are all of Trekaroo's favorite things to do in Orlando with kids.
Is Discovery Cove Worth It?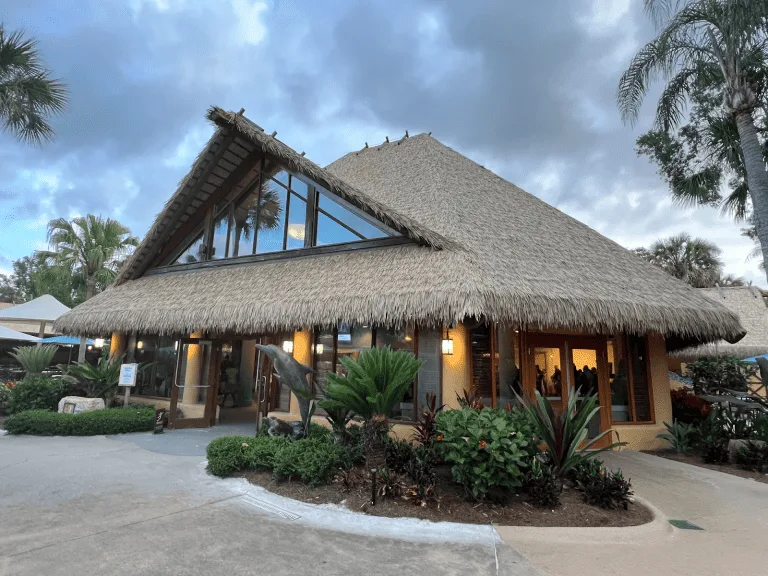 I have seen Discovery Cove described as "one of the more expensive park offerings in Orlando." However, I think this is only because the costs are upfront.
Other parks will drain your wallet throughout the day, while you pay upfront for everything here, making it seem more costly. Instead, I would describe Discovery Cove as "one of the most meaningful ways to splurge on a family day in Orlando."
If you haven't heard of or considered Discovery Cove for your vacation, we'll start with a little primer. Here are the things included with your admission ticket.
Included with your general admission ticket:
Snorkeling at Grand Reef
Unlimited food and beverage
Aviary and food for the birds
Freshwater Oasis (where the otters are)
Serenity Bay (the warmest pool)
Wind Away River
Mask, snorkel (which you get to keep), wetsuits, and reef safe sunscreen
Access to really nice locker rooms, showers, beach chairs, and umbrellas all over the sandy site
If you're just looking for an elevated pool experience with a few extra amenities to keep busy, but not as busy as a waterpark, this is the place to spend your day!
With all of the included experiences, we found we could while away a day no-problem just floating and playing as we would in a pool or waterpark. There are float noodles available at Serenity Bay for the Wind Away River.
The river does reach pretty serious depths of 8+ feet and changes are somewhat erratic. Complimentary life jackets for the littles are available in several locations to keep kids on the surface safely. With just over 1,000 visitors accepted daily, Discovery Cove's carrying capacity allows your day to be mostly crowd free.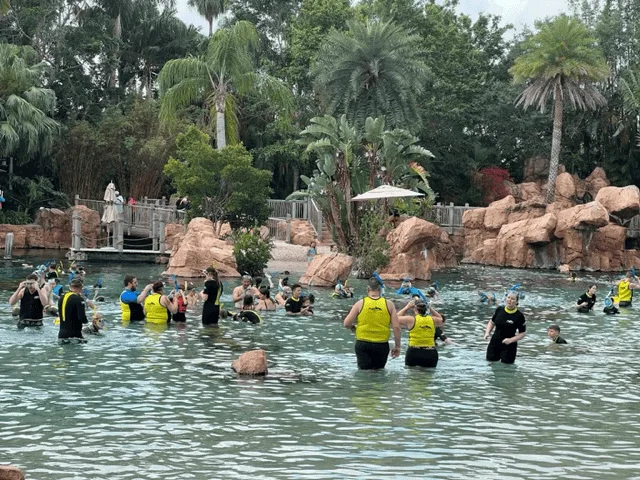 The Grand Reef is alive with color both underwater and at the surface with lots of blue and yellow snorkels and neoprene peeking out from the water. It looks like too many other swimmers to ever have a meaningful experience, but there are so many fishes and rays, you really do not notice other explorers at all. Truly – you don't really notice an impact to your snorkel experience despite many people all around!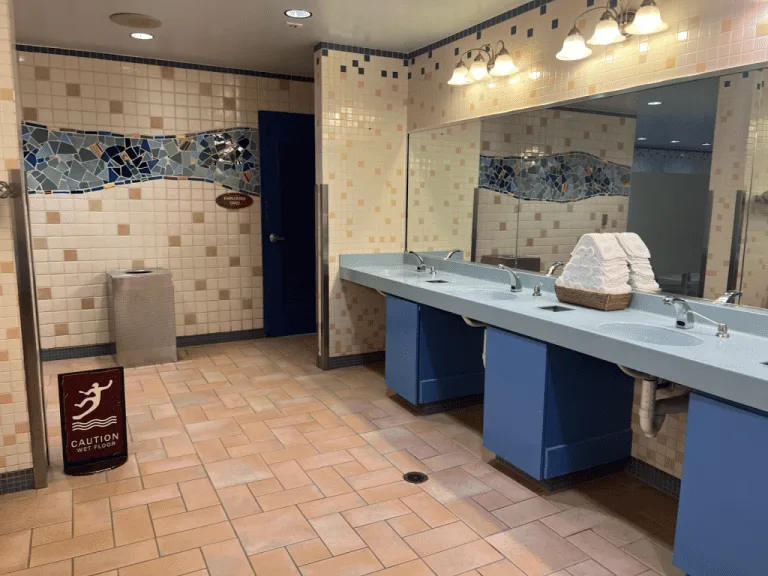 The thing that stood out most to us is that you COULD have a great day without any upgrades. This is like an elevated day at the beach, if the beach were crowd controlled to a manageable level, came with spa-level changing rooms, towels, and beach/lounge chairs and umbrellas, and was within a short walk of slushies and soft pretzels with no need for cash or cards. So, that in itself is worth it for a no-fuss beach day experience.
Experiences and Upgrades at Discovery Cove
SeaVenture (10 and up)
Flamingo Mingle
Feeding Rays
Dolphin Swims
Animal Trek
Premium Beverage Package
Shark Swims
Cabanas & Special Reservations
Photo Packages
Trainer for a Day
Insider Experience: Dolphin Swim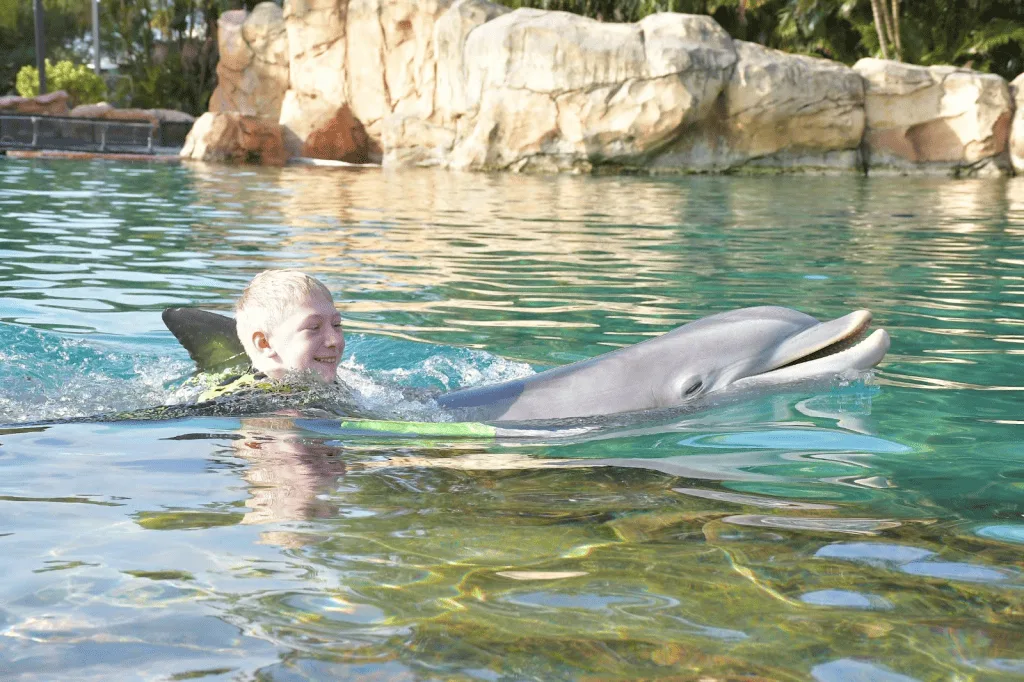 Please note, children must be at least 6 years old to swim with dolphins. Children ages 6-12 must be accompanied by a paying adult who is also participating in the dolphin swim experience.
When you get to the park and are ushered into the Welcome Center, your day's schedule is set. Try hard to book early dolphin swims. The animals are fresh and ready to interact early in the day. It also means great lighting for photos and more forgiving temperatures for donning wetsuits and standing in the sun.
You will gather in a cabana to go over a safety briefing. You will be combined with other small groups. Our session had about 15 people total. Do not be late for your swim time! Everyone will be patiently waiting for you to arrive.
Finding out what you can and cannot have on your person is the most significant part of this time. These rules are designed to keep the dolphins safe and your belongings from being destroyed or lost. You can expect jewelry, flip-flop style sandals, and all electronics to be on the no-go list.
Water shoes are helpful, but they need to be able to secure to your foot. No slides or thong style footwear.
You will be in the water in an orderly line. If you want images of your experience and you do not have someone on land with a camera, it's imperative that you purchase a photo package. You aren't able to easily slip out of the water to catch photos of your kids if you too are experiencing a dolphin swim.
You'll get to learn about your dolphin ambassadors and then one by one, you'll be able to interact with them. Have you ever had a dolphin kiss your cheek? It's pretty unforgettable!
If you haven't traveled by dolphin, this is also your chance to safely learn where you can gently hold a dolphin to cruise in their company! Spoiler alert: once you've traveled in the water by dolphin power, horsepower of any boat ride is weak by comparison!
Overall, even my somewhat standoffish elementary child was won over by these intelligent, playful dolphins. Hearing them vocalize and seeing how intimately the marine animal specialists know each individual is breathtaking. If ever you were going to splurge on an animal experience, this is a really great time to do it!
Feeling the odd, slippery and rubbery skin of a dolphin and seeing how smart the animals are is a moment which shows people compassion for other creatures. They aren't simply entertainers of the aquarium. They have names and families and social behaviors. They can learn and are more like us than we knew before seeing them more intimately than from stadium seats at a show or by watching Flipper.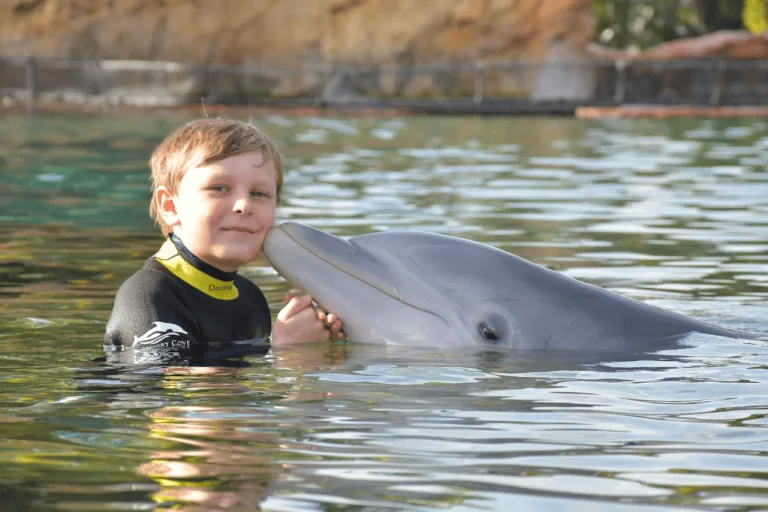 The same way that most people end up purchasing a Memory Maker or PhotoPass at Disney to capture memories, if your entire party goes on a Dolphin Swim, spend the extra money to capture those memories for perpetuity.
A few hundred dollars over the course of your lifetime will be meaningless but the grins of your kids with a dolphin are absolutely priceless. The packages start at $99 and you can get a digital photo package for $229 (prices at the time of story publication).
Need a place to stay here are our favorite Orlando Resorts for Families as well as the best hotels pools in Orlando.
Behind the Scenes on Animal Trek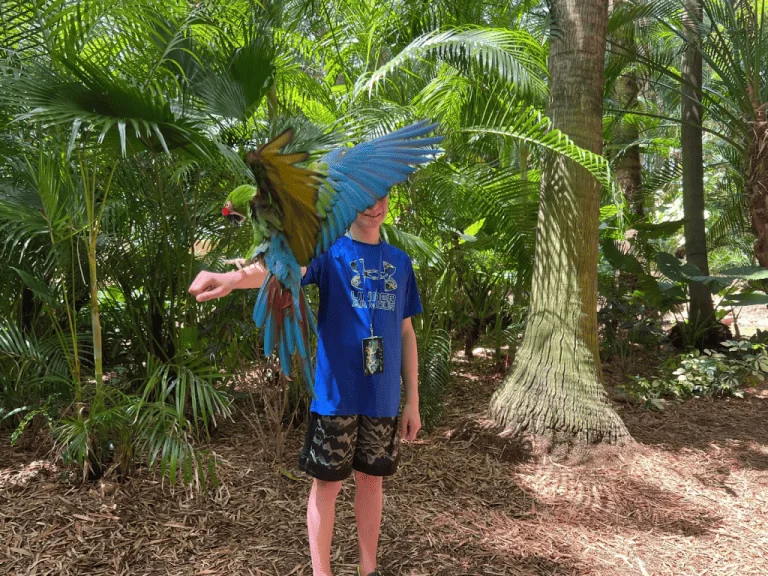 We are animal lovers in this family. My kids come by it naturally, since I'm a wildlife biologist by training. I constantly look for opportunities to learn about animals with the kids. That said, I also look for ethical and responsible tours and programs wherever possible. Discovery Cove really executes this ethos.
One of the wildlife handlers we spoke with specifically mentioned that the animals come first, which dictates what species you may or may not see depending on the day and the animal ambassador being receptive to interacting.
The Animal Trek we participated in had two other small groups included at our time – a family of four and a duo, making the total group size just nine.
We got to meet an armadillo, an owl, a macaw, and a sloth. Not only did we meet them and learn about their various stories of becoming residents of Discovery Cove, we also got up close and personal with a few.
Being a bird nerd, communing with the macaw was epic for me. We watched the armadillo seek and eat mealworms in a small travel habitat.
The sloth was probably the show stopper though. It was perfectly posed on a climbing post, snoozy and relaxed, in the prime position for many photos and lots of gentle touches on its back fur. The only other place I've seen people be able to get so close and even gently touch sloths is abroad in Central America. Talk about heart warming!
Animal Trek is about 30 minutes in length and is worth the time if you have kids who adore animals and want the chance to see them closer than almost any other program in a zoological institution or sanctuary site. This is a great activity to try to plan around lunch time to avoid the lines at the dining sites and escape the water for a little dry land adventure.
Additional Add-on Experiences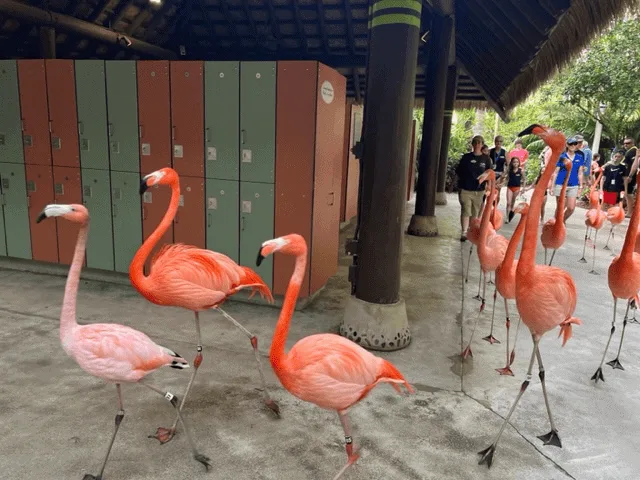 We did not try Flamingo Mingle, which is always in the early morning, but did get to see the flamboyance strut by, purely by happenstance while we were getting outfitted with masks and snorkels. It looked like a wild time.
SeaVenture was an opportunity that we sadly weren't able to do this time around. It is an underwater walking tour wear you put on a dive helmet and check out life underwater, no scuba certification required!
Age minimums (kids must be at least 10) and adult supervision dynamics precluded our group from participating. It looks like a hoot and if you meet the requirements, you should absolutely go for a bottom walk!
We also did not feed the rays, since we are able to do that at a local aquarium and wanted to make sure to maximize our time in the park with new adventures and thoroughly scouting the spot to provide a great overview.
Finallly, there is an opportunity to swim with sharks at Discovery Cove. Participants wear a snorkel and mask to enjoy a deep-water, free swim alongside blacktip reef, nurse, zebra, bonnethead sharks! This experience is more expensive (starting at $169 per person) and open to ages 10 and up.
Unlimited Food & Beverage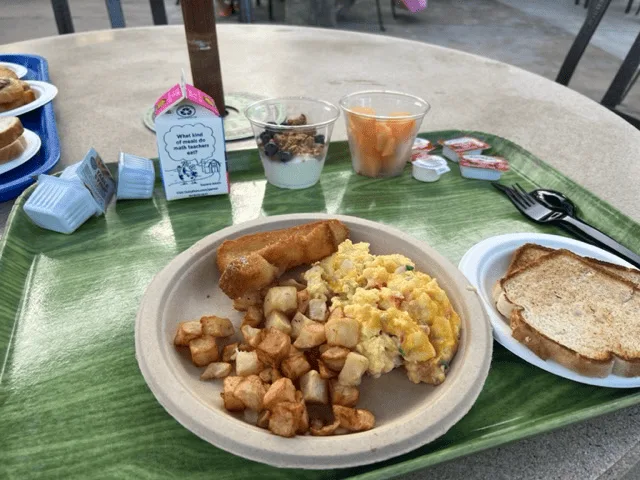 Think about avoiding the crowds at traditional mealtimes. The breakfast was very busy just after park opening time. Most people have scheduled events later in the morning and afternoon or are enjoying the inclusive amenities, so breakfast is a natural start.
It's also one of the first physical stops as you enter the property. If you can manage, wait an hour or so to eat breakfast and you'll find fewer crowds.
Lunch is quite chaotic if you hit a peak time. We found around 1pm there were no trays, very long lines, and it was nearly impossible to find a table to sit down at, let alone a shaded spot.
From what we saw, the food service areas could use 1-3 employees helping to guide crowds. It was a free for all, and in times of resource gathering, humans can be worse than feral animals. Pack your patience, but know that there is plenty of food and the best strategy is to plan to eat at less popular times.
Snacks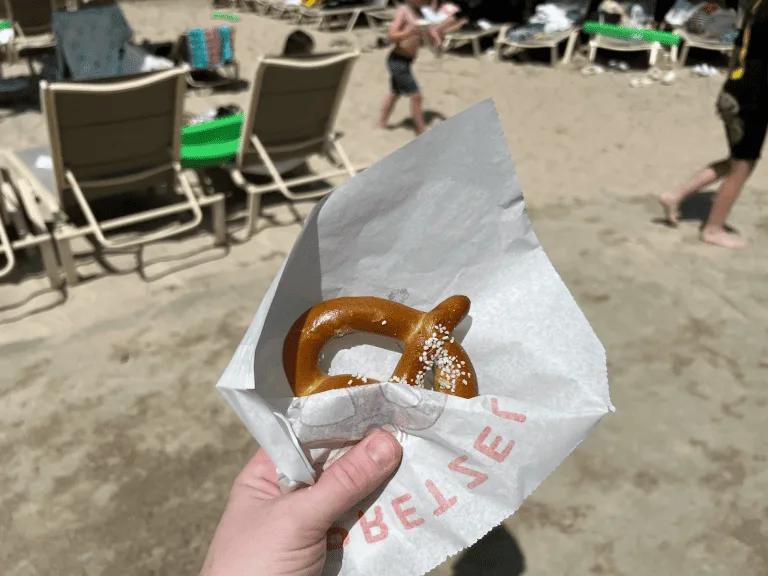 The snacks were never an issue and always readily available. We enjoyed Rice Krispie treats, mango slushies, juices, soda, water, soft pretzels and chips without any wait.
Normally, I wouldn't allow the kids to drink unlimited sugary beverages and snag more than one rice crispy treat between meals. However, it was a day to have fun and I reconciled this thought with the fact that the slushies were probably at least hydrating!
The bar near Serenity Bay has soft pretzels and baked chocolate chip cookies which were a hit with my kids. It's also a spot where grown ups can enjoy a tiki bar and watch the kids splash and play.
This part of the property hints at the experience of a tropical all-inclusive, and you can imagine yourself at a beach in the Bahamas or Jamaica without much effort. If you're staying at a nearby SeaWorld partner property, it would be a carefree way to indulge in some beverages in the sun and easily shuttle back to your hotel safely.
Cost Comparisons Between Discovery Cove and Disney's Animal Kingdom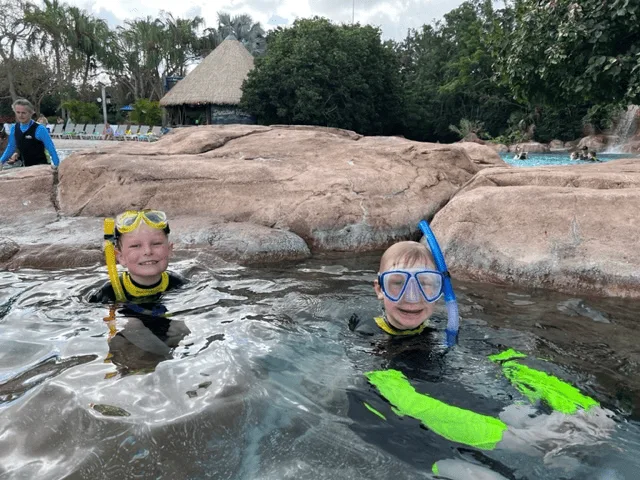 Since we had just booked ONE DAY at Disney's Animal Kingdom for the family and ONE DAY at Discovery Cove, I had some fresh numbers to play with during approximately the same time period. Keep in mind that both properties have sliding scale costs based on the date and time of year.
There is a handy calendar for booking at Discovery Cove which shows you the variable price for the year.
If you're willing to book based on dates or if you are a Florida resident who can more easily visit spontaneously, you can book a Signature Dolphin Swim package for one person for as little as $196.20. A 'day resort (basic entry) ticket for that same day is $151.20.
Animal Trek Upgrade: $89/per person
Digital Photo Package: $229
Parking for all guests: Free
Take away point: adding the dolphin swim is worth the upgrade! Trust me!
Disney's Animal Kingdom was significantly more work to book and plan. We booked a room at Disney's All Star Sports Resort in order to have the early entry privileges open to resort guests and some good neighbor hotels.
We had to book a park reservation. I needed to wake up sometime after midnight the day of our entry to secure Genie+ passes for us.
Then, while waiting in line at rope drop at 7am (having arrived at 6:15am along with hundreds of other guests) I had to navigate the My Disney Experience app to book our first choice for a Genie+ experience AND purchase the Individual Lightning Lane passes to guarantee a second ride on Avatar: Flight of Passage (after hoping for a moderately successful jog there at rope drop.)
$257.65 for one night lodging
Genie+ for each person $37.28
$69 One-day Memory Maker
Dining at Tusker House
Dining at Boma
Snacks and sundries
Kingdom Strollers rental $75
Parking for Disney Resort Guest: Free
This wasn't an exact estimate, but you can see, while there are a lot of choice made at Disney which incurred more cost, but were made toelevate the experience we would have in one day.
The point is, while upfront prices might be higher for Discovery Cove, the lack of logistical planning and strategy to have a good experience paired with the free food and beverage makes it a much more cost effective option for many families looking for animal education and entertainment.
While there are no rides at Discovery Cove, you can plan some pretty amazing interactions with animals, which doesn't happen at Animal Kingdom. Even at the VIP experiences at Animal Kingom, which are costly, you cannot interact with animals to the degree Discovery Cove allows.
Both properties are fabulous opportunities to show children wildlife and teach them conservation values. Both properties are amazing for families looking to make memories in Orlando.
My thought is, if you've already "done the Disney thing," find that it's too cumbersome with the new rules and systems, or that you cannot afford the experience, Discovery Cove is a lesser visited park which has major appeal for animal loving families.
Being perfectly honest, we are animal obsessed and love both the parks for different reasons. But, we were gushing about our Discovery Cove fun endlessly. To impress my preteen and have him talk about more than his latest video game feats is a win.
Discovery Cove Planning Tips
Check in by 7:00; plan to arrive around 6:45, if not earlier. We arrived at 7:00 when check-in began. It's a little like rope-dropping, but on a much smaller scale. I would say by 7:00 about 50 other guests were already checked in ahead of us.
Try for the earliest bookings for dolphin swims. Lighting is great for photos, you're not full of sand, sweat, and sunscreen. The dolphins are fresh and curious for the day.
If possible, book an experience during peak lunch time.
Secure a beach chair when you arrive. The ones with shade and umbrellas will be sparse within an hour of opening. This is a great thing to do instead of immediately eating breakfast.
Dolphin Swims are ethical and impactful. If you can plan the extra expense, it's worth it.
Get your wetsuit, mask, and snorkeling gear first. The wetsuits will save you some sun exposure and there are zero crowds or lines at the start of the day.
You can keep your snorkel (not your mask) at the conclusion of your day as a souvenir.
Plan to spend at least four hours, but optimally an entire day to explore all there is to see, do and learn
You CAN do it all in one day
Know Before You Go to Discovery Cove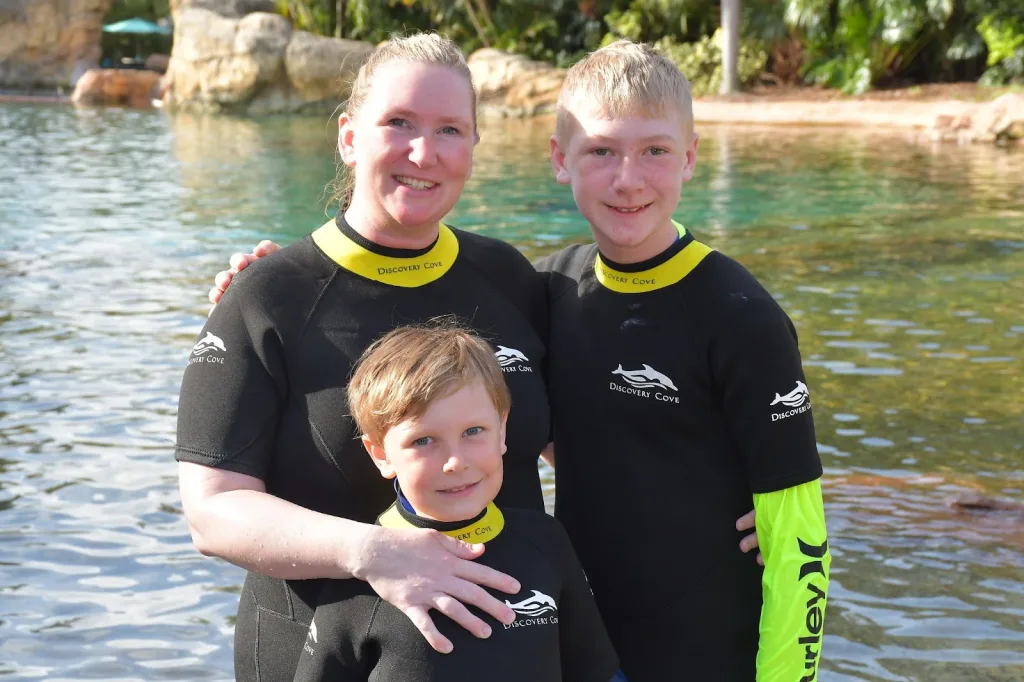 Strollers
This is NOT a stroller friendly spot. I did see one family with a sand stroller, but there is so much of the park that is best traveled by sandy beach that I was extremely happy to not have a buggy.
That said, it is accessible, and the pathways are paved. So it's not impossible to enjoy it with a stroller or wheelchair, but if you have a choice, leave the stroller in the car or at home.
We did see one 'beach stroller' with the big bulbous tires that look like beach balls while we were wandering around. It looked like a solid option if you must have wheels during your day.
Water Shoes
There are some spots (the entry to dolphin swims), rocky ledges around the lazy river and in the Grand Reef, etc. which are a little abrasive for bare, water-pruned feet. Water shoes are excellent for this adventurous day in and out of the water.
Slide style sandals are not allowed, they must strap or securely stay on your feet to be allowed. I was fine all day barefoot, but I did have a few encounters with rocks and rough spots.
Cameras and Jewelry
Almost all jewelry is prohibited with the exceptions of plain wedding bands and fitness watches. Smart phones and active cameras (like GoPro) are not allowed in the dolphin swim. This keeps your gear from getting damaged and most importantly, keeps the animals safe.