Dive into a pile leaves, hop on a hayride, and wait for the great pumpkin at one of the best pumpkin patches in Los Angeles this fall!
If your kids are like mine, they already know what they want to be for Halloween, so the next step to a perfect Halloween season is finding the right pumpkin patch in Los Angeles for your family. We have all the details on what to expect at each location in 2023.
16 Best Pumpkin Patches in Los Angeles Metro for 2023
Underwood Family Farms in Moorpark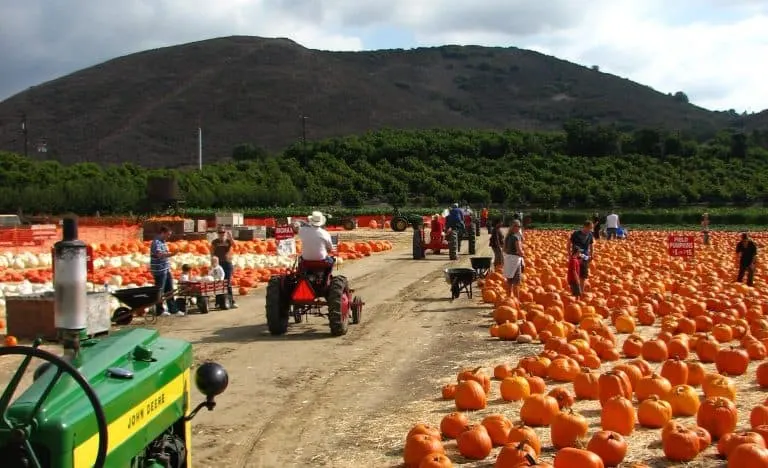 Located in Moorpark, Underwood Family Farms offers a sea of pumpkins for your little ones to explore! This is one of two Underwood pumpkin patches in Los Angeles. This location offers pick your own produce, educational tours, and a fall festival in the month of October. The farm is open 9 AM to 6 PM daily and there is an admission fee at the gate.
This gigantic pumpkin patch offers five themed weekends filled with live entertainment and family fun! Be sure to check out their website for all the activities they have throughout the month of October.
Some notable mentions are the tractor drawn wagon rides, the corn maze, Farmer Craig's chicken show, the corn stock labyrinth, and the Hay Maze! With an endless activities this is one of the best pumpkin patches in Los Angeles metro, and you will not want to miss it!
Be sure to purchase your tickets online as they are required in advance on the weekends.
3370 Sunset Valley Road, Moorpark
The Calabasas Pumpkin Festival in Calabasas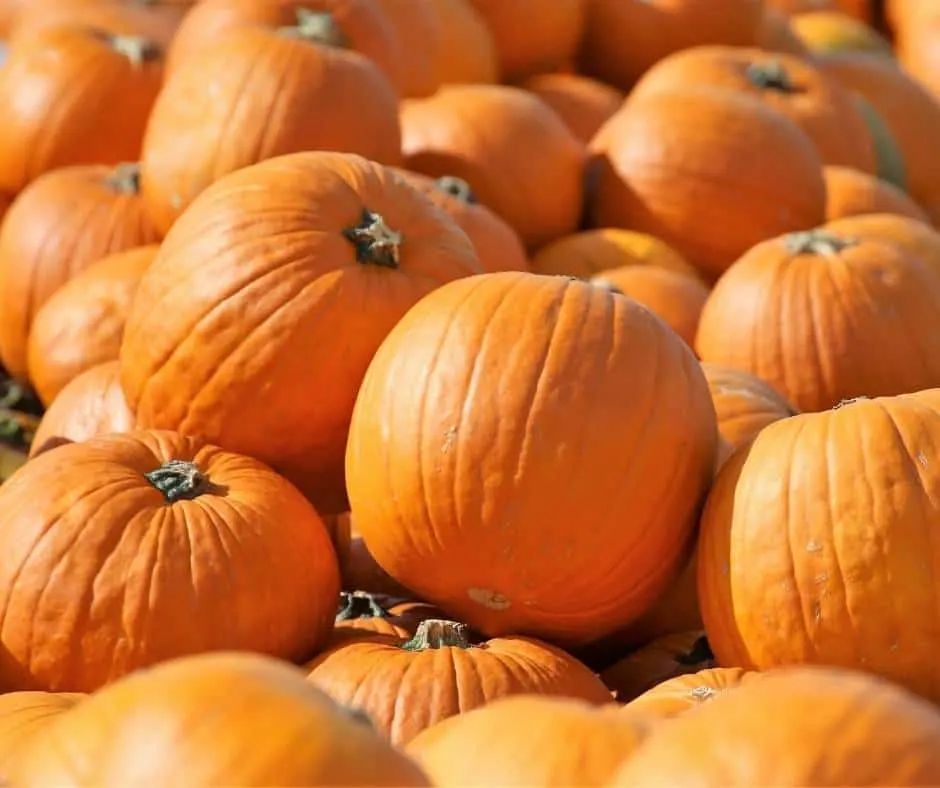 The Calabasas Pumpkin Festival is a one day event that is a must see! Did you know that "calabasas" actually is the Spanish word for pumpkin or gourd? So, you can expect a lot of pumpkin appreciation a Calabasas.
This 200-year-old tradition features a pumpkin patch and activities for the entire family. Stop by the Marketplace, order a delicious pumpkin dish, enjoy the live music, and pick out your favorite pumpkin in the pumpkin patch!
Admission is $10 when you buy tickets in advance online (by October 21). It is $15 at the gate. This year's pumpkin festival will take place Sunday, October 22nd from 10am – 5pm. Parking will be in designated lots at the corner of Lost Hills Rd & Agoura Road and a free shuttle will transport your family to the main gate.
Juan Bautista de Anza Park -3701 Lost Hills Road, Calabasas
Forneris Farms in Mission Hills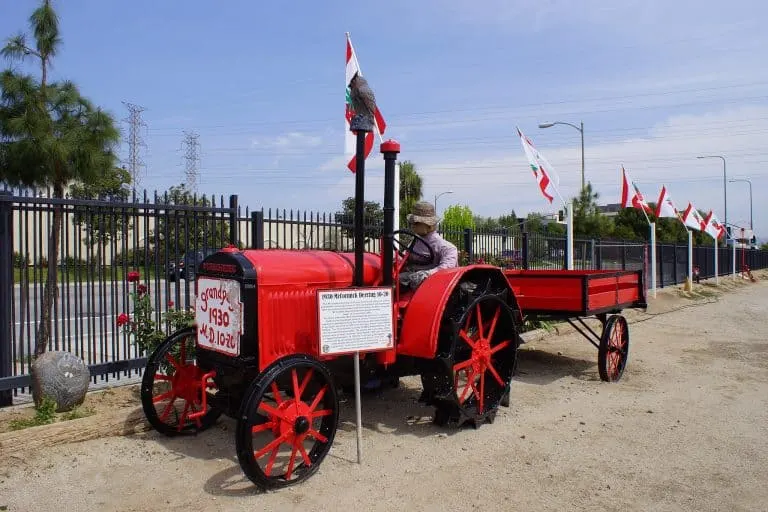 This pumpkin patch at Forneris Farm features pumpkins grown right on the farm! The pumpkin patch and corn maze are open throughout October.
Kids will love the jumpers, mazes, and other fun activities! If you go on the weekend you'll find pony rides, a petting zoo, games and lots of refreshments alongside live entertainment!
If you purchase admission to the ($20) corn maze it includes a train ride, the haybale mini maze, and the haybale pyramid, and a pumpkin from the field. The train ride features a narrated history of Forneris farm that opened in 1966. It stops in the pumpkin field and you will get off the train to pick a pumpkin to take home!
All activities are cash only and there is a $5 fee to enter the pumpkin patch and children under 2 are free. There is also a farm market onsite that sells a wide variety of locally grown produce. It is also cash only so hit up the ATM before you visit!
15200 Rinaldi Street, Mission Hills
Mr. Bones Pumpkin Patch in Culver City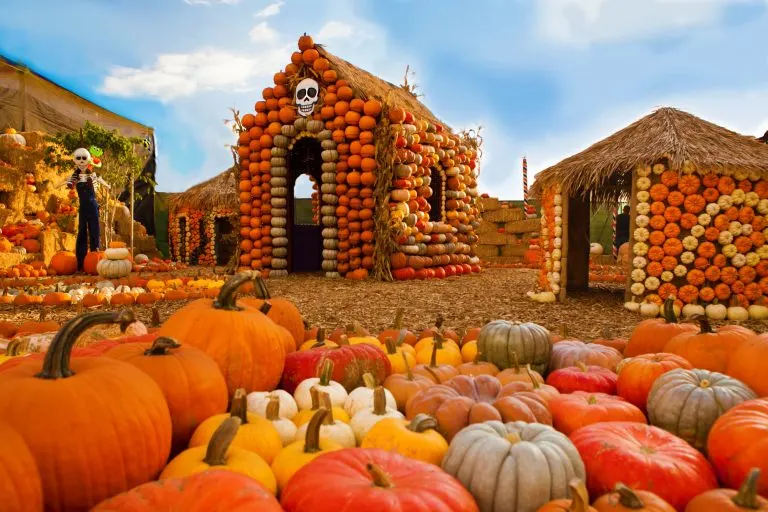 Located in Culver City, Mr. Bones Pumpkin Patch, is an excellent choice for pumpkins and fall festivities! The patch offers live entertainment, food and fun activities like inflatables, boutique shopping, and lots of wonderful photo opportunities!
This year you will find Mr. Bone's famous pumpkin villages, petting zoo, dancing spider bounces, straw maze, Mr. Bones super slide, tipi village, giant rocking horses, pumpkin decorating, rainbow slide, face painting, and more. This is a great patch for fall family photos!
This pumpkin patch also offers a trick-or-treat Spooktacular which typically takes place the weekend before Halloween. This is the perfect place for trick-or-treating as it provides kids a fun and safe environment!
Pumpkins can be purchased for as little as $2 (minis) all the way up to $600 (ginormous!). Admission ranges from $10 -$30, depending on the day, and you can purchase your tickets in advance online. The pumpkin patch is open October 5th – 29th, or until they sell out so don't wait!
10100 Jefferson Blvd., Culver City
Pa's Pumpkin Patch in Long Beach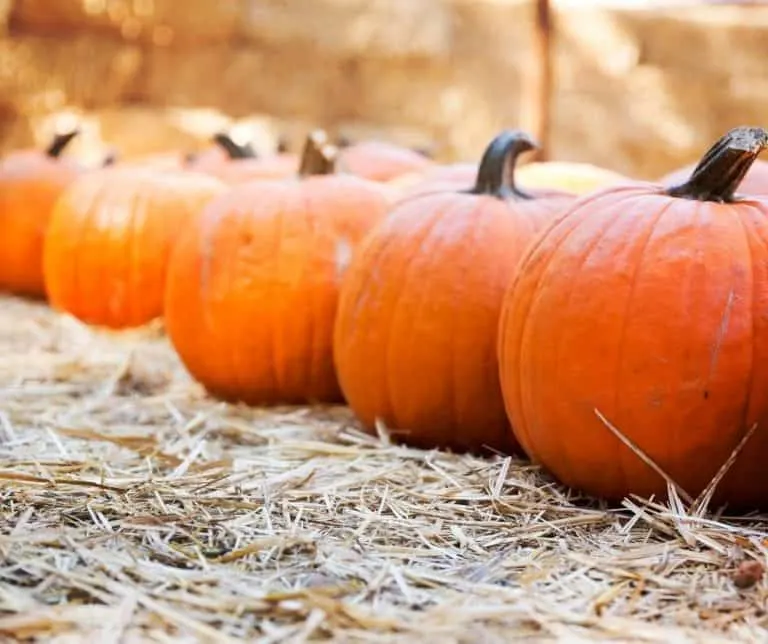 Pa's Pumpkin Patch is located in Long Beach, California. Opening September 29th and open throughout the month of October, Pa's Pumpkin Patch offers a great gathering place for fall fun. Reservation are required, please plan ahead.
The fair atmosphere offers pumpkins, haystacks, corn stocks, and gourds! There is a snack bar, pony rides, a petting zoo, and lots of games and rides for your little ones to enjoy! We suggest checking out the mirror maze. Visit their website to see the list of their games and activities that make this is one of the best pumpkin patches in Los Angeles.
You can also book field trips and parties at Pa's Pumpkin Patch for your special event in the month of October.
6701 E. Pacific Coast Highway, Long Beach
The Pasadena Pumpkin Patch in Pasadena
The Pasadena Pumpkin Patch has been in business for over 20 years! This family business provides beautiful pumpkins at excellent prices from Taghavi Farms.
The pumpkin patch offers pony rides, inflatables, and an adorable petting zoo! Visit this patch during the month of October to experience family fun. They also have locations in Torrance ( 21800 Hawthorne Blvd.) and the City of Commerce (5933 Telegraph Rd).
900 N Lake Ave, Pasadena
Shawn's Pumpkin Patch in West Los Angeles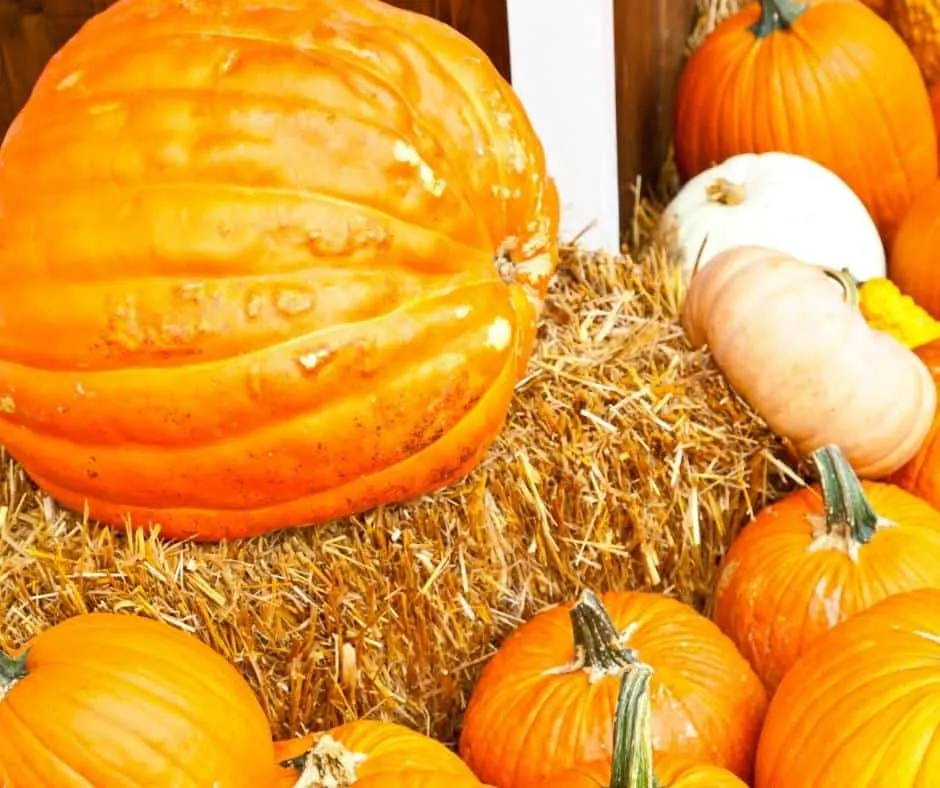 Shawn's Pumpkin Patch is a cute and family friendly location for your fall needs landing it a spot on the best pumpkin patches in Los Angeles list. Enjoy hunting for the perfect pumpkin in the heart of the city!
The patch features straw bales, corn stocks, tons of pumpkins and gourds. The pumpkin patch gives that country feeling while staying in the city. The patch also offers bounce houses, ponies, a petting zoo, a ball house, train rides, a straw maze, lots of kiddy rides and face painting fun!
Shawn's pumpkin patch opens October 7th and is open everyday through Halloween. Admission is $2.50 for adults but kids are free, parking is free, and pets are welcome.
11650 Santa Monica Blvd, West Los Angeles
Cal Poly Pomona Pumpkin Patch in Pomona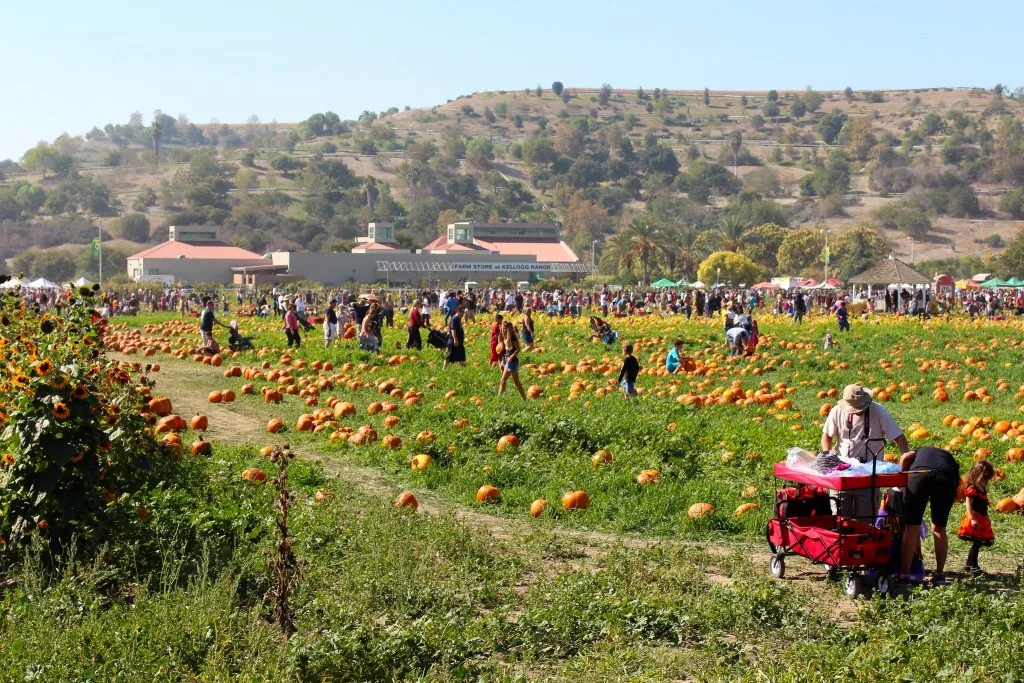 The Cal Poly Pomona Pumpkin Patch features many fun activities for the family. This adorable patch has an assortment of activities like carnival games, hay wagon ride, pony rides, and a corn maze!
This property also offers a festival during the month of October. There is no admission fee for the pumpkin patch you just pay for the pumpkins and activities that you choose to complete. You can also choose to purchase an activity wristband which covers everything but food for the petting zoo and pumpkin purchases.
In additions tp the Pumpkin Hill and activities, there is also a marketplace with hand-made crafts vendors as well as food and dessert vendors; an Ag Demo Zone with antique tractors and engines, weaving demonstrations, beekeeping, and Cucamonga John's Gadgetorium; Pumpkin Land which has a variety of pumpkins and gourds used to make various creations; a sunflower field; Country and Blue Grass music on the weekends and much more!
Pumpkin Fest runs from September 29th – October 29th , 2023 and is open Thursday through Sunday. Tickets will be sold online only so be sure to visit their website before you go!
4102 S. University Drive, Pomona
Tina's Pumpkin Patch in Sherman Oaks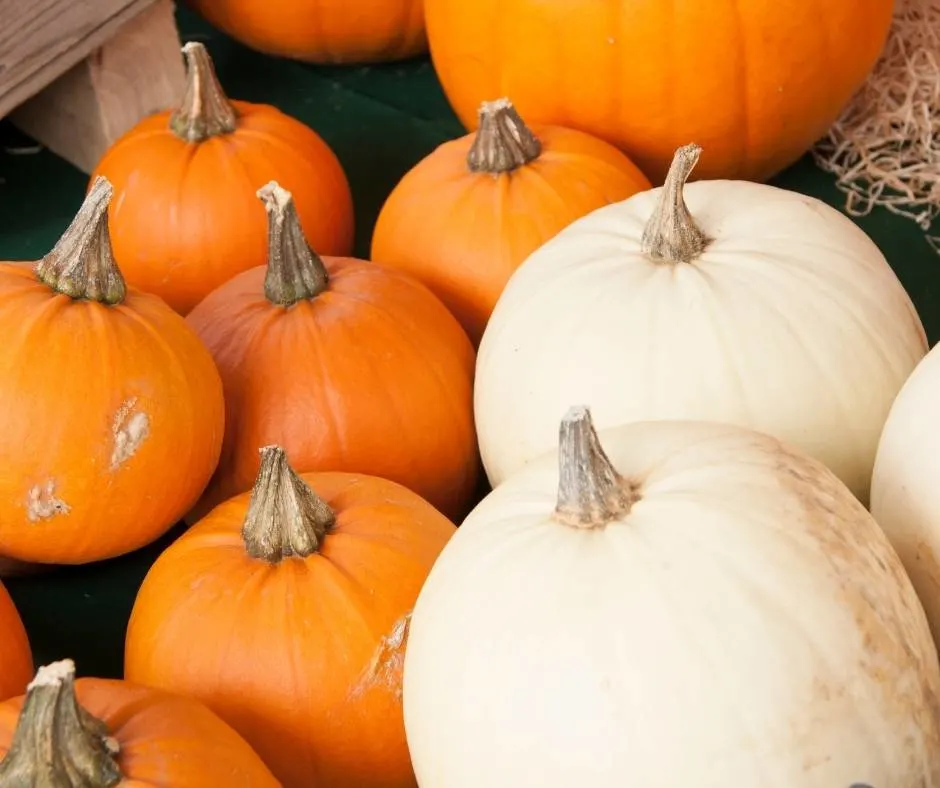 Tina's Pumpkin Patch is located in Sherman Oaks, in the parking lot of the Westfield Fashion Square mall . This lot offer some fun activities for families to enjoy! Here you can find pony rides, a petting zoo, train rides, bounce houses and slides, and a free straw amaze!
Parking and admission is free, you just have to pay for the individual activities you select. Tina's is open seven days a week, September 30th – October 31st, 2023. They also sell Christmas trees during the holiday season
4725 Woodman Ave, Sherman Oaks
Mr. Jack O' Lanterns Pumpkin Patch in LA and Torrance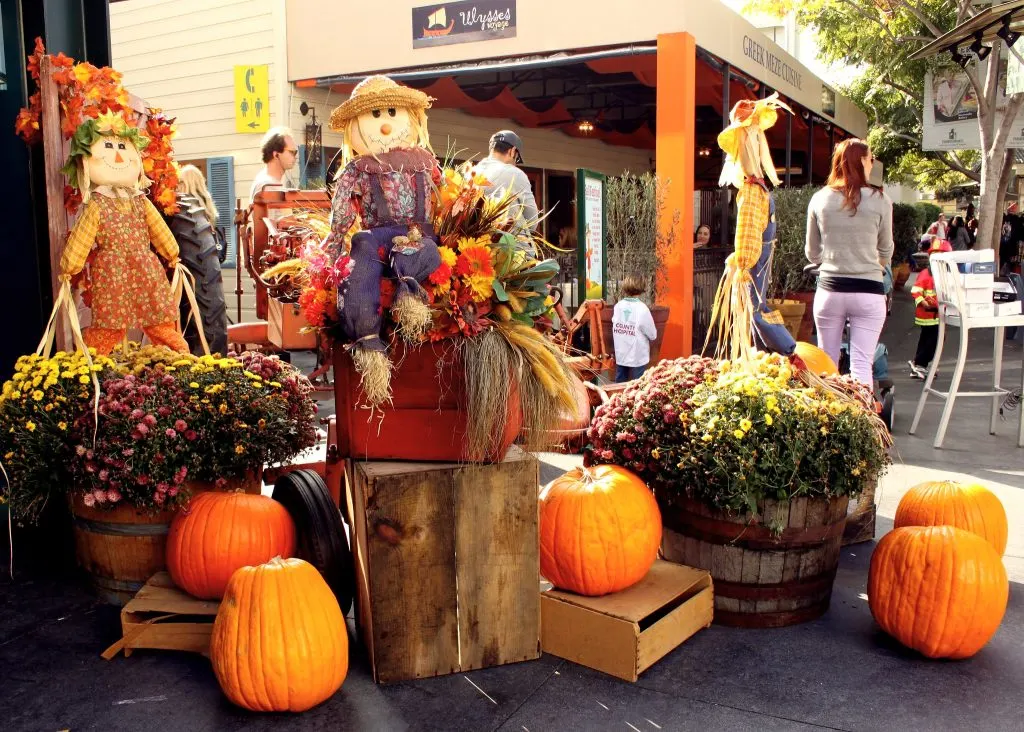 Mr. Jack-O' Lantern's offers three pumpkin patches in Los Angeles. These pumpkin patch locations offer a variety of activities and farmers markets.
Kids will love the pumpkin decorating, spooky mazes, pumpkin bowling, and bounce houses! The patches will be open throughout the month of October. The West LA and Torrance location both offer unlimited use passes for their activities. The Farmer's Market location offers ticket bundles.
The Torrance and West LA locations are open October 1 -October 31. The Farmers Market is open October 20th – 31st, 2023.
Famers Market- 6333 W 3rd St, Los Angeles
West LA– 11852 Santa Monica Blvd., Los Angeles
Torrance– 17520 Prairie Ave., Torrance
Whittier Pumpkin Patch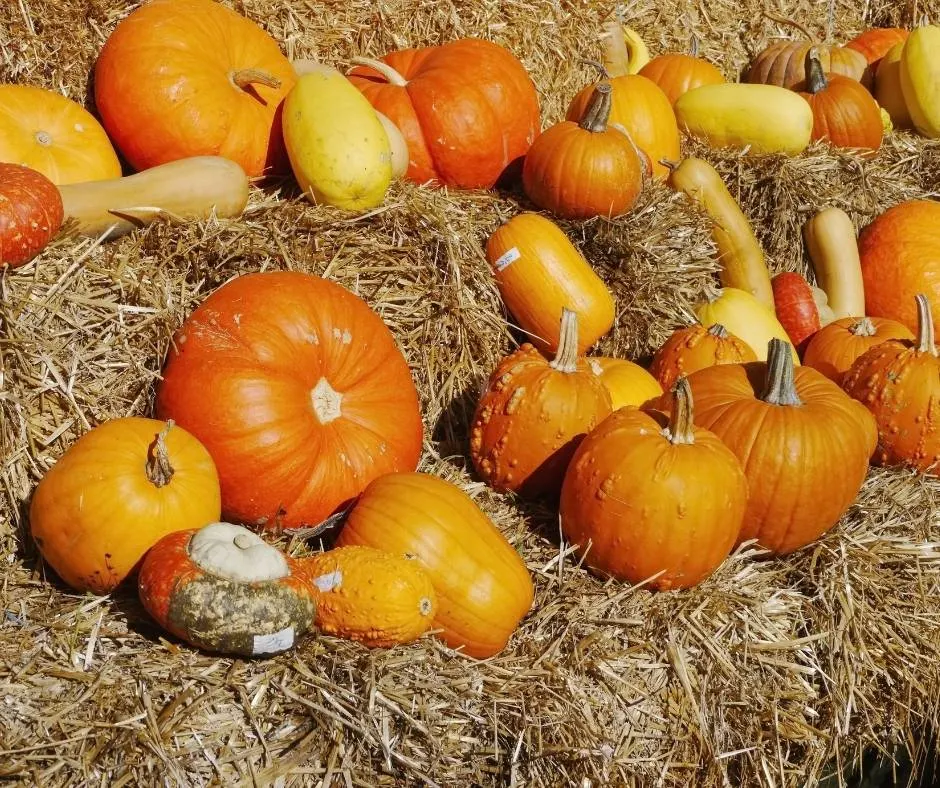 Located in San Gabriel Valley, families will enjoy picking up their pumpkins from the Whittier Pumpkin Patch. It is open daily the entire month of October.
This pumpkin patch is great for a variety of pumpkins as well as activities. They have tractor rides, a super slide, bounce houses, petting zoo, pony rides, and even pumpkin painting.
One of the things that make this pumpkin patch unique is that it offers gem mining. Kids are able to prospect for gems and take a home a little bag of treasure for $12.
Admission is free but you will need to pay for individual activities. One important note is that everything is cash only so be prepared!
11760 Whittier Blvd., Whittier
Tapia Brothers Farm in Encino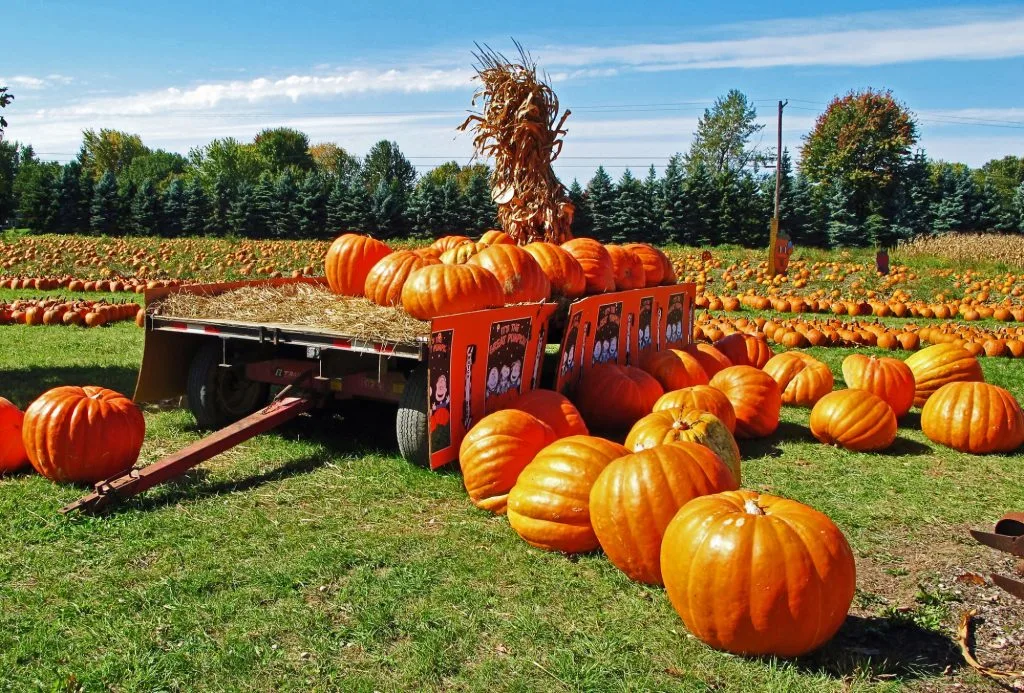 Located in Encino, Tapia Brothers Farm is a working farm, which is unique for pumpkin patches in Los Angeles. They offer a festive pumpkin patch throughout the month of October.
Here you will find a gigantic corn maze complete with trivia questions that could win you $100 cash! Have fun exploring the maze and taking a chance at the big prize. This pumpkin patch also features fresh corn, petting zoo, pony rides, and a tractor pull train.
Some attractions are closed on Monday, so we recommend visiting this location Tuesday through Sunday. Last year they sold out of all their pumpkins by the end of October, so don't procrastinate on those pumpkin purchases!
5251 Hayvenhurst Ave, Encino
If you are looking for more fall fun on California, check out our blog of where to find California Fall Leaves.
Lead photo provided by Mr. Bone's Pumpkin Patch.
Find More Pumpkin Patches Near You!