Autumn brings out the best in Arizona. When the summer heat starts to subside everyone is excited to celebrate the season with fall fun. Local farms show off their fall produce, mow mazes into their corn fields, and bring in fun games.
We've asked the experts and found the best pumpkin patches in Arizona. Find your perfect pumpkin while enjoying seasonal family fun. Updated for 2023!
Best Pumpkin Patches in Arizona 2023
1. MacDonald's Ranch Pumpkin Patch in Scottsdale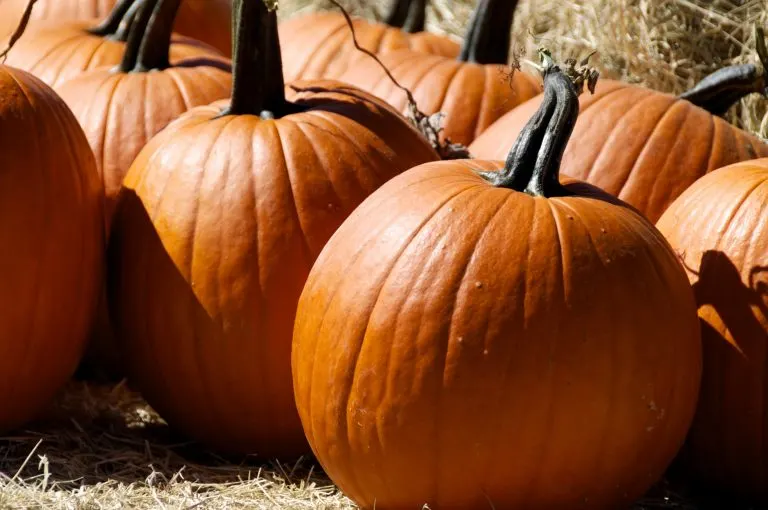 The only thing that could make a day at MacDonald's Ranch even better is their annual pumpkin patch open during the month of October. Admission includes panning for gold, a hay-bale maze, and some super fun pedal car tracks for the kids. This is in addition to the regular petting zoo and yard games available year round. The pumpkin patch opens September 30th, 2023.
For an additional fee, MacDonald's Ranch offers pony rides for children 10 and under. You can also enjoy their barrel train rides, mechanical bull, and caterpillar bounce. And of course, make sure to choose your favorite pumpkin to purchase.
Admission costs $15 per person (closed Tuesdays). Children under two are free. Check their website for available discounts.
26540 N Scottsdale Rd, Scottsdale
Keep the fun going with the 10 Best Things to do in Scottsdale with Kids.
2. Apple Annie's Orchard Pumpkin Patch in Wilcox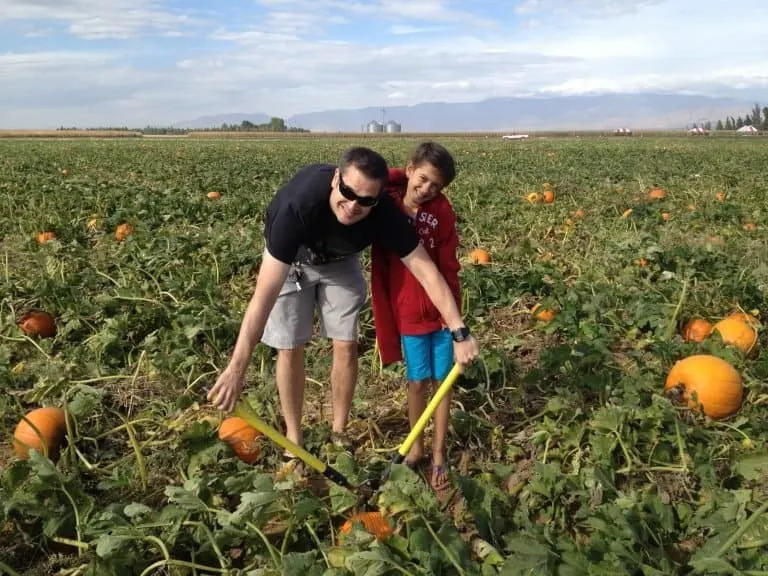 Want the unique experience of cutting your pumpkin right off the vine? Then check out Apple Annie's 40 acre pumpkin patch! It opens the last weekend in September and stays open until Halloween.
For $5 per person, a hayride brings families out to the pumpkins and provides a quick tour of the farm. Visitors can also choose to just grab a wheelbarrow and walk to the pumpkin patch.
Once in the fields, stroll through 25-30 different varieties of pumpkins until you find your perfect one. Then use the provided giant shears to snip it right off the vine. Pumpkin pricing varies by size and variety.
After choosing your pumpkin, take a shot at the largest corn maze in Arizona. There are two levels of difficulty so it's perfect for the whole family. Admission is $10 for ages 12 and up, $8 for ages 3-11.
Apple Annie's offers a Corn Maze & Hayride Combo Pass, too. Ages 12 and up can do both activities for $13, children 3-11 for $11. And children two years and under are free.
6405 W Williams Rd, Willcox
3. Schnepf Farms Pumpkin and Chili Party in Queen Creek
Satisfy your fall chili cravings while exploring one of the most popular pumpkin patches in Arizona, Schnepf Farms Pumpkin and Chili Party. Along with chili, vendors at the farm serve up burgers, barbecue, and the farm favorite-succotash. You can also stop by the Sweet Shop or Schnepf Bakery for some sweet treats.
After eating your fill, try out one of two corn mazes. Or play some mini golf with the family. My kids always love just playing on the unique playgrounds and visiting the animals around the farm.
After your food has settled, bring the kids on some of the classic carnival rides, including a kiddie ferris wheel, Schnepf Roller Coaster, and a vintage carousel. You can also take the Schnepf Train Ride around the park. Bring the teens after dark when the train ride becomes spooky.
New this year, The Wreckoning, a haunted bus, will be onsite for those looking for a scary good time. A twisting path leads participants through haunted scenes. Haunted bus tickets are sold separately.
Farm admission costs $25.50 per person and includes all attractions except for train rides and the haunted bus. If you really enjoy yourselves, grab a season pass for $82.50 and come as many times as you like. Children 2 and under are free and admission is only $15 military, police, and fire fighters. The farm is open Thursday – Sunday, October 5th – 29th.
Note: Food is not included in admission and outside food or drink is not allowed.
24810 S Rittenhouse Rd., Queen Creek
4. Tolmachoff Farms Pumpkin Days & Corn Maze in Glendale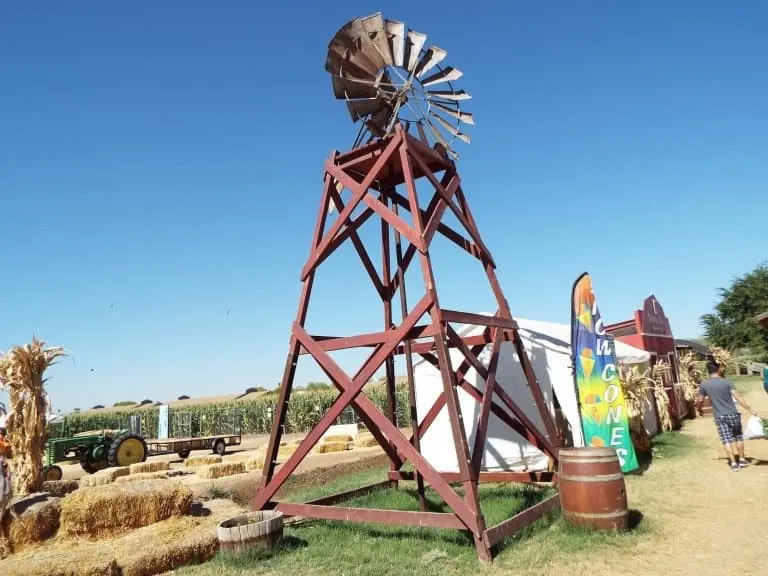 Classic fall family fun awaits at Tolmachoff Farms starting October 4, 2023. Experience a variety of corn mazes, pumpkin picking, and delicious fall treats.
The $17 admission ($15 if you bring cash) includes a six acre family corn maze & a mini corn maze, as well as a petting zoo, play areas and jumping pillows. For an additional cost families can enjoy a train ride ($3) and tomato cannon ($3).
After dark on weekends, visitors can enjoy AZ Field of Screams haunted corn maze, if they dare. Admission to just the haunted corn maze is $25, or add the family maze for $30 total.
Food vendors will be onsite so be sure to bring your appetite.
Note: The farm is closed Monday & Tuesday.
5726 N 75th Ave, Glendale
Find lots more fun with our article Top 10 Things to do in Phoenix with Kids.
5. Vertuccio Farms Fall Festival in Mesa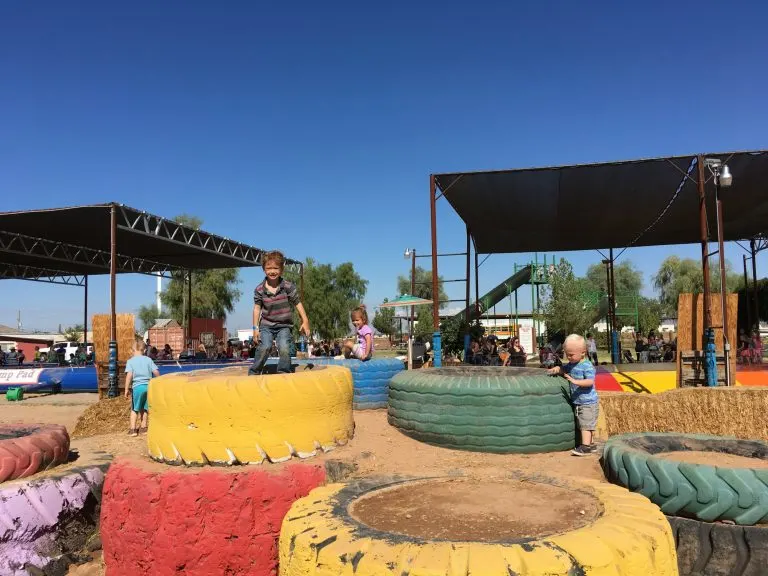 We can't help but get excited as the scorching days of summer give way to fall breezes. Vertuccio Farms likes to celebrate with "Cooler days in the Corn Maze," as part of their farm's annual Fall Season Event September 29 – October 29, 2023.
On the farm are all sorts of activities for little ones to enjoy. Take a ride on the barrel train, try out pumpkin bowling, jump around on the extreme air pillow, and so much more.
New this year, Carters Farms Mobile Petting Zoo will be bringing their furry friends for some snuggle time. Petting zoo is included in admission, but for an additional fee, Carter Farms will be providing pony rides as well.
The corn maze is the event's main attraction. Be sure to bring water with you because even with "cooler days," the sun can still get pretty toasty.
Of course, pumpkins are available for purchase too. And be sure to bring your camera for lots of fall photo ops.
Fall Festival pricing is $15 per person, ages two years and under are free. Check their website for some discount options.
4011 S Power Rd, Mesa
6. Marana Pumpkin Patch in Marana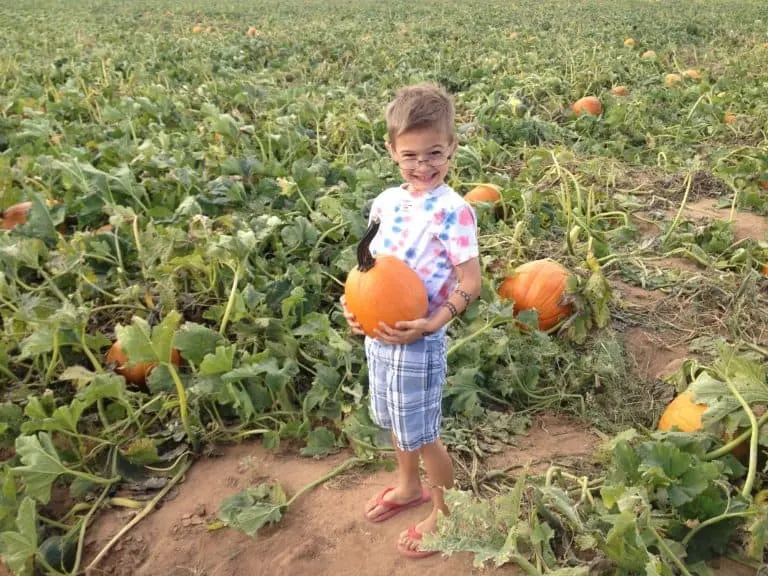 Take a wagon ride out to 50 acres of home-grown pumpkins at Marana Pumpkin Patch. With so many acres and varieties, you are sure to find the perfect pumpkin October 7-29, 2023. Pumpkins cost $0.50 a pound.
After finding your pumpkin, try your navigation skills at one of the most exciting corn mazes in Arizona. Marana's famous corn maze offers three different routes for easy, intermediate and advanced explorers.
But the fall fun doesn't stop there. Your admission includes rides, the super slide, a petting zoo, and entertainment.
Tickets cost $21 on Thursday & Friday, $23 on Saturday & Sunday. Kids two years and under are free. Buy your tickets online and save $3.
For an additional fee, visitors can zoom over the pumpkin patch on zip lines. Or let the little ones take a pony ride.
14950 N Trico Rd, Marana
Make a weekend of it and try out the 10 Best Things to do in Tucson with Kids.
7. The Pumpkin Patch at Mother Nature's Farm in Gilbert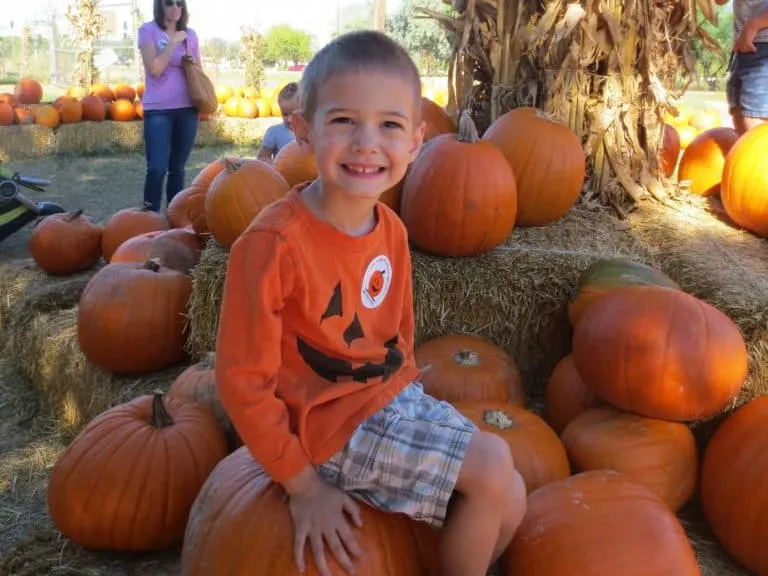 Combine your pumpkin hunt with a relaxing picnic at Mother Nature's Farm. Unlike most pumpkin patches in Arizona, this one encourages you to bring a meal to enjoy on their picnic tables, under big shade trees, and on grassy fields.
There is also food available for purchase at their snack shop, Maneau's Munchies. Just be sure to bring cash because they don't take credit cards.
The farm entrance fee of $15 includes an OZ pumpkin, feeding the animals, hayride, spider web crawl, and a small straw maze. Face painting is available for an additional fee. Concessions and food for the animals is cash only.
1663 E Baseline Rd, Gilbert
8. Mortimer Farms Pumpkin Fest & Corn Maze in Dewey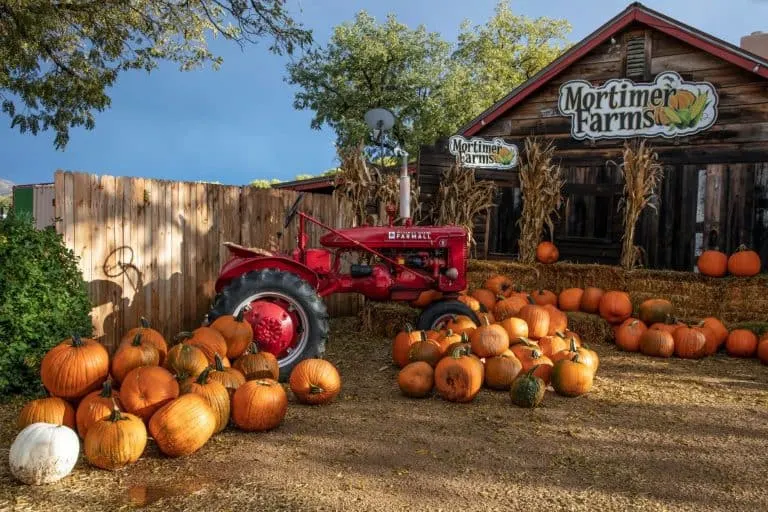 Head to Mortimer Farms for some farm-inspired rides, activities, and games. Explore activities including ropes courses, giant slides and more. And on weekends experience top-notch entertainment, train rides and hayrides.
Thousands of pumpkins of all shapes and sizes cover the ground at the pick-your-own pumpkin patch. Take the kids to hunt through the patch for their favorite pumpkin and awesome photo ops. Orange pumpkins cost 75¢ per pound, specialty pumpkins $1 per pound.
Come hungry because you won't want to miss the delicious food options at Mortimer Farms. Farm-to-table fare is offered at stores throughout the farm. And on weekends, additional food options can be found from vendors in Food Truck Alley.
Admission prices vary depending on the date. There are also a variety of season pass options available on their website. Children two and under are free. Soft opening September 16, 17, 23, 24. Fully open September 29 – October 29, 2023.
Note: Grain train rides, outside vendors, hayrides, shows and entertainment are only offered on weekends, so plan accordingly.
12907 AZ-169, Dewey
Leaves are changing and some of the best places to see it are up north. Check out our article Fall Colors in Arizona.
9. The Willis Farm October Festivities in Snowflake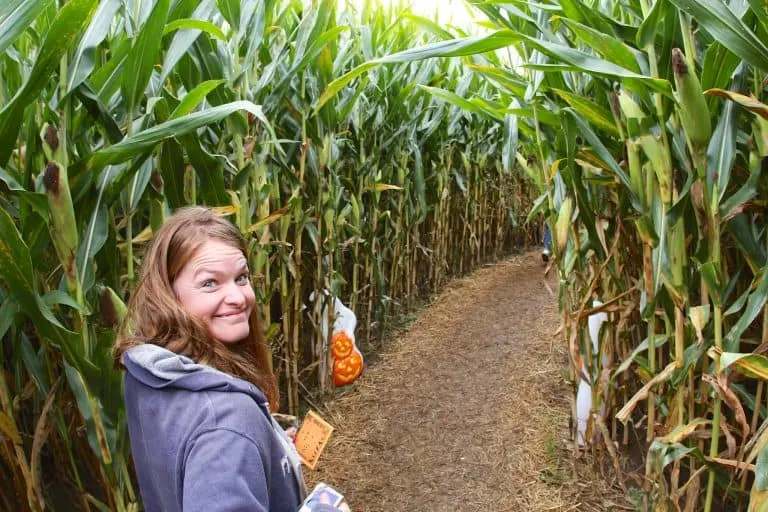 Find your perfect pumpkin at The Willis Farm this season which opens for the season September 23, 2023. Pumpkins cost 70¢ per pound, and you can also buy gourds and Indian corn.
Besides choosing pumpkins, guests can ride the train ($4), play laser tag ($10), and compete in the game zone ($4).
We love corn mazes at our pumpkin patches in Arizona, and here there are two. In the daylight, try to decipher the twists and turns of Agrifact Maze ($4) or Big Cornmaze ($8).
But at night, beware! This corn maze becomes haunted with frightening surprises. Haunt tickets are only available online and cost $22 each.
Note: The farm is closed on Sundays.
381 S. 1st E. Street, Snowflake
10. Halloween Town Pumpkin Patch in Mesa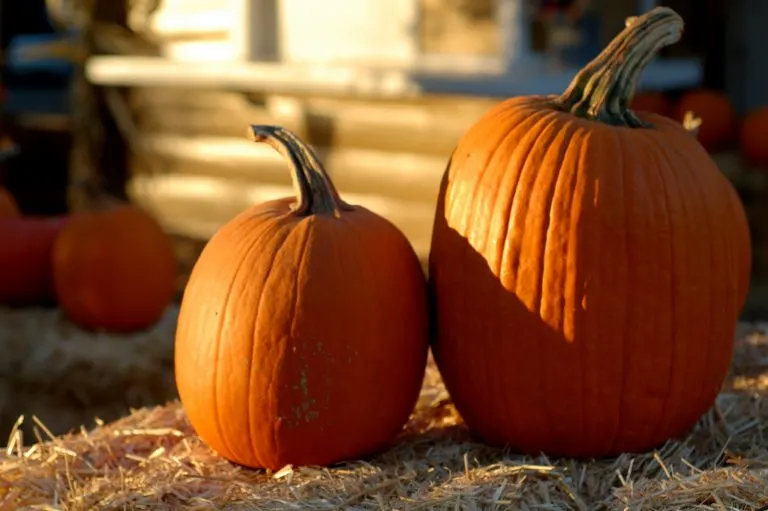 Step into Halloween Town to find rides, activities and more. Kids love pumpkin painting, kiddie rides, and bounce houses. And the whole family can play carnival games together.
Don't forget to search through the pumpkin patch to find your perfect pumpkin. And take advantage of all the cute photo ops.
If you are hungry, all your favorite carnival foods are available for purchase including funnel cake, snow cones, and cotton candy.
Admission is $5 per person. Ride tickets cost $1 and most rides are 2-4 tickets. Or purchase an all day ride pass for $20 per person. Open October 19-31, 2023.
1901 N Alma School Rd, Mesa
Find More Pumpkin Patches Near You!