In Maryland, where pumpkin patches are abundantly scattered throughout the state, you can pick your own pumpkins straight from the vine or participate in exciting autumn activities. The best pumpkin patches in Maryland offer a perfect way to celebrate the season with friends and family.
Whether you're searching for the ideal pumpkin for carving or simply want to revel in all things autumnal, Maryland's pumpkin patches are sure to provide an unforgettable experience. Here are 10 of our favorite pumpkin patches in the state which each some something special to offer families this harvest season.
Love fall? Here are 10 terrific places to enjoy fall foliage in Maryland.
Best Pumpkin Patches in Maryland
Butler's Orchard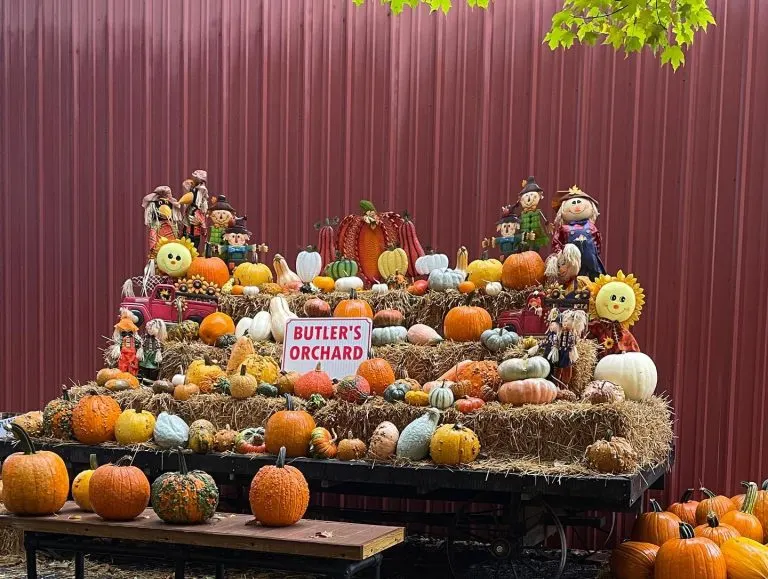 Located in Germantown, Butler's Orchard offers seasonal events in spring, summer, and fall to showcase their beautiful farm and abundant produce. You can pick your own strawberries, flowers, tomatoes, potatoes, and even Christmas trees, but the best time of year is when apples and pumpkins are in season.
Butler's is celebrating their 43rd annual Pumpkin Festival in 2023 and features pick-your-own pumpkins and apples, jump pads, hay rides, playgrounds, a straw maze, a corn pool, and live entertainment on weekends.
The Pumpkin Festival starts the last week of September and runs through October. Open Wednesday to Friday, 1PM to 6PM and Saturday and Sunday, 9AM to 6PM. Weekends are very popular and will sell out, so definitely try to book in advance.
Admission is $12 on weekdays and $17 on the weekend. $2 off if purchased online. Kids under 2 are free. Admission includes all basic activities with extras available like face painting, the pumpkin cannon, and pony rides.
22222 Davis Mill Road, Germantown
Summers Farm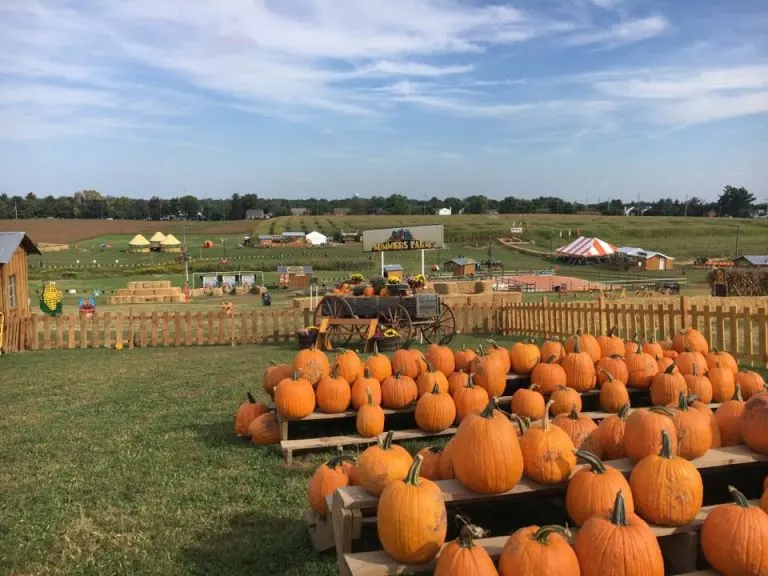 The Frederick-based Summers Farm has wonderful fall activities for the whole family to enjoy throughout the season. Their Fall Festival features a great pumpkin patch as well as attractions like pig races, giant slides, rubber ducky races, wagon rides, a jumping pillow, an obstacle course, and a petting zoo. In all there are over 45 activities to choose from!
There is also a corn maze that is over five acres in length and broken up into different difficulty phases. On Friday and Saturday nights you can experience the maze via flashlight. There will also be fireworks on Friday and Saturday nights, weather permitting.
The Fall Festival opens mid-September through the end of October. Open every day except Tuesdays. Monday, Wednesday, and Thursday hours are 1PM to 7PM. Fridays are 1PM to 9:30PM, Saturdays are 10AM to 9:30PM and Sundays are 10AM to 7PM.
Admission is $19.50 per person on weekdays and $23.50 per person on Friday evenings and weekends. Get $4 off when purchased online. Kid's two and under are free.
7503 Hallow Road, Middletown
Larriland Farm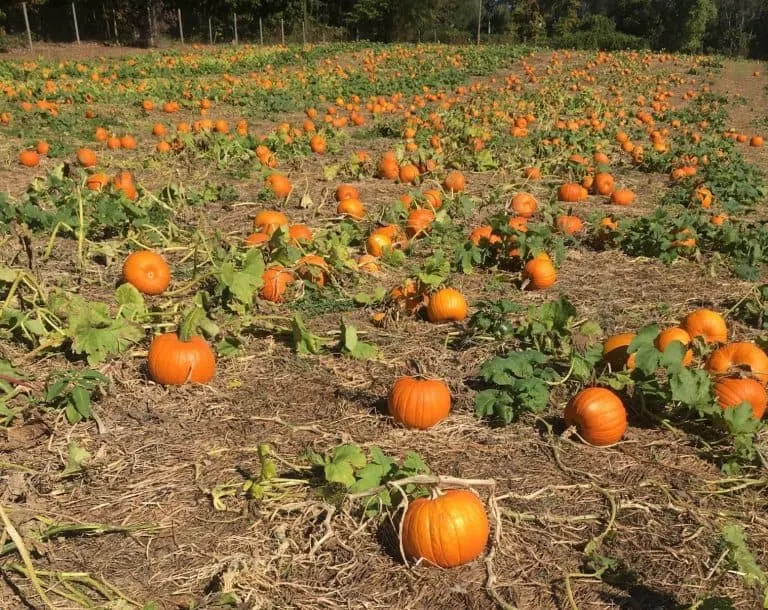 Located in western Howard County, Larriland Farm has over 34 acres dedicated to growing fruits and veggies, including apples, Asian pears, and pumpkins. This Woodbine farm provides an extensive selection of pumpkins to decorate your home for Halloween as well as hay rides, a straw maze, and a boo barn filled with animated, not so scary ghosts and goblins.
The farm is open Tuesday through Sunday. Weekends are 9AM to 5PM, weekends are 9AM to 6PM. Fall activities like hay rides are weekends only and you don't want to miss this experience because it involves a 20-minute wagon ride through the woods which are decorated for Halloween and across a stream to the farm fields.
Admission to the farm is free. Activities like hay rides, straw maze, food, and pick-your-own pumpkins are additional costs.
2415 Woodbine Road, Woodbine
Jumbo's Pumpkin Patch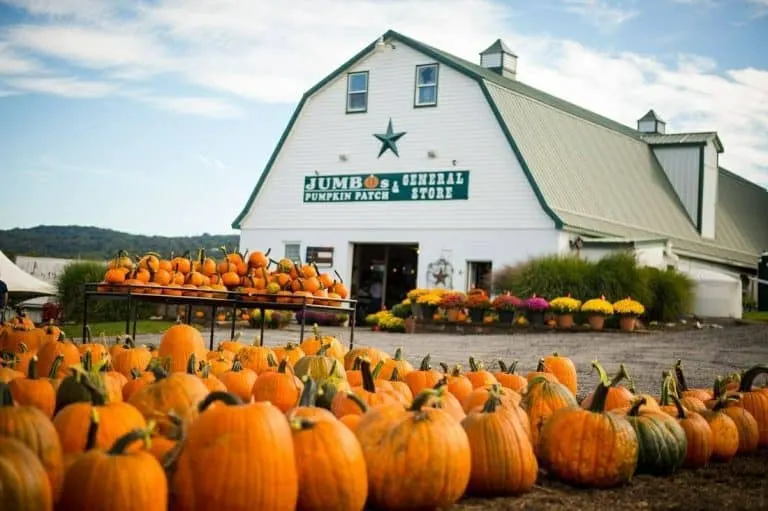 Located near Middletown, Jumbo's Pumpkin Patch is known for its vast selection of pumpkins as well as fun fall activities for the whole family. The Huffer Family Farm, where the patch is located, has been operating since 1870. In 1994, the family started selling pumpkins in a roadside wagon. Today, they are one of the top 10 Pumpkin Patches in the U.S.
Weekdays on the farm feature pumpkin picking, fall shopping, and a petting zoo. Weekends include hayrides to the pumpkin patch, play areas for kids, and a 20-acre corn maze. Pony rides, face painting, and access to the corn cannon can also be purchased for an additional fee.
Open the last week of September through Halloween, every day from 10AM to 6PM.
Admission on Weekdays is free. Saturdays and Sundays are $12 per person, with kids three and under free. There are additional fees for pony rides, face painting, food, and the corn cannon. It's recommended to purchase tickets online.
6521 Holter Rd., Middletown
Knightongale Farms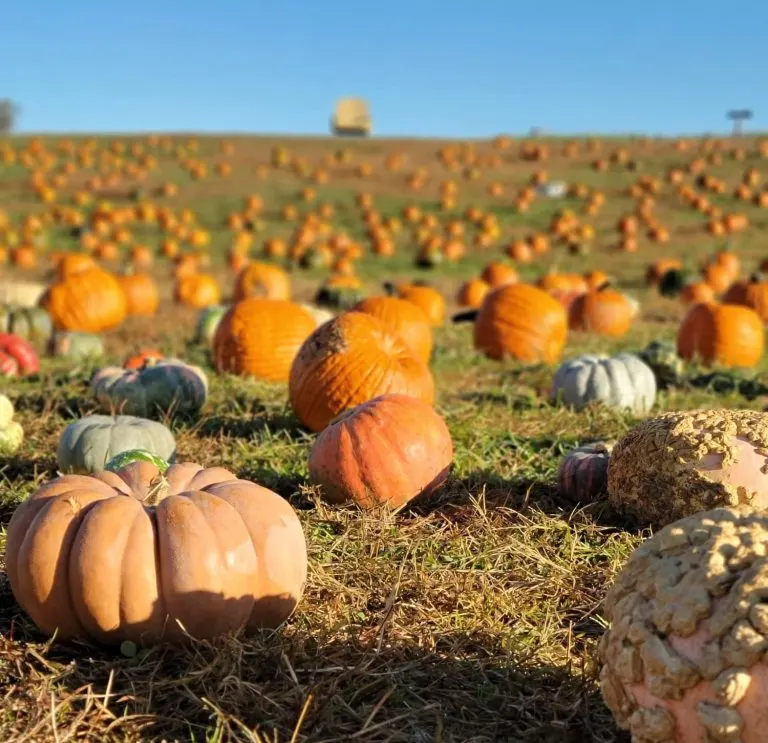 The family-owned Knightongale Farms can be found on 90 acres in Harwood, Maryland. The working farm is open seasonally for pumpkin picking and fall fun. Activities offered at Knightongale Farms are the pumpkin patch, a three-acre corn maze, hay rides, petty zoo, fall decorations for sale, the straw bale playground, face painting, and more.
The fall season starts at the beginning of October and runs all month. Open weekends from 10AM to 5PM.
Admission is $14 at the gate and $12 online. Kids two and under are free. All activities are included with additional costs only for face painting and apple cannons.
3924 Solomons Island Rd, Harwood
Gaver Farm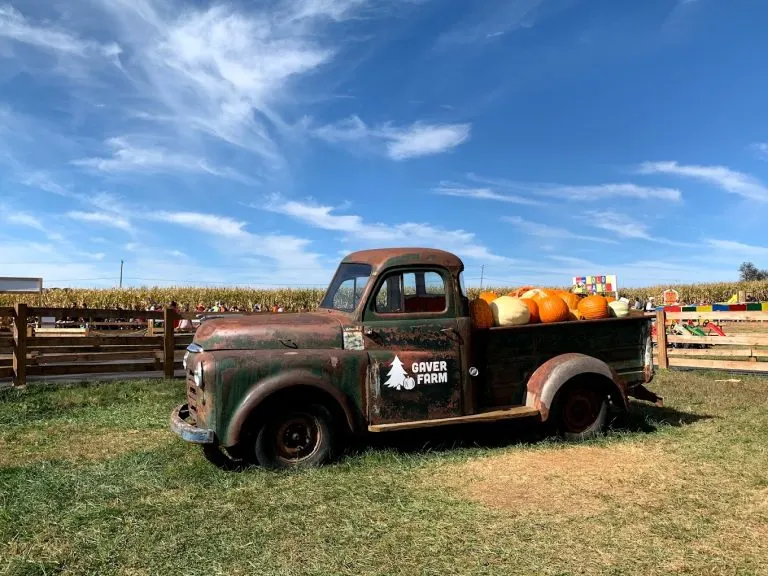 Gaver Farm, in Frederick County, Maryland, was founded by Michael Gaver in 1978 at age 17. Today, there are over 70 acres of Christmas trees, an apple orchard, sunflower fields, and the Fall Fun Festival.
The Fall Fest features over 65 farm attractions, including a corn maze, farm animal barnyard, games, mini mazes, bike tracks, playgrounds, and more. The farm also holds a Farm Market and farm fresh food stands. Pick Your Own pumpkins are available daily, and apples are on weekends. You get a free hayride if you pick pumpkins or apples.
The fall season starts September 1st and runs through Halloween. Open daily 10AM to 6PM.
Admission is $18.75 per person for weekends in September, $21 per person for weekends in October and $13 per person on weekdays. Kids under two are free. Season passes are also available and tickets can be purchased in advance online.
5501 Detrick Rd, Mt Airy
Clark's Elioak Farm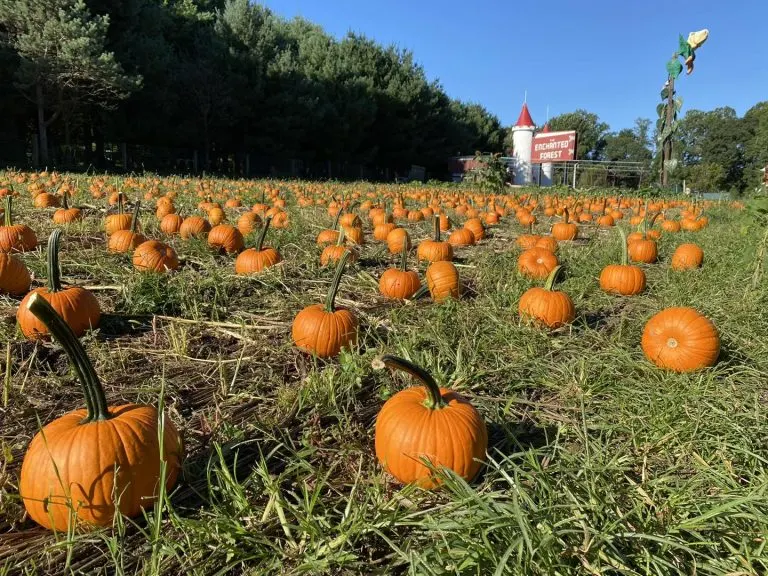 In the heart of Haward County, Clark's Elioak Farm is open from spring to fall for families to enjoy friendly farm animals, the Enchanted Forest attractions, and their sustainable vegetables and herbs.
In the fall, their pumpkin patch is open for pick-your-own pumpkins. Their signature attraction, the Enchanted Forest, is a fairytale land featuring characters, replicas, and interactive experiences showcasing all of our favorite storybook characters.
Hours are Tuesday through Friday 10AM to 5PM, Saturday and Sunday 10AM to 5:30PM, and Mondays in October from 10AM to 5PM.
Admission is $8 per person. Rides on the Cow Train, Enchanted Express Train, Wagon Ride, and the Pony are additional costs.
10500 Clarksville Pike, Ellicott City
Councell Farms
Found along Route 50 on Maryland's Eastern Shore, Councell Farms has been producing high-quality fruits and vegetables since 1981. Each fall, Councell Farms opens its Field of Fun so families can enjoy more than 20 farm-related activities, including the corn maze, jumping pillow, pumpkin patch, and combine slide.
You can also buy a selection of fresh apple cider, jellies, jams, apples, gourds, Indian corn, straw bales, corn stalks, and mums.
The farm is open 9:30AM to 5:30PM 7 days a week from mid-September to Halloween.
Admission is $6 per person, with season passes available for $60 for a 4-person family ($10 for each additional member). Kids under 2 are free.
11773 Old Skipton Rd, Cordova
Weber's Cider Mill Farm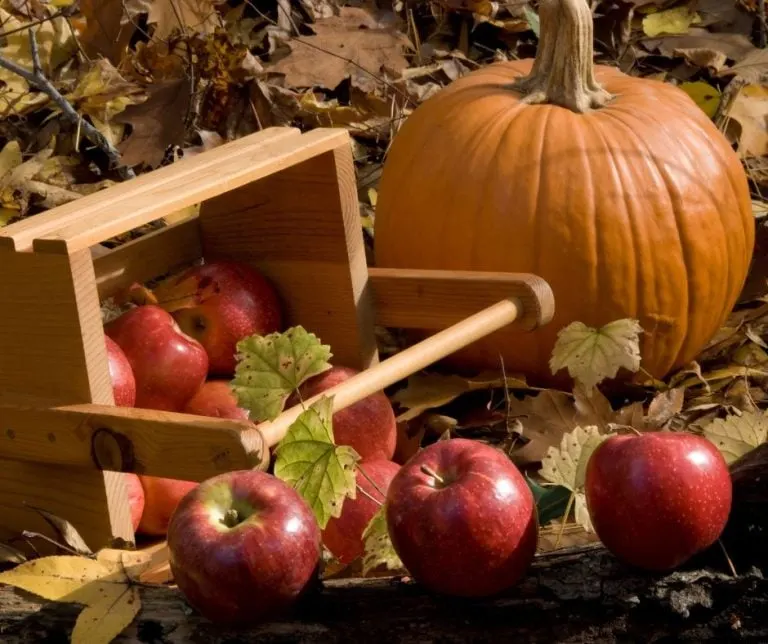 Operating since 1908, Weber's Cider Mill Farm in Parkville not only sells delicious cider but also offers an enjoyable pumpkin-picking experience for families with various photo opportunities on-site.
The Fall Harvest Days at Weber's Cider Mill Farm features a hay ride, straw maze, barrel train ride, hillside slide, farm animals, and a tire mountain. Weekends also include food trucks, live music, face painting, balloon creations, and special fall foods.
Fall Harvest Days at Weber's starts mid-September and runs through the beginning of November. Hours are weekends 9AM to 6PM and weekdays 10AM to 6PM with last entry at 4PM.
Admission prices are $11 for weekends, $8 for weekdays in September, $14 for weekends, $12 for weekdays in October, and $8 for all days in September. Tickets must be purchased online.
2526 Proctor Lane, Parkville
Baugher's Orchard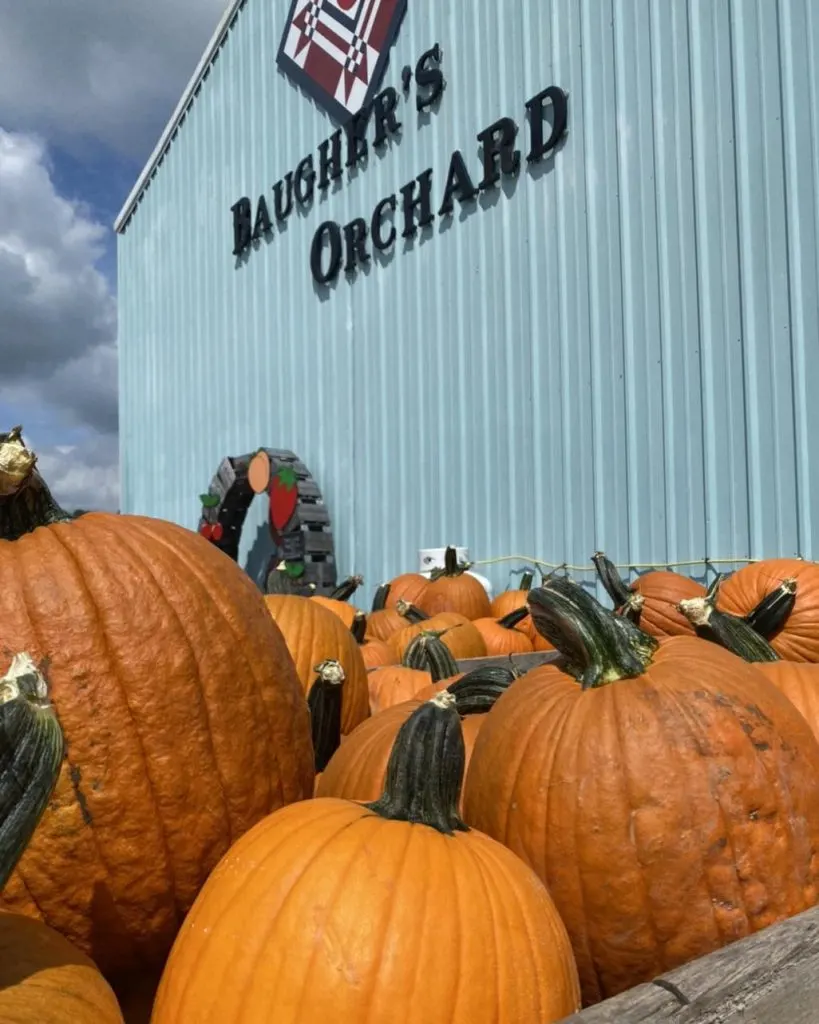 Located in Carrol County, Baugher's Orchard has a farm location and farm stand in Westminster with a restaurant and bakery. Baugher's is open from May to November for seasonal fruit and vegetable picking.
Baugher's Fall Harvest Festival begins mid-September and runs through Halloween. With apple picking, a pumpkin patch, face painting, hay rides, a petting zoo, and pony rides, they have plenty to do on the farm.
Hours are 9AM to 6PM daily but most fall events are weekends only.
Admission for the pick-your-own is free, with the fall activities extra.
1015 Bougher Rd, Westminster
Pumpkin patches in Maryland offer a delightful fall experience for individuals and families alike. With a wide variety of pumpkins to choose from and numerous activities such as corn mazes and hayrides, these patches provide a perfect opportunity for creating cherished memories. Visiting a local pumpkin patch in Maryland is an annual tradition that should not be missed. So grab your loved ones, put on your flannel shirts and boots, and head out to one of these charming patches to embrace all the joys that autumn has to offer.
Mackenzie Jervis is a writer that currently lives in Las Vegas with her husband, son, and daughter. She's visited over 65 countries and writes about her travels and literary adventures on A Wandering Scribbler. When not writing, she's probably browsing bookstores, out in the mountains, or making lists in her favorite Japanese notebook.
Find more pumpkin patches near you!