Santa Barbara, aka: "The American Riviera", has long been known as a great beach destination, but where are the best beaches in Santa Barbara. for families? The area has become quite well known thanks to the rich and famous that call it home, but still manages to maintain an intimate beach town vibe.
We combed the coast to find beaches that are great for all sorts of activities as well as doing nothing at all. Here are our picks for the best beaches in Santa Barbara to enjoy on your family vacation.
Best Beaches in Santa Barbara
1. East Beach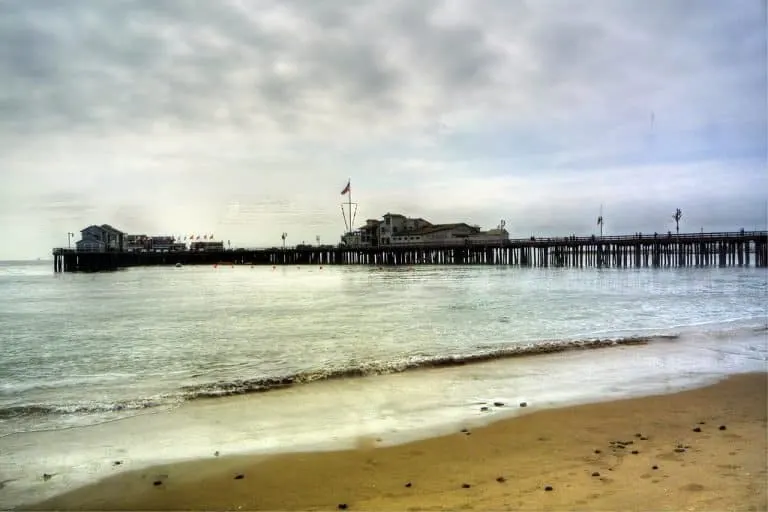 This beach is located east of Stearns Wharf, the hub of tourist activity and home to some of the most popular areas in all of Santa Barbara.
This ideal location makes it likely that East Beach will be the first beach you will encounter while on your Santa Barbara vacation. The 1.6-mile stretch offers a long paved sidewalk, access to nearby water and bike rentals, and beautiful sand. It is also a great place to fly a kite.
Rent a surrey or beach cruiser near the Cabrillo Pavilion and tour the entire beach. This path is very even and it is possible to use the surrey here even if you are one adult with a few kids.
Amenities: There are public parking lots near the beach and some spots along the road. The Cabrillo Pavilion is also a good place to find facilities like restrooms, showers, and a small restaurant. This beach offers a lifeguard during the summer season.
Recommended Nearby Hotel: The Hilton Santa Barbara Beachfront Resort is a favorite in the area with excellent amenities and a prime location – your family will feel like you are in the center of everything Santa Barbara has to offer!
2. West Beach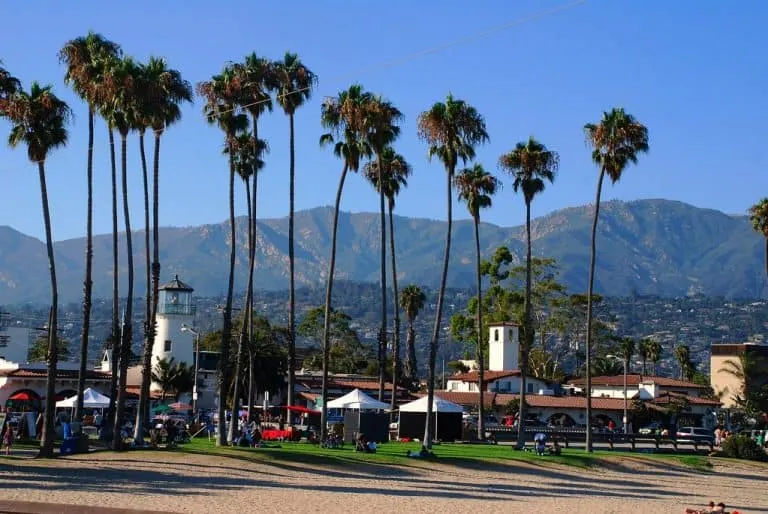 The sister beach of East Beach is West Beach, and it is great choice for your beach day! West Beach is a popular location for water activities because it is located near the harbor where many sailboats launch.
The beach is only one mile long, but it draws a lot of tourists. Nearby you will find restaurant, shops, and several family-friendly points of interest on State Street. Check all of our favorite things to do in Santa Barbara with kids.
West Beach is a popular spot to take stand up paddleboard lessons or go on a kayak tour with Cal Coast Adventures.
Amenities: Parking is available along the street and near the restaurants and shops lining the beach. Public facilities are found at the nearby Cabrillo Pavilion.
Recommended Nearby Hotel: Hotel Milo Santa Barbara is a gorgeous pet-friendly property. It is located near some of the best beaches in Santa Barbara and other local attractions.
3. Leadbetter Beach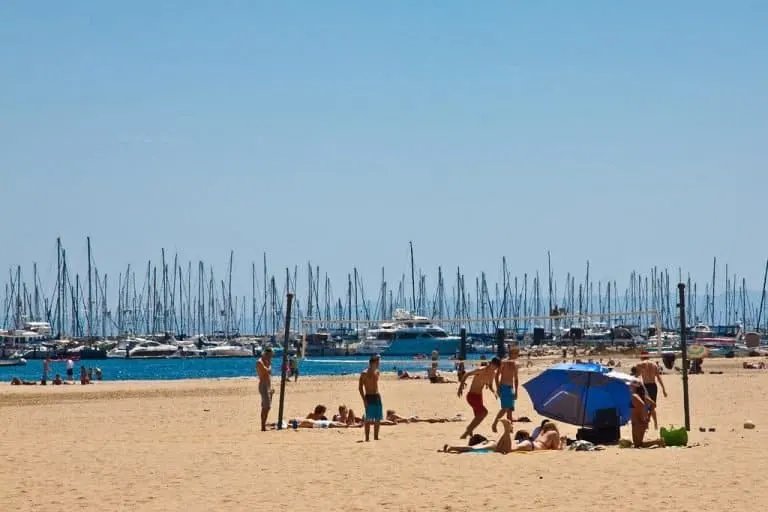 This sheltered beach makes for a relaxing day. Leadbetter Beach, near Shoreline Park, offers an excellent location for sunbathing, picnics, and walks along the shore.
This beach is a great spot for beginning surfers since the swell does not come in too strong. There is also a paved path for jogging and bike riding along the beach.
Amenities: Parking is found near Shoreline Park. On-site public restrooms and picnic areas are available. The beach also has barbeques and tables that can be reserved in advance.
Recommended Nearby Hotel: Hotel Indigo Santa Barbara is an excellent location. This small boutique hotel is located next to Moxi – an amazing hands-on discovery museum!
See what beaches made our list of the best beaches in Southern California.
4. Butterfly Beach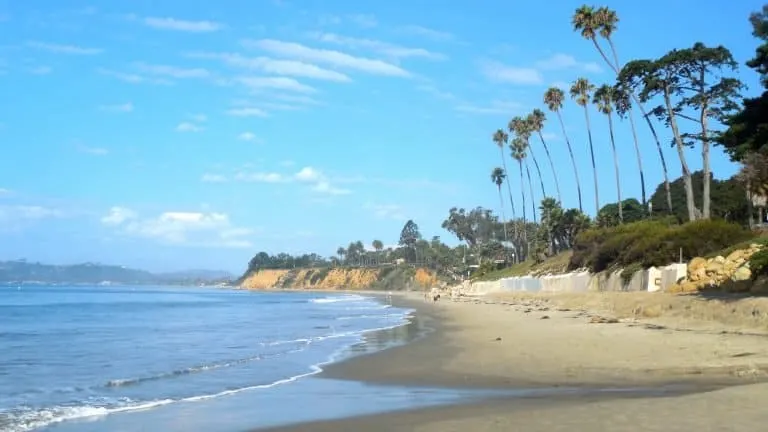 Butterfly Beach is a great place to take walk in the sand. The beach is narrow but at low tide it is a local favorite.
The beach is located in the community of Montecito (home to Oprah and Prince Harry) and is adjacent to the famed Four Seasons Resort, The Biltmore. The gentle waves are perfect for letting the kids splash about while you enjoy your walk along the shore. Many people like to walk the beach in hopes of a celebrity sighting.
Amenities: Parking is located in the surrounding residential area. There are no public restrooms.
Recommended Nearby Hotel: Rosewood Miramar Beach is a five star luxury option not far Butterfly Beach.
5. Carpinteria State Beach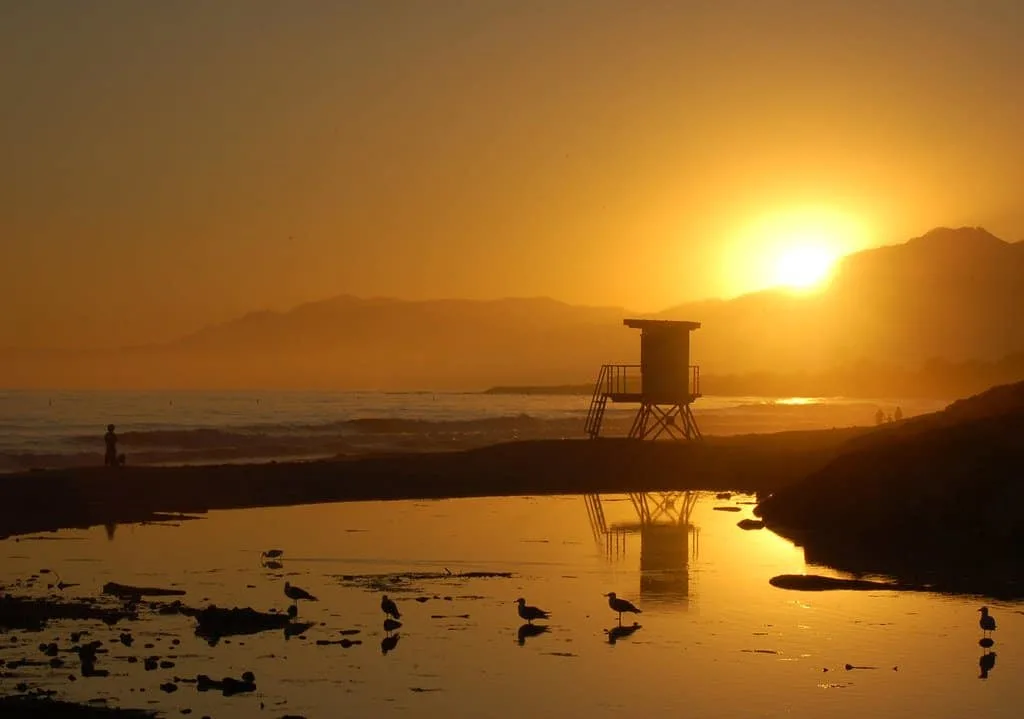 Families will love Carpinteria State Beach, especially because it has been named one of "the world's safest beaches". That and the family-friendly vibe made it a shoo in for our list of the best beaches in Santa Barbara!
Carpinteria offers a mile of beach for swimming, surf fishing, tidepool exploring, and camping. The waves here are perfect for body surfing, swimming, and boogey boarding.
Nearby, families will also want to check out the world famous Rincon Point – known for its awesome surf! Science enthusiasts might want to explore the Carpinteria Salt Marsh Nature Park.
Amenities: Parking is available near the beach. This area has a lot of great facilities like picnic tables, showers, and restrooms. Lifeguards regularly patrol the area. The nearby restaurants and cafes make your trip to the beach even more enjoyable.
Recommended Nearby Hotel: Holiday Inn Express & Suites offers great value for families wanting to stay in the Santa Barbara area. The pool, nearby beaches, and complimentary breakfast make this property a good choice.
See more of the state! Here are the best things to do in California with kids.
6. Arroyo Burro Beach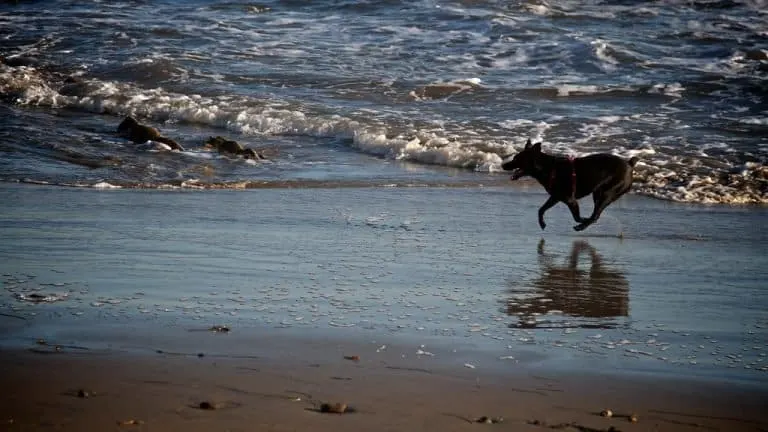 This county park, also know as Hendry's Beach, is the premier dog beach in the area. If you have your furry family member with you be sure to add Arroyo Burro Beach to the list.
There you will find great sand and an awesome view of sea life like dolphins, seals, and even whales! If you want to get into the water, try paddle boarding or surfing at this beach.
Amenities: This 22-acre park is dog friendly. Public parking is available. The grassy picnic area is where you can find the public restrooms and showers.
Recommended Nearby Hotel: Best Western Plus Encina Inn & Suites is centrally located and a fine home base for your trip to Santa Barbara. Families will love the two-room suites with full kitchens.
7. Miramar Beach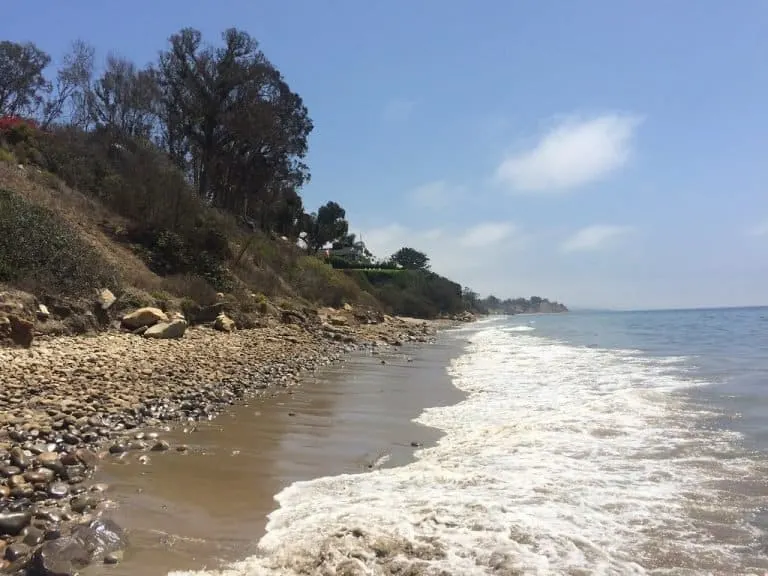 Miramar Beach is in the residential community of Montecito. Here you will find gentle waves. Many residents come here to surf, swim, and unwind. Try visiting here at low tide to take in a nice walk along the sea.
Amenities: Parking is available within the residential area. There are no restrooms but the nearby hotel, Rosewood Miramar Beach, is a great place to eat lunch while visiting the area.
Recommended Nearby Hotel: The Hotel Californian is a gorgeous and trendy property in a great location for all the things to do on State Street!
8. Loon Beach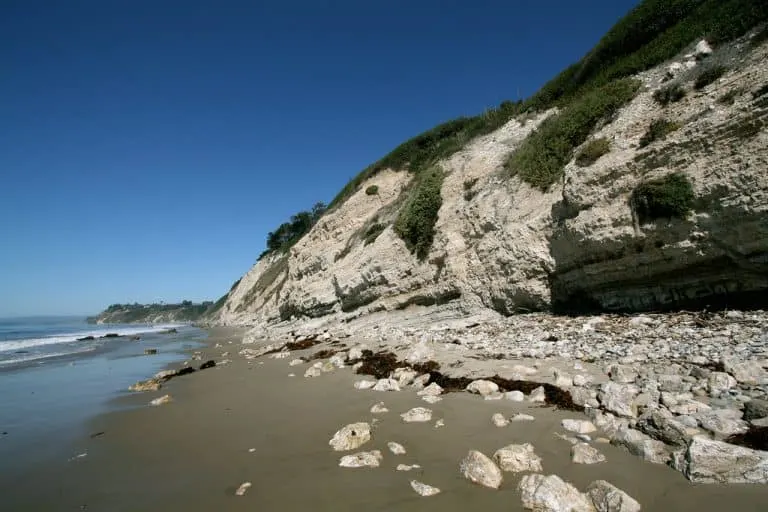 The high bluffs and quiet location will make you feel like you have Loon Point Beach all to yourself.
This is not one of the more tourist populated beaches as it is outside of Santa Barbara proper. This spot has great tide pools to search at low tide. The beach is excellent for walking, sun bathing, and beach combing!
Amenities: There is a parking lot specifically for Loon Beach but there is still a short walk from the lot to the beach. The parking lot is where the public restrooms are located – so plan trips out in advance.
Recommended Nearby Hotel: If you are looking for a location to remember, the Cliff House Inn will be unforgettable. It is located directly on the shoreline the pool overlooks the ocean!
9. Goleta Beach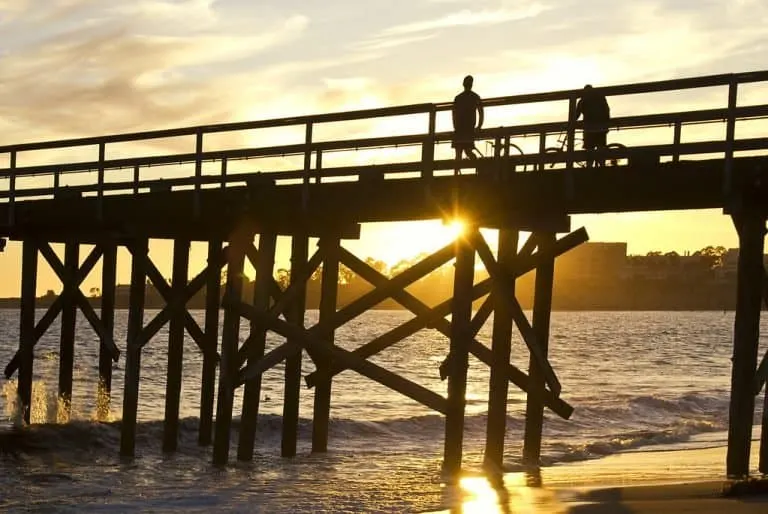 A partly manmade beach, Goleta Beach is near the UC Santa Barbara campus. This beach is well known for its fishing pier and great bike paths.
With many boats launching from the area, you will also find lots of paddle boarders and kayakers.
There is a restaurant and rental spot along the pier. The grassy area and park also make this a nice place to picnic and barbeque so bring a meal or pick up something in the area. Goleta is also a great place to watch the sunset.
Amenities: There is onsite parking and public restrooms available. During the summer seasons the lifeguard station is open.
Recommended Nearby Hotel: The Hampton Inn Goleta offers a family-friendly property in a great location for Goleta.
10. Santa Claus Beach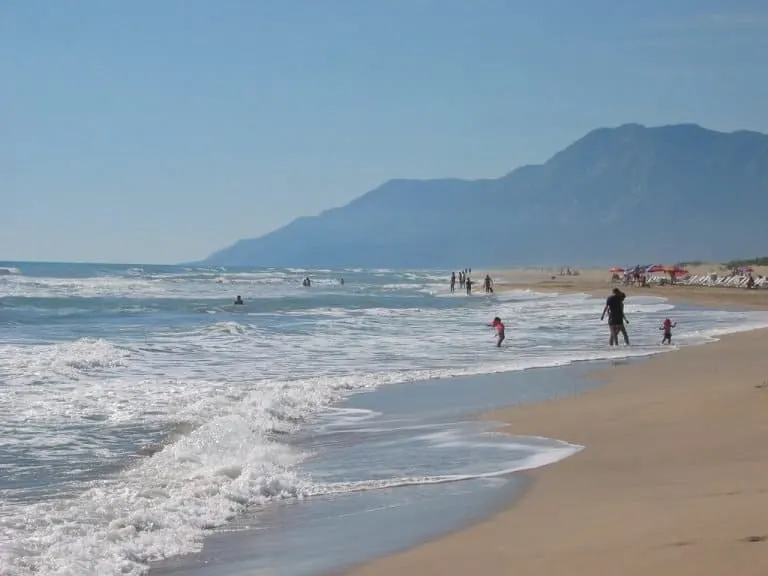 Santa Claus beach, also known as Padaro Beach, is south of town and is accessed through Santa Claus Lane. Santa Claus Lane used to be filled with Christmas-themed shops but these days, it has become a popular summer beach spot for locals and hosts many watersports.
If you want to try something new head to the rental shop and pick up a paddle board or foam board to try out! Nearby, we recommend trying Padaro Beach Grill which is known for their fish tacos!
Amenities: There are no public toilets other than the chemical toilets at the entrance so plan ahead. Parking is located along Santa Claus Lane and the surrounding area.
Recommended Nearby Hotel: The Best Western Plus Carpinteria is great for the budget and a nice location for getting around all of Santa Barbara County, it is located right off of Highway 101.