Pennsylvania's picturesque landscapes and vibrant fall foliage are the perfect destination for the ideal autumn experience. There are lots of great pumpkin patches in Pennsylvania and as a crispness fills the air and the leaves change, locals and visitors alike flock to them to get their fill of quintessential fall activities.
The best pumpkin patches in Pennsylvania offer a delightful escape for all ages, from picking pumpkins straight off the vine to hayrides and corn mazes. Here are our pumpkin patches in Pennsylvania that are sure to leave you feeling festive and ready for autumn adventures.
Love fall foliage? Here are 10 Incredible Places to Enjoy Fall Foliage in Pennsylvania.
Best Pumpkin Patches in Pennsylvania
Sisson's Pumpkin Patch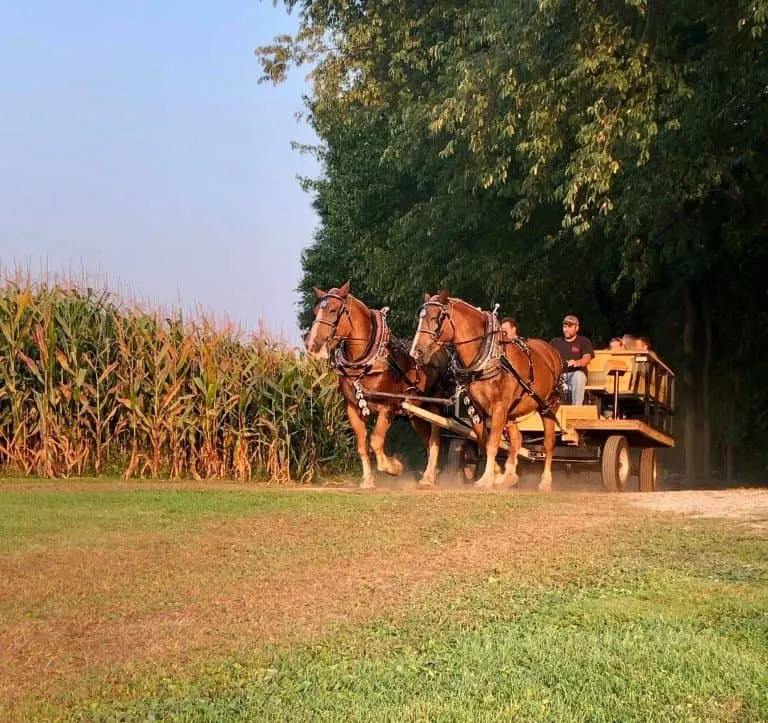 Sisson's Pumpkin Patch in Girard, PA has been operating for over 10 years after owners Larry and Wendy purchased the family farm and turned it into a seasonal pumpkin wonderland. The pumpkin patch features hay rides, corn mazes, slides, pedal carts, and more to help get all visitors in the autumn mood.
The pumpkin patch is open Saturdays and Sundays from 10AM to 6PM starting mid-September and running through the end of October.
It's $12 to enter, $5 for those 60 and up, and free for under 2. Season passes are $32.
11244 Springfield Rd, Girard
Explore the whole state! Here are our favorite things to do in Pennsylvania with Kids.
Cherry Crest Adventure Farm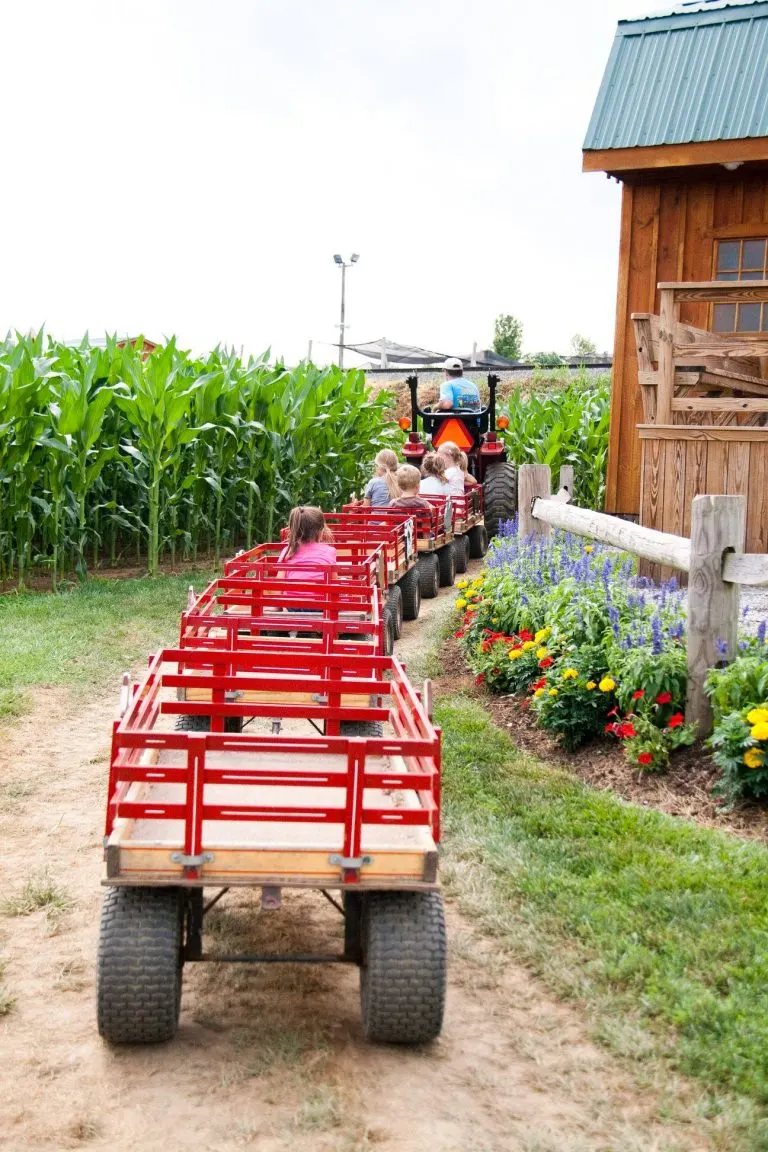 Located in Ronks, PA, Cherry Crest Adventure Farm is a 100-acre farm offering a variety of activities for families, including hayrides, a petting zoo, a corn maze, and a playground, as well as fireworks, brewery, and live music on select nights.
Cherry Crest is open from May to November, offering fruit picking in the spring and summer. Their fall season starts mid-September and runs through the first week in November, ending in a Pumpkin Madness festival. For the fall, Cherry Crest is open Fridays and Saturdays 10AM to 10PM and Thursdays 10AM to 5PM.
Ticket prices start at $26.95 and vary based on the exact date and any activity add-ons selected. Buy online for a discounted price. Kids 2 and under are free.
150 Cherry Hill Road, Ronks
Hellerick's Family Farm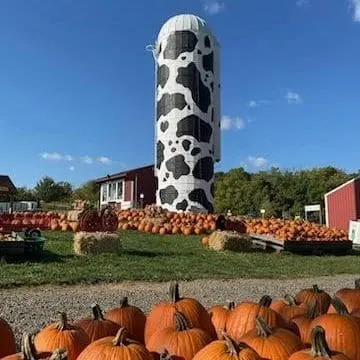 Hellerick's Family Farm in Doylestown, PA has been a working farm since the late 1700s. Today, Hellerick's provides produce to the local area and functions as a year-round adventure park that includes a silo climbing wall, aerial adventure park, crop picking, and goat yoga classes.
In the fall, during their Fall Festival, you can enjoy a five-acre corn maze, hayrides, tractor tire playground, and 1000's of pumpkins to choose from for your fall decorations.
Fall Festival starts mid-September and runs through the end of October. Open daily from 10 with the last admission at 5PM.
Prices are $14.99 on weekdays and $18.99 on weekends, kids ages two and under are free.
5500 Easton Rd, Doylestown
Grim's Orchard and Family Farms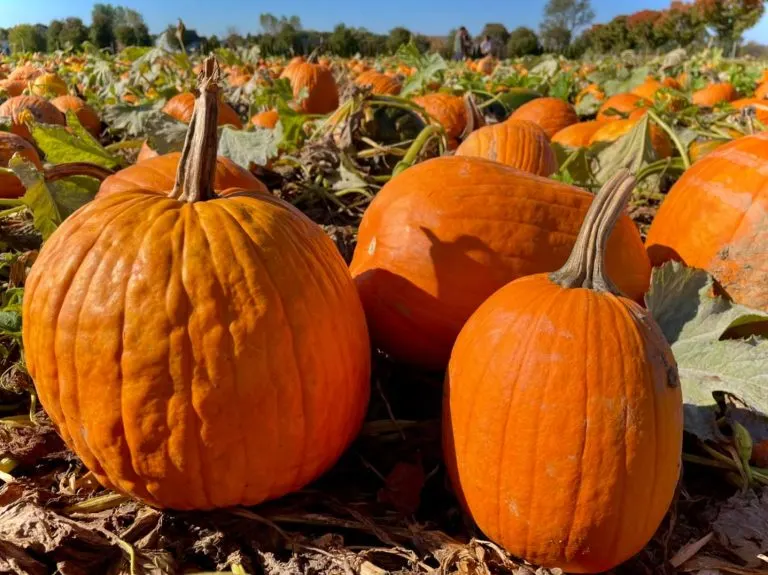 Grim's Orchard and Family Farms, which has served the Lehigh Valley for over 80 years, is situated on 80 acres of land, growing a variety of produce year-round and featuring seasonal activities. These events include pick-your-own sunflowers and the great potato dig.
Their largest event is their Fall Festival rounding out the year. The Fall Festival features a corn maze, hayrides, a cattle train, a petting zoo, and apple and pumpkin picking, as well as fall snacks and drinks.
The Fall Festival and Corn Maze runs Saturdays and Sundays from mid-September to the end of October. Hours are 10AM to 7PM, with the last admission at 5:30PM.
It's free to enter the farm, but all activities, including the corn maze, hay ride, and vegetable picking, are additional. Activity packages are available starting at $19.99, giving a discount on activities.
9875 Schantz Rd, Breinigsville
Linvilla Orchards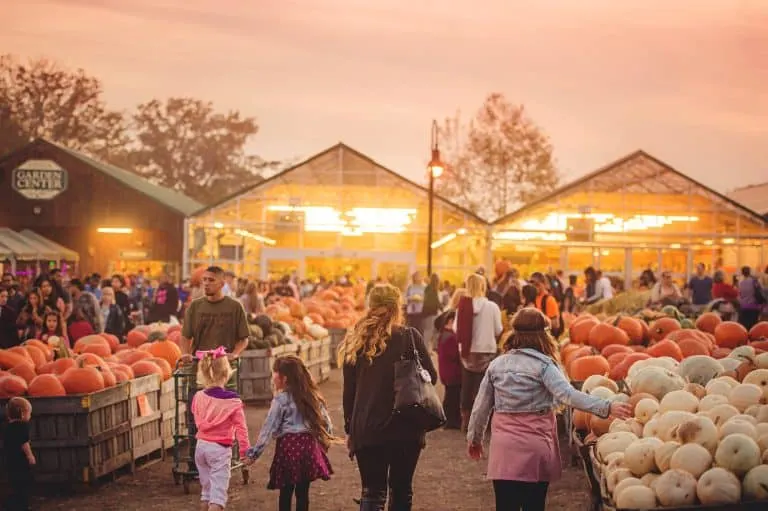 Found in the picturesque town of Media, Linvilla Orchards is a beloved destination for families and nature enthusiasts. With sprawling orchards, a charming farm market, and an array of activities all year round. Their fall activities, which they call Pumpkinland, feature hayrides, a straw bale maze, a corn maze, pony and train rides, and spooky witches at night.
Linvilla is open daily throughout the year, but Pumpkinland begins mid-September to Halloween, open Sunday to Thursday, 8AM to 8PM, and Friday and Saturday, 8AM to 9PM.
It's free to enter Pumpkinland to enjoy the atmosphere. Activities, snacks, and pumpkin purchases are extra.
137 W Knowlton Rd, Media
Shady Brook Farm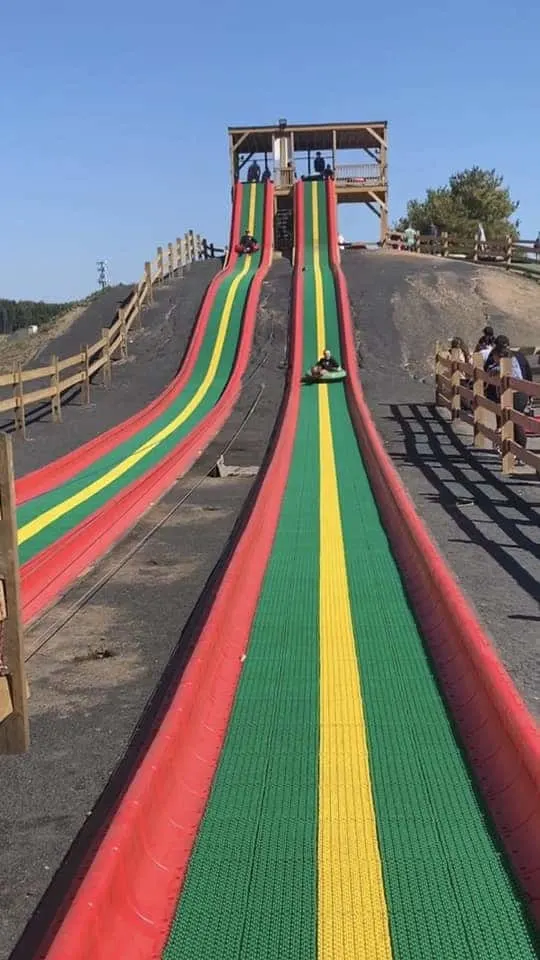 Located in Yardley, Shady Brook Farm offers year-round entertainment for the whole family, including summer and winter activities and, of course, a Fall Fest. Fall Fest features wagon rides to the pumpkin patch, a fun slide, live music, Eerie Illuminations holiday light experience, as well as a five-acre corn maze.
Fall Fest begins in early September and runs through Halloween. Shady Brook is open in September on Fridays and Saturdays from 11AM to 10PM and Sundays 11AM to 5PM. In October, they're open Fridays and Saturdays 11AM to 10PM, Sundays 11AM to 9PM as well as Wednesdays and Thursdays from 11AM to 7PM.
Tickets prices vary between $20 to $40 depending on the time and date, Tickets are $5 off if purchased online. Pumpkin picking is not included in the price. Kids under 2 are free.
931 Stony Hill Rd, Yardley
Irons Mills Farmstead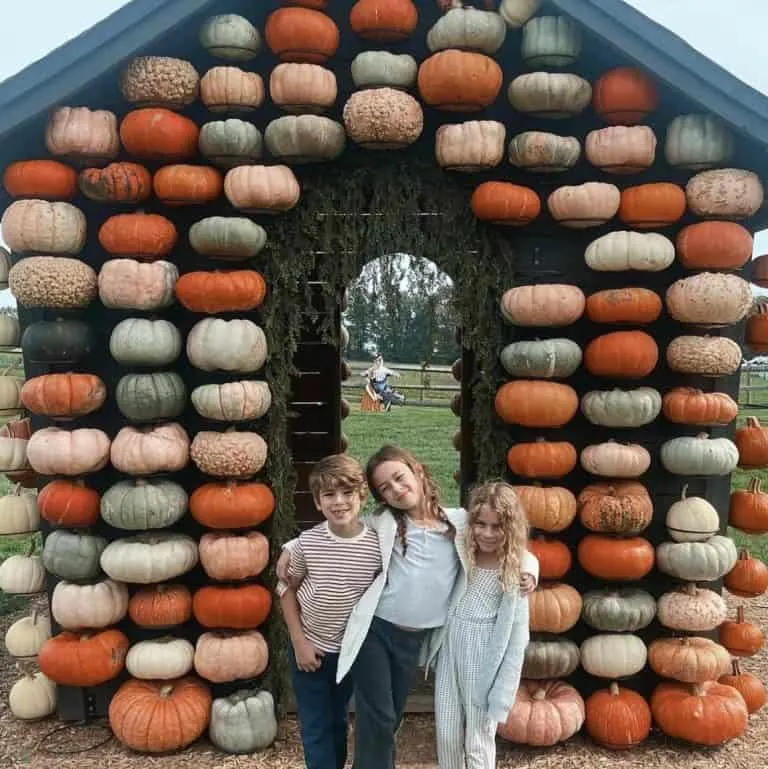 The Mercer County, Pennsylvania staple, Irons Mill Farmstead holds a yearly Fall Fun event that features over 40 kid-friendly attractions including a corn maze, tire mountain, sand pit, pumpkin bowling, and pumpkin village. Families can spend the day exploring the activities while sampling donuts, pizza, ice cream, and fall drinks, including hard cider for the adults.
Fall Fun begins at the beginning of September and runs through Halloween. The farm is open Fridays and Saturdays 10AM to 9PM and Sundays and select Thursdays in October from 10AM to 7PM.
Day passes are $24.95 when purchased online, with a discount if going on a Thursday or Friday. Tickets include all activities. Food and pumpkins are additional costs.
252 Greenfield Rd, New Wilmington
Bear Rock Junction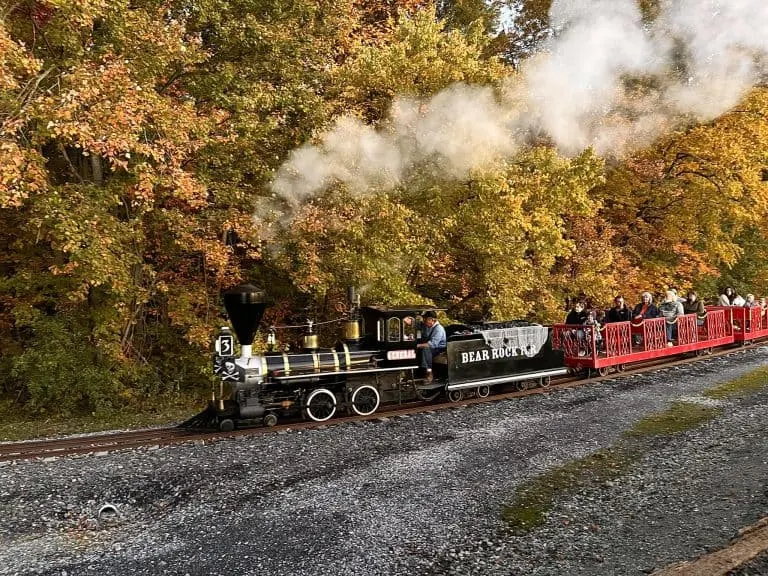 Bear Rock Junction is a year-round activity center that features an impressive array of fall activities for kids and adults alike. With attractions like hay rides, train rides, go-karts, a two-acre corn maze that is claimed to be the best maze challenge in Eastern PA, a pumpkin patch, a Halloween-themed glow mini-golf, and a spooky Halloween train.
After Labor Day, Bear Rock Junction is open Friday 5-10PM, Saturday 12-10PM and Sunday 12-9PM. The fall fest begins around mid-September and runs through Halloween with pumpkins available for purchase toward the end of September. The Halloween train runs Fridays 6-8:30PM, and Saturdays and Sundays 1-8:30PM.
The corn maze is $6.75 per person, the hayride is $3.50 per person. Pumpkin prices vary.
8181 PA-309, New Tripoli
Corn Cob Acres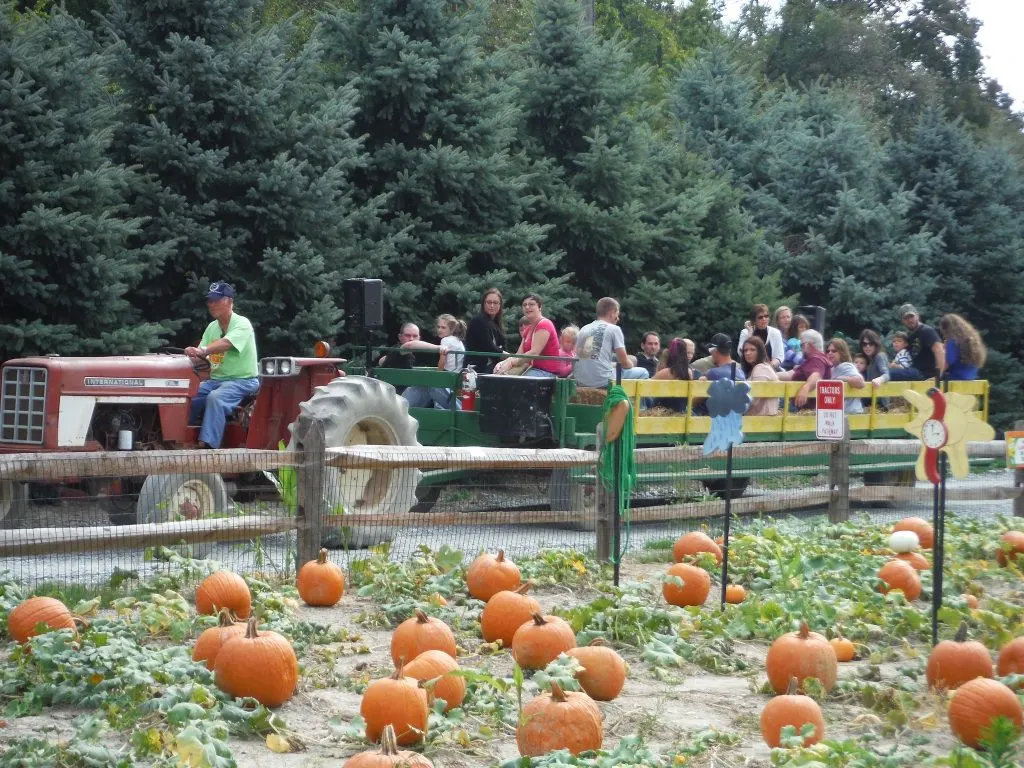 Found in the town of Mountville near York, Corn Cob Acres is a must-do fall tradition with over 50 activities, games, and adventures that will entertain the whole family. Corn Cob Acres features goat feeding, medal karts, pig races, inflatable obstacle courses, a corn trail, and Pumpkin Alley where you can search for the perfect pumpkin to take home.
Corn Cob Acres is open in September and October on Saturdays from 10AM to 5PM and Sundays 11AM to 5PM.
Tickets are $20 ($17.99 online). Multi-day tickets and season passes are available. 2 and under are free. Tickets include all activities apart from take-home pumpkins, the corn cannon, and gem mining.
191 College Ave, Mountville
Soergel Orchards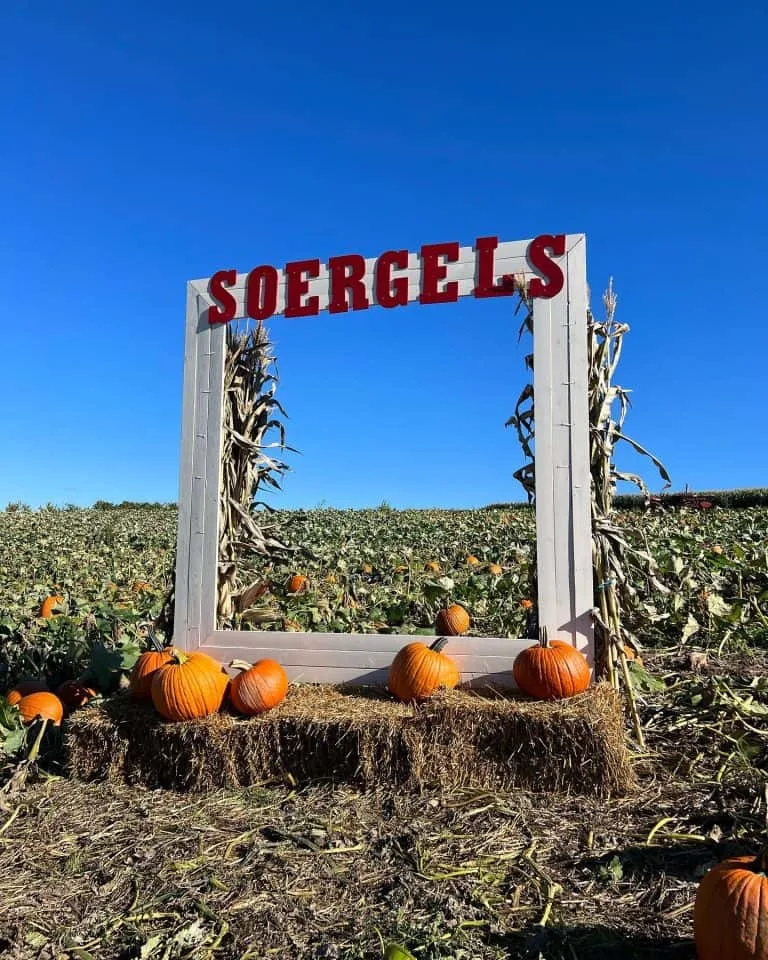 Soergel Orchards in Wexford near Pittsburgh, is a working farm that supplies fresh produce to locals across Allegheny and Butler Counties.
Their Fall Festival celebrates all things fall, from pumpkin and apple picking, tractor rides, food, and family activities. There's undoubtedly something for the whole family to enjoy. Don't forget to stop by their market for fresh fruits, veggies, pies, and meats.
Fall Festival begins mid-September and runs through the end of October. Soergels is open Saturdays and Sundays 10AM to 5PM.
It's free to enter the Orchards with varying prices for picking produce and any fall activities.
2573 Brandt School Rd, Wexford
Headed to the Pittsburgh area? Here are some of our favorite things to do in Pittsburgh with kids.
Pennsylvania offers a wide variety of pumpkin patches that provide fun-filled and memorable experiences for people of all ages. Whether you're looking for a scenic fall outing or searching for the ideal spot to capture that Instagram-worthy pumpkin photo, Pennsylvania's pumpkin patches will not disappoint. So grab your friends and family, embrace the crisp autumn air, and make lasting memories at one of these charming locations throughout Pennsylvania.
Mackenzie Jervis is a writer currently lives in Las Vegas with her husband, son, and daughter. She's visited over 65 countries and writes about her travels and literary adventures on A Wandering Scribbler. When not writing, she's probably browsing bookstores, out in the mountains, or making lists in her favorite Japanese notebook.
Find more Pumpkin Patches Near You!