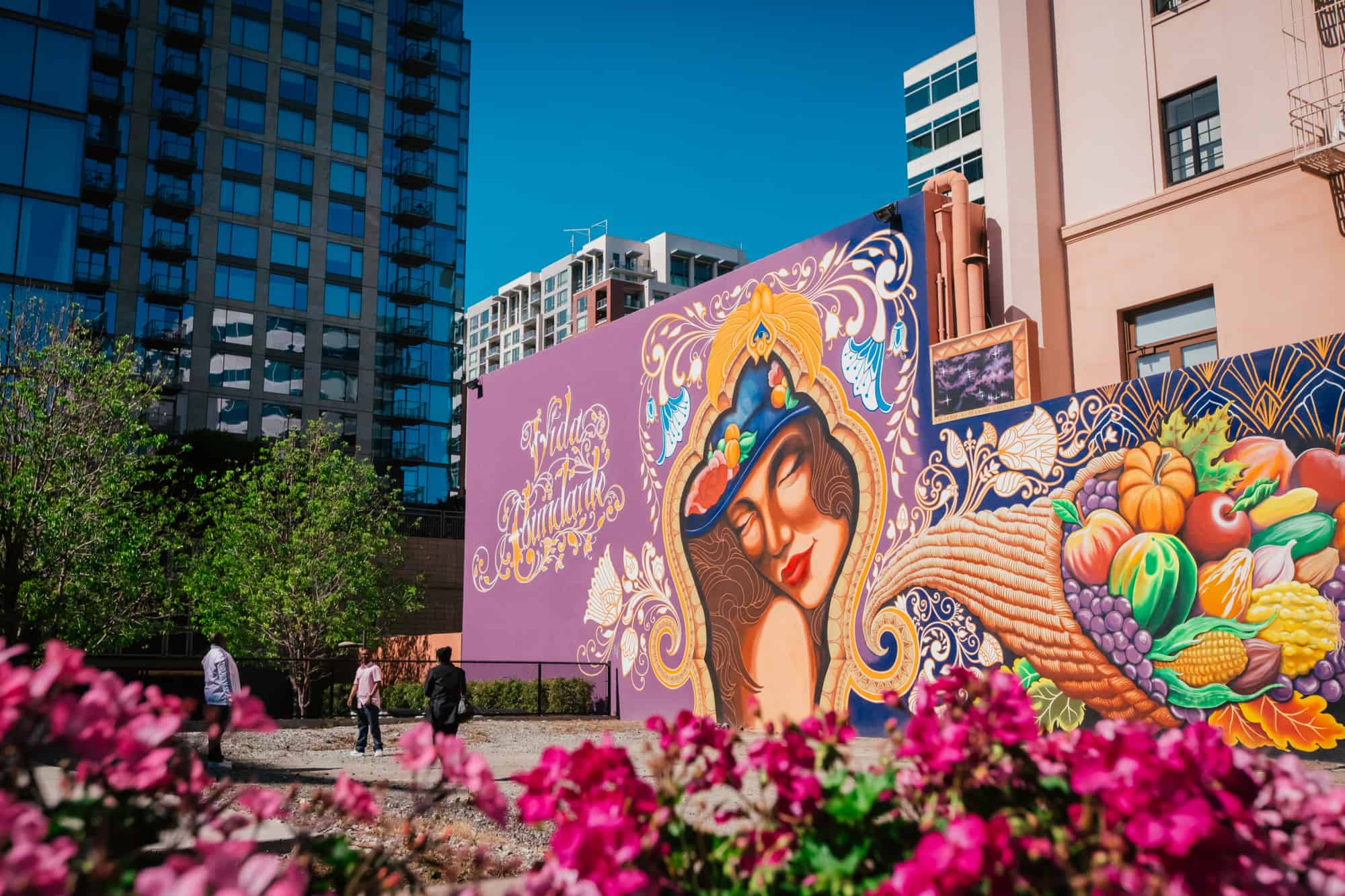 Whether artistic leanings, athletic energies, or simple explorations are in your plans, there are plenty of fun things to with your kids in San Jose. As the capital of Silicon Valley, San Jose may be firmly rooted in the future of innovation, but it's also brimming with culture, vitality, and character. This Bay Area gem is home to a wide array of museums and parks as well as three professional sports teams.
Founded in the 1700s as El Pueblo de San José de Guadalupe, it was the first civilian Spanish colony of Nueva California. Now, San Jose is not only the largest city in the greater San Francisco Bay Area, it's also the largest in Northern California! Let's check out things to do in San Jose with kids!
Fun Things to do in San Jose with Kids
10. Visit Three Parks in One Stop
Kelly Park is a popular San Jose spot with a surprising array of fun things to do with kids. It's home to three distinct and different attractions you wouldn't expect to find amid picnic facilities and winding trails.
Happy Hollow Park & Zoo offers educational opportunities to get up close with animals. It's also home to one of California's oldest puppet theaters and classic park attractions like Danny the Dragon.
The next attraction is a living symbol San Jose's sister city relationship with Okayama, Japan. The Japanese Friendship Garden is a great place for a tranquil walk.
Lastly, History Park allows visitors to step back in time to experience turn of the century San Jose. Seriously, visitors stroll through streets of a bygone era! The park is comprised of 27 original and reproductions of homes, businesses, and landmarks, running trolleys, and a cafe.
9. Explore Winchester Mystery House
The Winchester Mystery House is a baffling and extraordinary maze of Victorian craftsmanship. The home is infamous for staircases that lead to nowhere, miles of sinuous hallways, and doors that open into walls.
The intent of these architectural oddities was to throw off the spirits that might be following the resident. Sarah Winchester was the wife of the Winchester rifle heir. Many believe her incessant home remodeling was fueled by grief and superstition. She had lost her husband and only child.
She may also have been feeling tremendous guilt over the souls lost at the barrel of the Winchester rifle. Today, the 160-room house is open for tours and visitors report experiencing spirit activity. Halloween and Christmas are very popular times to visit. A spooky flashlight tour is offered on Friday the 13th. This San Jose attraction is great fun for kids in their teens.
Want more kid-friendly fun in California? Check out our Top 10 things to do in California with kids!
8. Shop and Dine on Santana Row
San Jose's upscale shopping district, Santana Row, offers a scene somewhere between a quaint village and a haute couture runway. Grab a table along the sidewalk at any café and you'll soon notice that Santana Row also offers fine people watching.
Kids love the Pinkberry Yogurt and burgers at The Counter. There's also a nice playground complete with climbing structures. The area also hosts kid-friendly events from the Easter Bunny's visit in the springtime to Santa's arrival during the holidays.
7. Soak in the SoFA District Arts Scene
Short for South of First Area, the SoFA district is San Jose's visual arts and entertainment hub. The Institute of Contemporary Art, the Art Glass Institute, and the San Jose Museum of Quilts and Textiles are popular.
Do you have older kids who prefer a more DIY experience? Then take a clay and wheel-throwing class with them at Higher Fire. Another great DIY experience, the TechShop, will walk you through activities like basic soldering and electronics. If you're looking for a more cultured event, the gorgeous California Theater hosts performances such as Symphony Silicon Valley and Ballet San Jose Silicon Valley.
From street markets to art walks and outdoor concerts, there are lots of fun things to do with kids in this San Jose district. The colorful atmosphere of the SoFA District always offers a creative spirit that fuels free expression and fun.
6. Hockey or Soccer? Take the Kids to See Both!
If you've timed your visit to San Jose during hockey season then you'll want to catch a Sharks game! Be sure to get your young hockey fans over San Jose's SAP Center. During games, it transforms into what locals have nicknamed the Shark Tank, home of the National Hockey League team.
The Sharks are six division title winners and their many fans fill the venue with a sea of teal-colored jerseys. These fans are loyal, loud, and bring their boundless energy to make the games jovial and fun.
However, the Sharks are not the only major sports franchise who call San Jose home. This is Earthquakes country too. Head over to Avaya Stadium to catch this Major Soccer League (MLS) team.
The two-time MLS Cup champions offer a lively atmosphere and a lesson in seismology at the same time. The US Geological Survey installed a seismograph onsite as part of a study of how ground motion varies during earthquakes. It may interest you to know that it records raucous crowd activity at homes games as well as natural earthquakes.
5. Shop the San Jose Flea Market, Then Hit Up Raging Waters
The largest open-air market in the U.S., the San Jose Flea Market draws over four million visitors a year. It's comprised of over eight miles of aisles housing more than 2,000 vendors. They sell everything from jewelry, clothing, and furniture to produce, collectibles, and cars among other things.
While most fun things to do with kids at the San Jose Flea Market include the vintage carousel, three playgrounds, and carnival rides. Many families enjoy the live entertainment. Musical acts routinely play at the venue which has two stages, one of which is often occupied by Mexican Mariachi bands.
Over heated from all that shopping and walking around? There's a great place to cool off should you be in the area during the heat of summer. Raging Waters San Jose is considered the largest water park in Northern California. It doesn't matter if you prefer a peaceful float on a Lazy River and everyone else desires a thrilling water ride, both are covered here.
4. Embrace History
While San Jose may be a city at the forefront of futuristic innovation, it is also a place that has not forgotten its history. One fun thing to do with kids in San Jose is revisit history.
Sites such as the Peralta Adobe, a picture-perfect example of the home life of early residents, have been carefully and painstakingly restored. While the adobe itself is now surrounded by high rises, school children and their families can still visit to learn about those who lived in Nueva California.
Emma Prusch Farm Park demonstrates the valley's more recent agricultural past. Donated to the city, the 43.5 acre park in East San Jose includes a 4-H barn, community gardens, a rare fruit orchard, and a demonstration gardens. The purpose of the Farm Park is to give city kids an opportunity to experience farming practices and learn about gardens, fruit orchards, poultry, and livestock.
3. Spot Rising Star Giants
Baseball fans know all about the San Francisco Giants, the World Series Champion team that come from the metropolis sitting north of San Jose. What they may not know is that many players get their start in San Jose. Municipal Stadium has been home to the minor league San Jose Giants for more than 70 years. The team not only enjoys an enormous local fan following, it has been affiliated with those other Giants since the late 80's. Well known major leaguers like Brandon Belt, Madison Bumgarner, Buster Posey, and Brandon Crawford have played on this field.
One majorly fun thing to do with kids in San Jose is to attend a minor league ball game. It not only gives kids the opportunity to see potential future major leaguers in action, it also provides an intimate look at the game itself. Visitors won't find a vendor selling his homemade Churros at a major league game.
Kids also get multiple opportunities to hang out with the team mascot. Because the venue is smaller, it's a bit more up close and personal. Little visitors may even spy a row of scouts measuring pitch speeds with an arsenal of radar guns.
2. Experience Unique Museums
San Jose is home to some incredible interactive museums covering an array of subjects.
The Tech Museum of Innovation, a hands-on technology and science museum, is a resource for innovation rather than a collector of it. Spaces are designed so that visitors will find the tools and materials to unleash the innovator in them. Sponsored events like the Tech Challenge, a team-design competition, also give kids an opportunity to showcase what they've learned.
Little kids learn by touching everything and anything, and the Children's Discovery Museum is set up to let them do just that. Water play and Sand Laboratory experiments aren't the only tactile learning experiences kids enjoy at this museum. Healthy eating role play in the imaginative Rainbow Market will spark imaginations and set kids on the right dietary path.
Are there art lovers in your crew? The San Jose Museum of Art is home to an extensive collection of modern and contemporary art. The institution also hosts Community Days each year that are themed and geared toward connecting art and cultural events.
The most unusual of all may be the Rosicrucian Egyptian Museum and Planetarium. Inspired by an ancient Egyptian temple, it houses the largest collection of authentic Egyptian artifacts in western North America. This includes four mummies on display.
1. Visit Vibrant Neighborhoods
Many of San Jose's culturally vibrant neighborhoods seem named to appropriately describe the surroundings. The Rose Garden is a prime example of this obvious naming. This neighborhood features over five acres of more than 4,000 beautiful rose shrubs spanning 189 varieties.
Little Saigon is home to the largest Vietnamese population of any city outside of Vietnam. In Japantown, a mom and pop joint known as Santo Market features Japanese and Hawaiian fare. It's even possible to purchase homemade tofu and manju in this neighborhood of outstanding Japanese restaurants, martial arts schools, and more.
Historic Willow Glen is a picturesque and walkable community of charming homes, cafes, and shops. Young literature lovers flock to Hicklebee's, a local landmark children's bookstore.
Downtown San Jose is the city's nucleus. Children beat the summer heat by splashing around in the fountain in Plaza de César Chávez. Families also gather in the same park for Music in the Park or outdoor movies.
During the wintertime, the plaza is transformed into Christmas in the Park, a festive tradition involving acres of decorative trees. It also hosts cultural festivals like the Vietnamese Spring Festival, Japanese Obon Festival, the San Jose Mariachi and Mexican Festival, and the San Jose Jazz Festival. On a side note, downtown also has a family-friendly attraction you'd never expect to find – a giant Monopoly board game!
Are you visiting San Jose during the holiday season? Don't miss our guide to San Jose Christmas events.
Great Places for Families to Eat in San Jose
San Jose's eateries range from fancy to casual to irresistibly irreverent. For an upscale experience, Il Fornaio, which boasts authentic Italian food, is located just off the lobby of the Westin San Jose in the historic Sainte Claire Hotel. Original Joe's has been a San Jose institution for nearly 60 years. It's where tuxedo clad waiters serve up main dishes with flair and fun.
Music lovers and foodies often meet up at San Pedro Square Market. It's open air plaza and array of food selections guarantee that the whole crew will find something to feast on!
Stop by The Blue Chip and partake in 15 types of cheese steaks. Enjoy one of their multiple arcades and play pinball while watching a sporting event on the restaurants' 27 plasma flat screens. Step into America in the '50s at Peggy Sue's and enjoy the tastiest cheeseburger and thickest shake around.
San Jose Lodging for Families
The Fairmont San Jose
Elegant, luxurious, and centrally located, the 20-story Fairmont Hotel is located just steps from the San Jose Museum of Art. Plaza de Cesar Chavez and the Tech Museum are a short stroll from the hotel's front doors. The SoFA District and many fantastic eateries are also within walking distance. Staying here means never having to the move the car!
Hilton San Jose
While the Hilton San Jose may see more business travelers, families will find the rooms spacious and rooftop pool manageable. The pool is smaller than your average hotel pool and its surrounding are well maintained. The hotel is a short walk from the Children's Discovery Museum, Guadalupe Park, and the San Jose Center for the Performing Arts.
The Westin San Jose
Like San Jose itself, the Westin San Jose in the Sainte Claire building embraces the splendor of yesteryear while staying at the forefront of innovation. The hotel, which is located in San Jose's active downtown area, is known for service that is as impressive as its detailed and gilded surroundings.
Hotel De Anza
Once the tallest hotel in downtown San Jose, this historic 10-story art deco Hotel De Anza is within walking distance of SAP Center (i.e.; the Shark Tank) and San Pedro Square Market, a public market with vendors selling everything from sushi and crepes to tapas and home goods.
Must Do Day Trips
Santa Cruz Beach Boardwalk
Located about 40 minutes from San Jose, the Santa Cruz Beach Boardwalk has an endless summer vibe all year around. Old-fashioned amusement park rides, cotton candy, fried treats, arcade games, and the beach are the order of the day at the Boardwalk. It's also home to the Giant Dipper, the fifth oldest roller coaster in the United States. A wooden thrill ride, the Giant Dipper has appeared in movies and commercials.
Gilroy
A little more than a half hour south of San Jose, Gilroy is the Garlic Capital of the World. In fact, it celebrates this crop annually with their Garlic Festival where people line up to sample unusual fare like garlic ice cream. It is also home to Gilroy Gardens, a horticultural-themed amusement park for the under 10 set.
California's Great America
How about an amusement park with something for each one of your traveling companions? Great America is brimming with roller coasters, live shows, and ample opportunities to hang out with the Peanuts gang! Time your visit for summer and you'll enjoy some water park fun as well! That's when Boomerang Bay opens, giving visitors a cool way to enjoy two amusement parks in one place. Great America is located in Santa Clara, San Jose's next door neighbor!
Monterey
There's so much for families to enjoy in picturesque Monterey! For starters, you can shop 'til you drop at Cannery Row. It's so fun to explore Monterey's historic Fisherman's Wharf. You can even introduce your kids to a classic comic strip character as they play at Dennis the Menace Playground. Get close to marine life and brush up on local history with a visit to the amazing Monterey Bay Aquarium.
San Francisco
World famous for its cable cars, Victorian homes, and hilly landscape, San Francisco is located about 55 miles north of San Jose. You can hike across it's most iconic landmark, the splendid Golden Gate Bridge. Time your visit accordingly and you can have Dungeness Crab with your sourdough at Fisherman's Wharf! Also be sure to take time to explore Golden Gate Park, and tour the infamous Alcatraz.
Trekaroo has lots of great SF coverage. Check out the 10 Best Things to do in San Francisco with Kids and9 Great Things to do at Presidio Park.
Lead Image: Life Abundant Mural | Photo courtesy of Team San Jose