Cartersville, Georgia is a great place for families to have fun and create lasting memories. This vibrant city is located 45 miles northwest of Atlanta and the multitude of things to do in Cartersville, GA will keep everyone entertained whether you are taking a day trip into town or looking for a terrific weekend getaway.
From the historic downtown district to Lake Allatoona, there's something for every member of the family in Cartersville.
I adore finding hidden gems when road tripping the U.S. and Cartersville, GA, is my new favorite find. It's far away enough from Atlanta that it's an ideal respite, yet close enough to the big city that you don't have to spend a ton in gas to get there.
See more of the state! Here are our favorite things to do in Georgia with kids.
The Best Things to do in Cartersville, GA
Explore Tellus Science Museum's Interactive Exhibits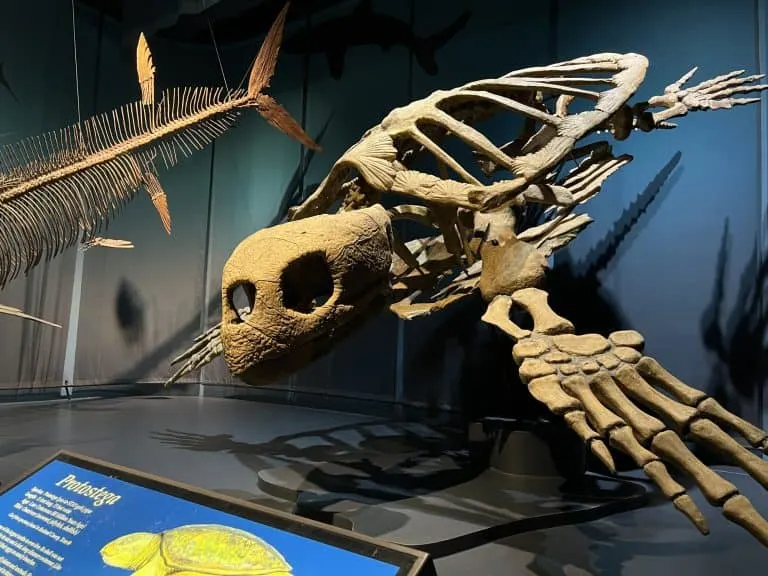 The Tellus Science Museum is a great place to explore the wonders of science and get kiddos to learn without knowing they're doing it – the best way, in my humble opinion.
The museum has interactive exhibits that are perfect for children and adults alike – even for "big kids" like my daughter. From hands-on displays to interactive games, it's a spot you'll want to carve out at least a half day for. Highlights include the mineral gallery, the Millar Science and Motion Gallery which has exhibits on models trains and fighter jet cockpits, and the fossil gallery.
One of the coolest things to see at Tellus is the Bentley Planetarium. Offering different shows throughout the day that appeal to all ages, it's a beautiful way to learn about the stars and space.
Explore the Etowah Indian Mounds Historic Site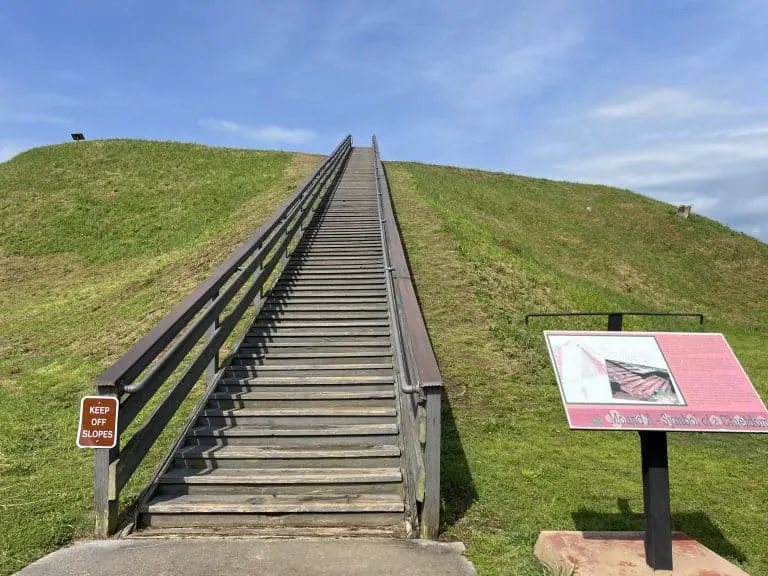 Etowah Indian Mounds Historic Site is a cool place to learn about the Native Americans and how they lived. Located in the heart of Cartersville, Georgia, the site is home to some of the most fascinating archaeological attractions and trails in the area. It was built and inhabited from 1000–1550 AD by the Mississippian tribe.
From its ancient mounds and artifacts to its history tours, Etowah is downright cool. These mounds were built for rituals and burials and my favorite part is the fact that you can actually climb to the top of several mounds for a bird's eye view of the surrounding land, just like the village chief would have done hundreds of years ago.
There is also a a nature trail along the Etowah River which showcases how early civilizations used native trees for food and medicine. You can also see a v-shaped fish trap that is used for catching fish.
Take a Day Trip to Red Top Mountain State Park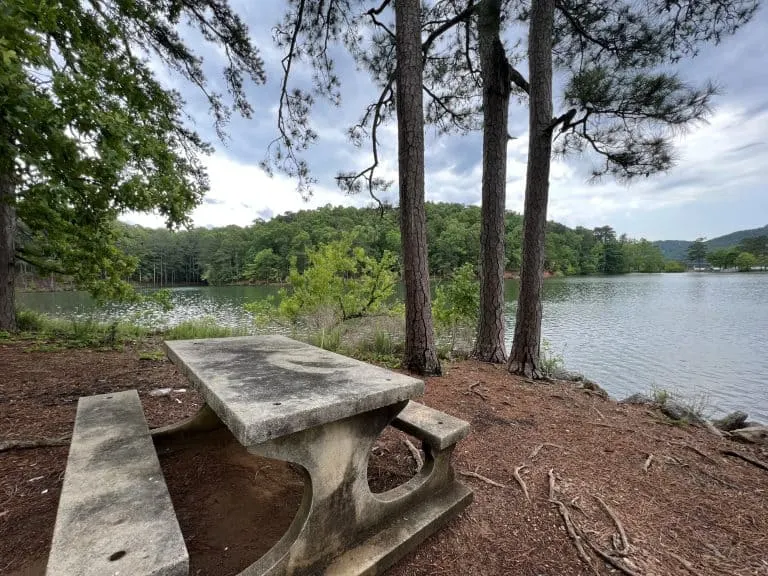 Red Top Mountain State Park is a good choice if you want to enjoy the outdoors. The park has 15 miles of trails which are great for hiking, but the main attraction is Lake Allatoona which is a popular spot for swimmin, boating, fishing, and water sports.
You can pack a picnic-style lunch (there are loads of picnic tables all over the park) and make a beeline for the beach area if the kiddos like to make sandcastles and splash in the water. This is also a popular spot to go camping with nearly 100 campsites as well as cottages and yurts.
Visit the Booth Western Art Museum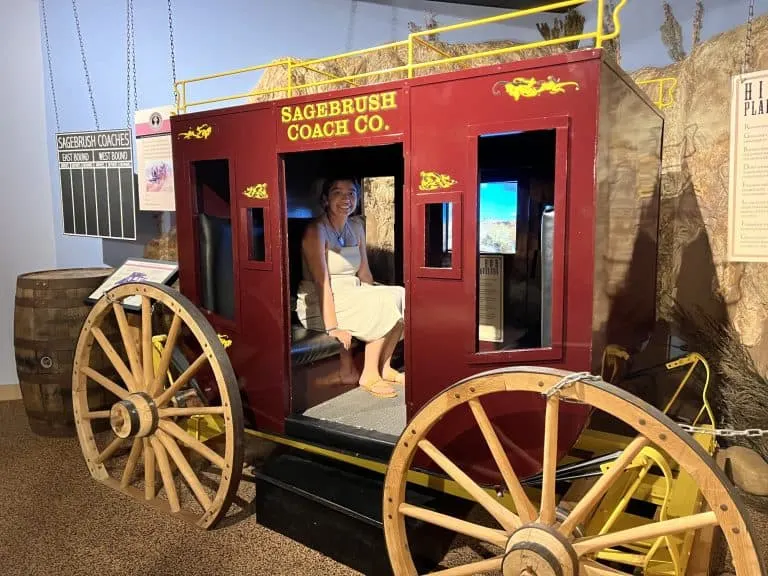 The Booth Western Art Museum is a must-visit destination for art lovers of all ages. The museum houses an impressive collection of American western art spanning the 19th to 21st centuries.
From classic landscapes to contemporary abstract works, visitors can explore a wide range of artistic styles and mediums. Plus, with its interactive exhibits and educational programs, it's the perfect place for art enthusiasts of all ages to learn about America's unique Western heritage.
I know, what I've written may sound not so enthralling for kids, but trust me, it's well worth the visit. The lower floor offers an onsite learning space with everything from a bouncing wagon to a lifesized horse to climb up on and get a photo.
Check Out the Savoy Automobile Museum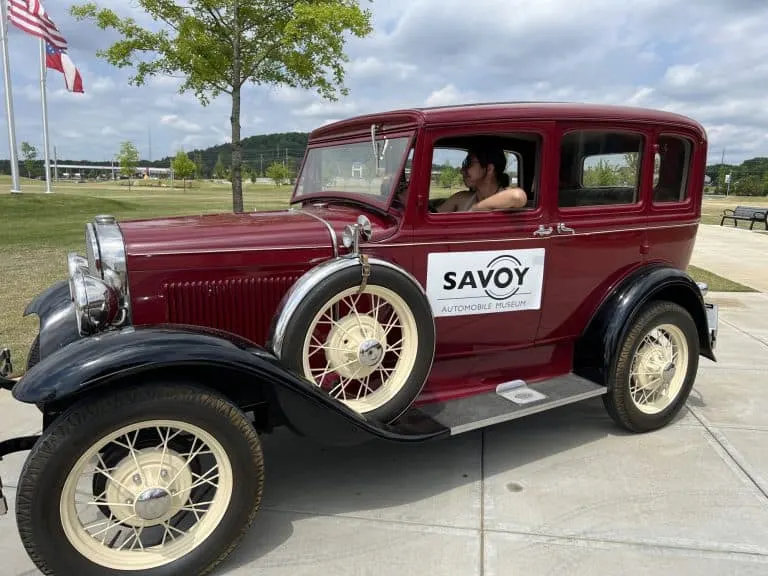 Have you ever wanted to learn about the history of automobiles? The Savoy Automobile Museum is the perfect place to do just that! features a variety of vintage and modern vehicles from around the world. Visitors can explore the museum's collection of cars and trucks, and each is pristinely beautiful.
For the Savoy, I'd probably gear it towards older children that really love cars as it's a "look but don't touch" type of space. There are vehicles on display that span the decades of vehicular travel, and rotating exhibitions like the current display on Porsches.
Learn About the County at Bartow History Museum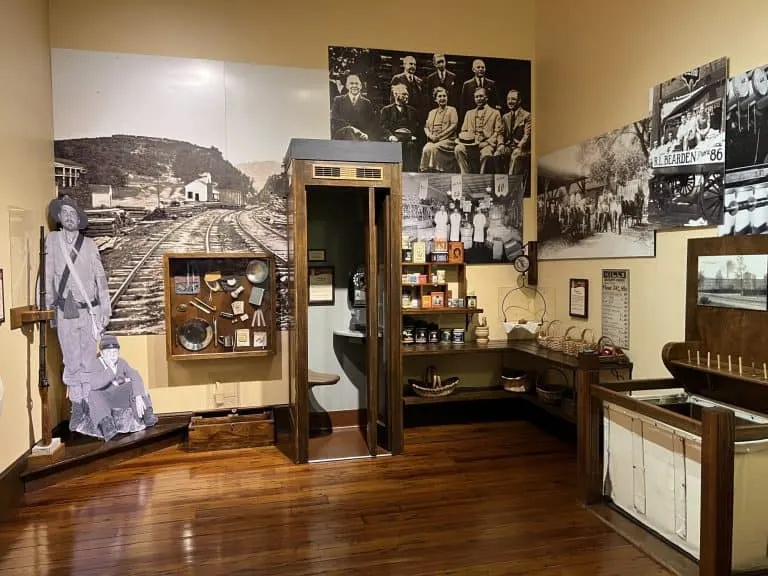 Bartow History Museum is the perfect place to explore the history and culture of Bartow County. From artifacts and photographs to interactive exhibits, this museum offers a wide range of experiences that will help you learn more about the county.
It's not a giant museum, but its two floors are very hands on and kids of all ages will find something. to delve into while learning about the area.
Learn Some Significant American History at Pickett's Mill Battlefield Historic Site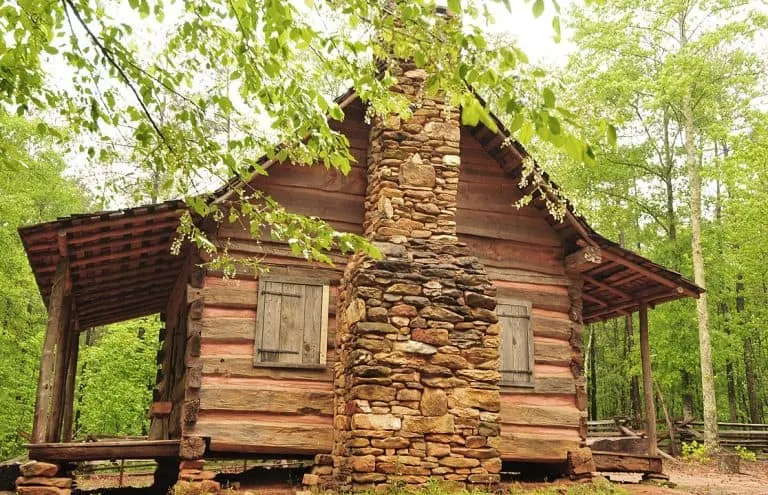 If you have American history lovers, make sure to visit Pickett's Mill Battlefield Historic Site. Serving as a reminder of the Battle of Pickett's Mill which was fought during the Civil War. It's a place to really get your bearings and learn the hardships the soldiers faced.
You're able to walk through the historic grounds and explore artifacts from that time, as well as learn about the brave soldiers who fought for freedom, making it a true (but still fun!) educational experience. There is a1.3-mile loop trail that takes you through the heart of the battlefield. Along the way, there are informative signs that provide historical context and share stories of the battle.
See (and Smell) the Beauty at Rose Lawn Museum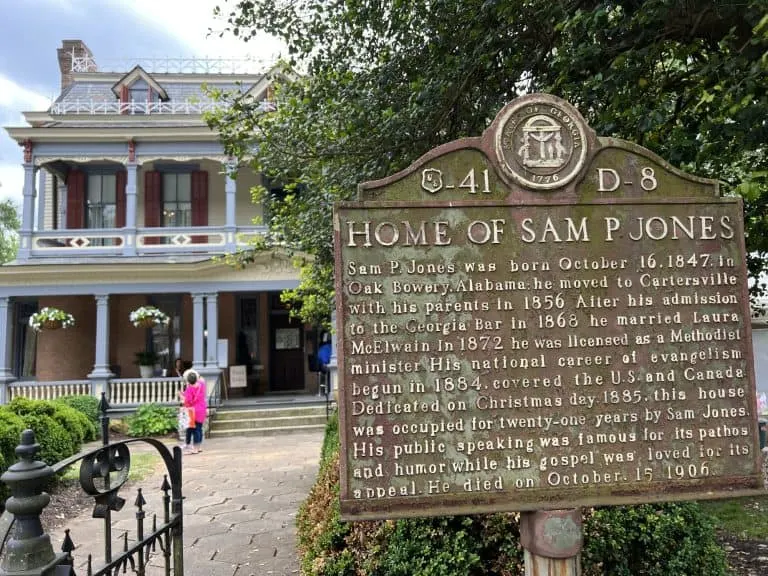 An operating museum inside of a Victorian home, Rose Lawn is the former home of evangelist, Samuel Porter Jones. Filled with writings and memorabilia from Mr. Jones, the inside is as pretty as the outside especially when the rose bushes are in full bloom.
If you want to take a guided tour, get ready for plenty of walking and some stairs to traverse up and down. As you walk through the various rooms, you'll see original furnishings, family heirlooms, photographs, and other artifacts that offer a glimpse into the daily life of the Rose family, who lived in the house for several generations.
Get Your Fill of Adorable Animals at Pettit Creek Farms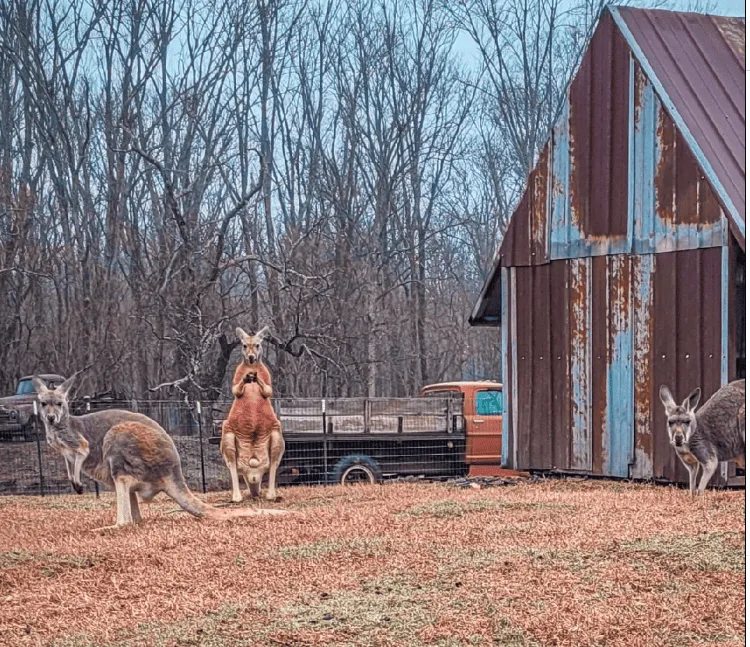 Man, I'm such a sucker for animals and Pettit Creek Farms is the perfect place to experience them up close.
One of the main attractions at Pettit Creek Farms is its petting zoo, where visitors can hand-feed goats, sheep, llamas, and other farm animals. They also have exotic animals like giraffes, zebras, kangaroos, capybaras, and lemurs.
The farm also offers tractor-pulled wagon rides, allowing visitors to tour the property and enjoy the scenic views. The wagon rides take you through different areas of the farm, providing an opportunity to see various farm animals and learn about their habitats.
In addition to the petting zoo and wagon rides, Pettit Creek Farms has a pony ride area as well as camel rides! More adventurous kids might enjoy the zipline and aerial adventure course.
During the fall season, Pettit Creek Farms hosts a popular pumpkin patch and corn maze. Visitors can pick their own pumpkins, navigate through the maze, and enjoy other seasonal activities.
Hike or Bike Pine Mountain Trail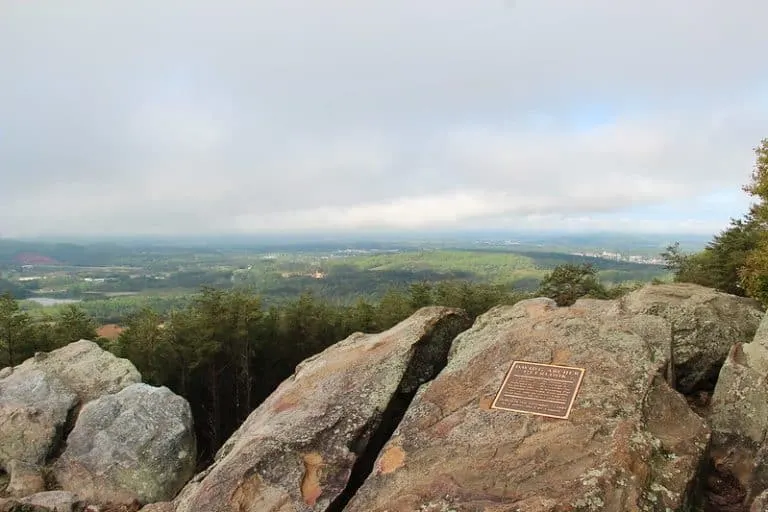 When it comes to nature, I'm an outdoor girl by day, creature comfort lover by night. So,
I'm totally cool with light hiking and biking as long as I have a comfy bed to lay in when it's time to sleep.
Enter Pine Mountain Trail. Whether you choose to hike or bike the trail, it's a beautiful spot to do either and sometimes it's hard to believe you're so close to a major city. Both activities offer unique opportunities to take in the breathtaking views of the mountains and forests.
Support the Locals at Cartersville Farmer's Market and Enjoy the Rest of Downtown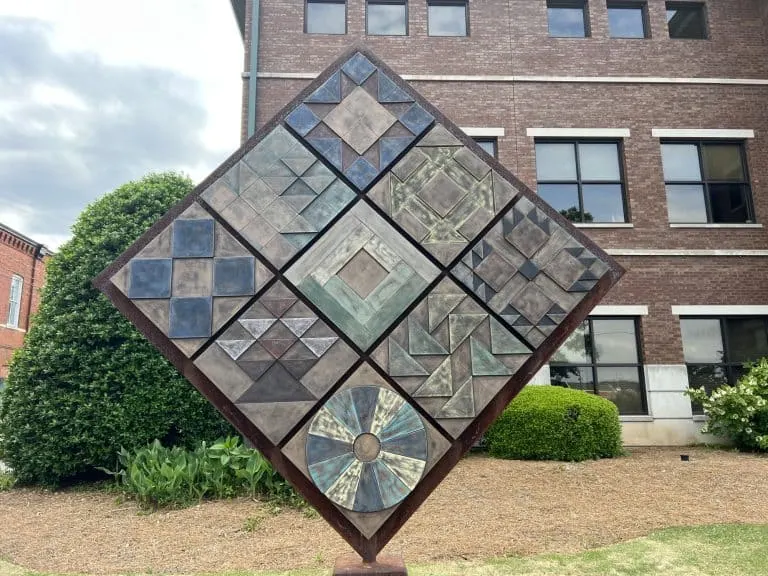 I love a good farmer's market and Cartersville's is a winner. During the summer on Saturdays from 8am to noon, local vendors and farmers bring their produce and handmade goods to sell, helping the local economy. If you don't want to try the produce right there, no worries: there are local breakfast food trucks to stave off your hunger.
The area is dog friendly, so if you're traveling with your furry baby it's totally fine as long as he's on a leash. There are boutqies and antique shops to browse as well as plenty of restaurants to enjoy like the Appalachian Grill and Ross's Diner.
Where to Stay in Cartersville, GA
Courtyard by Marriott Cartersville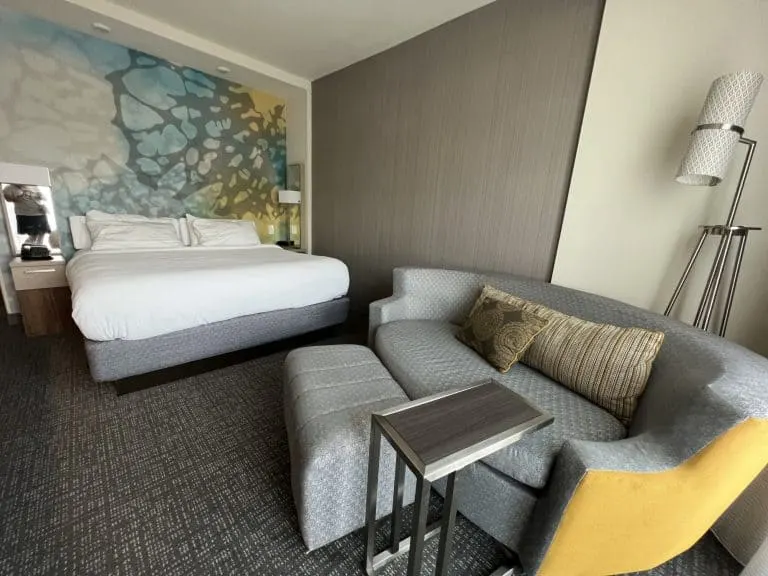 I want to be in the center of it all when I visit a new city and that's especially true for where I rest my head at night. For me and my the daughter, the Courtyard by Marriott Cartersville not only has an ideal location (it was only a couple of miles from Cartersville proper), but it also offers free wifi and parking.
Additionally, our king bedroom had a twin-sized pullout couch that was really comfortable. Breakfast is offered in the lobby (for a fee), but if you're an early riser like I am, hit the main level before the coffee shop opens at 7am and coffee is complimentary.
Home2 Suites by Hilton Cartersville
Can't lie, I enjoy Home2Suites by Hilton properties and the one in Cartersville is just off I-75, making it an easy place to stay if you plan on using the highway a lot.
Offering the trinity of free (parking, wifi, and breakfast), it has an indoor saltwater pool (for those of us that can't handle chlorine, it's so nice to be able to swim indoors!), and even barbecues if you want to bring your own meat and veggies to grill.
Disclosure: I was graciously hosted by the fine folks at Visit Cartersville for the purpose of this post. All opinions are my own!