Visiting Atlanta doesn't have to be expensive. A multitude of adventures await those who want to keep their wallet tucked away. The following is a list of our free things to do in Atlanta with kids in the metro area and beyond.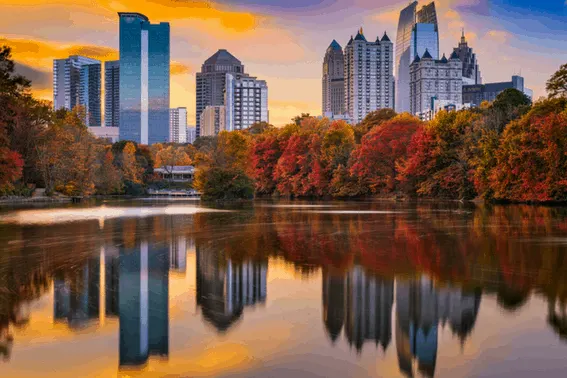 Photo by: Bigstock/SeanPavonePhoto
Check the best deals on Family Friendly Hotels in Atlanta
Fun Free things to do in Atlanta
In Atlanta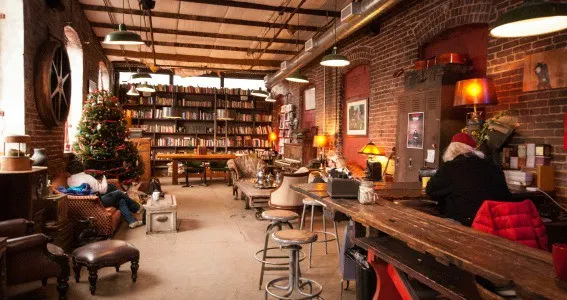 Atlanta Beltline – The city revitalized a former railway corridor as a multi-use trail. Ride bikes, walk, enjoy multiple art installations, and stop at parks along the way. We enjoy the skate park at Old Fourth Ward.
Blue Heron Nature Preserve – This short trail allows you to escape into nature – right in the middle of the city. There are boardwalks, beehives, a community garden, and even a USGS Weather Site along the trail. The sandbar makes for a fun place to rest.
Cascade Nature Preserve – This two-mile trail features remnants of a natural spring, a waterfall, and an easy walk through Atlanta's towering forest. We often play in the creek for hours.
Clyde Shepard Nature Preserve – Tucked behind a Decatur neighborhood, this 28-acre gem offers great opportunities to see over 15 different kinds of native Georgia birds. There is a boardwalk and a beaver pond, and for the adventurous, there is a tire and rope swing hung over the creek at the back of the preserve.
Historic Oakland Cemetery – Walk among Georgia notables such as Margaret Mitchell and Bobby Jones. The gorgeous mausoleums are a marvel to behold. See breathtaking views of the city, set against flowers and shrubbery that rival a botanical garden.
The High Museum – Every second Sunday of the month, the High Museum offers free admission for everyone with scheduled activities for the whole family. Check out more Hidden Secrets of Second Sunday at the High Museum.
Little Shop of Stories – Explore a children's bookstore with a train table, murals, couches, and a fun ambiance. Check the calendar for pajama story times. It costs nothing to browse, but you might be tempted to walk away with a bag full of goodies.
Martin Luther King, Jr. National Historic Site – Tour MLK's home, his church, the memorial site, and the museum. You'll need tickets to tour his home, but they are free. This affordable adventure is the perfect way to teach your kids about a man who changed our country.
Piedmont Park – Sometimes called Atlanta's Central Park, you can walk or bike, play bocce ball, chase the kids around multiple playgrounds, or take a picnic at the lake overlooking the Atlanta skyline. If you happen here on the weekend, you're likely to find a festival or farmer's market to add to the fun.
Sweet Auburn Market – Smell the wonders of this indoor artisanal market. You'll find restaurants, bakeries, tchotchke shops, prepared food, and more. It originally opened in the 20s and brings together the melting pot that is Atlanta. Even if you decide not to make a purchase while visiting, the kids are bound to get a kick out of salted pig knuckles or other exotic indulgences.
The Goat Farm – Do we have any fans of Hunger Games? Or maybe The Walking Dead? This art establishment is where the filming took place. It's free to wander the yards, reliving scenes from these great productions. There is also a small, cozy coffee-house, where mom and dad can grab a cup of joe… for free!
Look for the best prices on Family Friendly Hotels in Atlanta
In the Metro Area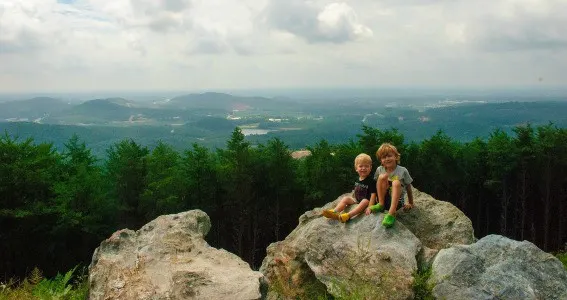 Anne Frank Museum (Sandy Springs) – Learn about Anne Frank's life before the war. Discover how hiding with her family in Amsterdam changed everything for Anne. See 600+ photos and a powerful short film, and expose the kids to the history and lessons of the Holocaust through the eyes of a child.
Arabia Mountain National Heritage Area (Lilburn) – Explore family-friendly trails at the exceptional ecological wonder that is Arabia Mountain, with exposed granite outcrops, wetlands, pine and oak forests, water features, and rare native plant species. Make a stop at Monastery of the Holy Spirit, a 200-acre preserve with a Bonsai garden, a bakery of goods made by local monks, bike and walking paths, and a gorgeous lake for feeding the ducks.
BAPS Shri Swaminarayan (Lilburn) – This behemoth Mandir is a haven for spirituality, but is also open to guests who want to learn more about Hinduism or to examine the gorgeous architecture. More than 34,000 individual pieces were carved in India and brought to Atlanta for assembly (like LEGOS). Children are welcome, but please take note of the clothing and food restrictions.
Big Trees Forest Preserve (Roswell) – This 30-acre tree sanctuary is accessible via an unassuming office parking area. Walking through 1.5 miles of trails, you will see hundreds of white oak trees between 100 and 200 years old. It was founded by John Ripley Forbes, famous for his preservation of forests across America.
Dunwoody Nature Center (Dunwoody) – Escape to the trails, with boardwalks, a playground, a tree house, and multiple display gardens. There is plenty of wildlife to seek out while hiking.
Kennesaw Mountain National Battlefield (Kennesaw) – The site of one of the fiercest battles of the Atlanta campaign of the Civil War. See earthworks, monuments, and more. Don't miss the one-mile hike to the summit of the mountain for views of Downtown Atlanta in the distance.
Marietta Fire Museum (Marietta) – The fire museum celebrates the work that the firefighters of Marietta have done for almost 200 years. It includes fire trucks (including an original 1874 Silsby Steamer – one of only three in the whole world), "Wall of Flame" photos, helmets and uniforms from around the world, and other unique firefighting displays.
Newman's Wetland Center (Morrow) – Follow a boardwalk around this wetland trail, exploring its park just south of Atlanta that resembles a Brazilian rainforest. An early morning walk will ensure you see animals such as turtles, fish, birds, and wild turkey.
Playable Art Park (Sandy Springs) – Six art installations created by seven artists were made for climbing, swinging, and exploring by kids. My kids loved the Dragonfly, with slides and climbing ropes; it's a great way to wear off the wiggles.
Sawnee Mountain Indian Seats (Cumming) – The kids will love the playground at Sawnee Mountain with an in-ground slide. There is a fairy house garden, a large tree house for exploring, and multiple mines from days of old. Our favorite part of the park is Indian Seats atop the mountain with spectacular views, thought to have been a Native American ceremonial location.
Beyond Atlanta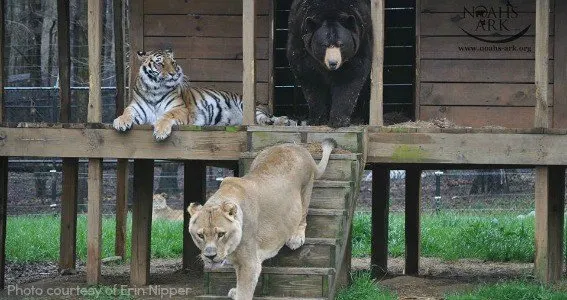 Artpark on Pine (Albany) – Bring your own spray paint or colored chalk to make a special creation at Georgia's only open-air art community. If you don't feel inspired to create, a few moments watching professional artists is bound to bring inspiration.
Babyland General Hospital (Cleveland) – Have you ever seen a baby being born…in a patch of cabbages? You can experience that here! See one-of-a-kind collections of the celebrated dolls, as well as affordable options for the kids should you choose to adopt your own.
Bear Hollow (Athens) – See bears, eagles, and other exotic creatures at this small zoo in Georgia's college town. Weekends provide opportunities for live animal encounters.
Georgia Rural Telephone Museum (Leslie) – Do your kids remember anything before the iPhone? Here they can see the largest collection of antique telephones in the world. If you want to spend a few dollars, the SAM Shortline is a fun way to get there.
Rolater Park (Cave Spring) – Kids can play on the playground, swim in the Georgia-shaped swimming pool, or wade in the creek. Our favorite adventure in this park is the bubbling natural spring. Bring a cup to taste the cool waters, or bring a jug to take some home. If you have a few dollars, the cave is a fun place to explore for only $1 per person.
Mountain Crossings (Blairsville) – Blairsville is made for hiking, and we always enjoy a stop at Mountain Crossings. You can find a great selection of outfitting gear, but we love it for its history. The building was completed in 1937, the same time as the Appalachian Trail. In fact, the AT runs right through the property; it's the only "covered" section of this East Coast thru-hike. Spectacular views of the mountains are also free of charge! For even more to see and do in Blairsville, check out this guide to a memorable family weekend in Blairsville.
Museum of Aviation (Warner Robins) – Spend an afternoon meandering through four large hangers of airplanes and helicopters. Kids are welcome to touch most exhibits; there are a few pieces of equipment they can even climb into. Bring a picnic or eat at the cafeteria with large windows overlooking more airplanes.
Noah's Ark (Locust Grove) – Noah's Ark is a beloved rehabilitation center for animals of all kinds, including the famous BLT trio – the lovely bear, lion, and tiger that live together in harmony. See bison, deer, primates, and more. We love Noah's Ark more than the zoo because the animals seem very happy there, and smaller kiddos can see them more easily. Admission is free, but your donation goes toward caring for these creatures.
Ocmulgee National Monument (Macon) – The park and museum are dedicated to preserving the mounds of the Mississippian culture, built here around 900 AD. Families can climb stairs to see views from the tops of several mounds and walk the trails, which includes a boardwalk section over the wetlands filled with wildlife wonders. In the museum you'll see a replica of a Mississippian culture hut, examples of the Indian dress, and actual artifacts unearthed in the area. Be sure to talk with the ranger about how to get your kids a Junior Ranger Badge for this monument.
Old Sautee Store (Sautee Nacoochee) – Originally built in 1872 as a General Market, this is a fun place for the kids to explore. The front room is preserved as the original store, displaying antiques and collectibles of old. Be sure to ask about the old-fashioned music box. The manager was happy to wind it for us, and the boys loved dancing to the tunes. Grab lunch next door at Old Sautee Market, one of my top-five favorite lunch spots in the state. Affordable kids meals, outdoor seating, and a kid's bubble station make it easy.
Check for availabilities on Family Friendly Hotels in Atlanta
Featured photo by: Bigstock/SeanPavonePhoto