Is your family heading to Nashville, Tennessee? Music City is one of the nation's hippest and exciting places to be. We've done the research and hit the streets with our family to give you this guide to the best things to do in Nashville with kids!
So grab your hats and boots and get ready to explore Nashville, TN with kids.
Explore more of the state. Here are the best things to do in Tennessee with kids.
10 Great Things to do in Nashville with Kids
1. See a Show at the Grand Ole Opry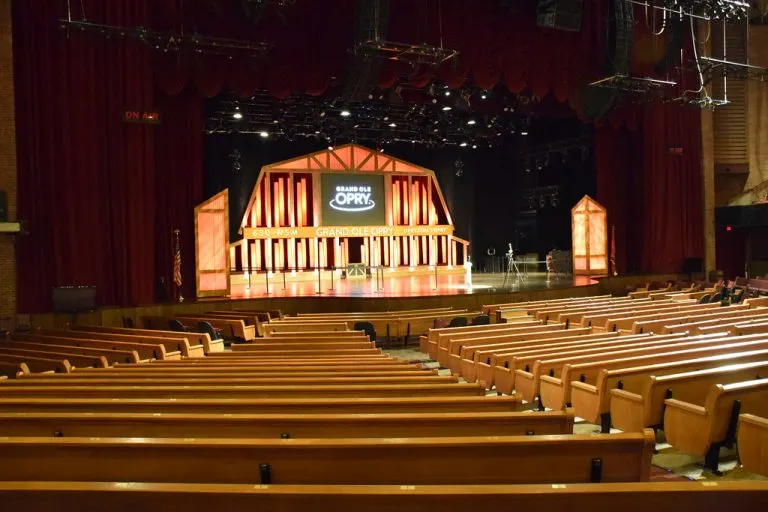 A visit to Nashville wouldn't be complete without seeing the city's most famous attraction, the Grand Ole Opry.
A lot has changed since its 1925 origins as a country music radio show. Nearly 100 years of singing, fiddlin', and guitar pickin' have taken place on its stage by some of country music's most famous and iconic artists.
Live shows take place throughout the week, including Saturday nights with over 4,500 consecutive weekly showings!
If seeing some of today's most famous country music and comedy stars isn't part of your touring plan (or you are visiting on an off day), consider taking the backstage VIP tour that puts you in the middle of the action and even onto the famous circle.
Next door, explore the Opryland Outlets (Tennessee's largest) and Gaylord Opryland Resort. Interested in the Opry's history? The original Ryman Auditorium downtown can still be toured.
2. Stroll Through Country Music History at the Country Music Hall of Fame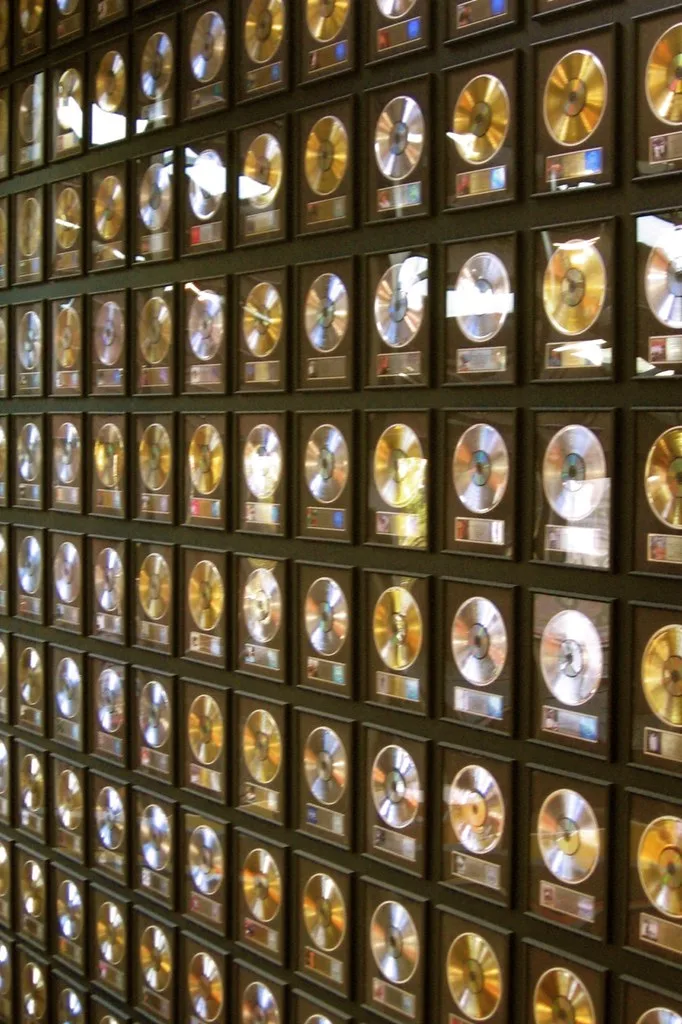 More than 2.5 million country music artifacts fill the Country Music Hall of Fame. From recordings to costumes to musical instruments, pictures, and more, the museum is a must for fans of the music genre.
Kids will love the Taylor Swift Education Center and the numerous themed interactive scavenger hunts keeping them interested and involved as you tour and explore the archives.
Looking for more music museum fun? Explore the Nashville's music museums:
The Johnny Cash Museum is dedicated to the career of this famous "Man in Black." Kid-friendly exhibits and displays keep the little ones motivated.
The Musicians Hall of Fame pays tribute to the musicians behind the famous front-men and women. Their Grammy Museum Gallery lets kids get hands-on with the process of the music industry from songwriting to recording and producing.
The National Museum of African American Music showcases African American contributions to the music industry from African Americans. More than 50 music genres and subgenres are explored.
3. See Country Music's Up-and-Coming Stars at a Broadway Honky Tonk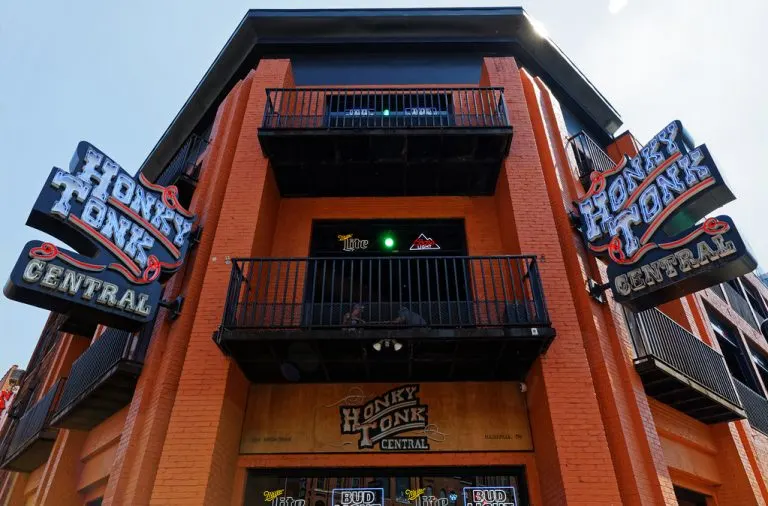 Bring music to the present with a visit to a live show at one of the "Honky Tonk Highways'" numerous daily shows.
Although the scene is definitely skewed toward the older crowd, all Broadway honky tonks are open until 5pm for all ages with live music of all genres spilling out into the streets from every venue.
Many honky tonks, like Ole Red (opened by country music star Blake Shelton), offer full restaurant menus in addition to drinks.
At nighttime, options on Broadway are limited, but some venues off Broadway stay all ages every day. We visited the famous "3rd & Lindsley" for this perk.
4. Eat Hot Chicken (and BBQ!) (and Meat & Three!)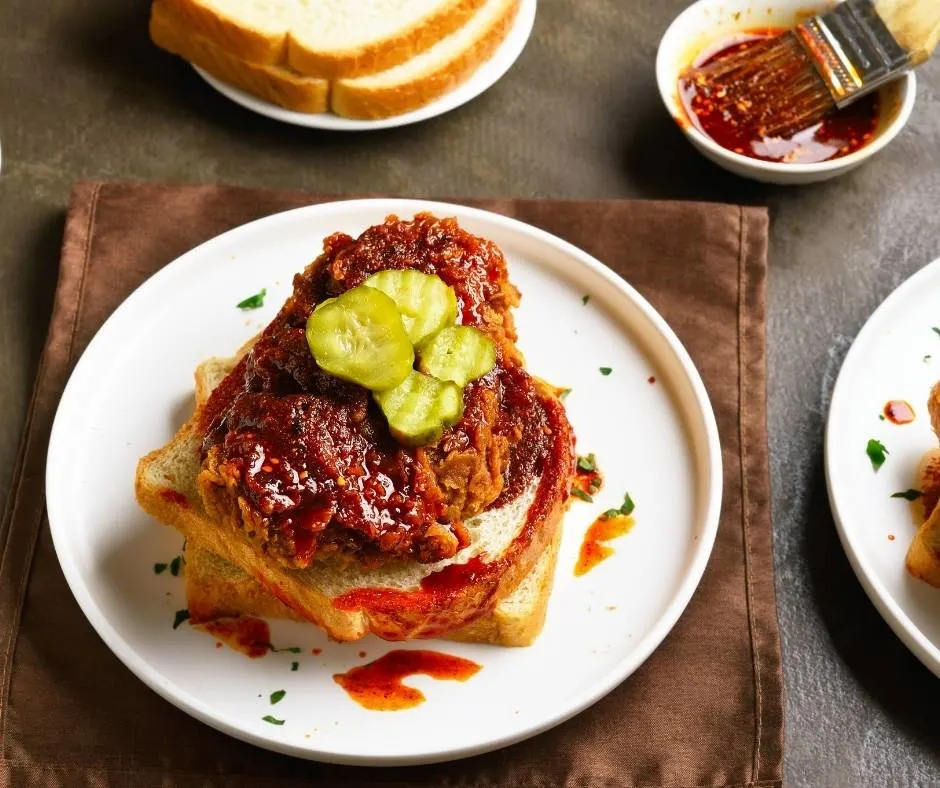 Originally created in Nashville with an infamous story of a lover's revenge, Hot Chicken is an absolute must try! And if spicy isn't really your thing, have no fear. There are numerous heat levels to try and all come topped with tasty, fresh pickles.
Prince's Hot Chicken, who created the now-popular fried chicken variation over 100 years ago, has eight heat levels from "plain" to "XXX Hot!"
BBQ fans will also find plenty to fall in love with in Nashville. Low-and-slow, Tennessee-style BBQ can be found at Edley's BBQ, often voted the best BBQ in the city year after year.
Their "Tuck Special" is a local favorite and "best sandwich" winner in the city. It includes smoked brisket, an over-easy egg, pimento cheese, dill pickles, and two types of barbecue sauces.
Martin's BBQ is another favorite BBQ restaurant, located just south of the city. If your in the Germantown neighborhood, consider Butchertown Hall, home to Texas-style BBQ and Tex-Mex favorites.
Another Nashville original, Meat & Three is southern, soul food at its core. The name mostly explains it all. You'll choose a meat dish and three sides to enjoy. Popular restaurants include Puckett's Grocery (live music nightly) and 417 Union, a retro diner.
Picky eaters? Head to downtown's Assembly Food Hall. Here more than 30 local Nashville eateries intertwine in one central and hip location!
5. Visit the Animals at the Nashville Zoo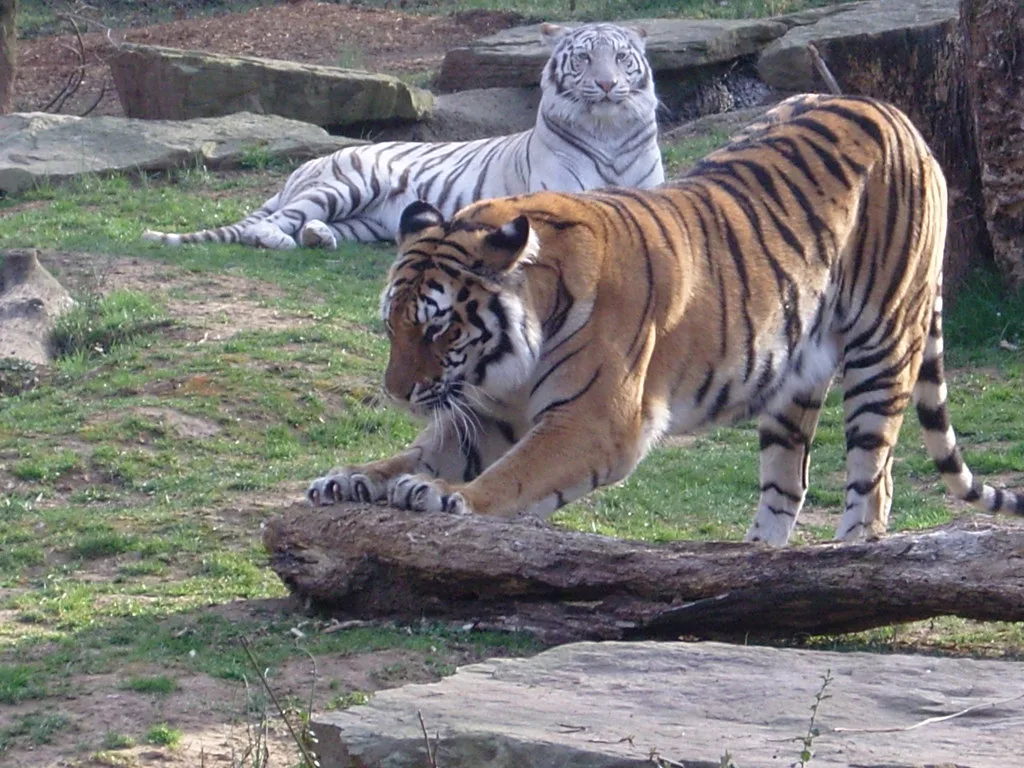 The Nashville Zoo features more than 350 amazing creatures from around the world, including the new Andean bear and Sumatran tiger exhibits and kid-friendly favorites like kangaroos, spider monkeys, Masai giraffe, leopards, and white rhinoceros.
This non-profit, conservation-minded zoo also features a fun zip line, carousel, and train for kids hoping to add a bit more adventure to their visit.
6. Explore the Great Outdoors at Long Hunter State Park & Nashville Shores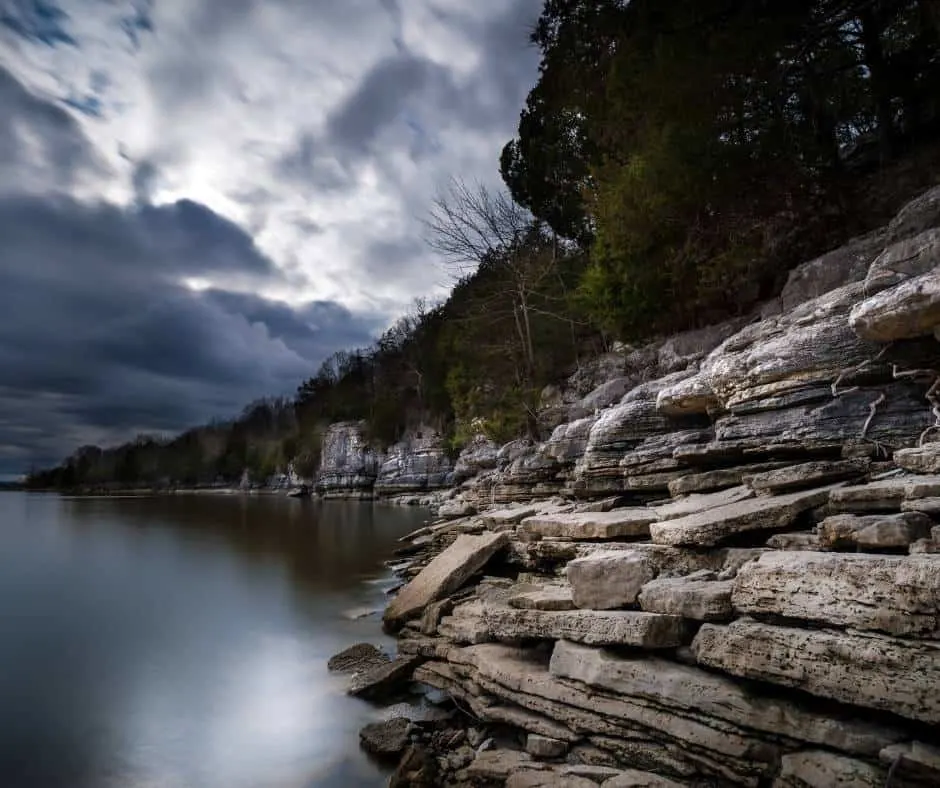 Although most people head to Nashville for the city perks, that doesn't mean there isn't plenty to do in the great outdoors.
Just 10 miles outside of downtown Nashville, Nashville Shores Lakeside Resort has a water park (Nashville's biggest featuring a wave pool, lazy river, beach and more); treetop adventure course (ropes course and zip lines); jet ski, boat and kayak rentals; group games, and hiking trails.
The resort also features on-site cabins and over 100 RV sites for families who want to stay on property and use the resort as their home-base.
A bit further from the city center, yet still on J. Percy Priest Lake, Long Hunter State Park is a great option for true outdoor enthusiasts. Families can explore the park's 2,600 acres while hiking, swimming, boating, fishing, biking, or camping.
Want more adventure? Check out Adventureworks, with two locations, or Adventure Park, Nashville's newest and largest. Adventure Park features special opportunities for the youngest guests. Kids as young as three can get in on the action!
7. See the Parthenon While Visiting Bicentennial Park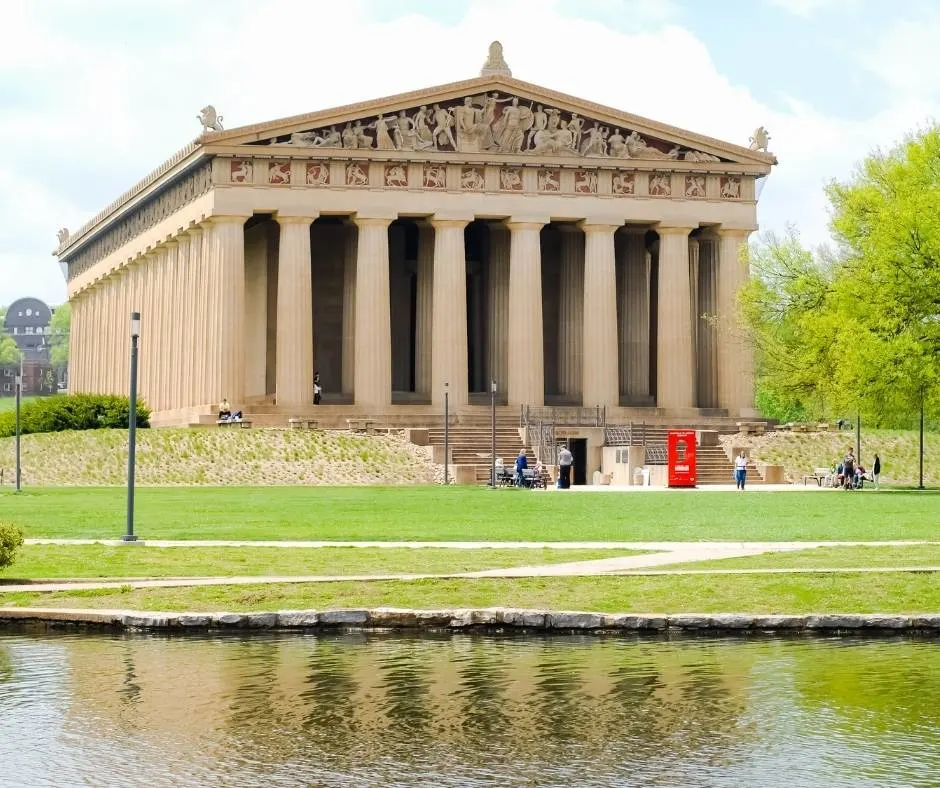 In the downtown Nashville area sits the Bicentennial Capitol Mall State Park. Visiting this park is one of the more unique things to do in Nashville with kids.
Self-guided and ranger-guided tours are popular for families wanting to explore the trails and its structures, including a 200-foot map walkable granite map of the state, a WW2 memorial, fountains and water features, and oddly enough, a full-scale replica of the Parthenon from Athens.
Built for the 100th anniversary of the state and as a nod to Nashville being the "Athens of the South," the Parthenon features rotating art exhibits and tours that may pique the interest of your family.
8. Explore the Adventure Science Center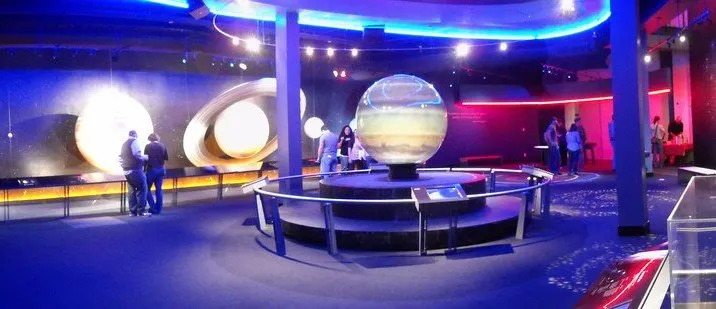 Take your budding scientists on an adventure through the galaxy at Nashville's Adventure Science Center. The hands-on exhibits and interactions are sure to spark curiosity and interest in kids of all ages, making it one of the popular things to do in Nashville with kids.
Family favorites include a simulated weightlessness experience to see what it would feel like to fly through space, fingerprint scanning, a laser game that teaches kids to fight off germs, and virtual reality experiences that go back in time.
While visiting, don't forget to climb to the roof for an amazing view of the Nashville skyline!
9. National Historic Landmarks to Explore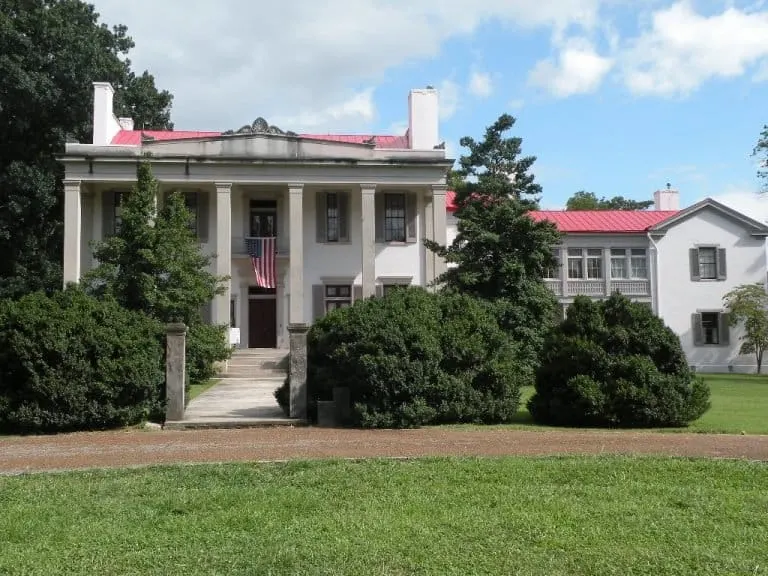 President Andrew Jackson's Hermitage is one of the nation's most visited presidential homes. The historic landmark sits on over 1,000 acres and features more than 30 historic buildings, many of which can be explored both indoors and out.
Thankfully, the hermitage recognizes the role of slavery in its success. Tours explain the inherant racism that so notably benefited many in the South, including Jackson.
Belle Meade, once one of the largest private estates in Nashville, now features two tours of its much smaller, but still preserved grounds.
The Mansion Tour focuses on the families and slaves who contributed to the success of the mansion, and the Journey to Jubilee Tour, that tells the stories of the plantation's slaves, both before and after emancipation. Families can enjoy a taste of old-fashioned southern cooking while on site at The Belle Meade Meat & Three.
Looking for more historic homes? Belmont Mansion can be toured in just 30-45 minutes. One of the largest homes in the South during the 1850s, the mansion's story focus on Adelicia Acklen, the one-time wealthiest woman in Tennessee.
10. Get in Touch with Your Creative Side at the Frist Art Museum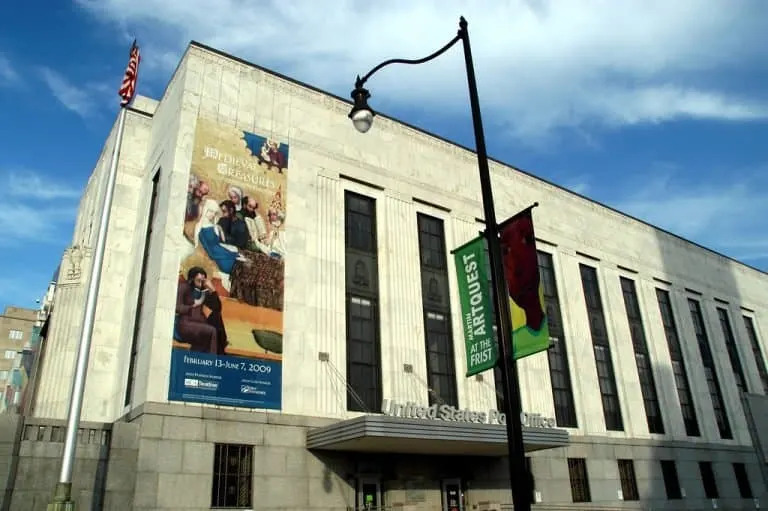 Not every family loves art museums. But even if strolling galleries isn't your thing, consider a visit to the Frist to see if it can change your mind.
In addition to offering world-class exhibitions from global sources, families will love the Martin ArtQuest Gallery. The gallery includes 30 interactive art-making stations designed to get even the most art-adverse into creating and exploring artwork.
Add in the full-service cafe, live music, and outdoor sculpture park, the Frist is a must-visit. Oh, and bonus- kids under 18 are free!
Prefer your art to have wheels? Check out the Lane Motor Museum, featuring 150 cars and motorcycles from across the globe, including the largest collection of European cars in the US!
Where to Stay in Nashville with Kids
Gaylord Orpyland Resort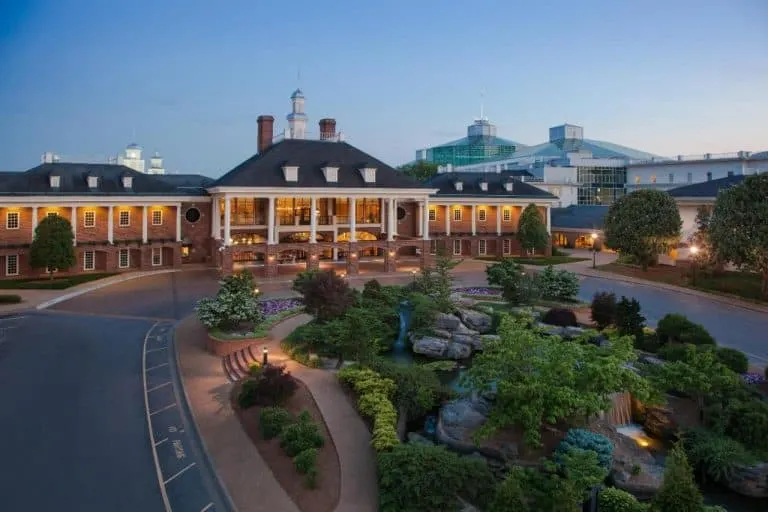 Nashville is home to a variety of family-friendly hotels and resorts. Downtown, the Omni Nashville Hotel is always an excellent bet and their family-friendly offerings are fabulous.
But if you want a splurge, consider staying at the Gaylord Opryland Resort. You'll ohh and ahh as you explore the resort's nine acres of indoor gardens by foot or, get this, by boat!
Don't miss the Delta Fountain water show, a spin on the lazy river at the onsite SoundWaves waterpark, or a bite to eat at one of the nearly 20 onsite restaurants! Staying at this special resort is one of the most memorable things to do in Nashville with kids.
Hyatt Centric Downtown Nashville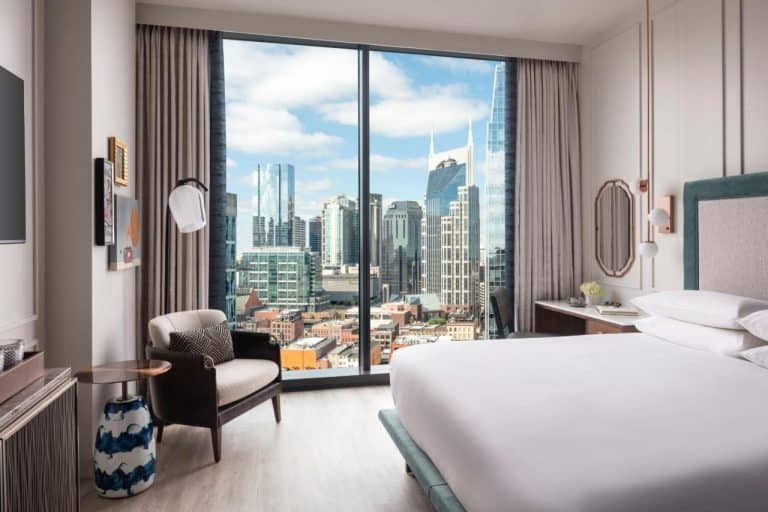 Located steps away from the Country Music Hall of Fame, Symphony Center and Broadway Street, Hyatt Centric Downtown Nashville welcomes guests looking to experience the soul and beat of Nashville.
This boutique hotel features 252 guest rooms and 11 suites that provide breathtaking views of the Nashville skyline and Cumberland River. The two-bedroom suites offer ample space for larger groups, from families to friend groups to girlfriend getaways.
Two on-site restaurant options allow guests to experience an elevated dining environment before or after heading to town. Knowing just about everything you'll need is a walk or quick ride away is priceless here. The Hyatt Centric is a wonderful landing spot for exploring the city of Nashville. It's just two blocks south of Broadway – so you know you're nearby the heart and soul of things.
Steep yourself in Nashville's music history, go to a concert or local honky-tonk bar, get out and try the local food (Hattie B's Hot Chicken is a must taste as well as The Pancake Pantry) or invest in a pair of cute cowboy boots.
This pet-friendly hotel is close to it all and offers families ultra-comfy guest rooms and suites complete with things like Chromecast, DryBar hairdryers, a fitness center, and an attractive rooftop pool (with day passes available for non-guests). Rooms let you enjoy the view with floor-to-ceiling windows in high-floor accommodations so you can take in the incredible views.
Coffeemaker, mini fridge, blackout curtains, individual climate controls, wide doorways, and clean, uncluttered decor deliver on the essentials. There are also motion sensing lights under the base of the bed and in the bathroom vanity that allow anyone who gets up to use the bathroom at night to safely see where they are going. Hyatt Centric lets you stay close to the action yet relax and enjoy the attention to detail, locally-inspired nooks and crannies, pops-of-color, and attentive friendly staff.