Do you love historic cities full of unique culture, beautiful scenery, and family fun? Then it's time to start planning your Baton Rouge family vacation. There are lots of fun things to do in Baton Rouge with kids and since 1721, Baton Rouge has been making its mark in United States history.
Today, families can visit the Louisiana State Capitol Buildings, experience life on a plantation at the LSU Rural Life Museum, and walk in the footsteps of naval officers on the USS KIDD. There are also animals to meet at the Baton Rouge Zoo and Blue Zoo, and nature to explore in the community parks and nature centers. Keep reading to discover all the best things to do with kids in Baton Rouge.
Explore more of the state! Here are the best things to do in Louisiana with kids.
Fun Things to do in Baton Rouge with Kids
Louisiana Art and Science Museum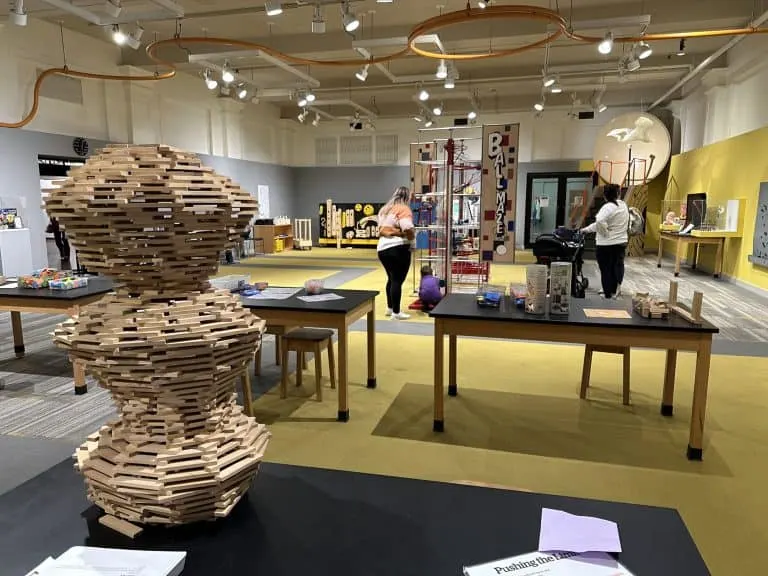 Discover planets, paintings, and even an ancient Egyptian mummy at the Louisiana Art & Science Museum. This museum resides in the historic railroad depot along the Mississippi River. Take some time to appreciate the outside of the building before exploring inside.
A great place to start is upstairs at the planetarium. Shows are included with admission. Be sure to check the show schedule online to plan your visit around one of the many kid focused presentations.
After the show, head downstairs to see a giant triceratops fossil and interactive space related exhibits. Then head across the family atrium, checking out the art exhibits that line the walls.
The Ancient Egypt Gallery hides a partially unwrapped mummy. Gazing upon the tight curls and open mouthed smile of a person who lived over 2,000 years ago is surreal. Read the displays around the gallery to learn all that scientists have discovered about this ancient Egyptian.
Two discovery rooms provide loads of interactive learning. The Discovery Depot is designed for children up to seven years old, with trains, blocks, and climbing structures for imaginative play. In the Science Station, designed for childrens ages seven to twelve, educational games and interactive exhibits teach scientific concepts through play.
Old Louisiana State Capitol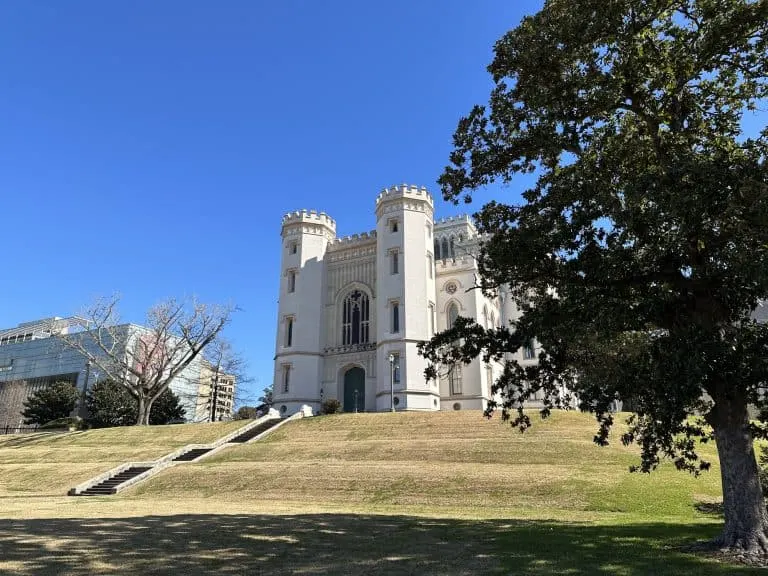 The beautiful castle across from the Mississippi River was once the home of the Louisiana State Capitol. The building is now a museum, teaching families about the history of the Louisiana state government and showcasing the beautiful architecture of the 1800s.
Admission to the Old Louisiana State Capitol is free, and includes a self guided tour or audio tour families can borrow from the front desk. The breathtaking stained-glass rotunda casts rainbows across the atrium on a sunny day. Exhibits explain how and why the castle was created, including a sneak peak inside the walls.
Learn about former state governors, see replicated offices, and learn the history of voting. There are also multiple exhibits about the prominent Louisiana governor, Huey P. Long, including his assassination.
A video presentation called. "The Ghost of the Castle," presents the history of the building from the eyes of one of its original residents. Lights flicker and shadows dance along the walls as she takes us from the original construction up to the present day. Tickets to the movie cost $2 per person and are worth the minimal cost.
The museum includes lots of hands-on activities to keep active young minds engaged and excited about their part in the government. And kids always love rolling down the hills and playing in the giant live oak tree in front of the castle.
USS KIDD Veterans Museum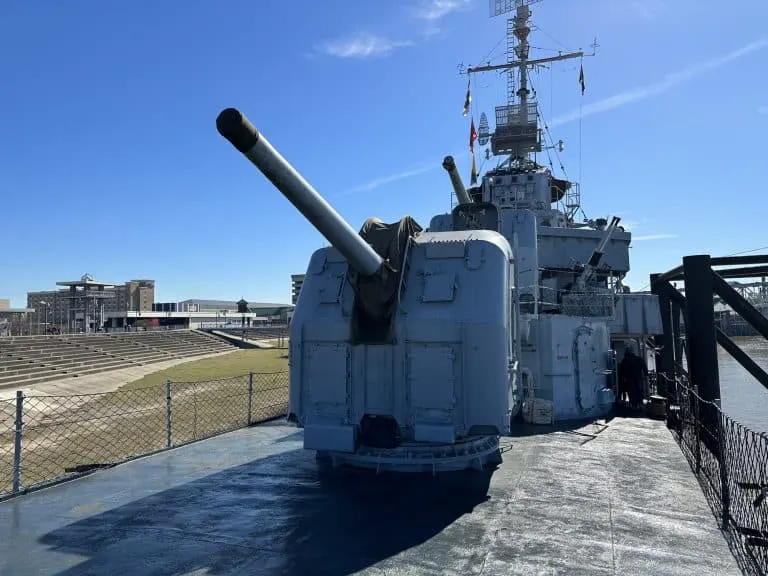 Experience WWII navy life aboard the USS KIDD, harbored in the Mississippi River. Through indoor exhibits, memorials, and ship tours, guests learn about the brave men and women of the US Navy.
The exhibits start inside the museum. Uniforms from all time periods, some complete with combat wounds, festoon the walls. And a replicated WWI trench allows visitors to imagine life for those soldiers.
Aboard the World War II destroyer USS Kidd, families take a self-guided tour following arrows along the walks. Imagine shooting the giant guns attached to the deck before descending ladders to the narrow interior halls. The rows of bunks, the tight kitchen quarters, and the latrines with no privacy help us appreciate the naval soldiers of World War II even more.
Kids will love going through the narrow doorways and climbing the steep stairways. But there are a lot of them, so if anyone in your group has limited mobility, you might want to skip this tour.
Red Stick Farmers Market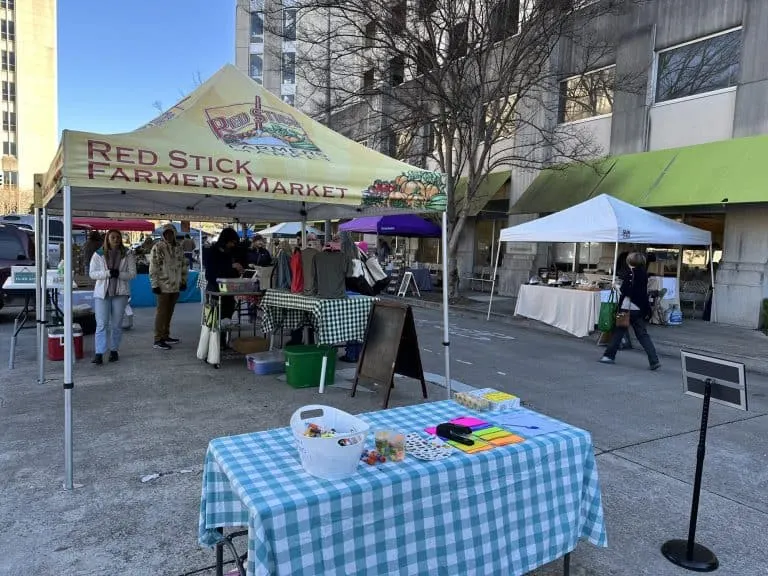 Support local farmers and find some delicious homemade treats at the Red Stick Farmers Market. Every Saturday morning, local farmers bring their goods to sell in downtown Baton Rouge. Local musicians serenade shoppers as they stroll the stalls.
Pop-up tents filled with produce, eggs, and homemade jams and breads line the street outside Main Street Market. Keep an eye out for dairy-fresh cheesecake and fresh baked pecan pie. Visit the Red Stick Farmers Market stand to find activities for kids and buy some Red Stick merchandise.
Inside Main Street Market, you'll discover more local vendors, prepared meals, and even cooking demonstrations. The market is the perfect place to find a local souvenir to bring home. Stick around for breakfast or lunch, which is served here Monday through Saturday.
Capitol Park Museum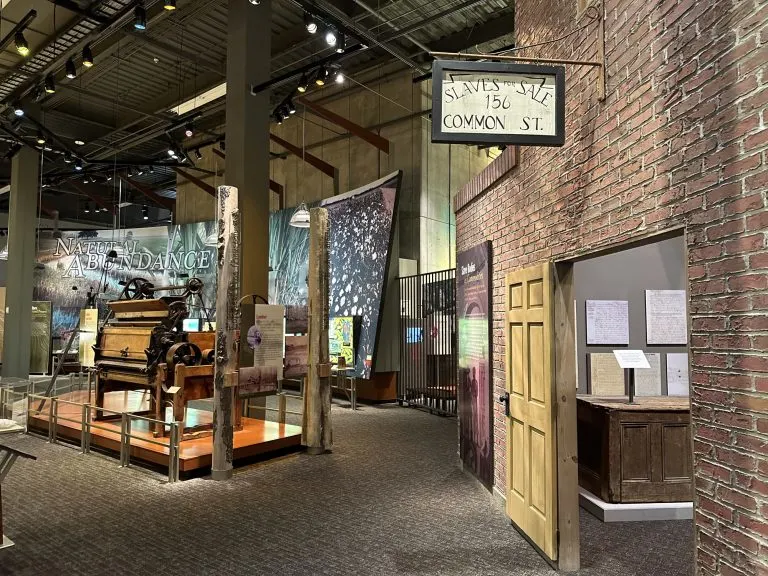 Discover everything you ever wanted to know about Louisiana through the colorful, interactive exhibits of Capitol Park Museum. Walk through history starting with the native Louisiana inhabitants and continuing through present day.
This museum not only lets you see history and culture, but experience it. In the slave market exhibits, a voice whispers to you through the holding cells as you gaze upon an actual slave auction block. And a Cajun fisherman speaks to visitors through a video display in a fishing shack.
Louisiana is famous for its music and Mardi Gras celebrations. Sit in a listening booth to experience some of the sounds of the state, including Baton Rouge blues and New Orleans Jazz. Then climb aboard a replicated Mardi Gras float and pretend to throw beads to the video display of crowds.
Colorful costumes, giant Instagrammable postcards, and hands-on artifacts can be found throughout the expansive museum. Bring your camera and plan to spend at least a couple hours here to experience all the Capitol Park Museum has to offer.
Red Stick Adventures City Tours
One of my favorite ways to discover a city is with an entertaining and knowledgeable guide, and Red Stick Adventures knows Baton Rouge. Hop aboard a microbus or take a walking tour to learn about the fascinating history of the people and buildings of Baton Rouge.
On the Baton Rouge City Tour, drive through the city in comfort as your guide brings history alive through stories and anecdotes. You'll make a few photo-op stops, tour cemeteries, neighborhoods, and iconic landmarks. This is a great way to get an overview and see the city in just a couple hours.
Red Stick Adventures also provides downtown Baton Rouge walking tours, food tours, and haunted tours (parental discretion advised). They can even expand your tour to take you outside the city to swamps or plantations. Private tours can be arranged for a custom experience just for your family.
Louisiana State Capitol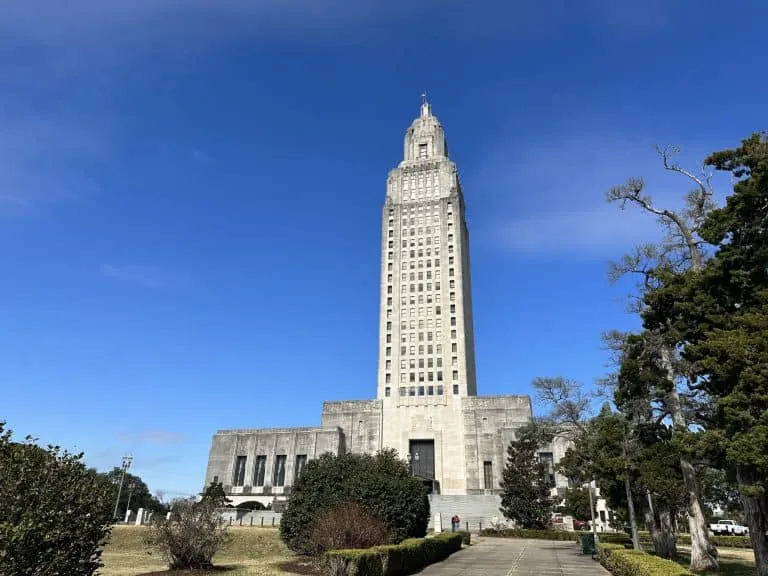 Towering over downtown Baton Rouge is the magnificent Louisiana State Capitol building. Commissioned by Governor Huey P Long, it was built in just 14 months in 1932 and is the tallest state capitol building in the United States.
Start your self guided tour outside in the Capitol Gardens, where the gravesite of Governor Long watches over the state proceedings. Then ascend the steps labeled with each state and the year it joined the union. Don't miss the statues and engraved murals representing the history and abundance of Louisiana.
Inside the Capitol Building, admire the art-deco decor and murals before visiting the senate and house chambers. Then, stop by the site of Huey P. Long's assassination and find the bullet holes in the marble column.
Finally, take the elevator up to the 27th floor observation deck overlooking Baton Rouge and the Mississippi River. The observation deck is closed on weekends and holidays so plan accordingly.
Baton Rouge Zoo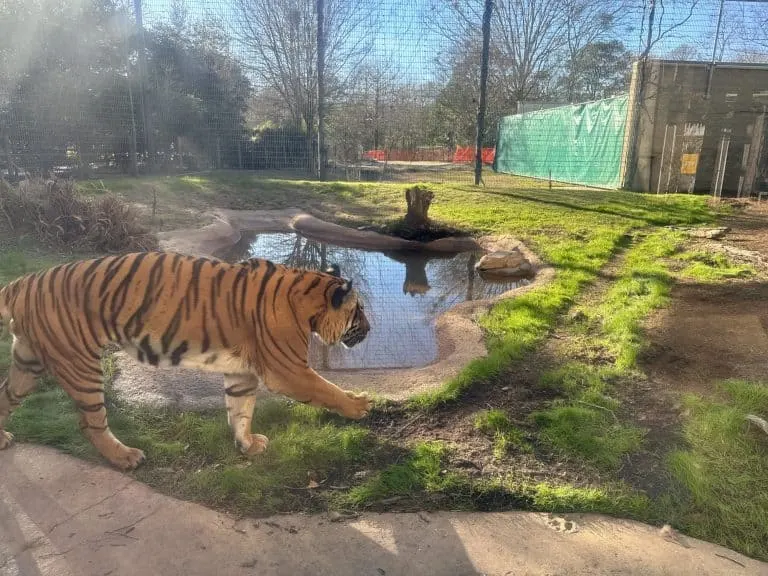 Wander through Africa, Asia, and South America without ever leaving Baton Rouge at the Baton Rouge Zoo. Exotic and local animals are on display amid beautiful local flora.
A boardwalk path through the Atchafalaya Basin gives visitors a glimpse into life in the bayou, including a replicated Cajun home where you can find the river otter exhibit. In the Asian animals exhibit, the siamang apes swing across ropes and are fun to watch. Or head to Africa to watch the reticulated giraffes wander gracefully around their enclosure.
In the KidsZoo, families can brush goats and visit with a variety of farm animals. Don't miss the fruit bats, hanging from branches inside their cage. After visiting the animals, the Safari Playground is a perfect place to stop and play for a while.
Throughout the day, wildlife shows, chats, and feedings take place around the grounds. Check the schedule so you don't miss your favorite animal. And when your feet get tired, hop aboard the Cypress Bayou Railroad Train, which encircles the zoo.
The Baton Rouge Zoo has multiple cafes to pick up some lunch. You can also bring your own picnic and enjoy the grounds.
LSU Rural Life Museum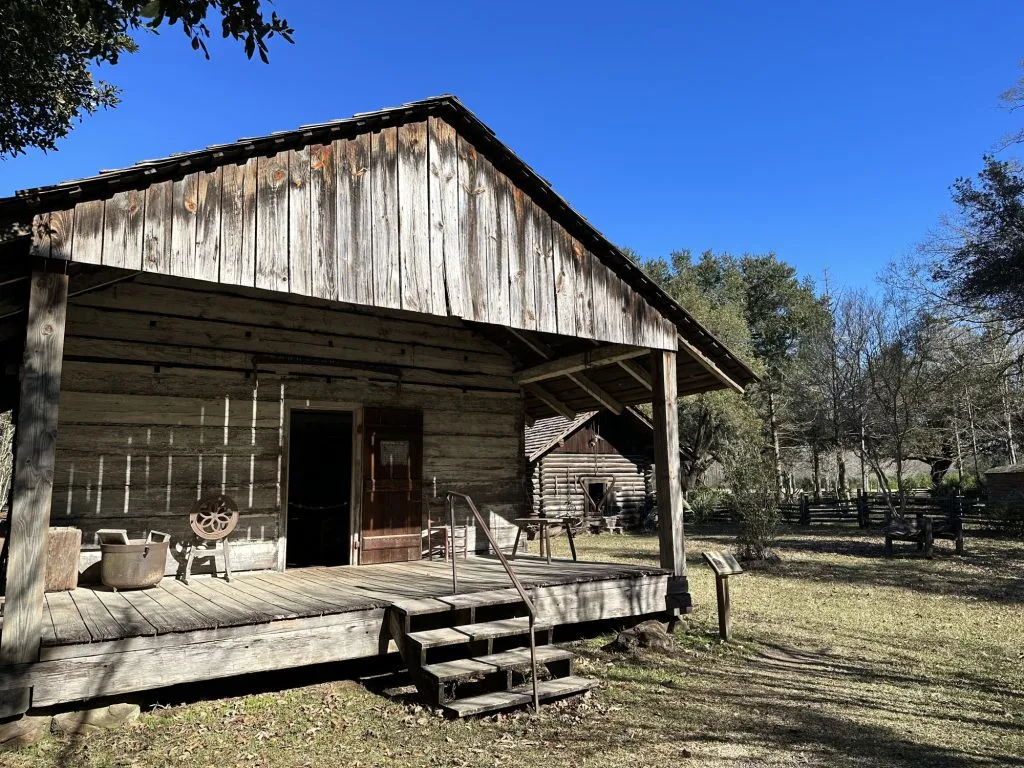 Have you ever wondered what life in rural Louisiana was like? At the LSU Rural Life Museum, relocated buildings and artifacts create a story of yeoman farmers, slaves, and plantation owners from the 18th and 19th centuries.
There are 32 historic buildings, including homes, schools, churches, and more, that sprawl across 25 acres of manicured grounds. Wandering the paths take families through working plantation life, the Upland South Region, and life along the Gulf Coast. Peek inside doors to see how families of different classes and time periods slept, ate, and lived.
Inside the exhibit barn, check out artifacts from rural living. Items from daily life, such as sewing machines and utensils fill the galleries. Horse crown carriages and farming equipment help complete the picture.
There are also more curated displays with informational signage and audio explanations inside the barn. These exhibits help fill in the gaps between what you see and what was happening in history.
Connected to the LSU Rural Life Museum is the Windrush Garden. Take some time to stroll past the live oaks and azaleas.
Bluebonnet Swamp Nature Center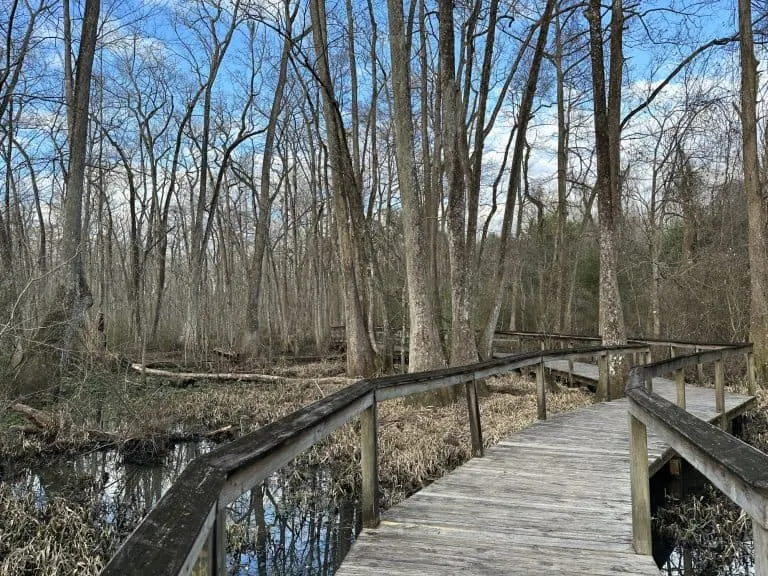 Search for swamp wildlife from boardwalks shaded by cypress trees at the Bluebonnet Swamp Nature Center. Located within the Baton Rouge city limits, Bluebonnet is the perfect place to experience natural Louisiana without having to drive too far.
Inside the nature center, live animal displays showcase local wildlife. See a variety of turtles, an American alligator, and even an active beehive. Kids enjoy the touch tables and activities, while adults might enjoy local art displays.
After the exhibits, head out to explore over a mile of boardwalks and gravel paths. The landscape changes from a beech-magnolia and hardwood forest to a cypress-tupelo swamp. Keep your eyes open for seasonal birds, raccoons, snakes, and even otters.
Bluebonnet Swamp occasionally offers family-friendly events and tours. Check their website to find the next guided bird walk or flashlight night.
Mike the Tiger Habitat and the LSU Campus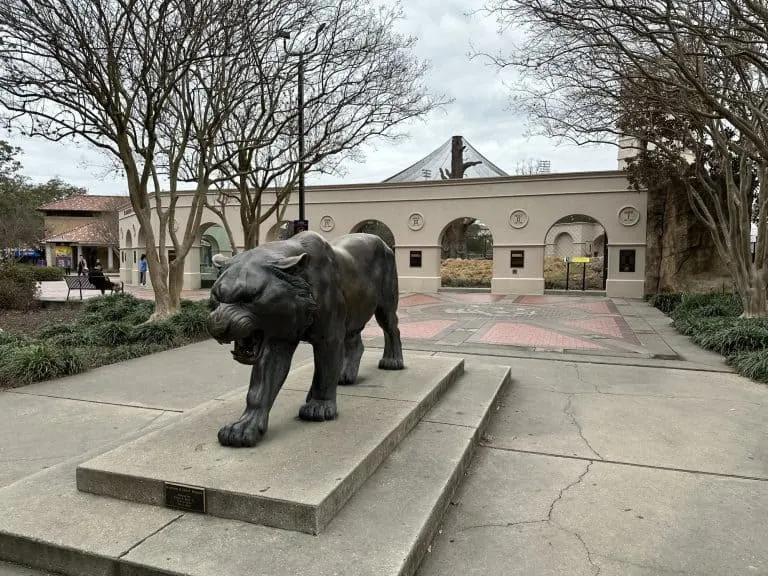 Baton Rouge is home to Louisiana State University, lots of football fans, and the LSU Mascot, Mike the Tiger. You can visit Mike VII in his lush habitat right beside the Tiger Stadium on the LSU campus.
The current Mike is just one in a series of seven tigers that have served as the mascot of LSU so far. His state-of-the-art habitat includes a live oak tree, waterfall and play stream, and even a climate controlled rock. He loves to show off his stripes for LSU fans as he parades through his garden of plants and trees.
Just next door to the tiger habitat is a University Store where you can pick up your own LSU clothes and memorabilia. And a few steps farther down the road you'll find restaurants and The 5 Dining Hall, where you can pick up for LSU Dairy Store Ice Cream.
The beautiful grounds of Louisiana State University are worth taking some time to explore. Wander through 1,200 live oaks admiring the Italian Renaissance-inspired architecture. And stop by the original Raising Cane's restaurant on your way out to pay homage to the restaurant's LSU roots.
Magnolia Mound Plantation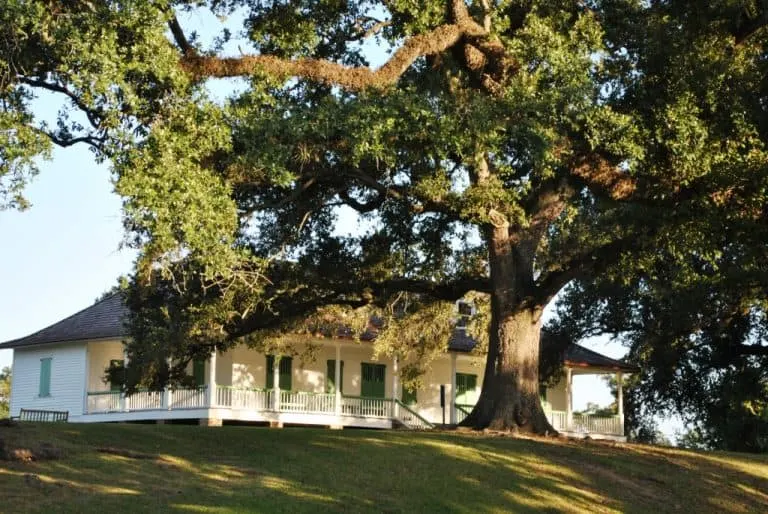 Observe life in a French Creole plantation home with a tour of Magnolia Mound Plantation. The main house was originally built in 1791, with some expansions a few years later. The current 16 acres of property are home to bicentennial trees and historic buildings.
Take a docent led tour to learn about the architecture and life of the plantation. The highlight is the open-hearth kitchen where you can imagine how meals were prepared. There are even seasonal cooking demonstrations here, so check the events calendar.
In addition to guided tours, visitors can choose to explore the plantation on their own. Guides are generally good at keeping kids engaged through, and a tour will make all you are seeing more meaningful.
Knock Knock Children's Museum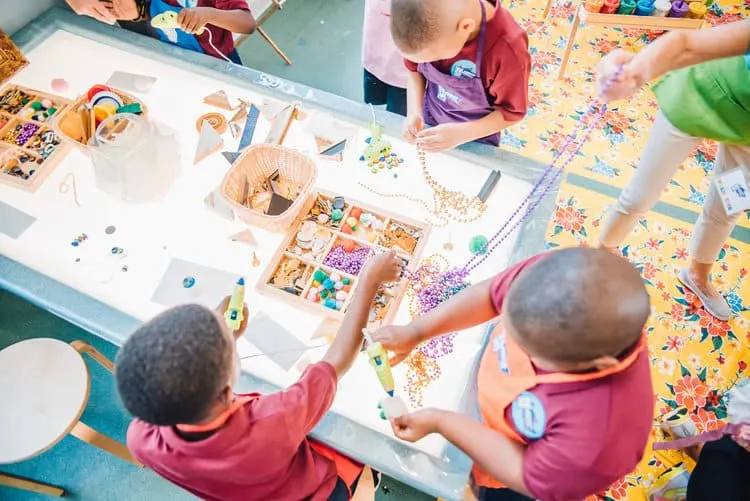 Great ready for kid-centric fun at Knock Knock Children's Museum. The 18 "learning zones" provide hands-on learning and entertainment specifically for children up to eight years old.
The Storybook Climber invites children to climb into a good book-literally! In the All Hands on Deck exhibit, kids drive a boat down through a virtual tour of the Mississippi River. And in the Go Go Garage, future mechanics don coveralls and design and race cars.
There is no café onsite but families are invited to bring their own food to enjoy in the foyer or Big Backyard exhibit.
Blue Zoo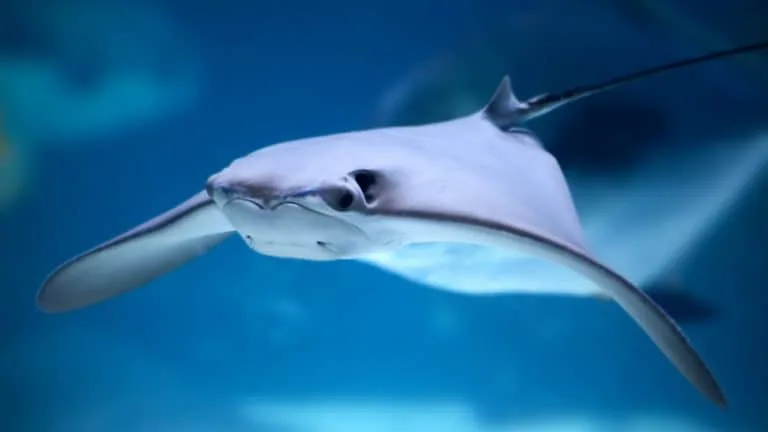 Get up close and hands-on with sea creatures, birds, and reptiles at the Blue Zoo Baton Rouge, located in the Mall of Louisiana. Unlike most zoos and aquariums, Blue Zoo focuses on learning about animals through interactive encounters and shows.
Start by petting and feeding the stingrays as they glide through the water. Or head to the touch table to rub the spiny backs of a starfish. You can also hang out with the lorikeets as they land on your arms, hoping for a treat.
In the reptile show, learn about snakes from a specialist. Then watch as a diver swims among sharks and stingrays in the dive show. In addition to animal focused shows, you can catch a mermaid or pirate show.
Highland Road Community Park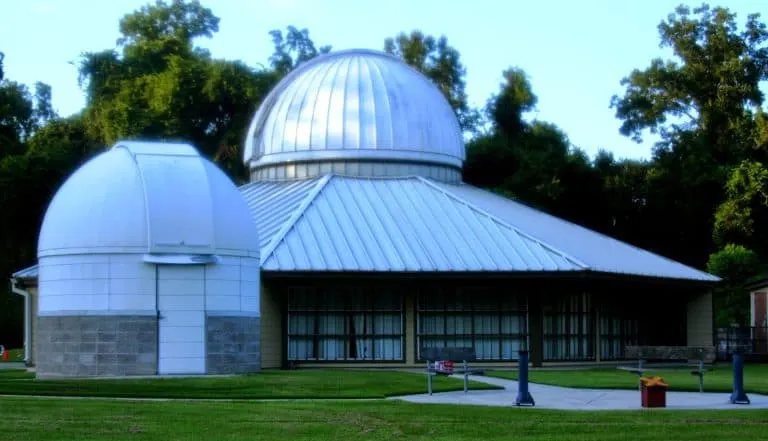 Get outside and relax in the 144 acres of Highland Road Park. Kids love running through the splash pad and playing on the covered playground. There are also multiple sports fields, disc golf, and a walking trail.
One of the most popular features of the park is the Highland Road Park Observatory. On Saturday night, the observatory hosts family night, with stargazing, Science Academy demonstrations, and a marshmallow roast. They also host special events like Solar Viewing throughout the year.
Perkins Road Community Park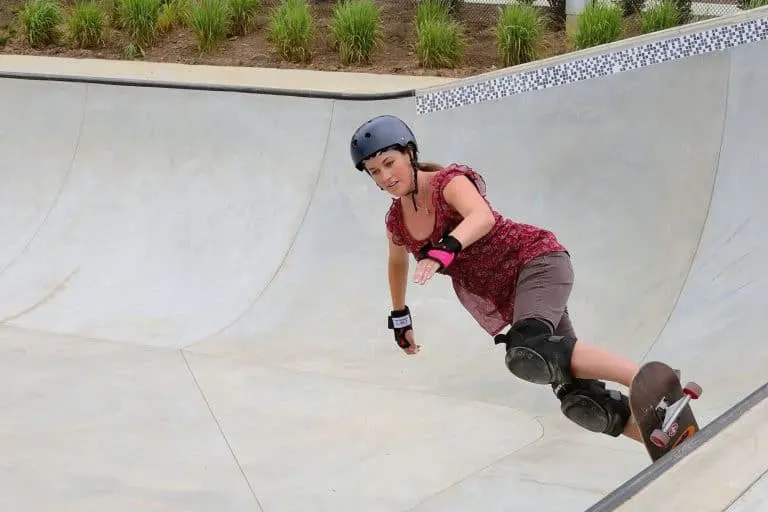 Another awesome park is the Perkins Road Community Park. Head here for some extreme sports fun, including skate parks, BMX track, rock climbing, and biking trails.
In addition to the extreme adventures, families love the community playground. The playground continues with the extreme sports theme and features unique rope climbing structures. Plenty of benches surround the playground for parents to sit and watch.
Additional park amenities include a periodically stocked fishing pod, a recreation center, nature trails, and sports courts.
Forest Community Park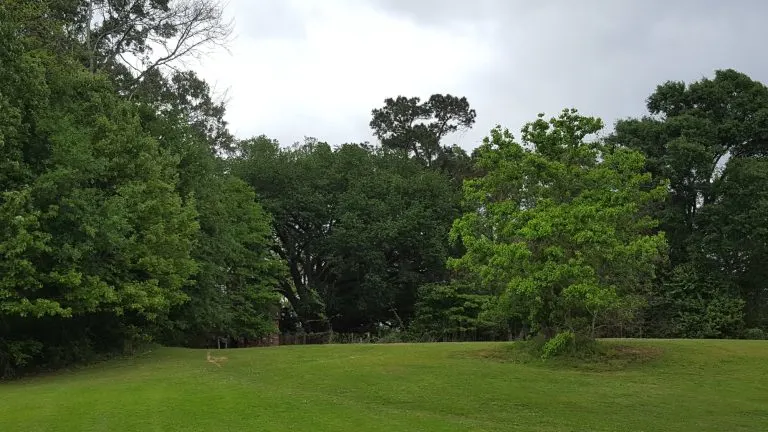 Families love the Forest Community Park in the East Baton Rouge Parish. Over 115 acres of family fun activities make this park a perfect place to spend a sunny day.
The park features a large playground with climbing structures, slides, and a shade canopy. From April to October, kids in Baton Rouge cool off in the interactive features of the splash pad. There is also a fishing pond, a dog park, and nature trails around the park.
Liberty Lagoon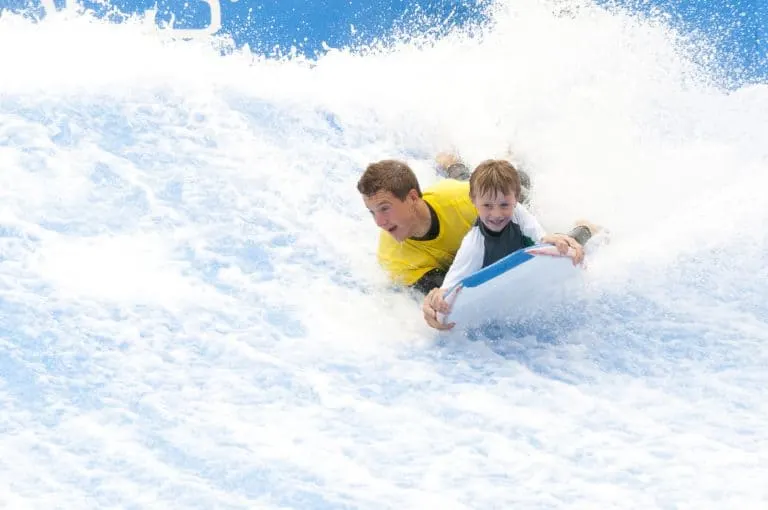 When the summer heat rolls in, one of the best places to keep cool is Liberty Lagoon. Water attractions from the exciting freefall drop slide to the mild lazy river promise refreshing recreation for all ages.
The water playground has slides just right for little ones, with water sprayers and mesh to climb on. On the yellow and purple plunge slides, twist and turn down long slides into the pool below. And on the Shockwave, experience boogie boarding on simulated waves.
No need to leave when you get hungry. Liberty Lagoon serves up delicious concessions like burgers, fries, and nachos. Parking and lazy river tubes are free.
Blue Bayou Water Park and Dixie Landin'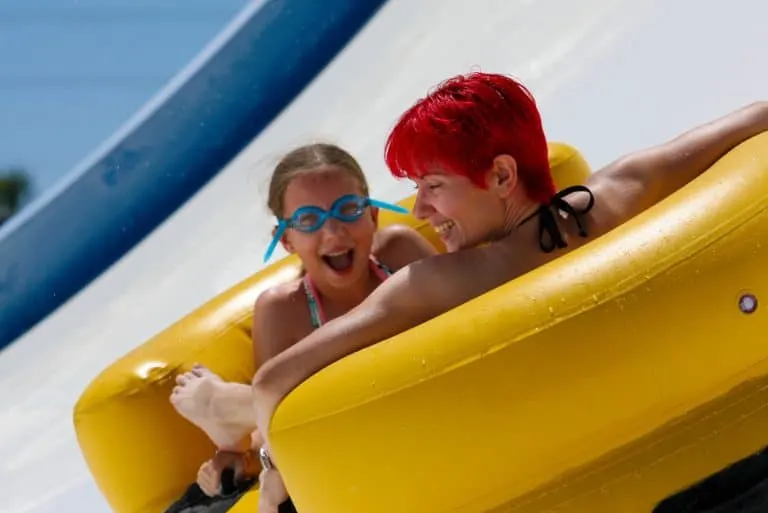 Don't want to choose between a waterpark and amusement park? No problem! Blue Bayou Water Park and Dixie Landin' combine two parks in one, offering wet and dry seasonal fun for the whole family.
At Blue Bayou, cool off in the wave pool or lazy river. Kids under 48" enjoy a mild section just for them while taller adrenaline seekers get their thrills on Lafitte's Plunge free fall slide.
Dixie Landin' amusement park entertains families with thrill rides and games. The Ragin' Cajun roller coaster flips rides through loops and steep drops. Or ride the train or merry go round for some classic fun.
Concessions are available inside the park, including sweet treats, tacos, pizza, and more. You can also rent a cabana or beachouse to enhance your stay.
Visit one of Baton Rouge's Family Entertainment Centers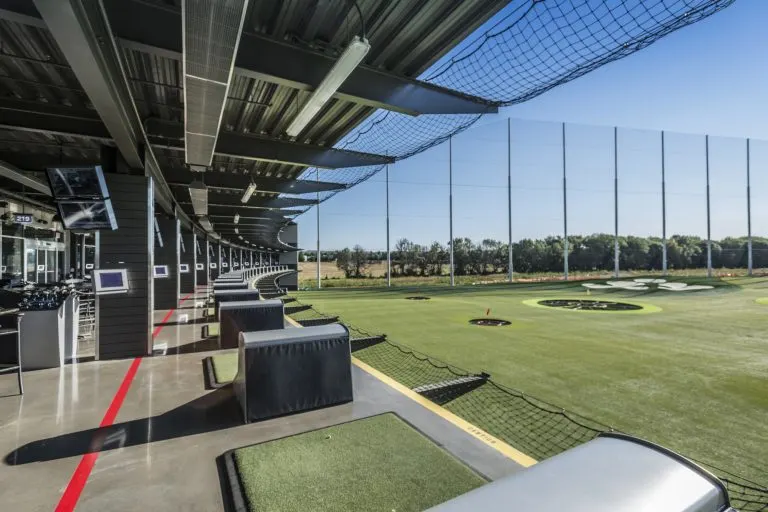 Baton Rouge loves families and strives to keep them entertained with some traditional fun. Although these aren't necessarily unique to Baton Rouge, they are worth mentioning here.
For mini-golf and go karts, head to Celebration Station. Batting cages, bumper cars, and arcades can keep kids entertained for hours.
Uptown Climbing boasts multiple climbing walls for all abilities, including a 90-foot bouldering wall and over 60 rope stations. To climb kids must be at least three years old and 25 pounds and must have direct adult supervision.
At Topgolf Baton Rouge, play golfing games in climate controlled bays. A variety of games makes golfing fun, even if you've never played before. Order some food to snack while you play.
Where to Stay in Baton Rouge with Kids
Hilton Baton Rouge Capitol Center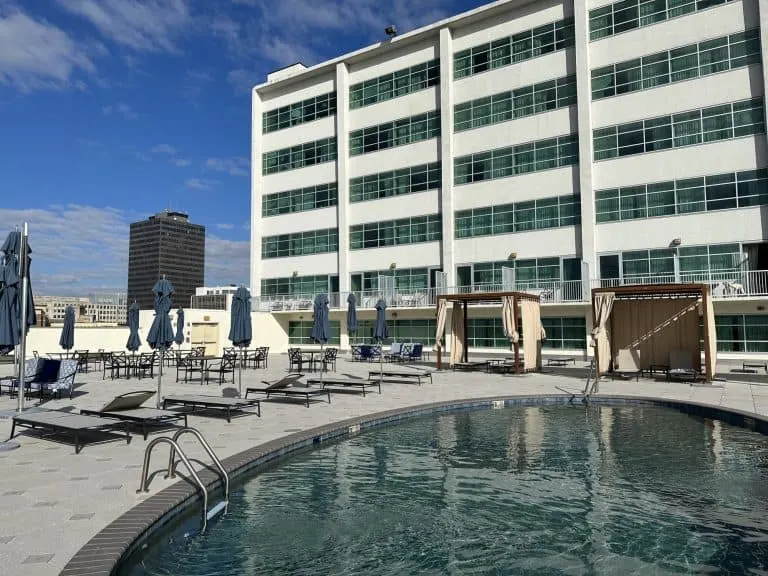 Stay right in the action of downtown, along the banks of the Mississippi River. The Hilton Baton Rouge Capitol Center is just a few minutes walk from family-friendly attractions like the Louisiana Arts & Science Center and USS KIDD Veterans Museum. Head to the third floor rooftop pool to enjoy amazing views of the river while cooling off from the summer heat.
My favorite part of the hotel is the history. It opened as the Heidelberg Hotel in 1927 hosting famous guests and playing a part in local politics. There is even a secret underground tunnel that guests can check out while there.
Most rooms are standard type hotel rooms but there are a few suites available. An onsite restaurant provides evening room service, in addition to table dining for breakfast and dinner. Parking is valet only although there are public lots very nearby.
Embassy Suites by Hilton Baton Rouge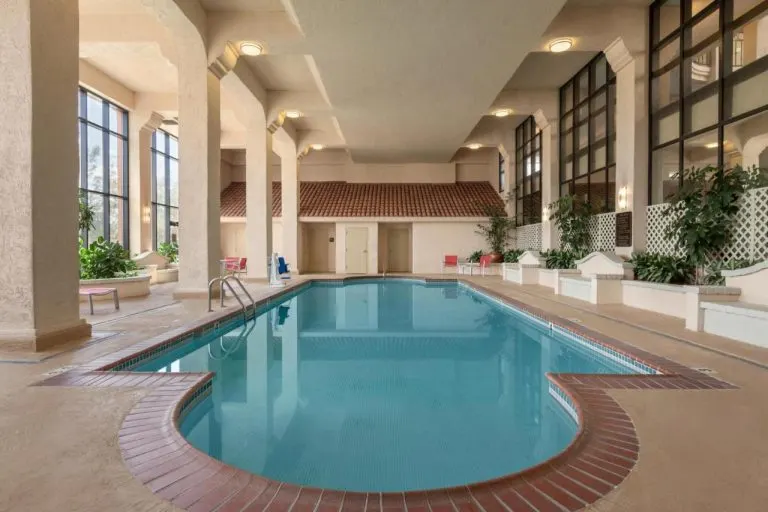 A Trekaroo favorite wherever we go is Embassy Suites. We love the separate bedrooms and free made-to-order breakfast. At Embassy Suites by Hilton Baton Rouge, families are just minutes away from all the best attractions. And just down the road you'll find the best beignets in the city at Coffee Call.
The indoor swimming pool allows kids to enjoy swimming, even when it's cold outside. And the complimentary evening reception is a great place to grab a snack or drink before going out for the night. You can even dine in the restaurant at the Zydeco Bar and Grill, open for room service, lunch, and dinner.
All rooms feature a separate living room with a sofa bed, mini fridge, and microwave. Bedrooms can have one king or two queen beds. Parking is $7 per night.
Disclosure: A big thanks for Visit Baton Rouge for hosting our stay in order to experience the city first hand.