To most, Branson, Missouri is synonymous with "shows and live entertainment." It's like country music is to Nashville. This city isn't just lively shows and good music, there are so many things to do in Branson, MO for kids and the rest of the family.
Sweeping vistas and some of the best caving in the country offer nature-lovers a veritable playground set for adventure on a grand scale. Family members that like furry encounters will find a variety of creatures, from winged butterflies to dingoes, all within the city limits.
Water rides? Mini golf? Go-karts? Branson has you covered. For those that simply want to escape the 9-5 and have a luxury resort experience, they've got that too.
With all the fun that Branson has to offer, what should your family make sure to see when you plan your visit? Here are our top 10 attractions in Branson, MO for families.
Visiting during the holidays? Check out article highlighting all there is to do during Christmas in Branson.
Things to do in Branson with Kids | Branson Family Vacation
1. See a Show in Branson with Kids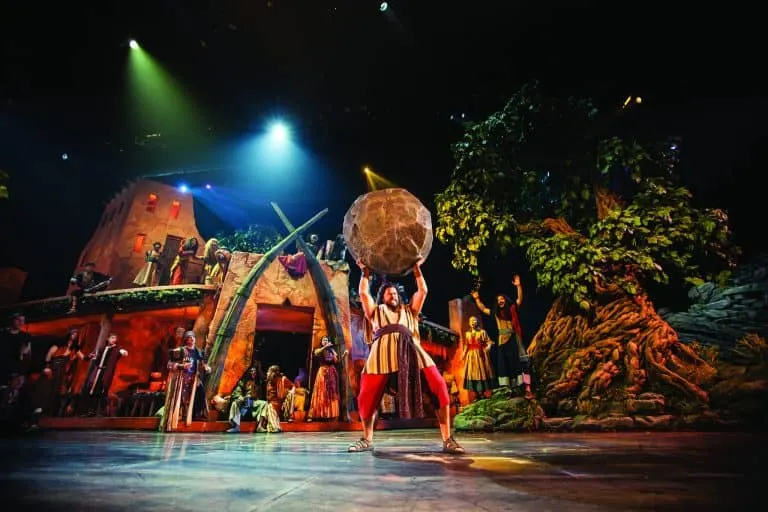 Missouri is the "Show Me State" and if you want to really see a show, you're going to want to go to Branson. This town is like the Vegas of the Midwest, except much more family-friendly!
The Welk Theatre features amazing headliners and a gorgeous resort from which to make your base camp. Buckets N Board is a family-friendly, kid-pleasing, make your head spin with rhythm kind of fun show.
You wanna know how good it is? They hit the seas with Disney cruise line to entertain ship goers with their clean comedy and supremely talented percussion bit.
Our favorite part? The screaming goat. Now you HAVE TO go see it to know what that's all about, huh?
There are so many show options in Branson that is hard to choose which ones to watch! You can book several of them via TripAdvisor which guarantees the lowest rates. They include synopsis of each show in their descriptions.
You can also see magicians, acrobats, more singers than you can shake a stick at, attractions like the Hollywood Wax Museum and Ripley's Believe It or Not?, and the Promised Land Zoo for close encounters of the furry kind.
Look for current hotel deals in Branson. As a Booking.com affiliate Trekaroo is proud to offer the lowest rates guaranteed.
Trekaroo Tip: Kid-friendly shows are offered more frequently in the summer months. After school is in session, many kiddo acts are elsewhere, making room for shows more likely to please snowbirds.
2. Visit Branson Landing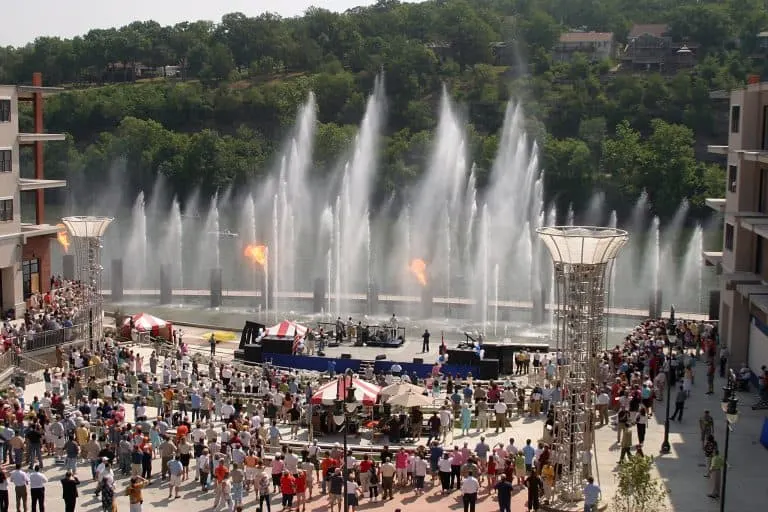 Branson Landing includes a picturesque boardwalk setting along Lake Taneycomo. Fun fountains burst with water- and sometimes fire- acoompanied with lights and music. The mist of the fountain can be just what is needed on a hot and humid Ozark day!
Remember when I said Branson was like a family-friendly Vegas? Well, the talented folks that brought you the choreographed fountain and lights display at the Las Vegas Bellagio are responsible for this downtown gem too!
Make sure to also grab an ice cream treat to devour at Mr. B's while listening to renditions at the fountains of "The Star Spangled Banner" or "Livin' on a Prayer." There are several shops that line Branson Landing, giving it an outdoor mall feel.
Trekaroo Tip: There is a schedule for the musical offerings at the fountains and the shows start at noon.
3. Step Aboard the Titanic Branson Museum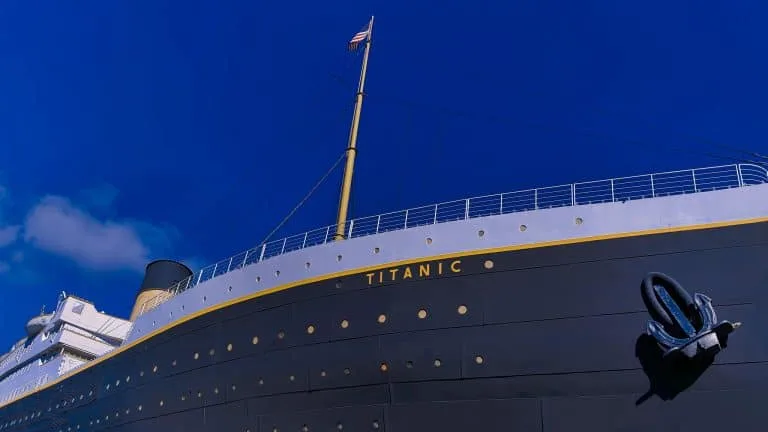 Near, far, wherever you are….it's true. Your heart WILL go on if you don't make it to the Titanic Museum. BUT, you'd be foolish to miss it!
This behemoth is located along the strip in Branson and is chock-full of history and adventure on the high seas (well, this one is actually for landlubbers, since it's a replica stationed securely on asphalt).
Book your tickets to the Titanic Museum in advance and save time and money.
Step aboard and be dealt your fate as you take on the persona of a real passenger and learn how the ordeal went for that historical figure. This one even tailor's the experience to the wee ones, giving them a "child persona" and a "kid-version" of the tour to keep it at their level.
Explore more of the state. Check out our Top 10 Things to do in Missouri.
4. See (and Eat at) the Dixie Stampede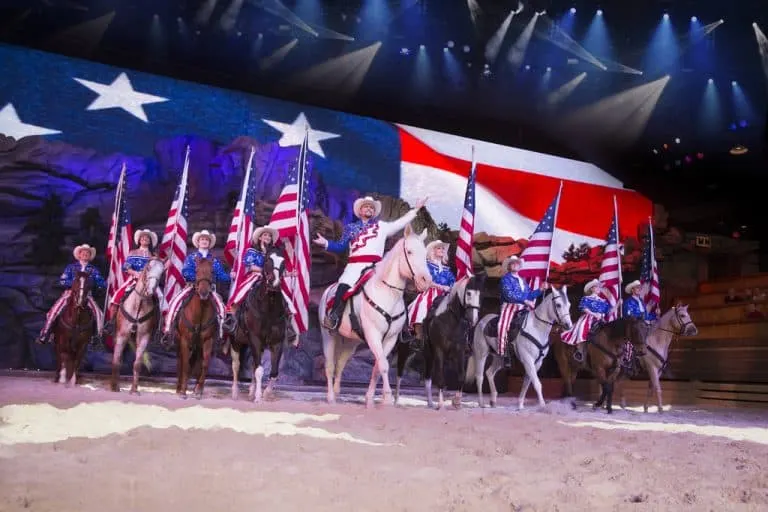 No fork? No problem! At Dolly Parton's signature show, Dixie Stampede, part of the fun is getting a little messy since there are no utensils!
As with any good show, there is audience participation, lots of action, a friendly competition, and plenty of clean comedy. The use of live animals during the show makes you feel like you're part of the scene in the Civil War-themed spectacle. Many say this is THE show to see while in Branson, and indeed it's promoted as the show that started it all.
Each person gets a chicken (yes, as in a whole chicken), a pork chop, a biscuit, soup, corn on the cob, a potato, an apple desert, and a drink. Sounds pretty tasty, right?
Trekaroo Tip: Trekaroo families say this might garner the attention of middle schoolers on up, leaving wee ones a little antsy before the big finish. Children under three are free if they are on your lap.
5. Explore Marvel Cave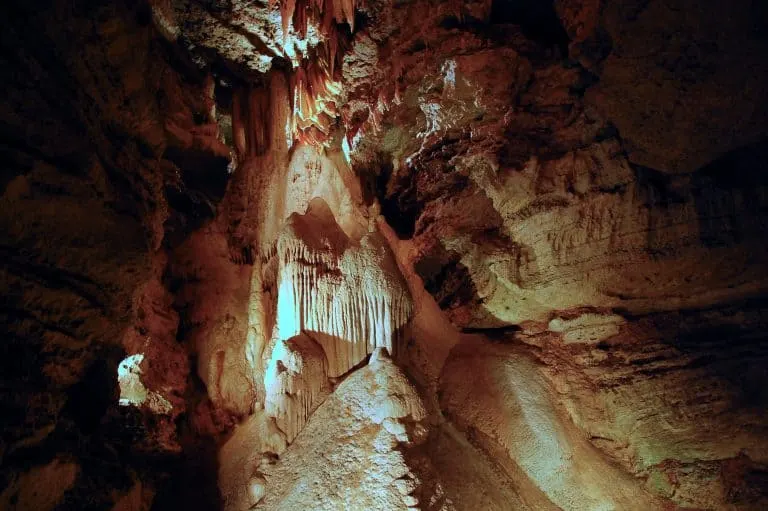 This cavernous adventure, originally called Marble Cave, was the first real tourist attraction for families, way back in the late 1800s. It was first discovered in 1500 AD by the Osage Indians who called it "the Devil's Den" and refused to enter it. It was also once thought to contain the Fountain of Youth.
Located under Silver Dollar City, Marvel Cave is still one of the most popular things to do in Branson, MO. Your admission into Silver Dollar City includes a cave tour and they leave about every 30 minutes.
The tour is around an hour long and includes climbing about 600 steps! The cave is made of wet limestone that is still "alive" and growing new formations each day over time.
Adventurous cave explorers should opt for the Lantern Light Tour to explore the cave just as they did in the early days. Plus, this tour takes you into an additional area called the Mammoth Room AND you get to see a "bat wall!"!
Trekaroo Tip: Many folks are anxious to get to the park and rides right when it opens, avoiding the afternoon heat. If you are mostly interested in a cave tour that isn't crowded, do it first! Conversely, if you're looking for a great cool down in the afternoon, head to the cave and seek solace from the sun!
Know Before You Go: The number of steps and the fact that it's rather strenuous means that it's not great for little kids or those with health conditions that might become aggravated by exertion.
6. Spend the Day at Table Rock Lake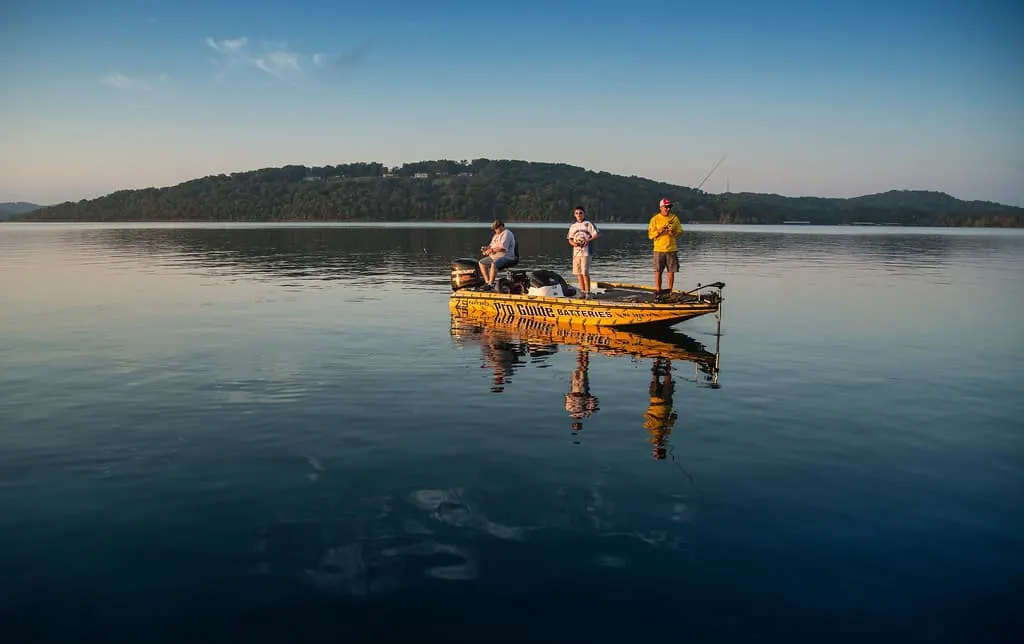 Branson is blessed with plenty of scenice beauty, including Table Rock Lake. Boating, kayaking, fishing, swimming, and even parasailing are the most activites to enjoy on the water.
Back on land, take a stroll on the Table Rock Lakeshore Trail. It is an easy 2.25 mile trail that welcoming to both wheelchairs and strollers. If you would rather see the sites on two wheels, rent bikes at State Park Marina and hit the trail!
Want o experience the lake, a showm and a meal all at the same time?. The Branson Belle is a fun, 1890's-style paddlewheeler offering it all!
7. Slow Down at Dogwood Canyon Nature Park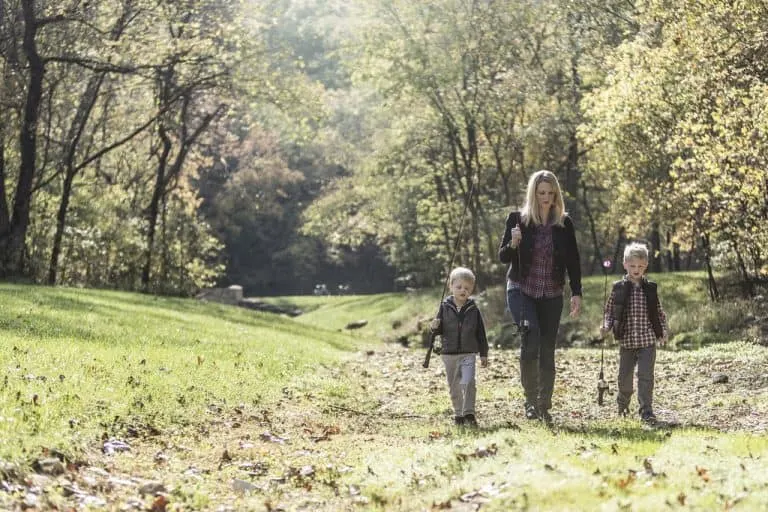 With 10,000 acres in Dogwood Canyon Nature Park, it's certain somewhere out there in the wild green yonder you'll find an adventure.
Waterfalls and well-maintained bicycle trails meander through the hills of this Ozark region park just outside of Branson. A mere 30 minute drive ccan provide a serene getaway to wind down after a day or two full of entertainment and thrill rides in town.
Owned by the man behind Bass Pro Shops, Johnny Morris, the park has streams filled with fish and fly-fishing workshops to hone those skills. You'll be channeling Norman Maclean as you don waders and "watch your drift".
If you're not a fisherperson, you can see the buffalo roam, alongside elk, and Longhorns as a passenger on the tram tour within the park.
Trekaroo Tip: The bike trails are fantastic and bicycle rentals are available on-site.
8. Make a Splash at White Water Park
It can be hot in Branson during the summer, so take a break and cool off poolside — or on a trapdoor slide, like the KaPau Plummet! No matter what your ride style, White Water Park has something for everyone!
The giant wave pool is a popular place to "haul-out" like a bunch of sea lions flopped over tubes, while the adventurous among the group may want to bound over to the Kalani Towers — which look like the kind of splashing good time that only the bravest will dare try!
Open May-September, White Water is a fantastic summer day getaway. Enjoy a "night swim" on certain dates during the summer and take advantage of every last drop of sunlight and see the stars from the Aloha River.
Dive-In movies are a hit with the kids, and are special screenings of family favorites like Disney's Fire and Rescue, one the big screen at the wave pool.
Trekaroo Tip: There seems to be plenty of shade and seating all around the park without purchasing a cabana. Get there early and snag a good spot, using your towels draped over beach chairs to modify shady spots!
9. Learn About Fishery at Shepherd of the Hills Hatchery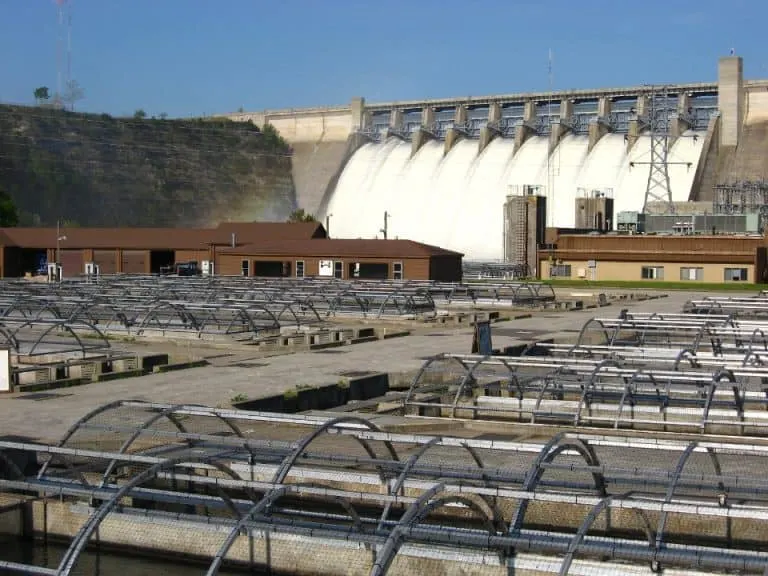 The Shepherd of the Hills Hatchery and Conservation Center was a spot that we happened upon while trying to nap our dear children on-the-go before a show. It's a smaller property but admission is FREE and the opportunities for fun and learning are many.
Make sure to load up on quarters– the hatchery has food pellet machines to feed the stock.
Ever laid eyes on a Western Cottonmouth? How about an Alligator Snapping Turtle? The rare Blue Trout can also be seen in the stocked tanks. All are residents of the hatchery, among other indigenous, crawly neighbors on display in the education center. The simple, yet fascinating sites that we sometimes wander up to often lead to the most rich and robust memories of the trip.
Look for the best hotel prices in Branson
10. Have a Thrilling Day at Silver Dollar City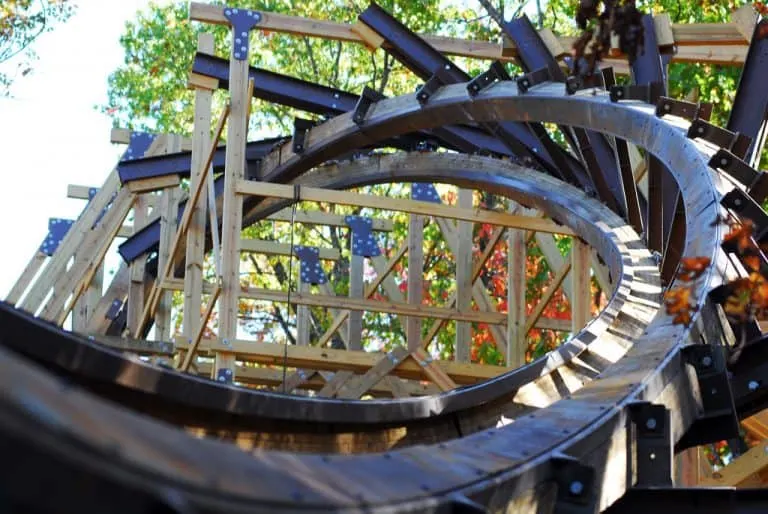 Some go to Branson for the shows, but if you're a kid or a kid at heart, Silver Dollar City may be what seals the deal for Branson to become your family-friendly mecca this year. Trekaroo families adore the options for park-goers young and old, making it a perfect multi-generational destination!
Live music and trade demonstrations captivate grandparents holding the hands of their grandchildren, entertaining and educating a few generations at once. It's a special place to be shared by the entire family.
Mom and dad can get a little thrill ride on the Powder Keg or the new Wildfire while Grandpa bounces the baby and fills the big kids full of cotton candy. When the heat of the day starts to steam things up, jump in line for a "water ride" like Lost River of the Ozarks or RiverBlast!
You would do well to prepare your stomach for a flavor-fest, having many choices including some of the best BBQ around, at least according to the conductor of the Frisco Silver Dollar Steam Train. Of course your admission fee includes a tour of Marvel Cave, too.
Trekaroo Tip: If you head right to The Grand Exposition, there is an "Official Measuring Station" where kids can see just how much they have grown and get a print out of the only rides they are unable to board. They also give out wristbands with contact information for parents with phone number in case you are separated.
Good to Know: If you're a breastfeeding mother, Silver Dollar City conveniently has "Nursing Stations" positioned around the park and are marked on the map with a smiley face. They are air-conditioned and have rocking chairs and a few baby maintenance amenities.
Fun Fact: Beverly Hillbillies filmed five episodes at the park
Where to Eat in Branson with Kids

While there's not a short supply when it comes to dining in Branson, once you've taken in the dinner and a show style feasting, I urge you to saunter on down to the Historic Downtown Branson area.
In the neighborhood of Branson Landing, right next to Bass Pro Shops, and stop into the mouth-watering, air-conditioned goodness at the White River Fish House. The little riverside region of town has a very different feel than "the strip". Enjoy an alligator appetizer and follow it up with some BBQ ribs or Mahi Mahi (you cannot go wrong with any menu selection) and wash it all down with some Sweet Tea, made only as they can in the southern states.
Where to Stay in Branson with Kids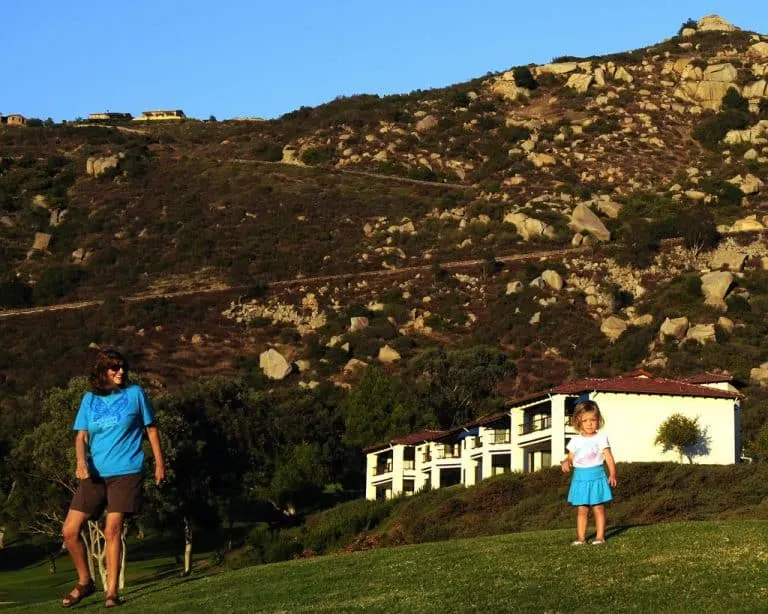 If you want to be in the thick of it, the Grand Country Resort is a great option. It features the Grand Country Music Hall, Papa Grand's Pizza, and the Fun Zone arcade. The accommodations also include a pretty neat waterpark on-site to cool off after a long hard day in the audience of so many shows and hiking all the hillsides in the Greater Branson area.
The Welk Resorts Branson Hotel is phenomenal for families and has enough options to keep you busy even if you never venture off their property. With a kid's club, the Splash-a-torium indoor/outdoor waterpark, free miniature golf, dining on-site, and the Welk Theatre, everyone will be clearing their schedules, calling in sick, and begging for just one more night!
"Must- Do" Day Trips from Branson, MO
Lake of the Ozarks Area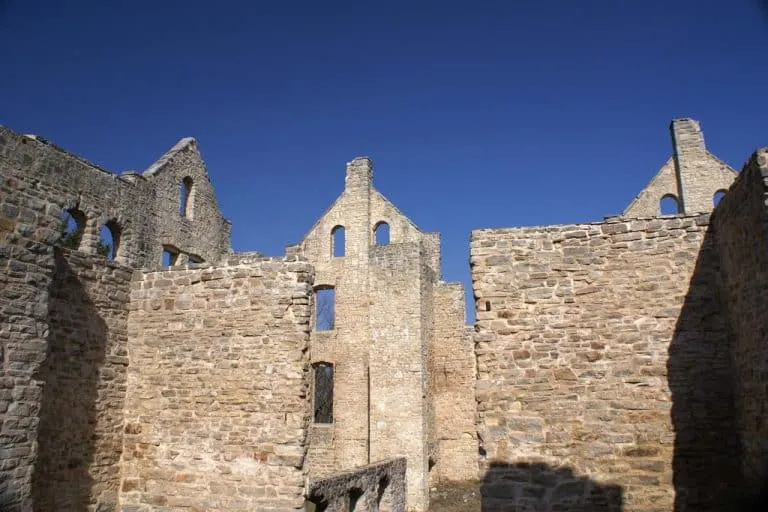 The Lake of the Ozarks area can be a vacation in itself, easily. But, if all you have to spare is a day away, then make sure you still venture over.
The Lake Ozark area is about a two hours drive from Branson. The drive takes you through some lush, bluff country and past Bridal Cave, which is a 1-2 hour stop you should definitely make near Camdenton.
In the same area is Ha Ha Tonka State Park (Missouri State Parks offer free admission). The castle ruins are all it takes to conjure up Renaissance thoughts of Madrigal Dinners and dragons lofting up from the valley and spring below.
An easy hike, the ruins were a profound contrast to the surrounding landscape and provided great photo backdrops, perfect for capturing imaginative moments!
If you have time for a few days and nights, relax and have a vacation within a vacation at the Tan-Tar-A Resort, right on Lake Ozark. If not, still venture over for a fun time at a water park like Timber Falls or Miner Mike's. You'll also want to walk the historic halls of the Willmore Lodge and maybe splurge on some souvenirs at one of the many shops in Osage Beach.
Dip into Arkansas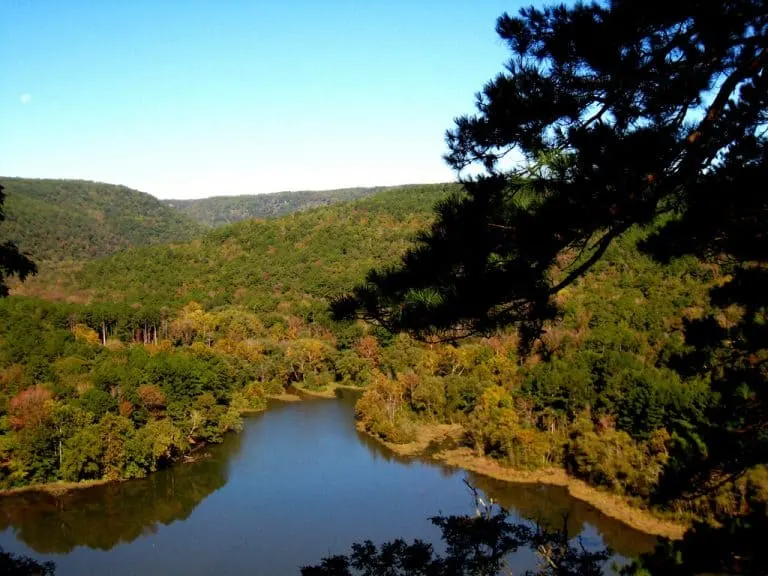 Eureka Springs is only a stone's throw from Branson (about an hour) and is home to the Turpentine Creek Wildlife Refuge, where you can see some of the world's most regal big cats. It's also a fantastic destination for fly fishing and supreme in the land of shopaholics!
The downtown district is on the National Register of Historic Places and offers walking tours. The Blue Spring Heritage Center is home to NW Arkansas largest spring and is chock-full of history; the area is famous for natural springs and has the namesake to prove it!
Also an hour away, Berryville, Arkansas is home to Cosmic Cavern where you can see the rare Ozark Blind Cave Salamanders. It is the perfect adventure for those little explorers that fell in love with Marvel-ous caves at Silver Dollar City and Bridal Cave and want more of the action!
Budding naturalists will appreciate seeing unique cave life. A cave tour is a little over an hour and is not too strenuous, featuring mostly flat ground and a lot of beautiful cave formations. "Wild Cave Tours" are offered and they are a pretty authentic taste of spelunking fun, not just handrails and oodles of stairs!
For some nearby, off-the-beaten-path fun in Arkansas, head to the Ozark National Forest west of Fayetteville (around two hours from Branson) and hit the dirt roads to the Hawksbill Crag/Whitaker Point Trailhead.
The hiking is spectacular and if you're into experiencing nature in the raw, this is a great day trip for you! I would put it in the same special places as the Grand Canyon (responsible for many of the gray hairs on mother's heads) but an adventure that is pretty epic to share at show-and-tell when the kids go back to school!
Disclosure: The author was a guest of Branson and some of what is featured was experienced on a complimentary basis for the purposes of researching this article. All opinions are her own.