What is there to do in New Orleans with teens? You can stroll down the haunted streets of the French Quarter or catch a jazz performance at Musical Legends Park. Spend the day gorging on Cajun cuisine at NOLA Poboys, or indulge in the local art scene at the Ogden Museum of Southern Art.
When my kids were younger, we took them to New Orleans and had a blast. But now that they've grown into teens, we've been able to explore the city on a deeper level. New Orleans with teens includes richer tastes, spooky and shady history, and profound cultural experiences. Here is a round-up of our favorite things to do in New Orleans with teens.
Need a place to stay? Here are the best New Orleans hotels for families.
Things to do in New Orleans with Teens
Cemetery Tours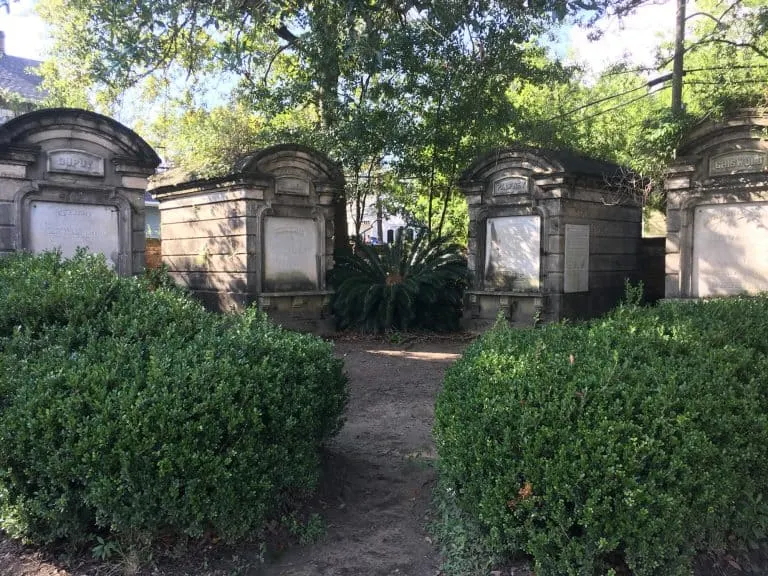 The cultural traditions and high water table in New Orleans make for historically rich and beautiful cemeteries. Take a tour through one of these "Cities of the Dead" to learn about the burial traditions and the stories of people who have come before.
St. Louis Cemetery #1 is the city's oldest cemetery, and the closest to the French Quarter. To explore inside visitors must take an official tour with Cemetery Tours New Orleans.
A tour is great because my teens are more likely to listen to an expert explain the history than their parents. If your teen already knows a lot of history, or you are short on time, you can also just peek through the surrounding gates.
French Quarter Tours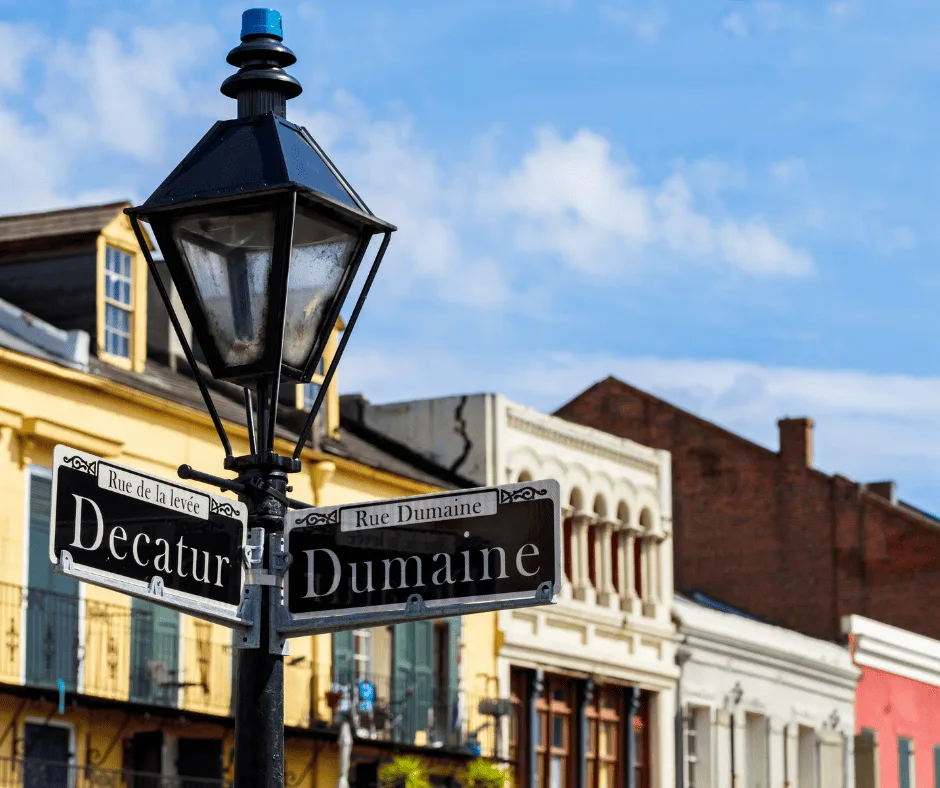 The French Quarter is bursting with stories. Through a tour, teens become immersed in the unique history and diverse culture surrounding the Crescent City.
One of the best tour companies for families is French Quartour Kids, and they offer two tours catering specifically to teens.
On the Teenager Tour of New Orleans, explore the contributions past settlers played in the growth of America and discover how New Orleans became known for amazing food, music, and Mardi Gras. Or dive deeper into the local culture in the Sounds of New Orleans Music Tour, where you'll learn about musical legends and the origins of jazz.
Another way teens love to learn about the French Quarter is through a food tour. New Orleans Food and History Walking Tour by Doctor Gumbo Tours combines two things teens love, eating and gossip. As you sample famous Creole and Cajun dishes, a knowledgeable guide shares the history of the city, the origins of the food, and lots of fun local stories.
Plantation Tour
Take a tour and learn about the lives and cultures of past residents of southern Louisiana. The closest plantations are 30 minutes to an hour away, so to visit them you'll need to have your own vehicle or join a tour group that includes transportation. On the drive, your guide will point out major landmarks and explain the differences in the landscape.
Each plantation around New Orleans has its own story. Destrehan Plantation showcases the daily tasks of plantation life through their folklife demonstrations.
At the Whitney Plantation, visitors learn about the lives of the enslaved people. Strong women ran Laura, a Creole Plantation, for generations. And Oak Alley displays the picturesque antebellum plantation we've come to know from movies such as "Interview with a Vampire."
Steamboat NATCHEZ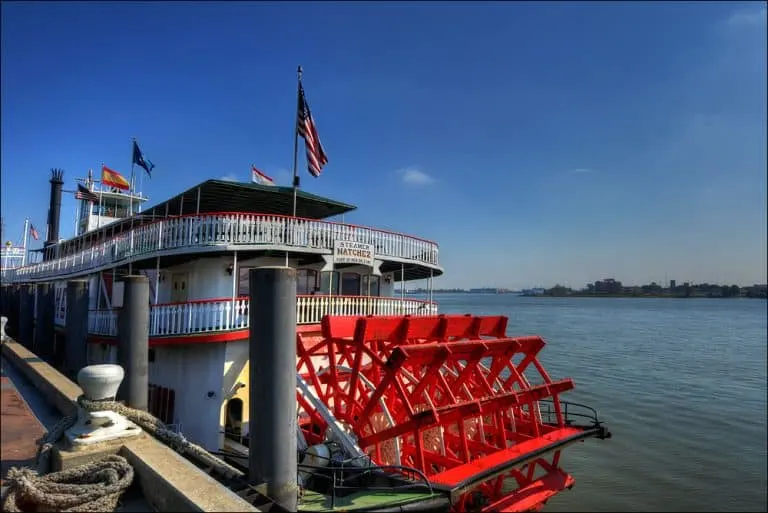 Take a cruise on the Steamboat NATCHEZ, the last authentic steamboat on the Mississippi. On the narrated cruises, learn about historic sites along the river as the ship sails past. Guests are also entertained with music from a live jazz band.
One of the parts of the ship we loved was the engine room. You can watch the steam engine in action and learn how it operates. It's also pretty awesome to stand above the paddlewheel and watch it churning up the water.
When traveling with teens, it's always a good idea to keep food options in mind. The Steamboat NATCHEZ features dining options including a delicious Creole lunch or buffet dinner.
Voodoo/Ghost Tours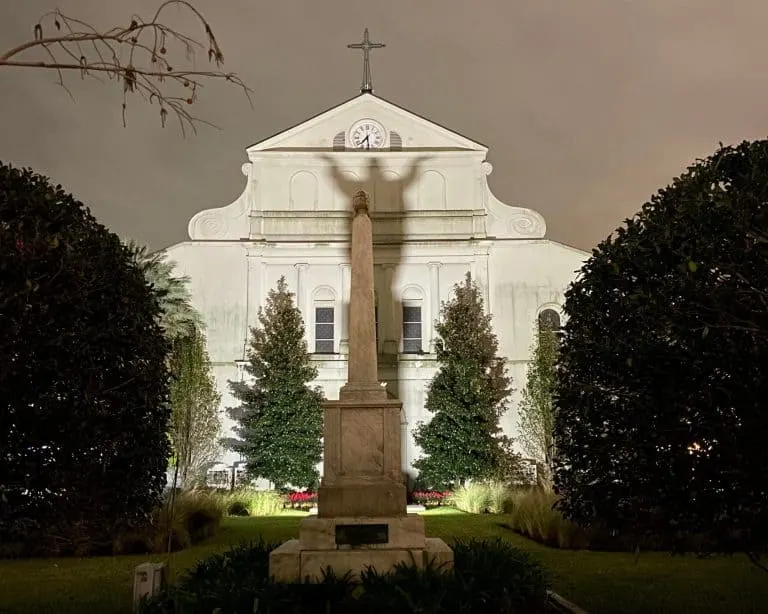 If your teen is as fascinated by the supernatural as mine, they will love New Orleans. Voodoo shops, haunted townhouses, and vampire lore permeate the city. Join a tour to learn about the spooky side of New Orleans.
On our latest trip to NOLA, we opted for a self-guided audio tour by WalknTours called Ghost of New Orleans. After downloading the app, the narrator takes you on a turn-by-turn tour around the French Quarter, with stops for stories at haunted locations. We loved the freedom to pop into shops we passed, the spooky background music that accompanied us on our walk, and being on our own timeline.
For an in-person tour, there are plenty of family-friendly options (and ones that are not as well). Ghost City Tours offers an all-ages walking tour through the French Quarter. Or hop on a horse-drawn carriage and experience the New Orleans History & Haunts Carriage Tour with Royal Carriages.
Vue Orleans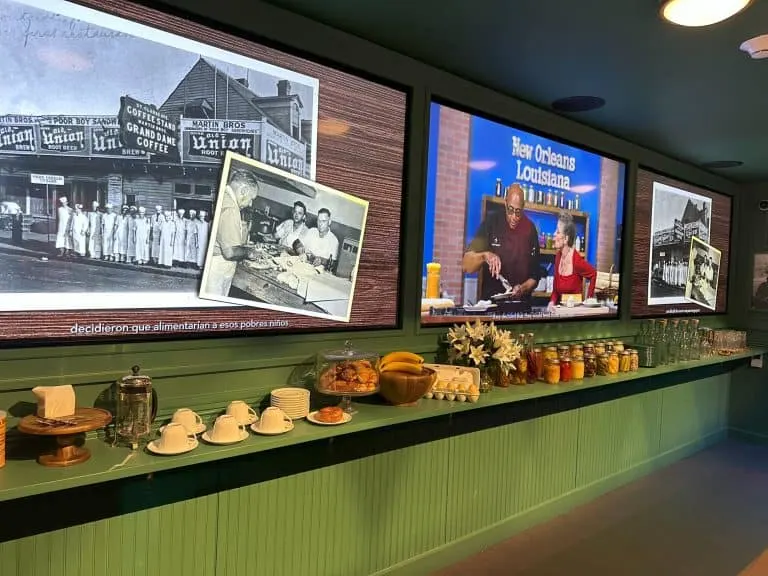 One of the newest attractions to check out in New Orleans with teens is Vue Orleans. Experience New Orleans culture in a multimedia, interactive experience before seeing the Crescent City from 34 floors up.
The first level of Vue Orleans celebrates all the things that make this city special. Hear stories from famous historic residents, virtually try on some Mardi Gras costumes, learn how popular southern dishes are prepared, and listen to the sounds of the city. Make sure to visit the panoramic theater to see how the Mississippi River helped create all that we love about New Orleans.
Hop aboard the elevator where the entertainment continues as images are projected on the elevator walls. When you arrive at the 33rd Floor Observation Deck, use the screens located around the room to find landmarks and learn their history. Then continue up one more set of stairs to the outside and a 360-degree view of the city.
National World War II Museum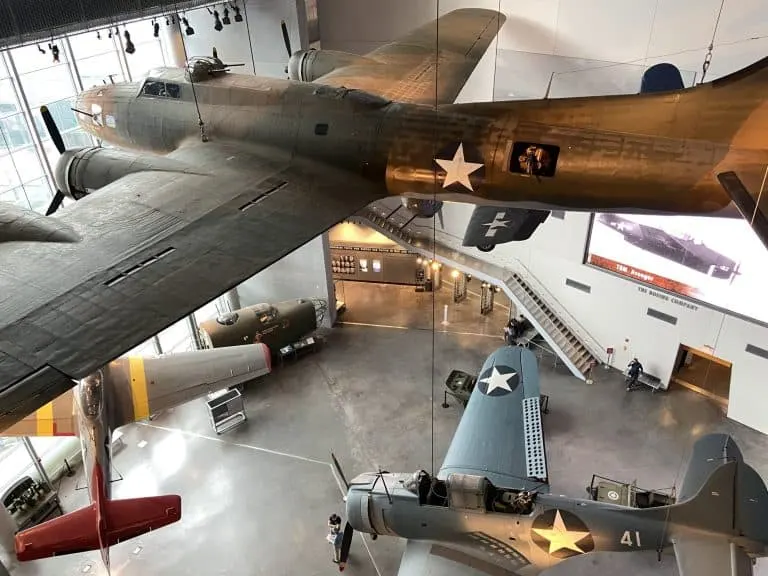 The lessons teens learned in the classroom come to life at the National World War II Museum. Dates and facts become personal as you walk through interactive exhibits, hear first-hand stories, and feel the excitement, fear, and hope of this time period.
Upon arrival, guests are presented with a card that holds information about a soldier who served in the war. Throughout the museum, there are stations to tap your card and discover how the personal events of that GI's life align with world events. At the end of your visit, you can feel the heartbreak or relief that loved ones at home experienced when you discover if your soldier made it home in the end.
In addition to the creative and interactive exhibits, visitors should plan to attend the Beyond All Boundaries 4D experience. This multi-sensory experience helps teens understand the impact of World War II in an exciting way.
Louisiana State Museums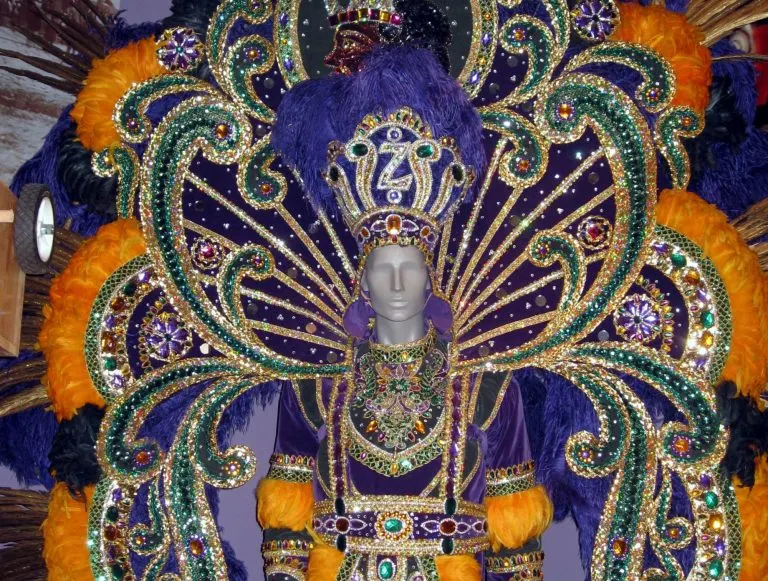 Two beautiful Louisiana State Museums flank the St. Louis Cathedral in Jackson Square- The Cabildo and The Presbytère. Each of these Spanish colonial-style buildings boasts its own fascinating history, in addition to showcasing artifacts from the city's exciting past.
The Cabildo was built in the late 1700s and was the location of the finalization of the Louisiana Purchase and the landmark Plessy versus Ferguson decision. Today visitors can learn about these and other historic events as they walk through three floors of exhibits. The museum also features artifacts celebrating New Orleans's unique culture, such as a Mardi Gras Indian suit and Sidney Bechet's saxophone.
In contrast to a lot of museums, The Presbytère explores the present. In the Living with Hurricanes: Katrina and Beyond exhibit, interactive elements explain the resilience of local New Orleans. And the Mardi Gras: It's Carnival Time in Louisiana exhibit lets visitors experience a New Orleans Mardi Gras any time of year, with music, historical costumes and throws, and even parade floats to climb on.
If you plan on attending both of these museums or one of the other three Louisiana State Museums in the city, you can receive a 20% discount when purchasing tickets for two or more museums together. The other museums are 1850 House, Madame John's Legacy, and New Orleans Jazz Museum at the Old U.S. Mint (which I talk more about below).
JamNOLA
Everything we love about the art scene of the city comes together in an interactive, artistic display at JamNOLA. Located just a 15-minute walk outside the French Quarter, this museum allows teens to get away from tourist central and feel the local vibe from a collaboration of local artists.
17 creative exhibits celebrate New Orleans culture, and each room is an art piece. Bring your camera to capture all the Instagramable displays. Pose inside an extravagant Mardi Gras costume, reverse roles with some crawdads while you cook in a pot, and wander through a garden of musical legends.
Purchase tickets online to reserve a time for your tour. Each tour is limited to a group of 10 to provide an intimate experience. Ticket prices are slightly cheaper on weekdays and discounts are available for full-time students, teachers, military, and healthcare providers.
New Orleans Museum of Art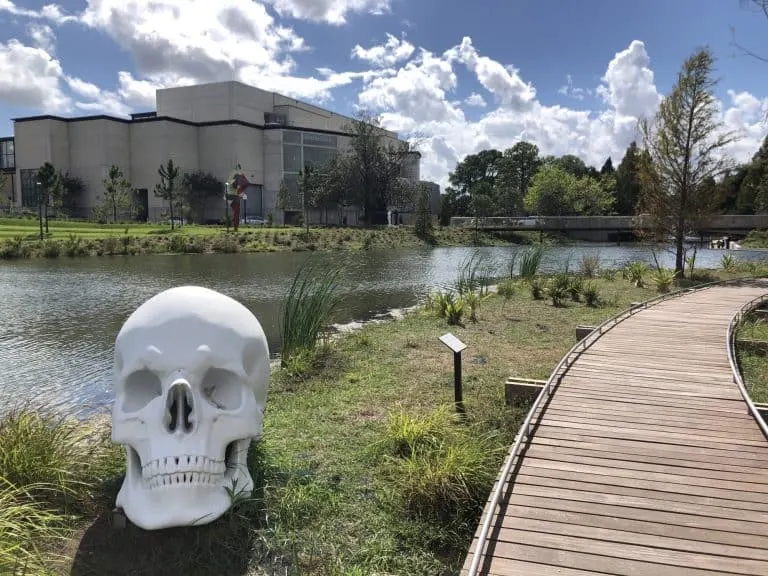 Works of art from around the world and through the ages fill the walls and halls of the New Orleans Museum of Art (NOMA). The collection features paintings, photography, and glass pieces from France and America, works from Africa and Japan, and European sculptures dating back to the 16th century.
In addition to the diverse art exhibits, NOMA offers programming just for teens. Check the Teens section of their website to find events like Teen Night, where teens participate in creating artwork and other interactive activities.
General Admission is free for teens and children under 19 years old. Add on special exhibitions for just $5 for teens (and free for children 12 and under).
Ogden Museum of Southern Art
The Ogden Museum of Southern Art collection represents artists from all 13 Southern states, showcasing Southern traditions and Southerner's contributions to the arts. Besides the visual art, visitors can enjoy lectures, concerts, films, and a wide range of programming.
The museum is located in the New Orleans's Warehouse Arts District, just next door to the French Quarter. Easy access is available by street car.
New Orleans Jazz Museum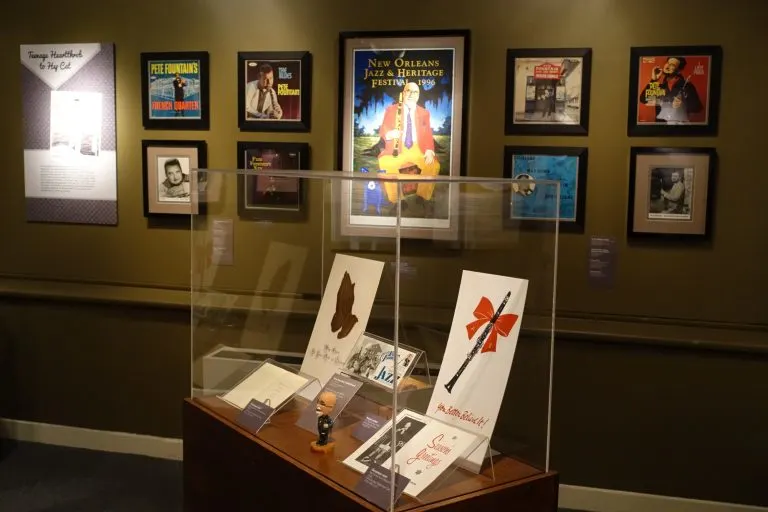 Learn about jazz in the city where it was created at the New Orleans Jazz Museum. If your timing is right, you can catch a live performance on the third floor. Be sure to check the calendar ahead of your visit.
On display, you will find instruments used by renowned jazz musicians, like Louis Armstrong's cornet. Teens will especially enjoy The Wildest! Louis Prima Comes Home exhibit where they can learn how to swing dance, do karaoke in a recording studio, and listen to recordings.
This museum is located in the old U.S. Mint. In addition to jazz exhibits, there is also an exhibit about coin making. You can learn a little about the coin-making process and see some of the machines used.
New Orleans Jazz National Historical Park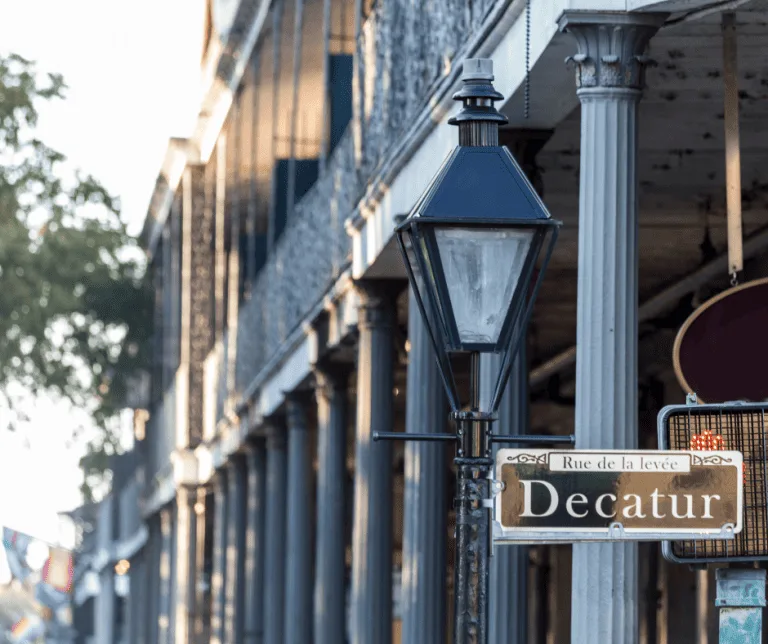 Another fun place to learn about jazz is the New Orleans Jazz National Historical Park. This park teams up with local musicians to offer free concerts. They also offer ranger talks, where visitors can learn the history of jazz. Check their website for current events and concert times.
Since jazz is meant to be experienced, the museum is mainly an auditorium. There is also a gift shop with some informational brochures. And if you are a national park enthusiast, you can also get your passport stamped at their Decatur street visitor center.
Musical Legends Park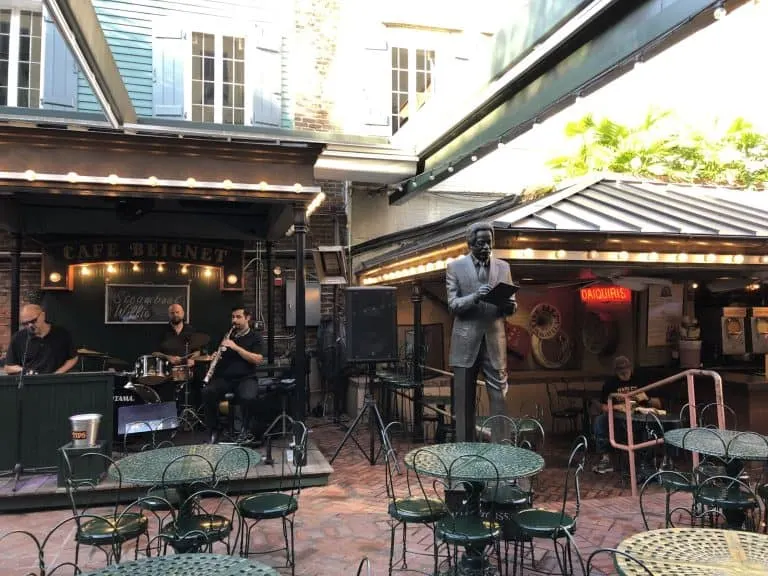 Grab a beignet and experience the mild side of Bourbon Street at Musical Legends Park. This park consists of life-size statues of jazz geniuses, plus tables and chairs for enjoying some live music. Free jazz performances start every day at 10:00 AM and continue until closing time.
Cafe Beignet is located at the backside of the park. Drinks and snacks are available but no purchase is necessary to enjoy the park.
A quick disclaimer-when we visited before noon, the experience was very family-friendly. I can't speak to the after-dark atmosphere, but the cafe doesn't sell alcohol. Still, as it is located on Bourbon Street, use discretion with teens.
Preservation Hall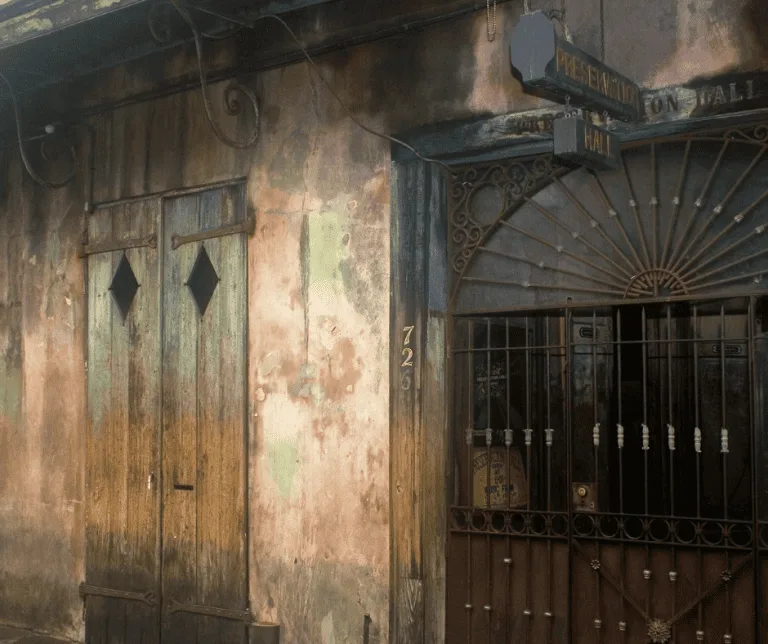 Feel history come alive with a jazz performance at Preservation Hall. Multiple times a night, this venue presents shows the whole family can enjoy. Talented performers blow horns, strum basses, and dance their fingers across piano keys to create toe-tapping melodies.
Tickets must be purchased in advance online, and shows do sell out, so plan ahead. Arrive about 20 minutes before the show starts to line up outside with other attendees before you are directed to bench-style seating by the staff. The small, living room-style setup creates an intimate experience you and your teen will cherish.
Teen-Friendly Mardi Gras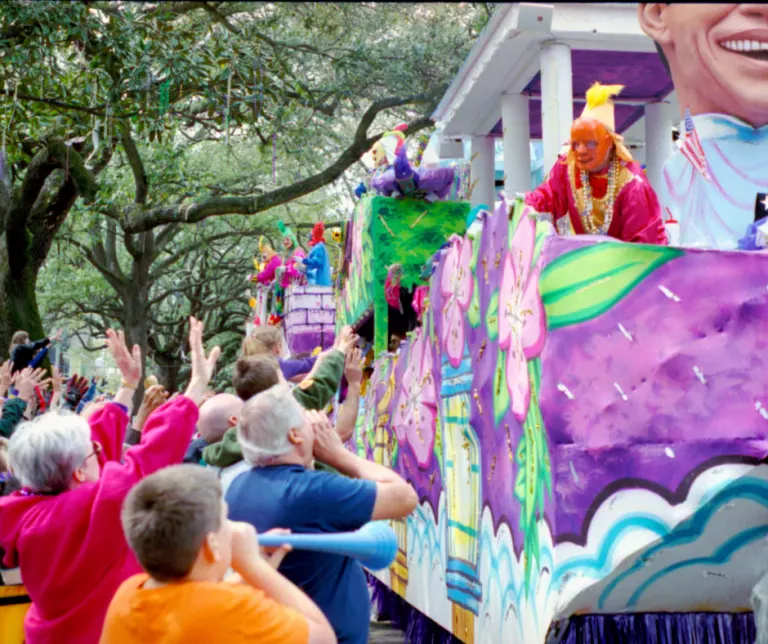 Did you know Mardi Gras is usually a family-friendly festival? Outside the debauchery of Bourbon Street on Fat Tuesday, there are plenty of family events and parades to celebrate the season with your teen. The Uptown neighborhood and city suburbs host concerts, parades, and festivities, all perfect for families.
My daughter and I attended the Joan of Arc Parade, which kicks off the Mardi Gras season on January 6. The atmosphere was exciting, the costumes incredible, and catching the themed throws was so much fun. Other family-friendly parades in New Orleans include Krewe of Bacchus, Krewe of Endymion, and Krewe of Muses.
Even when visiting New Orleans outside of Mardi Gras season, teens can still enjoy a Mardi Gras experience at Blaine Kern's Mardi Gras World. In addition to seeing spectacular floats being made, families also learn the history of this celebration and sample king cake. Make sure to bring a camera to take some awesome pictures with Mardi Gras props and costumes.
For more tips, read our article Kid Friendly New Orleans Mardi Gras.
Annual Festivals for the Whole Family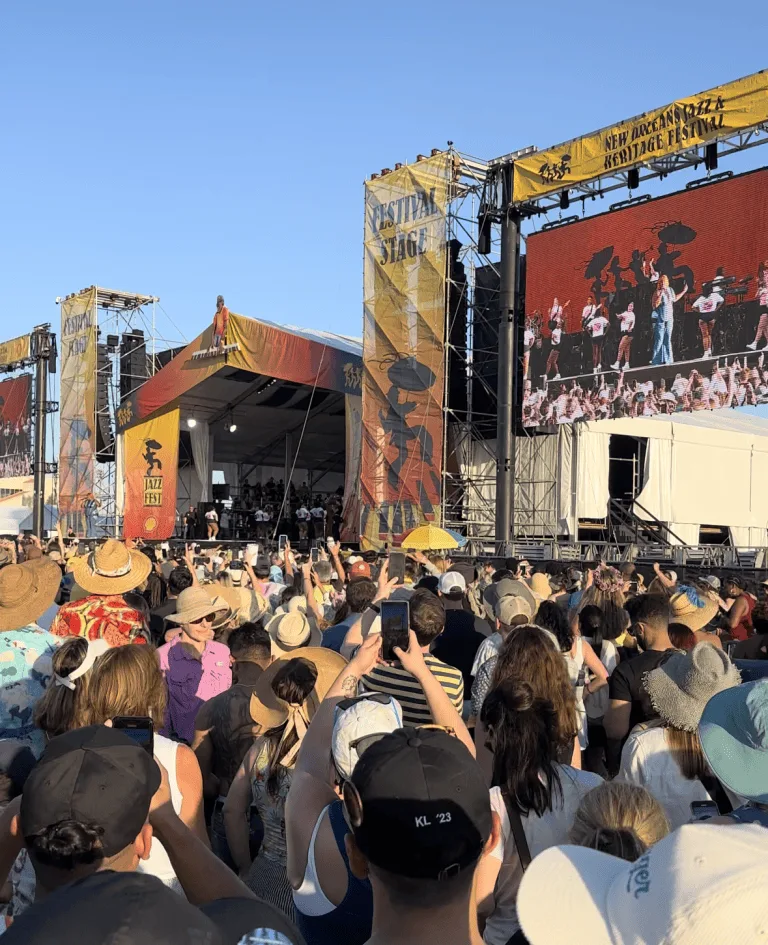 New Orleans loves a good party. Throughout the year, families can enjoy festivals in honor of food, music, and the city's authentic culture.
The New Orleans Jazz & Heritage Festival celebrates local culture and music every year during the last weekend in April and the first weekend in May. There are world famous headliners like Lizzo, Bruce Springsteen, and Bon Jovi as well as local favorites like Rebirth, the Neville Brothers, and Cowboy Mouth playing on the main stage.
Plus, there are three other stages and several tents dedicated to different genres of music. As you walk the fairgrounds you can pop in the Jazz tent, listen to Zydeco, dance to classic rock favorites, and then watch local church groups bring down the house in the Gospel tent.
Did we mention the food? Half the fun of Jazzfest is eating at Jazzfest. Local restaurants serve up favorites like Crawfish Monica, Cochon de Lait Po' Boys, Alligator Pie, and so much more. Be sure to bring your appetite!
In addition to the music and food, there is plenty of art. Local artists with big followings like painter Terrence Osborne bring sell creations so you can bring an authentic piece of New Orleans home with you.
But wait, there are even more festivals to enjoy throughout the year! In June, check out the Creole Tomato Festival with live music, engaging activities, and of course, Creole tomatoes. And the Louisiana Cajun-Zydeco Festival in June features food and lots of local music in Armstrong Park.
Audubon Nature Institute Attractions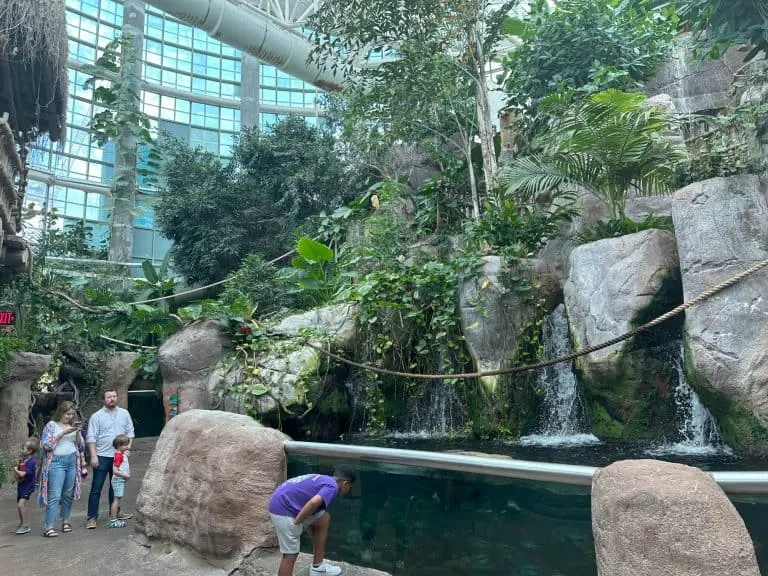 The attractions operated by Audubon Nature Institute are sure to be a hit with animal-loving teens. Learn about and visit animals, insects, and underwater creatures from around the globe.
The Audubon Zoo showcases local and exotic animals in beautiful, natural habitats. Our favorite exhibit is the Louisiana Swamp, where you can watch alligators in the lagoon from a Cajun houseboat. The animal presentations, including feeding times and zoo keeper chats, let you learn even more about the animals on display.
For an interactive, close-up view of sea animals, check out the Audubon Aquarium. Large viewing windows make it feel like you are underwater with sharks, stingrays, and sea turtles. Our favorite animals here are the cute penguins and the unique albino alligator.
A trip to the Audubon Insectarium educates visitors on the amazing critters that surround our planet. Surround yourself with hundreds of colorful butterflies in the butterfly garden, peek inside an active beehive, and marvel at exotic beetles and spiders. And teens love to show off their bravery by eating insects at the Bug Appétit exhibit.
A combo ticket is available for families wanting to visit all three attractions, which saves up to 42% off the individual ticket prices. Tickets can also be purchased separately for each attraction.
Swamp Tour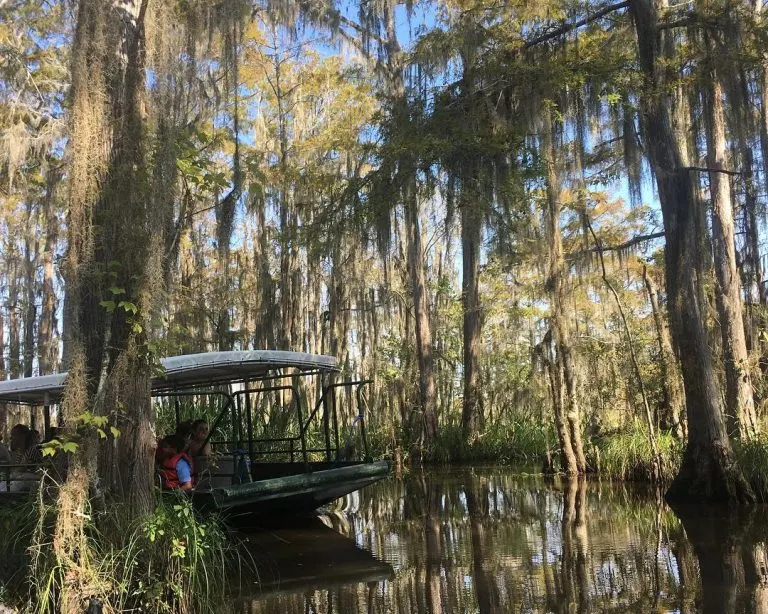 One of the best things to do just outside of New Orleans with Teens is to take a swamp tour. The local culture and natural beauty of southern Louisiana are on full display. Plus, you get to see alligators in the wild.
There are some tours as close as 25 minutes away in Marrero with deals on Groupon. If this is all you have time for or can afford, it's better than nothing. But having experienced both Louisiana Tour Company and Jean Lafitte Tours here, the area is just not as pretty, nor the wildlife as abundant as other areas I've been to.
Our favorite swamp tour was at Honey Island Swamp by Cajun Encounters. The guides told personal stories about their lives along the bayou as we floated past cypress trees draped in moss. They also have cute anecdotes to share about all the alligators, raccoons, and feral pigs we encountered on our tour.
Another fun choice is an airboat tour with Swamp Adventures in Luling. Speed deep into a cypress swamp with a knowledgeable local guide. On our small boat tour, we fed gators, learned about local plants and animals, and even held an orb spider.
Find more experiences outside the city with our article, The 9 Best Day Trips from New Orleans.
City Park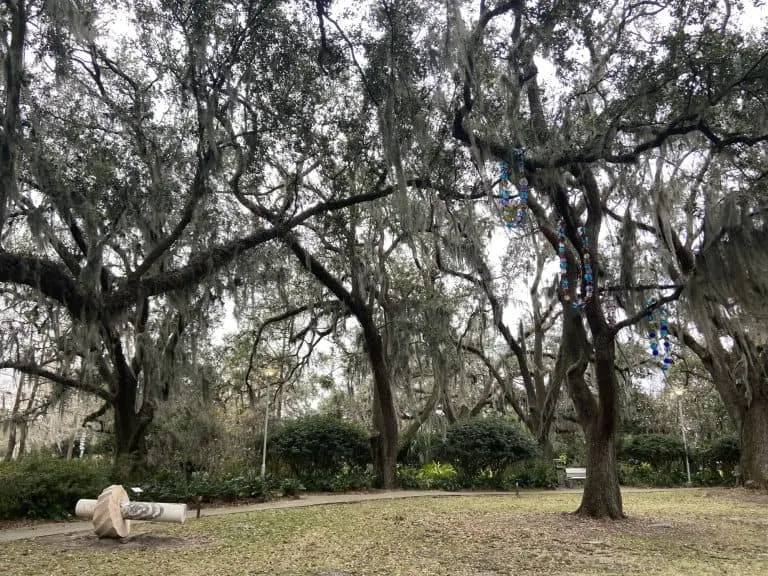 Take the Canal Street streetcar to the end of the line to get out of the city and into nature. At City Park, teens can relax under sprawling oak trees, dripping with Spanish moss. Or rent a bike or boat and explore the park's trails and lagoons.
For some friendly competition, head to City Putt mini-golf course, which pays tribute to the area's culture and historic sites. Or check out the 18-hole Disc Golf course. Disc Golf items are available to buy most weekends at a trailer by hole 1.
The New Orleans Botanical Garden is another great attraction in City Park for teens. Experience a tropical rainforest with live animals, a train garden, and 2,000 varieties of plants. And be sure to wander through the free Sydney and Walda Besthoff Sculpture Garden to see magnificent artwork in a picturesque outdoor setting.
Riverfront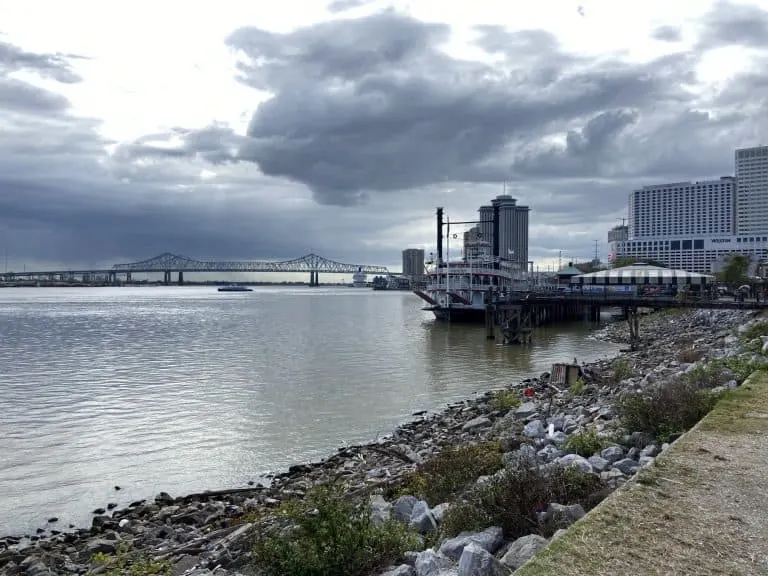 When the weather's nice, there's no finer place to be than strolling along the Mississippi River along the New Orleans Riverfront. This mile-long stretch offers cool breezes, picturesque views, elegant sculptures, and open spaces.
Take a walk through Crescent Park while observing the shipping traffic. Woldenberg Park is the perfect place for a picnic lunch. Or just hang out in Spanish Plaza by the mosaic-ringed fountain and watch the ferry travel across the river to Algiers.
At the west end of the riverfront, you'll find the Riverwalk Outlets. Pop in for some discount shopping or a quick bite. The food court has lots of affordable options and a beautiful view of the river.
Best New Orleans Restaurants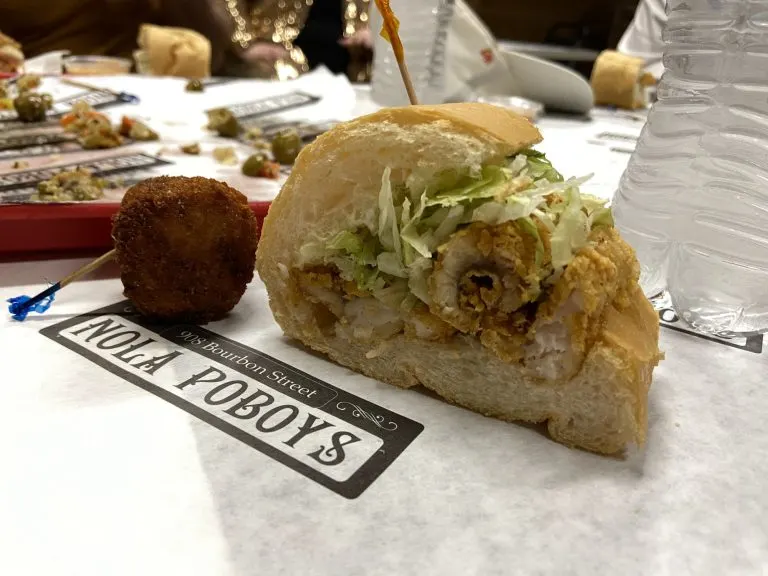 Our favorite thing to do in New Orleans with Teens is eat. A lot of times, we plan our day around what we want to eat. There are just so many delicious local dishes and fabulous restaurants.
To start your day, you can't go wrong with Cafe Du Monde. Sweet, fluffy, beignets and cafe au lait or hot chocolate at a great price. Or if you want to get some decadent biscuits and gravy and a morning cocktail for mom, stop by Ruby Slipper Cafe.
New Orleans has some special sandwiches. Split a giant muffuletta at Central Grocery Co. And the po-boys at NOLA Poboys are some of the best in the city. While there, try the mouth-watering, gravy-dripping debris fries.
You've got to try cajun and creole dishes like gumbo, jambalaya, red beans & rice, and crawfish etouffee while in the city. Some of the places we've found tasty dishes are New Orleans Creole Cookery, Jacques-Imo's Cafe, The Gumbo Shop, and Oceana Grill.
Did you know Bananas Foster was created in New Orleans? Go to Brennan's to eat this treat in the place it was invented. Or for a cheaper treat, just grab a sno-ball from the stand in the French Market.
For more restaurant recommendations check out our article 16 Best Family Friendly Restaurants in New Orleans.
New Orleans French Market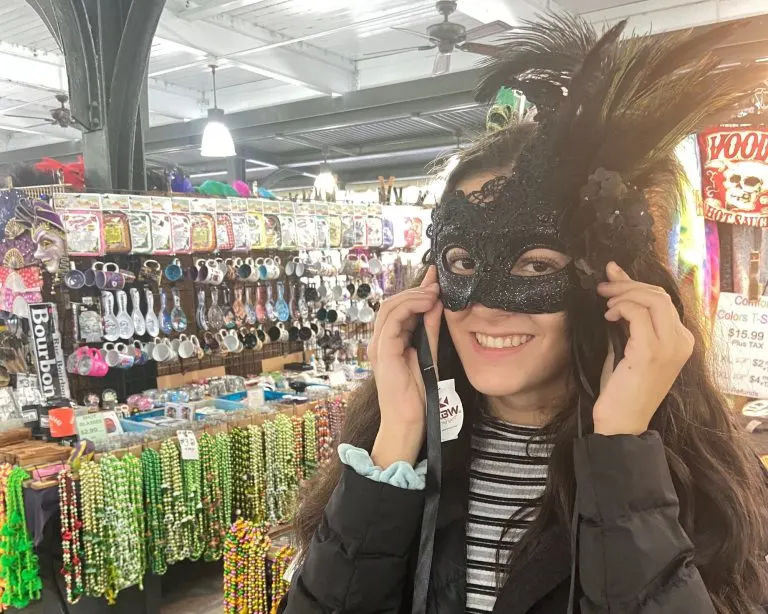 The historic French Market has been one of the best places to go shopping or grab a bite to eat since 1791. Explore through five blocks of restaurants and shops, starting at Cafe Du Monde at Jackson Square and ending at the flea market at the end of Esplanade Avenue. Along the way, you'll find handmade crafts, live music, unique artwork, and New Orleans souvenirs.
Throughout the market are stands and restaurants selling iconic local dishes. Stop by Loretta's Authentic Pralines for praline stuffed beignets, J's Seafood Dock for fresh oysters, and The Crepe Cart for sweet or savory crepes.