Snow tubing parks, snow tubing hills, snow tubing mountains – they're all terrific places to get your thrill on with the family in winter. There are lots of great places to go snow tubing in NJ, as well as several spots in neighboring states that are just a short drive away.
The New Jersey area has a variety of options when it comes to tubing runs, some free of charge and some quite affordable, at ski resorts and hills throughout the region. Tubing is a wonderful winter activity that's sure to deliver seasonal fun for all, from the top of the hill to the bottom.
Participating in this sport requires no special equipment, and options abound for single tube as well as double tube experiences. Here are some terrific options to consider in the NJ and NY area when you're looking for some slip-sliding enjoyment. Updated for 2023!
The Best Places to go Snow Tubing in NJ
Campgaw Mountain in Bergen County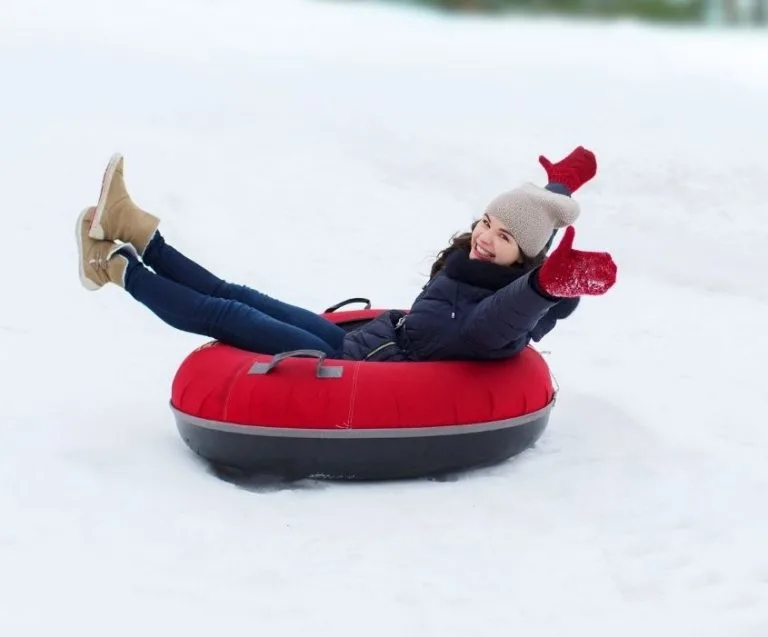 Bergen County NJ's Campgaw Mountain Ski Area delivers on seasonal snow tubing. All ages are welcome to grab a tube, hop on the surface lift to the summit and whiz down the mountain. There is a lift available to take you and your tube back up the hill.
The best part? You can choose the experience that best suits your crowd. Shorter runs are best for the smaller kiddos, and higher runs exist for those looking for a little more adventure and speed.
Tickets are good for two hour sessions, and there's a one hour tubing session option offered on select holidays. Tickets go on sale six days prior to the day you would like to attend, and advance ticket purchases are highly recommended. Check the mountain's website for daily hours.
Minimum Height/Age: 42 inches.
Pricing: $31 Monday through Thursday, $33 Friday, $36 on weekends and holidays for two-hour sessions. $24 for the occasional one-hour session.
Explore more of the state! Here are our favorite things to do in New Jersey with kids.
Mountain Creek Snowtubing Park in Vernon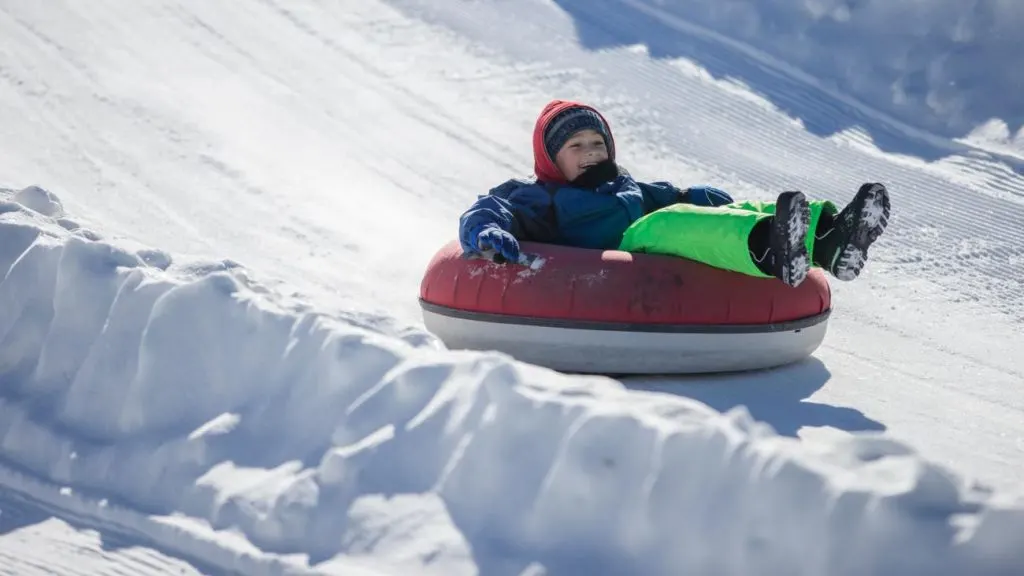 Riders on the hill at Mountain Creek Resort can enjoy fun and laughter with no experience or equipment necessary. Mountain Creek boasts the longest snow tubing run in NJ. Take your tube up the Magic Carpet lift and sail back down with the wind in your face.
They do not allow riders to share their tubes here, but you can link up your snow tubes and ride down together. Tickets for two-hour sessions must be purchase in advance and times are available Thursday evening through Sunday evening only. The hill is open 4-8pm on Thursday and 10am-8pm over the weekend.
If you have a season pass for skiing or snow boarding at this resort, you can redeem your tubing visit on every Thursday & Friday night except holiday weeks.
Riders over age five and over 42 inches tall are able to participate, with only one rider per tube. Tickets must be purchased in advance and times are available Thursday evening through Sunday evening only.
Minimum Height/Age: Riders must be at least five years old and 42 inches tall.
Pricing: $30

Thompson Park in Jamesburg
No need to head to a snow mountain to tube or sled with the family. Sometimes the local park will do. Thompson Park in Jamesburg, New Jersey, is a 675-acre public park that's perfect for just such an activity.
You will need to bring your own equipment, but there are no tickets necessary and it's free to participate. Head to Grove 4 Picnic Area for the best experience and stay for as long as you want. Just know that tubing is at your own risk here, and helmets are recommended.
Minimum Height/Age: None
Pricing: FREE!
Fort Mott State Park in Pennsville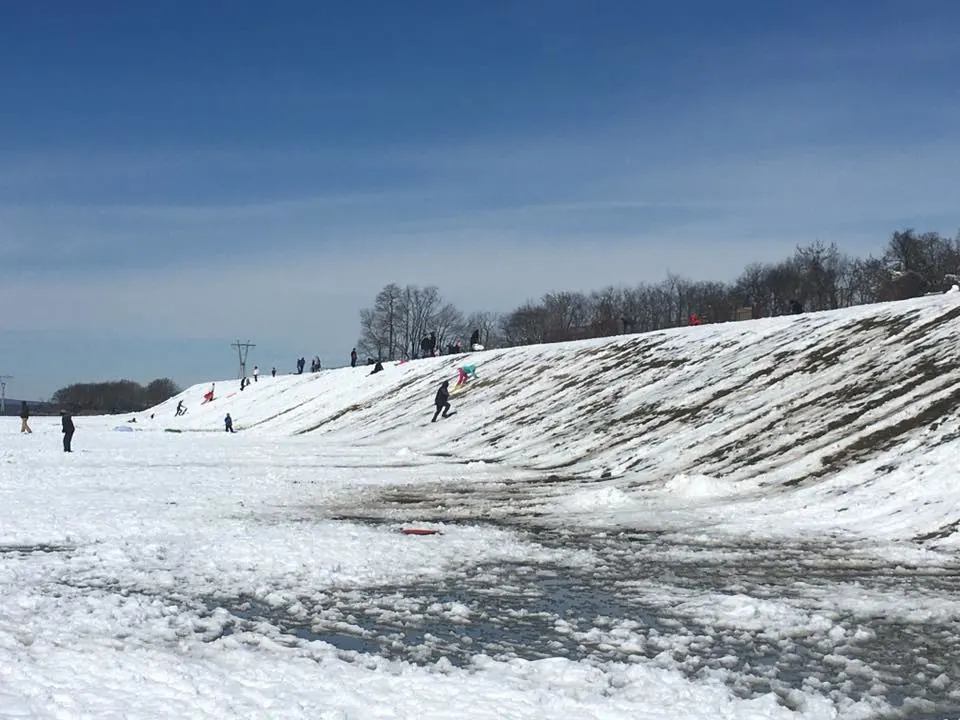 For free public snow tubing in Southern New Jersey, make the trip to Fort Mott State Park. In snowy conditions, this 124-acre region is perfect for sledding or tubing.
There are also trails for snowshoeing if that's your jam, too. Numerous hills set the stage for smaller children to scoot down little inclines or bigger kids and adults to careen down larger hills with abandon.
Remember to provide your own equipment, tube during park hours (sunrise to sunset), and most of all, have fun. Snow tubing or sledding are terrific ways to get in some outdoor activity time with the family.
Minimum Height/Age: None
Pricing: FREE!

Veterans Park in Hamilton Township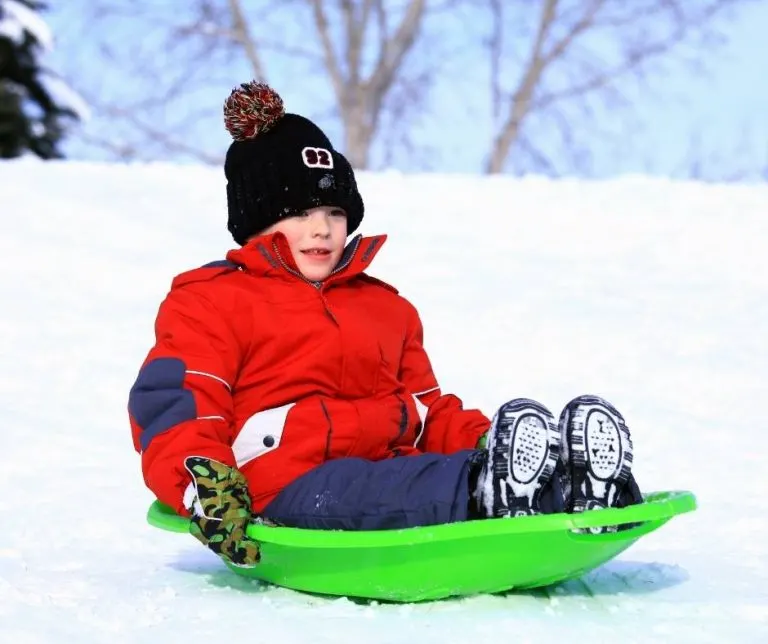 Local folks know this area to be terrific for sledding and snow tubing in Central New Jersey. Grab your tube and the kids and head over to Veterans Park.
The hill is quite spacious, so its a great place to be able to spread out and share the experience while not being right on top of others. The township here puts up ropes so it's easier to head back up the incline to try again.
Sledding and tubing are the perfect winter outdoor activity because you get the thrills of whizzing down the hill plus the exercise of climbing back up, and no real skill is required.
Minimum Height/Age: None
Pricing: FREE!
Belle Mountain in Lambertville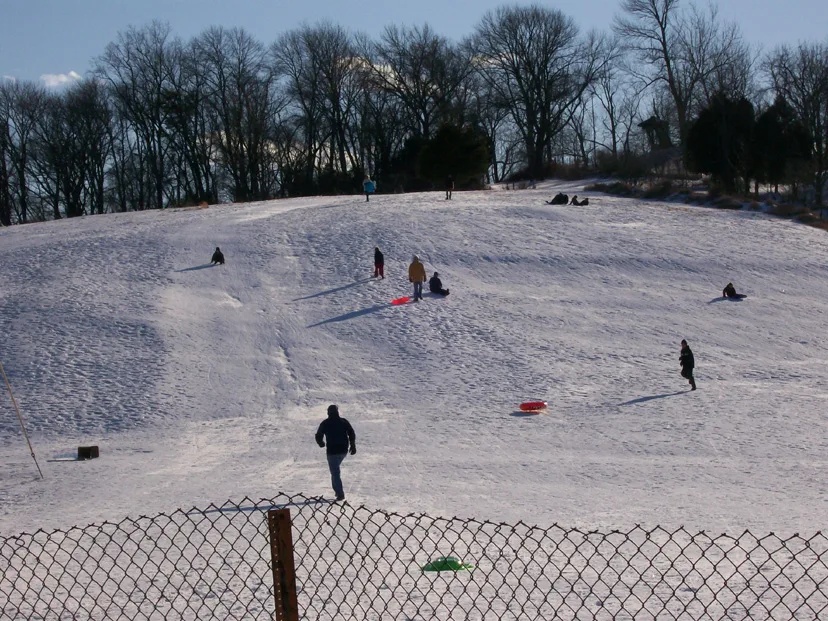 This hidden gem of a snow tubing hill used to be a ski mountain, so you can imagine the possibilities. While the ski hill at Belle Mountain is now officially closed, it is still a popular place to sled and snow tube when there is snow on the ground.
Since this is an abandoned ski resort, be careful to find a run that's free from any equipment, and then slide and spin to your heart's content.
Bring a single tube or a double tube and let the kids feel the fun here. There's no cost to snow tube here, and be sure to pack out any trash you might have accumulated during your day on the hill.
Minimum Height/Age: None
Pricing: FREE!
Snow Tubing Near New Jersey
There are also several great snow tubing spots near New Jersey that are an easy day trip away. Here are a few of our favorites. You also won't want to miss our guide to the best snow tubing in Pennsylvania, which is located right next door!
Windham Mountain in Windham, New York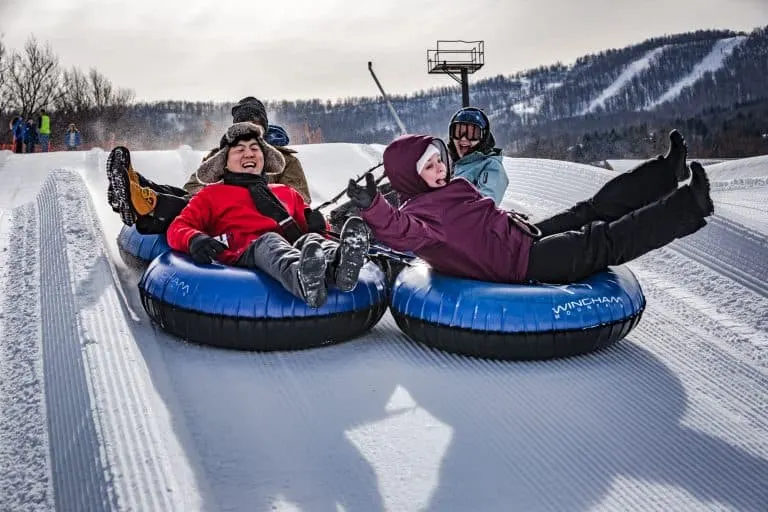 The Catskills are a popular weekend destination for New Jersey families and the Windham Mountain Adventure Park at Windham Mountain Ski Resort offers wonderful opportunities for snow tubing.
Choose one of the six lanes available at this 650-foot, snow-covered slope and enjoy the fun. A conveyor belt allows you to head back up easily for additional runs.
Tubing is open Saturdays and Sundays with additional times on holidays. No height or age limits are required to tube, but every tuber must ride in their own tube.
Advanced purchase is highly recommended. Sessions are two hours long.
Find family-friendly lodging in the Catskills. As a Booking.com affiliate Trekaroo is thrilled to offer our readers the lowest rates.
Minimum Height/Age: None
Pricing: $35 per session
Plattekill Mountain in Roxbury, New York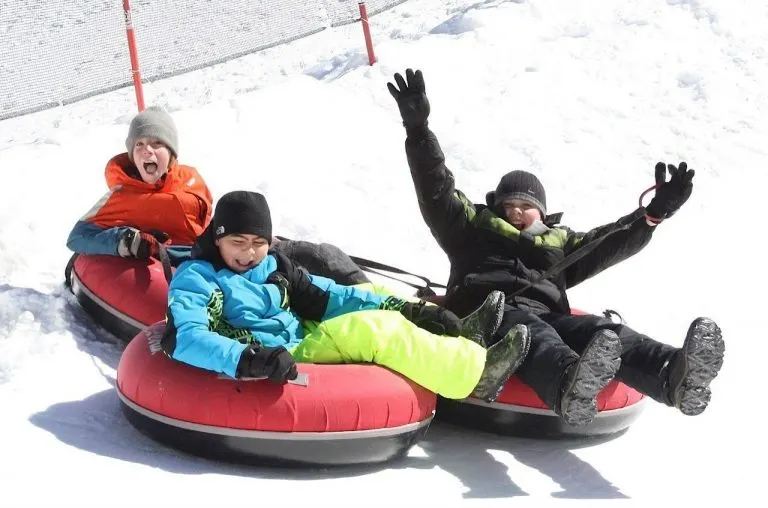 Not all visitors to the mountain want to ski or snowboard, and some may be looking to take a break from the ski and snowboarding runs. If so, snow tubing at Plattekill Mountain Resort is a great option.
Bundle up the kids and try your hand at a hill filled with thrills you won't soon forget. Even grownups will feel like kid when they laugh and spin their way down the hill in a snow tube.
Once down the mountain, a Magic Carpet makes getting back up to the top a breeze. Tubing is open weekends and holidays, is offered in two-hour sessions.. Tickets must be purchased in advance. All tubers must ride in their own tubes.
Minimum Height/Age: Children must be 36 inches tall to participate.
Pricing: $29 per session
Mount Peter in Warwick, New York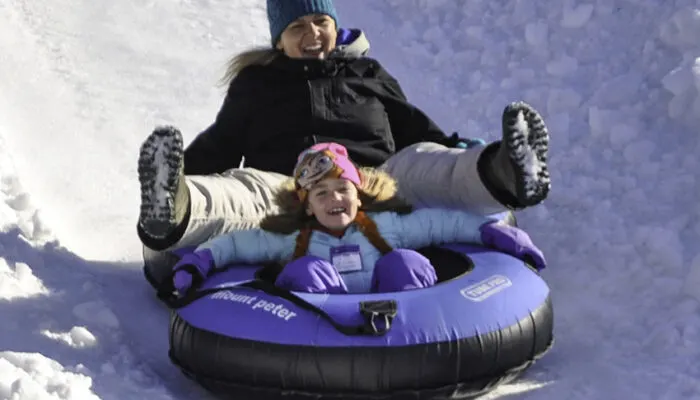 This family mountain resort that is located just beyond the New Jersey/New York border lets you free your inner speed demon (or at east think you did).
Tubers at Mount Peter have the opportunity to careen down 600-foot lanes for fun and excitement. Don't worry, they have a Magic Carpet to haul you back up the hill.
Younger children can enjoy spending time in the Little Tikes Tubing area (adult supervision required), a smaller, kid-sized hill especially for kids under 36 inches.
Snow tubing sessions are limited to 1.5 hours, and reservations are encouraged.
Minimum Height/Age: 42 inches for a single tube. 36 inches for a tandem tube.
Pricing: Adults are $35 and kids on the Little Tikes tubing hill are $25.
Holiday Mountain Ski & Fun Park in Monticello, New York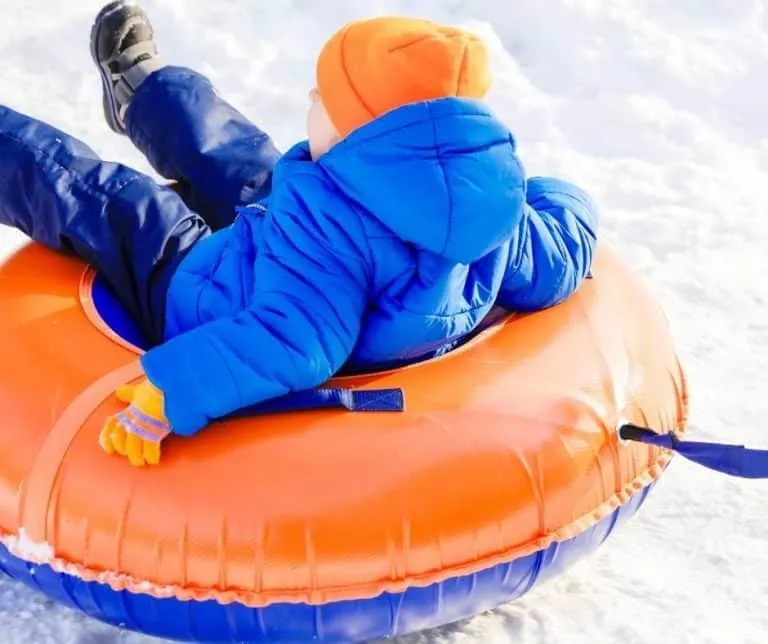 Another option not far from Milford, New Jersey is Holiday Mountain. Who wouldn't want to have fun at a place named for it?
Holiday Mountain brings winter fun to you in many ways, including snow tubing. Sessions here are available Thursdays through Sundays and some holidays.
Tickets sell out quickly, so riders are required to reserve in advance by calling 845-796-3161 to check times and book your session.
Trekaroo Tip: Here is a coupon for buy-one-get-one-half-off snow tubing at Holiday Mountain!
Minimum Height/Age: Tubers must be 44 inches tall
Pricing: $20 per session

Find Snow Tubing Near You!