Carlsbad is a coastal San Diego County town known for LEGOLAND, gorgeous beaches, and great activities for families. But where are the best beaches in Carlsbad?
As a San Diego County local, I am so happy to share the inside scoop. This list provides details on the best beaches for water sports like boogie boarding, surfing, and body surfing. I also share all the inside info you need to make your trip to the beach enjoyable including where to find a restroom, easy beach access, picnic spots, and parking lots.
8 Best Beaches in Carlsbad
1. Carlsbad State Beach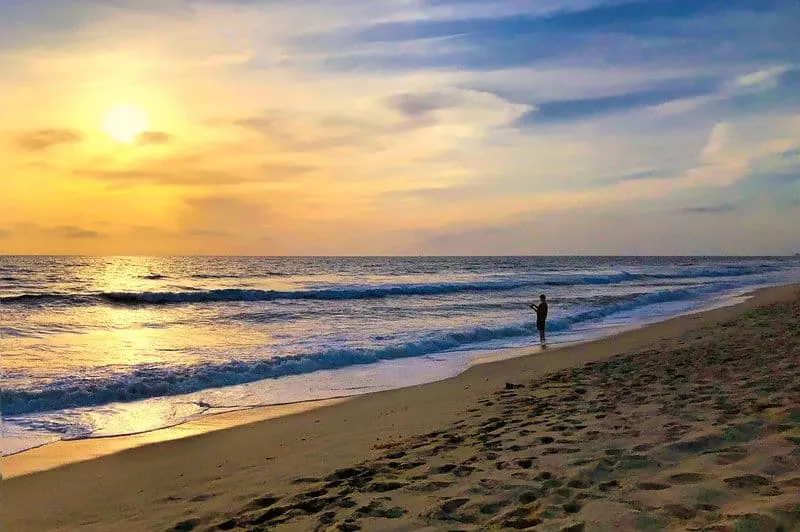 Carlsbad State Beach is a very long stretch of beach in Carlsbad. The city often brings up new sand just before summer to keep the beach clean and soft to walk on.
This beach offers great surfing, body surfing, and boogie boarding. Long walks up and down Carlsbad are ideal here thanks to the wide sidewalks and well lit path making this one of the best beaches in Carlsbad.
Amenities: Carlsbad State Beach offers several parking lots, street access, lifeguard towers, and great places to enjoy the water. There are several staircases enter the beach from the surrounding neighborhoods.
Recommended Nearby Hotel: Treat your kids like the knights and royalty they wish they were at the Legoland Castle Hotel. It is a great place to stay for families because the fun castle theme is throughout the hotel! Take a look at our Legoland Tips to make the most of your visit!
2. Tamarack Surf Beach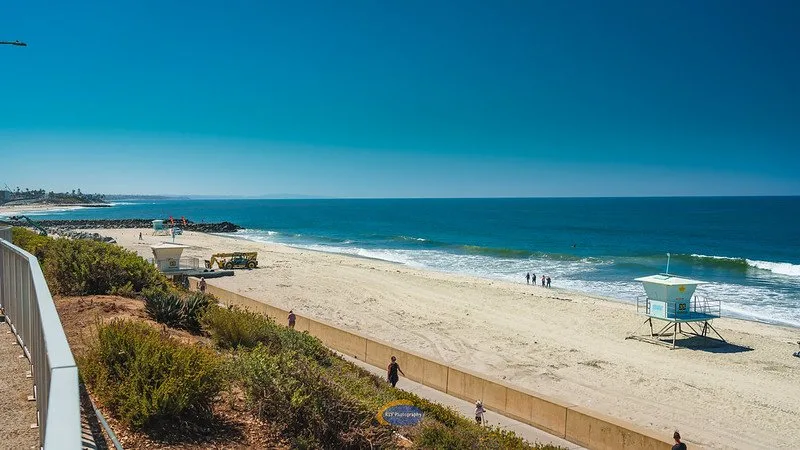 Tamarack Surf Beach is closely located to Carlsbad Village – the heart of the Carlsbad community. This is definitely one of the best beaches in Carlsbad to visit with some nearby takeout or just to stroll along after your day in the village.
Tamarack is also a very popular surfing location. The beach is surrounded by a bluff, you can access the beach through the parking lot or through a few different sets of stairs from the street level.
Amenities: There is a small public restroom near the public pay lot. Additional parking is available on the side streets and in Carlsbad Village. Check out the Daily News Café, the cinnamon rolls are not to be missed!!
Recommended Nearby Hotel: The Tamarack Beach Hotel is just across Pacific Coast Highway (aka: PCH) from the beach. Many rooms have excellent views from their private balconies. The hotel is also within walking distance of great restaurants and shops.
3. Robert Frazee State Beach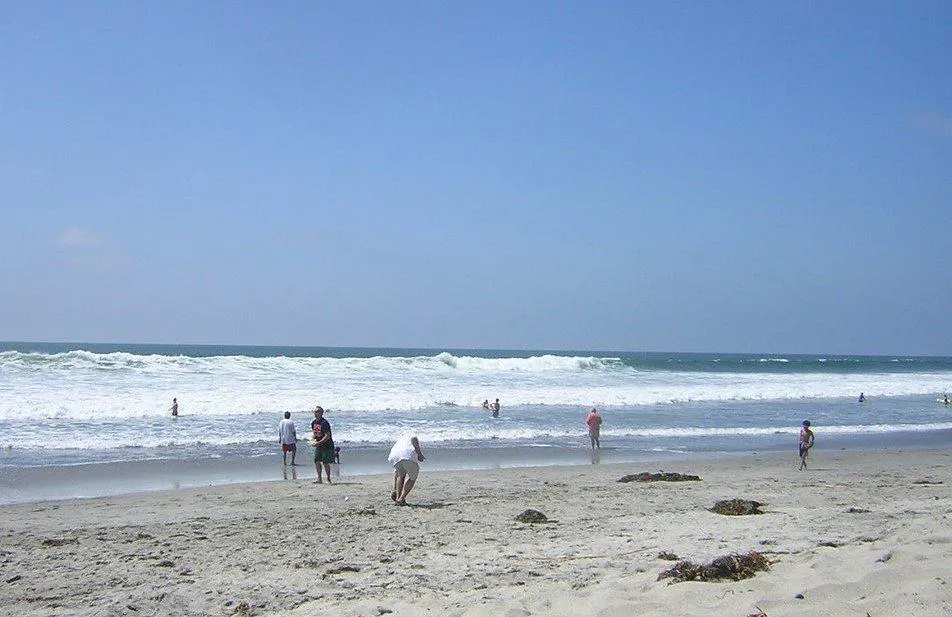 Robert Frazee State Beach is also located near the heart of Carlsbad Village. This is the ideal location for sea gazing and long walks.
It is a great place to stop and enjoy the view and fresh breeze of the Pacific Ocean. The many benches along the paved sidewalk welcome visitors for a picture perfect sunset view!
Amenities: Access to the lower beach is though Pine Street. Parking is located on Ocean Street. There are public restrooms at the adjoining beaches but not directly on this stretch of sand.
Recommended Nearby Hotel: West Inn and Suites is nearby and offers both excellent lodging and delicious food! It is directly between Legoland and the beach, near Interstate 5.
4. South Carlsbad State Beach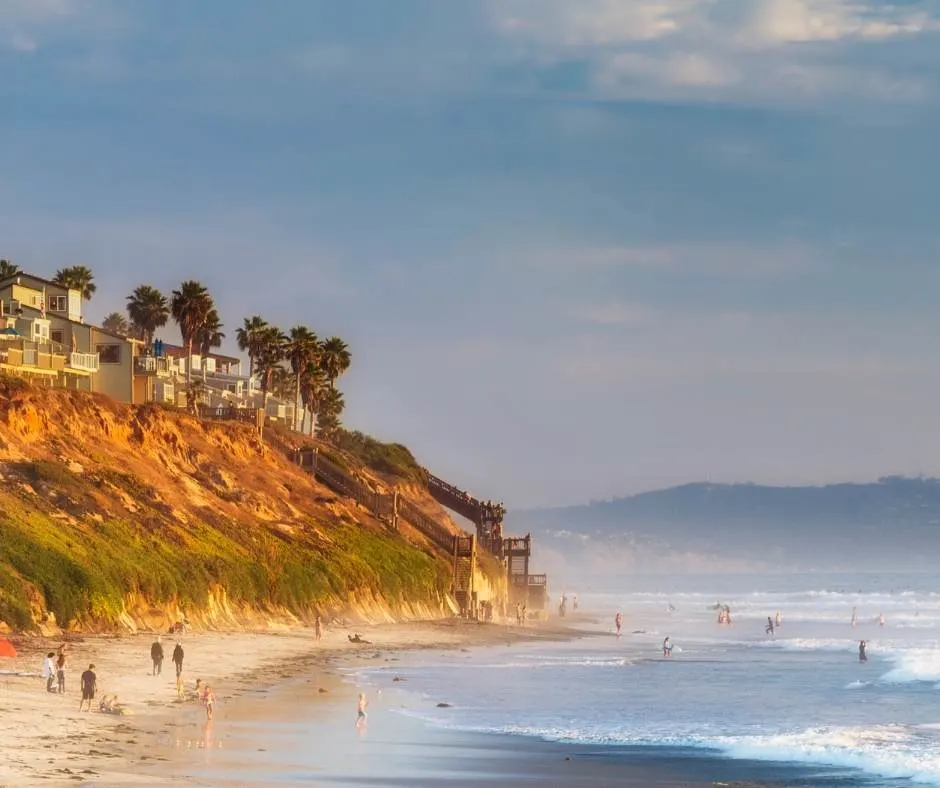 South Carlsbad State Beach, often referred to North Ponto Beach, is also a great beach for a quick splash in the Pacific Ocean!
You can often find families here boogie boarding and spending time together at the end of the day. This beach is also popular with campers who head to the beach to enjoy a bonfire and the sound of the relaxing waves.
Amenities: Parking is available near the public restrooms. A campground is available by reservation. If you are traveling with an RV, this a great place to book your stay. Be sure to book far in advance as this is a very popular location.
Recommended Nearby Hotel: Cape Rey Carlsbad offers families great amenities such as a beach entry pool, beach cruisers, picnic beach kits, and transportation.
5. Carlsbad Lagoon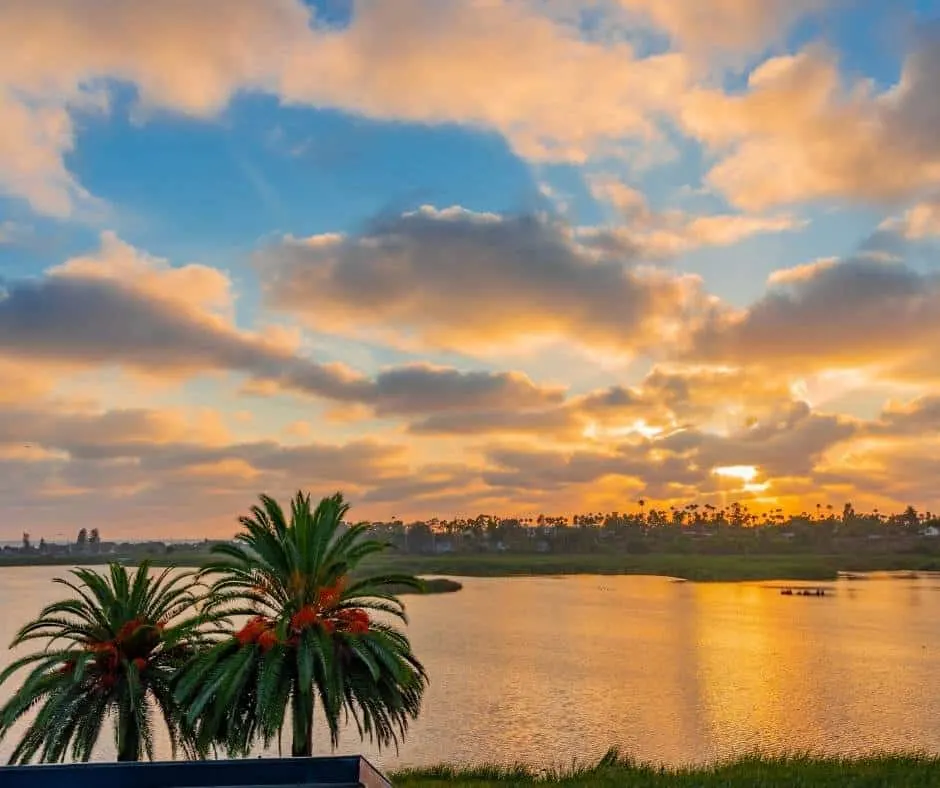 The beach at Carlsbad Lagoon is a great place to spend the day on the water. There is a rental shop here that has everything from paddle boards to jet skies.
The lagoon is clearly divided into sections for different water activities to keep everyone safe. The sheer number of water activities landed this lagoon on my list of best beaches in Carlsbad.
This is an excellent place for beginners to paddle-boarding and kayaking because the water in the lagoon is calm. Little ones will love the aqua cycles and swan peddle boats! There is also a sandy beach to play on.
Amenities: There is a small parking area above the lagoon. One public restroom is available and some picnic areas. The rental stand is excellent.
Recommended Nearby Hotels: The Omni La Costa Resort and Spa will delight the entire family! Located just east of the freeway this property offers waterslides, luxurious spas, and great onsite dining.
6. South Ponto Beach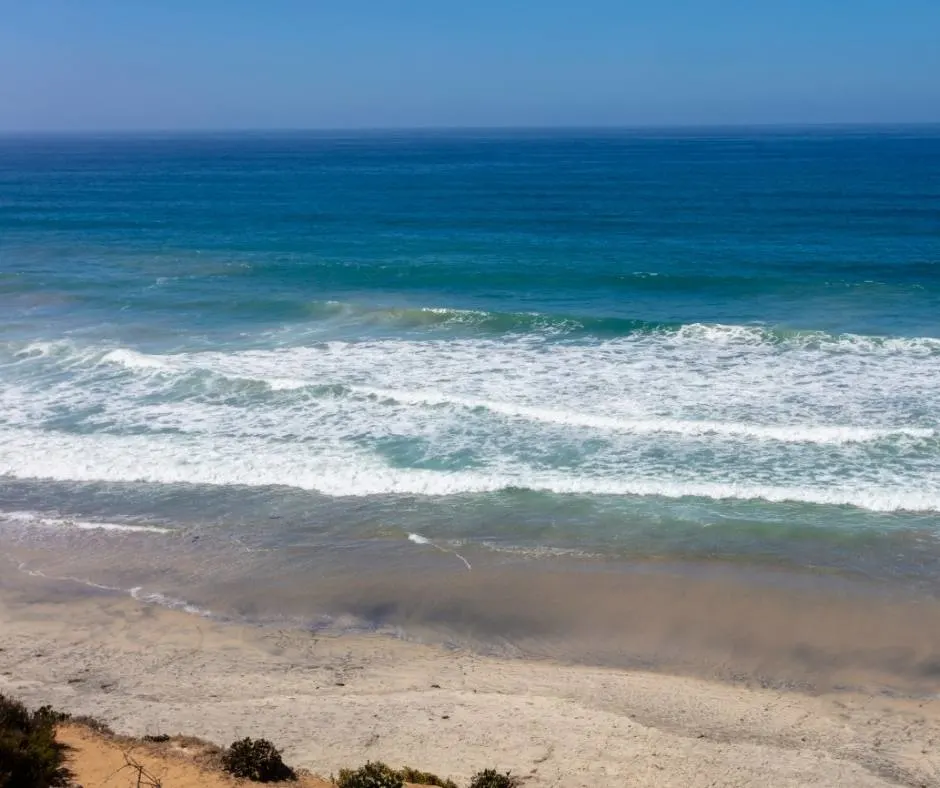 Carlsbad's South Ponto Beach is one of the last beaches before Encinitas and is best known for its wide beach and great sand activities.
Many families will love the space available for volleyball, sand castle building, and sun bathing! Waves here are great for surfing, bodyboarding, and boogie boarding.
Amenities: There is a public restroom and paid parking lot available. Free parking is sometimes available along the Pacific Coast Highway. The beach offers volleyball poles but nets are not provided, so be sure to bring your own. Life guard towers are open during the summer.
Recommended Nearby Hotels: The Park Hyatt Aviara is a gorgeous property that your family will love. The luxurious amenities, gourmet food, and excellent location make it a great family vacation destination!
7. Oceanside Beach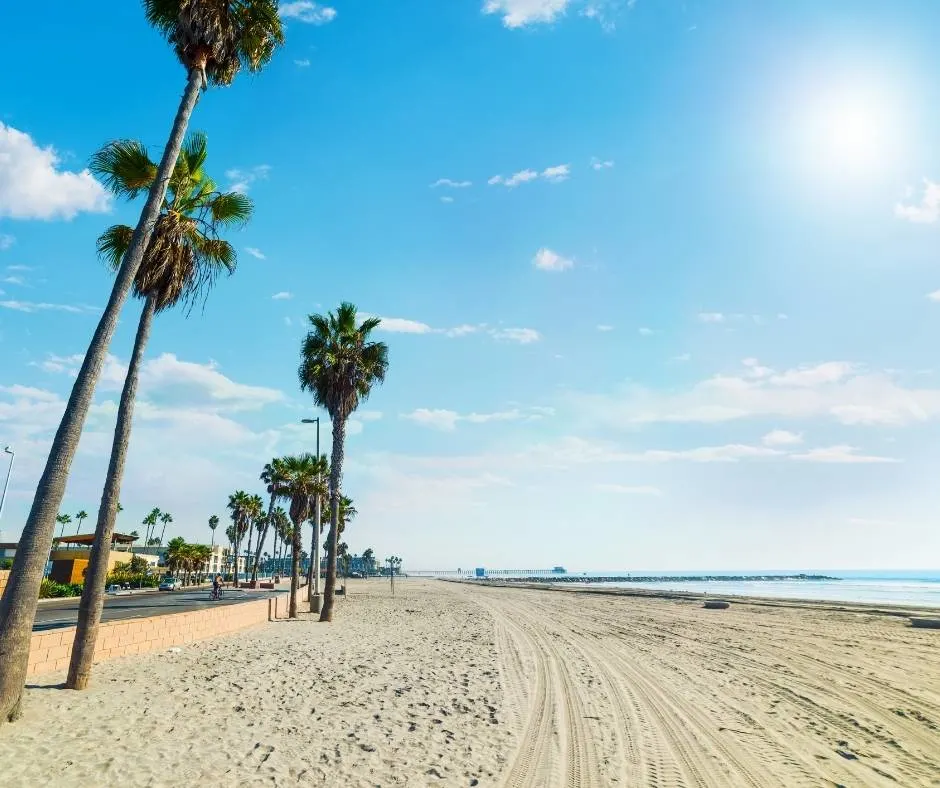 Oceanside Beach is just north of Carlsbad and offers plenty of space for a variety of ocean interests. You will often see surfers, boogie boarders, and scuba divers heading out from this beach.
The beach has a short strand that is great for a walk or bike ride. Smaller children will enjoy the nearby playground and grassy areas. The Oceanside Pier is a great place to walk and see the dolphins and sea lions that frequent the area.
Oceanside Beach is also popular for fans of cinema. The iconic Top Gun house is located just across the street and the film Bring It On was also filmed at the amphitheater here.
Amenities: This beach offers families a newly renovated restroom and shower area. Below the pier, families will find several beachside vendors – including shave ice and a fish and chips stand. You can even rent beach bikes and surreys from the pier.
The beach has several lifeguard stations. There are two small pay lots off of the beach and metered parking on the street level. Within reasonable walking distance there are also two large parking structures.
Recommended Nearby Hotels for Families: Stay within walking distance of the Oceanside Beach by selecting the Wyndham Oceanside at the Pier. Gourmet restaurants and great shopping are all located just steps from this hotel.
8. Swami's Beach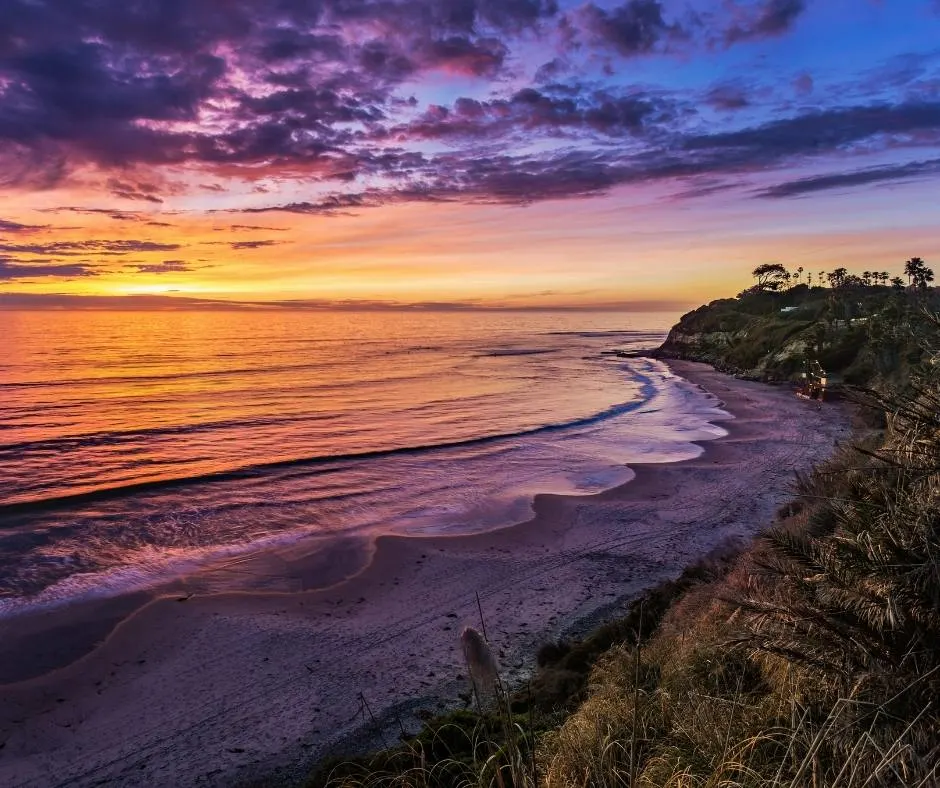 Swami's Beach in Encinitas is a popular beach for surfers but it is also great for families. Encinitas is Carlsbad's neighbor to the south, and if you are looking to hit up some celebrated surf spots this is definitely not one to miss.
Kids will enjoy the small park on the top level. Walk down a wooden stairway from the park to the beach below to enjoy the tide pools.