Orange County has long been a vacation destination for millions each year, but it is also where my family calls home. My kids get to grow up in the land of sunshine, beaches, and Disney, and through the years we have discovered that there are so many fun things to do in Orange County with kids!
As a local, I am so excited to share all the great things to do with kids in Orange County with Trekaroo readers. Whether you are a fellow Orange County resident or planning your own OC vacation, this guide is sure to be a great resource for your family.
In addition to things to do, this guide is filled with great hotel suggestions for families, tips on where to eat, and even day trip ideas.
30 Fun Things to do in Orange County with Kids
1. Have a Beach Day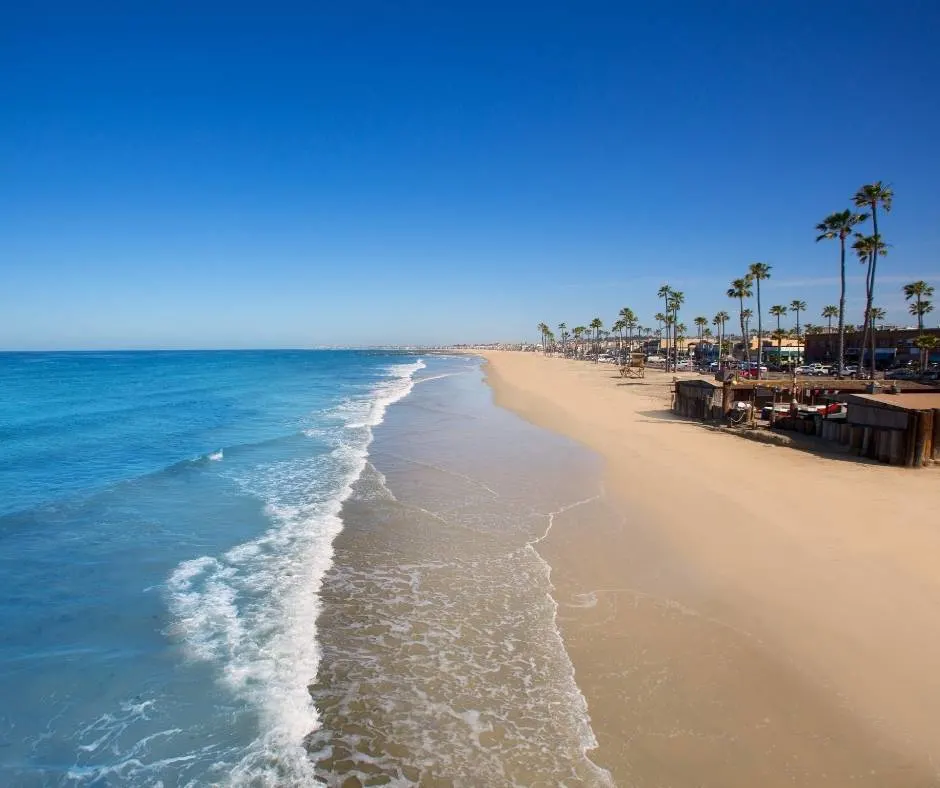 Hands down, one of the best things to do in Orange County with kids is have a day at the beach. Orange County is home to 42 miles of coastline and dozens of great beaches to enjoy.
If you are looking for the classic Southern California beach day, head to Huntington State Beach. This wide stretch of sand is a great place to build sandcastles, play in the water, enjoy a game of beach volleyball, ride bikes on the trail that borders the sand, stroll the pier, and watch surfers hang ten. Newport Beach is also very nice and offers a similar experience.
The sand around San Clemente Pier and T Street Beach is a great place to enjoy the classic SoCal beach experience in the southern portion of Orange County. There is great surfing on the north side of the pier and boogie boarding on the south end. There is also plenty of sand for the kids to play on, and lots of food options within walking distance of your beach umbrella.
If you are looking for an amazing beach for family photos, check out Treasure Island Beach in Laguna Beach. This beach is incredibly scenic and even has a sandstone arch. It sits just below the famed Montage Laguna Beach.
Capture incredible memories of your Orange County family vacation with Flytographer. Flytographer has a network of incredible professional photographers ready to come to you and help your family create the ultimate souvenir of your special trip. Trekaroo is proud to be a Flytographer customer and affiliate.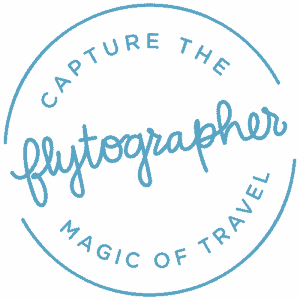 I could go on and on about the great beaches in Orange County, but we have a great article about the best beaches in Southern California that you can read instead.
2. Explore Tide Pools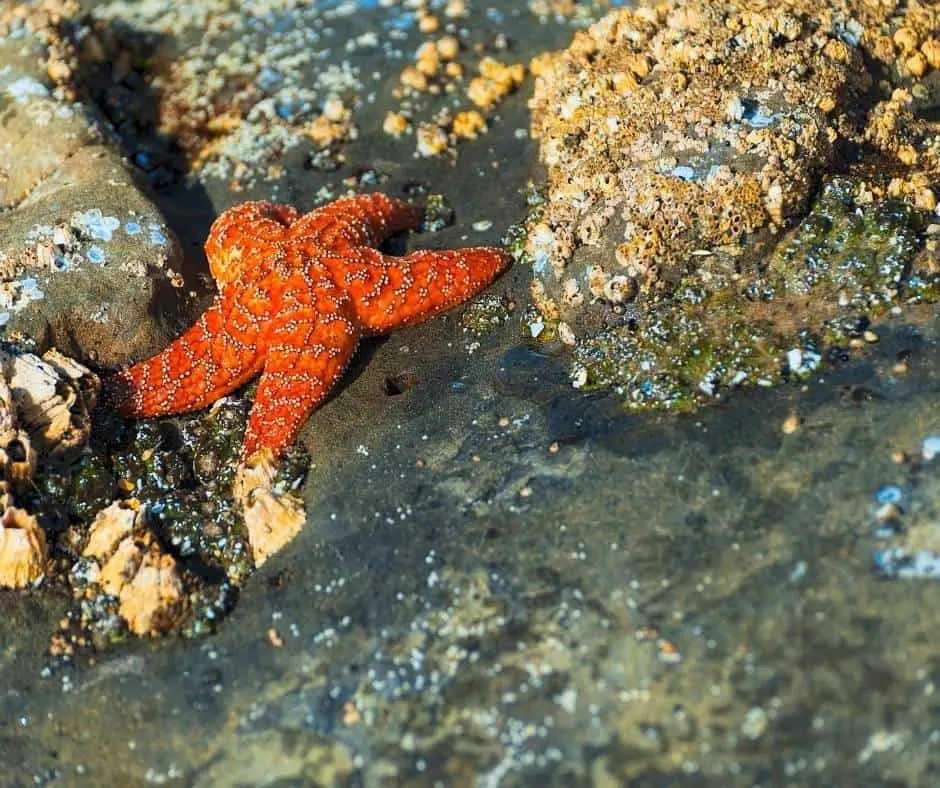 Alright, I lied. I am going to keep going on and on about our Orange County beaches because they are great! One of my families favorite things to do at the beach when the water is too cold for swimming is explore tide pools.
Little Corona Del Mar Beach is my favorite place to go tide pooling in all of Orange County. Large tide pools filled with anemones, urchins, crabs, and star fish line this small stretch of beach tucked away off a residential street in Corona Del Mar.
As your kids walk further down the beach and climb up and over the rocks, they will be delighted to find a sea cave or two.
Main Beach in Laguna Beach sits like a jewel at the end of Laguna Canyon, beckoning families to enjoy a stroll on the boardwalk and swim in the aqua waters.
It has some tide pools at the north end of the beach that are good to explore when the tides are low. There are often docents out with tide pool identification charts to loan visitors. Art galleries and restaurants line the downtown area across the street from the beach.
Crystal Cove is home to tide pools filled with marine life like hermit crabs, seas anemones, sea urchins, and limpets. Docent-led tide pool expeditions make for wonderfully educational family outings.
Crystal Cove State Park is one of my favorite beaches because it is preserved to look just as it did 100 years ago.
Sea lions and dolphins can be seen frolicking because the water here is nearly translucent. Grab an ice cream shake at Ruby's Shake Shack overlooking the historic district of Crystal Cove and discover why this is a favorite beach for Orange County locals.
Headed south? Here are our favorite things to do in San Diego with kids.
3. Learn to Surf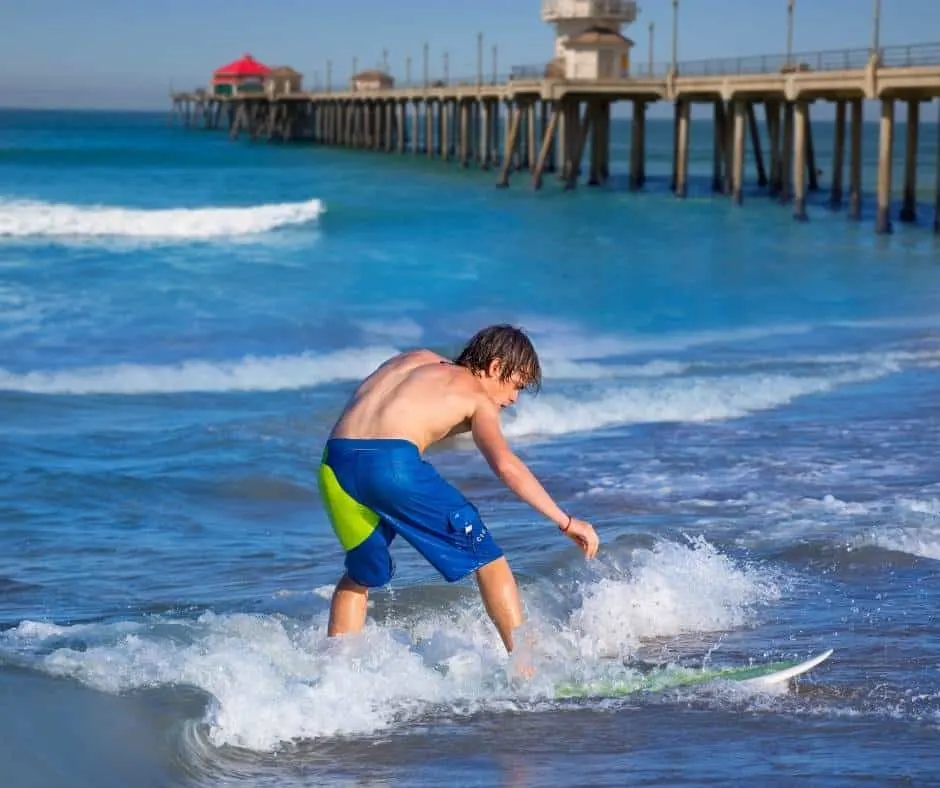 Surfing is a huge part of Orange County culture and kids grow up attending surf camps and Junior Lifeguard programs in the summer. There are quite a few great places to learn how to surf in Orange County and lots of great programs for families.
My favorite beach for kids to learn how to surf is Doheny State Beach because of the long shore break and smaller waves. Girl in the Curl is a great female-led company that teaches kids to surf beginning as young as age five.
My kids have also taken lessons at the beach adjacent to San Clemente Pier, a great place to learn how to surf.
Huntington Beach, aka Surf City, is another popular spot to take surf lessons. There are several outfitters ready to get eager water lovers up on the boards. Wetsuits and boards are provided because the SoCal waters can be a bit chilly depending on the currents.
If you happen to be in Orange County during the end of July or beginning of August, you will definitely want check out the US Open of Surfing which takes place annually in Huntington Beach. It is so fun to check out the pros in action and there are usually BMX and skateboarding events to help round out the fun.
4. Celebrate Art at Pageant of the Masters and Sawdust Art Festival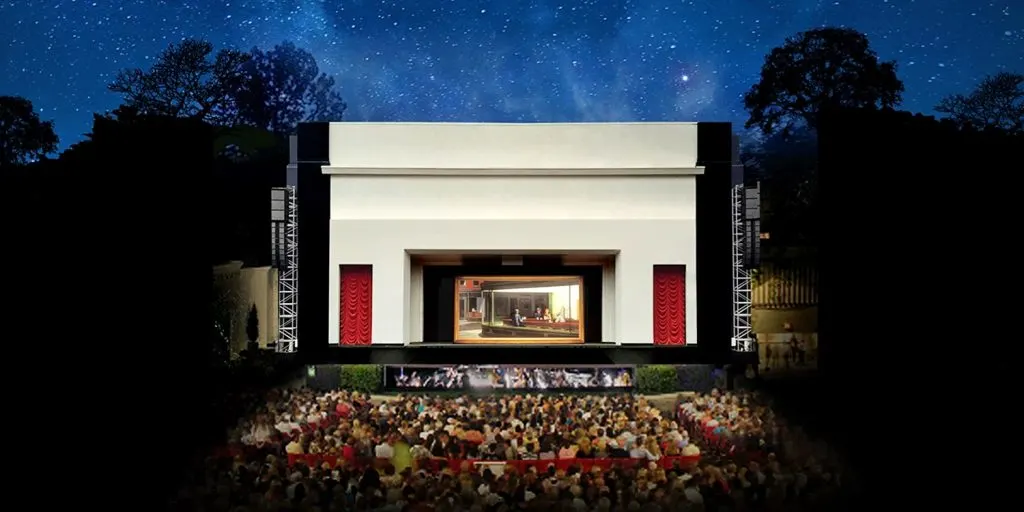 Laguna Beach has long been known as a haven for artists, and galleries with ocean views line the downtown area. Most kids don't have the patience for endless hours of strolling art galleries, but they will love the hands-on fun of the Sawdust Art Festival.
This annual festival takes place most of the summer in Laguna Canyon, and has a sister festival, Winter Fantasy, that takes place during the holiday season.
In addition to great art, jewelry, and assorted trinkets for sale, the festival also has lots of free classes available for everyone ages seven and up. Classes include art forms such as painting, printmaking, and mixed media.
There is also a ceramic center where artists will help kids make their own pottery masterpieces for free. For a small fee they will fire your pot or vase and have it shipped directly to your house when it is done.
Pageant of the Masters is one of those experience that has to be seen to be truly believed. Locals get made up and pose to look exactly like famous painting and statues. It is truly remarkable to see what looks to be characters in a famous oil painting suddenly move to remind you that they are, in fact, real people!
The Pageant of the Masters is held in an outdoor amphitheater and has a professional orchestra and live narration to go along with the intricate sets. Since this amazing experience does require kids to sit quietly in an audience for 90 minutes, it is best suited for kids eight and up.
5. Learn Via Hands-on Science at Discovery Cube OC Science Center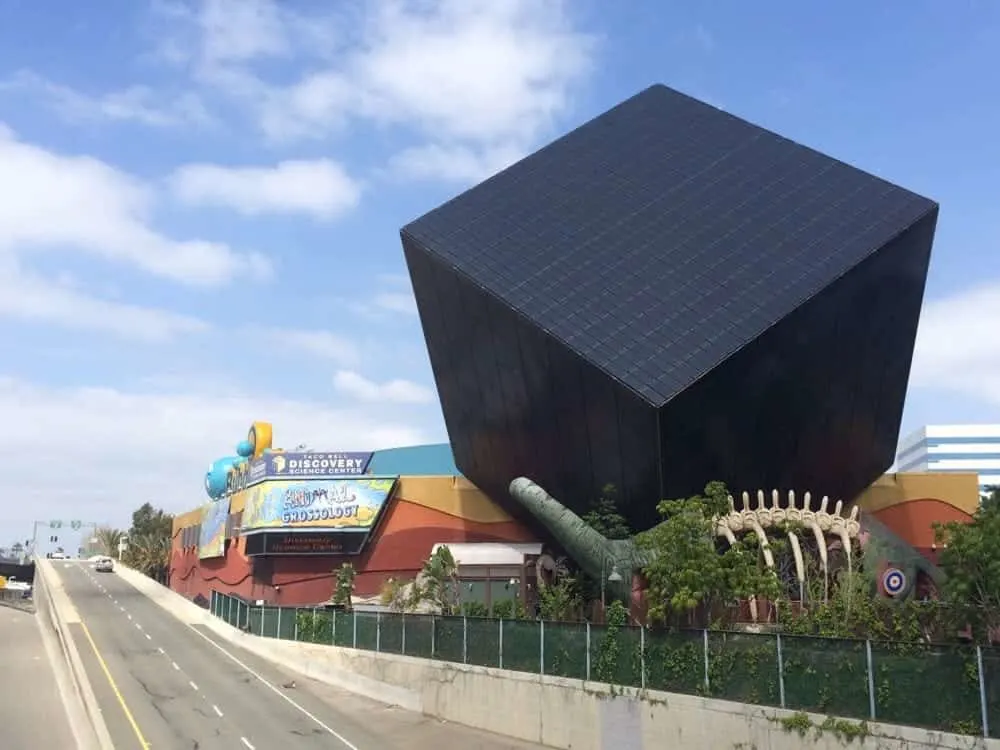 What kid doesn't love a good hands-on science museum? Discovery Cube OC is the region's largest museum for children and is dedicated to helping kids learn through a wide variety interactive exhibits.
Highlights include a virtual helicopter tour of Orange County, a Science of Hockey exhibit, a water lab that kids can't seem to get enough of, and the infamous bed of nails. Be sure to make time to head outside and explore the dinosaur-themed play area as well.
6. Experience Thrills and Food at Knotts Berry Farm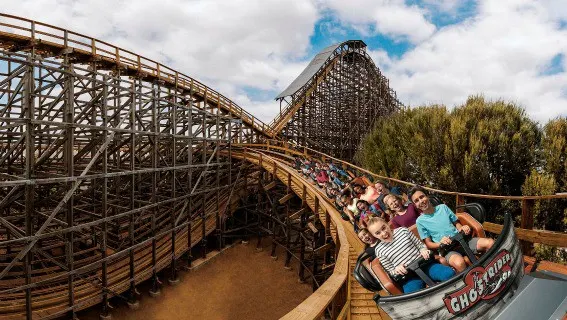 For 100 years, Knotts Berry Farm has been an Orange County mainstay. It began as an actual farm where the Knott family sold their berries, pies, and jams at a roadside stand. Add in some famous fried chicken, a replica ghost town, and a bunch of rides, and suddenly, the Knott family had a theme park!
Today, Knott's Berry Farm is known for its thrilling roller coasters, Camp Snoopy kiddie rides for the little ones, and its annual Boysenberry Festival filled with amazing food. And, of course, there is still that amazing fried chicken.
If you happen to visit during October with teens who loves a good fright, you definitely won't want to miss Knott's Scary Farm which is filled with haunted houses and plenty of opportunities to get the daylight scared out of you!
During the summer months, Knott's Soak City is a great place to cool off on a hot day. This 15-acre waterpark has two dozen waterslides, a lazy river, huge wave pool, and three-story water play structure.
Visiting during the holidays? Check out Knotts Merry Farm! It is one of several great experiences highlighted in our article about the best Christmas events in Orange County.
7. Enjoy a Meal and a Show at Medieval Times and Pirate Adventure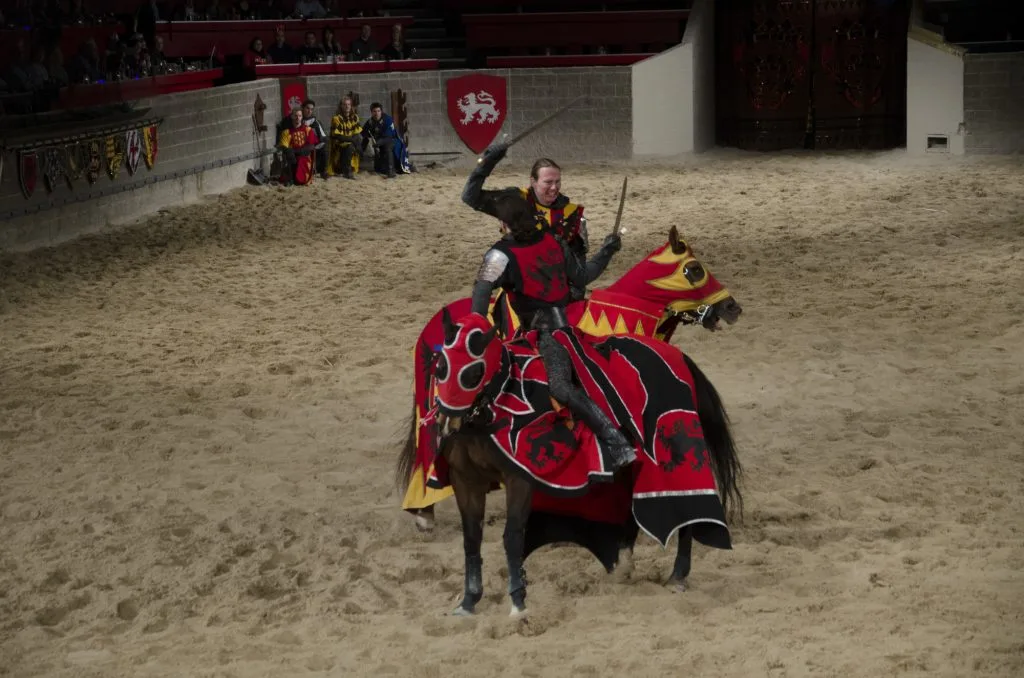 There are two different dinner shows in Buena Park, near Knott's Berry Farm, that are great experiences for families.
Watch knights joust and fight it out on their mighty steeds during the two-hour show at Medieval Times. This dinner show is wildly popular with families and includes a four-course meal. Every kids loves a meal that they can eat with their hands and at Medieval Times, that is encouraged.
If pirates are more your things, check out Pirates Dinner Adventure. The show is set on a pirate ship in the center of a lagoon (seating is around it in the arena). It features stunts and plenty of swashbuckling swordplay along with a princess and a mermaid.
Like Medieval Times, the prices of admission does include a four-course dinner, and there are special diet accommodations available.
8. Kayak the Newport Back Bay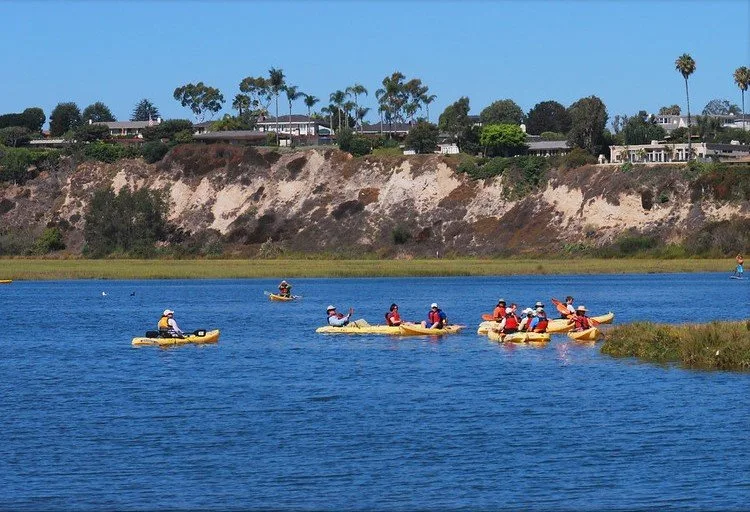 Kids as young as eight can paddle alongside an adult in the Back Bay's saltwater estuary, home to a wide variety of birds and endangered species. Kayaks can be rented from the Newport Aquatic Center. Guided tours led by the Newport Bay Conservancy are available on weekends.
If your kids aren't old enough to kayak, you can still enjoy the beauty of the Back Bay. The Peter & Mary Muth Interpretive Center is free to visit and features nice exhibits where kids of all ages can learn about the estuary, its inhabitants, and its importance to the ecosystem. There is also special programming for toddlers and preschoolers.
After you visit the center, head towards the water and walk a portion of the 11-mile Back Bay Loop trail. It is also a great place to ride a bike.
9. Make a Splash at the Newport Dunes Inflatable Water Park
Newport Dunes Resort is a resort on Upper Newport Bay which hosts RV and cottage stays, but many of the resort's incredible amenities are open for day use as well.
Families can rent duffy boats, kayaks, and even paddle boards that light up so you can explore the bay at night! They also host outdoor movies on the bay all summer long which are popular with locals and visitors alike.
The most popular experience offered at Newport Dunes is the inflatable water park set up on the bay every summer. This inflatable water park is the largest in all of Southern California and has all sorts of water trampolines, slides, and inflatable structures to climb on.
10. Get Dirty at Adventure Playground Huntington Beach or Irvine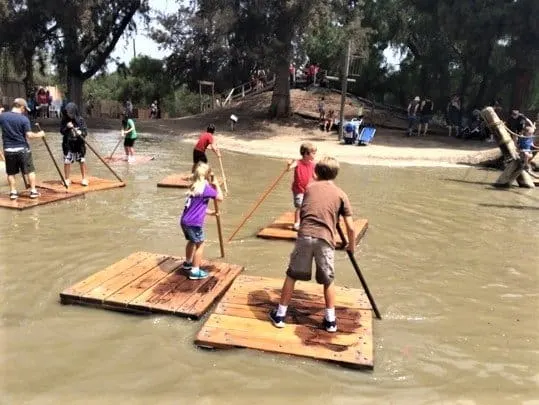 There are regular old playgrounds with swings and slides, and then there is Adventure Playground Huntington Beach. This amazing play space is designed to encourage kids to play hard and get dirty.
There is a fort building area (complete with hammers and real nails), a slide where kids can slide down a wet tarp into a pool of muddy water, a rope bridge, and even rafts that kids can paddle across a shallow pool with sticks.
Tennis shoes are required and a change of clothes is highly recommended. The playground is designed for kids ages 5-12 and only open during the summer months. There is a small fee for entry.
Irvine has its own Adventure Playground as well. This playground is a bit more civilized, but still has plenty of opportunities to get wet and dirty. It is open year round so if Adventure Playground HB is closed, head here instead.
There is a castle play structure with sand toys, concrete slides, a very shallow muddy pond to play in, giant building blocks to construct whatever their imagination dreams up, climbing poles, and even an art space.
These types of Adventure Playgrounds are quite rare in the United States. There are only nine in total and Orange County is proud to host two of them, so if your kids haven't had a chance to enjoy this kinds of unstructured play before, make it a priority.
11. Enjoy Some Old Fashioned Fun on the Balboa Peninsula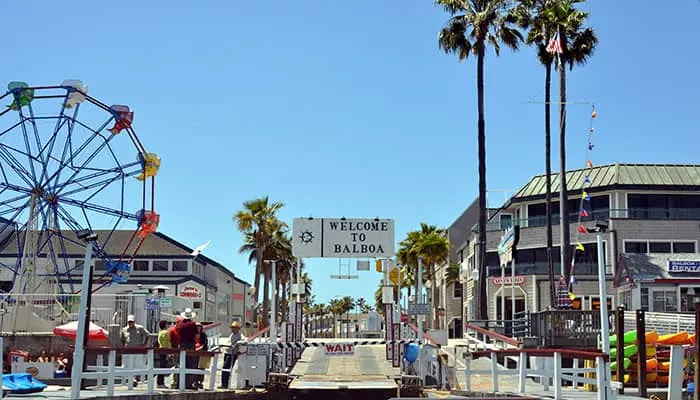 Take the tiny car ferry from Balboa Island to the Balboa Peninsula, home of the Balboa Fun Zone, some great beaches, and the Balboa Pier.
The car ferry is a a thrill unto itself because it is very small and low to the water, so it almost feels like you are driving across the bay yourself! You can also park on Balboa Island and take the ferry as a passenger for just $1.25 for adults or 50 cents for kids 11 and under.
Make sure to grab a frozen banana from one of the stands on Balboa Island or on the Balboa Peninsula. They are a Balboa mainstay and are especially well known after they were featured in Arrested Development.
The Balboa Fun Zone is an old-fashioned amusement area that has been around since the 1930s. There are a few rides, including the popular Ferris Wheel, as well as an arcade.
West of the Fun Zone, families will find a playground on the beach and a great stretch of sand near the Balboa Pier. At the end of the pier is Ruby's, a classic 1940's-themed diner with great burgers and shakes (my favorite is the peanut butter cup shake).
12. Ride the Balloon at the Orange County Great Park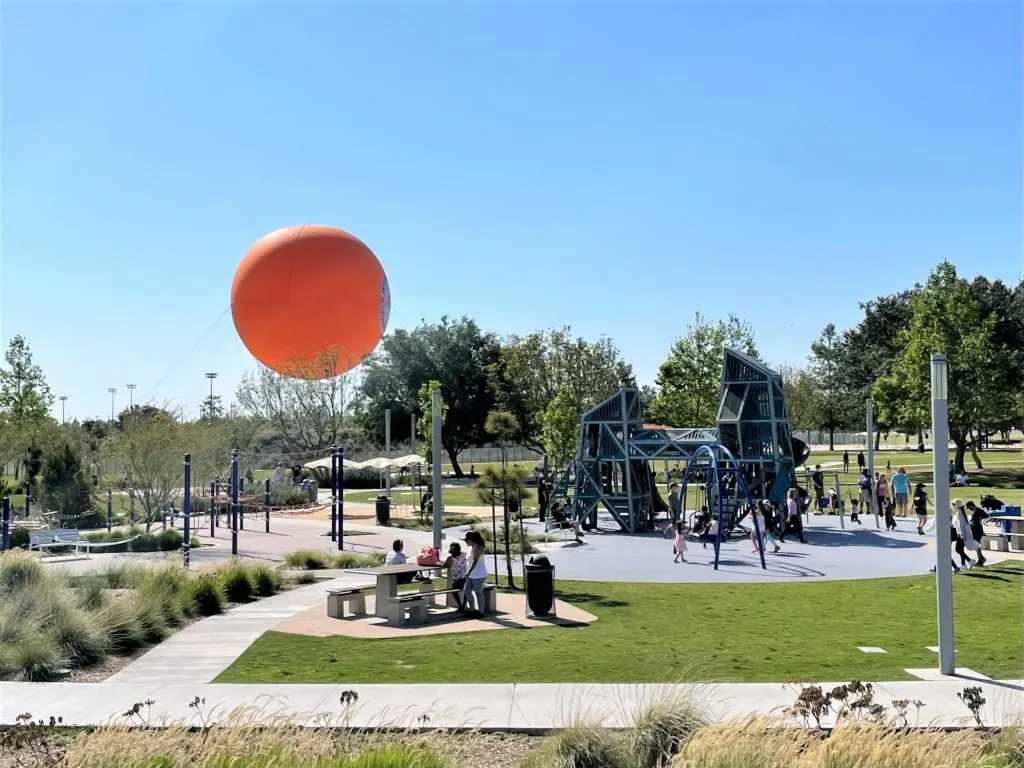 After El Toro Marine Corps Air Station was decommissioned in 1999, a debate immediately began over what to do with the 4,682 acres of prime Irvine real estate. Some wanted an airport, but most wanted green spaces and a wonderful park that would be a highlight of the region.
Ultimately, much of the acreage went to housing (sigh), but 1300 acres were set aside to build the Orange County Great Park.
The most well-known attraction at the park is the Great Park Balloon, a bright orange tethered helium balloon that soars 400 feet above Orange County. The balloon is open to riders of all ages and offers 40-mile views in all directions on a clear day.
Next to the balloon is the Great Park Carousel, a fun ride for little ones at only $3 a ride. Note: the carousel is closed for refurbishments until Fall 2021.
Next to the balloon and carousel is a large playground which has several play structures as well as a zip line. There are also dozens of pristine sports fields that are much nicer than those you and I grew up playing on!
Another great attraction at the OC Great Park is the Food & Farm Lab which has a variety of themed raised-bed gardens, fruit trees, vertical gardening, a worm compost bin, and even chickens. It is a great place to learn about where food comes from and discover how your family can grow food in small spaces.
The Palm Court Arts Complex is home to the Great Park Gallery, Great Park Artist Studios, and Hangar 244. The gallery features rotating exhibitions (the art of Chuck Jones of Looney Tunes fame is scheduled for summer 2021). There is also a walkable timeline that was built on one of the old taxiways of the Air Station that highlights major events of the 1940s.
If you happen to visit the park on a Sunday don't miss the Farmer's Market that runs from 10-2PM and features farm fresh goods, locally crafted items, and food trucks.
13. Go for a Hike
One of my favorite things about living in Orange County is the incredible access to nature that we have. There are so many great trails for families, from wilderness park adventures to hikes with amazing coastal views.
Here are a few of my family's favorite places to hike in Orange County:
Laguna Coast Wilderness Park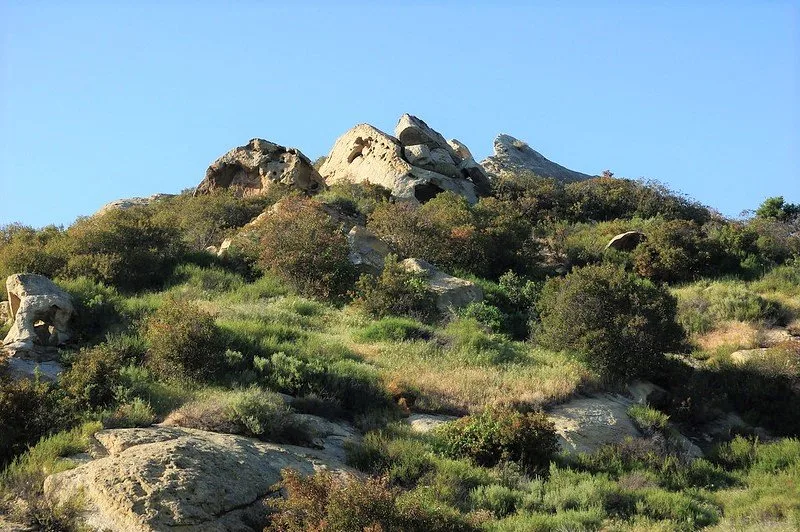 This park is located in Laguna Canyon and has a number of great trails. Our favorite hike is a 3.5-mile loop combining Willow Canyon and Laurel Canyon.
Crystal Cove State Park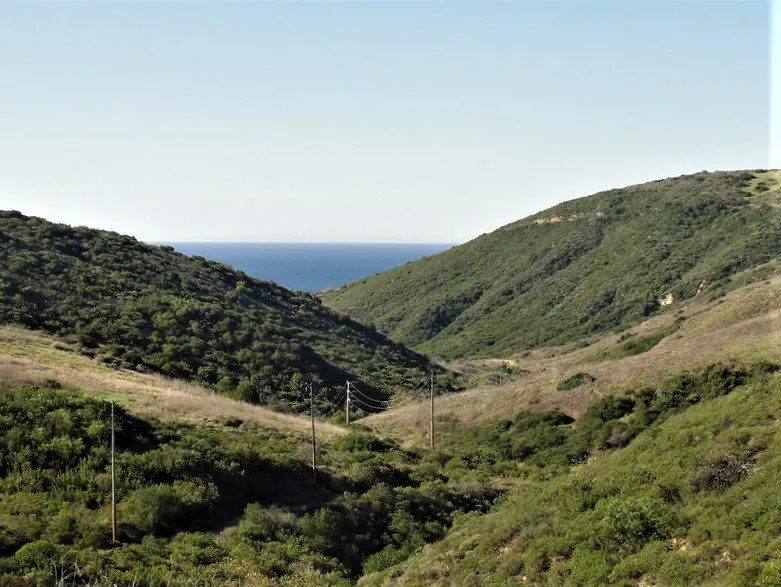 This park has great beaches and trails, so work up a sweat in the hills above the ocean before descending into Moro Canyon and then cooling off in the water. We like the 2-mile No Dogs Trail/Moro Canyon loop.
San Clemente Beach Trail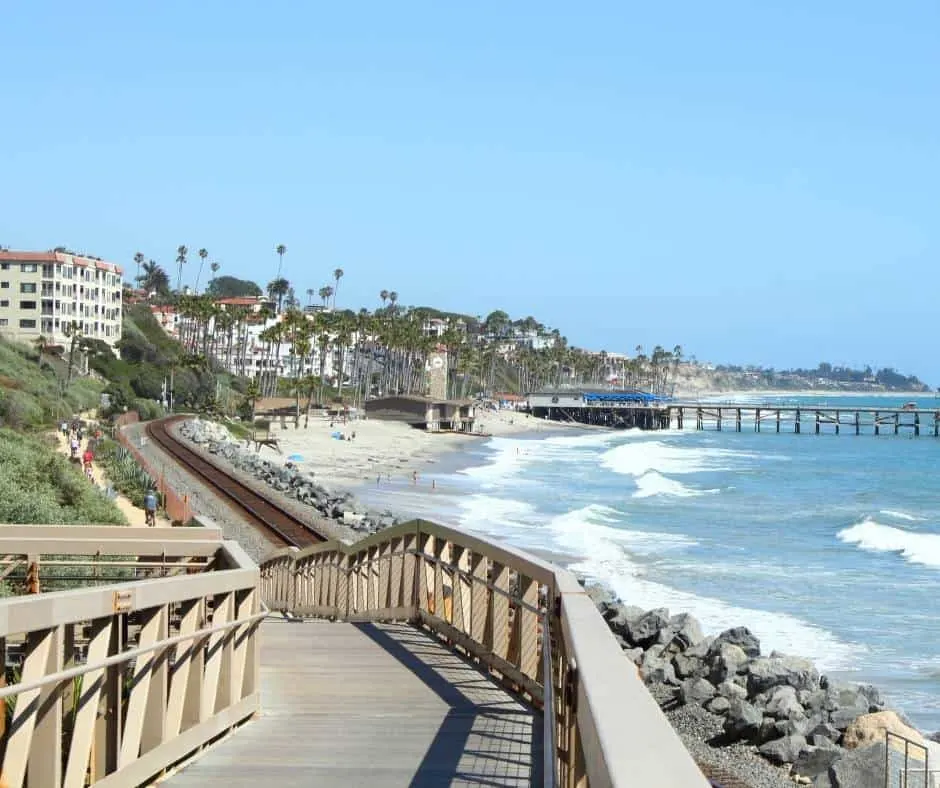 The San Clemente Beach Trail is a great dog-friendly walk along several beaches in San Clemente. There is very little elevation change and a couple different food stands along the way to stop for snacks.
The trail begins at the North Beach Metrolink Station and ends at San Clemente State Beach and is 2.3 miles in length. Pick it up at either of those locations or near the San Clemente Pier and walk for as long as you like.
Whiting Ranch Wilderness Park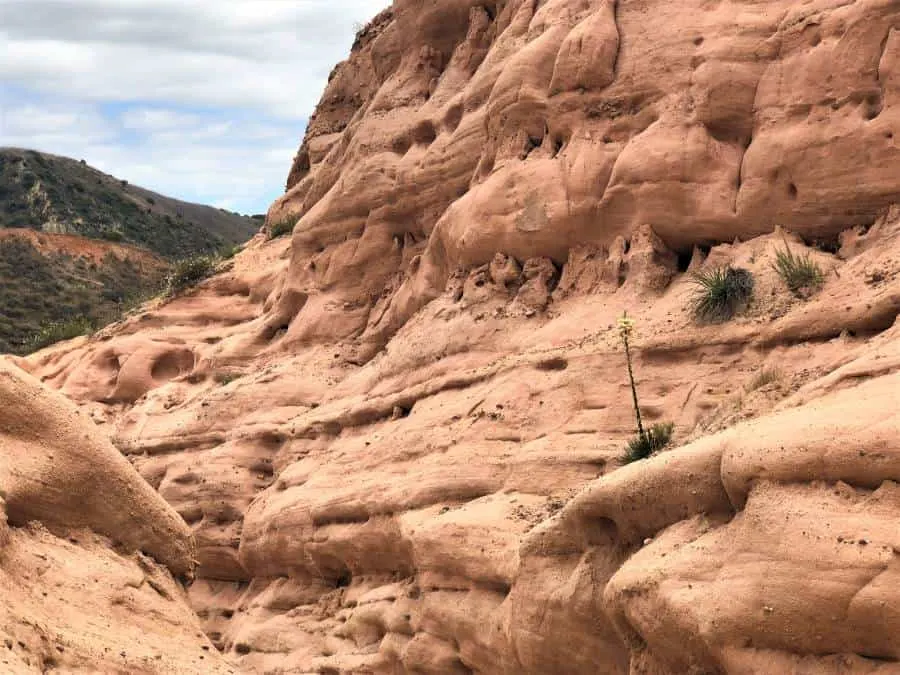 Whiting Ranch Wilderness Park is located in Lake Forest, and is a popular spot for hiking and mountain biking. Take the Borrego Canyon Trail to the Red Rock Canyon Trail which ends at a canyon that looks like it is in Moab instead of OC.
Bolsa Chica Ecological Reserve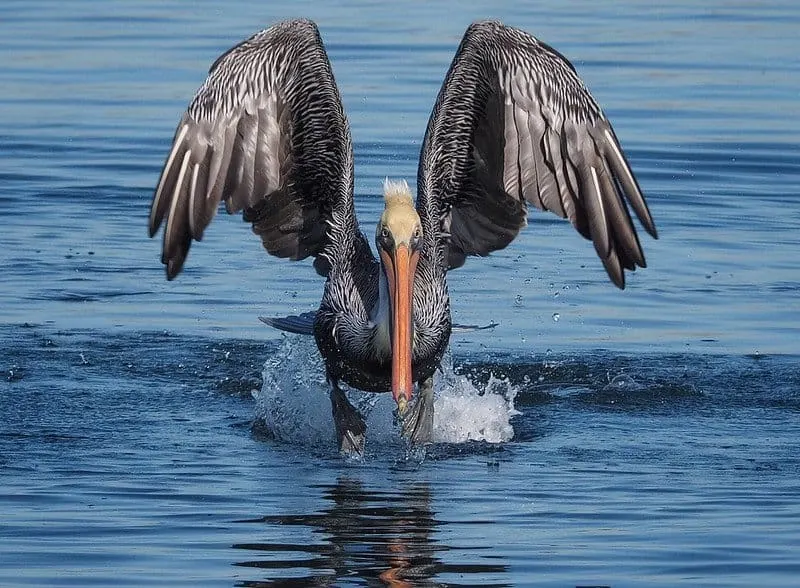 Bolsa Chica Ecological Reserve is a protected wetland in Huntington Beach. It is a great place to observe wildlife. The Slough Trail is a 1.5 mile loop with no elevation gain. It starts with a long wooden bridge that provides great observation of the water below. We have seen sharks in the wetlands on more than one occasion!
Aliso and Woods Canyons Wilderness Park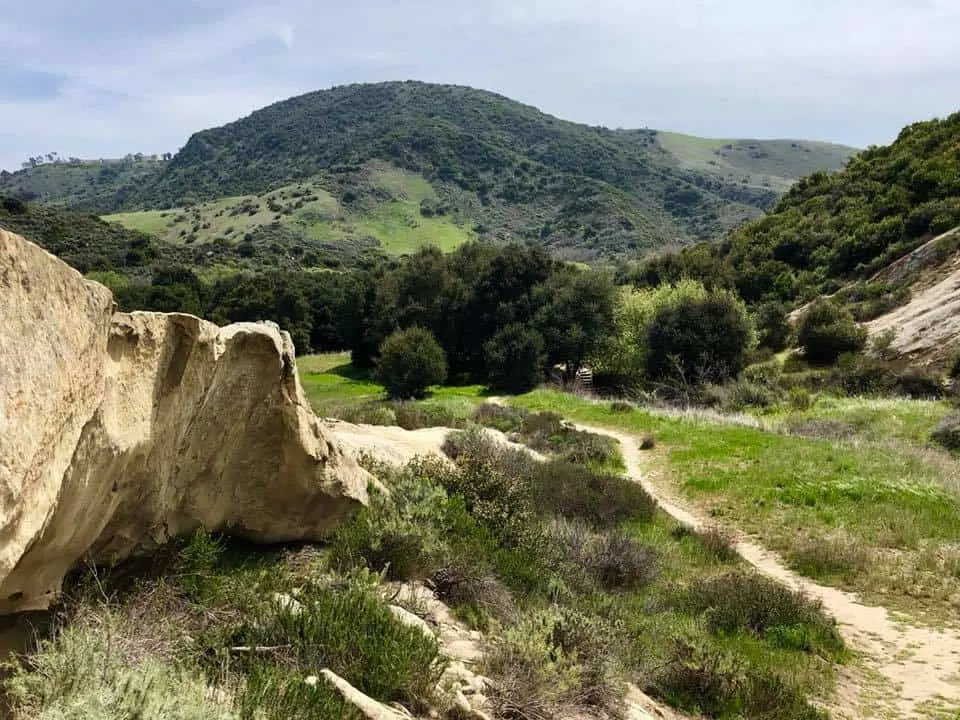 This wilderness park is hidden in between Aliso Viejo and Laguna Beach. Kids especially love taking the trail to Dripping Cave, an old hideout for stagecoach robbers. There are rocks with nooks and crannies to explore and climb along the way.
14. Take the Train to Mission San Juan Capistrano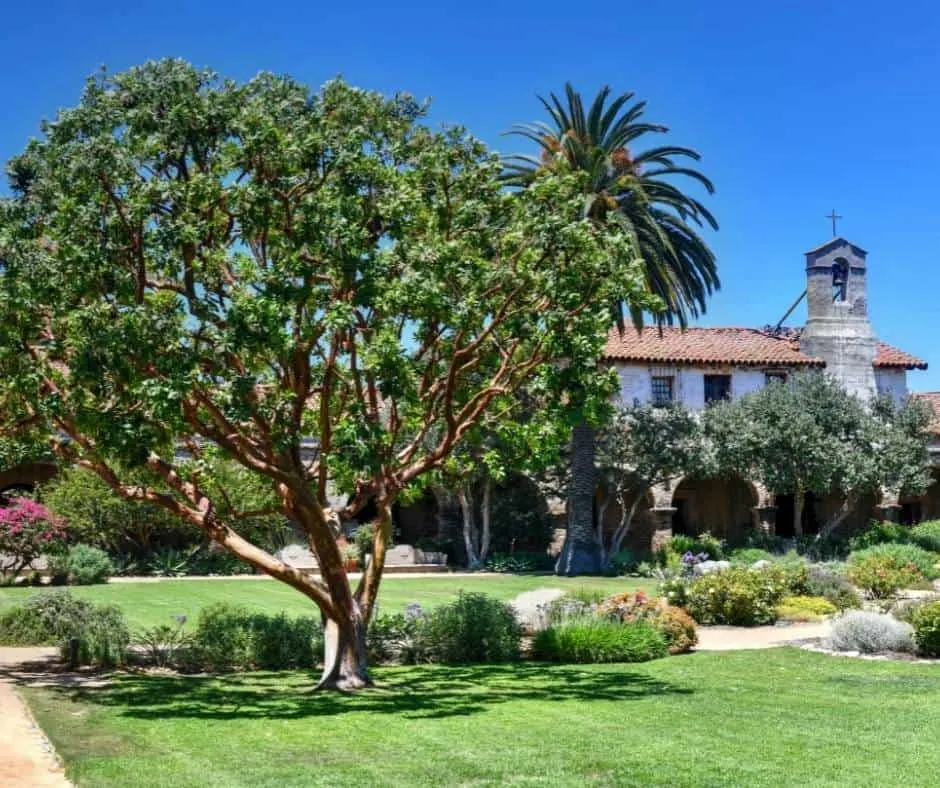 Kids love trains and parents love any opportunity to bring history to life. Make everyone happy by riding the Metrolink train to Mission San Juan Capistrano from various stops around Orange County, including Anaheim and Irvine.
The train station is located right across the street from the Mission in a charming neighborhood filled with restaurants and fun little tourist shops.
Mission San Juan Capistrano is known as the "Jewel of the Missions" and dates back to 1776 which is ancient history by California standards. There is an audio tour especially designed for kids and there are usually hands-on demonstrations (like make your own adobe brick) on weekends and holidays.
15. Watch the Angels and Ducks Play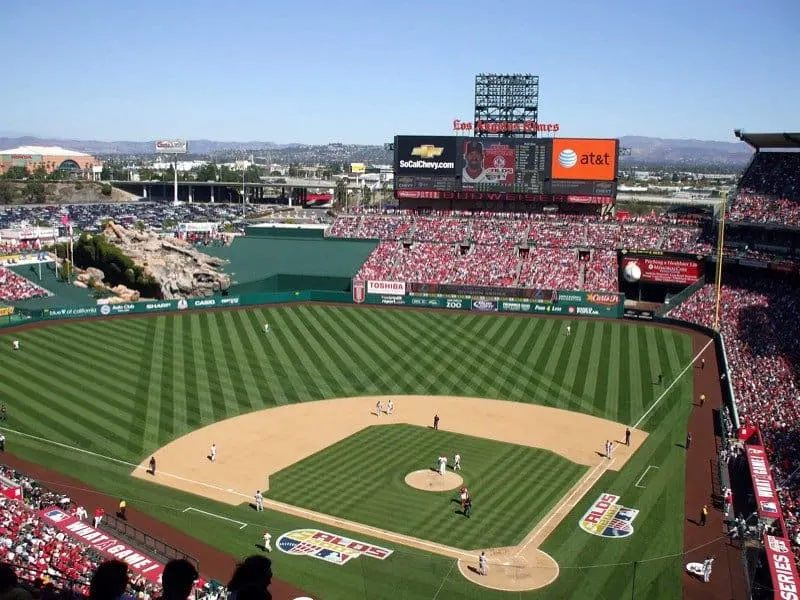 Orange County is home to two professional sports teams with big followings- The Los Angeles Angels of Anaheim and the Anaheim Ducks.
While many of us OC locals find it incredibly annoying that they renamed the Angels to associate them with LA, they are still very much an Orange County team with a dedicated following.
Angels games are incredibly family friendly with themed days, fireworks during summer evenings, and opportunities for kids to run the bases on select dates.
The Anaheim Ducks are equally beloved, and watching their games is a great family outing. There is usually a fan zone set up in front of the ice rink before games where kids can play games. There really isn't a bad seat at the Honda Center where the Ducks play, and the constant action keeps everyone entertained.
Looking for an adult-only evening? Check out these things for couples to do in Anaheim.
16. Go Whale Watching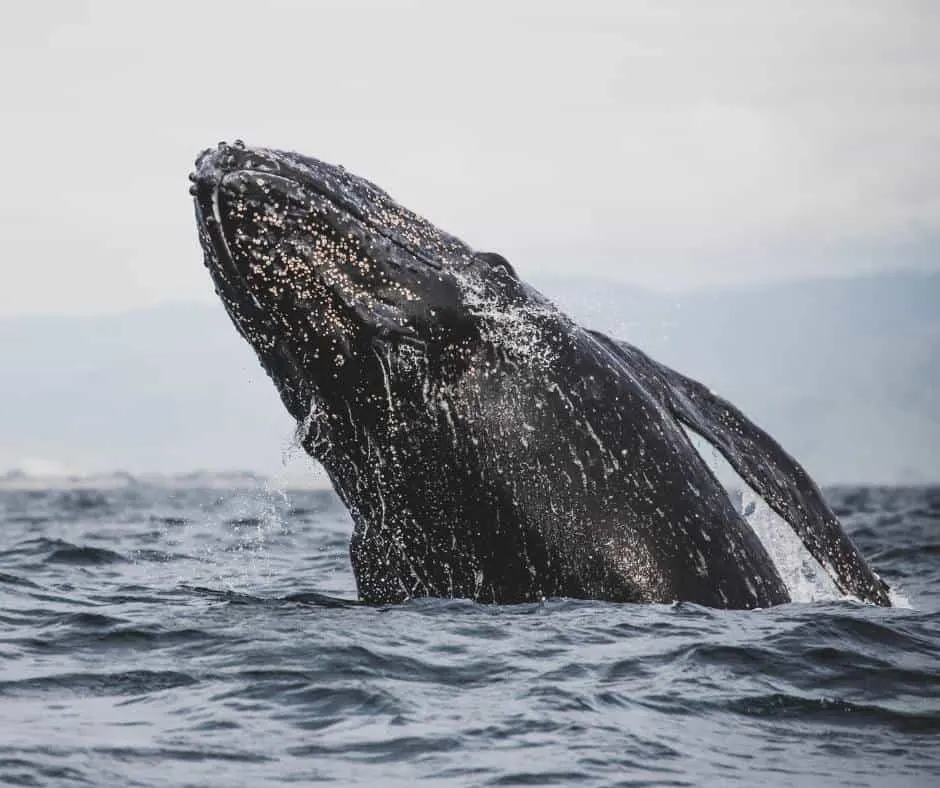 Every winter gray whales embark on a great migration from the Northern Pacific down to their birthing grounds in the waters off Baja Mexico. During this journey they pass through the waters off Orange County, making it a prime destination for whale watching.
Dana Point is a hub for whale watching activity. Gray whales use Dana Point, a cliff protruding out towards the sea, as a migration marker on their journey to Baja. Dana Point hosts the Festival of Whales during the first two weekends in March every year.
Summer is prime season to see the blue whales, the largest animals on the planet! Throughout the year fin whales (the second largest whales), minke whales, humpback whales, dolphins, sea lions, and even the occasional orca can be spotted.
Book your whale watching trip with Dana Wharf or a whale watching cruise out of Newport Beach. If you happen to be in Dana Point on a Tuesday, you can take advantage of half price whale watching for adults!
17. Go Fishing with Dana Wharf Sportfishing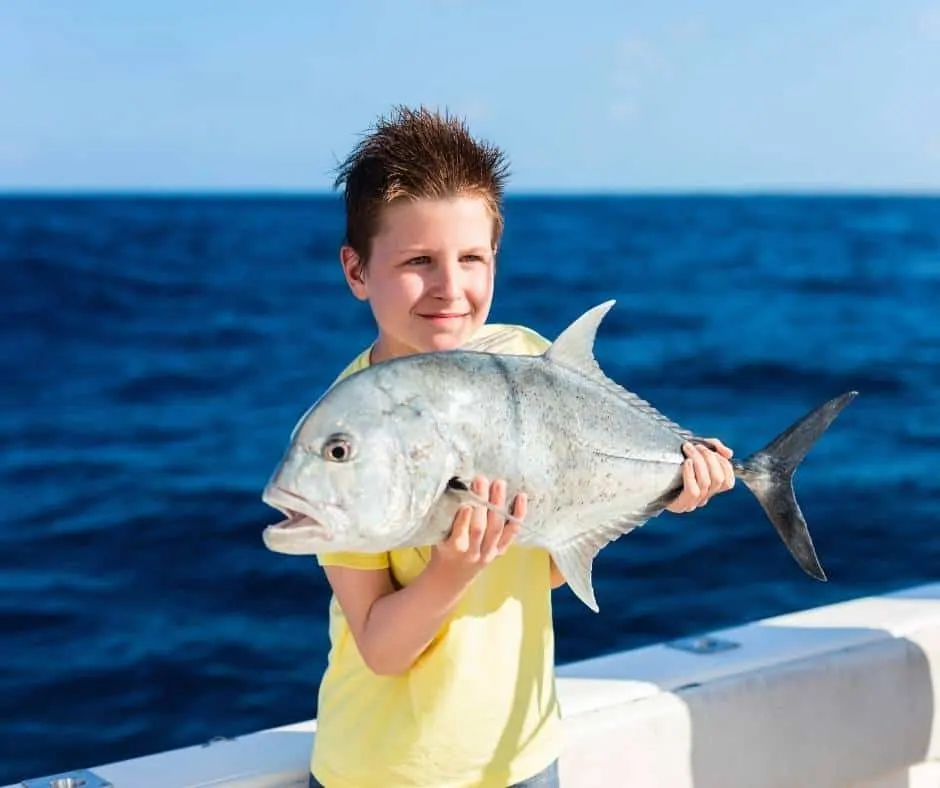 Do you have kids who love to fish and want to try their hand at ocean sportfishing? Dana Wharf offers a sportfishing clinic for kids 5-12 every Sunday for just $10. For that price participants will also receive a free ticket & fishing equipment for the Sunday Afternoon 1/2 Day Fishing Trip.
There are fishing trips daily and Dana Wharf has half price fishing trips on Tuesdays. Anglers catch tasty fish such as halibut, yellowtail, sea bass, and tuna.
18. Pick Fruits and Veggies at Tanaka Farms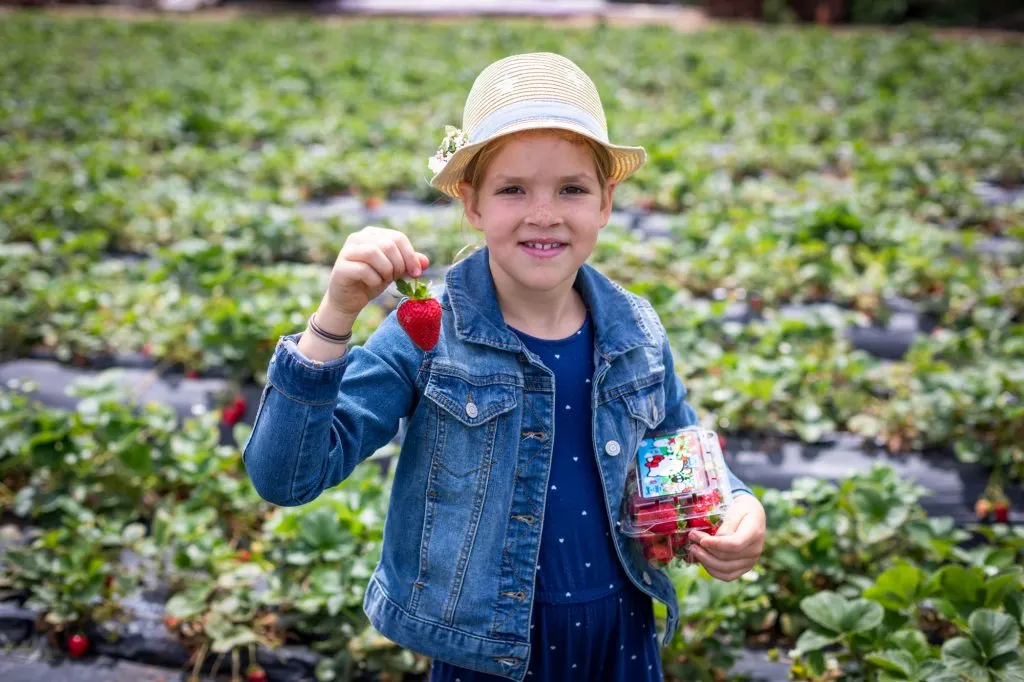 Long before Orange County became the massive sea of humanity that it is today, it was nothing more than farms and ranches. Lima beans, citrus, and sugar beets were the main crops, and agriculture was the driver of its rural economy.
Today, over 3.5 million live in OC, but thanks to Tanaka Farms in Irvine, our children can still learn about where food comes from and pay homage to the county's agricultural past. The farm was established in 1940 and has been in an important Orange County fixture for generations.
Tanaka Farms has fun things going on year round, including wagon farm tours and u-pick vegetables. Strawberry picking is a fun spring activity, watermelon are a mainstay in the summer, and the wildly popular pumpkin patch shouldn't be missed in the fall.
Tanaka Farms also has a new location in Costa Mesa which is flower focused. There are opportunities to pick your own sunflowers. Just imagine the Instagram pictures you can snag at this spot!
19. Spend the Day at Irvine Regional Park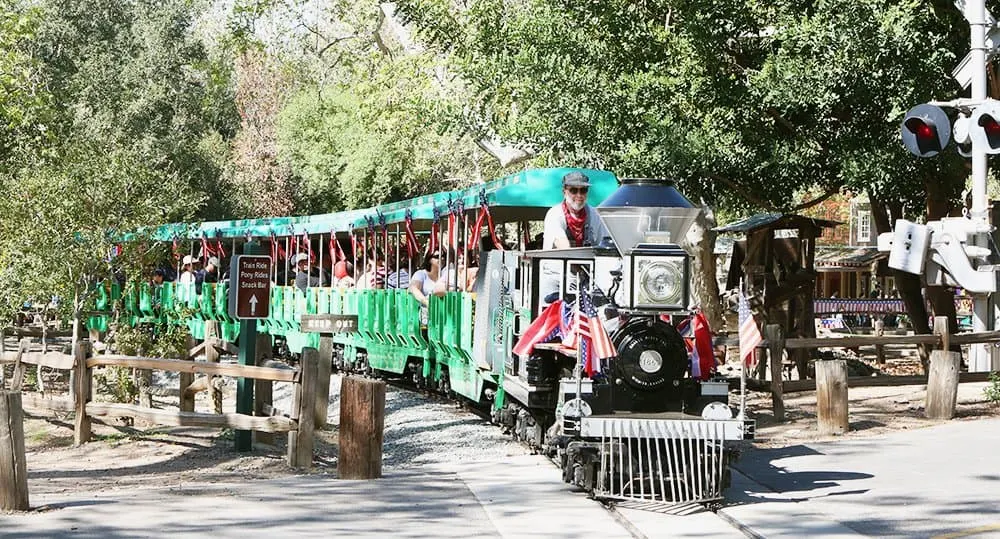 Irvine Regional Park is the county's oldest park, founded in 1897. It is a great place to spend the day because there are so many fun attractions within the park for families to enjoy. Contrary to what the name of the park might suggest, this park is located in Orange, not Irvine.
The biggest highlight of the park for many youngsters is the Irvine Park Railroad. This 1/3 scale train takes passengers on open air rides around the park. There is a special Christmas train and festivals filled with fun during the Easter, Halloween, and holiday season.
The park has pony rides for little kids and horseback rides for older children. There are also bike rentals, surrey rentals, paddle boat rentals, and even horseshoe and volleyball set rentals.
The park features the small-but-fun Orange County Zoo which features animals that live (or once lived) in the area such as bears, mountain lions, and a variety of reptiles.
There are a few different playgrounds and snack bars at the park as well, but I suggest bringing a picnic and making a day of it!
20. Mountain Bike Orange County's Trails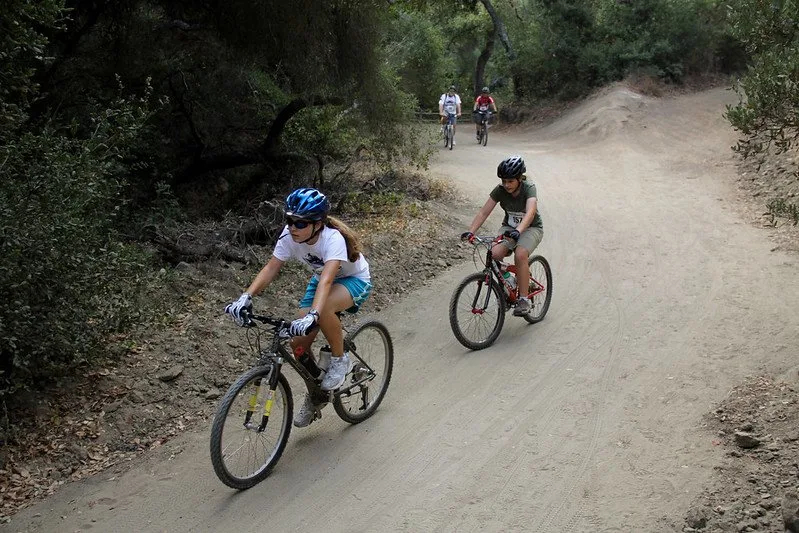 Orange County is home to some of the best mountain biking in the country because the trails are so easily accessible and great to ride.
My family's favorite places to ride include Whiting Ranch Wilderness Park in Lake Forest, Santiago Oaks Regional Park in Orange, Aliso and Woods Canyon Wilderness Park in Aliso Viejo, and San Clemente Single Tracks near San Onofre State Beach.
If you would rather stick to flatter ground and even get some assistance with your pedaling, perhaps an E-bike by the beach is more your speed. There are E-bike rentals in Huntington Beach and Laguna Beach.
21. Play Grownup at Pretend City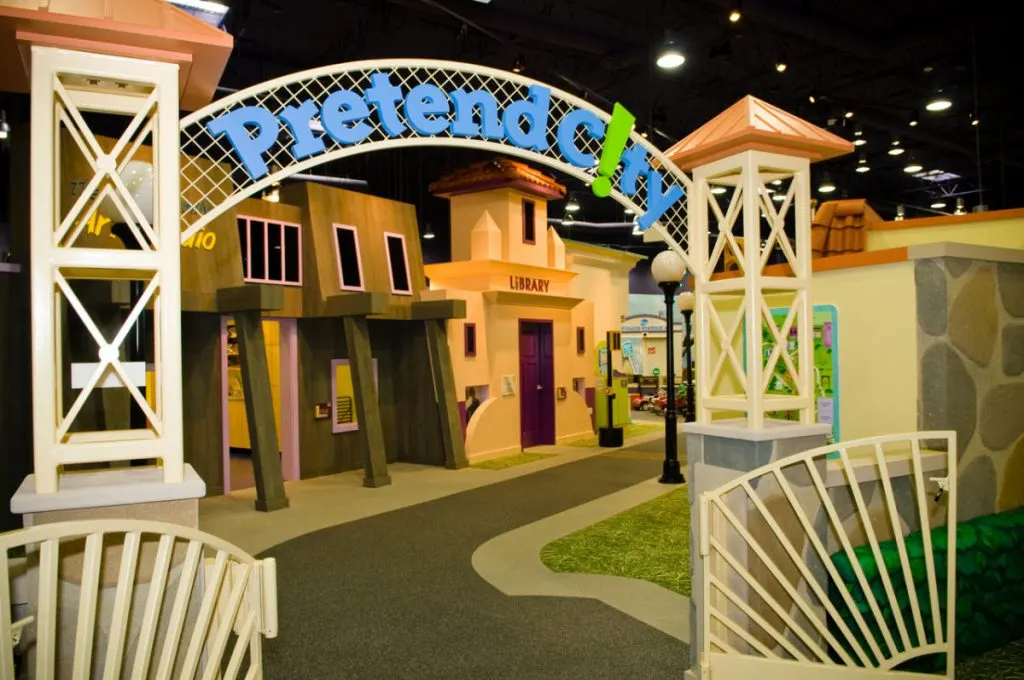 Let your kids spend a few hours playing grownup at Pretend City in Irvine.
This children's museum is designed as a small city with a grocery store, construction site, art studio, house, café, bank, art studio, marina waterplay area, and theater for burgeoning performers. You might have to drag your kids out of there because they are having way too much fun (been there, done that).
22. Play with Animals at Zoomars and Prehistoric Pets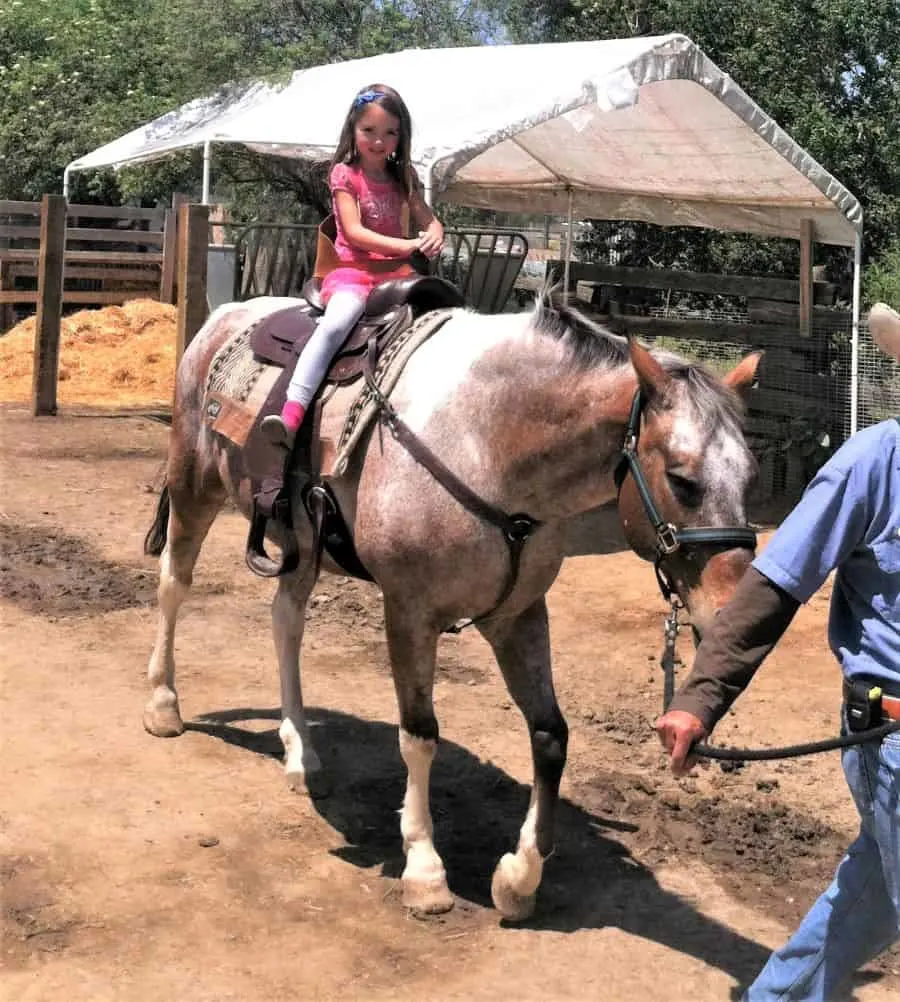 There are two different petting zoos in Orange County which are sure to delight your animal-loving little ones. They each have a very different collection of animals.
The first one is Zoomars, an adorable petting zoo across the train track from Mission San Juan Capistrano. It is geared toward little kids ages seven and under.
They have a guinea pig pen where kids can pet, hold, and feed these adorable critters. There is also a sheep and goat pen, pony rides, a small playground, mining, a mini train, as well as mini excavators and tractors to ride.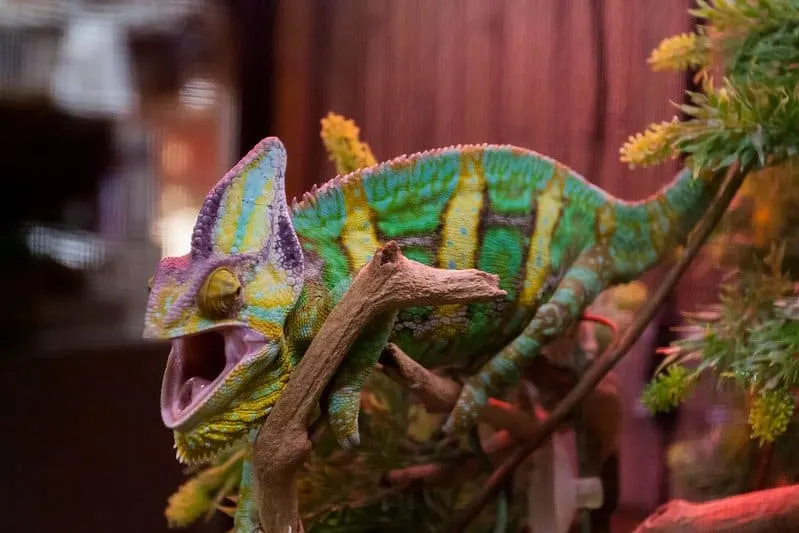 The second is Prehistoric Pets in Fountain Valley. This spot is part reptile shop, part reptile zoo and absolutely filled with critters! There are so many snakes, lizards, turtles and even alligators. For a small fee you can even feed turtles or get your picture taken with a snake.
23. Monkey Around at the Santa Ana Zoo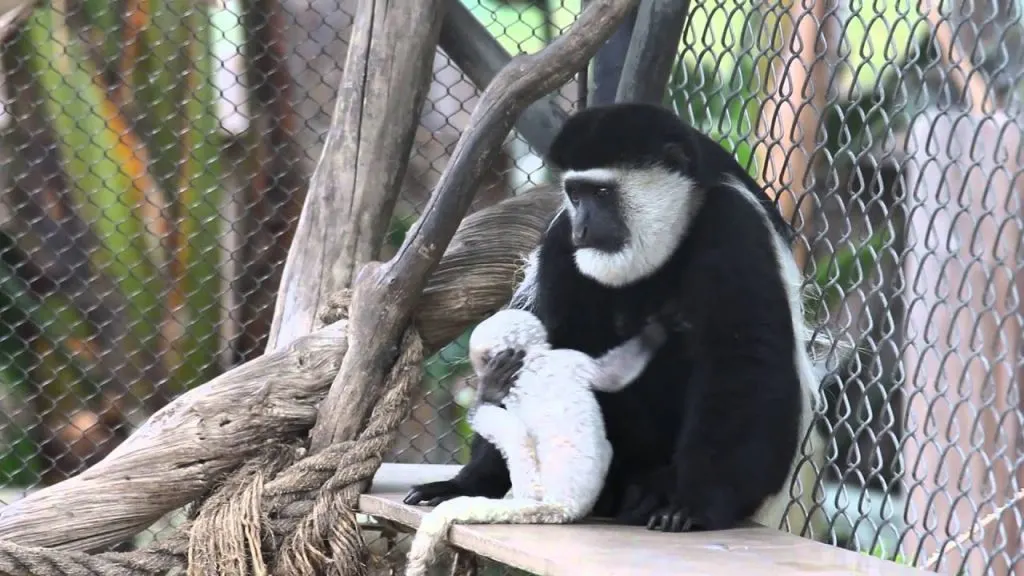 The Santa Ana Zoo is small in size but perfect for families with young kids. It is home to an impressive monkey collection and Tierra de las Pampas, a new South America- focused exhibit which anteaters, guanacos, and rheas.
The zoo also has a train, playground, carousel, Ferris wheel, and farm, all of which are popular with kids 10 and under.
24. Climb the Day Away at Sender City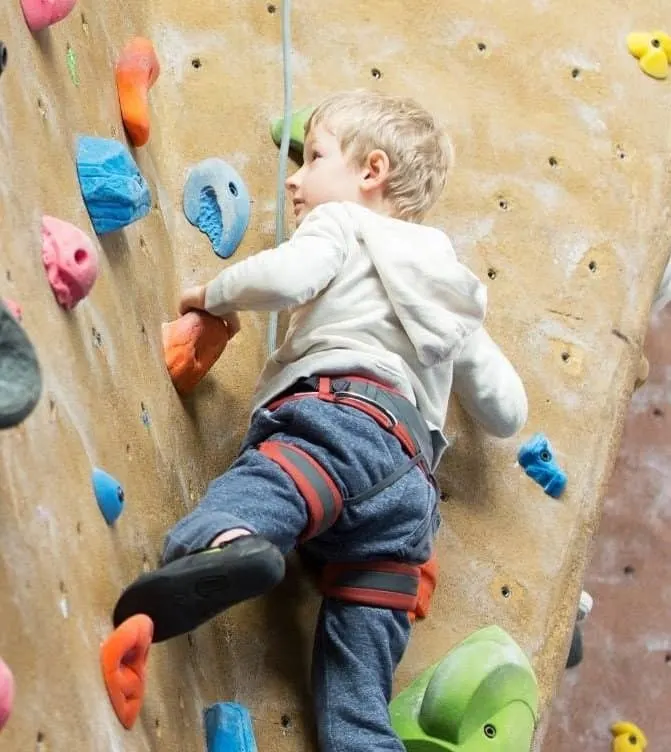 There are rock climbing gyms popping up all over the country but Sender City inside of Sender One Climbing in Santa Ana is something special.
It is specifically designed for newer climbers and is colorful, just challenging enough, and so much fun! The theme of the Santa Ana location is Funtopia and there are a variety of themed climbing challenges for both kids (over 40lbs) and adults.
Some of the obstacles include a fun glow-in-the-dark tunnel, a brick city facade, cogs, ladders, and a super steep (and super fun) drop slide.
25. Learn About Rescued Wildlife at the Pacific Marine Mammal Center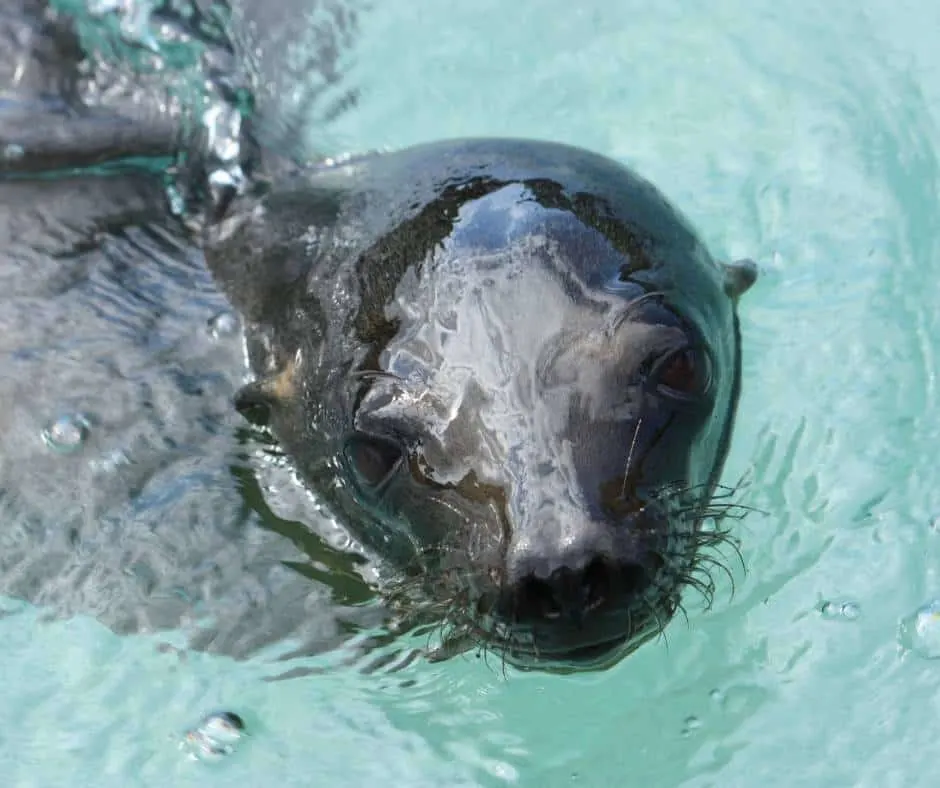 For 50 years, the Pacific Marine Mammal Center has been dedicated to the rescue and conservation of the marine mammals that call the waters off Orange County home.
The center is located in Laguna Canyon and almost entirely run by volunteers. Visitors can see a variety of rescued pinnipeds in recovery including California sea lions, harbor seals, fur seals, and elephant seals. It is a great place to learn about these precious animals and the importance of conservation.
Note: Admission is free but donations are greatly appreciated.
26. Shop and Ride at the Irvine Spectrum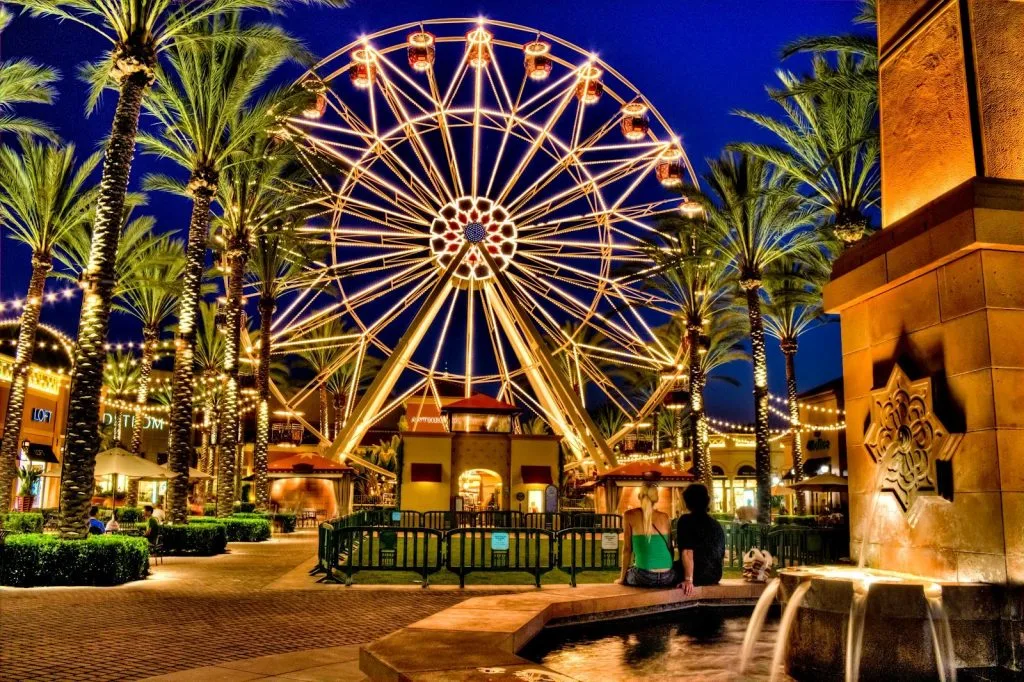 All shopping malls are not created equal. Some have a bunch of empty store faces and a depressing vibe. The Irvine Spectrum has world-class shopping, tons of great restaurants, and rides!
Yes, you read that right. My mall has rides! Just imagine how much easier it will be to convince the kids to let you spend a couple hours shopping if you can can throw in some treats from the Hello Kitty Cafe and a ride on the Ferris wheel! Kids will also love the train, carousel, and water fountains to play in.
In addition to the great food and shops, there is also an Imax movie theater and a comedy club (date night anyone?). There is also a Dave and Buster's which is always popular with kids of all ages.
27. Have an Aquatic Adventure at the Aquarium of the Pacific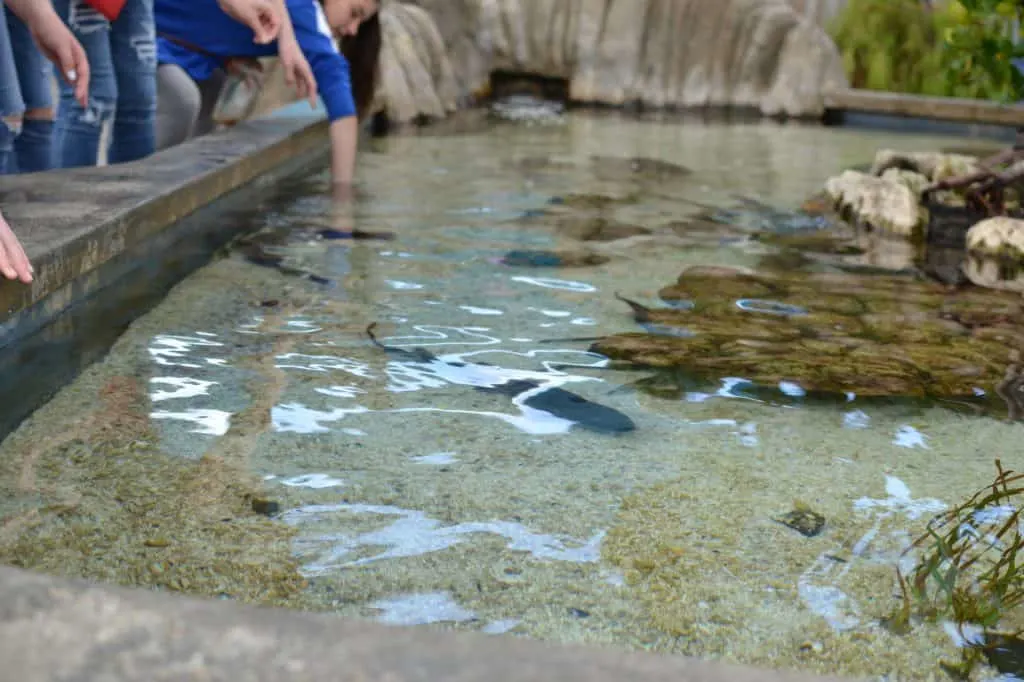 Aquarium of the Pacific may not technically be in Orange County, but is in OC's next door neighbor, Long Beach, and definitely worth the trip. It is the largest aquarium in Southern California and has great exhibits where you can gets hands-on with jellyfish, coral, sea stars, sea cucumbers, stingrays and even sharks!
There are dozens of large tanks filled with fish from all over the Pacific Ocean, as well as penguins, frogs, sea otters, seals, and sea lions. The Aquarium also has an outdoor boat-themed play area to give kiddos space to play.
Trekaroo Tip: The Aquarium of the Pacific hosts whale watching tours. You will need to book a reservation ahead of time. You can book your whale watching trip here.
Disneyland Resort
You didn't think I would write an article about all the fun things to do in Orange County with kids and leave out Disney did you? Of course not! OC locals LOVE Disneyland and I have visited the parks more times than I can count.
Trekaroo has so many great resources to help you plan your Disneyland Resort Vacation that you will want to read before you book your Disney vacation.
Book your Disneyland Resort tickets in advance and save time and money. Trekaroo is an Undercover Tourist affiliate so that we can extend great savings to our readers .
28. Disneyland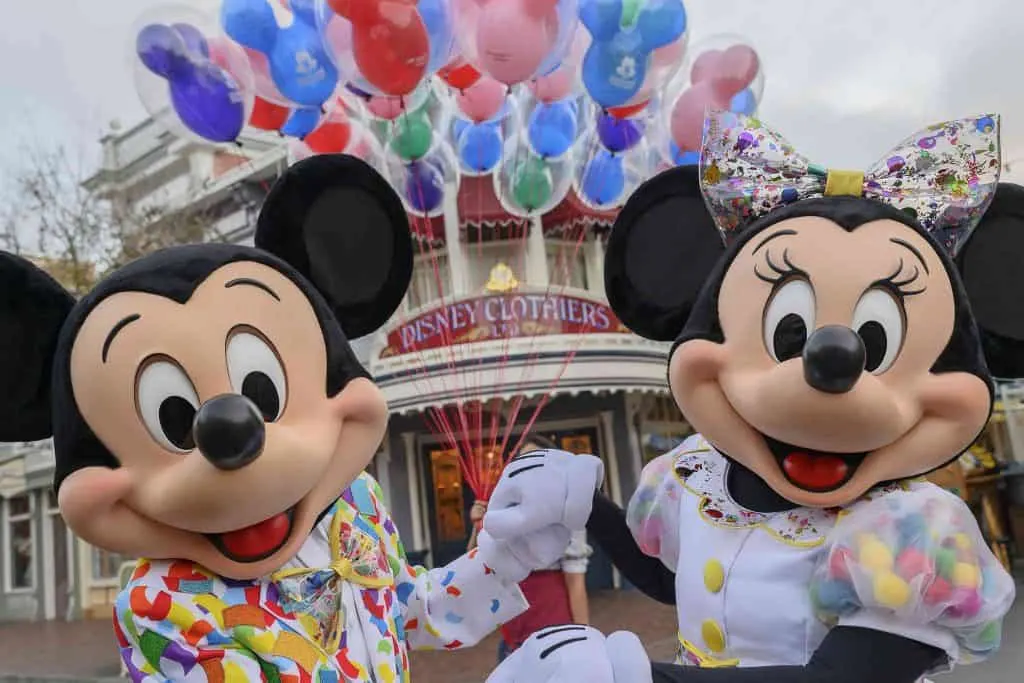 It opened back on July 17, 1955 and has been beloved by Orange County residents and visitors from all around the world ever since. Disneyland is the original and for many of us, it really is the "Happiest Place on Earth".
From classic original rides like Snow White and King Arthur's Carousel, to new and exciting adventures in Star Wars: Galaxy's Edge where you can pilot the Millennium Falcon and join the Resistance, this park really does have something for everyone.
Here are our 20 favorite rides at the Disneyland Resort.
If you haven't visited Disneyland recently, you definitely will want to read my article filled with dozens of amazing Disneyland tips. Walt Disney said the park would never be finished, and wanted it to constantly be evolving. We at Trekaroo eagerly follow and report on the latest changes.
29. Disney California Adventure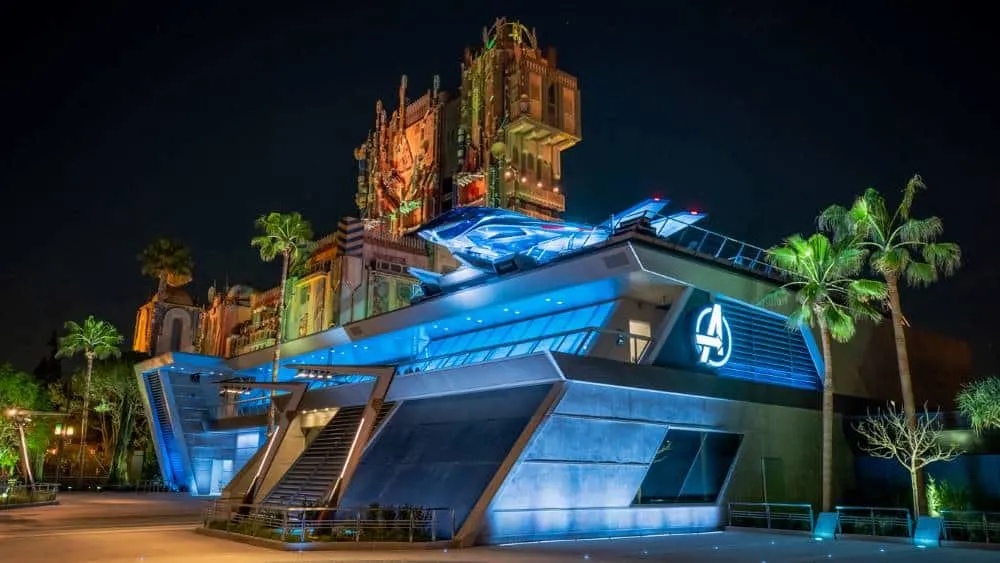 Disney California Adventure (or DCA as we locals call it) opened in 2001 and over the past 20 years has gone from the ugly stepsister of Disneyland to a park that rivals the original. Highlights of DCA include Cars Land, Pixar Pier, and the newly opened Avengers Campus.
One of my favorite things about Disney California Adventure is the food. There always seems to be some sort of festival going on (my favorite it the Disney California Adventure Food and Wine Festival) with creative food and beverage options to satisfy all us foodies. Of course, there is also always character dining to keep the little ones excited.
30. Downtown Disney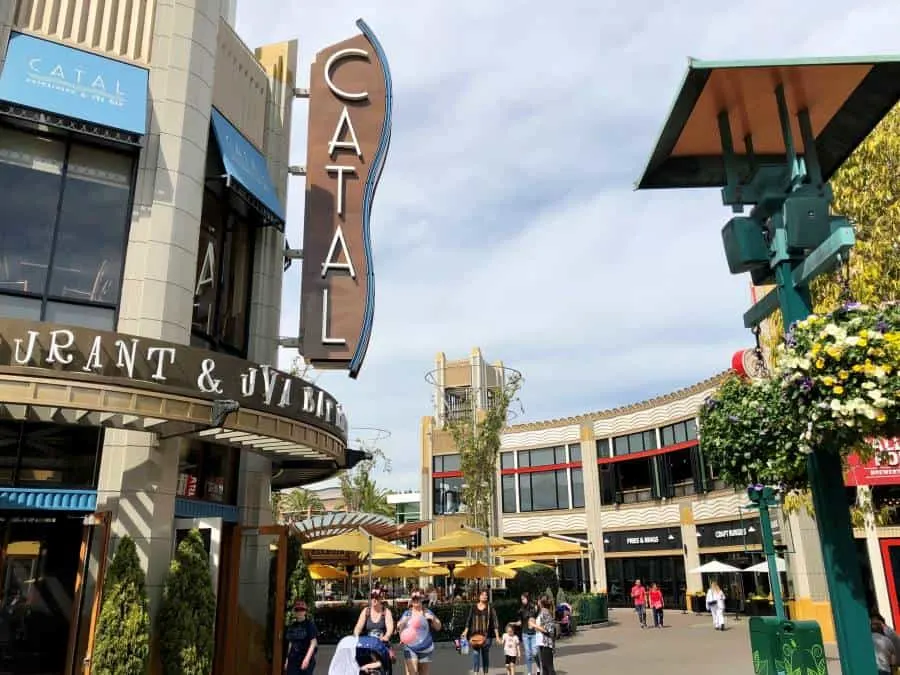 Want a taste of the Disney magic without having to pay for a theme park ticket? Then head to Downtown Disney! This shopping, dining, and entertainment district is on Disney Resort property and is filled with fun.
Disney fanatics will want to head to the World of Disney store which is filled plush, toys, pins, houseware, clothing, pins, jewelry, art and practically whatever else you can imagine in a Disney theme. There are also a specific Disney Home, Disney Dress Shop, and Disney Pin Traders.
Beyond Disney-themed stores other highlights include the Lego Store, Splitsville Luxury Lanes, and popular restaurants like Ballast Point Brewing Company and Ralph Brennan's Jazz Kitchen.
Where to Stay in Orange County with Kids
There are so many great hotels and resorts in Orange County that it can be hard to choose which one to call home base as you explore the area. Here are a few of my favorites.
Ritz Carlton Laguna Niguel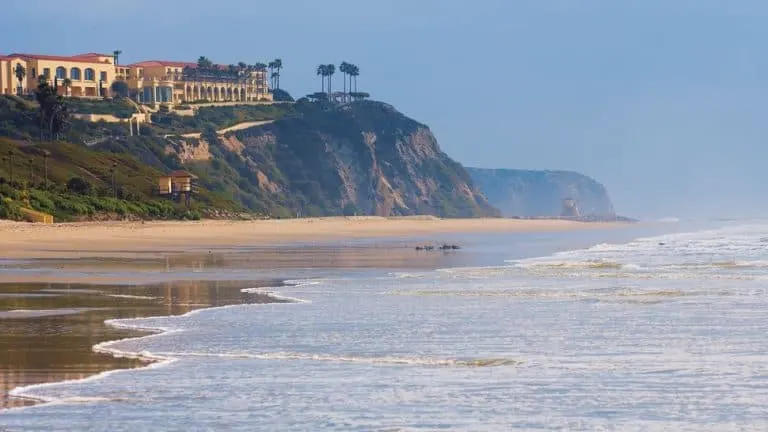 This gorgeous luxury hotel sits on a bluff above Salt Creek Beach in Dana Point. The views and location are hard to beat. The property has an amazing Eco-Adventure Center where guests can sign up for whale-watching excursions, surf lessons, cooking classes, golf, and more.
During the holiday season the resort has an impressive gingerbread display and several amazingly decorated Christmas trees.
Book your stay at the Ritz Carlton, Laguna Niguel. As a Booking.com affiliate Trekaroo is thrilled to offer our readers the lowest rates guaranteed.
Splurge and stay on the concierge level where guests have free reign at various food options which are served throughout the day as well as complimentary beverages, including alcohol.
Hyatt Regency Huntington Beach Resort & Spa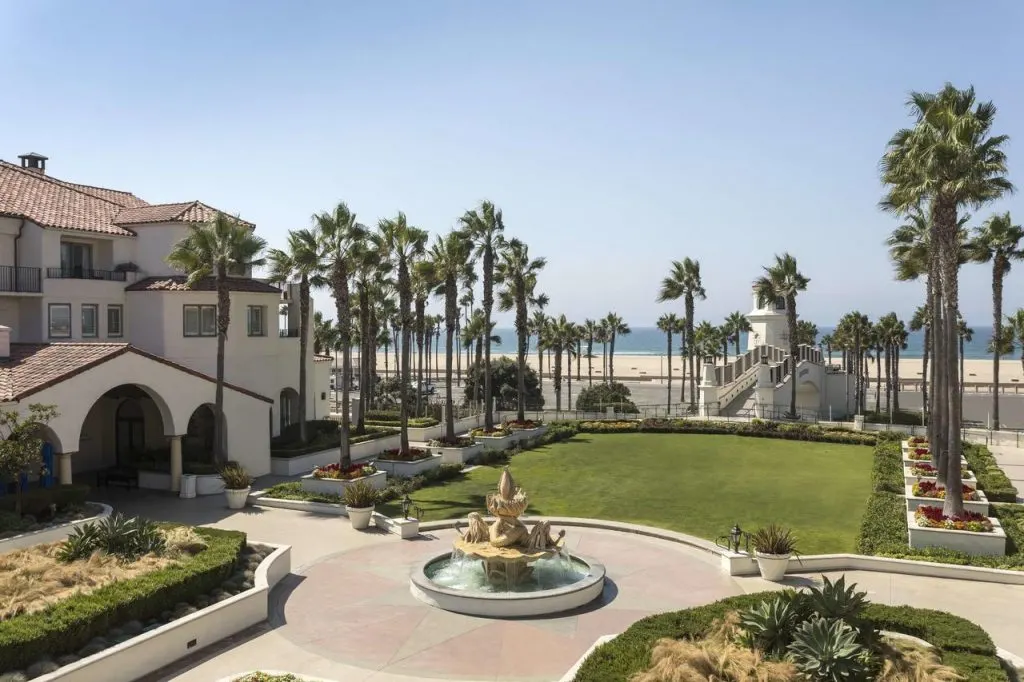 The Hyatt Regency Huntington Beach is another great resort hotel with a fabulous location. It sits just across the street from all the action at Huntington Beach. The property has contemporary rooms and expansive suites.
The pool has cabanas, a splash pad, two pools, and a couple water slides and the beach is right across the street so waterplay is endless. The resort's firepits are fun places to roast marshmallows in the evenings. Beach umbrellas and chairs can be picked up at concierge and bike rentals and a video arcade amp up the fun.
Book your stay at the Hyatt Regency Huntington Beach.
Disneyland Hotel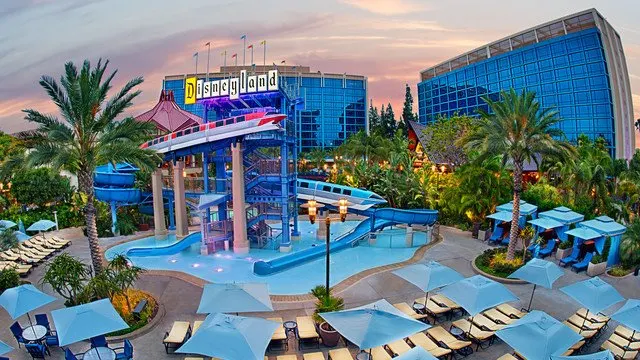 This magical hotel delights families with headboards that play "A Dream is a Wish Your Heart Makes", character greetings in the lobby, and many interactive experiences such as learning to draw Mickey Mouse.
The Disneyland Hotel is in a prime location with easy access to the Monorail Station in Downtown Disney, taking families directly to Disneyland's Tomorrowland. Be sure to reserve at least one afternoon of your vacation for splashing down the Monorail slide and swimming in the E-Ticket Pool.
Disney's Grand Californian Hotel and Spa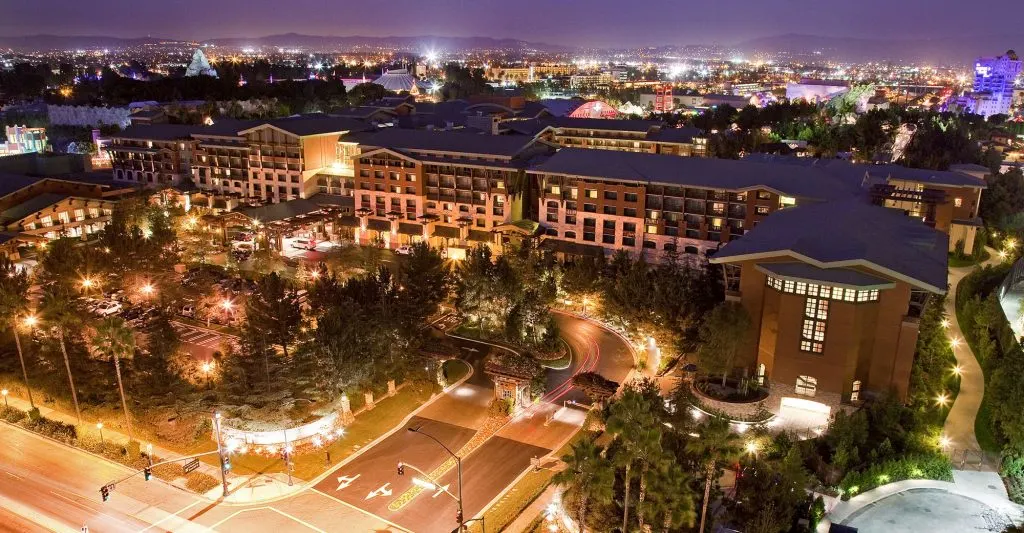 A stay at Disney's Grand Californian Hotel & Spa is a splurge but it is also filled with Disney magic. The Craftsman-style architecture instantly whisks you away from Orange County and drops you into a luxurious National Park lodge with high ceilings, wood beams, and a roaring warm fire filling the lobby.
This resort basically has Disney California Adventure Park right in it's backyard- many of the rooms have views of the park- and there is a special entrance into the park for hotel guests.
Character breakfasts and fine dining options are available; put the kids in kid's club and enjoy a meal at Napa Rose- you won't regret it!
Great Wolf Lodge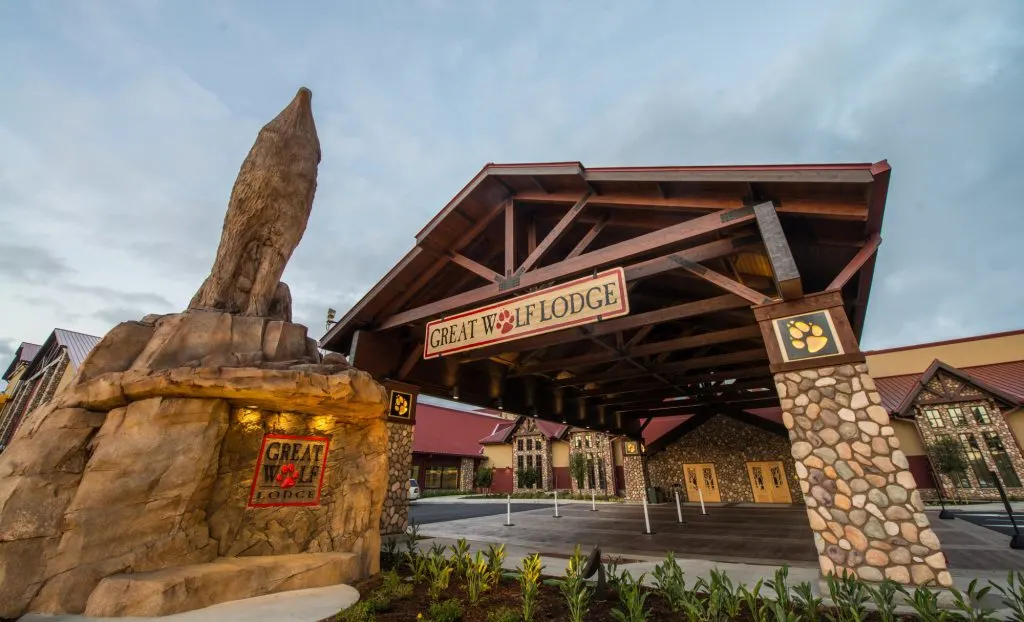 Located just down the street from the Disneyland Resort, Great Wolf Lodge Southern California is truly a destination unto itself. This resort features the first indoor water park in California as well as several other attractions such as minigolf, an arcade, a kids spa, and MagiQuest, an addictive live-action role playing game.
Many rooms include "Wolf Dens" or "Kid Cabins" which feature special little rooms for children complete with bunk beds and their own private flat-screen TVs.
Don't visit the Great Wolf Lodge without first reading our article filled with Great Wolf Lodge tips.