North Tahoe is the perfect outdoor playground for families in all seasons. Why? Because there are so many great things to do in North Lake Tahoe!
In summer, mountain biking and hiking trails await, and miles of beach lakeshore entice a quick dip or an entire day of water play.
North Lake Tahoe then transforms into a winter playground where skiing, snowboarding, sledding, snowshoeing, cross-country skiing, and even snowmobiling await.
Spring can be chilly in the mountains, but crowds are low, and fall is the perfect time to plan a quiet getaway.
Where is North Lake Tahoe?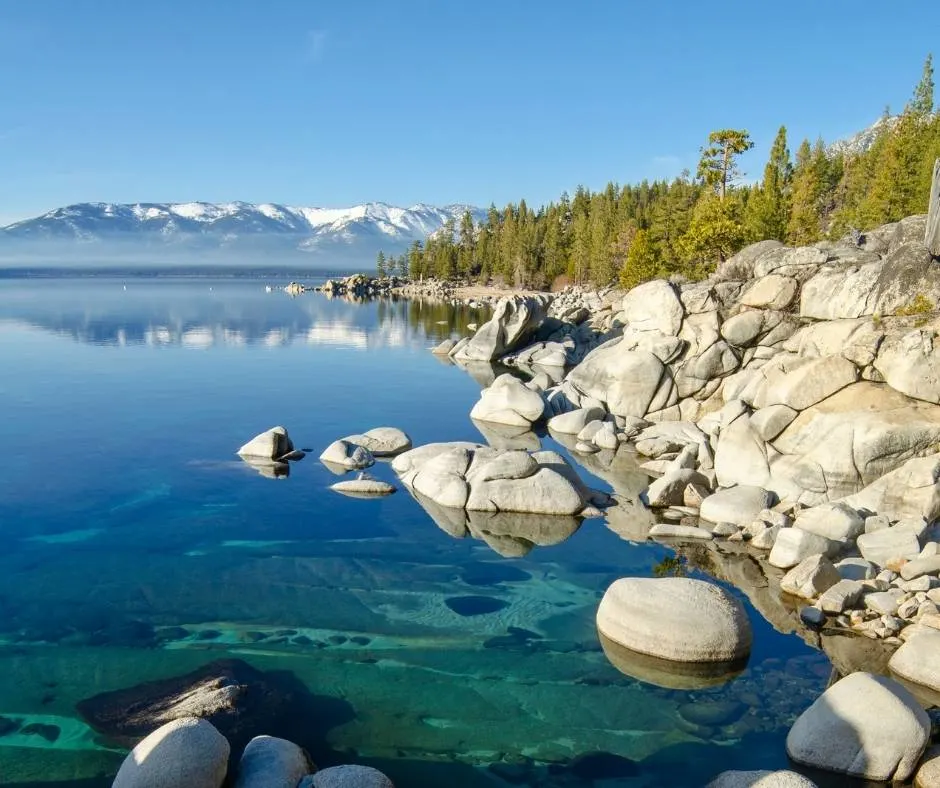 Tahoe's north shore is only a 45-minute drive from Reno, Nevada, or two hours from Sacramento. The San Francisco Bay Area is about three hours away by car.
Reno is filled with family fun! here are the best things to do in Reno with kids.
North Tahoe is generally defined as the northern arc of the Lake Tahoe shoreline from Tahoe City in the west to Incline Village to the northeast. North of the lake, Truckee makes the point of a North Tahoe triangle. In between, families will find several distinct communities, all with a different vibe.
Here's a little bit about each little town in the North Lake Tahoe area, to help you figure out which vibes suits you best.
Tahoe City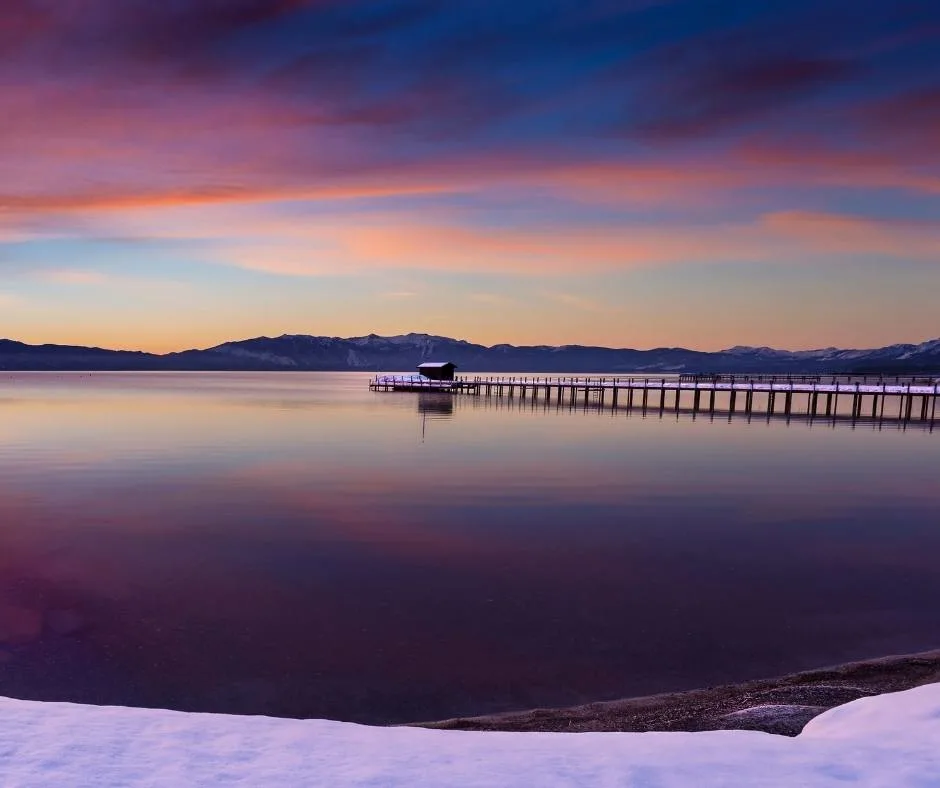 We find Tahoe City to be the perfect mix of affordable and upscale. The 'downtown' strip is lined with quaint shops and restaurants and a nice walkway along the lake shore, but right outside of town, families can find a decent-sized supermarket and relatively quiet shoreline punctuated by state parks and snow parks.
Tahoe City is a 'gateway' to Highway 89, which leads away from the lake toward Palisades Tahoe and Truckee. This is a nice area to rent a vacation home and be close to several main North Tahoe attractions.
Carnelian Bay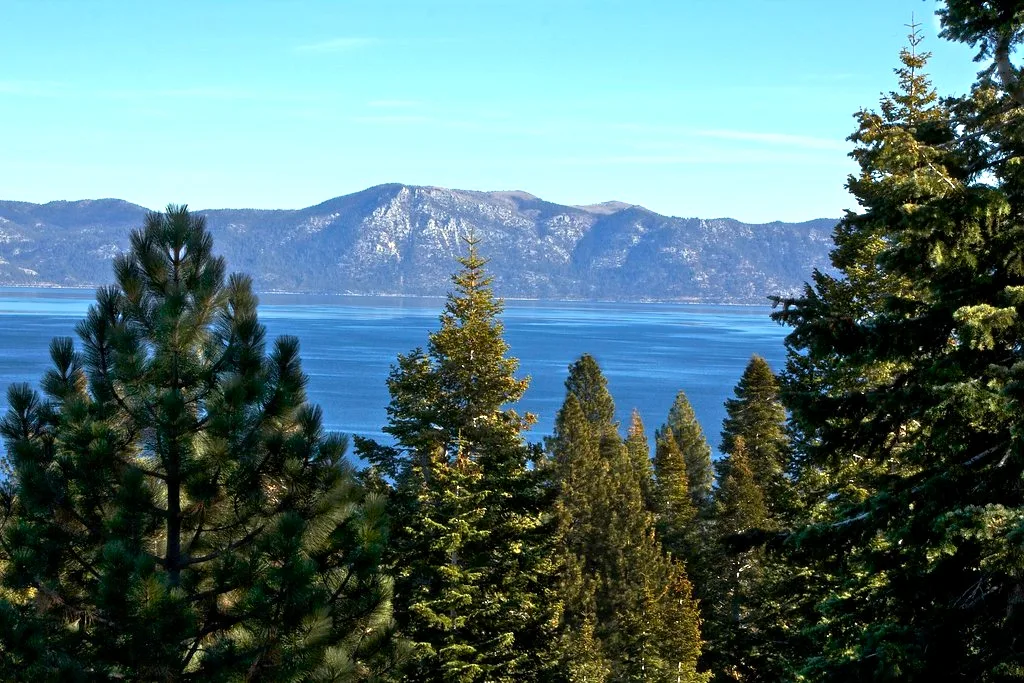 This bay, north of Tahoe City, is lined with luxury homes and mostly private beach access. Unless you're lucky enough to live here or rent a vacation home in Carnelian Bay, you're likely to be passing through en route to Northstar or Kings Beach.
Families visiting North Tahoe in summer may likely set off on fishing expeditions from Camelian Bay.
Kings Beach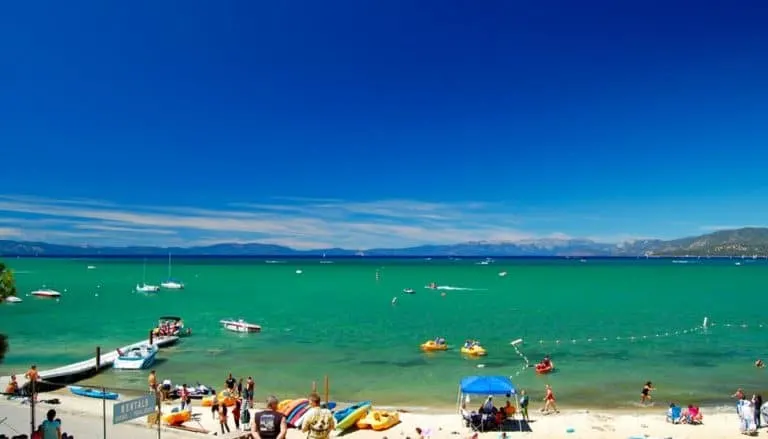 A busy, touristy town right at the northern tip of the lake, Kings Beach is the gateway to Highway 267, which leads to Northstar California and Truckee. Families will find kid-friendly dining in Kings Beach, including our favorite, Jason's Beachside Grill.
There's a nice public beach adjacent, with plenty of parking in the off-season. Even in winter, this beach is our favorite spot to stop and take a family photo because Lake Tahoe is stunning year round. Parents will find additional grocery stores and rental stores in Kings Beach, as well as budget motels and hotels.
Incline Village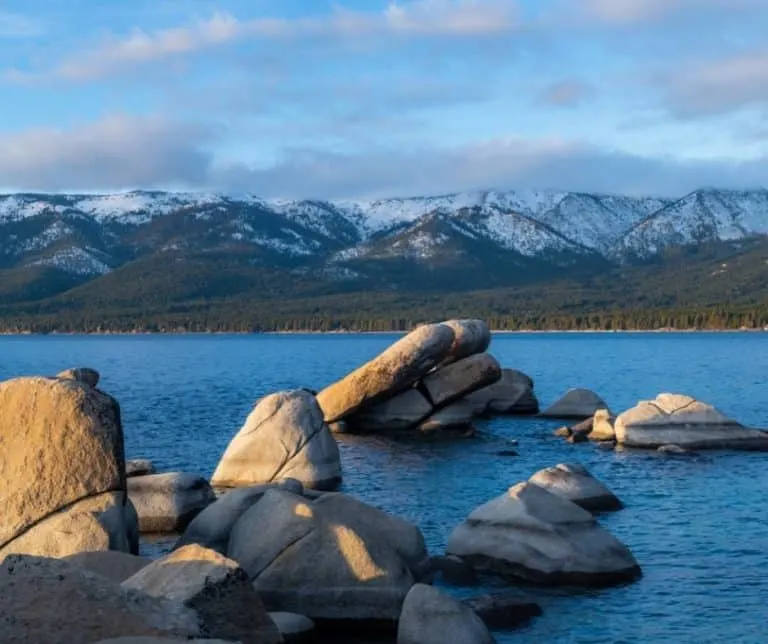 Incline is just east of Kings Beach, right over the California/Nevada border. Living is certainly upscale in Incline Village, with resorts and vacation homes at a premium. Incline is also the gateway to Diamond Peak Ski Resort.
Truckee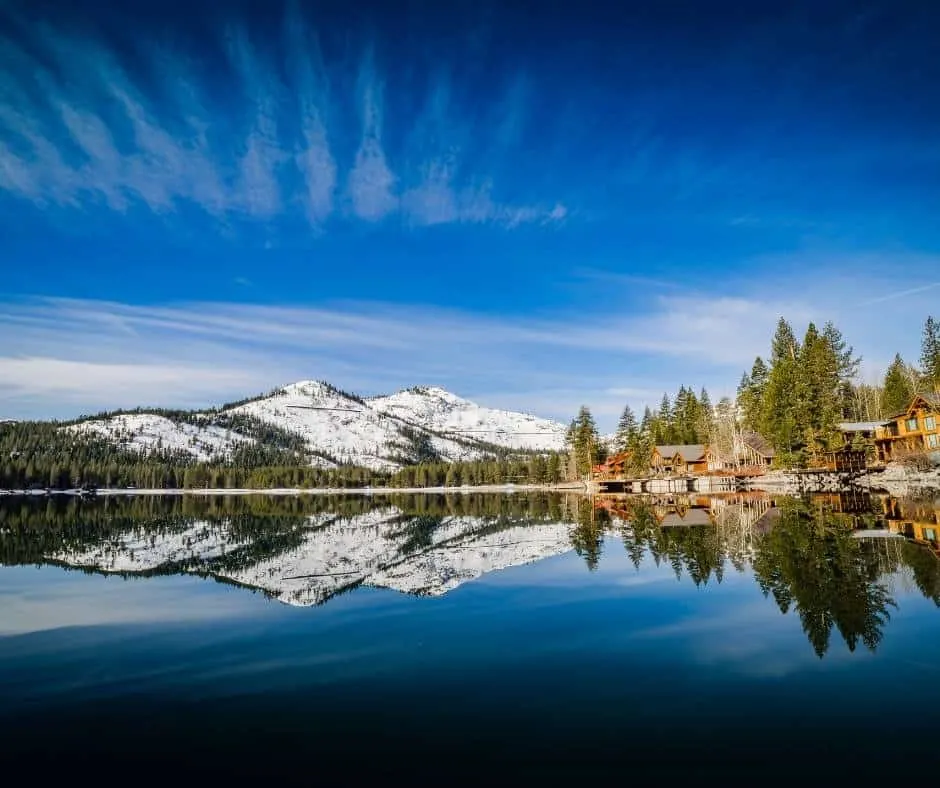 The most 'liveable' North Tahoe town, with the biggest local population, Truckee is situated north of the lake, near I-80. It's only 30 minutes from Reno, Nevada, and on the route most families will take if arriving via the airport in Reno.
Truckee has a new and old section; the old downtown is historic and quaint, with great shops and dining opportunities. The pioneering spirit is pervasive here.
The new part of town offers strip malls, fast food chains, and plenty of standard motel lodging and ski rental shops. A great place for breakfast in Truckee is Squeeze Inn.
The North Lake Tahoe region straddles both Nevada and Northern California. Here are our favorite things to do in Northern California with kids and the best things to do in Nevada.
The Best Things to do in North Lake Tahoe
Before we share our favorite things to do in North Lake Tahoe, we wanted to share a couple "know before you go" tips.
In winter months, always bring traction chain devices or an all-wheel-drive vehicle in case of snowy roads, and remember to pack extra water and blankets in your car as a precaution.
Prepare for crowded roads in the summer months and on holiday weekends in winter. Sometimes, the best time to visit North Tahoe is during mid-week! Enjoy the Lake Tahoe fresh air and sunshine!
We also encourage you to capture incredible memories of your Lake Tahoe family vacation with Flytographer. Flytographer has a network of incredible professional photographers ready to come to you and help your family create the ultimate souvenir of your special trip. Trekaroo is proud to be a Flytographer customer and affiliate.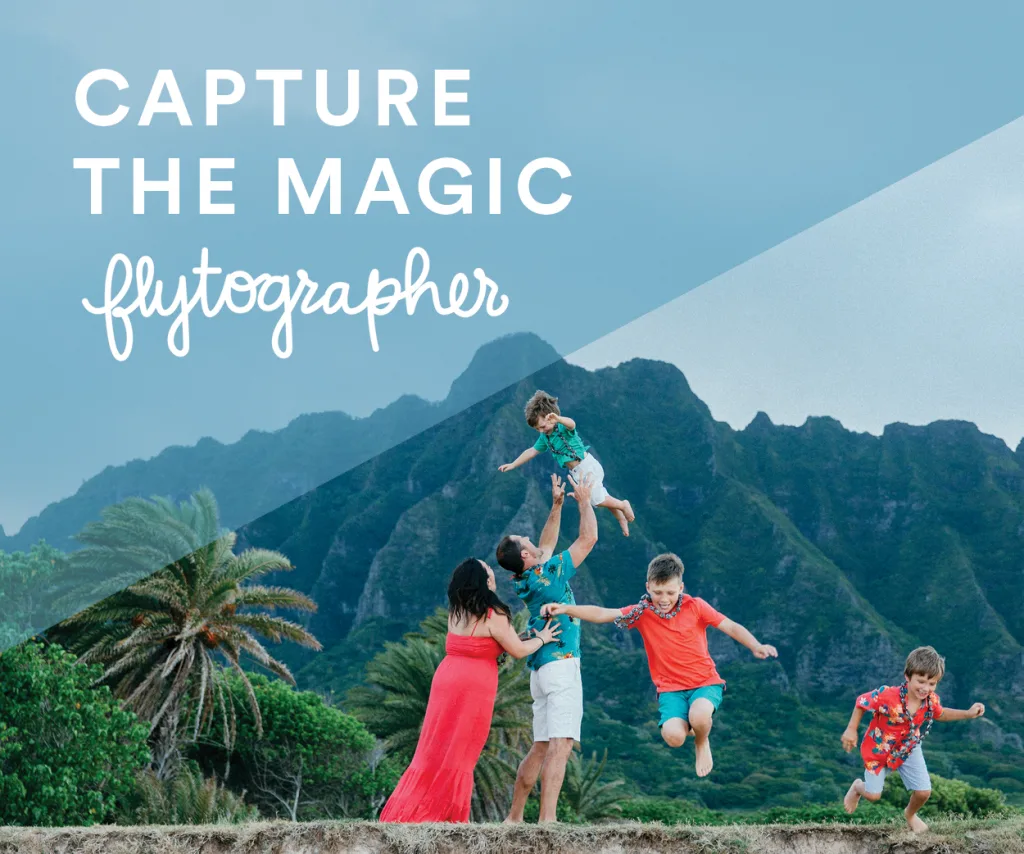 1. Ski at Palisades Tahoe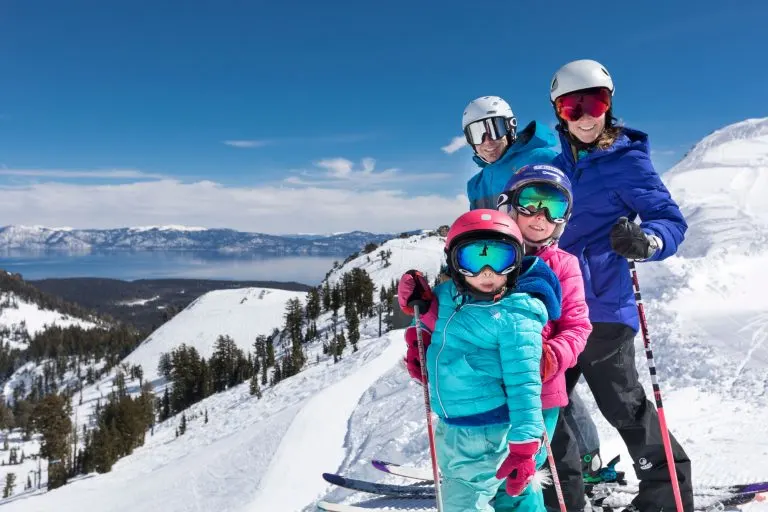 Why Palisades Tahoe, of all the many options for skiing in the area? There is something for everyone, and learners have plenty of beginner terrain at the top of the mountain as well as at the bottom. Why should only the expert skiers get the epic views?
Intermediate and advanced skiers and riders have every possible option available, and families can converge at High Camp for lunch. Even non-skiers can join, taking the Ariel Tram to the top.
Also, your lift ticket includes access to Palisades at Alpine Meadow too, with a free shuttle connecting the two. Next year, look for the brand new base to base gondola to be revealed!
Families will want to take the time to stop into High Camp to see the small, free museum commemorating the 1960 Olympic Games and see the Olympic rings. In winter, ice skate here, and by Spring Break, swim in the heated outdoor pools!
You will need to get used to a new name at Palisades Tahoe, formerly known as Squaw Valley, but otherwise, the mountain resort you know and love is still the same.
The team has worked in tandem with the local Washoe Tribe of Lake Tahoe to make the resort's name, lift names, and runs more inclusive and representative of the native history of the Tahoe forests. It's a welcome change!
2. Sled or Zip Line at Granlibakken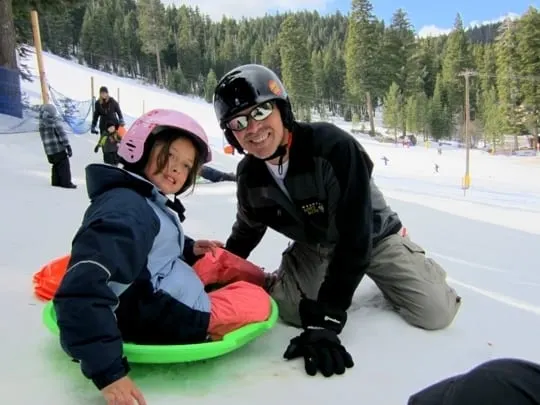 An institution in North Tahoe, Granlibakken brings old-world charm to the lake with sledding and beginning ski terrain in the winter (complete with a cozy warming hut) and pools and ropes course in the summer months.
Stop in for a long afternoon and grab a bite to eat on the way back from New Moon Natural Foods just down the street.
This historic ski, sled, and spa location is found just outside of Tahoe City. Families can use the sledding hill for about $25 per child, or learn to ski for much less than at large resorts (they have a rope tow and one main hill). Granlibakken is dog-friendly, too!
Families visiting in the summer will enjoy walking on their trail along the Truckee river, tennis, swimming, and the ever-popular treetop ropes course and zip lines at their Adventure Park.
Book your stay at Granlibakken. As a Booking.com affiliate, Trekaroo is thrilled to offer our readers the lowest rates.
3. Feed the birds at Chickadee Ridge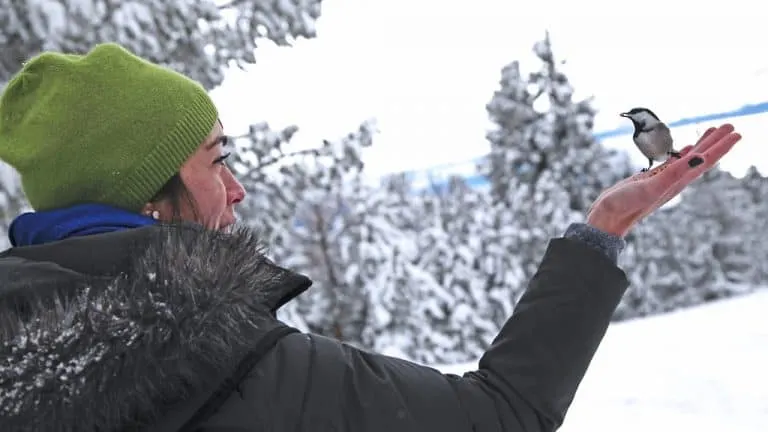 You'll feel like a local for knowing about this one! Chickadee Ridge is a trail near Incline Village that's only 1.5 miles or so, out-and-back, with a fun surprise.
If you bring seeds and nuts to share, the wild chickadees the trail is named for will literally eat out of your hand. In the winter months, this trail makes for a good snowshoe trek.
Families will find Sugar Pine Point State Park, as well as snow parks to snowshoe in or cross-country ski and sled nearby as well.
4. Ice Skate or Mountain Bike at Northstar California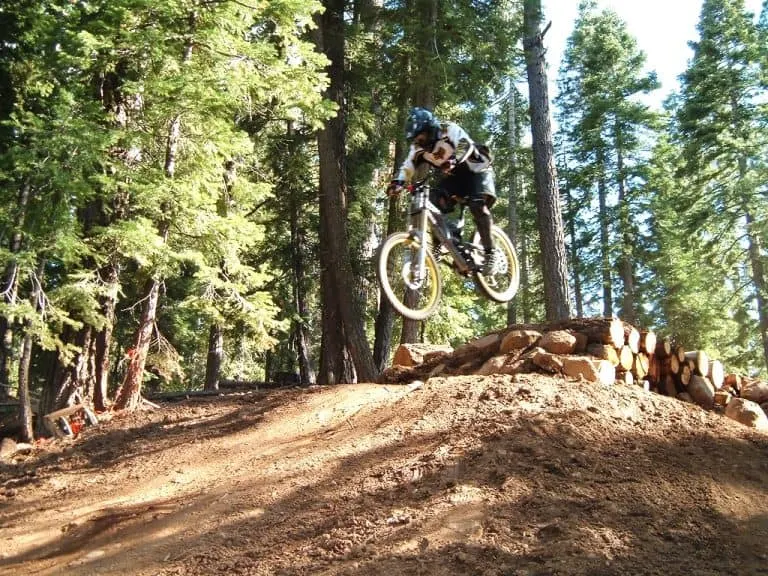 The Village at Northstar is the place to chill with kids on a leisurely afternoon by the fire pits. Listen to live music, sip on hot chocolate (or a cocktail for parents), and rent skates to use the free ice skating rink.
They also have skiing, snow tubing, fat tire snow biking, snow shoeing, cross country skiing available at this popular North Lake Tahoe resort.
In the summer, you can't beat the gravity-based mountain biking at Northstar. Mountain biking is easily one of the most popular things to do in North Lake Tahoe during the summer months.
Get outfitted, and we recommend a guided lesson for the family to get started. There are trails for a wide variety of mountain biking skill levels.
5. Visit Donner Memorial State Park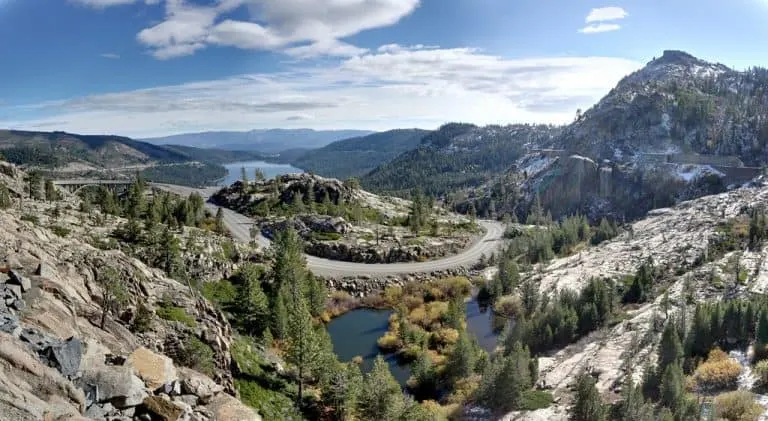 At Donner Memorial State Park families can learn all about the notorious history of the ill-fated Donner Party, an iconic moment in California state history.
A nature trail helps kids get their energy out before visiting the museum, which is good for all ages. Just keep in mind that you will have to explain cannibalism to kids old enough to read the signs.
Beyond the museum, the park has over eight miles of hiking trails. Fishing, boating, and water play in Donner Lake is a very popular activity during the summer.
After visiting, drive the short distance to downtown Truckee to enjoy more pioneering history in the Historic Downtown District.
Visiting Lake Tahoe with your four-legged friend? Check out this great guide to dog-friendly Lake Tahoe.
6. Take in the Views of Lake Tahoe at Sand Harbor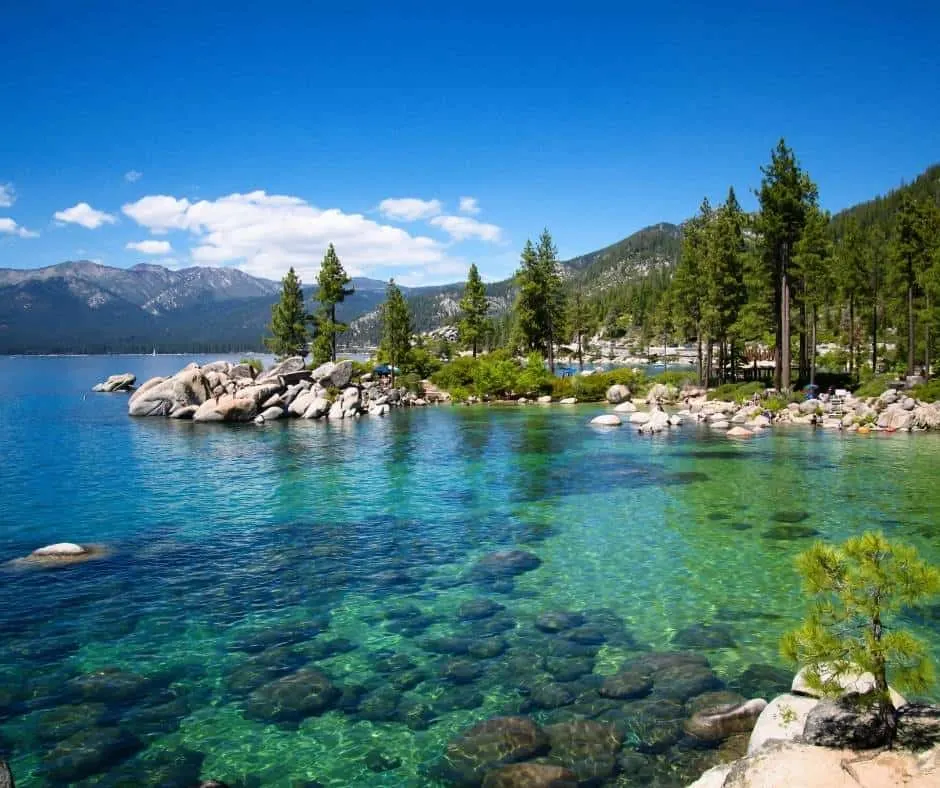 A Nevada State Park, Sand Harbor is just past Incline Village on the lake, and offers some of the most beautiful shoreline in North Tahoe.
Families can take a nature trail to take in the incredible views and iconic boulders, and in summer, the sand beach awaits swimmers, paddleboarders, and kayakers.
Lifeguards are on duty in the summer months, and note that non-Nevada residents pay $15 to park (which is definitely enforced).
7. Soak Up the Sunshine at Kings Beach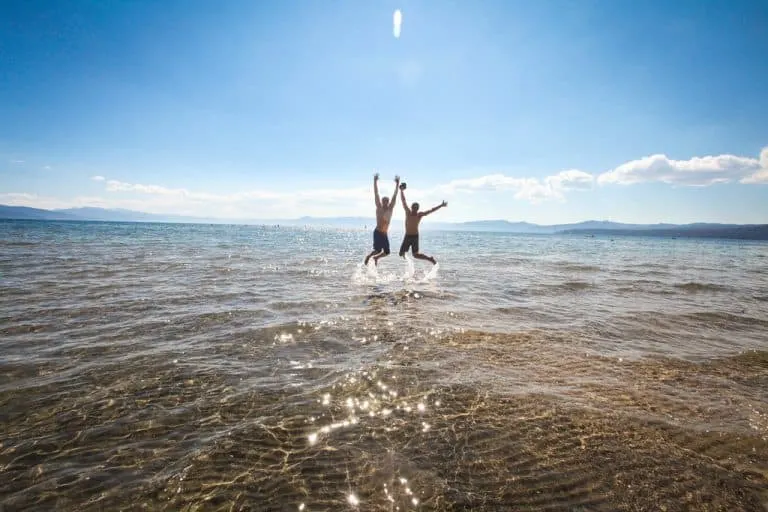 Kings Beach is one of the most popular places in Tahoe to enjoy a beach day. In summer, check out the public beaches, within easy walking distance of fast counter service lunch options. Or pack a picnic and claim a spot on the sand for the day.
Don't forget the sunscreen, as the North Tahoe sunshine is fierce at this elevation. The water is chilly, but it does warm up into the low 70s in the July and August. Bring a couple inner tubes and float in the small waves by the shore. You can also rent jetskis and parasail in this area.
In winter, North Tahoe Regional Park offers snowshoe and cross-country trails just a few miles away. Families can find gentle sledding hill options for younger kids here as well.
8. River Raft on the Truckee River in the Summer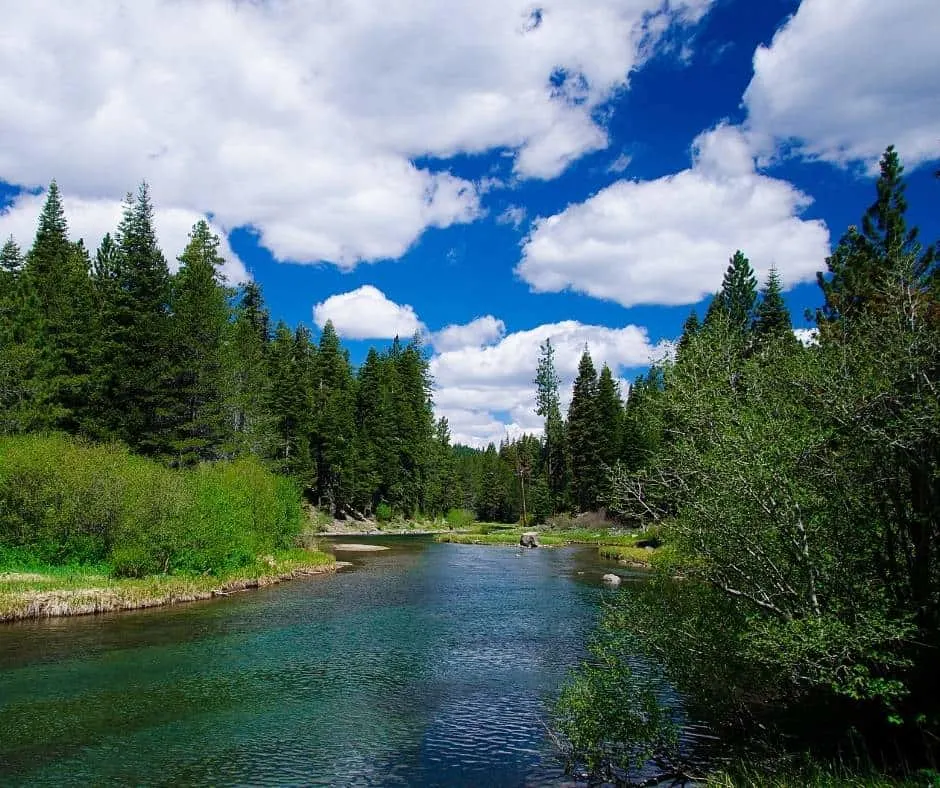 One of the most popular activities in North Lake Tahoe in the summer is floating down the Truckee River. Take a whitewater tour, which starts and ends in Truckee. Half-day trips are perfect for families with school-aged kids (minimum age is 7).
Families can expect a generally tame trip, with a few moments of mild whitewater excitement. Look for hawks, deer, and even the (very occasional) black bear sighting.
9. Hike the Tahoe Rim Trail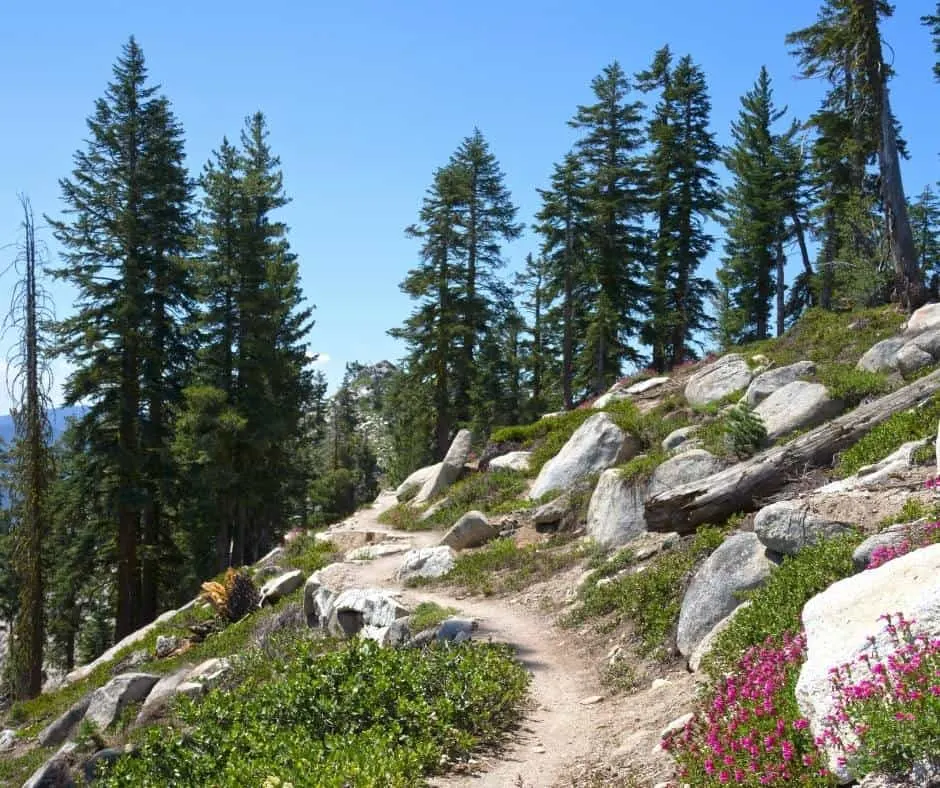 This 165-mile Tahoe Rim Trail can be accessed from many points, and makes for a perfect day hike. Find trail maps and section information here, or join a guided experience. You can also mountain bike on the trail, and dogs are welcome.
Don't forget to plan for your day with plenty of water and a packed lunch. End your hiking day at one of North Tahoe's many family-friendly brew pubs with outdoor seating and fire pits.
10. Try SnowCat Skiing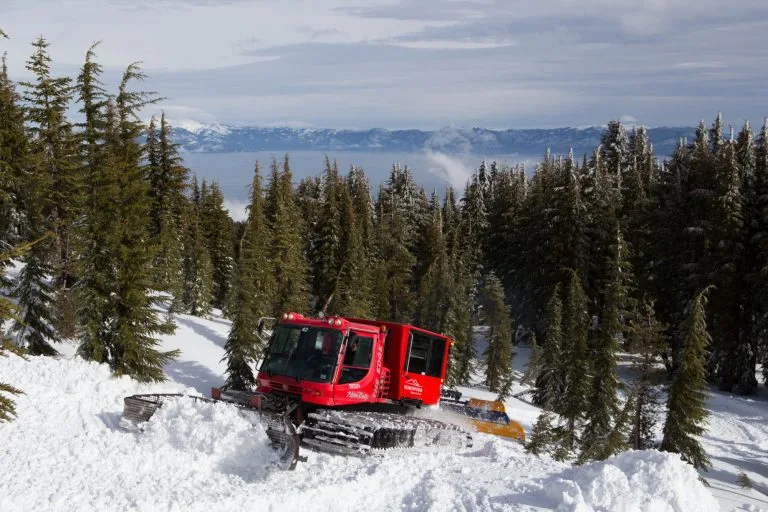 Homewood Resort, on the west side of North Tahoe, offers an experience unique to Tahoe ski resorts: SnowCat adventures! This is definitely a bucket list type of activity, and families should all be advanced skiers or snowboarders.
If you have teens who want to join the adventure, give Homewood a call first to make sure they can join. Once booked, you'll enjoy laps from the top of Ellis Peak, not accessible from the lifts.
For families with intermediate to beginning skiers and riders, Homewood offers some of the best daily lift ticket prices in the area.
Trekaroo Tip: If you plan to ski at any resort in North Tahoe for more than one day, look for discounts on multiple-day tickets (bought in advance). Families planning to ski 4-5 days may benefit from purchasing an annual pass, such as the Ikon Pass for Palisades or the Epic Pass for Northstar. Check out our article with more details on this topic.
Where to Stay in North Tahoe
Slopeside: The Village at Palisades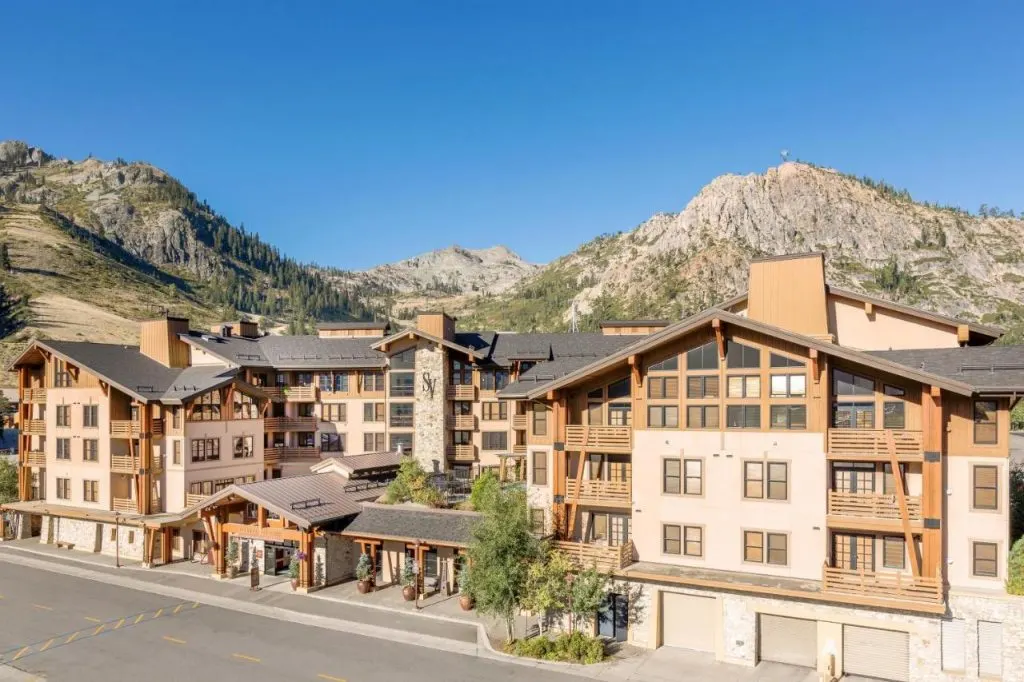 Nothing has changed except the name! Families will still be spoiled rotten with slopeside lodging options in the Village at Palisades, with epic skiing and riding right outside your door in winter and mountain biking and hiking in the summer.
Hot tubs are available for lodging guests in the village, and you are steps away from plenty of shopping and dining. Family pro tip: Send older kids out to eat at the waffle stand by the ticket booth while the grown-ups go get food of their own.
Lakeside: Hyatt Regency Lake Tahoe Resort, Spa, and Casino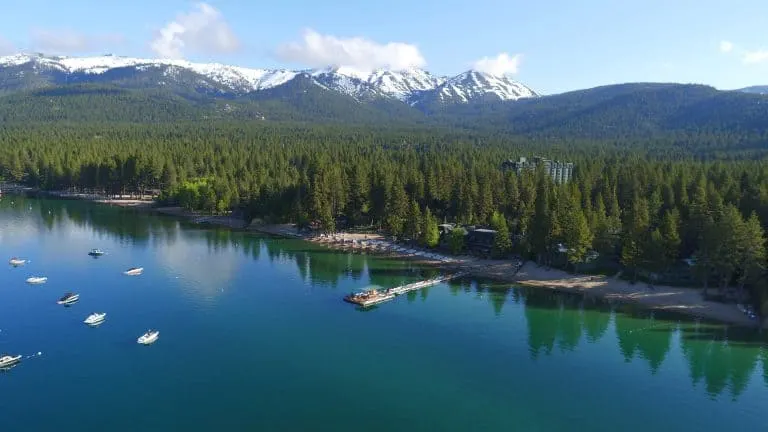 Located lakeside in Incline Village, the Hyatt Regency Lake Tahoe provides a range of amenities and activities for guests to enjoy.
The hotel features 422 guest rooms, including 24 lakeside cottages, and each room comes with a private balcony or patio with views of the lake or mountains. Amenities at the resort include a heated outdoor pool, a fitness center, and the Stillwater Spa which offers a variety of treatments including massages, facials, and body wraps.
New for 2023, the hotel has partnered with Lake Tahoe Luxury Boat Rentals to provide access to a fleet of self-chartered and chartered boat rentals. They will also provide complimentary paddleboard and kayak rentals as an added amenity for overnight guests starting on May 25th.
Lakeside: Firelite Lodge and Mourelatos Lakeshore Resort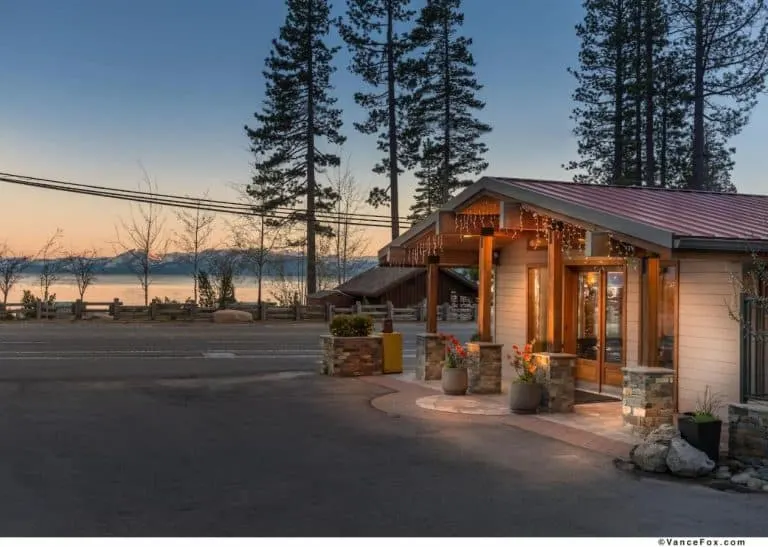 Firelite Lodge is a contactless, no-frills hotel in Tahoe Vista that is steps from the lake. It is right across the street from a scenic vista and day use lake area. We love that it has an outdoor pool (seasonal) and a year-round hot tub.
You are within walking distance to some quick service eateries and within five to ten minutes from all the shopping and dining options in both Kings Beach and Tahoe City. You get your room code and number via an app before arrival, and there is good texting communication with the Firelite team should any issues arise.
Right across the street from Firelite, families will find Mourelatos Lakeshore Resort, a timeless classic that fills up fast. With beachfront access and family-friendly room configurations including rooms with kitchens, Mourelatos is known for their repeat guests. Snag a room if you can!
For a longer stay, consider the many AirBnb and VRBO options in the neighborhoods along the north and west shores. Just a few blocks from the lakeshore, families can snag deals even in peak season.
Disclosure: The author was hosted by Palisades Tahoe. She was not asked to express a particular point of view and all opinions are her own.