Located in California's scenic Santa Ynez Valley is a quaint village that will have kids believing they walked into a storybook. Parents will recognize it from the classic wine country movie, Sideways. Despite the movie's adult theme, you will be pleased to discover there are many great things to do in Solvang with family.
Solvang's half-timbered facades, windmills, and Danish charm are sure to win your family over. Go for a walk and admire the old-world European architecture. Indulge in Danish pastries and come away with treasures found in the unique boutiques and shops.
Solvang was the dream of three Danish-American educators who purchased 9,000 acres of land surrounding Old Mission Santa Ines for the bargain price of $75,000.
From this humble beginning sprang a little slice of Denmark that has been visited by many, including some Danish Royalty. There may be mornings during your stay you'll need to remind yourself that you're still squarely rooted in California! Here are our favorite things to do in Solvang on a family vacation.
Explore more of the state! Here are our favorite things to do in California with kids.
Fun Things to do in Solvang with Family
Load Up on Danish Pastries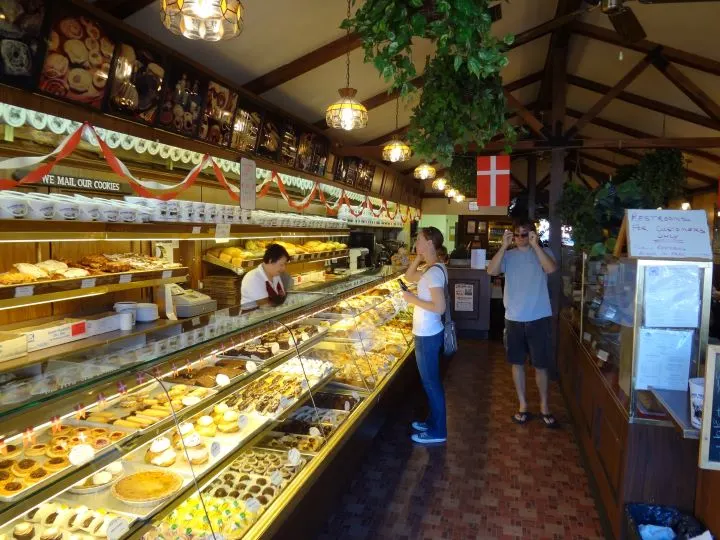 From cream puffs to Stroopwafels, Solvang is a great place for an active sweet tooth! There are about a half dozen authentic Danish bakeries in the town, and each one is a master class in pastries.
Some bakeries even have noteworthy specialties. The Danish waffles, cinnamon rolls, and raspberry Danish fly out the door regularly at Mortensen's Danish Bakery.
The Kringle ring cake and butter cookies have put Olsen's Danish Village Bakery on the map. The Solvang Bakery is known for its bear claws, honey almond tarts, and traditional Danish wedding cakes (Kransekage). Thankfully Solvang is a very walkable town because these sweets will result in extra calories!
Play in Hans Christian Andersen Park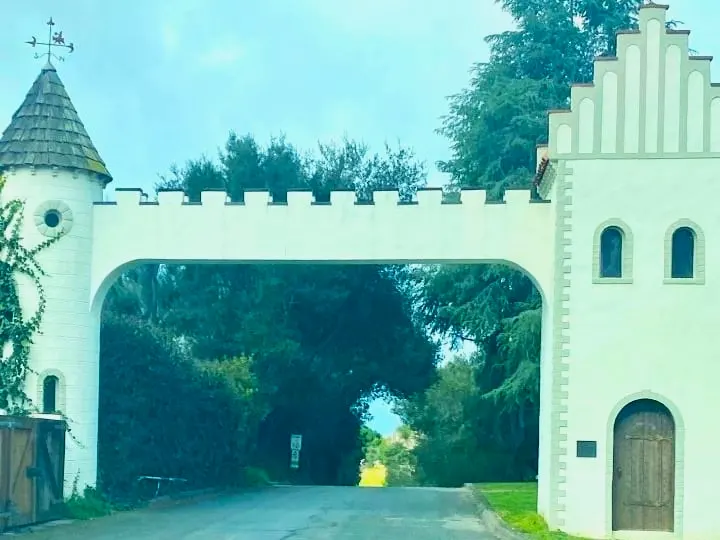 A large gate resembling a fairytale castle is the first clue you've arrived at the whimsical Hans Christian Andersen Park. Named for the famed Danish fairytale author, the grounds allow for endless play and imagination much like the author's stories.
Shady oak trees and sycamores which hug a dry creek bed as well as park trails are great for acting out his classics like the Ugly Duckling and the Snow Queen. There are plenty of picnic tables at this park, so pack a lunch and make an afternoon of it!
There's also a skate park and playgrounds for big and little kids to check out! Kids especially love the music making station filled with chimes.
Bone Up on Danish and American History at a Local Museum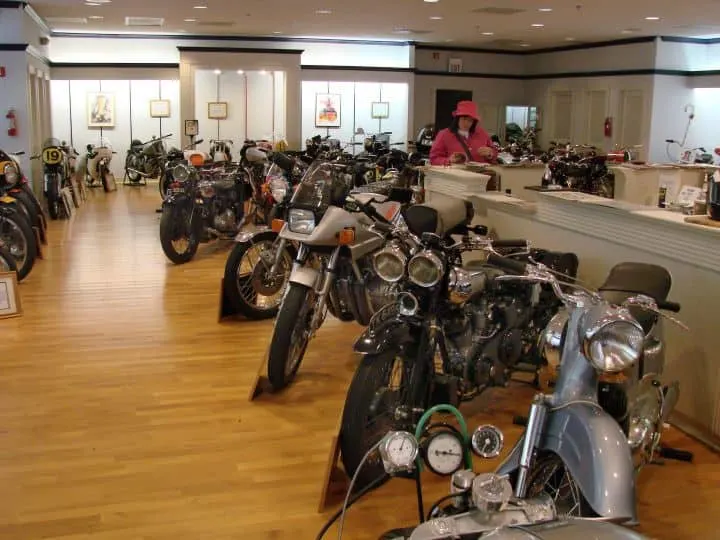 Solvang museums cover many topics, and all are interesting and fun! The Wilding Museum promotes conservation and an appreciation of nature and wildlife through art. The museum is open Friday through Monday. Admission is free for kids 17 and under.
Visitors to Elverhøj Museum of History & Art can trace Solvang's history through photos, artifacts, and video displays. It also features exhibits that celebrate the town's Danish heritage. This museum is open Thursday through Monday and free to enter.
Feeling the need for speed? Then you'll want to stop by the Solvang Vintage Motorcycle Museum. It contains 95 of the rarest vintage and classic motorcycles! The museum is open on weekends. It is $10 for general admission and children 10 and younger are free.
Situated on the second floor of the Book Loft is the Hans Christian Andersen Museum. This gem highlights the life and work of the author. There are early editions of his most famous tales and character models- even models of his home- to check out.
Hit Up Solvang's Most Instagram Worthy Spots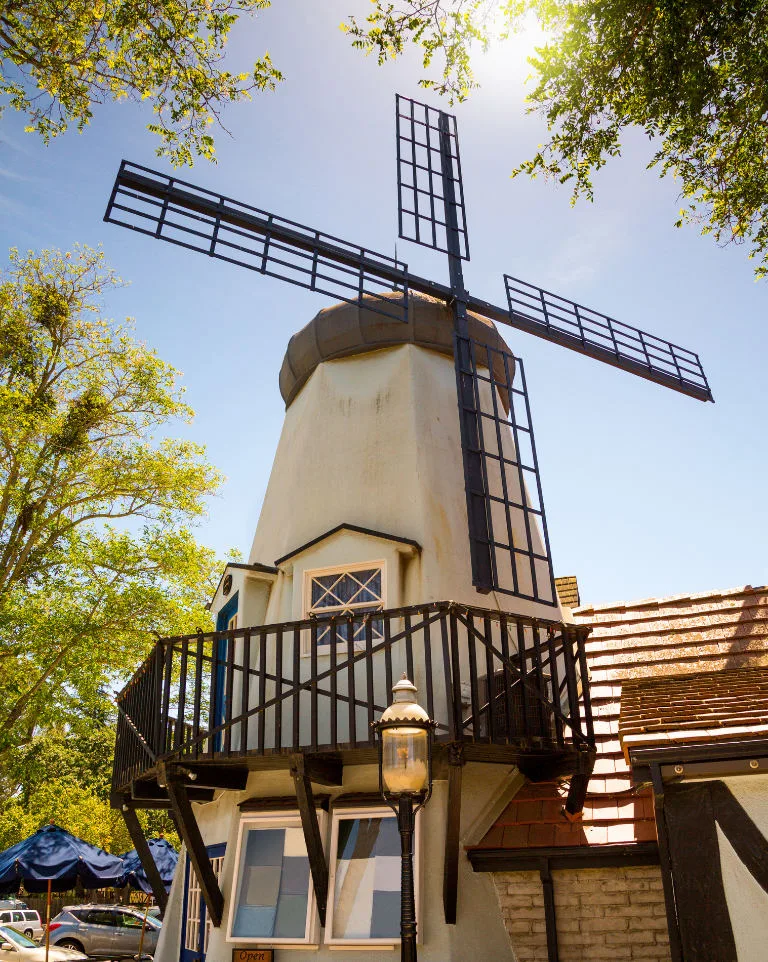 Solvang has many Instagram-worthy nods to its Danish heritage. There are four windmills in town that make great backdrops.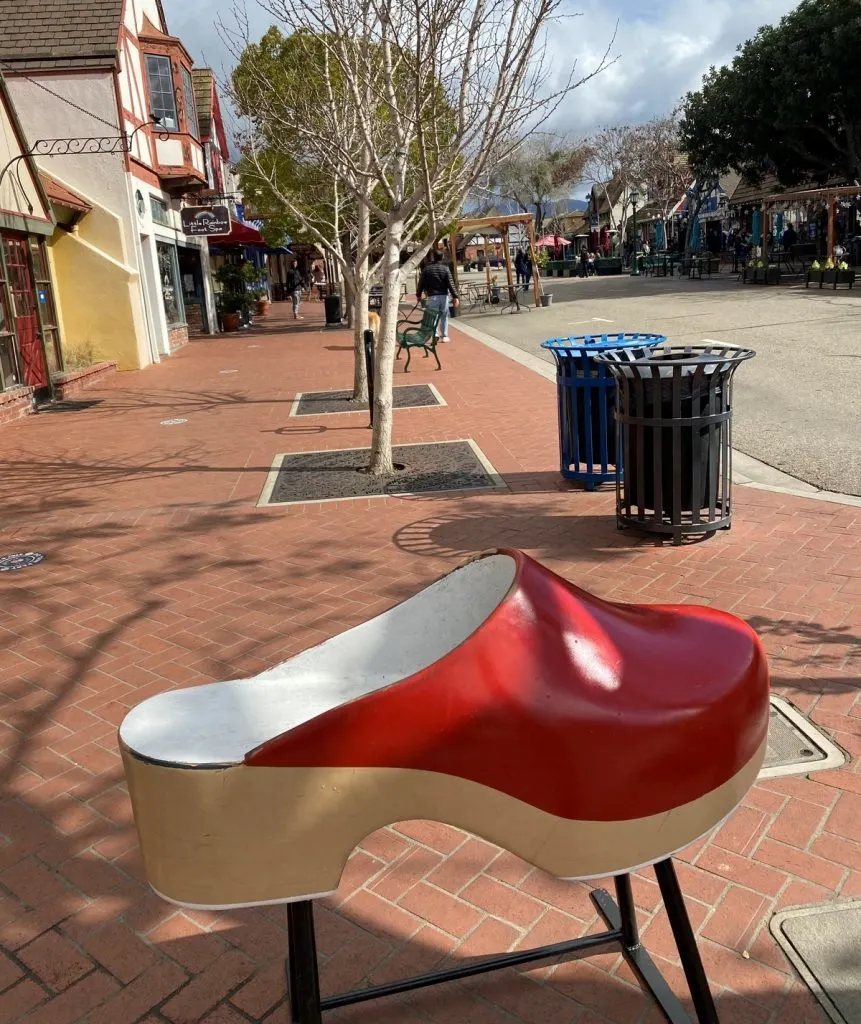 The giant red clog in front of the Solvang Shoe Store is another classic photo opp.
Next, head over to Solvang Park to add the huge bust of fairytale writer Hans Christian Anderson to your shots. The Round Tower, a replica of Copenhagen's 17th century Rundetaarn but one-third the size, is another interesting photographic background.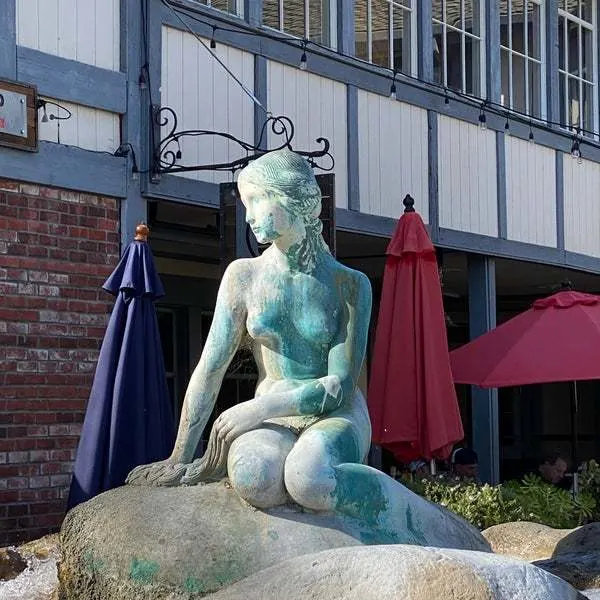 One of the most popular spots of all is the Little Mermaid fountain. Another replica of an iconic Copenhagen landmark, Solvang's Mermaid is bronze and half the size of the original.
Enjoy Solvang's Festive Annual Events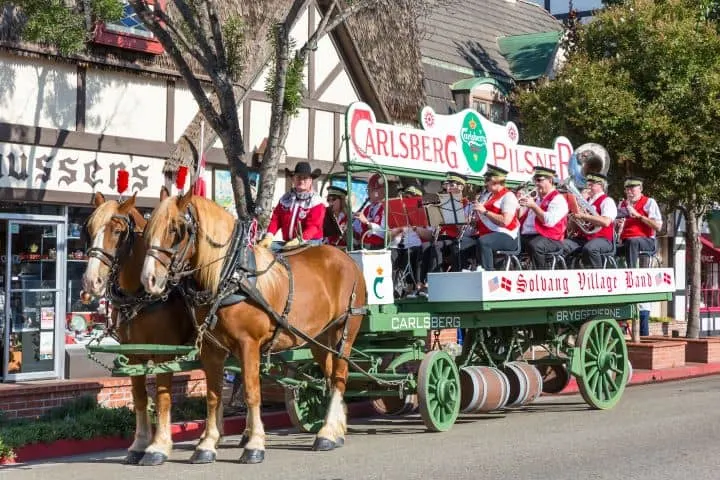 Depending on the timing of your visit, your family could enjoy some pretty unique and fun annual events. Have Aebleskivers for breakfast, take in multiple parades, and celebrate everything Danish during Danish Days in mid-September.
Get excited about the wine country harvest at the Solvang (Grape) Stomp. This October event is great for those who love the wine country comedy, Sideways!
Solvang also gets very festive at Christmas time. From food and candlelight tours to a nativity pageant and Santa's Village, Julesfest offers fun activities throughout the month. There's even a citywide hunt for the mysterious Solvang Nisse, a mythological creature from Nordic folklore.
Visit Ostrichland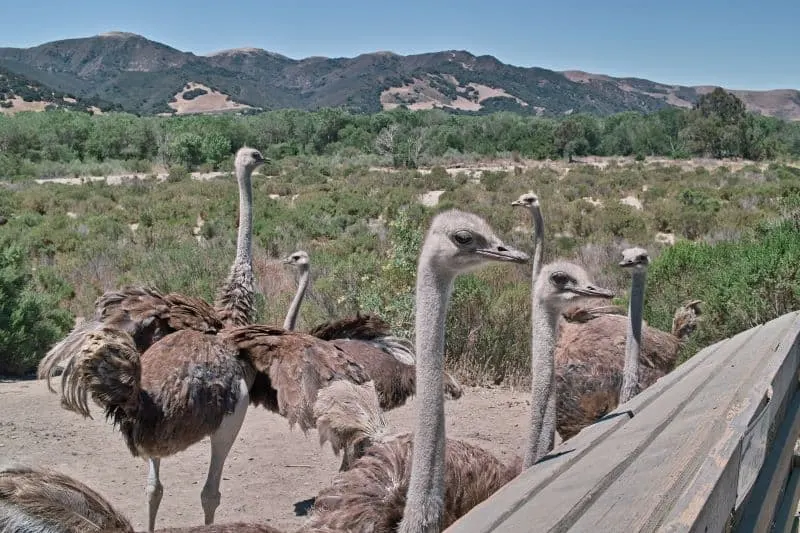 Ostrichland is an unexpected attraction in neighboring Buellton that is great for lovers of big birds. It is home to ostriches and emus, the largest species of birds in the world. There are over 100 ostriches on property and if you are lucky, you will even see ostrich chicks.
For a small admission fee, visitors can check out these creatures in their enclosures and take some epic photos. You can also buy bird feed and pay to get a closer look at them.
Be sure to stop by the gift shop for fresh ostrich and emu eggs, among other quirky souvenirs.
Take In Some Living History at Mission Santa Ines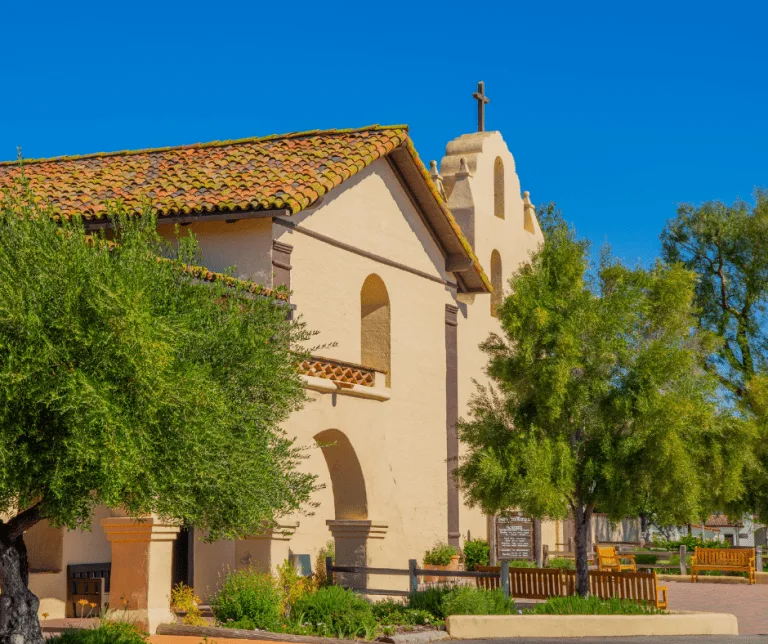 The 19th of the 21 missions constructed in California from 1769 to 1836, Mission Santa Ines sits at the axis of Solvang's beginnings. As mentioned earlier, Solvang's founders started the town on land purchased around Old Mission Santa Ines.
A National Historic Landmark, it is not only one of the best-preserved Spanish missions in the country, it's still an active parish today. The grounds are stately and beautiful. There's a nearby Stations of the Cross to walk through. The mission also commands a superb view of the Santa Ynez River Valley and the Santa Ynez and San Rafael Mountain ranges.
Shop for Danish Souvenirs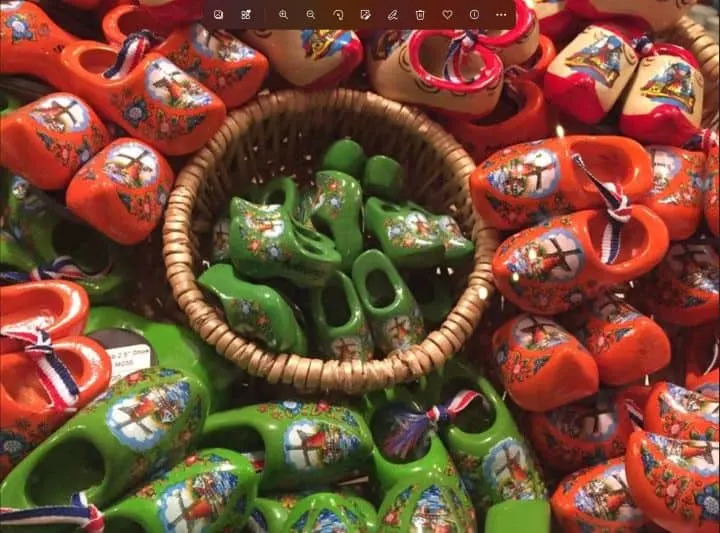 Don't go home without some unique keepsakes to remember your visit to Solvang! Browse the selection of cuckoo clocks at Hanson's Clock Shop.
Get yourself some authentic Danish clogs at the Solvang Shoe Store. Stop by Rasmussens to secure a special pan so that you can make Aebleskivers and krumkakes for the kids long after you leave! Marvel at the collectible dolls at Edelweiss.
It's Christmas year-round at my favorite store, Jule Hus. It is loaded with gorgeous Old European Christmas and Scandinavian ornaments and decorations. There are also beautiful nativity scenes, handcrafted wooden nutcrackers, and so many versions of Santa!
Enjoy a Performance at the Solvang Festival Theater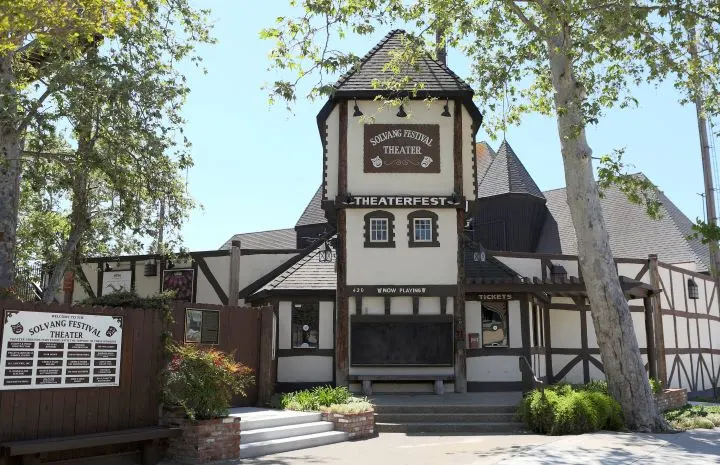 Attending an event at the Solvang Festival Theater is a memorable experience! A 700-seat outdoor amphitheater, the Solvang Festival Theater has hosted concerts, theater productions, and performances of all kinds during the day and at night since 1974.
It's the summer home of the Pacific Conservatory Theater. You can also catch a quartet or other live music at an intimate Music in the Garden show. Performances and events at the Solvang Festival Theater attract more than 40,000 patrons annually.
Eat A Bit O Denmark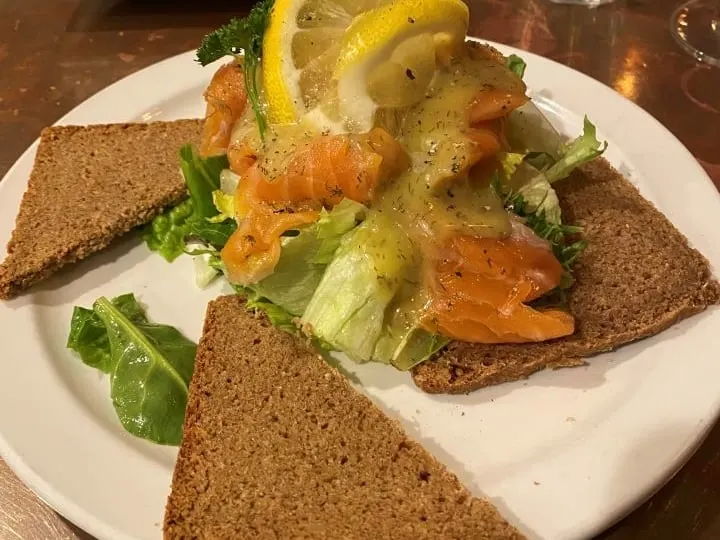 This classic eatery is housed in Solvang's oldest building. We saw many guests who were not acquainted with each other comparing notes on their meal choices and making recommendations to newer patrons in this open and friendly spot.
While A Bit O Denmark is known for its schnitzel, the menu has some tried and true classics on it like burgers and chicken marsala.
Since this is California's little slice of Denmark, try the Danish Herring appetizer. It comes with pumpernickel bread and three sauces to sample— pickled, curry, and Madeira wine.
Stuff Your Face at Paula's Pancake House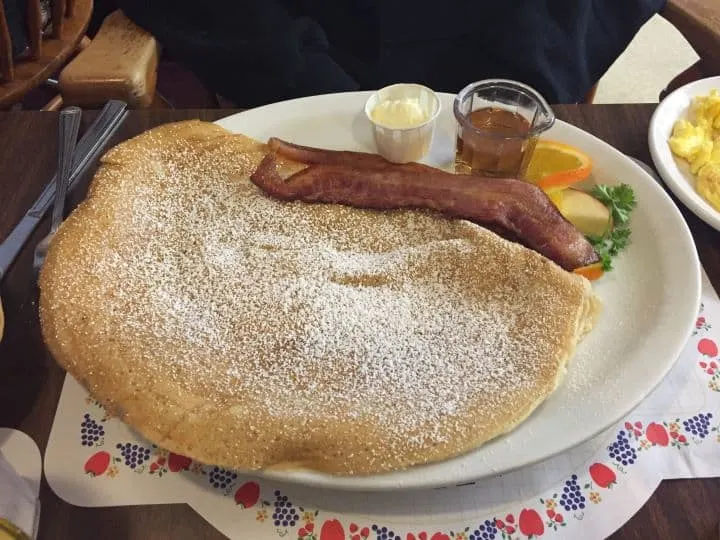 Go early, or you are in for a wait at Paula's Pancake House. This breakfast spot is one of the most popular in Solvang. and for good reason.
A hybrid of Danish style and classic American diner, the food is fantastic, the staff is friendly, and the atmosphere is warm. Where else can you dig into a stack of Danish Pancakes in the shadow of a windmill?
If pancakes aren't your go-to breakfast food, don't worry, I'm happy to report that the salmon benedict is top notch!
Eat Aebleskivers at Solvang Restaurant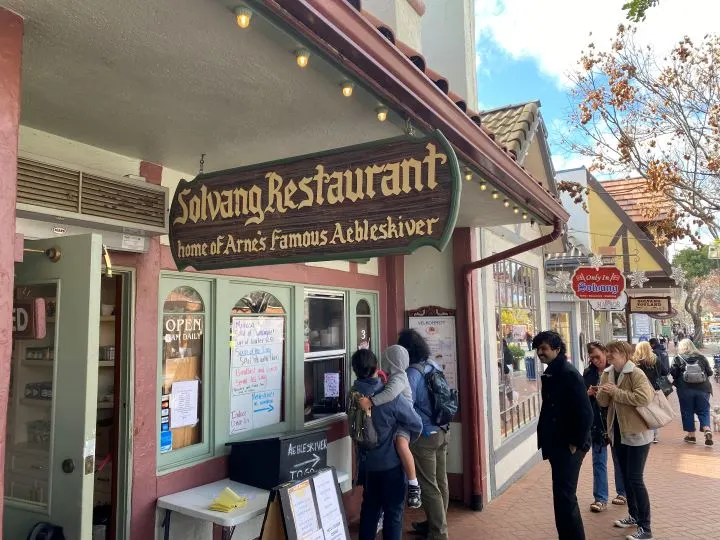 If you're a fan of the movie Sideways, you'll recognize the Solvang Restaurant as the place where Jack and Miles have breakfast. It's a quaint little place with interesting woodwork and designs reminiscent of old-world Nordic style.
The Solvang Restaurant is also home to the famous Aebleskivers! A Danish dessert comparable to doughnut holes but sweeter, Aebleskivers are traditionally served with glogg (mulled wine) during Advent.
You don't have to dine in at the restaurant to get a hold of this tasty treat. The Solvang Restaurant has an order window frequently visited by fans and those anxious to feed a sweet tooth.
Dine Al Fresco at The Succulent Café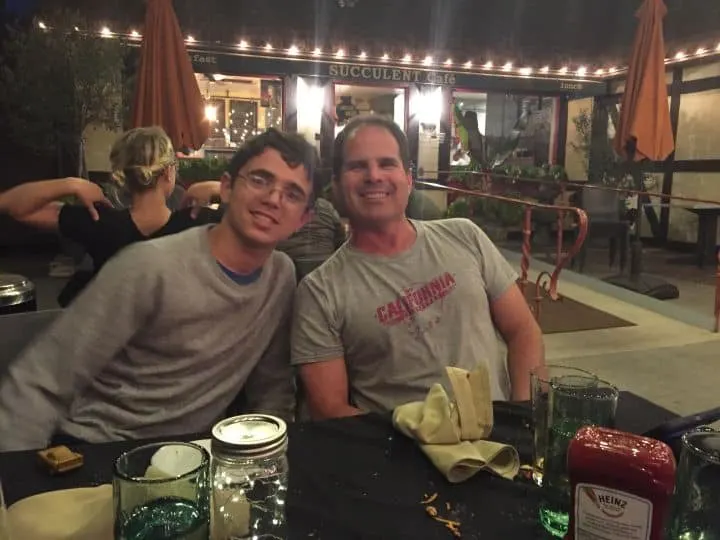 This café is one of those places where you want to linger for a while and enjoy delicious food while catching up with your favorite people. While the Succulent Café has a nice casual indoor dining room, an outdoor table under the twinkly lights surrounded by gorgeous succulents on a warm spring night is hard to beat.
The little infusion of European flair was lovely! It is another Solvang eatery that sits in the shadow of a windmill. The patio is also dog-friendly just, like many European cafes. The Succulent Café is known for its charcuterie platters. Ordering one is a must!
Where to Stay in Solvang with Family
Wine Valley Inn & Cottages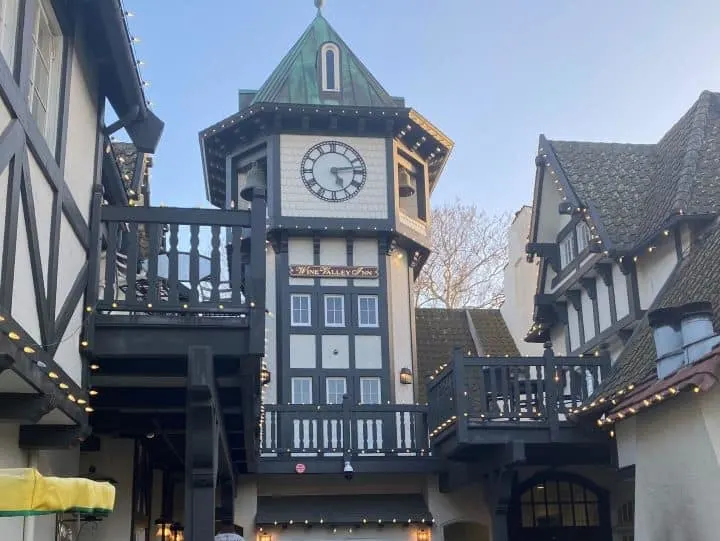 The Wine Valley Inn & Cottages is the perfect setting for either a fun family weekend or a romantic getaway. It's cozy and cute, just a short walk from Solvang's delectable bakeries and adorable shops.
The rooms, which are more like suites, are large enough to accommodate a family of four. Our room included a sitting area complete with a fold-out couch located six steps down from the bedroom area. The room also had a fireplace and an ample bathroom.
Other amenities of this charming Solvang inn include an onsite restaurant where guests enjoy a complimentary continental breakfast and a spa. My favorite feature was the numerous places where guests could gather to be social or enjoy the view.
Royal Copenhagen Inn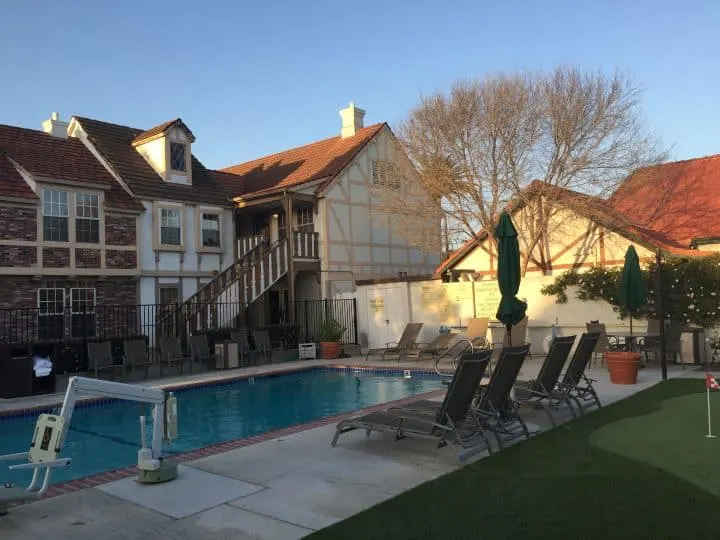 There is something for every member of the family to enjoy during a stay at the Royal Copenhagen Inn! Amenities include a heated pool, a play area with a putting green and gigantic chess pieces, ping pong, and a barbecue.
Each room has a mini-fridge should your family barbecue result in leftovers. A stay at the Royal Copenhagen Inn includes a complimentary traditional Danish breakfast including, pastries, waffles, fruit, coffee, juices, etc.
Enjoy More Family Fun In California: