On the surface, Santa Cruz, CA looks like a Beach Boys tune come to life. There's a thriving surf culture, ample space for beach volleyball and sandcastle building, and an amusement park just feet from the ocean waves.
But Santa Cruz is more than a year-round surfing safari. Creative, environmentally conscious, and filled with family-friendly fun, here's our top 10 list of things to do in Santa Cruz with kids.
Fun Things to do in Santa Cruz with Kids
1. Shop Downtown Santa Cruz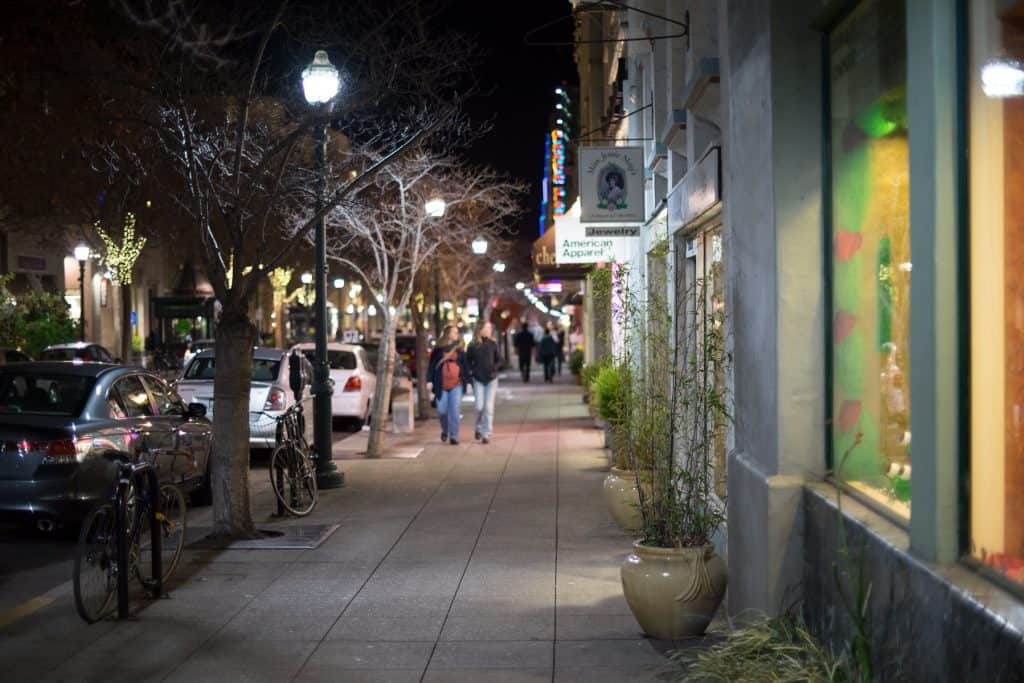 Shop for unique gifts and souvenirs that are authentically Santa Cruz on Pacific Avenue. Peruse the shelves at the Bookshop Santa Cruz, a large independent bookstore with a 50-year history. Nearby Comicopolis has the finest selection of comics available.
Creating your own souvenir is one of the most fun things to do in Santa Cruz with kids! Tie-dye is a favorite free-spirited fashion statement in this beach community. You can make your own at A Brighter World.
Perhaps you're in the market for a magic spell? Serpent's Kiss is a great source for spells, witchcraft, spiritual gifts, and more.
Looking for another great NorCal beach town to enjoy nearby? Check out this guide filled with things to do in Half Moon Bay.
2. Walk or Bike Along West Cliff Drive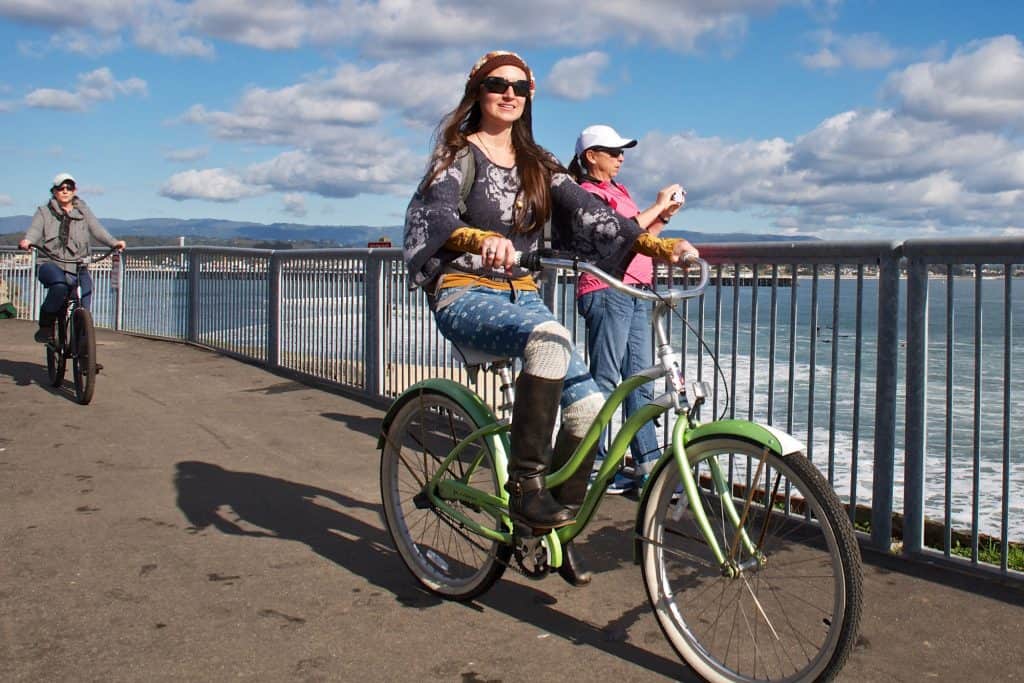 Getting outdoors should be at the top of your list of things to do in Santa Cruz with kids. The scenic three-mile walking and biking path on West Cliff Drive has plenty of incredible ocean views to enjoy.
Watch surfers bob in the tide while waiting to catch a wave. Lose yourself in the soothing sounds of the ocean crashing against the shoreline and feel its mist on your face. Dream of living at the water's edge while admiring the nearby beach houses. Be awestruck by the wildlife. This path is wheelchair accessible and popular with both locals and tourists.
3. Catch the Sunset at Santa Cruz Harbor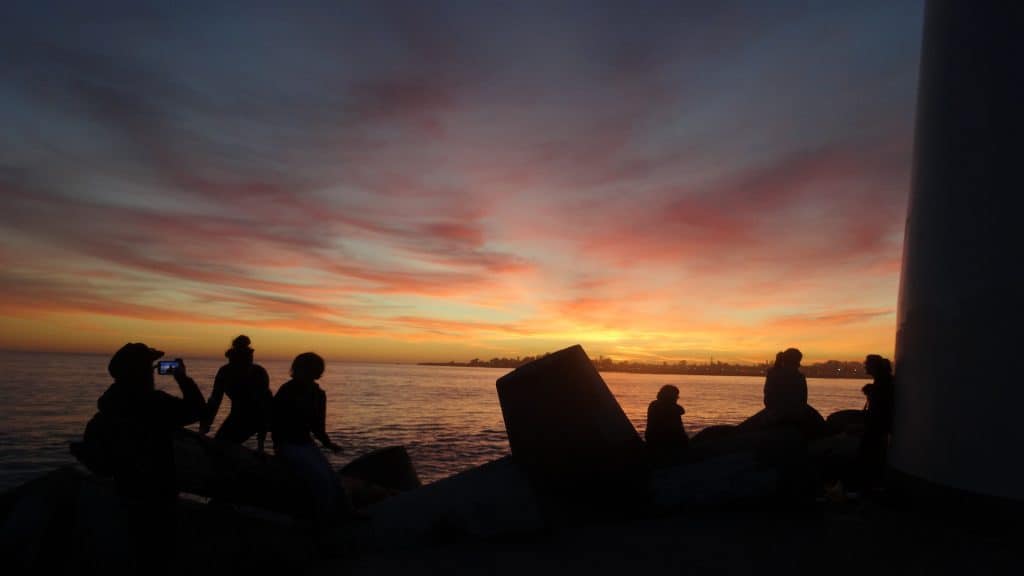 By day, the Santa Cruz Harbor teems with life. Fishing, whale watching, and eco-tour charters come and go. Beach goers enjoy the restaurants and retail shops between stretches of sunbathing, water play, and sandcastle construction.
Nature caps all this great fun each night with a light show. Enjoy the explosion of orange and yellow hues over the Monterey Bay during a walk out to Walton Lighthouse. It's not only one of the most beautiful things to do in Santa Cruz with kids, it's a dog-friendly trek.
4. Explore the Santa Cruz Mountains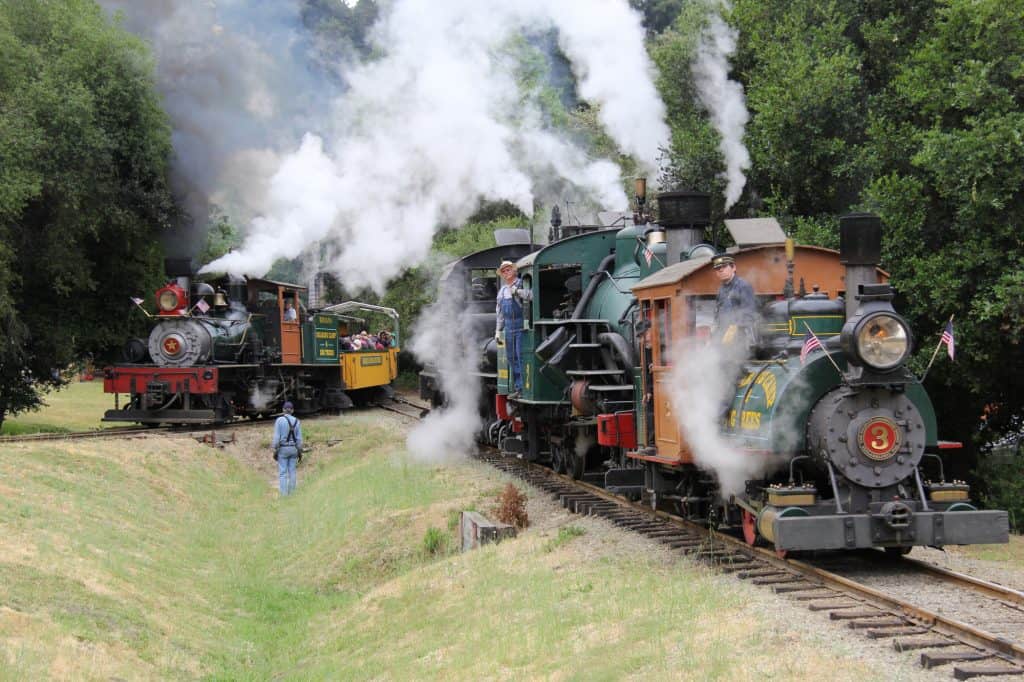 You can hike among giant redwood trees in Henry Cowell and Big Basin Redwoods State Park. But, one of the most exhilarating things to do in Santa Cruz with kids is to zip through the redwoods!
Redwood Canopy Tour at Mt. Hermon offers two-hour guided eco-adventures that include six zip lines and two sky bridges at heights of up to 150 feet. When you're finished thrill seeking, investigate a strange gravitational anomaly in the mountains at the Mystery Spot.
If taking to the trees is not your thing, then take to the rails! Roaring Camp and Big Trees Railroad has two routes to choose from. One heads to Santa Cruz, dropping passengers off at the Boardwalk, the other travels deeper into the mountains.
San Jose is just down the road. Read about the best things to do in San Jose with kids.
5. Be Enchanted by Capitola Village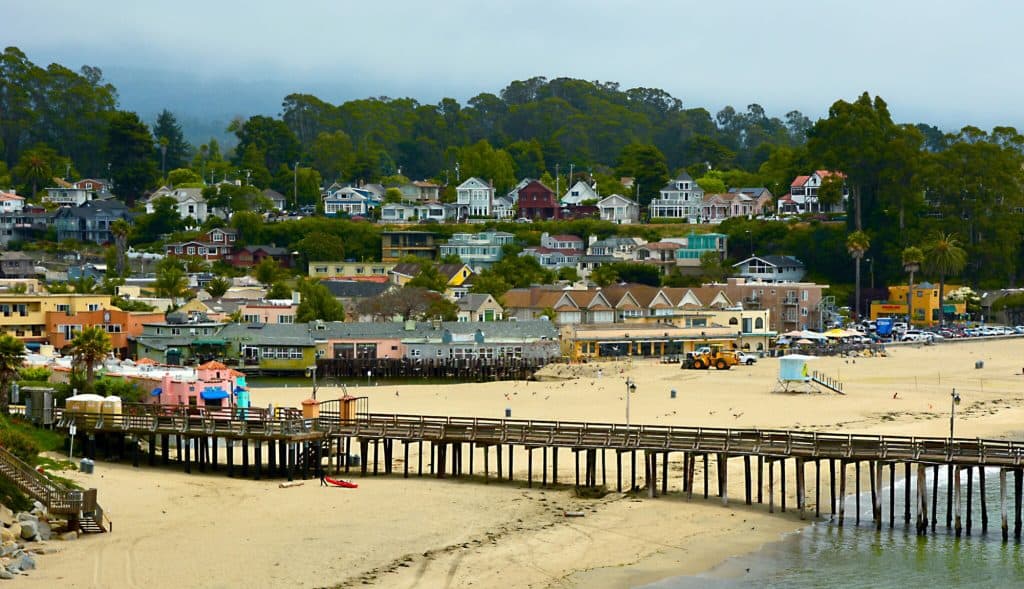 California's oldest seaside town is just a short drive from downtown Santa Cruz. Looking at the charming little village of Capitola, it's hard to believe it was once a lumber port. Today, diners fill classic establishments like Zelda's On the Beach and other quaint restaurants along the Esplanade in the village.
During the summer, Capitola Beach fills with families and groups looking build sandcastles and soak up a few rays.
Many also play beach volleyball in the shadow of the historic and colorful Capitola Venetian. A noteworthy landmark, the Capitola Wharf is the finish line for the annual Wharf to Wharf Run, which starts in Santa Cruz.
Want more kid-friendly fun in California? Check out our top ten things to do in California with kids!
6. Learn About Marine Life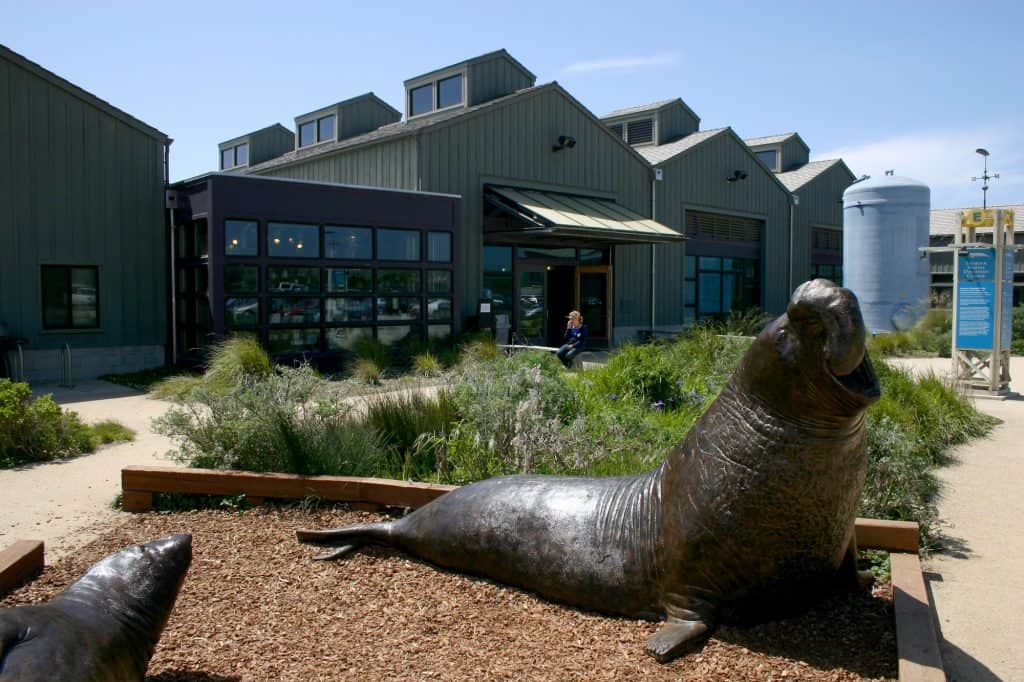 Life revolves around marine life in Santa Cruz and so do the next two things to do in Santa Cruz with kids. Take a deep dive into ocean research currently taking place in Santa Cruz by visiting the Seymour Marine Discovery Center.
Part of the UC Santa Cruz, visitors head here to see how marine scientists work. They also learn more about the role scientific research plays in understanding ocean conservation.
Featuring state-of-the art exhibits and interactive displays, the Monterey Bay National Marine Sanctuary Exploration Center brings the bay to visitors. One exhibit that really resonated with my family illustrated the human effect on the ocean. You will be changed by seeing what happens to a bottle dropped into the water! Spoiler alert: it eventually becomes an artificial reef!
7. Enjoy the Best Santa Cruz Beaches for Families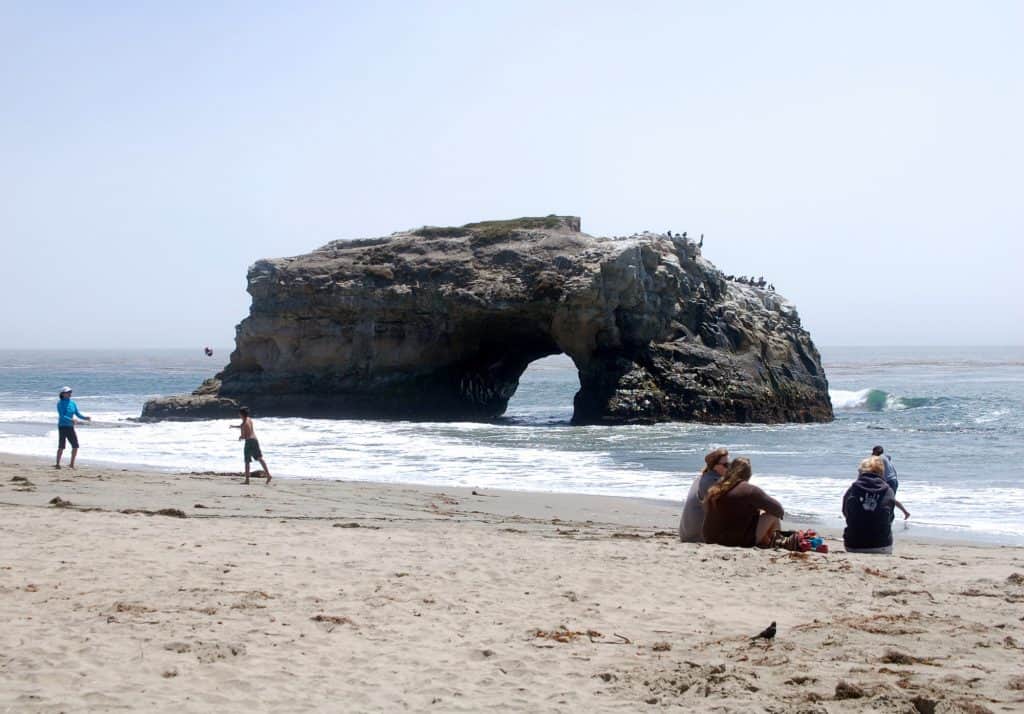 With 29 miles of coastline, hitting the beach is the easiest things to do in Santa Cruz with kids! Natural Bridges State Beach, the seasonal home to migrating monarch butterflies. It is also great for viewing whales, seals, and otters. Treasures like sea stars and shore crabs are revealed with the low tides.
For a prime spot to watch the sunset, head to Seabright State Beach. It's the long sandy stretch between the Boardwalk and the Santa Cruz Harbor.
There's a half sunken concrete freighter connected to the fishing pier at Seacliff State Beach. While the ship is off-limits, the pier is open, and kids love running to the end of it to get a better look.
Touch history at Wilder Ranch State Park, an historic ranch along rugged coastline with its own tide pools to check out.
8. Walk the Santa Cruz Wharf
California's longest over-the-water public pier, Santa Cruz Wharf was originally built to ship potatoes to San Francisco. Today, visitors dine at the numerous restaurants enjoying the catch of the day and stunning ocean views.
One fun thing to do in Santa Cruz with kids is to go shopping in the wharf's kitschy shops. Beach-themed gifts and décor, kites, and candy are among the colorful choices. You can also book fishing trips, rent boats, and kayaks.
Get out on the water to catch your own dinner or get a glimpse of seals and sea lions under the pier. If you visit on Sunday evening, you might even stumble across an outdoor dance party. Salsa by the Sea kicks off next to the Ideal Bar & Grill weekly. Noteworthy for you runners, this is the starting point for the annual Wharf-to-Wharf Run.
Headed north? Read about things to do in Santa Rosa with kids.
9. Take in Surfing Lore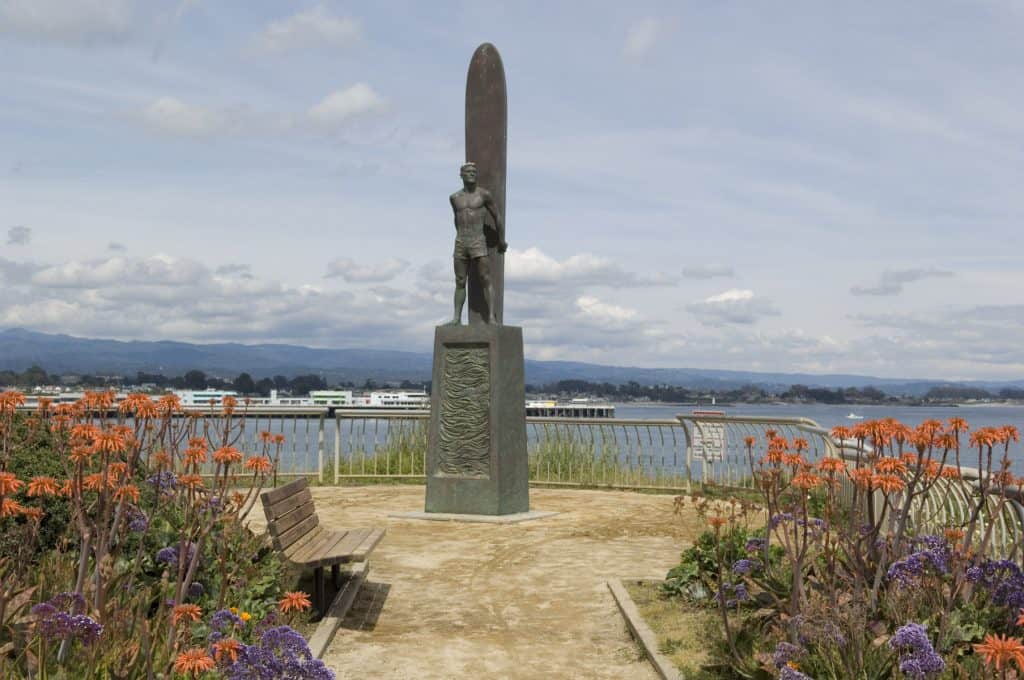 Santa Cruz has long been synonymous with surfing. It's a relationship dating back to 1885 when three Hawaiian princes exported it to the city's shores. Local legend Jack O'Neill then gave it a boost by introducing the wet suit, a great guard against chilly Pacific waters.
Bone up on the history of the sport at the Surfing Museum. Perched above internationally renowned surfing hotspot, Steamer Lane, it's full of photos, surfboards, and other artifacts.
While the area is best for experienced surfers, Cowell Beach is a great place to start if you're new to the sport. The best way to learn is by booking a beginning surf lesson with pros that know how to get you hanging ten in no time.
For a real surfer's vibe, head to Pleasure Point one of the settings for the feature film, Chasing Mavericks. Wherever you choose to hang ten, know that you're visiting a designated world surfing reserve, one of only four in the world. The others are Malibu, CA; Ericeira, Portugal; and Manly Beach in Australia.
10. Play at the Santa Cruz Beach Boardwalk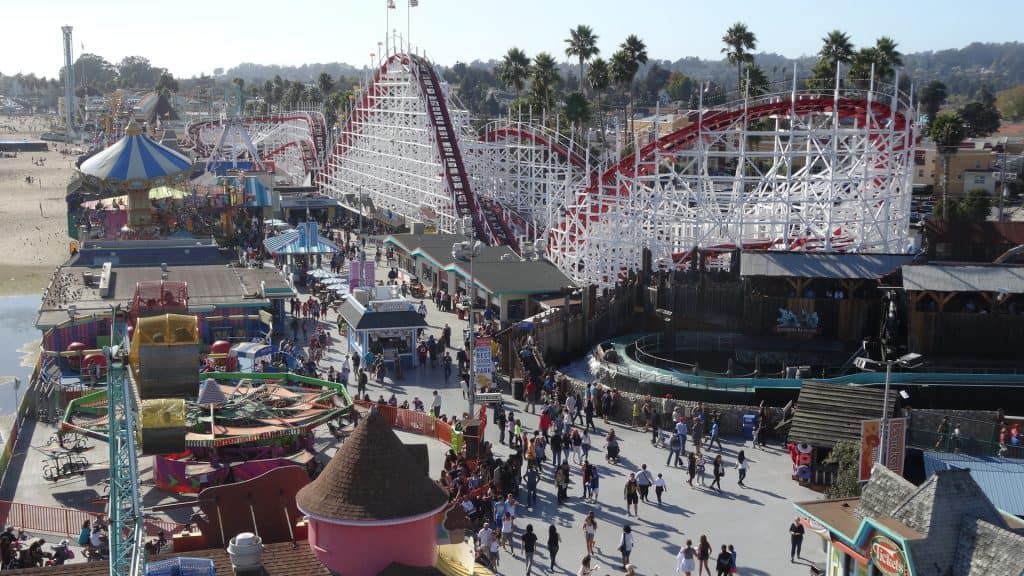 Surround yourself in endless summer vibes at the Santa Cruz Beach Boardwalk. Picture this; cool ocean breeze, classic amusement park attractions and a crazy variety of fried foods served on a stick! It is easily the most memorable of the things to do in Santa Cruz with kids.
Ride the Giant Dipper, the classic wooden rollercoaster that has been thrilling riders 1924. Wander the walkways while noshing on caramel apple chips. Afterwards engage in competition for giant stuffed animals in the carnival games.
Toss brass rings grabbed while riding horse back on the antique Looff Carousel. Then head down to the sand for Bands on the Beach or an Outdoor Movie Night.
Should you hear the smack of a volleyball just outside the Casino Arcade, there could be a match gearing up at the nets. Other fun activities in the area include mini golf at Buccaneer Bay and Boardwalk Bowl.
Take a drive up the coast and discover the best things to do in San Francisco with kids.
Where to Stay in Santa Cruz with Kids
Chaminade Resort & Spa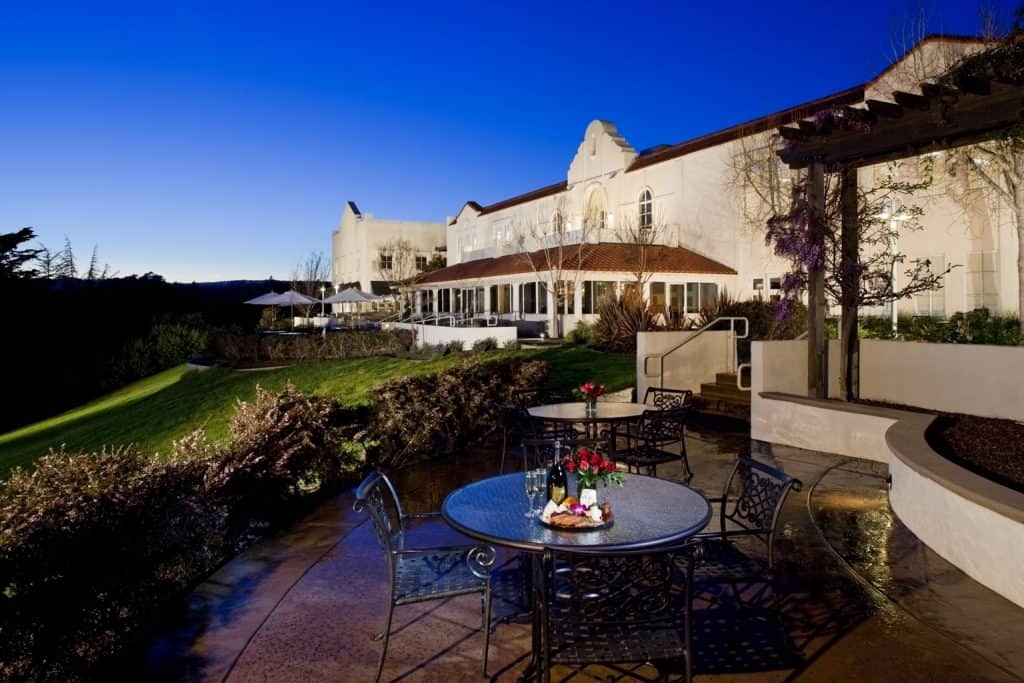 Chaminade Resort & Spa is a beautiful mountain retreat offering sweeping views of the Monterey Bay and the Santa Cruz Mountains.
Just five minutes from golf courses, the beach, and the downtown Santa Cruz, Chaminade Resort & Spa has an acclaimed spa, features yoga, and a patio with a koi pond. The resort's lap pool is open year round. Guests also enjoy walking the trails through the woods which reveal gorgeous bay vistas.
Dream Inn Santa Cruz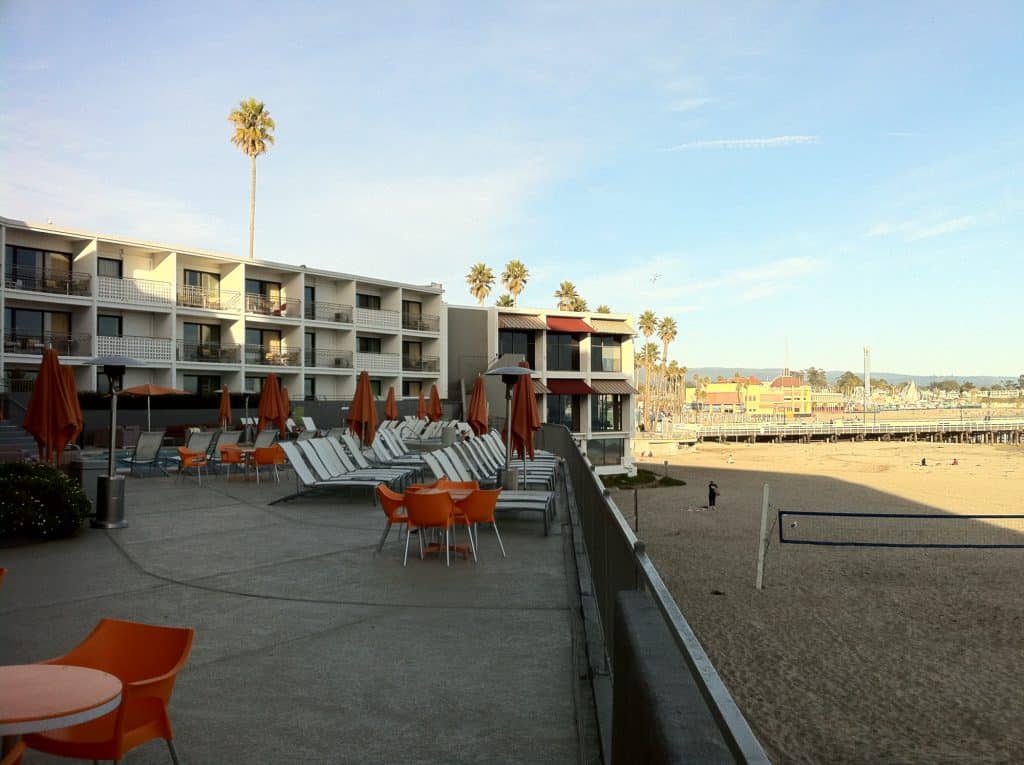 Being Santa Cruz's only beachfront hotel, there's a lot to enjoy at Dream Inn Santa Cruz. Monterey Bay sunsets, surfing, and paddle boarding on Cowell Beach are all a short walk away. So are the Santa Cruz Beach Boardwalk and the Santa Cruz Wharf.
Seascape Resort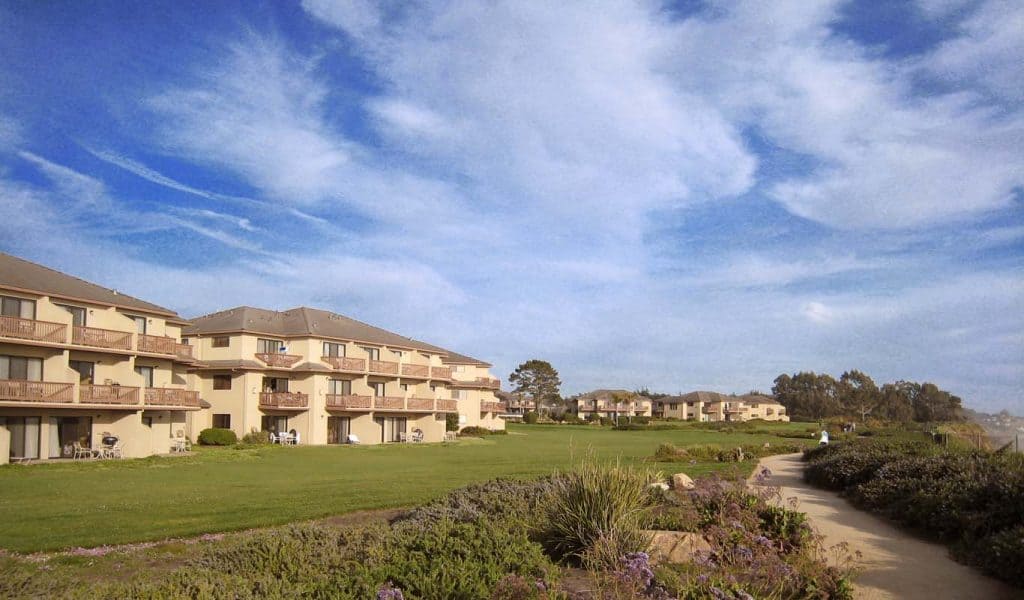 Enjoy your own beach house with all of the amenities of a four-star accommodation at the Seascape Resort. Move the family into a condo with a full kitchen, washer and dryer (key appliances after beach play), sitting room, and patios that look out over the pristine resort grounds and the Monterey Bay just beyond it.
The Capitola Venetian Hotel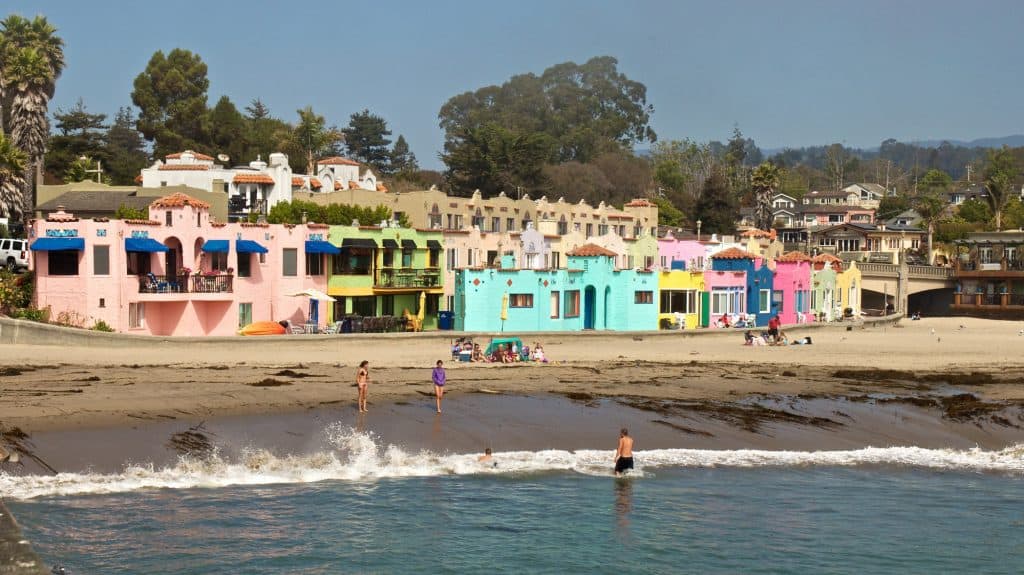 It's the classic backdrop of many Capitola Beach photos. The colorful collection of buildings known as the Capitola Venetian Hotel is an all-suite boutique hotel that opens onto the beach on one side. It's central location means that guests can walk to nearby restaurants on the Esplanade as well as the wharf.
Where to Eat in Santa Cruz with Kids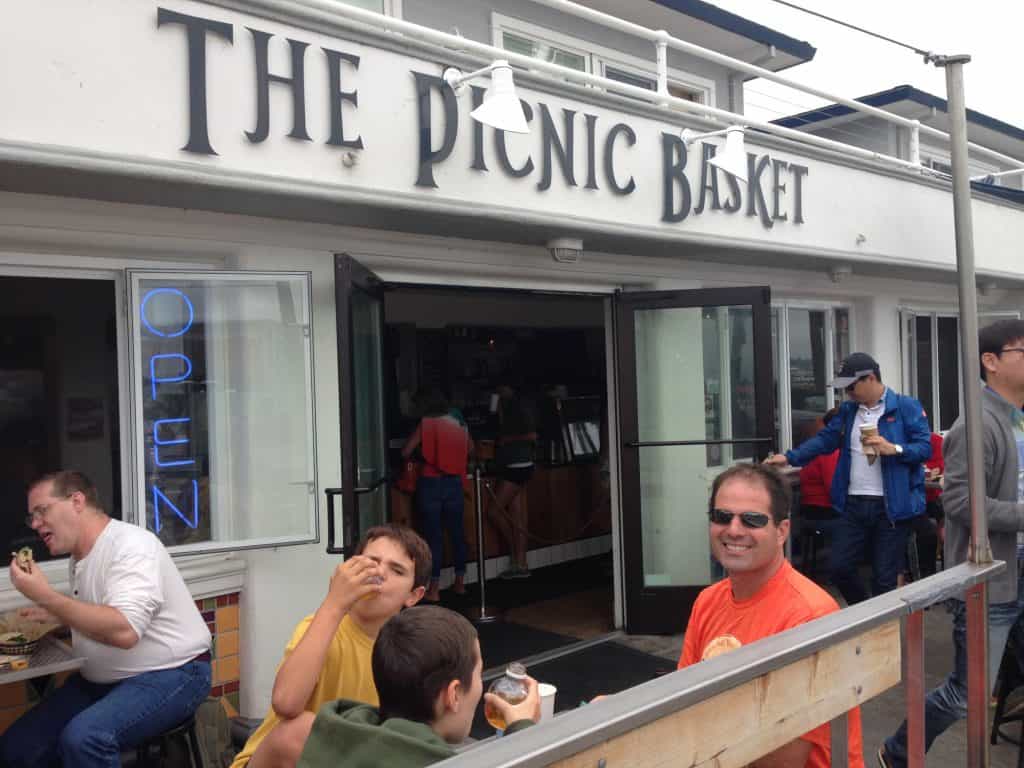 There's an eatery for just about any experience in Santa Cruz. Grab an Avocado toast, Dad's Meatloaf, or Fancy Pants Grilled Cheese at Picnic Basket.
Adjacent to the wharf, Ideal Bar & Grill is open for breakfast, lunch, and dinner. This popular spot may be known for its seafood, but even non-seafood lovers can find plenty to eat here.
Take a road trip east! Here are the 10 best things to do in Sacramento with kids.
Located where the Santa Cruz Harbor meets the beach, The Crow's Nest has been around since 1969. No matter what time of day you visit, the views are amazing!
Celebrate a special occasion at Shadowbrook. Originally built as a summer home in the 1920's, the log cabin atmosphere is quaint and charming. Whether you choose to follow the meandering garden path sloping into the restaurant's entry or ride the tiny cable car, you're in for an evening to remember.
Day Trips from Santa Cruz with Kids
Half Moon Bay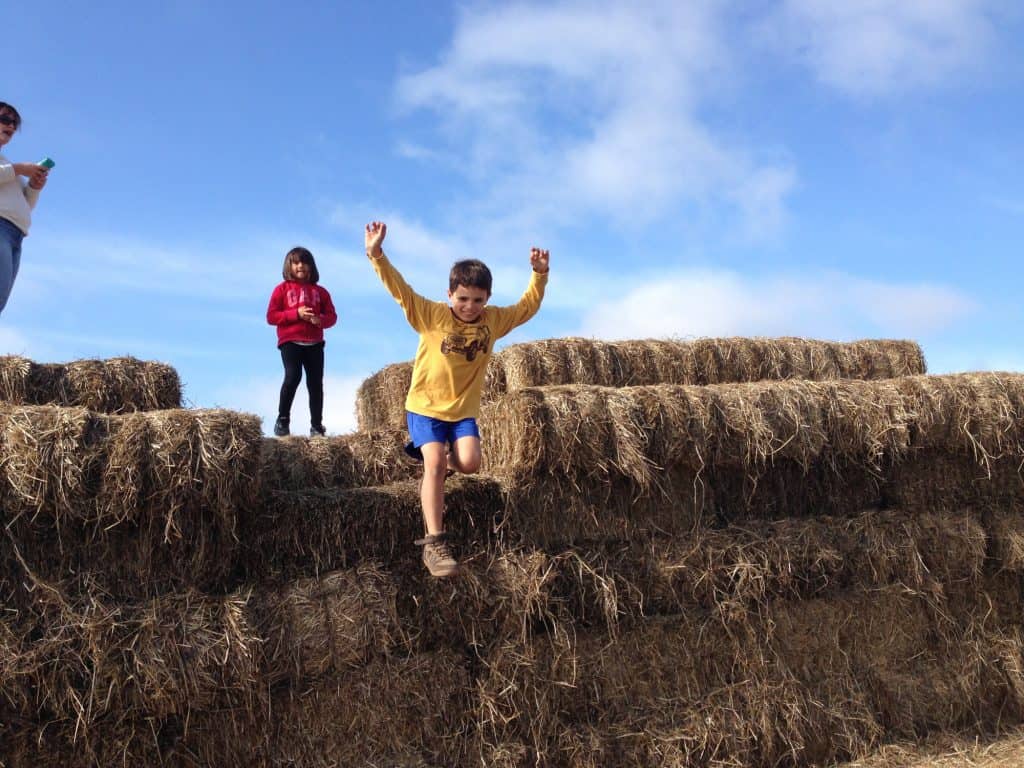 In Half Moon Bay, pumpkins are celebrated with an annual festival. In fact, pumpkin patch hopping is a thing for the whole month of October.
Located an hour north of Santa Cruz, legendary surfing spot Mavericks sits just outside of the city limits near unincorporated Pillar Point Harbor.
Año Nuevo State Park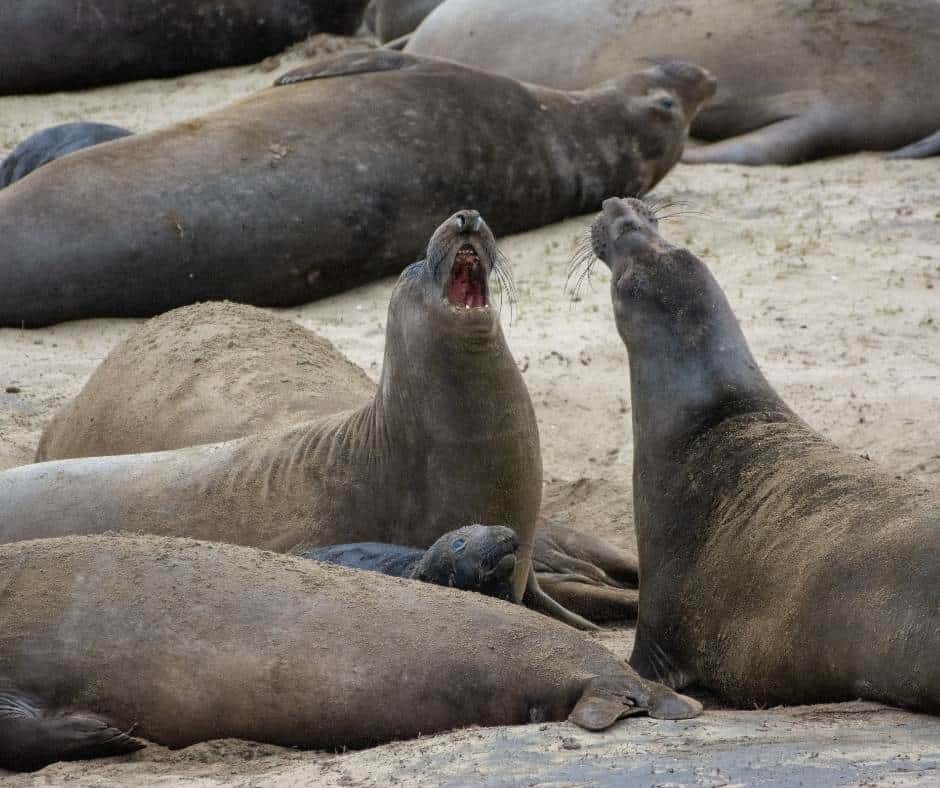 Situated along scenic California Highway One, Año Nuevo State Park is an experience with wildlife that your kids won't soon forget!
Elephant seal breeding season begins in mid-December with the arrival of the first male seals. Weighing up to 2 ½ tons, they engage in fights to establish their dominance. The winners, or alpha bulls, wind up doing much of the breeding.
Not long after, the more diminutive females, tilting the scales at 1,200 to 2,000 pounds, show up and form "harems" on the reserve's beaches where they will give birth to the pups.
For the first three months of each year, naturalist guides take tourists down into the areas for an up close (but safe) look at these mammoth animals that once neared extinction.
Moss Landing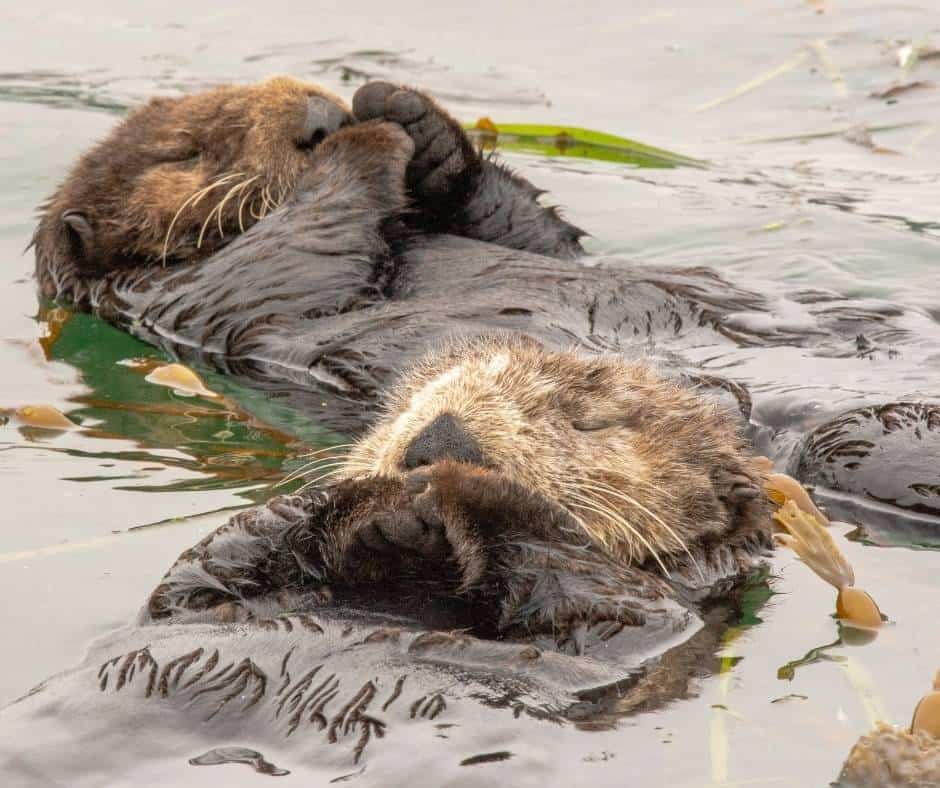 Home to one of California's most wildlife rich coastal wetlands, you're almost guaranteed to see otters, seals, sea lions, wharf seals, shore birds, and much more while kayaking Elkhorn Slough. Just imagine seeing a mama otter swimming through the water with her baby on her chest!
Book an Elkhorn Slough Wildlife Safari Tour on TripAdvisor.
The quaint little village of Moss Landing boasts vibrant fishing and agricultural industries, and offers a rare opportunity to slow down, and take in the peaceful pace of small town living in harmony with nature.
Trekaroo has hundreds of guides for locations all over the United States and Canada.