The first thing you'll want to do when you visit Half Moon Bay is breathe. The crisp ocean air is like an elixir for reducing the stress of the modern world. After exhaling, you will want to open your eyes and take advantage of all the fun things to do in Half Moon Bay.
For those longing to get back to basics, the pace of the coastal lifestyle in Half Moon Bay is just what you need for a weekend escape. In fact, many leave behind the urban sprawl of Silicon Valley and San Francisco to breathe in the ocean at this coastline.
Is Half Moon Bay CA worth visiting? Heck, yeah! Half Moon Bay boasts an active outdoor lifestyle that includes camping, surfing (this is the home of the Mavericks Invitational after all), horseback riding, and cycling. It also has an artsy flair and a culinary enclave with a following of foodie fans.
Half Moon Bay hosts a famous annual pumpkin festival worthy of an autumn visit. No matter the season though, you're in for a welcoming laid-back experience in Half Moon Bay.
Best Things to do in Half Moon Bay
Explore Pillar Point Harbor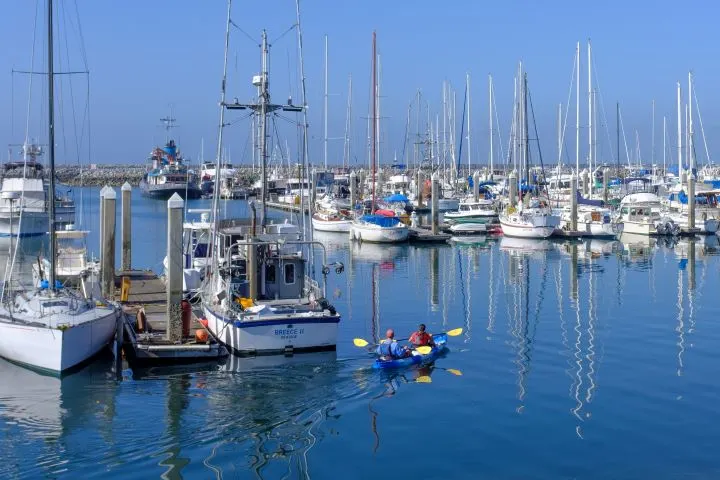 Surfing and fishing are the centers of the universe at Pillar Point Harbor. The fish markets are frequented by locals and the best surfers from around the world descend on the area annually to ride the massive waves at the Mavericks Invitational.
The harbor has many adorable little shops and eateries, including a place to load up on saltwater taffy. If you'd like to get out on those harbor waters yourself, rent a kayak at Half Moon Bay Kayak Co., no experience is necessary!
Trekaroo Tip: Celebrate the holiday season at Pillar Point with the Lighted Boat Festival! Revelers stroll the harbor piers enjoying boats bedecked with Christmas cheer. Many participating boat owners offer hot chocolate and other treats as part of the event.
Have a Barnyard Party at Lemos Farm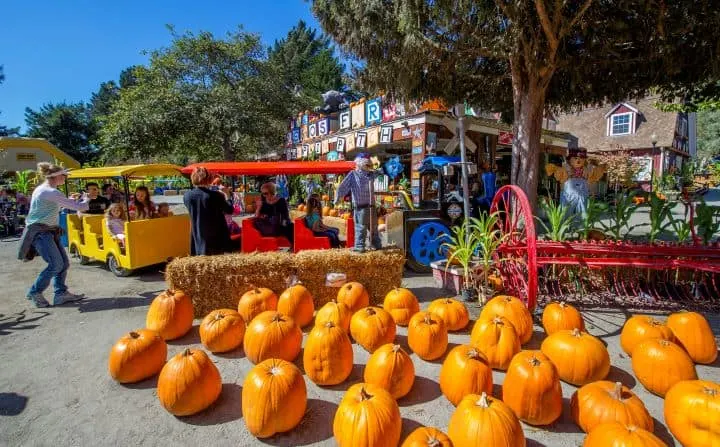 Lemos Farm is the closest you'll get to an amusement park around Half Moon Bay. With both train and hayrides cruising the property as well as pony rides, a petting zoo, a barn slide, and so many other adventures to be had,
Lemos is one of the top things to do in Half Moon Bay, especially for kids eight and under. More fun keeps getting added too, like the Car Barn where little drivers travel a beautifully designed track (under adult supervision, of course!)
Discover the best pumpkin patches in the Bay Area, including Lemos and a couple others in Half Moon Bay.
Lemos Farms also offers Goat Yoga! Sessions are 45 minutes while 15-20 smalls goats roam around. If you haven't tried goat yoga, you have to! Its the most fun you will ever have at exercising. Class is followed by 15 minutes of petting in case you weren't already tapped into your inner harmony.
Get Up Close and Personal with the Sea Life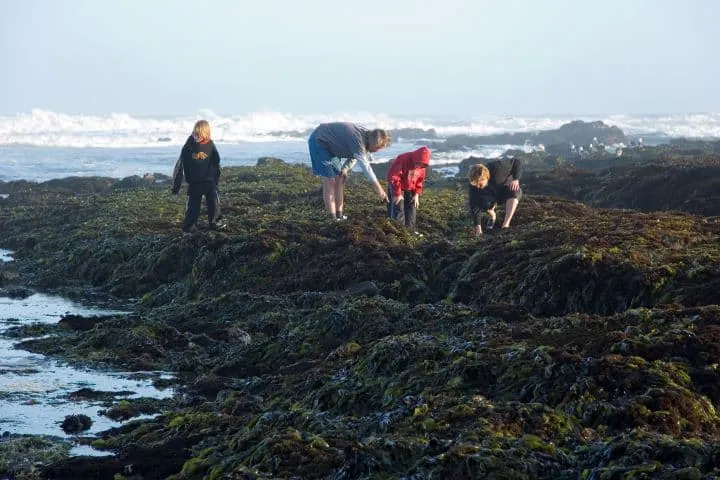 The tide pools at the Fitzgerald Marine Preserve are a great place for checking out organisms, shells, rocks, driftwood, and more, just don't take them with you. Access to this no-take protected marine area is tucked into a quaint neighborhood near Moss Beach.
Clams, starfish, crabs, and other small creatures are just a short, simple hike from the parking area. So stop by and soak in this wonderful natural spot; just leave it in better shape than you found it in, please!
Fitzgerald Marine Preserve made our list of the best tidepools in California. See what other spots made our list!
Take Home a Haul of Pumpkins, Gourds and Sunflowers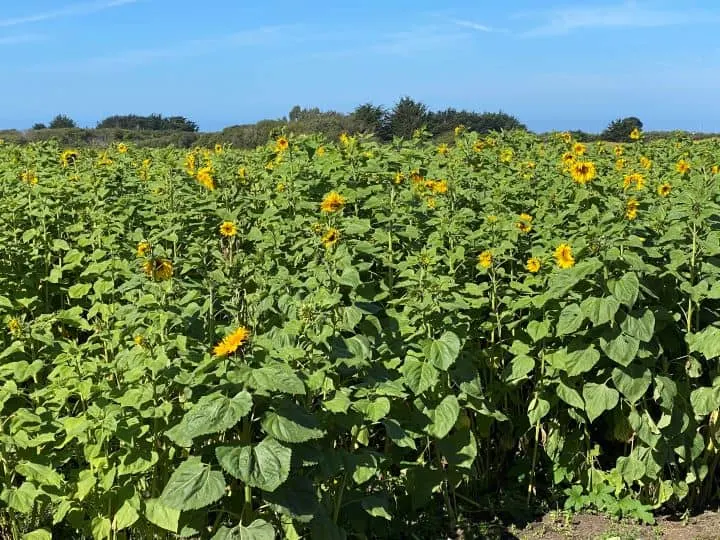 Much ado is made of the pumpkins in Half Moon Bay and rightly so, the Half Moon Bay community produces more than 3,000 tons of pumpkins each year! This little factoid alone has earned the town the title, "Pumpkin Capital of the World."
Visit during autumn and you'll swear you dove into the most immersive pumpkin spice latte. The pumpkin patches with their corn mazes, haunted houses, and hayrides are packed with little ghosts and goblins.
There's some serious pumpkin selection taking place. Porches, mantels, and kitchen table centerpieces likely get more festive after stocking up on gourds and picking sunflowers in Half Moon Bay.
When the sunflowers are in full bloom at the Andreotti Family Farm, on the Cabrillo Highway, attracts visitors arrive in droves. A full bloom sunflower field not only offers cheerful warmth, but it's also an awesome backdrop for a family portrait!
Saddle Up at Sea Horse Ranch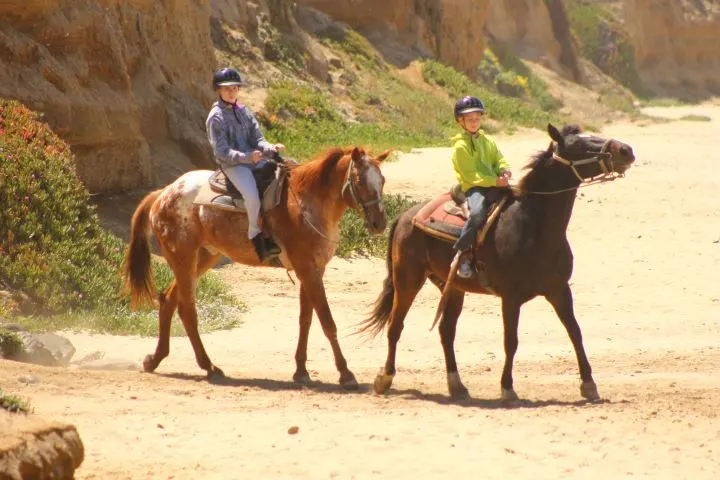 Picture this- the sea breeze in your hair, the crisp air in your face, and the sound of horse hoofs on the sand. Horseback riding on the beach always has a bit of magic to it, doesn't it?
Sea Horse Ranch offers a ride that unrolls the many splendors of the coastal area. Meadows filled with colorful patches of wildflowers, a small gorge with water flowing through it, and a slope opening onto a pristine beach are all part of the adventure.
Learn Glass Blowing at Half Moon Bay Glass
Take a glass blowing class with your kids! Half Moon Bay Art Glass offers classes where kids as young as six can learn how to shape, blow, and color a holiday ball or a molded heart (parents must be present).
Kids 12 and up have a wider array of potential projects to choose from, including terrariums and pumpkins.
Hit the Coastside Trail in Half Moon Bay
What can you do in Half Moon Bay for free? How bike or walk one of the most beautiful ocean trails in the state, the Coastside Trail. This paved pathway stretching six miles, and has all sorts of natural delights to reveal whether it be by foot or by wheels.
Breathtaking views, access to beautiful beaches, parks, and other natural delights abound. Think of it as the area's spine, connecting all the major Half Moon Bay sites families enjoy exploring together.
Tackle the entire thing or turn off the trail at a state beach. There's so much to enjoy on this trail.
Don't miss Devil's Slide! A once treacherous section of Highway 1, it was plagued by accidents and road closures including a landslide that closed the road for good in 1995. The highway was eventually diverted through a tunnel system.
The old 1.2-mile section of road is now part of the California Coastal Trail with dedicated lanes for cyclists, pedestrians, and equestrians.
See where the real G.O.A.T.S live!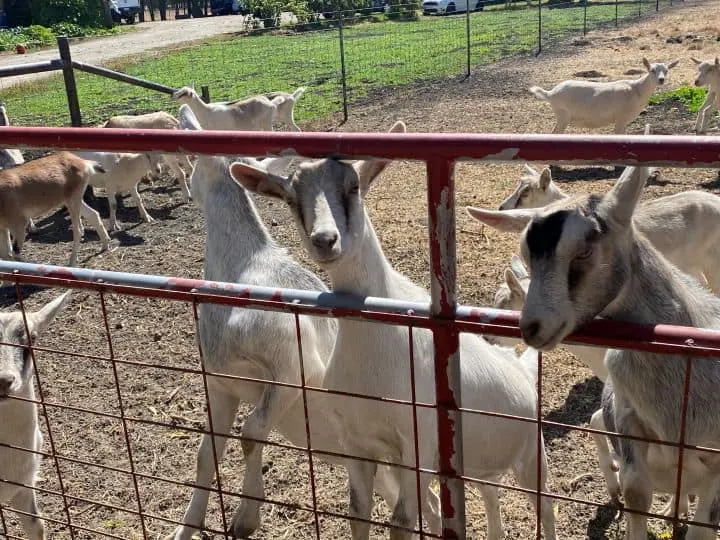 Being the G.O.A.T. doesn't have to be reserved for professional athletes. At Harley Farms, the "greatest of all time" is the goat cheese whether it be feta, honey lavender, assorted chevre, and more! Shop assorted cheeses and pantry staples in the farm store.
Take a walking tour of the property while you're there. It's a beautiful place with a rich history. The tour includes a look at the farm's secret garden, which is a great wedding spot, and the chic rustic dining room in the hayloft.
There's also an opportunity to go into the goat pen and meet the personalities behind the magnificent cheese! Goats are very sweet animals, just beware that they nibble a lot! It's a great day of family fun on the farm!
Where to Eat in Half Moon Bay
It's Italia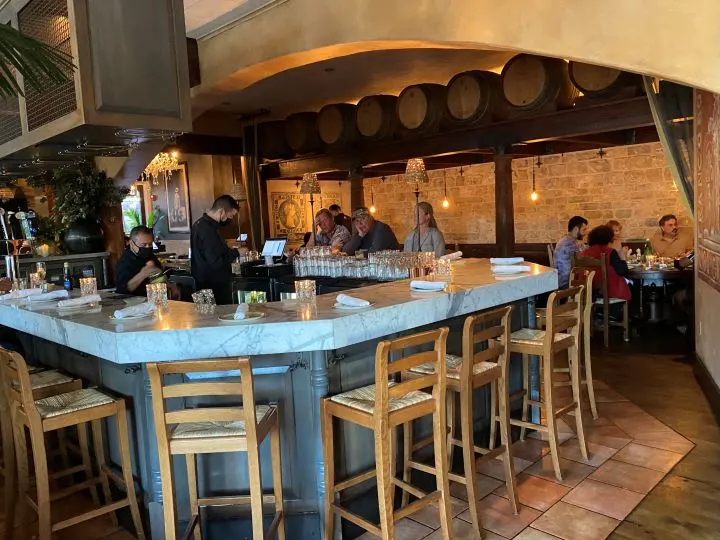 It's Italia is a beautiful restaurant gives visitors a little glimpse of Italy without leaving the US. The atmosphere is lovely and fitting for so many of life's celebrations.
It is a great place for a date night or a family gathering. Come sans kids or bring the youngsters, either scenario can be accommodated. The kids will love the spaghetti meatball bolognese.
The Barn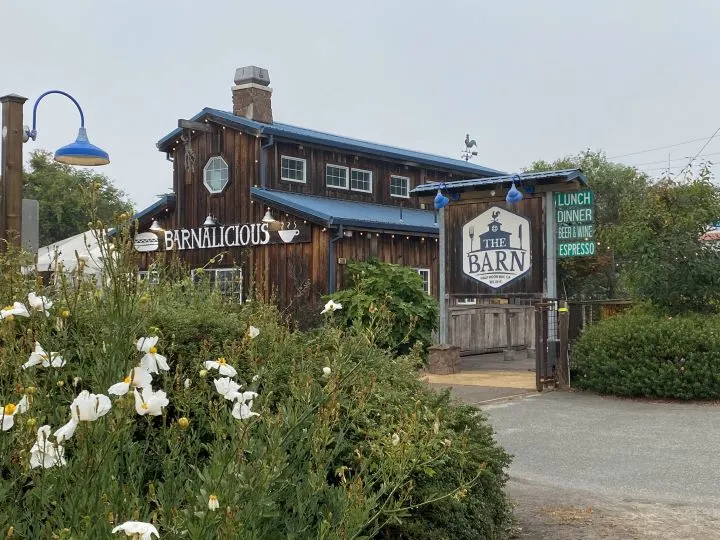 Located on Highway 1 not far from Miramar Beach is a cool rustic barn that would be easy to dismiss. If you do though, your family will miss out on the most amazing burgers and milkshakes you've ever had!
The menu items at The Barn are produced using the best locally sourced ingredients. From 1/4-pound 100% grass-fed beef burgers and thick shakes with flavors like Cookie, Affogato, and Horchata to salads and baked goods, everything is fresh and delicious.
The Barn is currently open Wednesdays through Sundays from 11-4.
Sam's Chowder House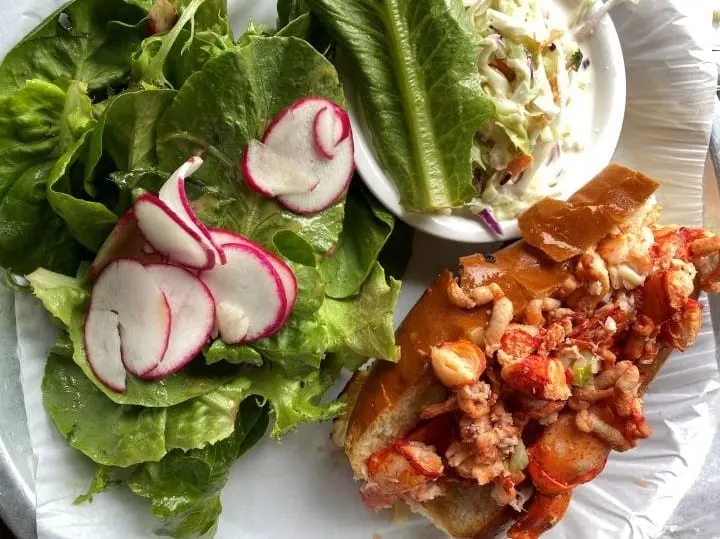 Arguably one of the most popular restaurants near Pillar Point Harbor, it's not unusual to encounter a line to get into Sam's Chowder House. This is the case, even if you have a reservation. Don't let it deter you from going because the food is worth the effort!
Sam's Lobster Roll was selected as Top Five "Best Sandwiches in America" by NBC's The Today Show. The fried calamari was flavorful and delicious! Be sure to try it with Sriracha sauce. You'll also never look at fries the same way again after you've had polenta fries!
Where to Stay in Half Moon Bay
The Ritz-Carlton Half Moon Bay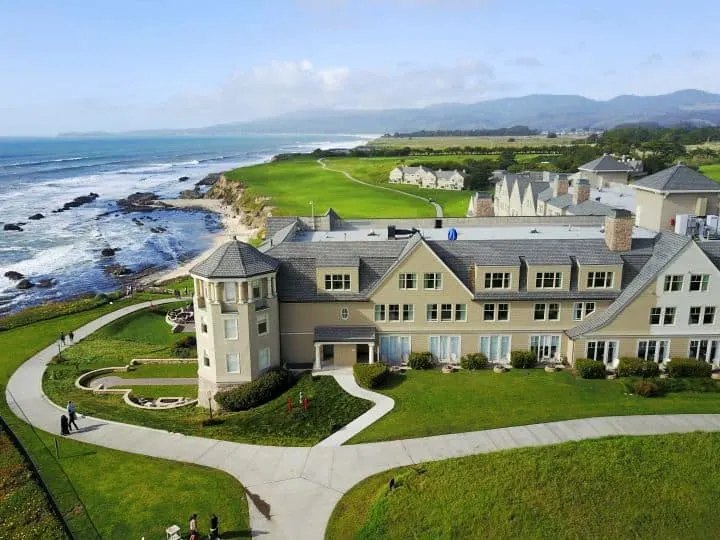 Affectionately referred to as the "castle on the coast," the Ritz Carlton Half Moon Bay is a buzz with family-friendly fun. From star-gazing and expert s'more making to snuggling by the outdoor fire pits, togetherness and coziness are common themes at this gorgeous resort.
The Oceano Hotel and Spa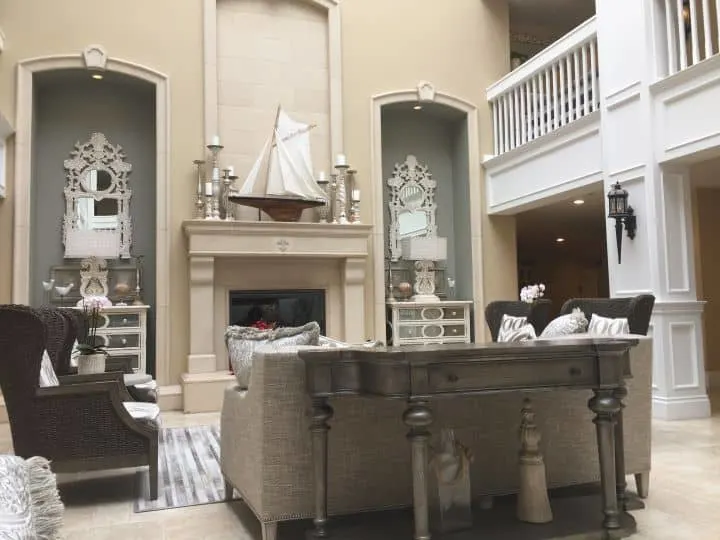 Located just steps from Half Moon Bay's Pillar Point Harbor, the Oceano Hotel and Spa offers families a centrally located, casual, and comfortable place to rest their heads within a short walk from restaurants, shops, the wharf, and nearby beach.
Disclosure: Thank you to the Andreotti Family Farm, Half Moon Bay Kayak Co, Harley Goat Farm, Sam's Chowder House, and It's Italia! for hosting my family. Although we received complimentary meals, and activities to facilitate this article, my opinions are my own and not influenced by staff or its affiliates.
Featured image by Visit Half Moon Bay/ Jay Graham