Every year, Trekaroo helps families asking, "What are the family-friendly Christmas events near me?" Whether you are doing some holiday travel to an exciting new destination or looking for local Christmas events, you've come to the right place. Our team of fun-loving families is on an annual crusade to bring you the all the best Christmas attractions and holiday activities near you!
Are you're thinking of visiting a theme park during the holiday season? You'll find a little extra magic sprinkling down during the holidays. Check out our special section on theme park holiday guides below. And if you're traveling during the holidays as a family to see family or to just get out of town, don't miss our holiday travel tips from other families who have braved the air and the roads during the holidays.
Now, let's explore local Christmas events across the United States and Canada. And if you're curious, here are some of Europe's best Christmas markets as well.
WEST COAST CHRISTMAS EVENTS
Southern California and the Southwest
In Southern California, some of the Christmas attractions you might find yourself at include ice skating on the beach in San Diego, watching holiday boat parades in Los Angeles, or taking in the magic & "snow" at Disneyland. While Southern California may lack cold weather, it makes up for it with Christmas events filled with wonder, awe, and holiday cheer.
Looking for a Christmas Tree farms in Southern California. Here are some favorites: Christmas Tree Farms in Southern California | Christmas Tree Farms in Los Angeles | Christmas Tree Farms in San Diego | Christmas Tree Farms in Central California
Northern California
In Northern California, families love cutting down fresh Christmas trees at numerous u-cut Christmas Tree farms near San Francisco and riding with Santa on a train. You can also travel back in time at Christmas events like Victorian Christmas, or frolic through white-capped mountains full of playful powder. San Francisco and Sacramento's urban core are full of Holiday and Christmas activities.
Find a U-Cut Christmas tree near you: Christmas Tree Farms in San Francisco | Christmas Tree Farms in Sacramento | Christmas Tree Farms on the Central Coast | Christmas Tree Farms near Lake Tahoe
Pacific Northwest
A little rain and a little snow, who knows what the Christmas season might bring in the Pacific Northwest. But, what you can be assured to find is lots of holiday cheer! Seattle Christmas events at the zoo and Winterfest at Seattle Center are always popular, but the entire region has something to get excited about. Here are our favorite family-friendly Christmas activities in Seattle, Portland, and Vancouver.
Christmas Trees grow very well in the Pacific Northwest! Find Christmas Tree Farms in Oregon and Washington
EAST COAST CHRISTMAS EVENTS
Northeast and the Mid-Atlantic
Christmas in the Northeast conjures up traditional images of twinkling tree lights white with snow, door to door caroling, and wintry streets primed with shoppers looking for the perfect gift. What about ice-skating in New York City? Find your favorite Christmas activities in these historic cities.
Looking for a Christmas Tree Farms near you? Christmas Tree Farms in Connecticut | Christmas Tree Farms in Delaware | Christmas Tree Farms in New Jersey | Christmas Tree Farms in New York | Christmas Tree Farms in Philadelphia | Christmas Tree Farms in Toronto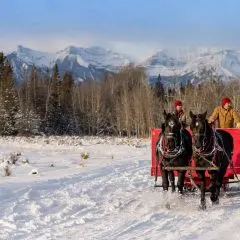 Lying underneath the shadows of Mt. Rundle and Mt. Cascade, the town of Banff is home to incredible restaurants, beautiful hotels and a ton of winter sports and activities. A…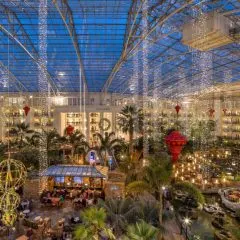 It's the most wonderful time of the year, when Music City sparkles with twinkling lights and holiday melodies drift through the air. Christmas in Nashville invites visitors to experience dazzling…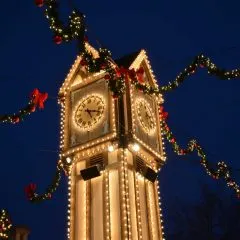 We were fortunate enough to enjoy the opening weekend of holiday festivities in Williamsburg, VA, and they definitely know how to deck the halls! Planning a holiday excursion to the beautiful Historic Triangle? Here are some must-sees and dos for your family!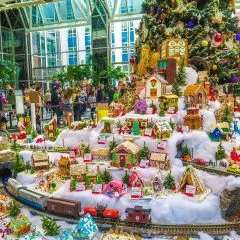 Picture this: families all bundled up drinking hot chocolate and whirling around an outdoor ice skating rink lit up by a 65-foot Christmas tree. The clippity-clop of horse hooves pulling carriages is faintly noticeable in the distance, and fireworks light up the sky to the beat of popular Christmas songs.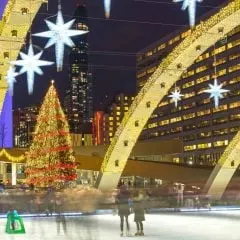 Temperatures have fallen in the Toronto area, the days are shorter, and there's a pervasive feeling that autumn is over and winter will be arriving shortly. Along with the nip in the air, there's also a festive feeling as holiday displays appear in shop windows and the malls fill with the sound of carols. There might not be any snow on the ground yet but Toronto is ready to celebrate the holidays.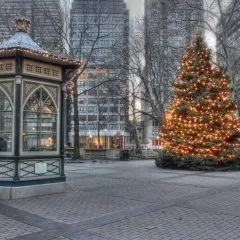 The holiday season is a great time to reconnect with your family and take time to enjoy the festivities with your kids. In Philly, there are so many family-friendly activities it is hard to choose! After visiting these destinations you are sure to leave with a touch of holiday spirit.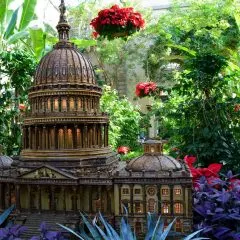 As the weather turns colder and the fall decorations and turkey leftovers have been put to rest, it's time to start looking forward to the December holiday season. Tree lightings, concerts, live performances, and more delight families in the D.C. metro area.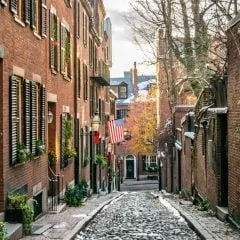 Christmas in New England conjures up traditional images of twinkling tree lights white with snow, door to door caroling, and wintry streets primed with shoppers looking for the perfect gift. All of this and more can be experienced in and around one of the hearts of New England: the city of Boston.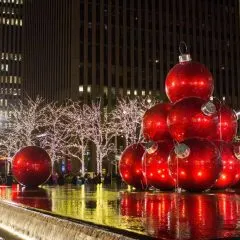 There is nothing more magical than the streets of New York City during the holidays. It kicks off with the Macy's Thanksgiving Day Parade and ends with the ball drop in Times Square. Look anywhere and everywhere to find a festive touch. Classic holiday and Christmas events in New York City are a favorite tradition that families and kids of all ages enjoy time and time again.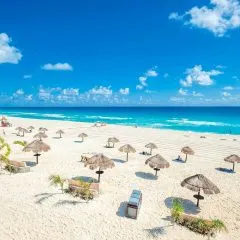 Headed to Cancun for the holidays? Lucky you! Here's the scoop on where to meet up with Santa, find festive celebrations, taste yummy eats, and discover some kid-centered fun in Cancun during the 2014 holiday season!
FLORIDA AND THE SOUTH CHRISTMAS EVENTS
Enjoy southern charm and hospitality during the Christmas season. Here are some of our favorite holiday activities in Florida, Tennessee, Georgia, and South Carolina.
You might also be interested in finding holiday cheer at Christmas Tree Farms in Florida | Christmas Tree Farms in North Carolina
CHRISTMAS EVENTS IN MIDDLE AMERICA
Mountain
Stunning snow-capped mountains of America's mountain region are the backdrop for family fun. You'll find incredibly detailed light displays, community outreach opportunities, and fantastic Christmas events in Utah, Colorado, and even Carson City.
Christmas Tree Farms in Denver & Colorado Springs | Christmas Tree Farms in Utah Wasatch Front
Midwest & Texas
From visiting with Santa at the top of the world to down-home traditions and fantastic light displays, Chicago and the Midwest offer plenty for celebrating the season. Don't miss the Texas-sized Christmas fun down south.
Ready to cut down your own Christmas Tree? Christmas Tree Farms in Chicago | Christmas Tree Farms in Minnesota | Christmas Tree Farms in Dallas & Fort Worth | Christmas Tree Farms in Central Texas
HOLIDAY TRAVEL TIPS
Traveling for the holidays is always exciting, but it does present extra challenges to families during this busy travel season. You are more likely to experience packed flights and delays. Trekaro families have been in your shoes and share their tips on how to smooth out the bumps of holiday travel with kids. Here are packing tips for winter holiday travel.