What better way to spend the holiday season than at America's Christmas hometown, the town of Santa Claus, Indiana? While the small town celebrates the holiday season throughout the year, it gets an extra dose of the holiday spirit during the first three weekends in December, the Santa Claus Christmas Celebration. Updated for 2022.
Top Santa Claus, Indiana Christmas Events
Visit Santa Claus
It's inevitable to spot the jolly old man around town, so don't forget your camera! Santa makes his rounds at St. Nick's Restaurant while enjoying the buffet dinner.
As if you could get enough of him after dinner Santa is available for a little one on one time to hear children's special wishes. On other days, Santa can also be spotted at the Santa Claus Christmas Store.
Count the Santas Around Town
Staying true to their namesake, Santas can be found all over town – both real and fake. At the Santa Claus Museum Village, the 22-foot Santa statue, dedicated to the children of the world, stands tall while another Santa statue can be found standing proudly in front of the Santa Claus Post Office.
Make a game out of it and see how many Santas you can find over town! To see the real man in action, don't miss the annual Christmas parade as he whisks around town on his open sleigh.
See Chestnuts Roasting on an Open Fire
Yes, how often can you say that? At Santa's Candy Castle, the ultimate sweet treat destination, we learned a little bit about the history of chestnut roasting, actually roasted chestnuts, then sampled a few ourselves.
Not only is the castle definitely worth a stop for those with a sweet tooth, but the large collection of Christmas books is perfect for readers. Don't miss the yummy frozen hot chocolate!
Write a Letter to Santa
Head to the Santa Claus Museum and say hi to Santa's elves, then have the kids take a seat on one of the antique wooden school desks, write a letter to Santa, and drop it off in the mailbox. The best part? Santa writes back!
Be Mesmerized by Twinkling Lights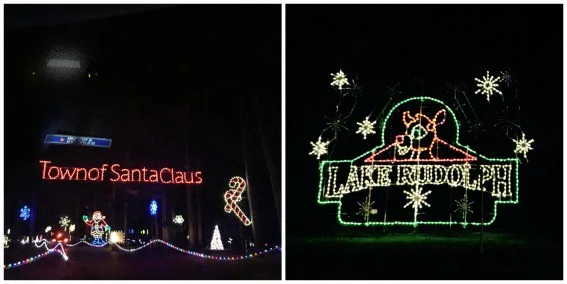 For 1.2 miles drive through and relive the story of the famous red-nosed reindeer at none other than Lake Rudolph's famous Santa Claus Land of Lights light show. For another fun (and free) Christmas lights spectacle, the Christmas Lake Village Festival of Lights spanning 9 miles throughout the gated community will be sure to please.
Hand Cancel Your Holiday Cards
Got Christmas cards? Stop by the Santa Claus Post Office to hand cancel your holiday cards. Knowing that the postmarks were actually a kid's winning drawing will add to the awesome factor. The Santa Claus in front of the post office also makes for a great photo opp.
Participate in Fun Events Around Town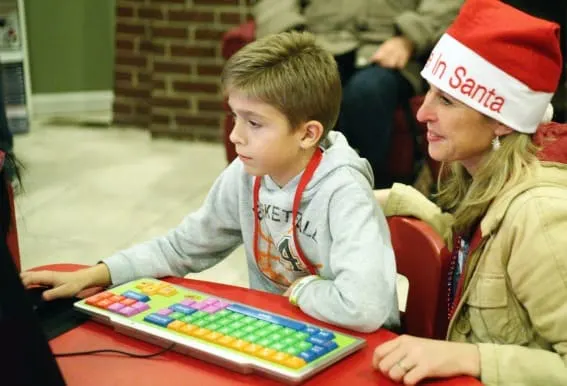 Depending on which weekend you visit, a plethora of activities await you. Hear the story of Santa Claus, participate in a "Nightmare Before Christmas" golf scramble, let your creative juices flow at craft time, "chat" with an elf, or witness a spectacle such as a fruitcake eating championship.
One night a season, check out the Santa Claus Arts Crafts Show at Heritage Hills Middle School. The free Christmas shopping event features dozens of vendors selling artisan crafts and holiday themed goods.
Where to Stay in Santa Claus, Indiana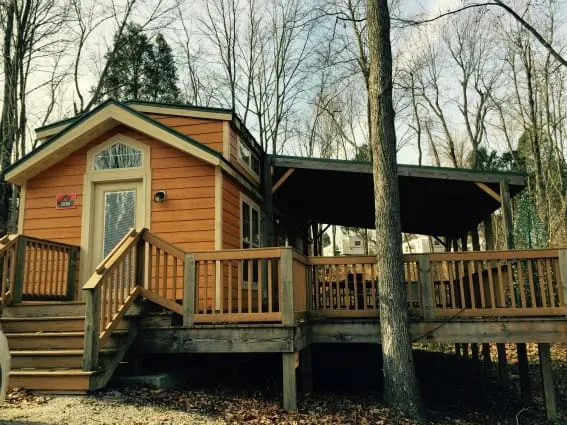 Staying at Lake Rudolph's Campground and RV Resort in a cabin definitely added to our entire experience. After a fun day around town, we always looked forward to lounging in the comfy living room with the fire blazing. Additional lodging is available at Lake Rudolph's partner hotel, Holiday World. Santa's Lodge is another local hotel that will put your family in the holiday spirit.