The air is crisp; luminarias and traditional Christmas lights are up all over Albuquerque. Getting in the holiday spirit with kids this December won't be difficult with holiday strolls, theatre performances, visits with Santa, and breathtaking light displays. Come bring your family to celebrate the holidays in Albuquerque, NM with all of the fun events that will get you in the holiday spirit and fill your hearts with joy.
Twinkling Lights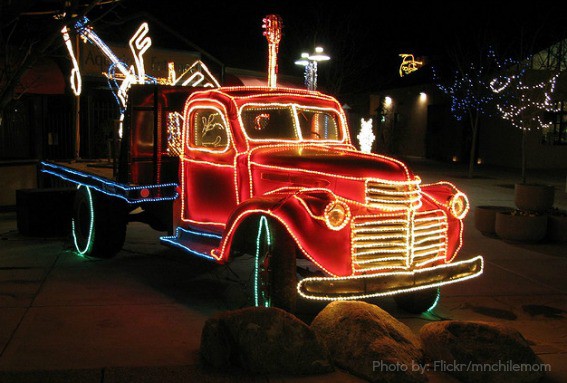 There is no shortage of beautiful light displays in the Albuquerque area starting with The River of Lights Holiday Light Festival that runs between Thanksgiving and New Year's Eve. The River of Lights at The ABQ BioPark Botanic Gardens is New Mexico's largest walk through light show. Families will enjoy seeing thousands of Christmas lights, light displays, and animated sculptures as they walk through the gardens and the Children's Garden. Make sure that you allow plenty of time to arrive as this event is popular and parking can become crowded. A free park and ride is available on select nights to make your visit more enjoyable.
The Twinkle Light Parade is a favorite Albuquerque event to get the season started off just right. On the first Saturday in November come to the Nob Hill area on Central and grab a spot on the curb heading west between Washington and Girard. Bring a chair or blanket and enjoy the marching bands, equestrian clubs, car clubs, fire trucks, and 100 different floats all lit up and twinkling for the holidays. To find parking and get a good viewing spot make sure to get there early. To avoid traffic park at Southwest corner of University and Lomas and take the free park and ride.
The Bugg Lights started as a light display in a private home in an Albuquerque NE Heights neighborhood, but due to traffic in the area became problematic their display can now be viewed just South of Albuquerque to Belen at the Harvey House Museum. Running from Thanksgiving to New Year's Eve, this mesmerizing light display is spread throughout the grounds of the facility. You can view some of the lights from your car and others from a walking path. Santa might even be there for a visit. This is a FREE event, but donations are appreciated.
Look for current hotel deals in Albuquerque
Luminarias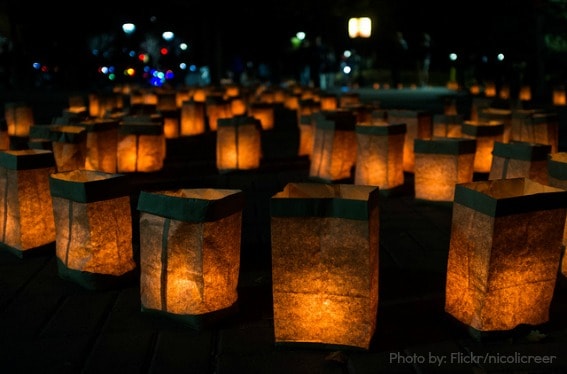 Luminarias, also know as faralitos, are a very important part of holiday traditions in New Mexico. Traditionally a simple paper bag filled with sand and a single tea light, they are placed on roof tops, pathways, walls and doorways and have been lit up on Christmas Eve for centuries. Luminarias were usually used in conjunction with bonfires to guide people to mass. Now you will see plastic Luminarias with electric lights lining rooftops and pathways early in the holiday season. The best way to see the luminarias in Albuquerque is to schedule a one hour tour for Christmas Eve Night on Albuquerque's City bus, ABQ Ride. Stay warm as the bus drives you through beautiful neighborhoods filled with Luminarias and Christmas lights. Tickets go on sale starting Black Friday and sell out quickly so get yours today or plan for next year! If you want to see the beautiful luminarias but didn't get a ticket on the bus, head over to Gate of Heaven Cemetery just after sunset on Christmas Eve and you will see luminarias lining the roads and walkways of the cemetery as well as families decorating each grave with lights.
Strolling, Shopping, and Santa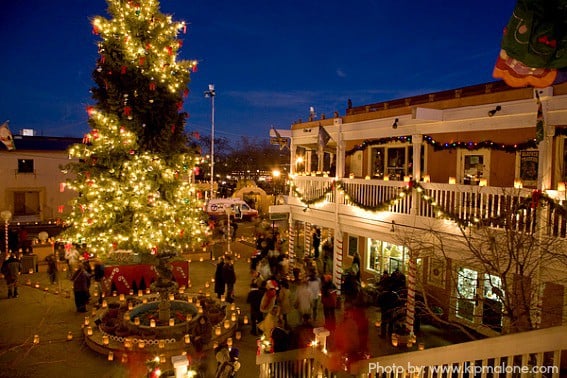 Change the burden of shopping for Christmas gifts into a whole new and fun experience by participating in a Shop and Stroll. Designed for shoppers to help local businesses thrive by buying local, the fun of live entertainment, lighting of Christmas trees, visits with Santa, and unique food brings festivity to shoppers. Bundle up the kids and bring them to the Nob Hill Shop and Stroll on Central Ave. between San Mateo and Girard on the first Thursday in December at 5:00 pm. to support local shopping, food, family entertainment, and photos with Santa. Luminaries bring festivity to The Old Town Holiday Stroll which takes place on the first Friday in December. Purchasing a collectible lapel pin gives shoppers discounts on purchases while proceeds go directly to local charities. On this night, visitors can also receive free admission, holiday activities and crafts, and discounted shopping at Explora (the children's museum), The Natural History Museum, and The Albuquerque Museum. These three museums, located in Albuquerque's historic Old Town, are just a short walk from the Plaza Don Luis. For a free indoor strolling event bring your family to The Festival of Trees, the first weekend in December at the Albuquerque Convention Center. Come to view beautifully decorated trees, enjoy live entertainment, children's crafts, and a visit from Santa.
Theatre Shows and Special Events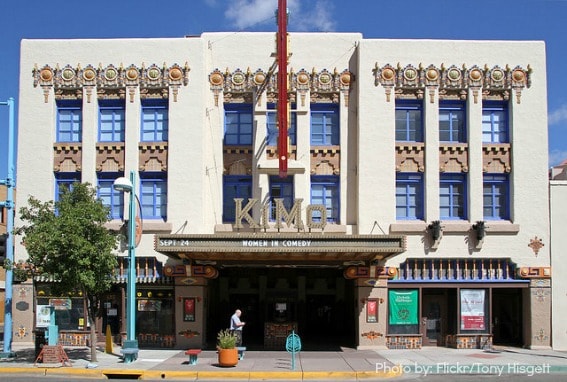 Come get in the Christmas spirit while you check out amazing performances and special events intended to delight kids and adults of all ages. You are sure to find a spectular holiday play for the family to enjoy at Albuquerque Little Theater. For traditional New Mexican entertainment, come to Popejoy Hall for the Mariachi Christmas and prepare to be mesmerized by a lively traditional performance with Mariachi dancers and musicians. (Check venute websites for dates and times).
Check for hotel availabilities in Albuquerque
Nutcracker Performances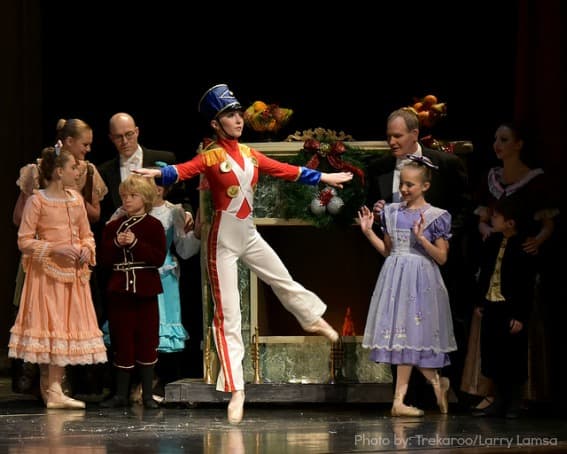 When it comes to Nutcracker performances, Albuquerque seems to have it all from the traditional Moscow Ballet to a version that takes place in New Mexico in the 1800's, plus everything in between. With all of these choices you are sure to find the perfect presentation of the Nutcracker for your family. Nutcracker on the Rocks, performing at the Keshet Center for the Arts, opens with the traditional Tchaivkosky Overture and closes with his dramatic Pas De Deux. The middle is filled with Rock and Roll, modern dance styles, and plenty of energy. With plenty of action going on this performance is sure to capture your attention and entertain the entire family. With only one performance of Moscow Ballet's Great Russian Nutcracker in mid-December, make sure to purchase your tickets soon. This professional presentation of the traditional Nutcracker is sure to delight with detailed costumes, larger than life puppets, and even 3-D effects. For those on a tighter budget, the traditional Nutcracker by the Ballet Repertory Theatre of New Mexico performs at the KiMo Theatre throughout the month of December and will give you a classical presentation at an affordable price. If you are looking for something original to New Mexico, book one of the performances for Nutcracker in the Land of Enchantment. This rendition is presented by the Festival Ballet and offers a presentation of life in the late 1800's in territorial NM. Come enjoy NM heritage and traditions in this classical presentation.
Winter Activities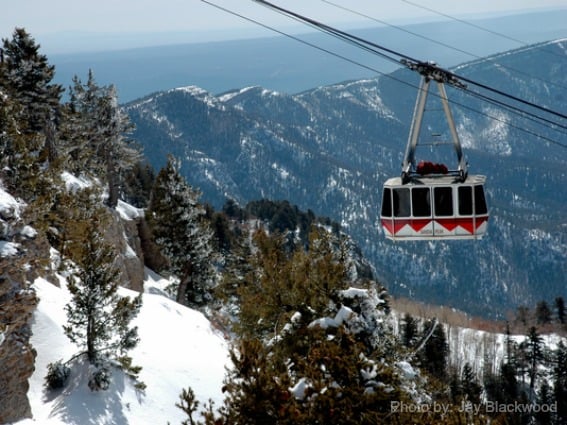 When you have had your fill with holiday lights and activities, come experience some of the many outdoor activities that Albuquerque has to offer such as the Sandia Peak Tramway. Experience breathtaking views as you sore to new heights at a total distance of 2.7 miles. At the top, view the City of Albuquerque and beyond, play in the snow, and even enjoy a snack or meal if the High Finance Restaurant is open. Make sure to bundle up yourself and the kids when you make this adventure as the temperatures at the peak can be 30 degrees cooler then at the base. If you brought your winter gear and you want to tire out those kids grab your sleds or tubes and head to Capulin Snow Play Area to burn some energy. Located on the east slope of the Sandias, just one mile from Sandia Peak Ski Area, the play area has a developed sledding hill, a picnic area, vault toilets, a fire pit at the bottom of the big hill and benches for spectators. The hill is maintained by the forest service so check regularly to make sure they are open. At only $3 a vehicle this is a fun and inexpensive activity for the entire family. If you are feeling adventurous head just one mile from the Capulin Snow Play Area up to the Sandia Peak Ski Area for some great beginner and intermediate skiing. For your convenience there is a full rental shop located at the base of the ski area, and skiing and snowboarding lessons for children aged 4 to adult. Warm up those fingers with a cup of hot cocoa in the lodge at the base while you watch other skiers and boarders zip down the mountain.
Look for the best hotel prices in Albuquerque
Nicole Dodson-Sands is a Trekaroo Superoo located in Albuquerque, NM. As a child in a military family she traveled and moved quite often setting the standard for adventure but the desire for stability. She settled in New Mexico 21 years ago where she now resides with her Colorado born husband and their 5 children. They love to travel, explore new things, and get those kids out of the house. Each trip is used as an opportunity to start planning the next one.
Pin this to bookmark all the holiday fun; we update it yearly: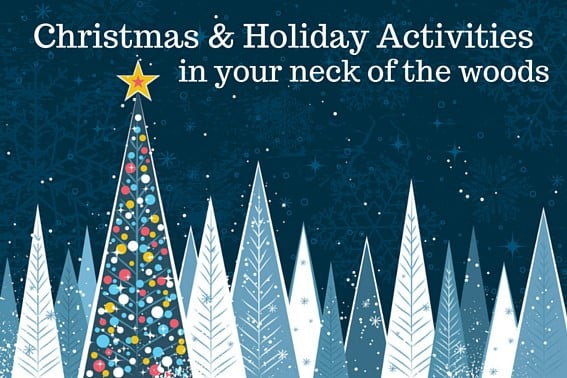 by Nicole Dodson Sands
Featured photo by: Shutterstock