Lying underneath the shadows of Mt. Rundle and Mt. Cascade, the town of Banff is home to incredible restaurants, beautiful hotels and a ton of winter sports and activities. A Banff Christmas is filled with outdoor activities, glittering lights, and plenty of celebrations. Here are the 9 most enchanting Banff Christmas events in 2022 to enjoy on your trip to the Canadian Rocky Mountains.
Banff Christmas Events for 2022
In Search of Christmas Spirit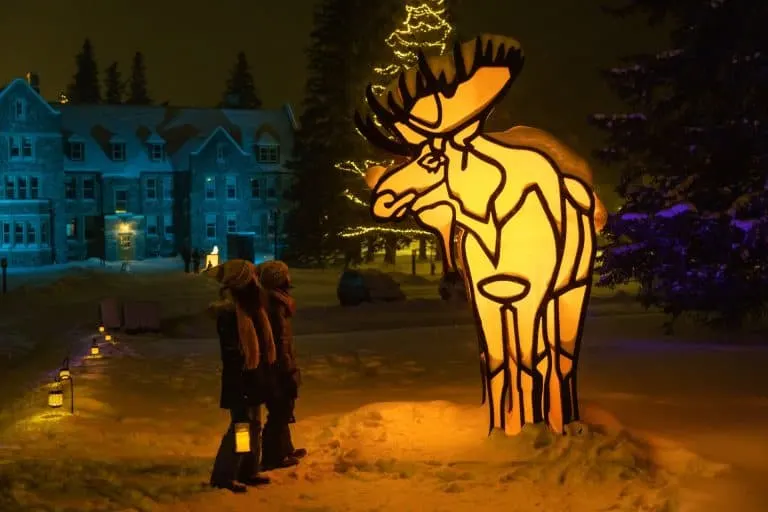 Grab a lantern and visit a well-loved Banff Christmas event, In Search of Christmas Spirit, held at the Cascade of Time Garden.
This immersive experience takes you through a story beautifully told by illuminated animal sculptures and sound effects. Children and adults alike will be enchanted by the magical trail that winds through the park.
Tickets are required for this event and are available free from Banff Lake Louise Tourism. This Banff Christmas event kicks off on November 23 and concludes on December 31st, 2022.
Look for current hotel deals in Banff. As a Booking.com affiliate Trekaroo is thrilled to offer our readers the lowest rates.
Banff Christmas Market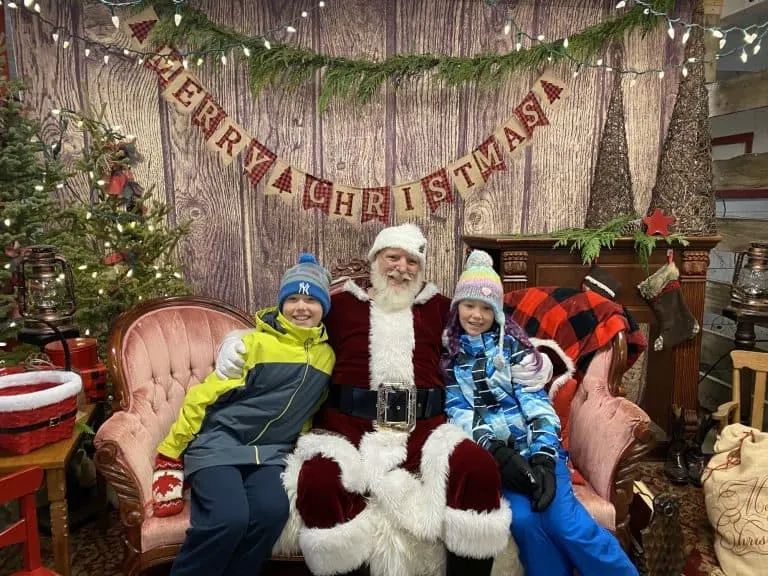 Head to Warner Stables in Banff to visit the Banff Christmas Market. Enjoy hot drinks, a visit with Santa, reindeer stables, sleigh rides and incredible shopping.
Local artisans from across Alberta sell Christmas-themed wares along with other creations inspired by life in the Canadian Rockies. Food trucks line an area with tables and fire pits as visitors and locals alike enjoy some hot food and marshmallow roasting.
This year's market runs from November 18th to the 20th, November 25th to the 27 and December 2nd to the 4th. Advance tickets are required and can be purchased from the Banff Christmas Market.
Heading to Banff for the holiday season? Make sure to check out the Top 8 Incredible Things to Do in Banff in Winter.
Christmas on the Mountain at Sunshine Village Ski Resort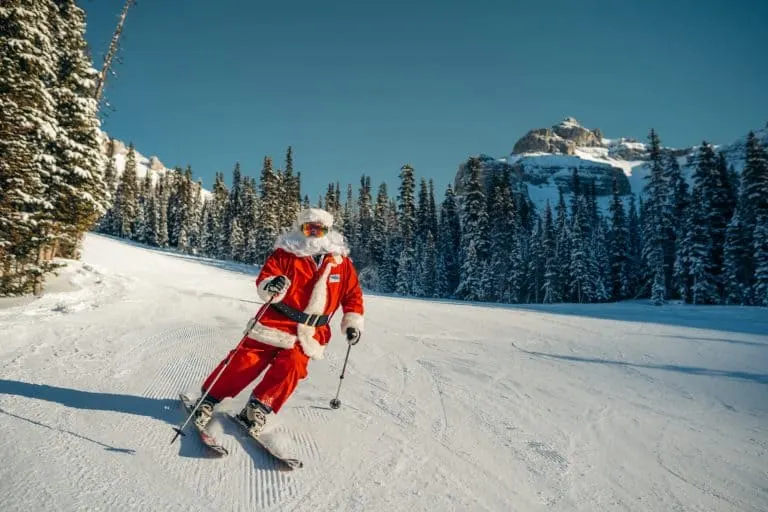 Families enjoying a Banff Christmas will no doubt want to visit Sunshine Village Ski Resort. Only a 15-minute drive from downtown Banff, Sunshine Village and Sunshine Mountain Lodge are located 7,200 feet high on the Continental Divide.
On Christmas Day hit the slopes with Santa himself and quite a few Santa impersonators as Sunshine Village hosts the annual Santa Skis for Charity. Anyone dressed as Santa can obtain a $75 lift ticket with all proceeds going to a local charity.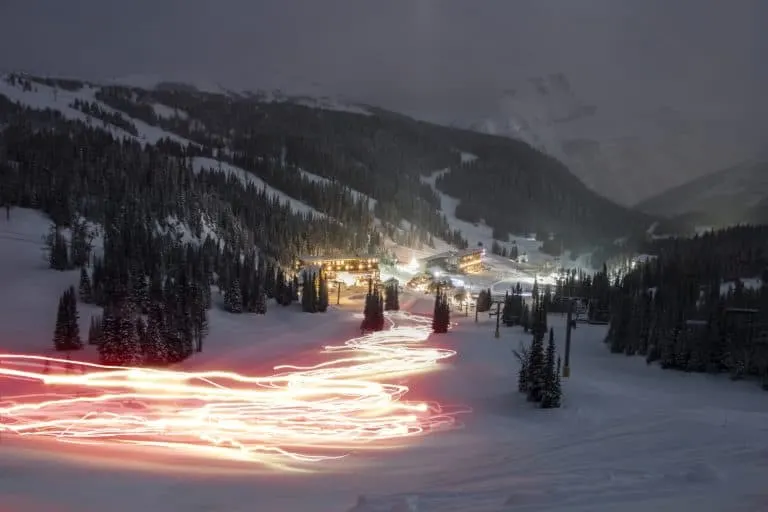 Later in the day, guests dining at the Sunshine Mountain Lodge can feast on a traditional Christmas dinner while watching specially trained torchbearers put on a nighttime show on the mountain. Sunshine Mountain Lodge is filled with Christmas decorations and live Christmas music during the holidays. Christmas activities and crafts are available for guests of the hotel.
CP Holiday Train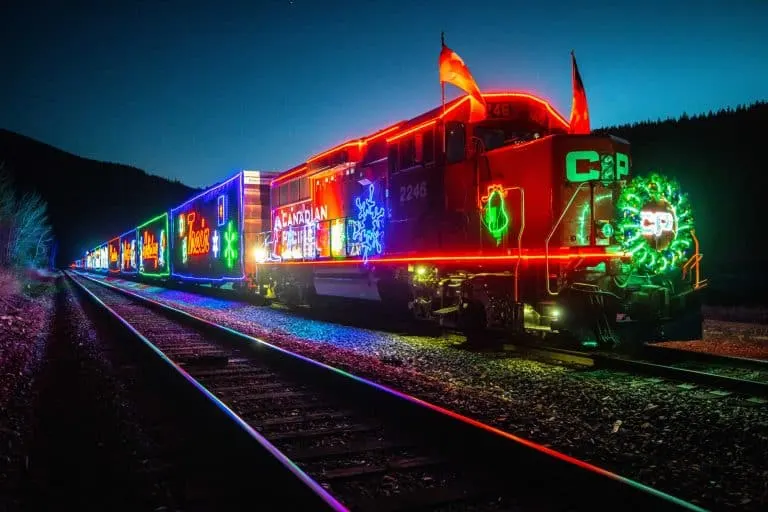 On December 13, 2022, at 7:00 pm, go to the Banff Train Station to catch a Canadian holiday tradition, the CP Holiday Train. The train, decorated with hundreds of thousands of LED lights, is outfitted with a stage for performers MacKenzie Porter & Virginia to Vegas. Performances are free but guests are encouraged to bring food items for local food banks.
Banff's Hot Chocolate Trail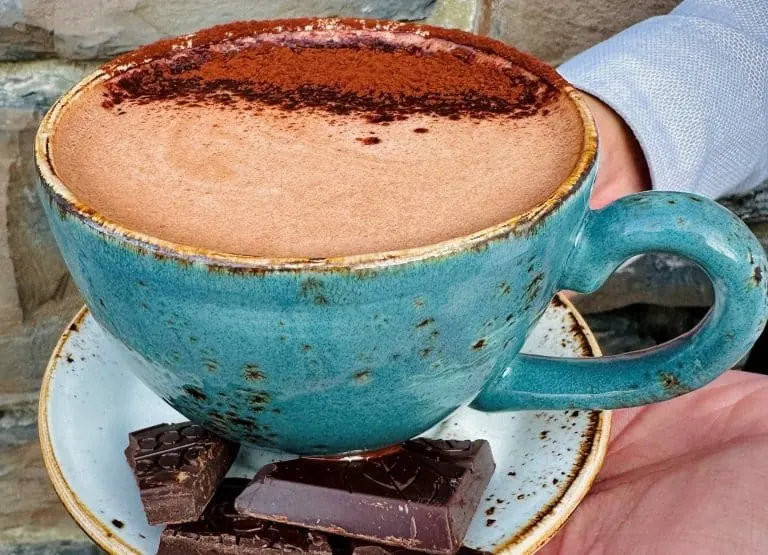 It is not a Banff Christmas without some hot chocolate. Banff's Hot Chocolate Trail runs from November 19, 2022, until January 1, 2023. Families can visit 11 different restaurants and cafes to try over 20 different variations of hot chocolate.
For a special treat, visit Whitebark Cafe to indulge in a Tiramisu Hot Chocolate. Made from Whitebark's signature hot chocolate with added tiramisu syrup, homemade whip cream and a lady finger cookie topped with cocoa.
A delectable vegan option can be found at STOCK located in the Fairmont Banff Springs hotel. STOCK's Triple Hot Chocolate is made with Valhrona Dark Cocoa Powder, Manjari 64%, Caraibe and soy milk.
Banff Gondola's Mountain Top Christmas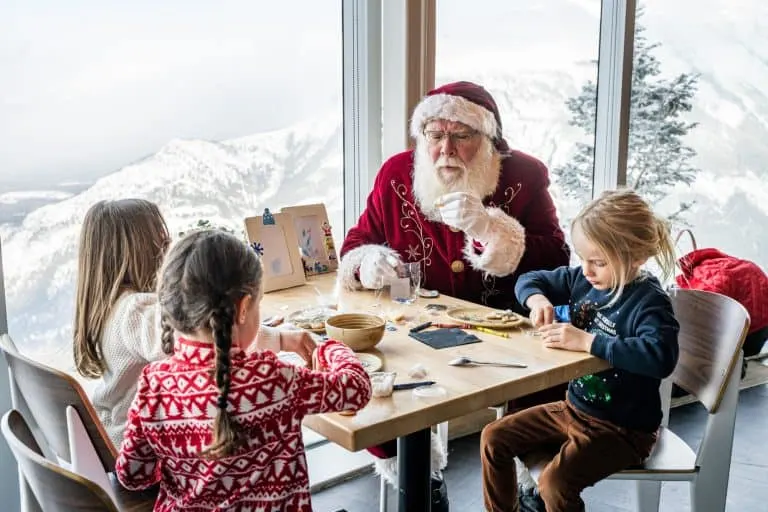 With epic views of the town of Banff and the surrounding landscape, riding the Banff Gondola is a great activity year-round. During the holidays, the top of Sulphur Mountain becomes a winter wonderland with plenty of Christmas activities and decorations. Visit with Santa, enjoy a holiday movie screening, decorate freshly baked cookies and have fun doing some holiday crafts.
Nightrise at the Banff Gondola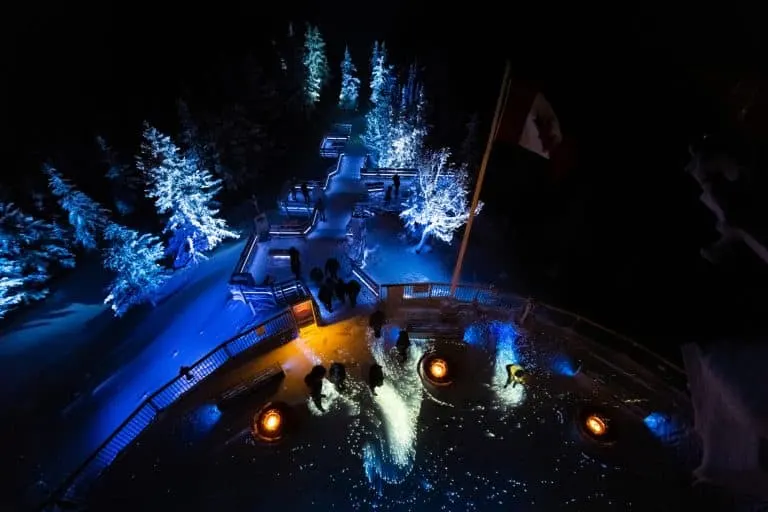 At night, the Banff Gondola comes alive with Nightrise. This incredible event transforms the Banff Gondola into an after-dark spectacular with four digital art installations, vibrant lighting at the top of Sulphur Mountain, video projections and more.
The experience begins as soon as you step foot in the gondola. A hypnotizing voice shares the stories of the night and the Banff landscape in the words of the Stoney Nakoda People who first called Banff home. This unique experience runs from December 2nd, 2022 through the winter months.
Celebrate Christmas at the Castle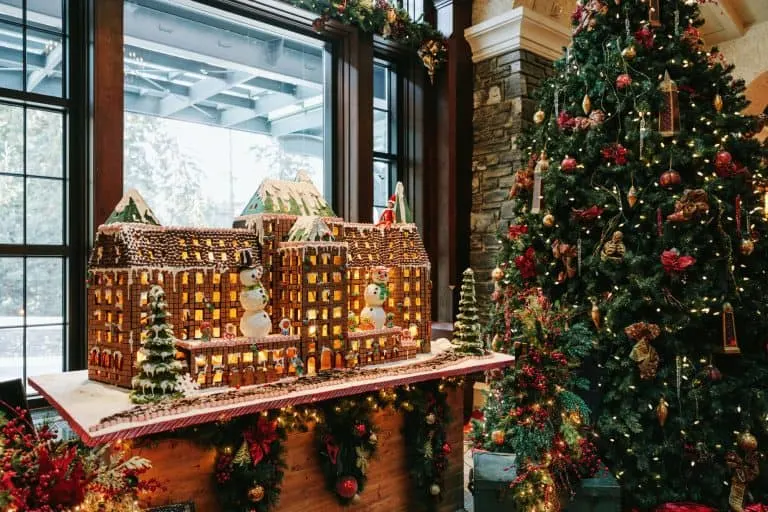 No matter what time of year you visit Banff, it is hard to resist staying at or walking through the historic Fairmont Banff Springs. It is truly not a Banff Christmas, without celebrating Christmas at the Castle.
The hotel transforms into a winter wonderland and offers plenty of activities for revelers of all ages. Enjoy gingerbread house decorating, dinner in Santa's dining room, holiday crafts and more. Families looking to stay at the hotel can even book a holiday room decorated with a Christmas tree and holiday decorations.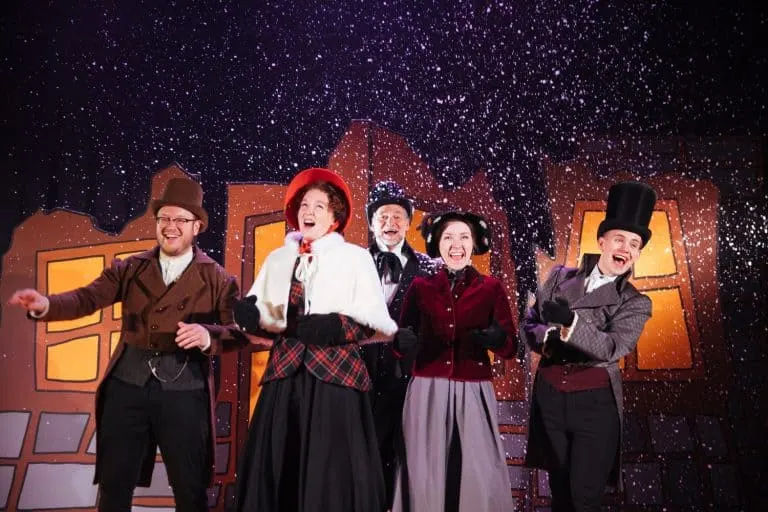 At night, the Fairmont Banff Springs comes alive with Christmas concerts and a stage performance of A Christmas Carol. Families are invited to join hotel guests and locals alike in the live retelling of this Christmas classic on select nights between December 1st and December 25th. Tickets are available in advance.
Mt. Norquay Torchlight Parade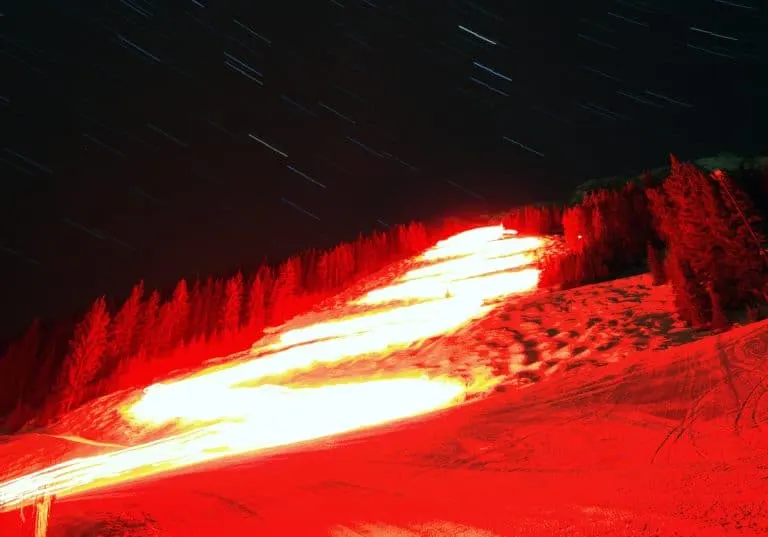 Ring in the New Year with a Banff tradition! Head to Banff Avenue or Bear Street and look up towards the Mt. Norquay Ski Resort at 7:00pm on December 31st, 2022. Watch as Mt. Norquay instructors and staff head down the mountain with torches in hand producing a light show visible from the town.
Looking for more winter fun? Check out these 8 Amazing Places for Snow Tubing in Banff.
Find more Christmas events near you! Trekaroo has guides for dozens of cities across North America.
Lead photo provided by Banff Lake Louise Tourism with credit to Orange Girl Photography.