The Christmas season is upon us, and Northern California is filled with a plethora of family-friendly activities. This is your guide to Sacramento Christmas events, Northern California holiday fun, and plenty of Bay Area Christmas events in 2022.
Whether you're among the bustle in San Francisco, waving at surfing Santa from the shores of Capitola, or meandering through the historic Christmas Villages of Nevada City, Northern California offers something for everyone.
Northern California Christmas Events 2022
Train Rides with Santa in Northern California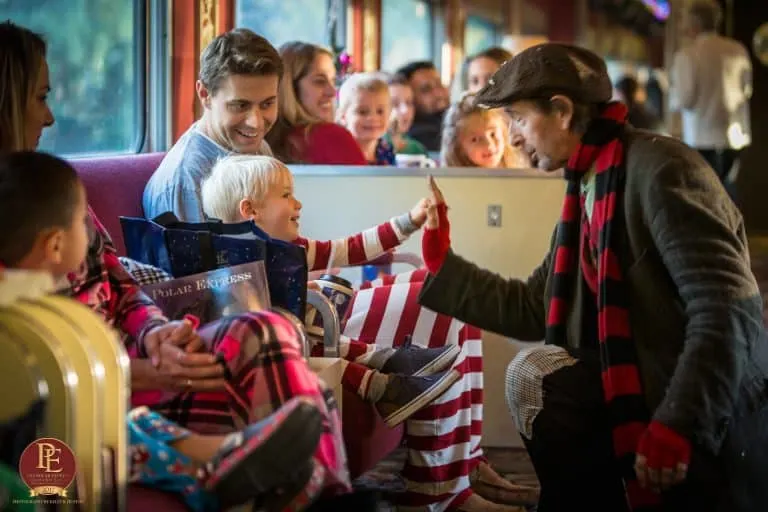 Northern California Christmas train rides are popular events that sell out quickly. During the months of November and December, numerous train companies offer young guests the opportunity to meet Santa in vintage passenger cars decked with dazzling lights and holiday swag.
1. Napa Valley Wine Train's Santa Train
Napa Valley Wine Train's Santa Train combines the best of worlds, a mother's love of wine and a child's love of Santa. Hot chocolate and cookies are part of the fun, along with a Jolly the Bear ornament to take home. This year's holiday train embarks on December 1, 2, 3, 8, 9, 10, 15, 16, 17, 22, and 23, 2022 Book early to ensure your spot!
2. Polar Express Sacramento
The Polar Express is one of the most popular Sacramento Christmas events. Should you be lucky enough to have already secured tickets for the often sold-out event, be given the "first gift of Christmas" — a sleigh bell.
On the return trip, all join in and sing Christmas carols when pulling into the station at the California State Railroad Museum. There are four departures a day on most dates Wednesday through Sunday late November through the week before Christmas.
3. River Fox Train's Magical Christmas Train
The River Fox Train in West Sacramento offers great excursions year round, but during the holiday season they will host the Magical Christmas Train.
This one-hour train ride includes activities for the kids, a visit with Santa, treats, and hot cocoa. Santa's elves will keep things fun with sing-a-longs, games, and more.
Kids are encouraged to come dressed in their pajamas to fall in line with Polar Express tradition. This experience is available on select days from November 25 through December 23, 2022.
4. Niles Canyon Railway Train of Lights
The Niles Canyon Railway Train of Lights features 15 train cars draped in holiday lights. The Christmas Train to Willits is a 90-minute merry treat for pajama-clad passengers.
Trains depart from Niles at 4:30PM and Sunol at 7:30PM on select Wednesdays, Fridays, Saturdays and Sundays from November 18th to December 28th, 2022.
As of October 20th tickets are already sold out for the 2022 season but check the website frequently for cancelations.
5. Roaring Camp Railroads in Santa Cruz
Roaring Camp Railroads offers the children of Santa Cruz, not just one, but two holiday trains departing directly from the Santa Cruz Boardwalk: Santa Cruz Holiday Lights Train and Chanukah Train. Given its location, this is a nice South Bay Area Christmas option. As with all holiday trains, you will want to book early.
Explore where to catch the Polar Express.
Sacramento Christmas Events
On two weekends in December Fairytale Town in Sacramento is decorated with festive trimmings and lit up with dazzling lights, starting at dusk during their Winter Wonderland celebration.
Winter Wonderland features kid-friendly Christmas-themed activities, strolling Victorian Christmas carolers, items for purchase from local vendors, and a nightly snow flurry.
In nearby Old Sacramento, celebrate the annual Theatre of Lights performance. This state-of-the-art sound and light display will run Wednesday, November 23, 2022 to Saturday, December 24, 2022. The nightly performances Thursday through Sunday from Thanksgiving Eve to Christmas Eve (minus Thanksgiving).
There will be a live action re-telling of 'Twas the Night Before Christmas and a live dramatization on the balconies above K Street. HIghlight include an appear by Jack Frost and St. Nicholas lighting the 60-foot Christmas tree. The sounds of 1850s Sacramento will fill the air as well.
Be sure to check Trekaroo's lists for Fun Holiday Activities for Kids in Sacramento, CA.
Bay Area Christmas Events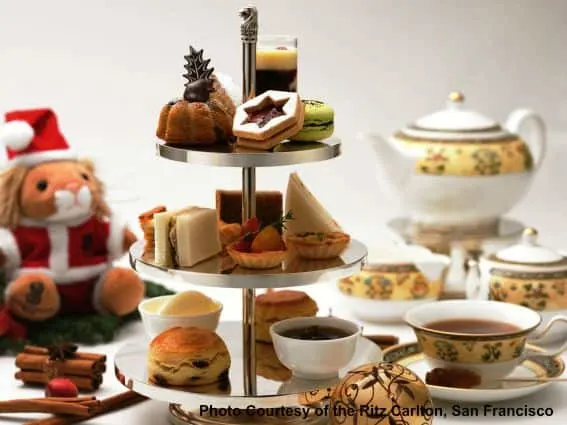 San Francisco
The legendary Teddy Bear Tea at The Ritz-Carlton, San Francisco runs daily November 26th through December 23rd, with seatings at 10:00 am and 1:00 pm. They will also host a tree lighting November 29, 2022 from 5:30 – 7:30pm.
Children and their beloved stuffed animals are invited to assemble in The Terrace Courtyard Tent for a glamorous tea service featuring the giant Ritz-Carlton Teddy Bear.
Holiday entertainment is dished along with hot chocolate, holiday confections, and assorted sandwiches. Cost includes a teddy bear and a photo.
Union Square is the center of San Francisco's bustling Christmas shopping scene. An elegant outdoor plaza is rimmed by upscale stores.
There is an ice rink, menorah, Christmas tree, and so much more! From Pier 39 to the brink of the Golden Gate, read the details on everything Christmas in San Francisco in our comprehensive guide to San Francisco Christmas Events.
While you are in the city, learn Where to Enjoy Holiday Lights in San Francisco.
Oakland
Children's Fairyland
In Oakland, Children's Fairyland celebrates the winter holidays for 11 exciting days with a salute to Christmas, Hanukkah, Kwanzaa, Las Posadas, Diwali, and Chinese New Year! Enjoy crafts, a festival of lights, and a visit from Santa in December.
These events will be ticketed and do sell out. It generally takes place the second half of December (2022 dates have not yet been released.
Glowfari at the Oakland Zoo
Visit Oakland Zoo for their holiday event, Glowfari. Glowing lanterns shaped as animals will light up the Zoo and night sky to celebrate the holiday season. There will be a mile-long path that wanders past these stunning lanterns.
This event will take place on select dates November 11, 2022 through January 29, 2023 from 5-9pm. Tickets go on sale November 1, 2022 at 9am and advanced tickets purchased online are required for this event.
Berkeley
Also in Berkeley, The Lawrence Hall of Science in Berkeley makes the last day of the year one to remember at their New Year's Eve Day Party!
Countdown in the Science on a Sphere exhibit while observing what happens as the clock strikes midnight in different time zones around the world.
No need to worry about forcing the kids to stay up until midnight — at 2:00 p.m. cheer with fellow families as hundreds of balloons mark the celebration of the New Year. December 31, 12:00–2:00 p.m.
San Jose
The biggest Christmas event in San Jose is Christmas in the Park. During this holiday traditions, the plaza transforms into a forest of holiday delights with acres of Christmas trees decorated by local schools, community groups, and businesses.
Over 40 animated exhibits, glittering lights and the 60-foot Community Giving Tree add to the fun. You can read all about Christmas in the Park and other San Jose Christmas events in our comprehensive guide.
They will also offer the drive through light experience. Tickets are already on sale for Blinky's Holiday Drive Through which runs November 26th through January 1st. The walk-through experience is free.
Santa Cruz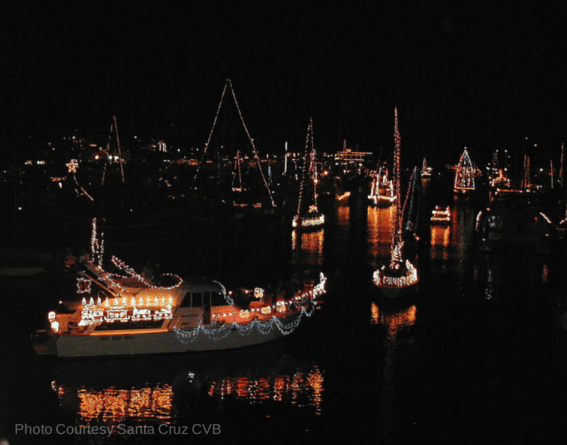 Enjoy 50 decorated boats parading throughout Santa Cruz Harbor, rain or shine. This family-oriented festival is free and held Dec 3, 2022 from 5:30 p.m. – 7:30 p.m. at the Santa Cruz Harbor.
There is also the Santa Cruz Holiday Lights Train. The vintage cars are decorated with thousands of lights and they wind through the city and residential areas to enjoy the lights. There will also be carols and visits from Santa. Ride depart from Neptune's Kingdom on the Santa Cruz Boardwalk three times nightly and take place on select dates November 25 – December 23, 2022.
You also won't want to miss Holiday Lights at the Santa Cruz County Fairgrounds November 25 through December 25, 2022. This half-mile, drive-through route has lighted displays featuring popular holida characters as well as a giant Christmas tree filled with lights.
In mid-December, pay a visit to the Jingle Shells Arts and Crafts Festival. Ocean-inspired gifts from local artists, live musical performances, kids crafts, and other festivities from 12:00 p.m. – 5:30 p.m. at the Seymour Marine Discovery Center.
Monterey Bay
Monterey's signature holiday event is Christmas in the Adobes.
On December 9 and 10, 2022 from 5-9PM, stroll through the streets of Historic Downtown Monterey and enjoy live performances as volunteers in period attire welcome you into 19th Century homes decorated in historical style. Refreshments, games, history, and merriment await the entire family.
Welcome the New Year with the entire family (ages 5 and older) at the Monterey Bay Aquarium!
The evening will feature a sparkling cider toast at 9:00 p.m. and fun family oriented activities and programs are planned for this unique night of celebration. Note: 2022 details have not yet been published.
The Holiday Parade of Lights is an annual tradition in Pacific Grove on December 1, 2022. It includes floats, marching bands, dance troupes, performing horses, and Santa Claus.
Afterward, carolers will walk through the streets of downtown as local shops stay open well into the evening for the holiday celebration.
Tomales Bay
Santa Claus arrives by boat at Tomales Bay with treats and holiday wishes. Santa will dock at the Boat Shack at Nick's Cove Restaurant on Deccember 4, 2022 for his annual visit.
Children can sit and chat with Santa in the Boat Shack, which is illuminated for the holiday season, and enjoy complimentary hot chocolate and sweets.
Sonoma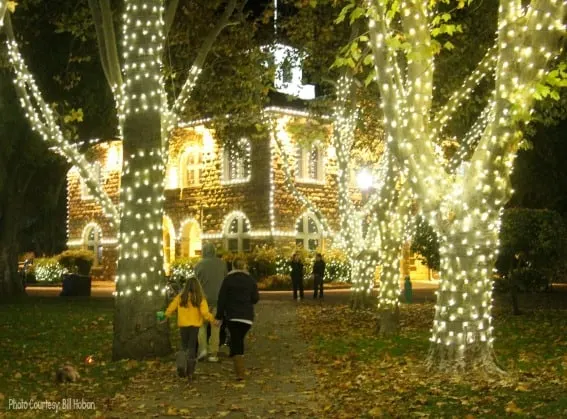 Le Cirque de Boheme
A 1920's style circus based on the French tradition Le Cirque de Boheme will transport you into a surreal dream filled with enchantment, wonder, and discovery.
A Magician, Contortionist, Hat Juggling, Ball Spinning, Unicycle, Mime, an eccentric Clown, Knife-Thrower and other assorted performers of Paris of the 1920's can be seen. The circus takes place on select dates in November and December.
Lighting of the Snowmen Festival
See what the snowmen are up to this year at Cornerstone Sonoma! Music and entertainment, pictures with Santa on the big blue chair, and the annual lighting of the snowmen around the Cornerstone Gardens. Available to view through December.
Christmas at the Mission
Join in a candlelight procession from Sonoma Barracks to Mission San Francisco Solano followed by a non-denominational service. The Mission will host holiday festivities which include history demonstrations, crafts, snacks, and Santa. Don't miss the three Las Posadas pageants in the chapel.
Petaluma
Santa's Riverboat Arrival
Rudolph and his reindeer pals get the day off when Santa and Mrs. Claus arrive in Petaluma on a Jerico tugboat on November 26, 2022 at 11:30am.
Their trusty tug chugs up the Petaluma River and arrives at noon at River Plaza shopping center where the waiting crowd has been entertained by a variety of festive performers at this free event.
After Santa and Mrs. Claus disembark, they are greeted by costumed dancers from Petaluma City Ballet's "Nutcracker" and are escorted to a Santa's workshop for photos with children and lots of Christmas wishes.
Healdsburg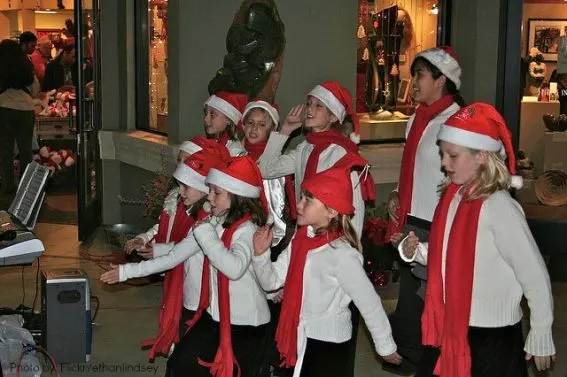 Dickens Dinners at Madrona Manor
Step back in time at Madrona Manor, this charming, historic wine country inn will be decorated in Victorian Splendor for the holiday season. Enjoy an evening of fine dining along with carols.
Insider Tip: Many children attend this dinner, but keep in mind that the price is the same for adults and children and the dinner service lasts a little over two hours.
Mendocino
Mendocino's Annual Festival of Lights at Mendocino Coast Botanical Gardens promises to impress visitors with thousands of glittering lights to create a fantastical coastal garden full of sparkling whimsy. It takes place every Friday, Saturday, and Sunday from November 25 through December 18, 2022.
Northern California Christmas Events Celebrating the Past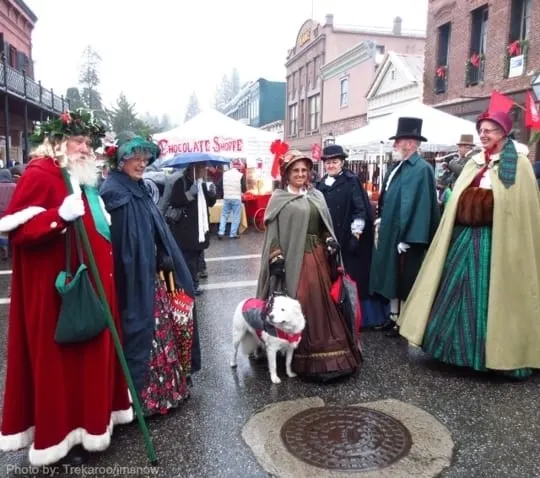 Evoke the spirit of Christmas past amidst the delightful backdrop of historic downtown Grass Valley during their yearly Cornish Christmas Celebration.
The event takes place on Friday evenings beginning in late November and runs through mid December. Mill and West Main Streets are blocked to traffic and packed with the resonances of an old-fashioned Christmas.
The Grass Valley Cornish Carol Choir croons Christmas carols on the steps of the historic Union Building. Delight your senses with the aromas of your favorite foods while you stroll down the bustling historic streets of Downtown Grass Valley. Listen to musicians play Christmas music as shops bathed in Christmas lights twinkle in the night air.
In Nevada City, at the Victorian Christmas you'll see kids and adults dressed in period costumes. Delicious food and drink can be purchased from a number of specialty food vendors. As a matter of fact, Nevada City was names one of the best Christmas towns in California.
This event takes place on select Sundays and Wednesdays in December. Visit the Victorian Christmas website for more details.
In Paso Robles, Vine Street Victorian Showcase (December 10) features Ebenezer Scrooge, the Snow Queen, and Mr. & Mrs. Claus. Bring the kids to Vine Street for the festive sounds of caroling, illuminated floats, entertainers, live music, cotton candy, and free cookies and hot chocolate!
More Northern California Christmas Events
Apple Hill, located just northeast of Placerville, is a beautiful destination to pick and chop a Christmas tree. Several full-sized Christmas tree farms open the day after Thanksgiving and remain open until Christmas Eve. Visiting Apple Hill is a memorable experience any time of year, especially over Christmas!
Some of the more popular Christmas Tree Farms include High Sierra Iris Gardens, Hillside Tree Farm, and McGee Christmas Tree Farm. Christmas at Apple Hill isn't just about picking a Christmas tree; many farms offer great family-oriented activities for the kids and have steaming cups of hot chocolate or homemade apple cider waiting for you.
Be sure to check Trekaroo's list for Apple Hill Christmas Tree Farms.
In Copperopolis, the community will light its Holiday Tree, traditionally a 40-foot fir with more than 1,000 lights, in Town Square in November. Festivities will include music, an appearance by Santa and Mrs. Claus, and carriage rides.
In Windsor, stroll through Charlie Brown Christmas Tree Grove, a joyful and inspiring grove of decorative Charlie Brown Christmas Trees on Windsor Town Green, December 1-31, 2022.
El Dorado County
Historic Holiday Houses
Thirteen of the Marshall Gold Discovery State Historic Park buildings that are normally closed will be open and decorated for the holidays. Docents will be at each house to tell the history of the building, and refreshments will be served at certain houses to get you in the holiday mood!
Wristbands to visit the houses will be sold for $5.00 per person (5 and under is free). Enjoy wreath making, wagon rides, music, and of course Santa. There is a parking/park day use fee of $8.00 per car. For more information please call (530) 622-3470.
Free Stagecoach Rides
On select days in December, Davy "Doc" Wiser and his crew will be providing FREE stagecoach rides in in Placerville good weather. If you've never taken a ride in a real stagecoach, this is a treat for the whole family!
Holiday entertainment is featured at the Bell Tower on weekends in December, in good weather too.
Christmas Fun In and Around Lake Tahoe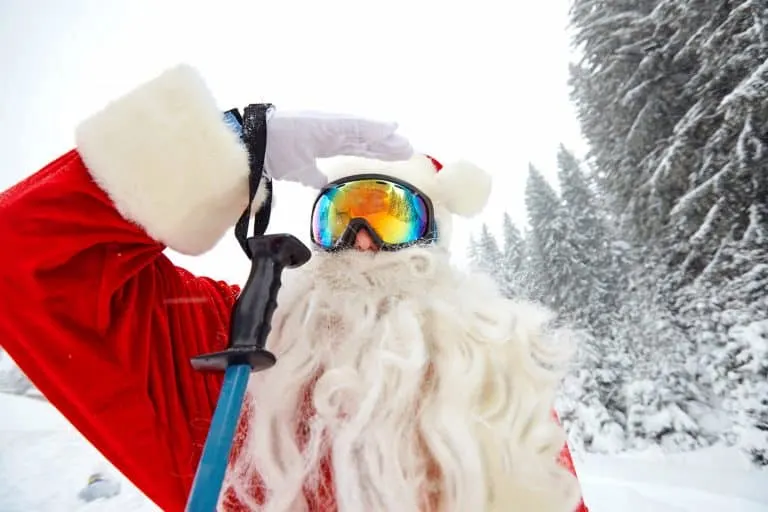 Magical Memories at Resort at Squaw Creek
Thanksgiving weekend brings the much-anticipated start to Resort at Squaw Creek's Magical Memories holiday celebration. The event begins with the Gingerbread Village Unveiling and Grand Tree Lighting Ceremony.
Magical Memories include a turkey hunt, snow fort building contest, caroling, ice rink games, winter wonderland stories with Mrs. Claus, elf tuck-ins, family movies, breakfast with Santa, or Hanukkah menorah lighting. 2022 information has not yet been posted.
The Village at Palisades Tahoe Hotel (formerly Squaw Valley) will transform into Olde World Christmas, complete with frosted vignette windows, horse-drawn sleigh rides, storytelling with Santa, and farm-to-table dinners with Olympians and legends. They'll also have an ice garden, train rides, orchestra performances, and Grinch look-alike contests.
Heavenly Holidays
Celebrate nearly two weeks of Christmas at Heavenly Holidays. This elaborate 13-day family-friendly festival at the Heavenly Village features professional ice skating shows, ice sculptors, and carolers.
Santa's Workshop will be recreated inside of a 16-foot interactive snow globe where families can get their photos taken with Santa! Festivities conclude on December 31 with A Heavenly New Year's Celebration featuring a 9 p.m. ball drop and fireworks show!
Holiday Feasts
Granlibakken Conference Center & Lodge offers a hearty Thanksgiving feast that celebrates family and friends around the dinner table.
Before dinner, work up an appetite outdoors at Granlibakken's Treetop Adventure Park. Set 30 feet off the ground, the ropes course and zip line will be open Thanksgiving week (weather permitting) and throughout the winter season.
Camp Richardson Historic Resort and Marina is an all-season resort with lodging in cabins and hotel rooms. The Beacon Bar and Grill, situated on the scenic shore of Lake Tahoe, is offering special menus for Thanksgiving, Christmas, and New Year's Eve.
Enjoy Winter Holiday Activities for Kids in Lake Tahoe & Nevada.
Sequoia and Kings Canyon National Park

Wuksachi Lodge
On the 2nd Sunday in December, the annual Trek to the Nation's Christmas Tree (the General Grant Tree), is a tribute to the men and women of the Armed Forces who have sacrificed their lives for their country. A memorial wreath placed is placed at the base, and an NPS representative will speak on the tree's role as a national shrine.
Attendees can park at the Grant Tree Trail entrance lot, take a free shuttle from the Kings Canyon Visitors Center, or a paid shuttle from the Sanger Chamber of Commerce offices. In addition, Kings Canyon Park admission is free from 2 to 4 p.m. on the day of the event.
Central Coast Christmas Events
Paso Robles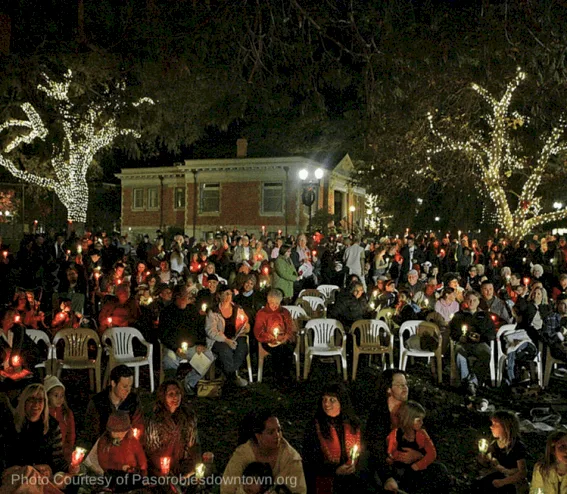 Downtown Holiday Lighting Ceremony
Lights will illuminate the way to this year's holiday festivities in City Park on November 25, 2022. Mrs. Claus will arrive and light the downtown, sharing her merriment with all. Enjoy music, candlelight caroling, free cookies, and hot chocolate. Admission is free.
On December 3, 2022 at 7pm, relish the sights of the holiday spirit with a brilliant parade featuring an array of lighted spectacles from local businesses. Awards will be given for best in show. Join Santa and Mrs. Claus and witness downtown light up with holiday spirit! It dazzles partygoers with nearly 100 decorative floats, jammin' musical acts, and dancers.
The Downtown Paso Robles' Annual Victorian Teddy Bear Tea invites kids to bring their teddy bear for tea, stories, gingerbread cookie decorating, arts and crafts, and visits with the Snow Queen and King, Mrs. Claus, Santa Claus, lovable elves and Victorian friends. This year it takes place on December 17, 2022.
San Luis Obispo County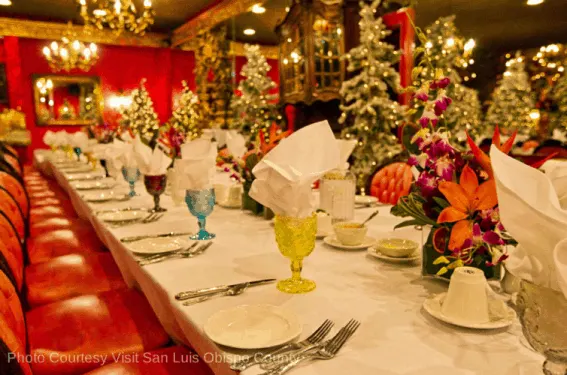 The Apple Farm Inn and Restaurant in San Luis Obispo welcomes you to its annual Holidays at the Apple Farm. This is classic celebration of the season's most time-honored traditions, with several free activities for families.
Madonna Inn, a historic landmark hotel with themed rooms, offers a succulent holiday meal and New Year's Eve Celebration.
Hearst Castle
Hearst Castle is an unforgettable experience on any given day, but during the holidays you'll be awestruck. From December 1-31 (except Dec. 25), the Castle decks the halls generously, giving guests the sense they've traveled back through time and are celebrating the holidays with Hearst's iconic roisterers.
The Great American Melodrama
For over 40 years resident have looked forward to The Holiday Extravaganza, presented by the Great American Melodrama. This year's shows take place November 17- December 30, 2022.
The show features an uplifting one-act rendition of Charles Dickens' A Christmas Carol, a heartwarming fairy-tale opera, and a well-known Holiday Vaudeville Revue.
Morro Bay
Morro Bay sponsors a free Lighted Boat Parade on December 3, 2022 at 6:30pm. Spectators can peer out into the bay at ornamented Christmas skiffs, yachts, fishing boats, cutters, sailboats, and kayaks.
Is there a Northern California Christmas event we missed? Does your business have updated information to share? Email info@trekaroo.com and tell us about it!
Special thanks to Tina Buell who wrote the original version of this article.
Find more Christmas events near you! Trekaroo has guides for dozens of cities across the country.
Pin this- we update it yearly:

Leas Image by: Shutterstock/fotorutkowscy