Christmas in Philadelphia is a great time to reconnect with your family and enjoy the festivities with your kids.
There are so many family-friendly Christmas activities in Philadelphia it is hard to choose which ones to enjoy! These Philadelphia Christmas events are sure to leave you filled with holiday spirit. Updated for 2023!
Christmas Activities in Philadelphia for 2023
Get in the Holiday Spirit at a Philadelphia Area Amusement Park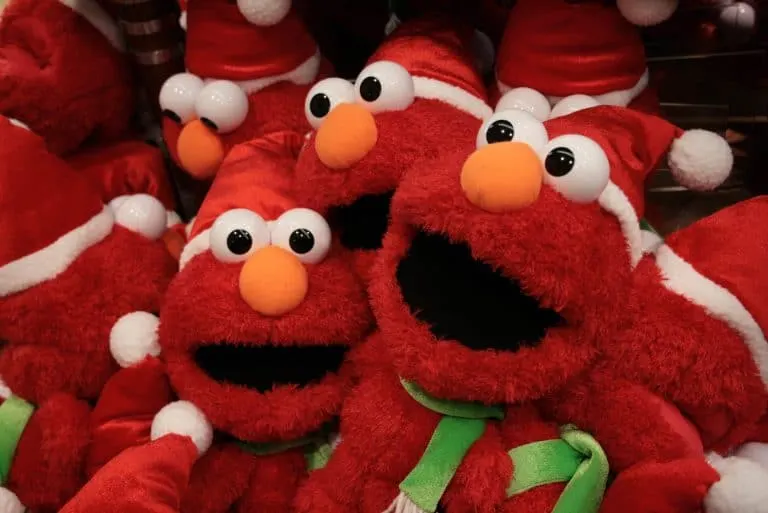 Amusement parks in the Philadelphia area roll out the red carpet, the lights, and Santa's red suit. Families can enjoy their favorite amusement parks dressed up for the 2022 holidays! You can still ride your favorite rides and enjoy added shows and festivities.
In Bucks County, PA, A Very Furry Christmas at Sesame Place decorates to the hilt, lining the entrance and the park with trees and lights. Families delight in the Christmas parade (they even make it snow!), visits with Santa, Christmas-themed shows, and holiday treats.
A Very Furry Christmas is held on select dates November 17, 2023 – January 7, 2024.
Two million twinkling lights set the stage for Hershey Park's Christmas Candylane. This year's event will take place November 10, 2023 – January 1, 2024.
Families will love the festive decorations (over five million lights!), holiday entertainment, Santa and his reindeer, and Treeville at the Boardwalk at this family-friendly Pennsylvania park. A limited amount of rides are open for the season.
Dutch Wonderland Winter Wonderland is perfect for younger kids. Here you can enjoy the Royal Light Show, festive entertainment, cookie decorating, rides, and more on weekends and select weekdays throughout the season. This event takes place November 18, 2023 – January 1, 2024.
Experience the New Visit Philadelphia Holiday Parade
The Visit Philadelphia Holiday Parade will take place on East Market Street December 2, 2023 at 5pm. Locals can also watch the parade on 6ABC.
This parade isn't just about Christmas- there will be floats representing Hanukkah, Kwanzaa, Chinese New Year, and Christmas. As a matter of fact, it nation's only parades celebrating Hanukkah, Kwanzaa, Christmas and Lunar New Year all at once There will also be balloons, bands, and lots of other performers.
Trekaroo tip: People from Wawa will be handing out free hot chocolate and coffee between 2nd and 3rd Streets. Score!
Visit Philadelphia will also hosting a New Years Day Fireworks Show at Penn's Landing at 6PM on January 1, 2023.
Take in the Philadelphia Christmas Lights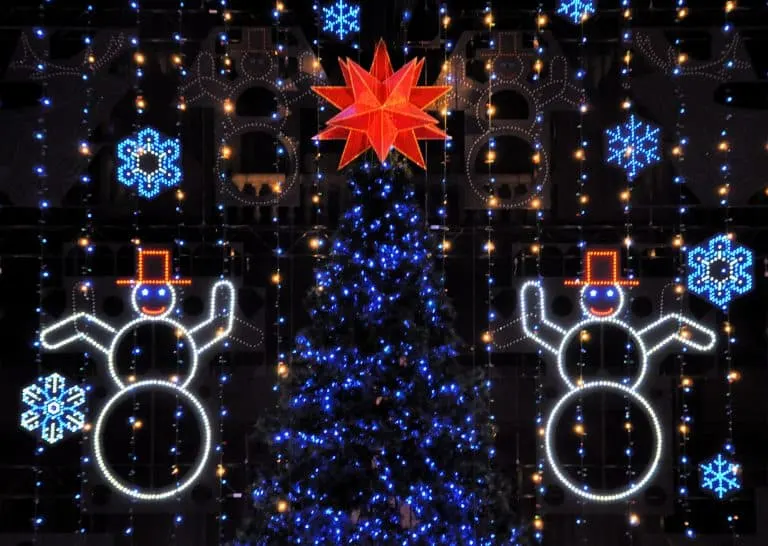 Macy's Holiday Light Show
There are so many great Christmas light displays in Philadelphia to explore! One of the coolest Philadelphia Christmas events is the Macy's Christmas Light Show in the Wanamaker Building. There are multiple shows daily featuring thousands of twinkling lights in the shapes of snowflakes, candy canes and dancing snowmen. It runs November 24 – December 31, 2023.
Accompanied by the sounds of the famous Wanamaker Organ, Christmas scenes are illuminated by 100,000 LED lights on a 4-story tall velvet curtain. Then head to the Dickens Village on the third floor where A Christmas Carol is brought to life.
Comcast Holiday Spectacular
The Comcast Holiday Spectacular is quite a sight! The world's largest LED screen displays holiday imagery set to orchestra music. The 15-minute show is set to music from classic holiday songs. Shows run daily at the top of every hour from 10 am to 8 pm November 23, 2023 – January 1, 2024.
Winter in Franklin Square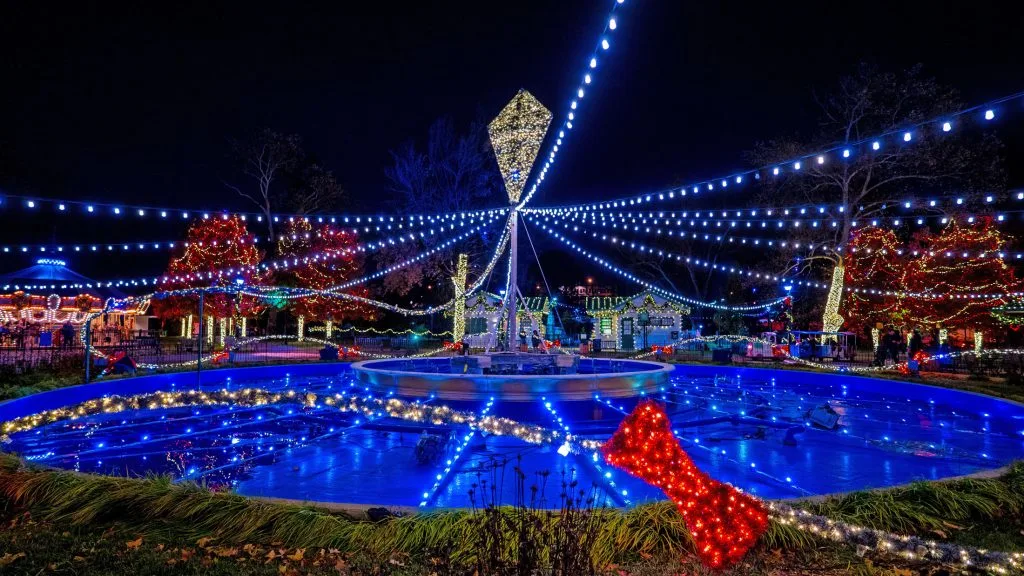 A returning classic Philadelphia Christmas event Winter in Franklin Square, home to the Franklin Square Holiday Light Festival and Electrical Spectacle.
Featuring a 12-foot-tall kite made of lights and hundreds of feet of holiday garland, as well as 200,000 lights, comes to life every 30 minutes from 5pm to closing daily. This event takes place November 16, 2023 through February 25, 2024.
There will also be Chilly Philly Mini Golf where the course filled with reproductions of Philly landmarks is transformed into a winter wonderland with lights, seasonal music, and winter character displays. You can purchase your admission in advance online. (Nov. 16 – Jan. 28)
The Electrical Spectacle Light Show is inspired by Benjamin Franklin's famous kite and key experiment. The square will be lit up every 30 minutes with coordinated light and music shows. (Nov. 16 – Feb. 25)
Another fun experience you don't want to miss is Street Curling. Yes- that crazy Olympic sport that looks a bit like ice shuffleboard. You can rent curling rinks and have a blast playing Nov. 16 – Feb 25.
LumiNature at the Philadelphia Zoo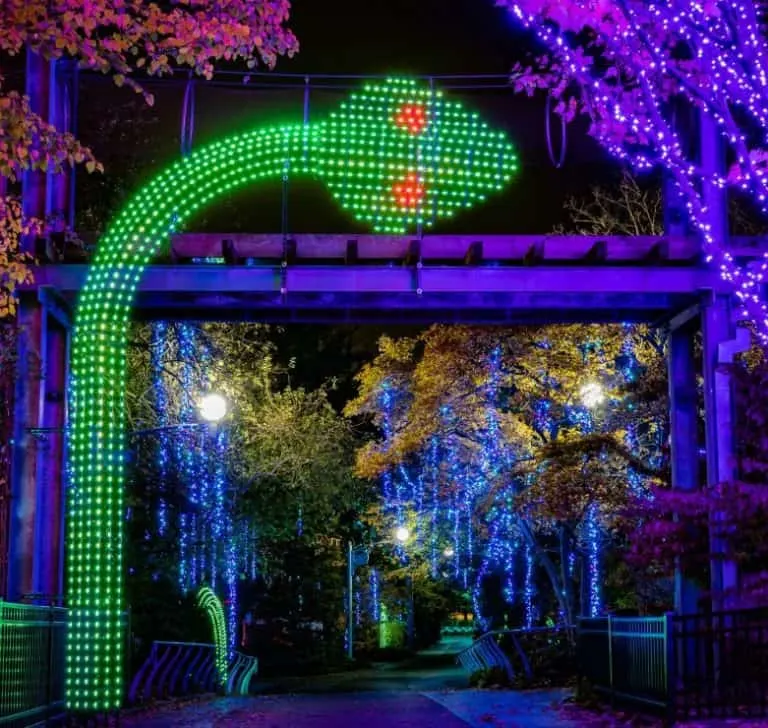 This year, excitement surrounds the incredible addition of a new winter experience in the city. From November 17 – December 31, 2023, LumiNature at The Philadelphia Zoo will wow guests as it leads them on a truly magical journey of lights, sounds and surprises.
This giant-sized, fantastical holiday lights experience features 16 experiences that include eye-popping things like illuminated penguins, oversized bold-colored illuminated flowers, a 21-foot tall brilliant colored snake, giant cat eyes glowing in the dark and oh-so-much more.
Advanced tickets are required for LumiNature which can be purchased online.
Tinseltown Holiday Spectacular
Back for another year is the Tinseltown Holiday Spectacular at the Greater Philadelphia Expo Center. It will run Novcember 17, 2023 through January 1, 2024. Tickets can be purchased online.
In addition to over a million beautiful lights in themed displays, there will be photos with Santa as well as Gritty, the Philadelphia Flyers mascot, a winding ice trail, ice slide, holiday marketplace, and lots of tasty treats to eat and drink.
Shady Brook Farm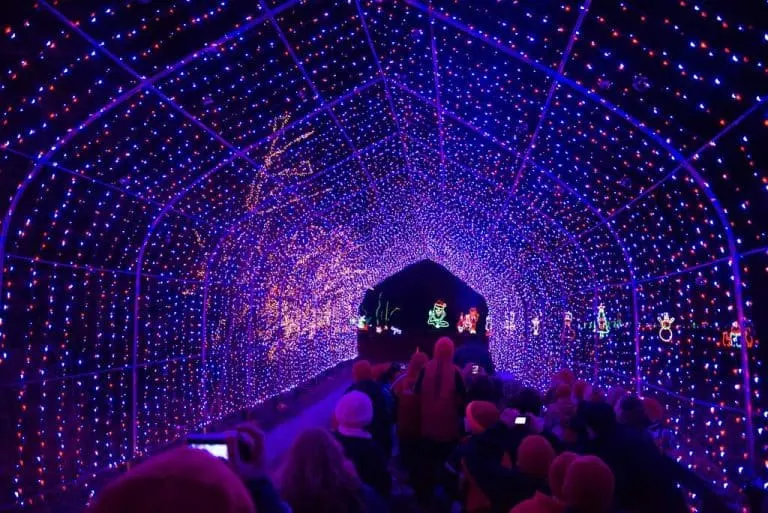 At Shady Brook Farm, families can drive through the wonderful holiday light show or enjoy a horse-drawn wagon ride. Traverse acres of farmland while enjoying whimsical displays and countless lights. There is also a drive-thru experience where you can drive your own vehicle. Tickets can be purchased online.
This lovely holiday activity starts off each year with the very family-friendly Dashin' Thru… the Lights event where families can participate in a two-mile run/walk through the holiday lights on November 17th from 5 – 9pm.
This event runs November 18, 2023 – January 27, 2024.
Longwood Gardens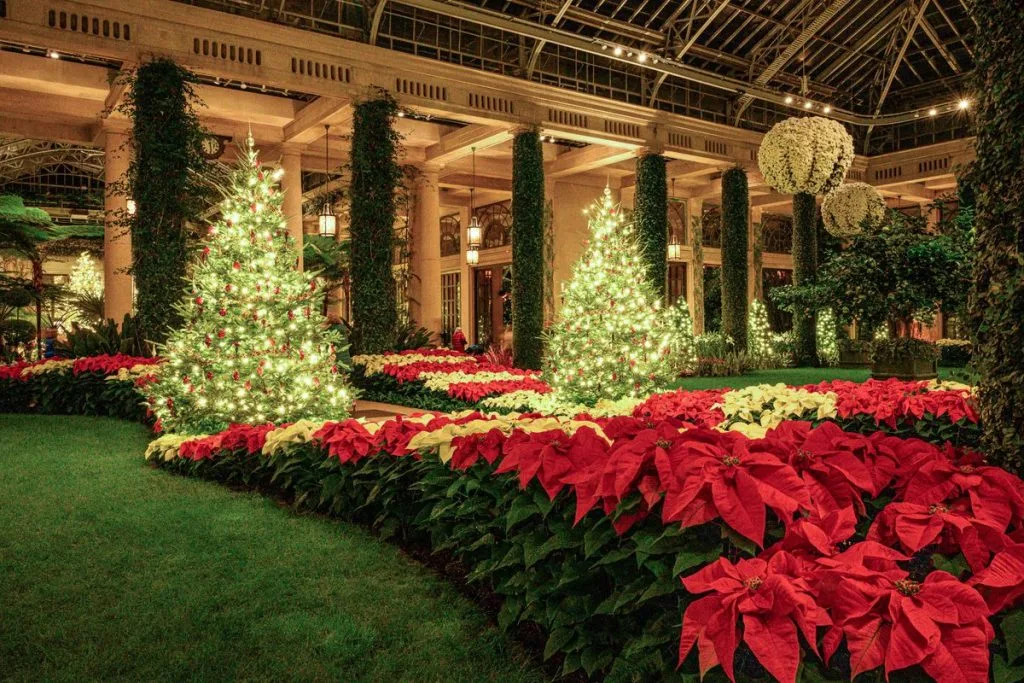 A walk through Longwood Gardens will leave you amazed. A half million lights, brilliant Christmas trees, thousands of poinsettias, fountains, and daily concerts make it a festive wonderland.
This year's event at Longwood Gardens will take place November 17, 2023 through January 7, 2024
Due to the popularity of garden visits this time of year, a timed ticketing system is used. Be sure to visit the website for ticketing options.
Koziar's Christmas Village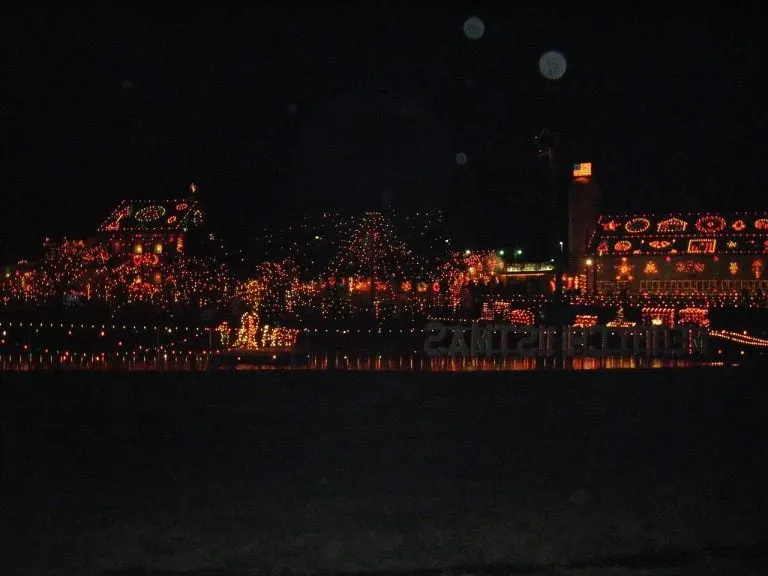 At Koziar's Christmas Village, visitors enjoy walking the paths and observing the lights, displays, and model trains. Take a moment to visit with Santa, he'll be waiting for you on Santa Claus Lane. If you get chilly, warm up with some hot chocolate and snacks.
The village is open from the first Saturday in November through the beginning of January 2024, including on holidays.
South Philly Neighborhood Lights Worth Seeing
If you want to see a neighbor filled with holiday spirit, head on down to the 1600 block of South 13th Street and check out Miracle on South 13th Street.
You can either drive through or choose to park and stroll this neighborhood filled with great lights and Christmas decor. There are lots of local restaurants to choose from on nearby E. Passyunk Avenue if you want to make and evening of it.
Smedley Street is another spot you won't want to miss. The Smedley Street Christmas Light Spectacular has been happening on the 2700 block of Smedley Street for over 50 years!
The West Chester Griswold House
Fans of National Lampoon's Christmas Vacation will definitely want to stop by the Plummer family's house to check out their over-the-top light display. How over the top? Well, their house features over 135,000 lights controlled by computer!
The lights will be up Thanksgiving through January 3, 2023.
Holiday Trains in Philadelphia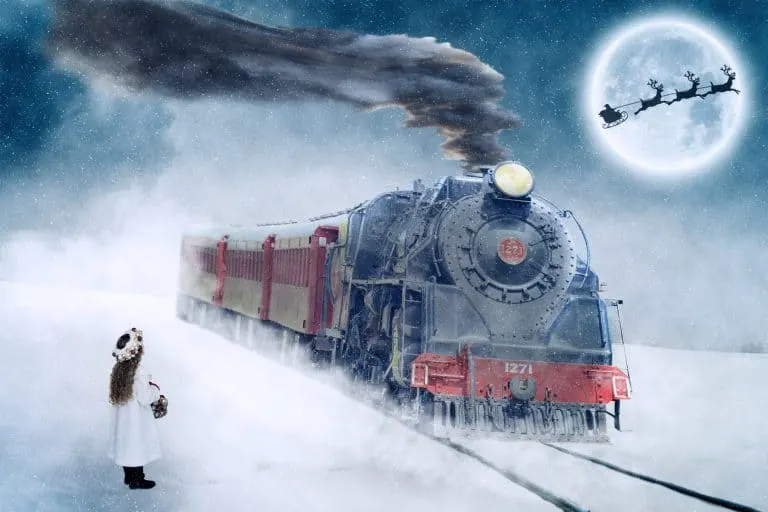 Holiday Garden Railways at Morris Arboretum
This year the Holiday Garden Railway returns at Morris Arboretum. The miniature displays and replicas of Philadelphia landmarks decked out for the holidays dazzle visitors of all ages.
Fifteen train lines, including two cable cars, run over a quarter mile of track, around loops and through tunnels. This event runs November 24 through December 30 2023. A special evening train experience takes place on weekends during the holiday season.
Santa's Paradise Express at Strasburg Railroad
My children have always enjoyed a train ride with Santa. Thanks to the popularity of The Polar Express, more railroads than ever are offering their own Polar Express experiences. Strasburg Railroad is offering Santa's Paradise Express where families will enjoy a train ride with Santa himself.
This event will take place on weekends, November 4, 2023 through January 1, 2024.
The Night Before Christmas Train creates special memories and excitement. A visitor dressed in his night-dress reads this classic tale and children will enjoy cookies and milk. There is also a "Santa Claus Limited" and Christmas Tree Train experience to choose from. Book early because these train experiences sell out fast!
New Hope-Ivyland Railroad
The New Hope-Ivyland Railroad's Santa Steam Train Ride is also a fun excursion with kids. It offers riders a visit with Santa, hot chocolate and a cookie, as well as a scenic train ride through Bucks County. It takes place on select dates in November and December.
This year they offer a special deluxe train experience aboard their Mid Century stainless steel passenger railroad cars that were once used on celebrity trains. This a more expensive, premium experience that is sure to attract train enthusiasts.
Find Philadelphia and New Jersey Santa trains where you too can enjoy in this holiday tradition.
Christmas in Philadelphia- Fun Places to Do Holiday Shopping
The Christmas Village located in Love Park is an authentic German outdoor holiday market that is a favorite of locals. Visitors will enjoy the holiday lights and the Christmas tree while exploring booths offering up a unique shopping experience, traditional food, and sweets.
Enjoy the entertainment presented by choirs and dancers throughout the season, as well as a visit with Santa.
Love Park was recently remodeled, and the market is back and better than ever. Take some time to enjoy the remodeled park and the market, and stop at Dilworth Park across the street for some skating and hot chocolate afterward! TThe ice rink is open November 10 – February 25th. The Philadelphia Holiday market is open November 10 – January 1st.
In historic Bucks County, Peddler's Village offers up unique stores and restaurants. The village is beautifully decorated with hundreds of twinkling lights for the season. Their Holiday Kickoff Weekend is November 17 – 19.
Enjoy the Christmas Festival and the Gingerbread House Display, with entries from people of all ages for the annual competition!
When the kids get tired of the shopping, be sure to treat them to a stop into Giggleberry Fair to ride the wonderfully restored carousel, tackle Giggleberry Mountain and play the arcade games.
Devon Horse Show
In the city of Devon at the Devon HorseShow grounds they will have the Yuletide at Devon celebration November 24 – December 31, 2023. It is part European Christmas market part live music festival and parrt community carnival.
Look for the best hotel prices in Philadelphia.
Outdoor Ice Skating in Philadelphia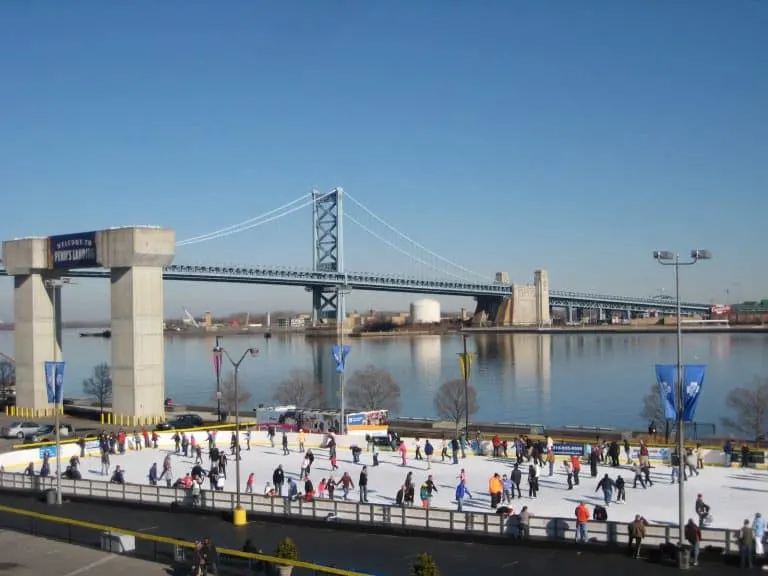 The only regulation-sized outdoor skating rink in Philadelphia can be found at Blue Cross RiverRink Winterfest, which is found along the Delaware River.
The skating rink opens after Thanksgiving. In addition to ice skating, visitors can also enjoy fire pits, a Kids Lodge and arcade, warming cabins, and food and drink. There will be a tree lighting ceremony on December 1st that is promoted to be "star-studded".
Find more fun in Philly! Here are the top 10 things to do in Philadelphia with kids.
Nutcracker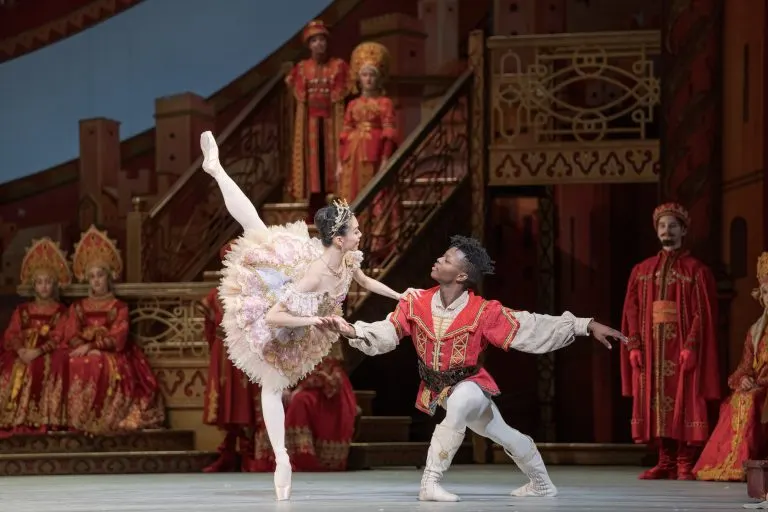 The Philadelphia Ballet will put on their annual performance of The Nutcracker at the Academy of Music. This is a tradition for many families, especially those with little performers in their group who want to see the pros on stage. It runs select dates December 9 – 30, 2023.
Mummers Parade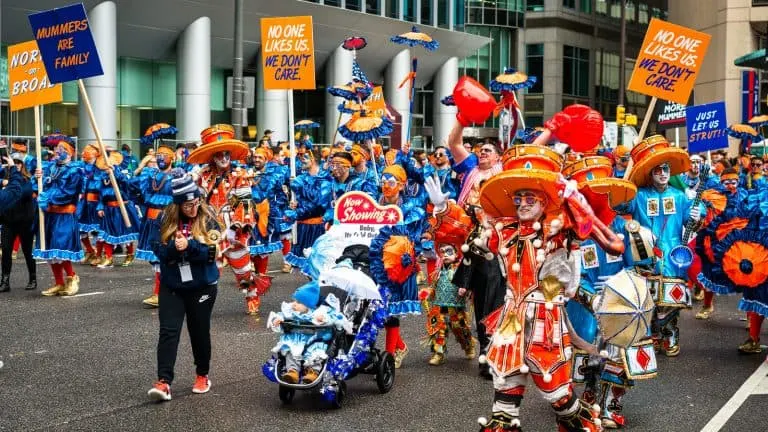 The Mummers Parade is an important Philadelphia tradition that takes place on New Years Day.
This holiday festival is said to be one of the oldest folk festivals in the United States! Several local clubs create costumes, scenery, and elaborate routines to perform in the parade in hopes of winning awards in five different categories: Comics, Fancies, Fancy Brigades, String Bands, and Wench Brigades.
The Parade begins at City Hall and heads south to Washington Avenue and Broad Street. Broad Street is a great place to watch the performers, but arrive early to secure a good spot. The fun lasts all day, beginning at 9am and ending at 5pm.
Find more Christmas events near you! Trekaroo has guides for dozens of cities across the country.
Pin this to bookmark all the holiday fun; we update it yearly:

Lead Image by Shutterstock