Every December, the City of Roses turns into the City of Lights as some of the best light shows and festivals of the Northwest light up the winter sky. We love traveling from our Southern Oregon home to Portland each holiday season to catch one or all of these beautiful light displays. Here are five not-to-miss Holiday Light Shows in Portland.
Stay at these Family Friendly Hotels in Portland
1. Festival of Lights at The Grotto
In December, 500,000 lights transform Portland's Grotto during the Festival of Lights. Families can also hear 150 choral performances, listen to carolers, and even visit the on-site petting zoo. Admission is $11 for adults and $6 for kids, and parking is free. Visiting The Grotto is peaceful and relaxing for a family any time of year, and a visit during the holidays truly reminds you to slow down and enjoy the season. For the 2014 season, the Festival of Lights runs from the Friday after Thanksgiving through December 30th.
2. Winter Wonderland at the Portland International Speedway
Open seven days a week from November 25th through December 25th, Winter Wonderland is a sensational display of lights and animation that's grown bigger every year. Families drive through this display, which means that even if the weather isn't cooperating, you can still have a great time. The action spans the track at Portland International Raceway with displays ranging from the 12 Days of Christmas to the Nativity to the Peanuts gang. Our kids' favorite is Santa jumping down an 84 foot ski slope. Tickets are cash (or check) only $$20 per car. (Note: closed on Tuesdays.)
Book your stay at these Family Friendly Hotels in Portland
3. ZooLights at the Oregon Zoo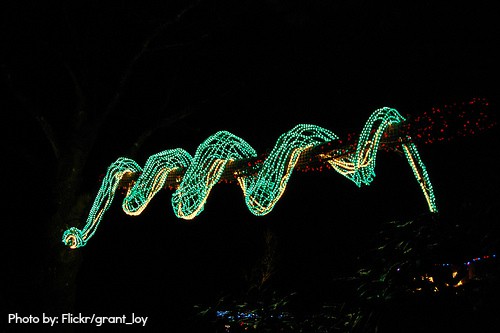 Starting November 25th and going throughout December until January 1, stay late at the Portland Zoo for ZooLights, an amazing light display featured from 5 pm to 8 pm. Perfect for families with young kids who don't want to stay out too late or deal with rowdy crowds, ZooLights takes kids on a magical train ride through the zoo to immerse themselves in holiday lights in an already magical place. Best of all, you can buy a regular zoo ticket, spend the day, then stay late to see ZooLights. (Otherwise, tickets are sold separately, $15 for adults and $10 for kids.)
4. Peacock Lane Light Display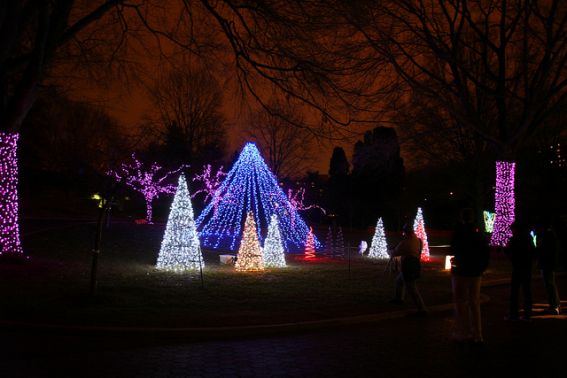 For a free treat for the family at Christmas-time, head over to Portland's quaint Peacock Lane, where every Tudor home is fully decorated for the holidays. Driving through is less magical than walking; dress for the weather and take your time strolling through. A tradition since the 1920's, Peacock Lane will take you back in time! Note: in years past, there have been designated car-free nights. Whether this option will be offered for 2016 is TBD.
5. Wenzel Farm
Take a walk along  Wenzel Farm's Fantasy Trail, open from Halloween through Christmas with seasonal displays. In addition to holiday decor, there's also a maze, a tunnel, and a crooked house. The trail will be winter-holiday oriented from December 2-30, 6 pm to 9 pm. Kids of all ages will love this fairytale escape, whether you have princesses or knights. Experience Christmas music, a bonfire at night, and a suspension bridge. Tickets are only $6 for adults and $5 for kids, cash only!
Bundle up, grab an umbrella, and head out into the Oregon outdoors to experience the holidays!
Stay at these Family Friendly Hotels in Portland
Pin this to bookmark all the holiday fun; we update it yearly: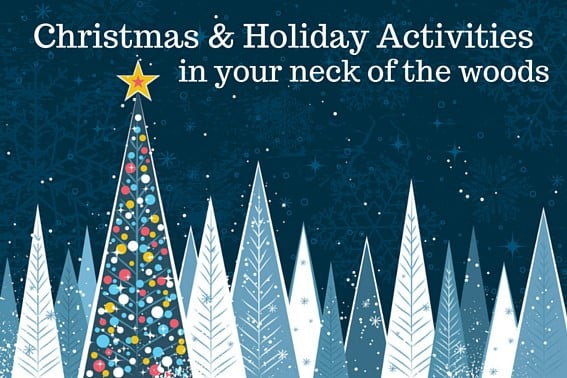 Find holiday activities and events in your neck of the woods.  We've got the inside scoop on cities across North America.
Featured photo by: Shutterstock