Hollywood magic and the wonder of the holiday season meet at Universal Studios! Imagine a gentle snowfall over Hogwarts while sipping hot butterbeer in Hogsmeade.
Spend the afternoon in Who-ville learning what Christmas means to the Grinch! Take in a stroll though Hollywood decked out in full holiday glitz and glamour! You can experience all this at Universal Studios Hollywood Christmas in 2022. This year's holiday season runs November 25, 2022 through January 1, 2023.
Universal Studios Hollywood Christmas Guide
Universal Studios Christmas Show at Hogwarts Castle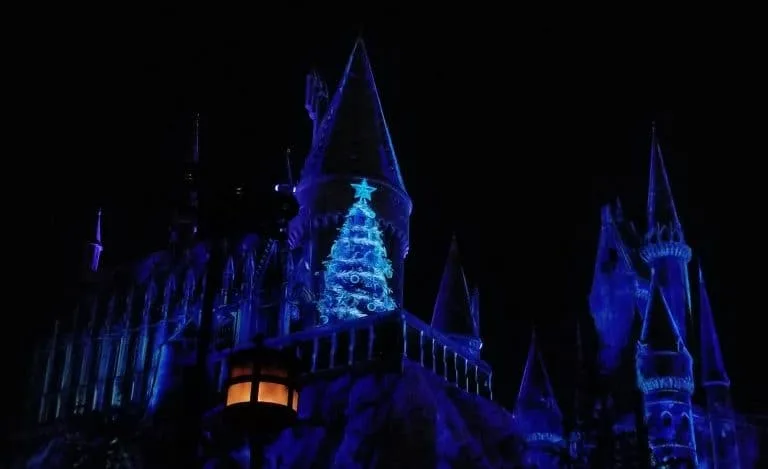 In the Wizarding World of Harry Potter the "can't miss" event is the nightly glistening snow that begins to fall periodically starting at 5:15 pm! In addition, The Magic of Christmas at Hogwarts Castle is a dazzling light spectacular that occurs nightly roughly every 30 minutes. Check out the holiday schedule here.
Be sure to check the light show times at the beginning of the night – these time vary and you will not want to miss it. The later showings tend to have smaller crowds, allowing for more space to enjoy the show. The gorgeous projection of the Christmas trees on Hogwarts is quickly becoming an icon of the holidays at the Wizarding World of Harry Potter.
Be sure to grab some hot butterbeer to stay warm during the show.
Tip: Look for the metal gates that control traffic into the WWOHP . This will help you get into the viewing area of the castle quickly – they begin at the entrance to Kung Fu Panda!
Christmas at Wizarding World of Harry Potter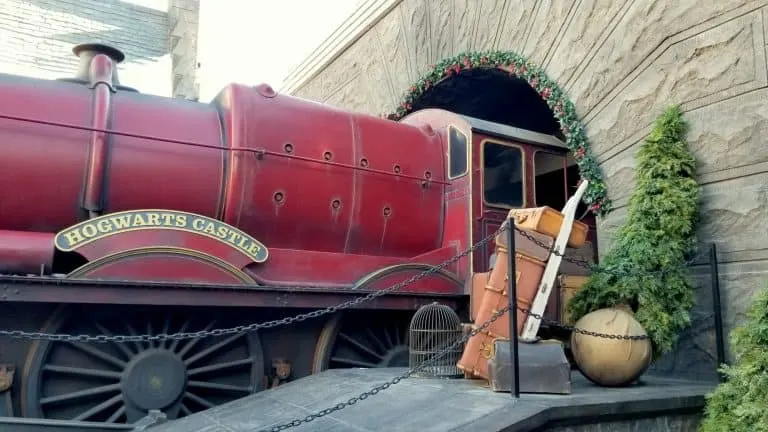 Unique holiday offerings are found all throughout the Wizarding World of Harry Potter! The A Capella Frog Choir delights and entertains guest with their harmonies. This scene transports you directly into the Prisoner of Azkaban where the students celebrate a Happy Christmas.
To commemorate the holiday season, stop in at the Wizarding World holiday boutique. Pick up an ornament or specialty robe and scarf. The shop directly behind the Hogwarts Express has a great selection of holiday souvenirs with little to no line to help you share the gift of Universal Studios Hollywood Christmas.
Need more inside information? Check out our Wizarding World of Harry Potter guide.
Universal Studios Hollywood Grinchmas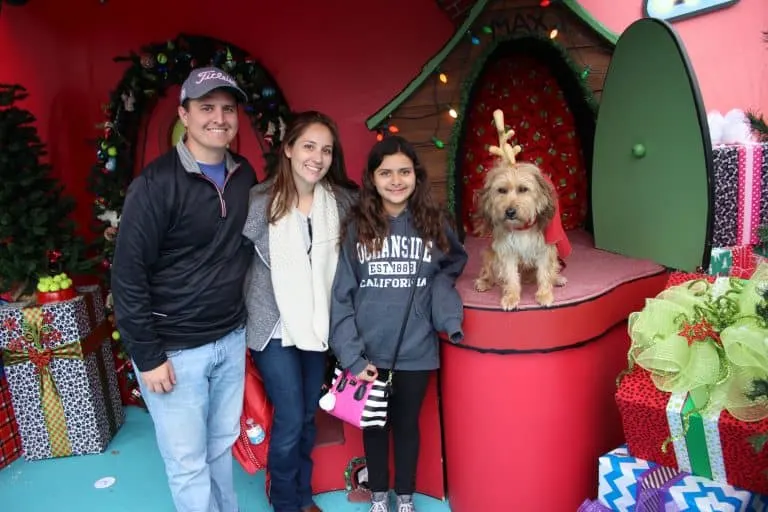 Universal Studios Hollywood is home to Grinchmas during the holidays. The Grinch has brought along all his friends to help him celebrate!
Don't miss photo op with the lovable dog Max , located just to the side of the giant Who-ville Christmas tree. Be sure to pose for a picture with the Grinch's faithful friend. Max truly steals the show with his sweet face and playful nature between each photo making it a highlight of Universal Studios Hollywood Christmas.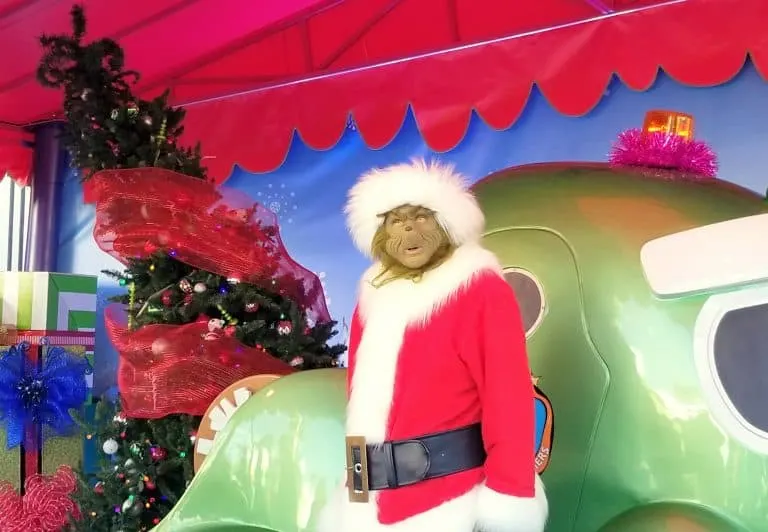 To meet the Grinch, line up behind the sweet treat stand to get some one-on-one interaction with the "Mean One" himself. Then, keep and eye out for characters strolling throughout the area for pictures and quick hellos. You will run into such characters as Cindy-Lou and her family, The Mayor, and even a few Who-ville stars.
Tip: Be sure to check the schedule before you buy your tickets – this holiday offering is only available on the weekends.
Discover more Christmas events in Los Angeles and across Southern California with this helpful guide.
Christmas Activities in Who-ville
Glitz and glamour is at its height when Martha May Who-vier and the Who Dolls take the stage to perform musical treats. Their upbeat music and mix of holiday classics will make your visit merry.
The Who-liday Singers are a boy band that perform a capella music sets mixing Christmas hip-hop and pop-rock songs. Sit up close for a chance to share your dance moves on stage this will make a memorable experience at Universal Studios Hollywood Christmas.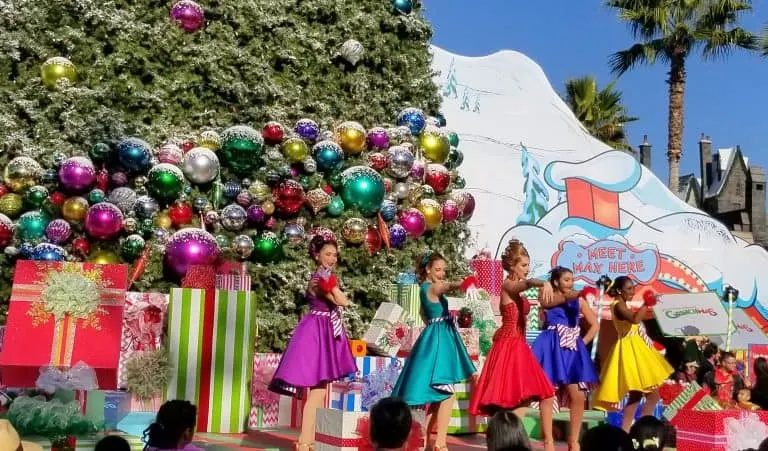 Join Cindy-Lou and her crew as they re-tell the classic story of Dr. Seuss's How the Grinch Stole Christmas. Snuggle together and listen close to this story that reminds us its not about what's in packages, boxes, and bags, but what's in your heart!
Finally, you will not want to skip the tree lighting ceremony that illuminates Who-ville – the show includes story excerpts, musical tributes, and lots of glowing lights. This year the new topsy turvy tree is more gorgeous than ever!
Tip: Check the schedule before you head into Grinchmas and snag a viewing space for the show times. This year its standing room only!
Universal Studios Christmas Treats
When celebrating a Universal Studios Hollywood Christmas, you can't get far without coming face-to-face with some tasty holiday treats. Head to Who-Ville for a delicious variety of Grinchmas-themed goodies like the giant Grinch Doughnut, a Hot Chocolate Cupcake, or a sugar cookie.
Looking for something to warm your spirit? Head directly to the Wizarding World of Harry Potter and enjoy a hot Butterbeer at The Three Broomsticks. Looking for something to share on Instagram? Visit Studio Scoops located on the lower lot and snag a picture perfect sundae topped with a doughnut, whipped cream, and a lollipop.
Find more Christmas events near you! Trekaroo has guides for dozens of cities across the country.