A Toronto Christmas is unforgettable. Not only is Toronto Canada's largest city, but it is also home to some of Canada's most iconic Christmas events and performances. As an intensely multicultural city, Christmas in Toronto is a culmination of Christmas traditions from across the world with plenty of opportunities to enjoy art, shopping and holiday dining.
Here are the most magical Toronto Christmas events. Updated for the 2023 season.
Toronto Christmas Events for 2023
The Santa Claus Parade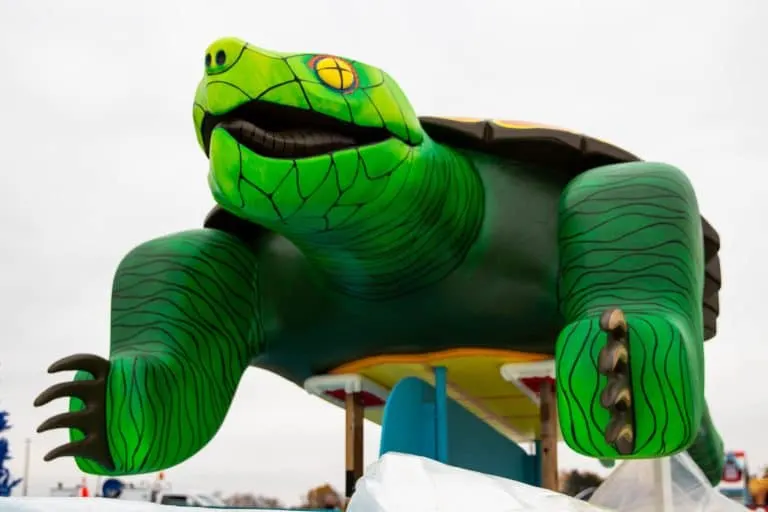 The Toronto Christmas season kicks off each year with the Santa Claus Parade. This year's parade takes place on November 26, 2023. The parade has been a tradition in Toronto for well over 100 years and is the longest-running children's parade in the world. The Santa Claus Parade is definitely one of the most loved Toronto Christmas events.
Animated floats, marching bands, celebrity clowns, costumed participants, and of course, Jolly Old St. Nicholas, make their way through the streets of downtown Toronto past cheering crowds.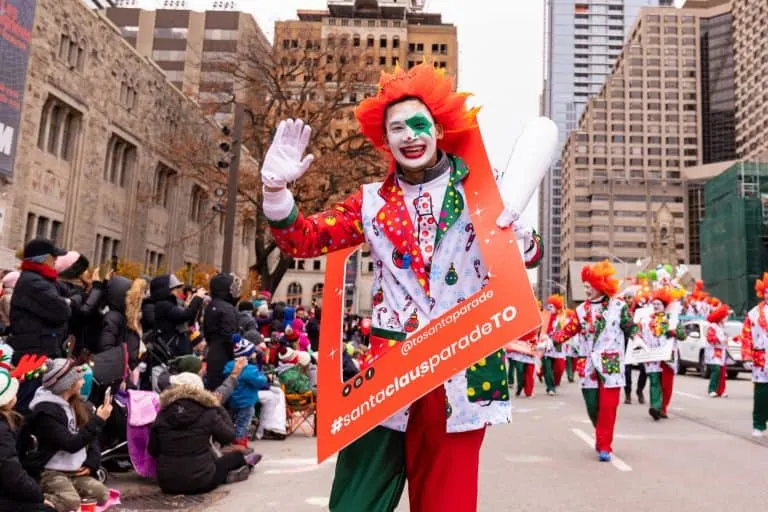 Every year, hundreds of thousands of people watch the parade live on the streets of Toronto, and millions more Canadians watch at home.
Look for current hotel deals in Toronto. As a Booking.com affiliate Trekaroo is thrilled to offer our readers the lowest rates.
The Calvalcade of Lights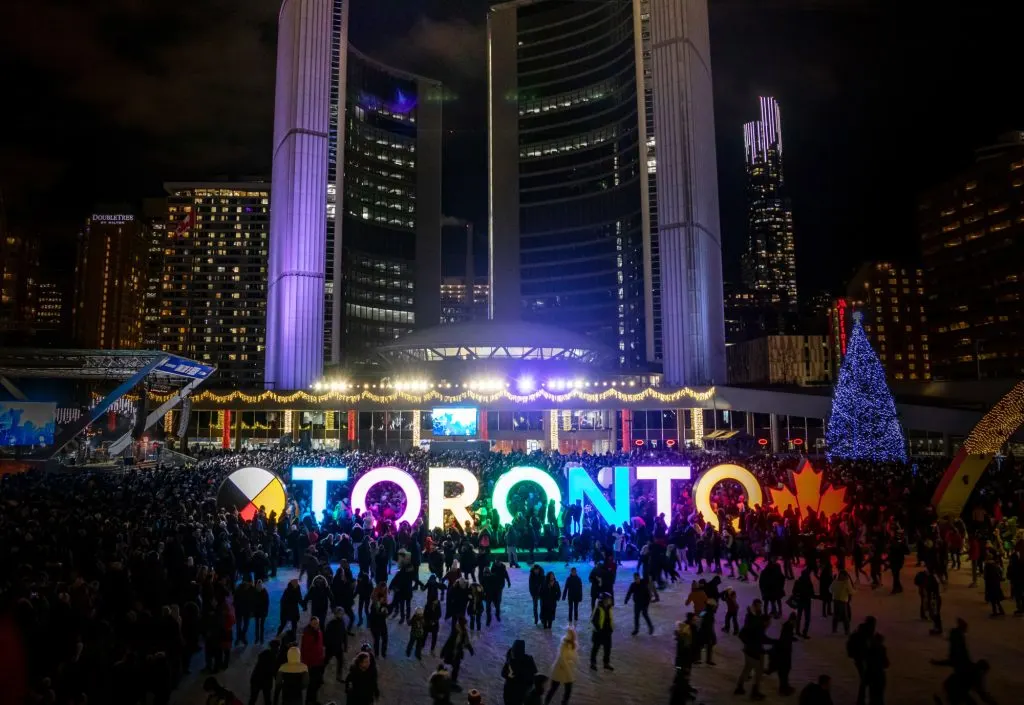 Another celebration early in the holiday season in Toronto is the Cavalcade of Lights which includes a tree lighting ceremony for the city's official Christmas Tree in Nathan Phillips Square on November 25, 2023 and a light festival that runs through January 7, 2024.
In addition to the tree lighting, the festive event includes performances by musicians, a fireworks show, and an outdoor skating party at the Nathan Phillips Square ice rink outside City Hall.
Experience this luminous festival inspired by the cultural revelries from around the globe, enjoy a host of holiday traditions centred on light, lanterns and fire woven into mesmerizing new lighting installations daily until January 7, 2024.
Holiday Shopping at The Distillery Winter Village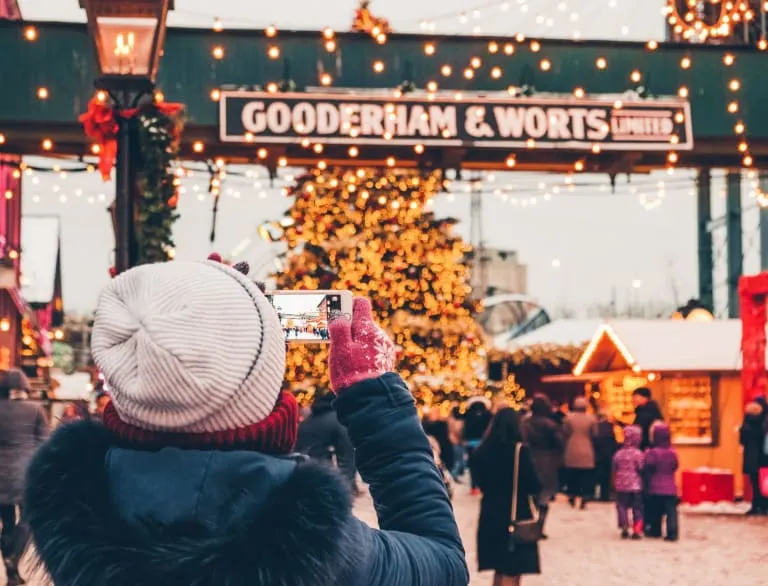 If you are looking for an atmosphere similar to the famous European Christmas Markets, you will find it in the heart of downtown Toronto in the historic Distillery District.
Here, the Distillery Winter Village, formerly the Toronto Christmas Market, provides Torontonians and visitors with the opportunity to experience the old-world charm of traditional markets during the weeks leading up to Christmas.
The 2023 Distillery Winter Village features a stunning Silver Fir tree that towers at 56' tall – the tallest Christmas tree ever at The Distillery Winter Village.
Explore magical lighting, family-friendly entertainment, delicious food, and tasty drinks. Don't miss the charming market stalls selling locally handcrafted items.
This Distillery Winter Village is one of the longest running Christmas events in Toronto beginning November 17, 2023 and running through New Year's Eve.
Tickets are required on Fridays, Saturdays and Sundays after 4:00 pm, and December 18-31 after 4:00 pm. Kids 9 and under are FREE of charge. All other times, access is free of charge and tickets are not required. The Distillery Winter Village is closed on Christmas Day.
Toronto Christmas Shopping Events
Holiday Fair at Nathan Phillips Square
Holiday Fair in Nathan Phillips Square returns this year from December 1st through December 23rd, 2023 and is fast becoming another well-loved Toronto holiday tradition. In addition to the ever-popular skating at the rink in Nathan Phillips Square, visitors can now enjoy an artisan marketplace, tasty festive treats, entertainment, a holiday midway and a visit to Santa. The holiday fair is closed on Mondays.
The One of A Kind Christmas Show and Sale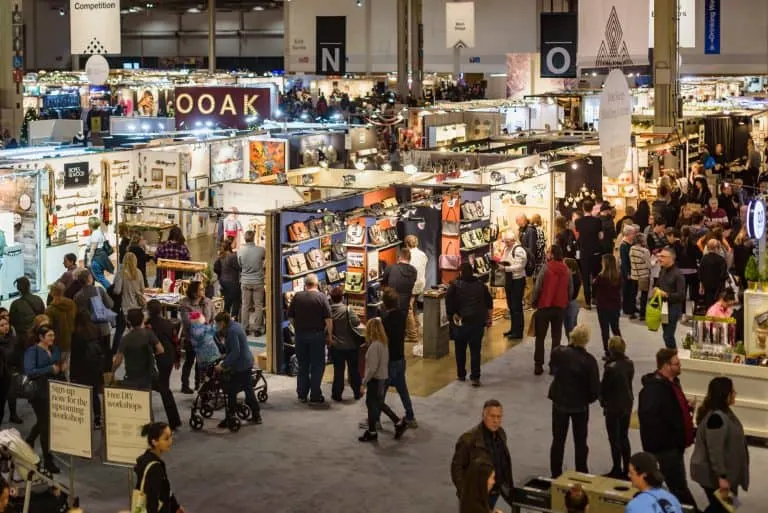 The One of a Kind Christmas Show and Sale is ideal for shoppers looking for unique hand-crafted Christmas gifts. The show runs from November 23 through December 3rd, 2023.
This year, special events include a Swifties Day on Sunday, November 26th and K-Pop fandom day on Saturday, December 2nd. Both themed days include craft making workshops that will be a hit with the whole family.
The show, held at Exhibition Place, is the largest consumer craft show in North America and features handmade designs by over 800 artisans from Canada and the United States.
The National Ballet of Canada's The Nutcracker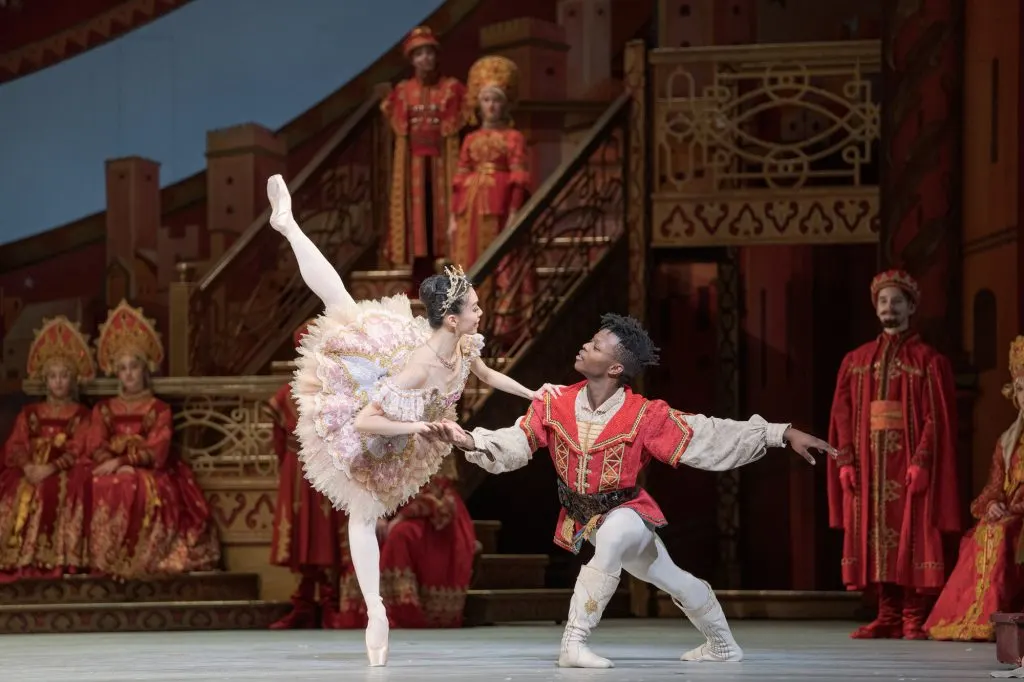 Generations of Canadian children have been raised with the tradition of seeing The National Ballet of Canada's production of The Nutcracker.
Choreographed by James Kudelka who served as Resident Choreographer of The National Ballet of Canada, the performance of The Nutcracker includes many surprising and whimsical takes on Marius Petipa's beloved classic.
This year's performance takes place December 8-30, 2023 with both matinée and evening performances.
In addition, a Nutcracker Story Time also takes place 45 minutes prior to each performance at the Four Seasons Centre. The storytime is designed to familiarize children with the story before watching the ballet.
Christmas Events in Toronto at Museums & Other Attractions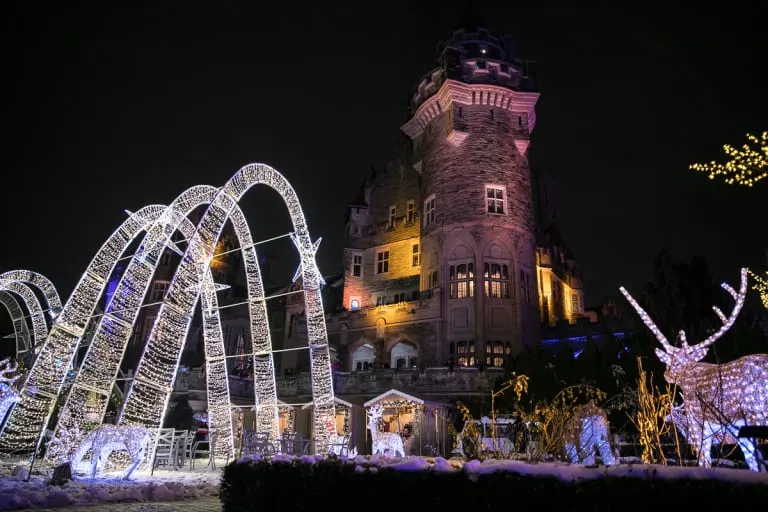 Casa Loma – Christmas at the Castle
Christmas is the most magical time of the year at Toronto's Casa Loma. First, make sure to see the beautifully decorated 40 foot tall festive tree that greets visitors as they enter the Great Hall.
Then, enjoy holiday programming including sing-a-longs with live carolers, magic shows, and scavenger hunts. As if that isn't enough, Casa Loma also offers arts and crafts, treat decorating, a dazzling light display in the gardens, and more.
Black Creek Pioneer Village – Santa at the Village and Festive Nights
Visit fun historical attractions such as Black Creek Pioneer Village during the holidays. The 19th-century village dresses up for Christmas and festive programming fills its weekends.
During Santa at the Village, families can try their hand at toy making, discover holiday magic at the School for Elves, craft old-time holiday decorations, and participate in melody making during the Jingle Bell Jam Session. Santa at the Village takes place on weekends from December 3rd to December 17th and December 23, 2003.
For three evenings in December, visitors may also experience Festive Nights. While there, enjoy a Victorian Christmas with live music, food, and activities in the lamp-lit village.
Outdoor Ice Skating in Toronto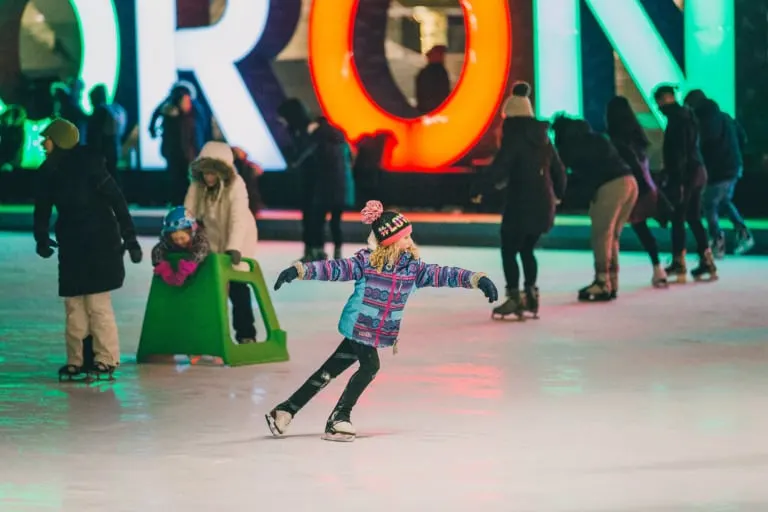 For many Torontonians, celebrating the holidays means bundling up to skate outdoors. Two of the most popular free outdoor skating venues in the city are Nathan Phillips Square and the Natrel Harbourfront Centre rink. After your spins are done, enjoy a steaming cup of hot chocolate.
Find more Christmas events near you! Trekaroo has guides for dozens of cities across North America.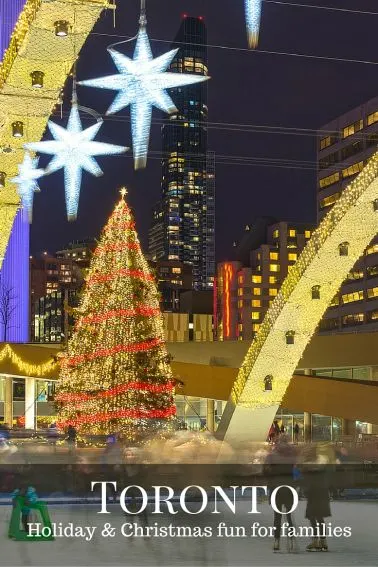 Pin this to bookmark all the holiday fun; we update it yearly:
Featured photo by: Shutterstock
Thanks to Lisa Goodmurphy for contributing to earlier versions of this article.