Grapevine, Texas is a small town that knows how to celebrate! This year, she was awarded the World Festival & Event City Award. And, it's no wonder, because Grapevine's "Christmas Capital of Texas" celebrations includes over 1,400 Christmas events over a 40 day period. I had the chance to visit Grapevine as she was getting decked out for the holidays and I must say that even though there wasn't a flake of snow in the air, the air was rich in Christmas spirit. In fact, there is so much to do in Grapevine during the holidays, it's well worth staying a couple of nights. So, check out some of these fantastic holiday deals at Grapevine Hotels.
Look for current hotel deals in Grapevine
The Holidays Are Texas Big at Gaylord Texan
If Grapevine, TX is the Christmas Capital, then her white house would be the Gaylord Texan Resort and Spa. The opulent beauty of the Gaylord Texan lights up over the holidays, transforming this grand lady into a shimmering jewel adorned with 1.5 million holiday lights. It's truly a sight to behold.
Who says that Texas doesn't get a White Christmas? Well, at the Gaylord Texas, you can have one. Chill out at ICE! featuring DreamWorks' "Merry MadagascarTM" as it returns to the Gaylord Texan from November 9 to January 1. Put on a cozy parka (provided upon entry) and enter into the colorful world of DreamWorks' Madgascar with all of your child's favorite characters including Alex, Marty, Melman, and Gloria carved from more than two million pounds of ice. Then, squeal along with your kids on the ice slides created with nothing but ice! If the ice slide isn't enough, join Kung Fu Panda Awesome Snow Tubing. Yes, indeed, this is the most civilized snow tubing you'll ever experience. Open daily November 9 to January 1.
Let it Snow at the Great Wolf Lodge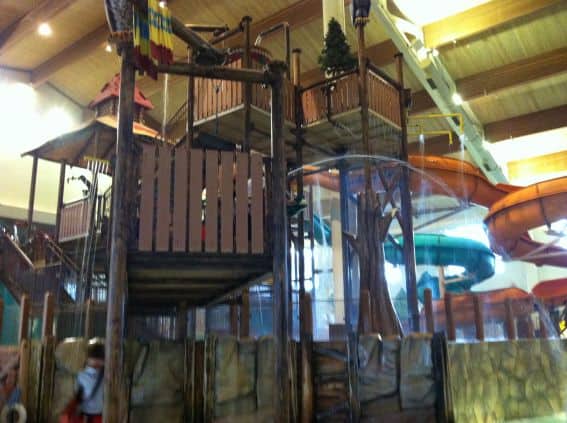 Where else can you spend all day riding water slides in 84 degree water, then watch snow fall INDOORS, dine inside a gingerbread house, and go to bed in a tent cabin? That's right, at the Great Wolf Lodge – Grapevine, you can have your Christmas pudding and eat it too. If you're looking for a fun way to spend your winter break with the kids, a night or two at the Great Wolf Lodge during the holidays will undoubtedly be a treat leaving your kids begging for more. During our trip to Grapevine, our stay at the Great Wolf Lodge was easily the highlight of the trip for my 6-year-old. He could have stayed in their amazing water park all week. And, he's not comparing all the puny gingerbread houses he sees back at home to the the life-sized gingerbread house he saw under construction at the Great Wolf Lodge.
Free Holiday Events for Shoppers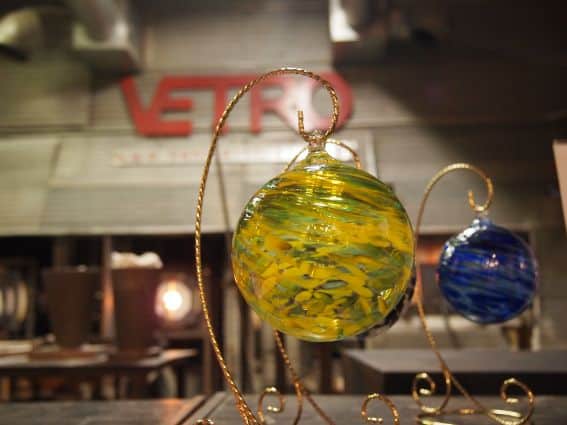 Step back in time on Main Street in Historic Downtown Grapevine where Victorian-style buildings get dressed up with ribbons and bows, and are set aglow with thousands of twinkling lights. This mile-long stretch of quaint store fronts are filled with unique gifts and treats. On Fridays, Saturdays, and Sundays between Thanksgiving and Christmas, you'll also find Santa and a whole cast of jolly Christmas characters partaking in the festive spirit of Main Street. Hop on a complimentary carriage ride, play reindeer game with Santa, or enjoy tractor-drawn wagon rides ($1 per person, per ride). Our favorite stop on main street was at Vetro Glass Blowing Studio and Gallery, where we got to help make a hand-blown glass ornament. The studio is intimate, so we really got a close up view of the entire glass blowing process. The Christmas ornament we got to take home is going to be treasured for many years to come.
Check for hotel availabilities in Grapevine
At the Grapevine Mills Mall, also home to the SEA LIFE Aquarium, Santa takes to the water with scuba gear and all. At the LEGO Discovery Center, kids can make LEGO ornaments. And what do you know, Santa even makes his way to the Rainforest for breakfast and photographs. That howling monkey must have been a good little boy this year.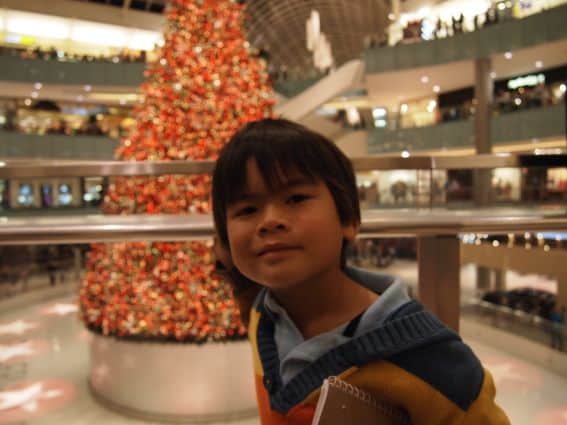 Although Galleria Dallas is technically not in Grapevine, a visit is well worth it! During the Holidays, Galleria Dallas welcomes shoppers and merry makers with the largest indoor Christmas tree, the centerpiece to their indoor ice-skating rink. Every day between November 23 and December 24, enjoy a whole host of free holiday events. The Illumination Celebration centered around the ice rink is a choreographed light show featuring lights and professional ice-skaters dancing together to holiday tunes. Kids will also enjoy Slappy's Holiday Circus and a visit to Santa in his village.
Endless List of Christmas Events
Grapevine, Texas isn't called the Christmas Capital for no reason. There seems to be an endless list of special performances, parades, Santa meetings, and holiday train rides. For a full listing of all the festivities, dates, and times, visit the Grapevine Christmas Capital website.
Make a trip of it!
Kid-friendly Hotels in Grapevine, Texas
Activities for Kids in Grapevine, Texas
Kid-friendly Events in Grapevine, Texas
Disclosure: My visit to Grapevine, Texas was part of a media trip organized by the Grapevine, Texas CVB. However, as always, the opinions expressed are my own.