My family visited Nevada's capital city at the start of its holiday season and experienced a cozy town alive with lights, holiday cheer, and variety of family-friendly activities.
We encountered charming, old-fashioned merchants and gracious locals eager to chat. Should you go, taking in the sights of Carson City and the Carson Valley is a relaxing and wholesome family experience. There are plenty of Carson City Christmas fun to get excited about! Updated for 2022.
Tip: From South Lake Tahoe, Carson City is a convenient one-hour drive away.
Northern Nevada's down-home feel is sure to leave you jolly and offers plenty for kids to do. To help you discover the best of Carson City and Carson Valley, I've listed a few suggestions below.
Carson City Christmas Events
Silver and Snowflake Festival of Lights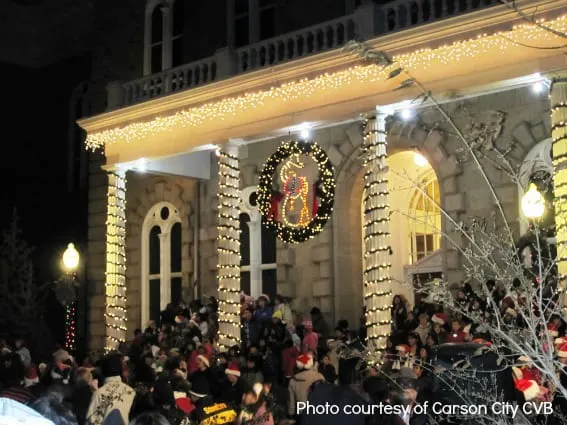 The Silver and Snowflake Festival of Lights is the first Friday in December. Celebrations begin on the steps of the Capitol with the lighting of the state tree in downtown Carson City. Afterwards, enjoy a procession including Santa, Mrs. Claus, and the 300 voices of the Carson City 5th Grade Music Students Singing Ensemble.
Enjoy free sleigh rides by Borges Sleigh Rides courtesy of the Carson City Chamber of Commerce as well as hot cocoa and cider.
Find out more about Where To Ride the Polar Express on Trekaroo
Nevada State Railroad Museum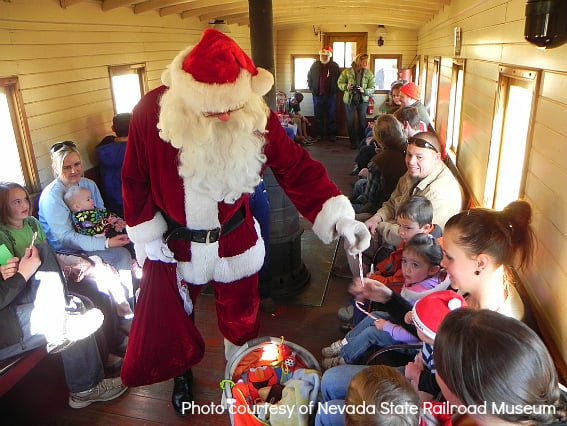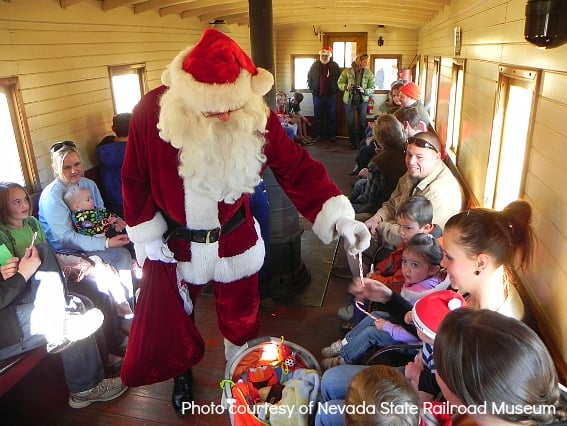 Santa gives out the "first gift of Christmas"—a sleigh bell—to each passenger aboard the Polar Express train historic V&T Railway in Carson City November 17 – December 23, 2022.
The Nevada State Railroad Museum's steam train pulled by locomotive No. 25 features either a pajama or Santa during the holiday season . The museum's Santa Train departs Carson City's Wabuska Depot.
Tickets are available at the depot. Santa Trains are first come first serve so passengers should arrive early. Visitors are encouraged to enjoy the restored locomotives in the museum's main building before or after their rides.
On the ride back, Santa greets every child and gives them a bell off of his sleigh. It's magical and so special. A great way to kick off the holiday season!! –DaisyAmy, Trekaroo Member
Wine Walks
Grab a babysitter and head out for a Winter Wine Walk through historic downtown Carson City December 3, 2022. These $15 walks are held the first Saturday of each month. The route features strolls through art galleries, restaurants, and local shops. Tickets include a commemorative wine glass with a map of stops featuring wine and hors d'oeuvres.
Find out more about kid friendly activities close to Carson City.
Carson Valley Christmas Events
Candy Cane Lane
Candy Cane Lane is a specially constructed drive-by holiday display in Minden, Nevada and is available for nightly viewing outside the Carson Valley Inn, To view Candy Cane Lane, pull into the Carson Valley Inn parking lot at the RV Resort Entrance, between the Carson Valley Market and the Inn's electronic sign.
Lighted arches mark the way and festive music can be heard by dialing your car radio to 89.9 FM. Before Candy Cane Lane, check out the light displays in Heritage Park in the town of Gardnerville and the illumination of the Gazebo in Minden Park and along Esmeralda Street.
Annual Carson Valley Christmas Kickoff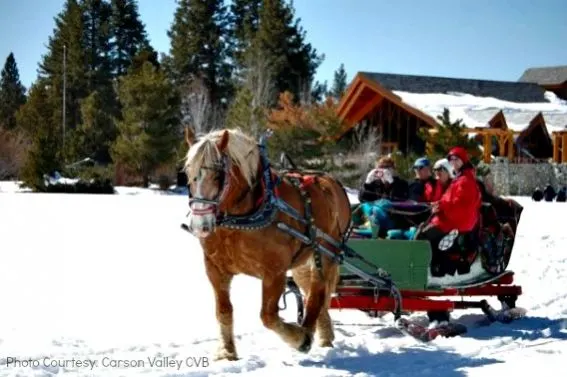 Santa is scheduled to make an appearance in the Carson Valley December 2, 2021, via horse and sleigh. Santa's arrival will mark the Annual Christmas Kickoff. A musical light show, fireworks, and live entertainment will follow. Holiday music, carolers. wagon rides before fireworks. and plenty of treats await.
Minden Gazebo Lighting
Santa arrives to illuminate the Gazebo, play games, and distribute prize bags filled fabulous goodies on December 2, 2022. Warm up by the fire pits with complimentary cookies, smores, and hot cider. A Parade of lights occurs the next day.
Christmas Events in Genoa
There are many fun events in the town of Genoa during the Christmas season. Breakfast with Santa, Christmas carols, and the town tree lighting are some of the highlights. Don't miss the Cowboy Christmas holiday concert featuring Mary Kaye.
Find more Christmas events near you! Trekaroo has guides for dozens of cities across the country.