We spend so much time tending to our families and the holiday season greatly adds to these responsibilities. You're likely cooking for holiday parties, buying gifts for friends and family, attending holiday programs, and much, much more. On top of this you may need to pack for a trip over the river and through the woods to Grandma's house. 'Tis the season, right? Well, we can't make your Jell-O mold and we won't help eat that indestructible fruit cake, but we will send you off with some packing tips to help you become a holiday packing guru this year.
Holiday Packing Tips for Traveling by Air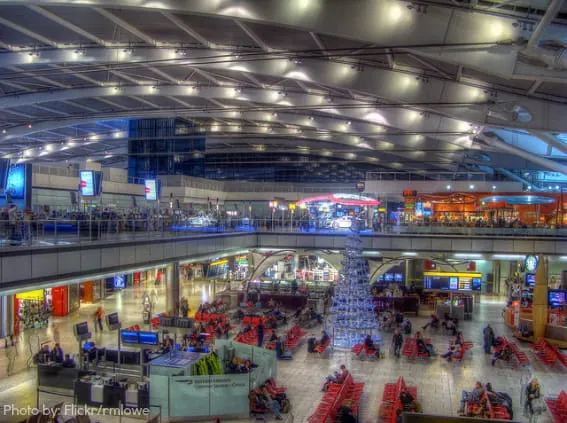 There is nothing that says Holiday Travel like long lines, delayed flights, and missing baggage. In addition to carefully packing your necessary items for your winter vacation, consider these tips:
Prepare for lost baggage.
Should some of your luggage be lost or delayed, plan ahead by splitting clothing and important items up in a variety of suitcases so that members of your family won't be completely out of luck. Be sure to pack a few essentials (underwear, diapers, toothbrush, etc…) in your carry on in case all your luggage turns up missing. – Katie Bodell, Blog Editor
Prepare for distractions. Lines will be long, stores and restaurants will be busy, and your patience is a must. Be sure to pack lots of snacks and distractions in your carry on bag to keep little ones away from meltdowns.
Tips for packing gifts. Although wrapped presents are technically allowed on flights, you will have to decide if you want to risk having to re-wrap if TSA officials need to take a peek inside. When packing gifts for air travel, think small; consider gift cards or photo gifts. Make it your goal to give the most packable gift to be able to carry them on the plane rather than risk the chance that gifts will get lost.
Don't check breakable or electronic gifts (iPads, iPods, etc…) on a plane. You'll risk damage by impact or cold, unpressurized air. – Amy Whitley, Content Editor
Don't forget TSA Regulations. If you are planning to give a bottle of wine or a photo snow globe, those items can't be carried on a plane. (Even if they were allowed to come aboard, the wine probably wouldn't make to your destination if you do have a particularly long flight!) Consider mailing gifts ahead of time. Common holiday gift items that must be packed in checked luggage if they are above 3.4 ounces include: cranberry sauce, cologne, lotions, syrup, oils, snow globes, soups, liquor, cream dips (including cheese and peanut butter), and gift baskets with food items such as salsa, jam, salad dressing, or gravy. Purchasing similar pre-inspected items past inspection points can save you time and hassle.
In case you need a reminder of the complete list of TSA packing rules & regulations, visit tsa.gov.
Check back next week for all our tips on Flying with Kids During the Holidays.
Holiday Packing Tips for Traveling by Car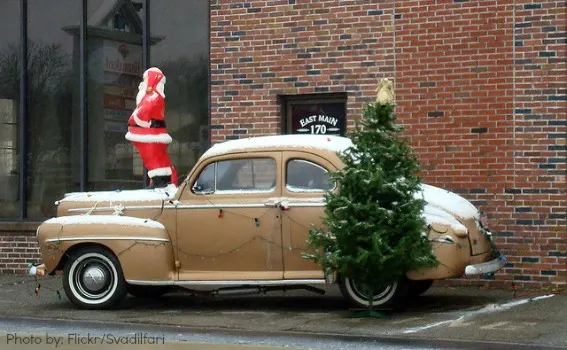 Use totes and organize by destination. If you are traveling by car and have more than one destination, pack the items you need at each destination separately. Pull out what you need for each stop individually and avoid having to pull apart the entire vehicle as if you're at customs check-in.
If road tripping in colder climates, pack a separate laundry bag filled with outer gear–boots, coats, and gloves–and put it somewhere easy-to-access in the car for when you have pit stops. No more digging through everyone's suitcase to find their coats or gloves! – Amy Whitley, Content Editor
Packing Gifts in the Car.
We don't wrap gifts until we get to our destination. This gives us more flexibility to arrange the trunk without worrying about tearing paper or messing up bows. Sometimes we even take the gifts out of their boxes to make room for that extra suitcase. Our friends and family understand our traveling situation and don't mind the missing box. – Lesli Peterson, Southern Guroo
If you are bringing a bag or suitcase filled with gifts, don't leave it overnight in a car outside or in an unheated parking area. Not only is something like this a target for thieves, but any electronic gifts can become ruined in below freezing temps. – Amy Whitley, Content Editor
---
Options for Holiday Gift Giving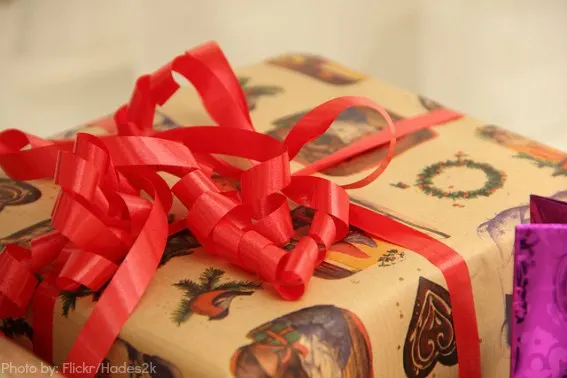 It's the thought that counts. Giving holiday gifts doesn't have to be a packing nightmare. Consider these alternatives to physical gifts.
Make it an outing: Forgo packing the presents and have a shopping outing with the folks you're visiting instead. Take your niece to the mall and let her pick out the perfect present. Not only will she get the perfect gift, but you'll also get to spend some quality time together.
Consider a show: Is P!nk or Disney Live going to be at your destination while you're visiting? If so, forgo physical gifts and treat your family to a special outing instead.
Online shopping: Look for gifting options while shopping online and send your purchases directly to your recipients. Then ask your kids to make some cute cards announcing when your gifts will arrive.
Photo by: Bigstock/luckybusiness