A Pittsburgh Christmas is families all bundled up drinking hot chocolate and whirling around an outdoor ice skating rink lit up by a 65-foot Christmas tree.
It's the clippity-clop of horse hooves pulling carriages, fireworks lighting up the sky, and folks jumping on and off a red and green trolley while shopping for Christmas presents. The best Pittsburgh Christmas events are all this and so much more. Updated for 2021.
Pittsburgh Christmas Events in 2021
Comcast Light-Up Night in Pittsburgh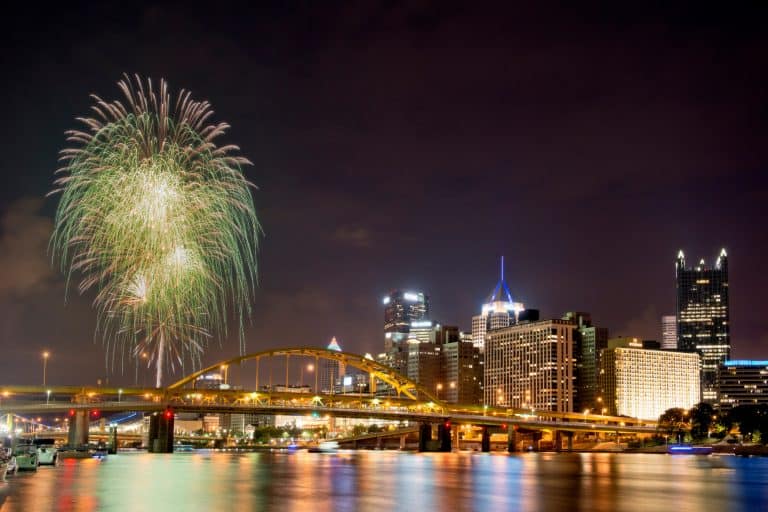 One of the city's most beloved holiday traditions, Highmark Light-up Night (formerly Pittsburgh Light-up Night) officially kicks off the start of the holiday season on November 20, 2021.
Starting at lunchtime, the city shows off its gorgeous twinkling displays and outdoor musical shows. Highlights include a holiday window reveal, ice sculpting, and a huge fireworks display that draws well over 400,000 people into the city.
Free horse-drawn carriage rides are offered or families can stroll through the streets checking out pretty Christmas displays.
Molly's Jolly Trolley's service during the holidays runs every 30 minutes making stops at popular downtown holiday spots. Tickets must be booked 24 hours in advance.
PPG Place in Downtown Pittsburgh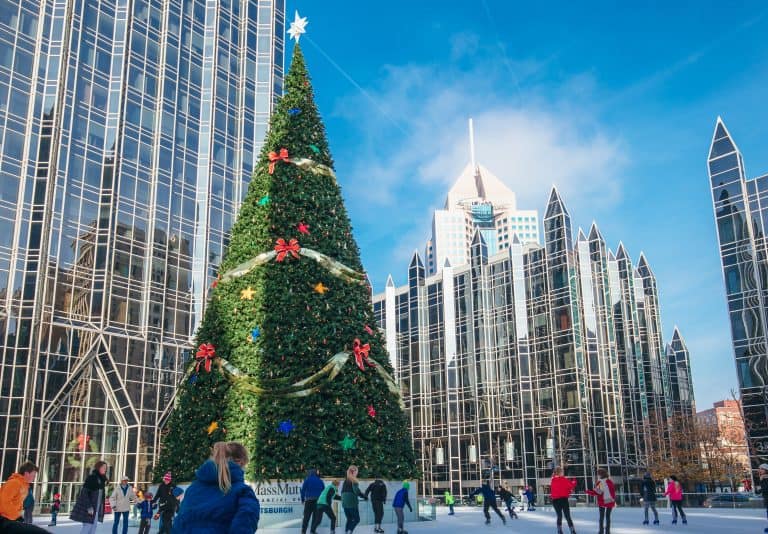 PPG Place in downtown Pittsburgh one of the most iconic skyscrapers that defines the city's skyline. The holiday happenings in and around the all-glass building draw thousands of families each Christmas season.
The MassMutual Pittsburgh Ice Rink has been a childhood favorite since 2001. Ice skaters of all levels have a blast whirling and twirling around the giant Christmas tree in the center of the ice.
Special skating events, including skating with a Pittsburgh mascot, put giant smiles on the faces of the skaters. This year, the rink will open for skaters on November 19, 2021.
For indoor fun, be sure to check out PPG Wintergarden the annual Spirits of Giving Around the World display. It take place November 19, 2021 through January 1, 2022.
Note: this is no longer in the PPG Wintergarden, it is in the lobbies of One PPG PLace and Two PPG Place. You'll see life-sized Santas depicted in their traditional garb who tell the story of each country's jolly old elf.
Also on display is the gingerbread house display, a city-wide competition showing off tasty skills from hundreds of competitors.
You won't want to miss this delicious display. Unlike in past years when it was held at the Wintergarden, it is now held in the lobby of the Pittsburgh City-County Building.
Pittsburgh Crèche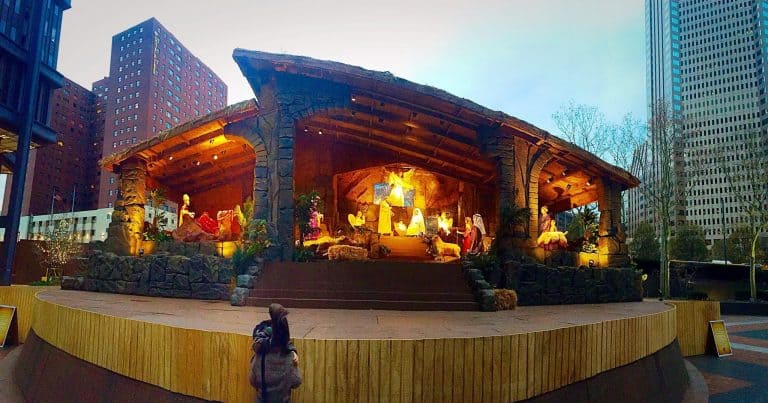 Erected in 1999, the Pittsburgh Crèche is the world's only authorized creche outside of the Vatican in Saint Peter's Basilica.
At Pittsburgh Light-up Night, the life-sized nativity scene is available for viewing at the USX Tower Plaza on Grant Street, and has 20 statues including detailed animals. There is no cost for visiting the gorgeous nativity and photos are encouraged.
Peoples Gas Holiday Market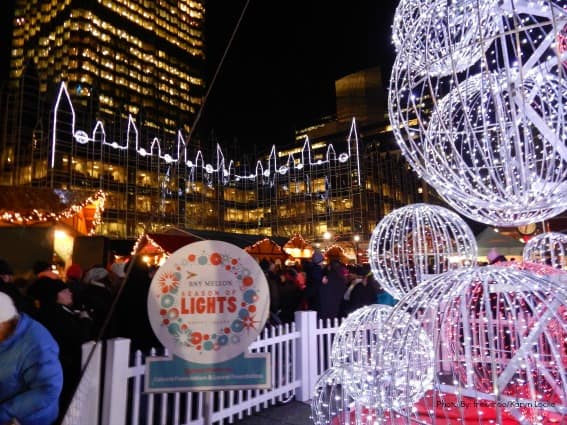 Designed to look and feel like a traditional outdoor German Christmas Markets, the Peoples Gas Holiday Market in Market Square offers one-of-a-kind gifts and German wares. Local artists and musical groups add to the holiday fun on the performance stage.
Kids wanting to tell Santa their Christmas lists and take a photo on his lap can bring a non-perishable donation and visit Santa's House, helping the Greater Pittsburgh Community Food Bank. Stop by for a visit and add to your Christmas in Pittsburgh experience.
Kennywood Park's Holiday Lights
Bundle up and get ready for nearly two million twinkling lights at Kennywood Park's Holiday Lights! Families can walk around the park at night listening to local choirs sing Christmas carols or hop on the Gingerbread Express for a beautiful view of the park.
Kids can whisper in Santa's ear what is on the top of their Christmas list during the event.
Open on weekends starting after Thanksgiving, Kennywood Park's Holiday Lights is a favorite annual draw for locals, and the outdoor fun is even prettier when it's snowing. Your kids will be amazed at the sparkling beauty here.
Carnegie Science Center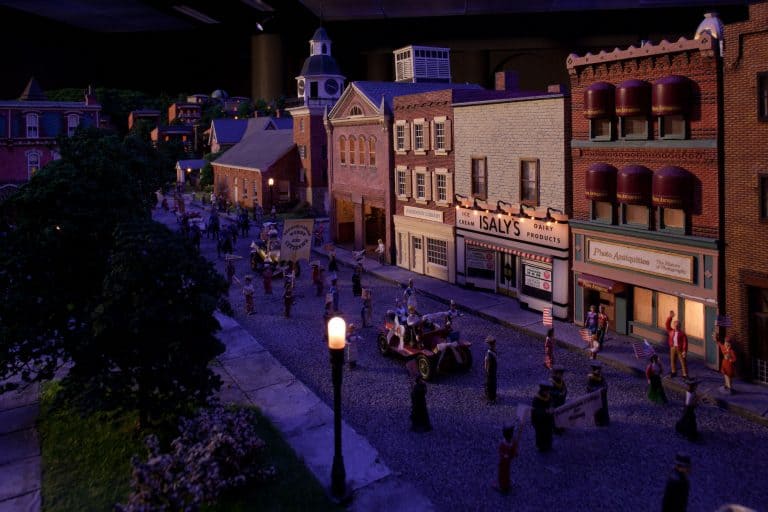 Kids (and big kids!) love miniature trains, and the Miniature Railroad & Village at Carnegie Science Center is sure to get your family in the Christmas spirit.
Free with paid admission, the miniature train display room showcases the four seasons of Western Pennsylvania, including the smallest of details that make the area so popular.
Breakfast Express is a fun annual Saturday tradition at the Center, with a showing of Polar Express and some fun in the train room it is always a blast for Santa fans.
Kids from ages 4-10 can participate in science day camps during Christmas vacation, and educational camps featuring age-appropriate themes and activities. Check their website for specifics on this great holiday option.
Find amazing deals on family-friendly hotels in Pittsburgh. As an affiliate of Booking.com Treakroo is thrilled to be able to offer our readers the lowest rates.
Penguins on Parade at Pittsburgh Zoo & PPG Aquarium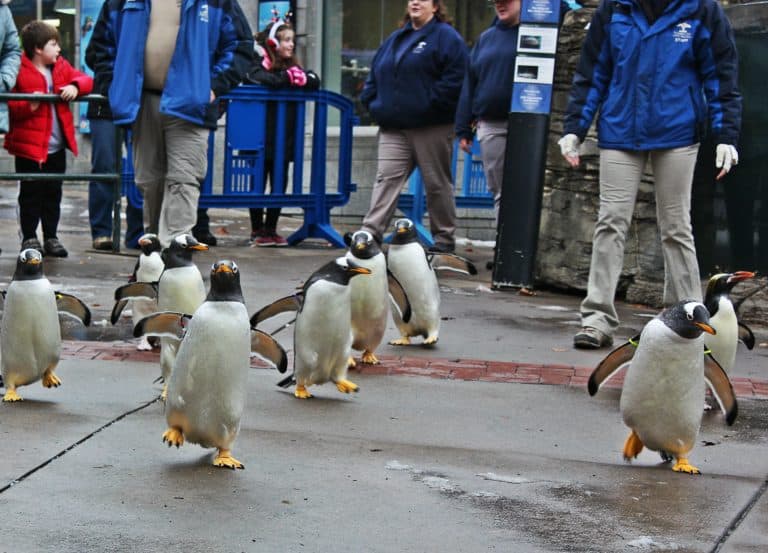 Penguins on Parade! What could be better? In December, Penguins on Parade lets families see the fun that Pittsburgh Zoo's penguins have in the snow. These cute waddlers walk on the visitor's pathway during the fun, and the parades are held on December weekends.
Breakfast or lunch with Santa is also held on December weekends. Not only can kids have some one-on-one time with the man in red, but they can check out some fun zoo animals, decorate Christmas cookies, make some holiday crafts, and enjoy a tasty meal.
It's a great activity to celebrate the spirit of the holidays the city. Penguins on Parade continues Saturday and Sundays through February as long as temps stay below 40.
Carnegie Museum of Art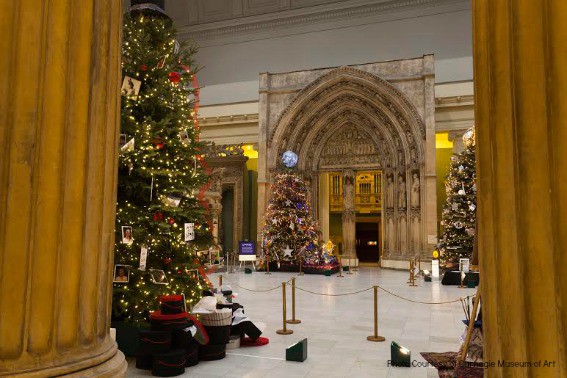 The Hall of Architecture in The Carnegie Museum of Art is home to five giant Christmas trees and the beautiful Neapolitan Presepio- a miniature nativity decorated annually by The Museum of Art Women's Committee.
Celebrating holidays around the world, the themed Christmas trees are on display during regular museum hours. Don't forget to take your camera as the wide-eyed, opened mouth gazes from your wee ones will make a fun photo-op.
Note: Timed tickets must be purchased in advance due to Covid-19.
National Aviary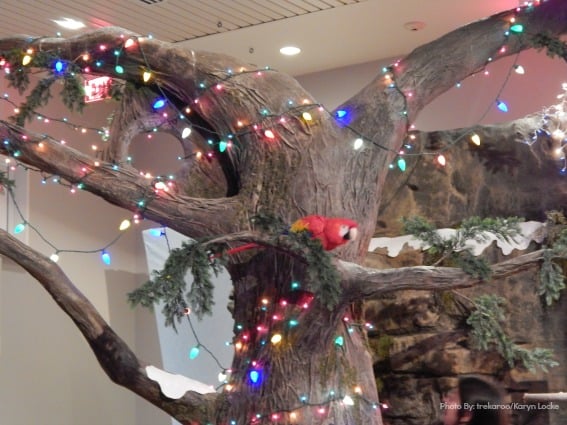 Leave the nasty winter weather outdoors and experience the tropical warmth of the National Aviary on the North Shore. The National Aviary sparkles outdoor and indoor holiday lights while visitors enjoy up-close interactions with 500 birds on Thursdays during the holiday season.
Take a walk through the Southside Pole to see the penguins surrounded by Christmas trees, and don't forget to look for Fleury, the aviary's Snowy Owl figurine.
Photos with Santa and his Penguin Helpers take place on Saturdays in December, and Holiday Camps let kids and adults get up close to the popular penguins.
Cathedral of Learning Nationality Rooms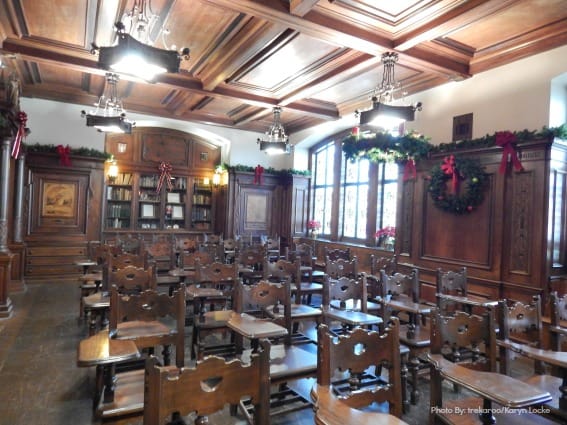 Note: The Nationality Rooms are closed in 2021 due to Covid-19.
Learning about holidays around the world is a snap with a visit to the Cathedral of Learning Nationality Rooms. 29 rooms, each lavishly decorated in that particular country's traditions, will have you hard-pressed to pick a favorite.
From mid-November through Martin Luther King Jr. Day, winter holidays are celebrated with decorations from Christmas trees to New Year celebrations. Timed guided tours are available and jam-packed with information.
Phipps Conservatory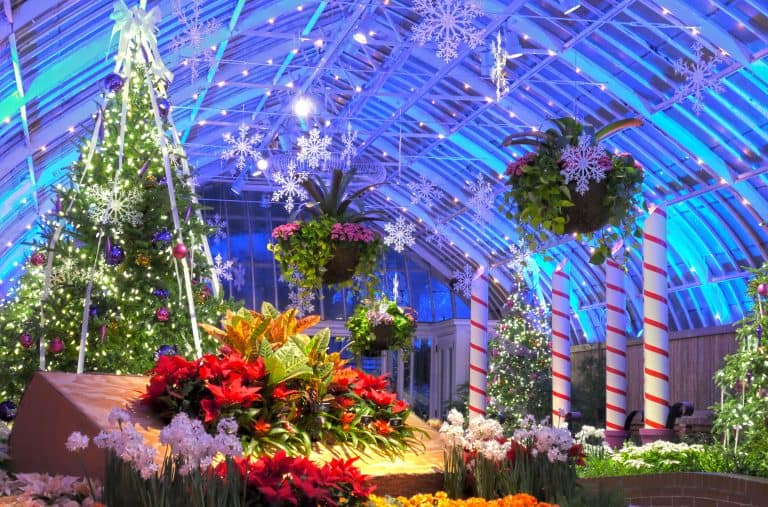 Phipps Conservatory in Oakland will host their popular "Holiday Magic!"Winter Flower Show and Light Garden.
Built around the wonder that only winter holidays can provide, the dazzling displays of this year's Winter Flower Show will feature heartwarming vignettes including an extravagant winter feast, Santa's workshop and a sparkling New Year's Eve celebration.
Visit from November 19, 2021 through January 2, 2022 and be sure to purchase your timed tickets in advance to this beautiful annual event.
Their Floating Forest includes a topiary reindeer, carousel, and decorated trees. There is a tunnel of lights, Garden Railroad miniature train display, Santa visits, and a Rainbow Glow Tree . Musical entertainment, Santa visits, crafts, and plenty of family fun round out the experience.
Check for availability on hotels in Pittsburgh.
Oglebay Winter Festival of Lights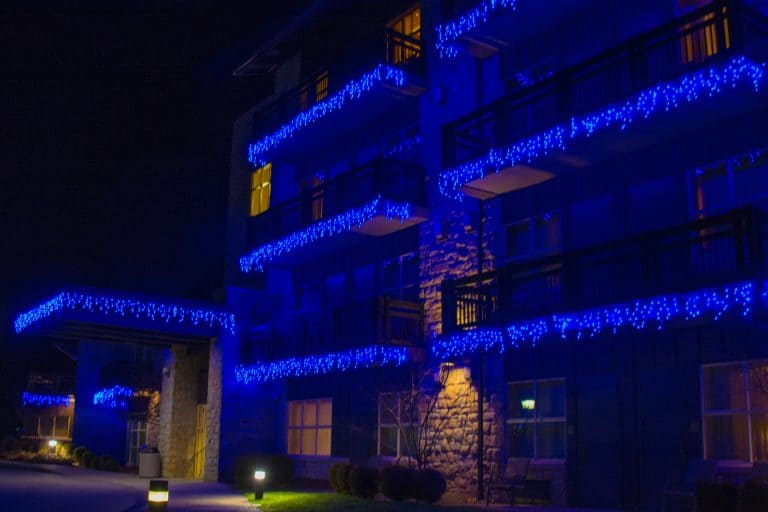 One of the nation's best drive-thru Christmas displays covering more than 300 acres can be found in Wheeling, West Virginia less than 60 miles outside the heart of Pittsburgh.
Oglebay is a sprawling city park and resort complex sitting atop the hills of the northern panhandle of West Virginia overlooking the city of Wheeling.
The drive-through light display is one of a kind; since 1985, unique displays have been welded by local high school students.
A highlight is the 60-foot tall poinsettia wreath and candle formation perfectly placed out on one of the resort's several golf courses; this stunning display is one of almost 90 lighted structures across the park.
As you can imagine, the drive can get a bit backed-up on Saturday's during the holiday season. Oglebay Winter Festival of Lights is well known in the surrounding region. Traffic is not nearly as bad on weeknights and even weekends early in the season before Thanksgiving. This year's event takes place November 4, 2021 – January 9, 2022.
Trolley Tours departing from Wilson Lodge are available by reservation up to seven days in advance throughout the season.
The narrated tour provides information about the history of Oglebay as well as the construction of the various light displays with interesting facts such as the pyramid of cheerleaders not far from the Wilson Lodge had one girl represent each of the local high schools.
More Holiday Fun in Oglebay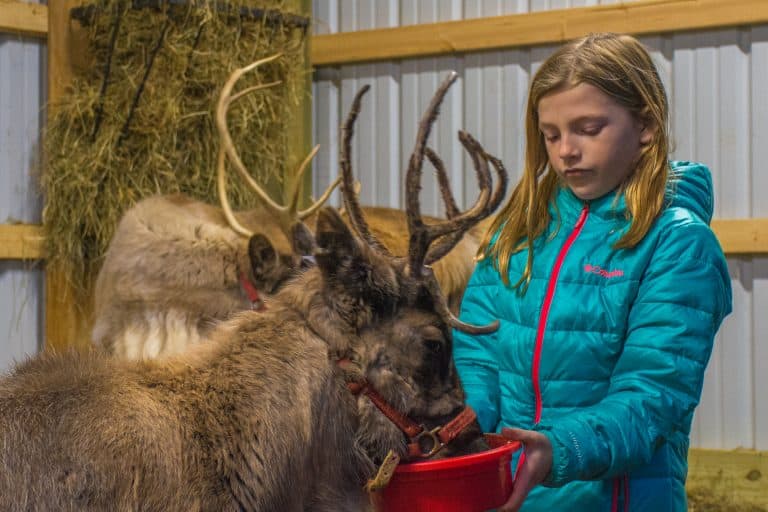 The entire resort complex, including the Oglebay Good Zoo, celebrates the season with special activities. Don't miss Santa's Reindeer Training School. This thirty-minute experience with the reindeer at the zoo may easily come your child's favorite memory from your visit to Oglebay.
Not only do you get to interact and feed the zoo's reindeer you can also learn a lot about reindeer from Mindi, the curator of animals. The staff's passion for animal care, education, and conservation shines through. In addition to seasonal animal encounters, the zoo also offers a seasonal light show and laser show.
Wilson Lodge, the center of the resort complex at Oglebay, gets fully decked out for the season as well with sparkling trees and ornaments in the lobby areas and the hallways. It's so festive!
A holiday buffet is offered in the Ihlenfeld Dining Room featuring several different meat and vegetarian options.
Down the hall in the Hickman Lounge there is nightly music, hot chocolate, and cookies available at the nightly Cordial Gathering; families are welcome to relax, listen to the music and choose from the large selection of board games available.
Where to Stay in Pittsburgh During the Holidays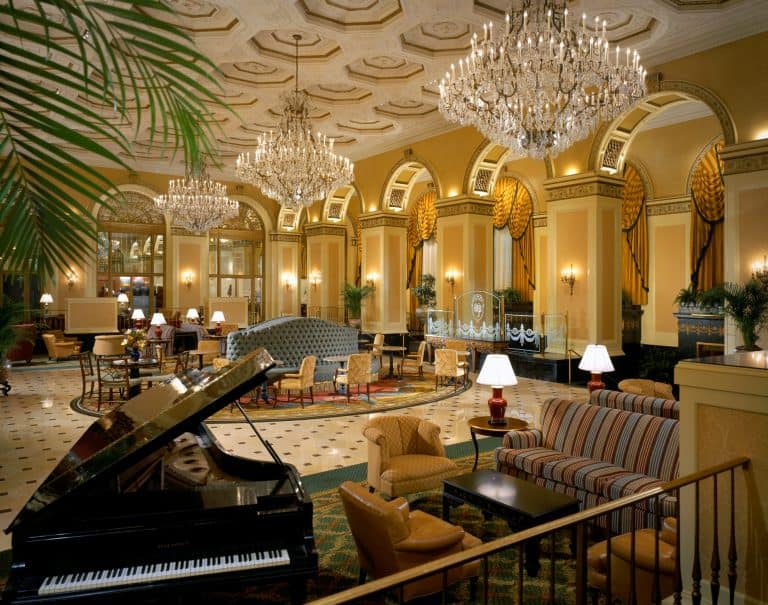 The oldest hotel in the city, Omni William Penn, is decorated to the hilt during the Christmas season. Omni William Penn is decorated in the classic style, so the holiday trim adds to the hotel's general splendor and style.
From a tree lighting ceremony in the lobby to the annual gingerbread replica of the building, the hotel offers plenty of holiday cheer, including a fun Holiday Tea in the Palm Court. Stunning views of the city lights make for a pretty night-time scene, so be sure to ask for a room on one of the upper floors.
Looking for a spot right in the heart of all the hustle and bustle? Wyndham Grand Pittsburgh Downtown has a fabulous location at the top of Point State Park where you can literally walk across the street and see two Pittsburgh rivers converge to make the Ohio River, and gaze at all of the lights on Mount Washington.
It's only a few steps away from the "T"- Pittsburgh's subway system as well- and as long as you stay within the rivers' boundaries, it's free!
Pin this to bookmark all the holiday fun; we update it yearly:

Disclosure:
Visit Pittsburgh and Oglebay provided visits to the area to help Trekaroo to bring you the scoop on what makes Pittsburgh so great during the holidays. We were not asked to state a particular point of view and all opinions are our own.
Lead image by: FlickrCreativeCommons/daveynin