It's the holiday season. Time for your family to take a break from the craziness of everyday life, sit back, and enjoy the beautiful sun and sandy beaches. Skip the cold; a Pensacola Christmas is just what your family needs. Luckily, there are plenty of things to do in Pensacola for Christmas.
Pensacola Beach is located on the Florida Panhandle, making it an easy destination for beach lovers or pretty much anyone looking for a break from chilly weather.
During the winter months the average temperature generally remains in the 60s in the Pensacola Bay area. So pack your light jackets, swimsuits, and beach toys and get ready for some holiday fun in the Florida sun! Updated for 2020!
Sponsored by Pensacola Beach: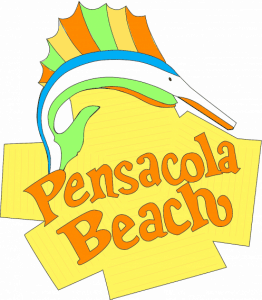 On Pensacola Beach, they're proud to offer endless opportunities for family fun and relaxation. A magical destination world famous for its sugar-white sand beaches and emerald-green waters, Pensacola Beach was selected as one of Trip Advisor's Top 25 Beaches in the U.S.. Whether your wish is to simply relax – or for being part of the ongoing celebration that defines the season on Pensacola Beach, they have something for everyone. Head to Visit Pensacola for more information.
Pensacola Christmas Fun- Parades and more!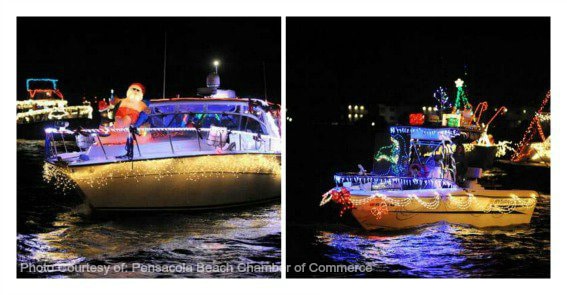 Pensacola Christmas Lighted Boat Parade
You don't have to head to the resorts for all of the holiday fun in Pensacola Beach. Exciting, family-friendly events will be taking place all over the city!
The Lighted Boat Parade begins at 6:30pm on December 5, 2020. This dazzling display of beautifully decorated vessels dancing against the night sky will amaze you and your family this holiday season.
The parade begins at Little Sabine Bay, and makes its way to Soundside at Boardwalk where Santa Claus will officially be delivered to the island. There will be fireworks following the parade.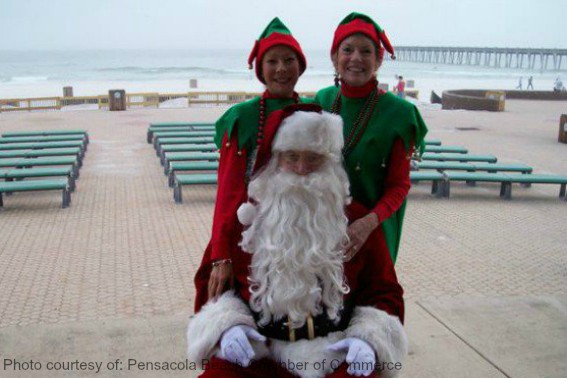 Surfing Santa Parade
You won't want to miss the Surfing Santa Parade on Sunday, December 8, which begins at 2pm and travels from Via de Luna to Casino Beach. Cancelled for 2020.
Enjoy the whimsical floats winding their way down the island's main street while sharing holiday cheer to all. Santa greets everyone atop a bright red fire engine. He'll be dropped off at the Gulfside Pavillion where children of all ages can personally share their Christmas wishes.
Pensacola Christmas Parade
On December 14, head down to Palafox Street for the Pensacola Christmas Parade. This holiday parade draws over 50,000 people every year who enjoy watching dozens of parade entries march on by, including eight bands from around the gulf region. One of the biggest highlights is the flyover by the Blue Angels. Cancelled for 2020.
Pensacola Winterfest
One of the most popular events in Pensacola is Winterfest. This event takes place in downtown Pensacola on several dates throughout late November and most of December. There is an Elf Parade, visits from Santa, Christmas Storytime, and plenty of Reindeer Games.
The highlights are the various trolley tours that take place. The premier tour is the Performance Tour, which is almost like a play. The trolley take you to 16 different scenes around town, and their is action on the trolley as well. The shorter tours focus more on specific themes like the Polar Express or the Grinch
Winterfest 2020 will take place November 27 through December 4, 2020. Check website for Covid-related updates.
Christmas Zoobilee at the Gulf Breeze Zoo
The Gulf Breeze Zoo is hosting a new holiday event with music, entertainment, food, and activities. There will be artificial snow, bounce houses, pictures with Santa, and a Candy Cane Market. Christmas Zoobilee takes place December 12, 13, 19 and 20, 2020.
Events at the Saenger Theatre
Saenger Theatre is playing host to several great holiday shows this season. It begins with Christmas on the Coast, featuring Pensacola's Children's Chorus on December 11-13, 2020. The Nutcracker, the classic holiday ballet, will be performed on December 18-20.
New Years at Pensacola Beach
On New Years Eve, head to the the Pensacola Beach Boardwalk for fireworks at midnight. On New Year's Day, grab the family's swimsuits and take the Polar Bear Plunge. It takes place in front of Paradise Bear & Grill at 2pm.
There is a $15 fee to participate and the experience includes a tshirt. Children in fifth grade and younger can register for $5. Many of the plungers come dressed in costume.
Relish in all that Pensacola Beach, Florida has to offer this holiday season and who knows, you may just see Santa and Mrs. Claus paddleboarding or catching some rays on the beach. I've been told they like to vacation where it's nice and warm!
Find more Christmas events near you! Trekaroo has guides for dozens of cities across the country.
Pin this to bookmark all the holiday fun; we update it yearly: