Bryce Canyon National Park is known for its incredible hoodoos- tall sandstone spires that have been carved by erosion resulting in some of the most stunning scenery in the country. There are lots of great things to do in Bryce Canyon with kids, from hiking to horseback riding and so much more.
Here is our ultimate guide for families filled with things to do in Bryce Canyon National Park. We cover the best Bryce Canyon hikes, give tips on where to stay as well as where to eat, and off lots of other information that will help make planning your Bryce Canyon National Park adventure a breeze.
Extend your vacation with this epic Utah National Parks road trip itinerary.
Bryce Canyon with Kids- Things to do & Everything You Need to Know Before You Go
What is the Best Time of Year to Visit Bryce Canyon National Park?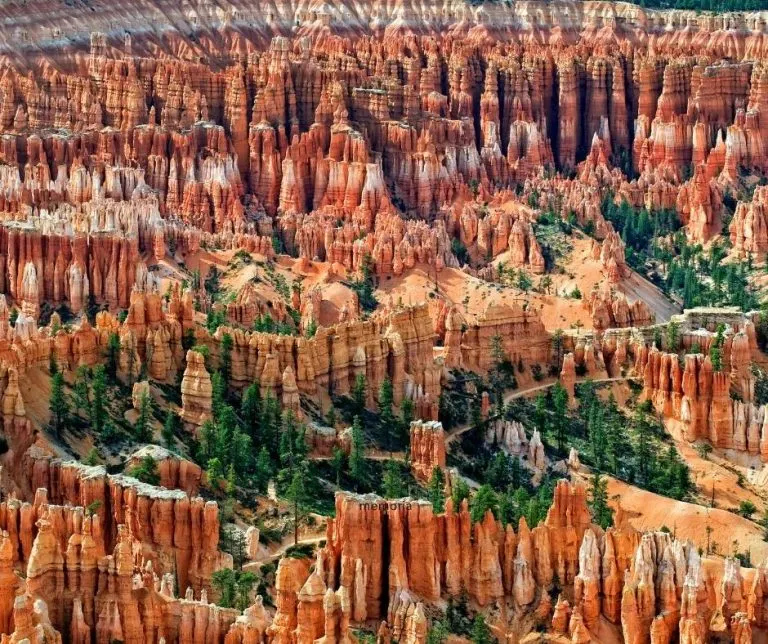 Bryce Canyon National Park is open year-round, but this is a high elevation park and 100 inches of snow falls in the park during the typical year. March is the snowiest month, but snowfall is common October through April.
Read our guide to visiting Bryce Canyon in winter if you are planning an off-season (but tremendously beautiful) visit.
Summer is the best time to visit Bryce Canyon National Park if you want full access to the park. This is also the most popular time to visit the park. Weather is quite lovely, with highs hovering between 75 and 80 most days.
Rain is most common in August, when monsoon season is at its peak. But even then, the park only receives seven days of rain. During the rest of the year there are only about four days out of the month that receive precipitation.
If you have the flexibility, I recommend visiting in either May or September. Temperatures are mild (highs in the 60s) and the crowds aren't around. If you do opt to visit in the summer, early June is your best bet for low crowds and good weather.
Explore more of the state! Here are the best things to do in Utah with kids.
How Much Time Do You Need in Bryce Canyon National Park?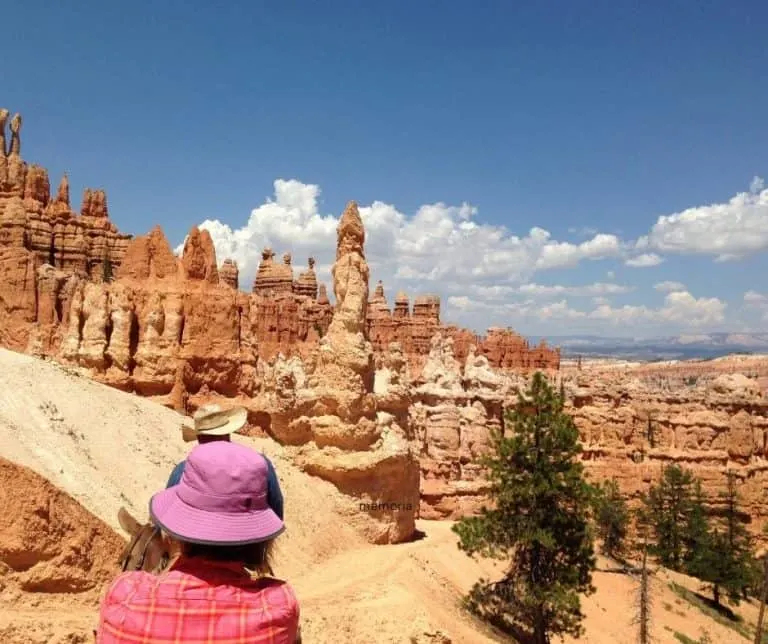 Bryce Canyon National Park is actually quite compact, with most of the attractions and hikes within the park located off the 18-mile scenic drive.
An ideal visit would be two days, but you can certainly see all the highlights with one very full day.
Planning on visiting Zion as well? Don't miss our complete guide on things to do in Zion with kids as well as things to do in Zion in winter.
Things to do in Bryce Canyon National Park with Kids
First, Head to the Visitor Center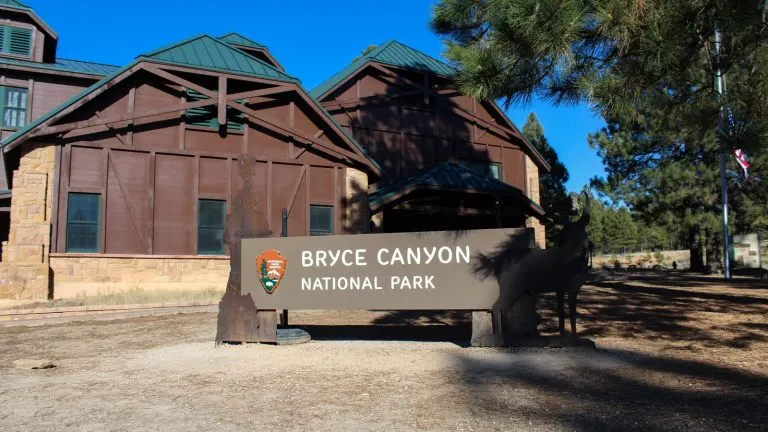 When visiting a national park like Bryce Canyon with kids, your first stop should always be the visitor center.
This is where you can pick up maps, talk to park rangers about current conditions, check out the park museum, watch a short film about Bryce Canyon, and snag those ever-important Junior Ranger booklets. Once kids complete their Junior Ranger booklets they will receive a Bryce Canyon National Park Junior Ranger badge.
Enjoy the Views on the Bryce Canyon Scenic Drive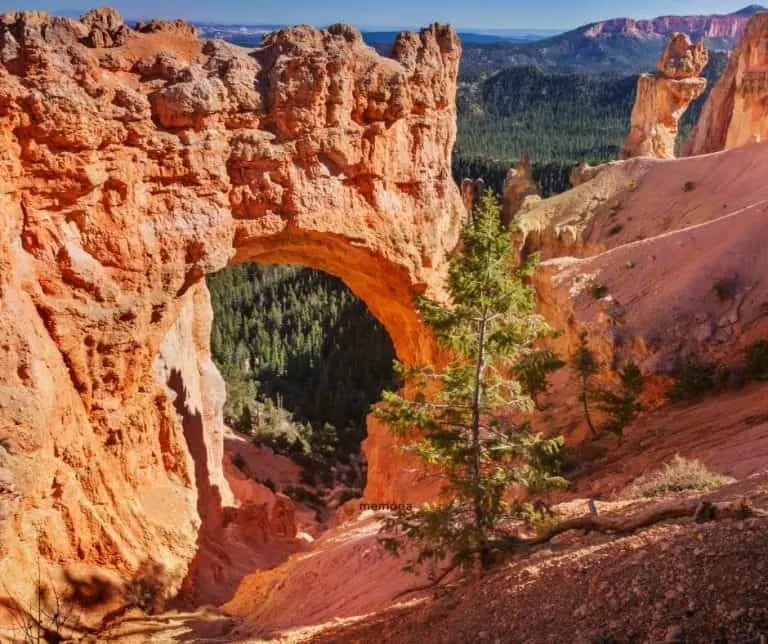 The Bryce Canyon Scenic Drive is 18 miles in length and has several great spots to pull off and enjoy different views of the canyon.
If you drive all the way to the end of the scenic drive to Rainbow Point and then make your way back, all the views and stops will be on the right side of the car, making it easier to get in and out of the parking lots. This also allows you to start at the highest point and make your way to the lower elevations as you go.
There are many highlights along the way including Natural Bridge, Paria View (a good spot for sunset photography), Bryce Point (excellent for sunrises), Inspiration Point, Sunset Point, and Sunrise Point.
In many of these places the edges are protected by guard rails that are safer for children, but drop offs are incredibly steep so keep a close eye or hand on them at all times.
Attend a Night Sky Program

If the forecast calls for clear skies, you should absolutely make time to attend a ranger program about the brilliant Bryce Canyon night skies. The clear, dry air and remote location make Bryce Canyon one of the best star viewing locations in the United States.
Bryce Canyon park rangers host about 100 night sky programs per year. Large telescopes are at the visitor center during certain evenings so you can get a closer view of the vast Milky Way. The best viewing is during the weeks before or after the new moon.
There are also Constellation Tours where rangers use lasers to point out constellations visible in the night sky.
Go on a Horseback Ride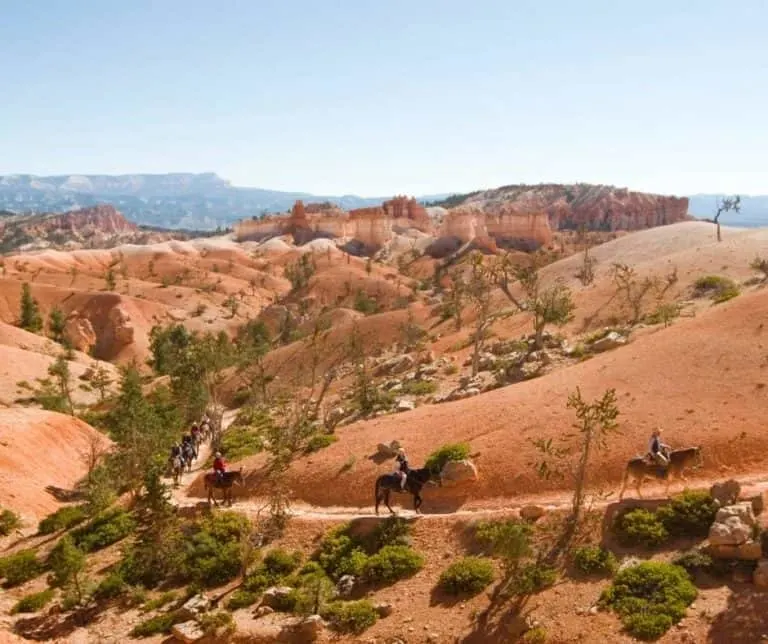 What better way to see Bryce Canyon than on horseback? Children as young as seven can embrace their inner cowboy and the this epic Old West landscape as they ride into the heart of Bryce Canyon on a two-hour horseback ride.
There is also a three-hour ride on the Peek-a-Boo Loop Trail. Rides a typically offered April through October when the threat of icy trails has started to pass. Reservations are highly suggested and online booking does close seven days in advance.
You can also book horseback rides with Ruby's that either 90 minutes or three hours long.
Take a Hike in Bryce Canyon with Kids
One of the absolute best ways to experience Bryce Canyon National Park is by going on a hike. The trails going into the canyon can be steep and sandy, so good hiking shoes will make the experience much more enjoyable than tennis shoes.
There are easy trails along the rim as well as incredibly scenic trails that take you down into the canyon. Here are a few of our favorites for families:
Rim Trail from Sunset to Sunrise Point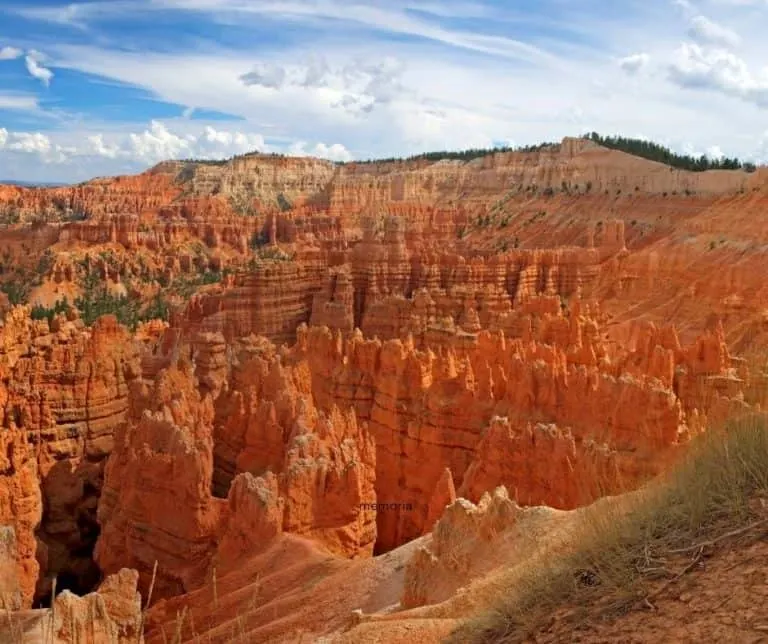 This a paved portion of the Rim Trail that is mostly flat and offers great views of the Bryce Amphitheater. It is a good one for families with mobility issues or kids in strollers. The trail is only one mile in length round trip. If you are short on time or not up for a hike into the canyon, this is your best bet.
Navajo Loop & Queens Garden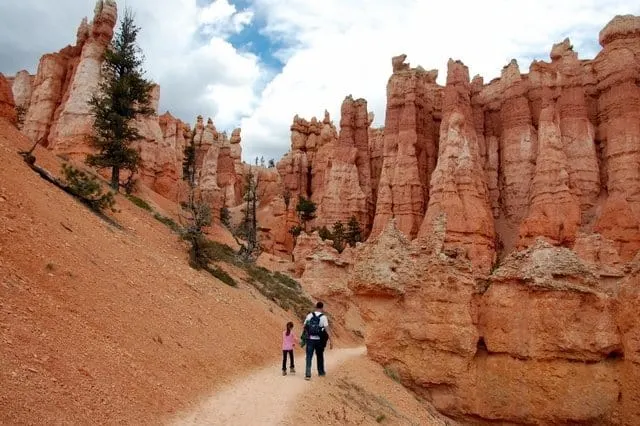 Our favorite hike in Bryce Canyon is the 2.9-mile loop created by combining the Navajo Trail with the Queens Garden Trail.
This loop allows families to walk down into the canyon and experience the famed sandstone walls of "Wall Street". Wall Street is absolutely incredible and the hoodoo sky scrapers are dizzying. You truly have not experienced Bryce until you have made your way down into the amphitheater..
This loop also allows you to spend time walking around on the bottom of the canyon before heading back up. My family has found that is much easier to come back up to the top using the Queens Garden Trail than up the steeper Navajo Trail.
The hike is back up is certainly steep in spots, but my kids have always handled it like champs. The drop offs are considerable in spots, so just made sure to hold little hands and keep the kids on the inside during the switchbacks.
Carry water and snacks to keep everyone happy and well hydrated.
Peek-a-Boo Loop Trail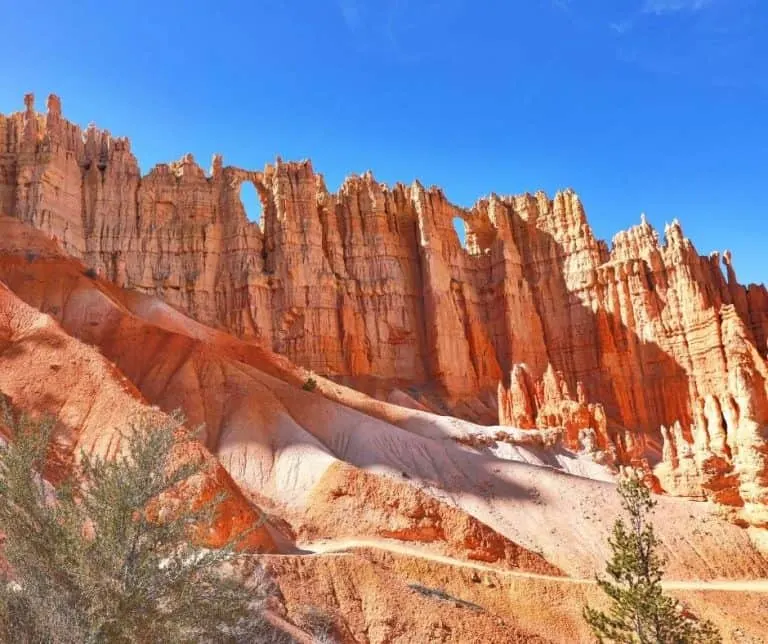 If you are looking for more of a challenge, the Peek-a-Boo Loop trail is a 5.5-mile hike that take you down deep into the canyon and past scenic hoodoo landmarks with names like the Wall of Windows, the Cathedral and Fairy Castle.
The hike is strenuous with 1500 feet in elevation change, and the route is shared with horse and mule trips so watch out for their little gifts that they leave on the trail, if you know what I mean.
Important note: this trail must be completed in the clockwise direction.
Fairyland Loop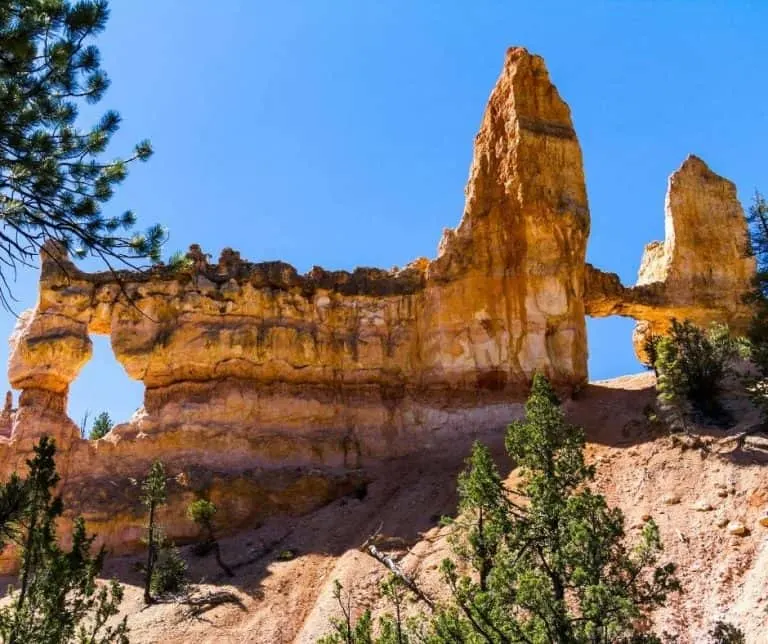 This is the longest day hike we recommend and it is best attempted by families that hike regularly due to its 8-mile length and 1700-foot elevation change. All that being said, it is a hike you will neve forget.
It begins at Fairyland Point in the northern reaches of the park and takes you deep among the hoodoos as you truly get to wander the canyon. There is a spur trail to Tower Bridge that is worth taking as well.
This loop trail does connect Sunset Point to Fairland Point along the Rim Trail at the end of the hike, so yoiu do get to enjoy a bit of the Rim Trail as well. Expect this hike to take 4-5 hours and bring plenty of water with you.
Bristlecone Loop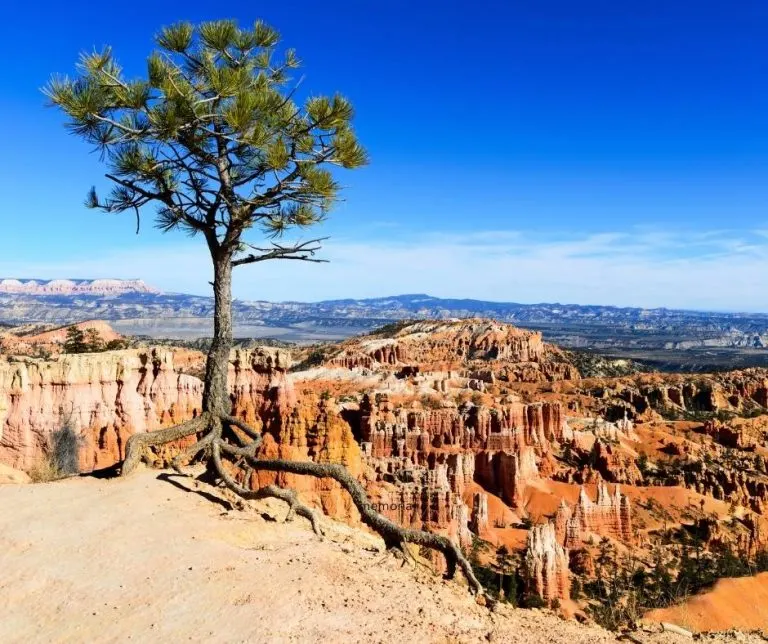 You also don't want to miss the Bristlecone Loop Trail. It is only one mile in length and relatively flat with just 200 feet in total elevation gain.
It begins near Rainbow Point, the highest portion of the park at over 9,000 feet in elevation, and makes its way through a forest of ancient bristlecone pine trees. Some of these trees are almost 2,000 years old!
The views from this trail are also exceptionally expansive. Expect to see eastward for over 100 miles. Be aware that the weather is typically cooler at this elevation and the air is thinner.
Mossy Cave Trail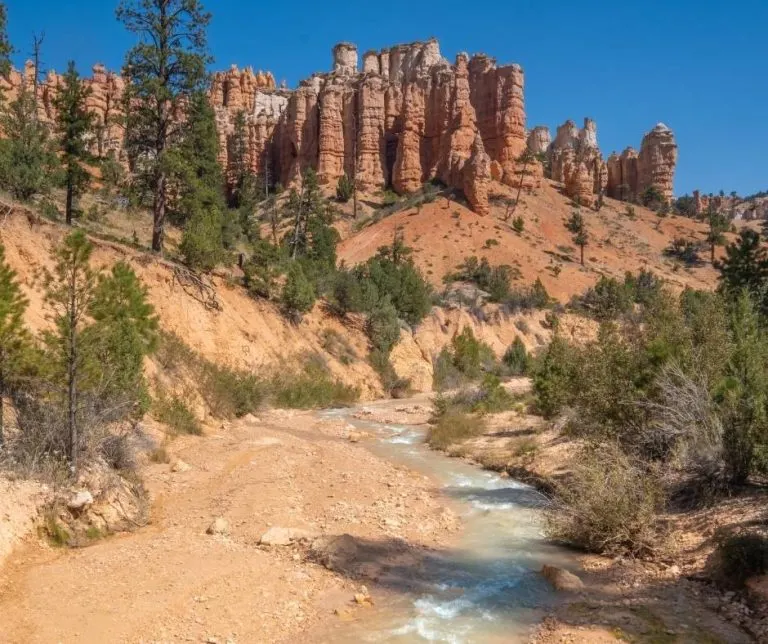 If your family is looking to play in a stream and take a quick stroll to a pretty spot, take the 0.8-mile hike to Mossy Cave.
This trail is still within park boundaries but it is not off the scenic drive like most other highlights within the park. It is located just off scenic Highway 12, about eight minutes from the little town of Bryce near the main park entrance.
The trail follows a stream to a grotto where water drips down to feed a green carpet of moss on the grotto's ceiling. After a decent rain the drips of water turn into a lovely waterfall.
When you are finished enjoying the grotto, your family can enjoy time playing in the stream, as long as weather and conditions cooperate.
Where to Stay Near Bryce Canyon National Park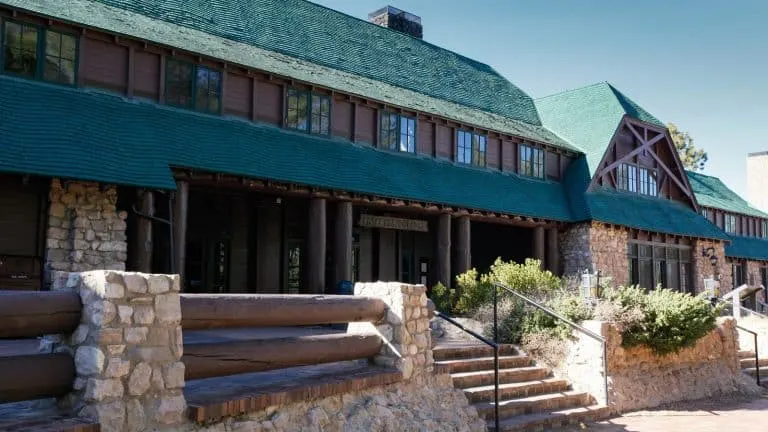 When visiting Bryce Canyon, you can either stay inside the park, or choose from one of the hotels that line the strip near the entrance to the park.
Just a short drive from all the main attractions in Bryce Canyon National Park (the visitor center is only three miles away), you will find Ruby's Inn and Bryce Canyon Grand Hotel. Both are under the Best Western Plus branding and great options for families.
Ruby's is the original and has a gift shop, general store, post office, restaurant, and indoor pool. The Bryce Canyon Grand Hotel is newer and modern. It has spacious rooms, a complimentary breakfast buffet, and modern amenities. Both offer very easy access to the park.
The Lodge at Bryce Canyon is the only lodging (besides camping) located inside the park. It is a historic lodge located within steps of the majestic, hoodoo-filled, Bryce Canyon amphitheater. There are typical guest rooms as well as cabin rentals available here.
Campers can choose from two different campgrounds inside the park. North Campground's sites are all first come, first serve. Sunset Campground spots can be reserved during the busy season (April through October). There are no sewer, water or electrical hook-ups available.
Where to Eat Near Bryce Canyon National Park
There is a dining room at the Lodge at Bryce Canyon. It is a popular place for all three meals of the day and is known for its burgers, sandwiches, steaks, and salads. Expect to pay a bit of premium for location, location, location.
Valhalla Pizzeria and Coffee Shop is also located within the park. It serves up —you guessed it—pizza and coffee drinks, as well as beer, wine, salads, and pastries. It is open for lunch and dinner only.
Ruby's Inn Cowboy Buffet and Steak Room is one of the most popular spots to eat for those staying just outside the park. It has been an area staple for years. The menu includes a variety of steaks, fish, chicken, pasta, and sandwiches. The food is okay, but the location is key.
If you are craving barbecue, make the drive into Tropic, 20 minutes down the road, and head to IDK Barbecue. It is known for its brisket, pulled pork, and ribs. Those who have eaten there agree, it is worth the drive.