A Hawaii family vacation usually includes plenty of quality time at the beach, but where are the best Big Island beaches?
Big Island coastal areas are relatively new, geologically speaking, because the island continues to add new land via cooling lava from the island's volcanoes. This means that much of the waterfront is lava rock and cliff, but there are still lots of great beaches to enjoy on the Big Island- you just have to know where to find them!
We have done all the hard work and spent lots of time playing in the water and sunning on the sand to bring you this list of the best beaches on Hawaii's Big Island. From the Kohala coast to Kailua-Kona, Hilo, and even remote Waipio. Here are our top picks.
Read our comprehensive guide to the best things to do on the Big Island with kids before you head out on your Hawaii vacation. This article is filled with several tips for families visiting Hawaii for the first time.
Best Big Island Beaches for Families
1. Hapuna Beach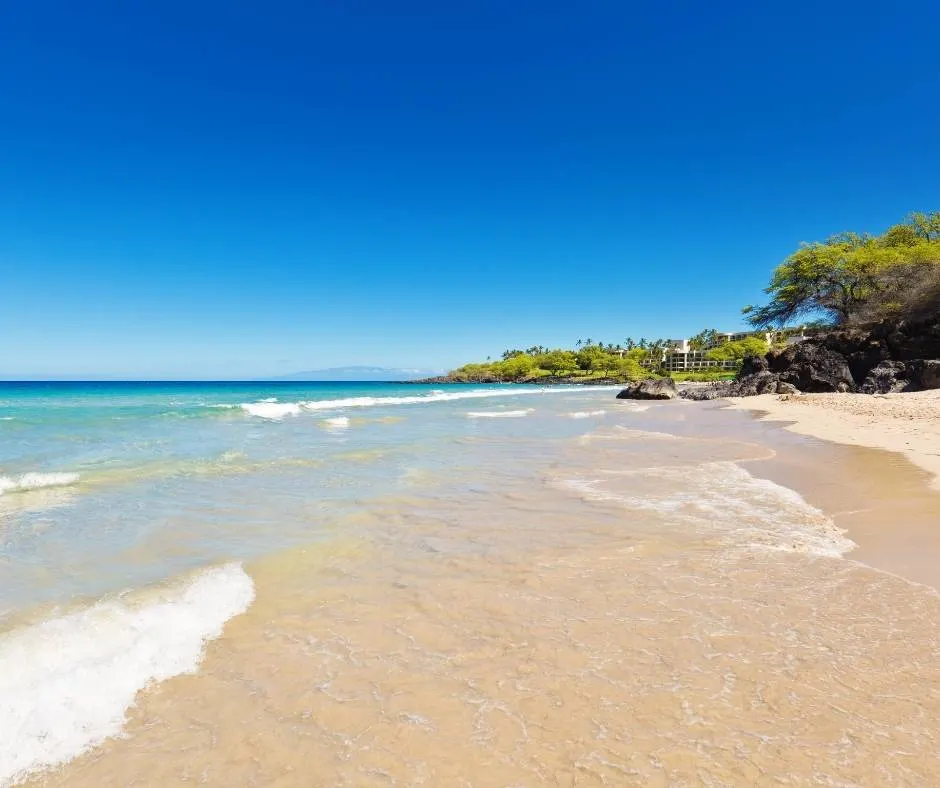 Hapuna Beach, on the Kohala Coast, is the largest of the island's white sand beaches. The beach is located about 15 minutes north of Waikoloa.
It offers consistently good conditions for swimming, body-boarding, sunbathing, strolling, and snorkeling. Keep your eyes peeled for sea turtles which sometimes frequent the rocky area just offshore.
The south end of the beach is the most protected area, ideal for families with young children.
Amenities: $5 parking lot parking, picnic areas, restrooms, showers, and food vendors during peak times.
Recommended Nearby Hotel for Families: The Westin Hapuna Beach Resort sits right next to Hapuna Beach. It is part of the Marriott family of hotels and has been recently renovated. Snorkel gear, boogie boards, surf board, paddleboards, and even kayaks are available for rent to use at Hapuna Beach. They also offer beach chair service.
Capture incredible memories of your Hawaiian family vacation with Flytographer. Flytographer has a network of incredible professional photographers ready to come to you and help your family create the ultimate souvenir of your special trip. Trekaroo is proud to be a Flytographer customer and affiliate.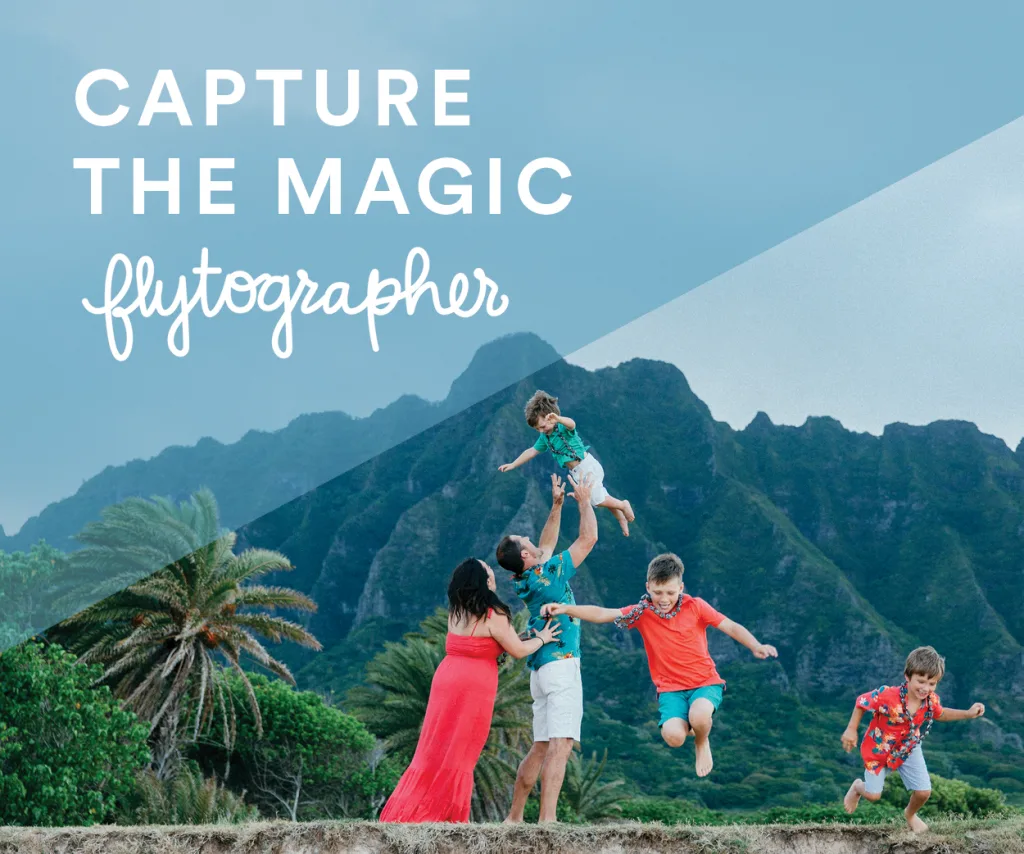 2. Punalu'u Black Sand Beach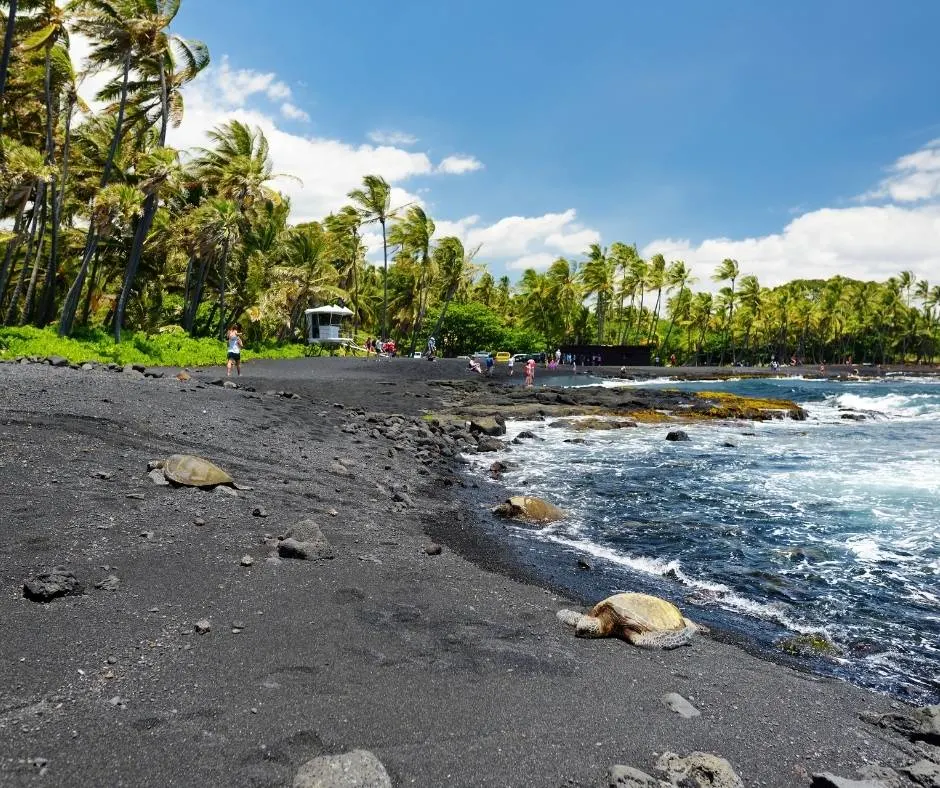 If you are looking for black sand and sea turtles, check out Punalu'u Black Sand Beach on the south end of the island.
The sea turtles often come right up on the beach to sun themselves, making for some amazing photo opportunities. Just be sure you keep 15 feet between you and the turtles. There are also usually several turtles swimming around along the rocky shore as well.
This black sand doesn't stick to your skin, making post beach cleanup a breeze. This isn't the best beach for swimming but it is certainly one of the most beautiful and worthy of your time.
Amenities: There is a small concession stand on the beach where you can grab snacks and rent snorkel equipment, but check water conditions before swimming.
3. Kahaluu Beach Park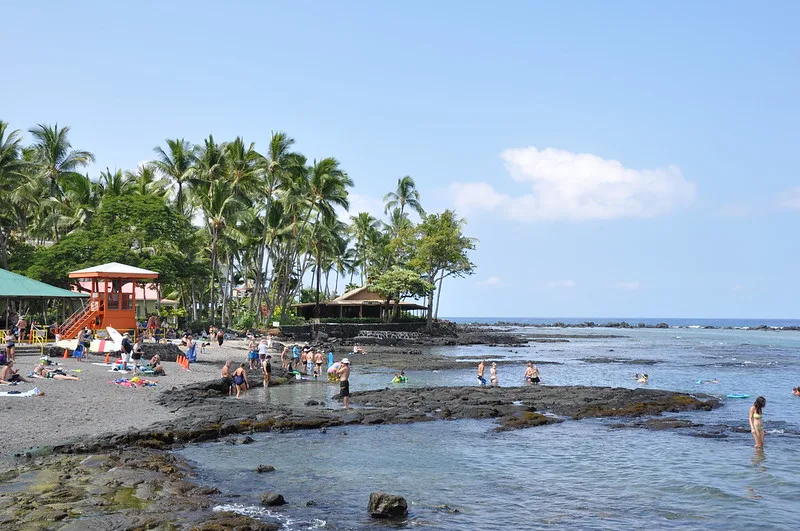 If you are looking for a good place to teach your kids how to snorkel on the Big Island, look no further than Kahalu'u Beach Park. Kahalu'u is a shallow cove in Kailua-Kona that is full of fish and is a popular sea turtle hangout, making it one of the best Big Island beaches for young snorkelers.
Water in most of the cove only reaches neck high, and the waters are usually calm. Kids can also enter the water to their knees, squat down and see a variety of sea life. Expect to see a variety of fish like porcupine fish, tangs, and even eels!
Since this beach is mostly lava rock and reef, water shoes are recommended.
Amenities: Free parking, bathrooms, shaded picnic area, on-site snorkel rentals, on-site locker rentals. Many times there are also snow cone trucks.
Recommended Nearby Hotel for Families: Kona Coast Resort is less than a mile from Kahaluu Beach. It has spacious, fully-equipped villas kitchen, living areas, dining areas, and washer/dryers. There are tennis courts, pools, and even a playground for the little ones.
5. Magic Sands Beach Park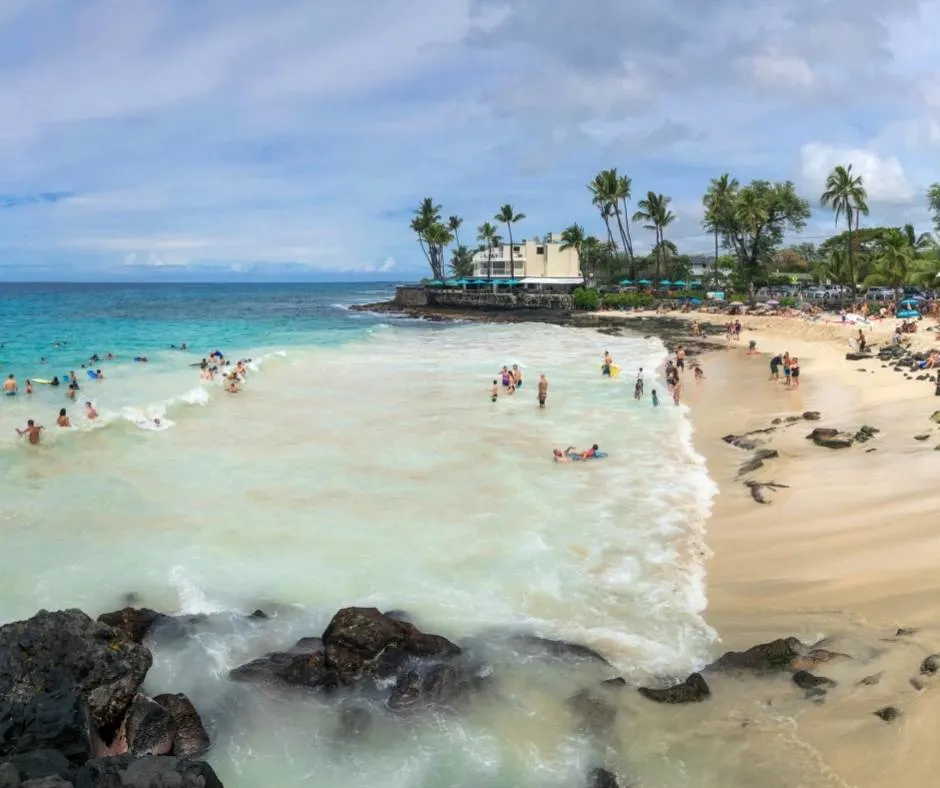 Also located in Kailua-Kona, not far from Kahaluu Beach Park, is Magic Sands. Also known as White Sands, it is a great spot for beach play and snorkeling.
The beach gets its "magic" name because winter storms can sometimes come in and sweep all the sand offshore, exposing the lava rock below. But, most of the time outside of winter, the beach is sandy and great for families.
The reef is about 100 yards offshore (flotation devices for safety with kids are suggested) and is filled with big fish! I recommend this snorkeling spot for kids with strong swimming skills and adult supervision.
No matter their age, kids will enjoy playing in the small waves at the beach. It is a great spot to body surf and boogie board. Note: waves can be larger in the winter. Always check local conditions before entering the water.
Amenities: Lifeguards, a picnic area, showers, and restrooms. There is street parking or a gravel lot across the street.
Recommended Nearby Hotel for Families: Aston Kona by the Sea is a condo hotel that has plenty of rooms and creature comforts for families. Each condo have private bedrooms, a large living area, kitchen, two bathrooms, and a washer/dryer.
6. Waikoloa Beach (Anaehoʻomalu Bay)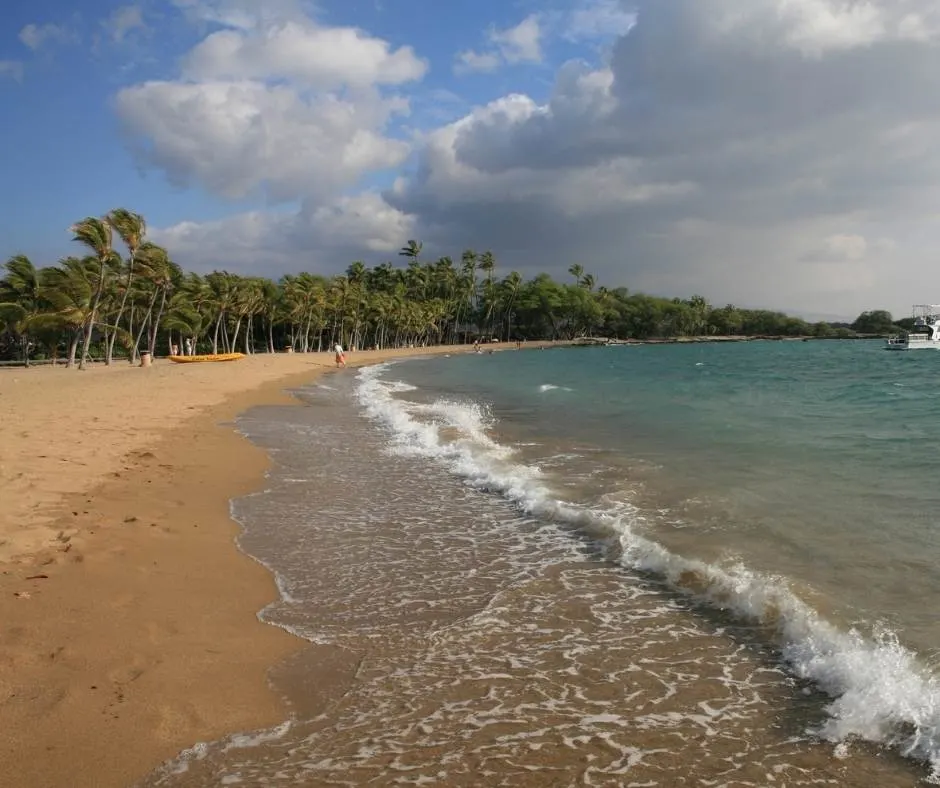 Waikoloa Beach is the best spot to swim in the Waikoloa Village area. It is a nice beach with protected waters on ʻAnaehoʻomalu Bay, and there is some snorkeling on the southern end of the beach. The beach is located in front of Waikoloa Beach Marriott.
Since the waters are so calm, it is a great place for kids to play. The Lava Lava Beach Club is a fun place to eat and drink right on the beach. They also have live music most evenings.
The Kuʻualiʻi and Kahapapa Fishponds are located just behind Waikoloa Beach. These are ancient fishponds that were once used by native Hawaiians.
Amenities: There is free parking as well as showers and bathrooms. There is also a rental stand where you can rent snorkel equipment, boogie boards, kayaks, hydro bikes, and more.
Recommended Nearby Hotel for Families: Waikoloa Beach Marriott sits right behind Waikoloa Beach. The hotel has a great location, family suites with kitchens, and a great luau.
7. Mauna Kea Beach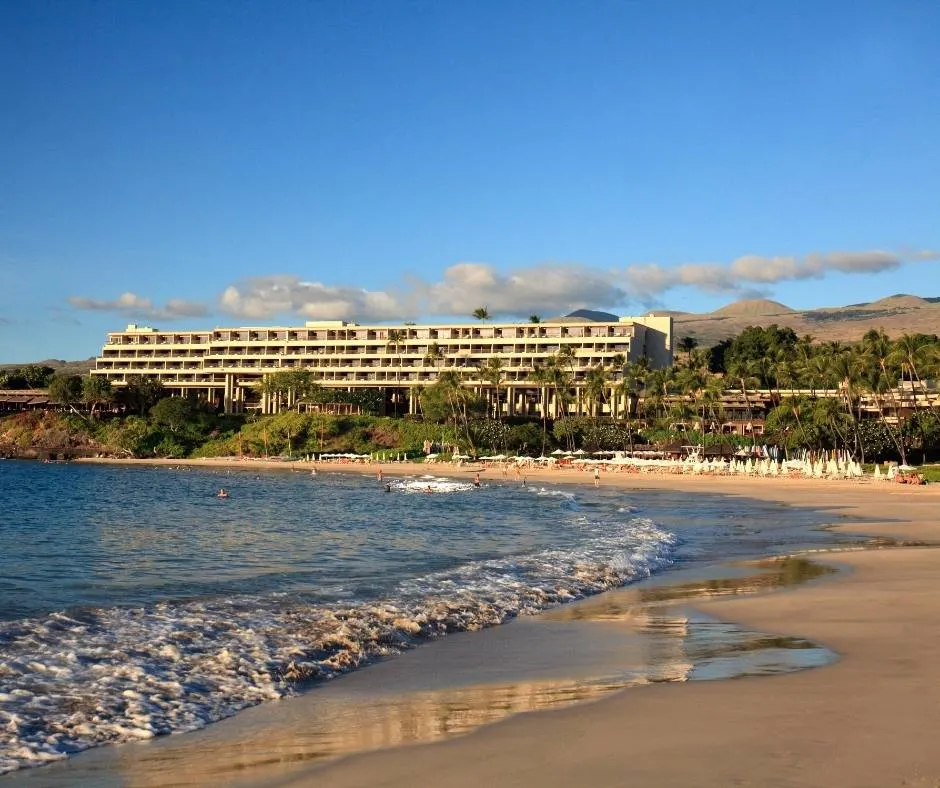 Mauna Kea Beach a perfect crescent shape and extends for almost a quarter mile. A natural rock reef provides some protection from the surf but always check conditions, especially in the winter.
There is usually good bodyboarding and swimming here unless the surf is too big. There is good snorkeling on the southern end of the beach. You can also see Mauna Kea volcano from the beach if the sky is clear.
Amenities: You can find parking at the Mauna Kea Beach Hotel for visitors, but spots do tend to fill up early. There is a restaurant right on the sand where you can grab food and drinks. There is a stand that rents beach goodies such as boogie boards and snorkel gear.
Recommended Nearby Hotel for Families: The beach is directly in front of the Mauna Kea Beach Hotel. This property is part of the Marriott family and has lots of great amenities for families. It also offers an evening snorkel with the manta rays that congregate offshore in front of the hotel.
8. Papkolea Beach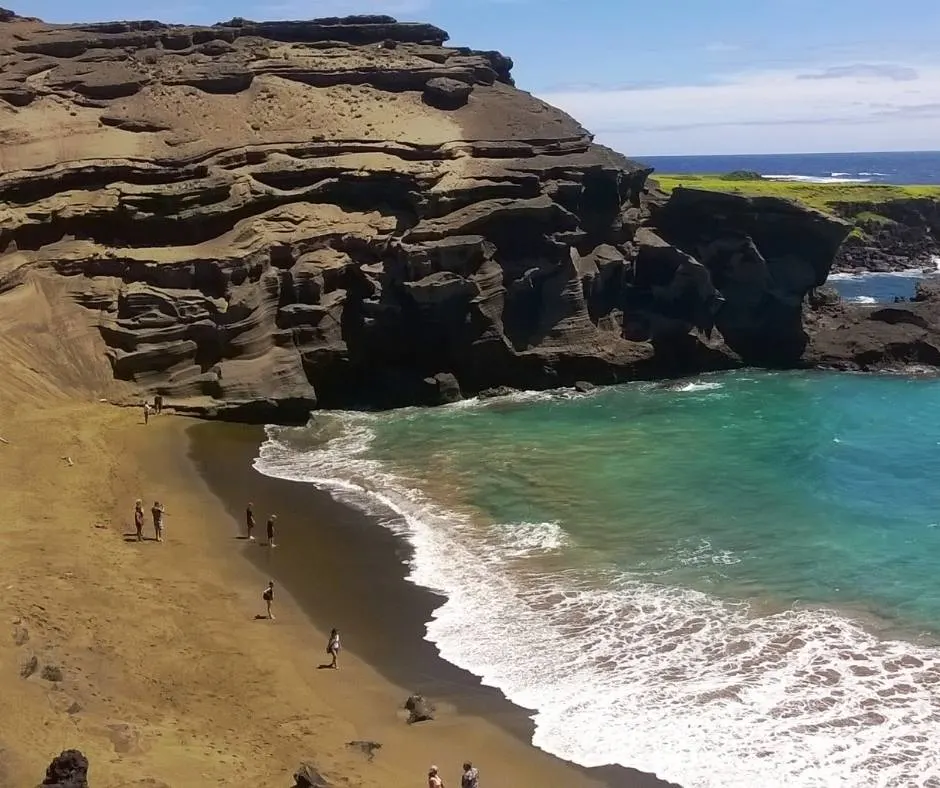 If it is green sand you are after, head to the southernmost point in the United States at Papakolea Beach. The green is a dull olive shade formed by olivine present in the lava. The 2.5-mile trail that leads to the beach is beautiful but hot, so arrive early if you want cooler temps and the beach (mostly) to yourselves.
Swimming at this beach is not recommended, especially since it is so remote and there are no lifeguards. It can also get quite windy here, especially in the afternoon.
Amenities: None other than a parking lot. You are about as remote as you can get on the Big Island coast. Bring and all the food and gear that you will need and pack out all your trash.
9. Kiholo Bay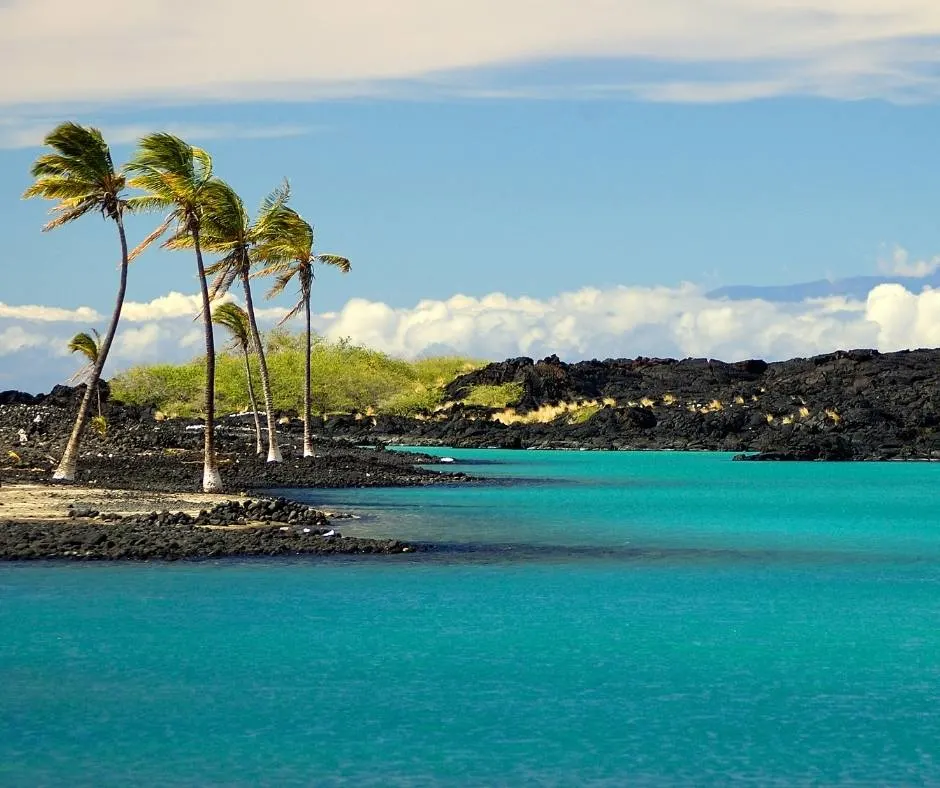 If you are looking for a black sand beach with beautiful views, few people, and in close proximity to Kailua-Kona and Waikoloa Village, Kiholo Bay is the place to be.
Kiholo Bay is a mix of lava rock and sand, and a good spot for spotting sea turtles. You can snorkel here as well. We saw turtles several swimming through the manmade channel from the bay into a lagoon on the north end of the bay.
There is also a partially submerged lava tube that is fun to explore with older kids. Depending on the tide, you can swim back pretty far but it is pitch black inside so headlamps are necessary for exploration more than several feet from the entrance.
In order to reach Kiholo Bay, you will need to park near mile marker 82 on Hwy 19 heading south. There is an unmarked gravel road that you will follow as it heads down to the bay. The walk is about 25 minutes in length and can be quite hot, so be prepared with lots of water and sun protection.
Amenities: There are portable toilets but that's about it. Be respectful of the area and pack out your trash. Be sure to pack in whatever food, water, and gear you might need.
Recommended Nearby Hotel for Families: If you are looking for a resort with incredible views, spacious rooms, fabulous pools, safe salt water swimming for kiddos, a variety of activities, and even dolphins to play with, then look no further than the Hilton Waikoloa Village.
10. Manini'owali Beach (Kua Bay)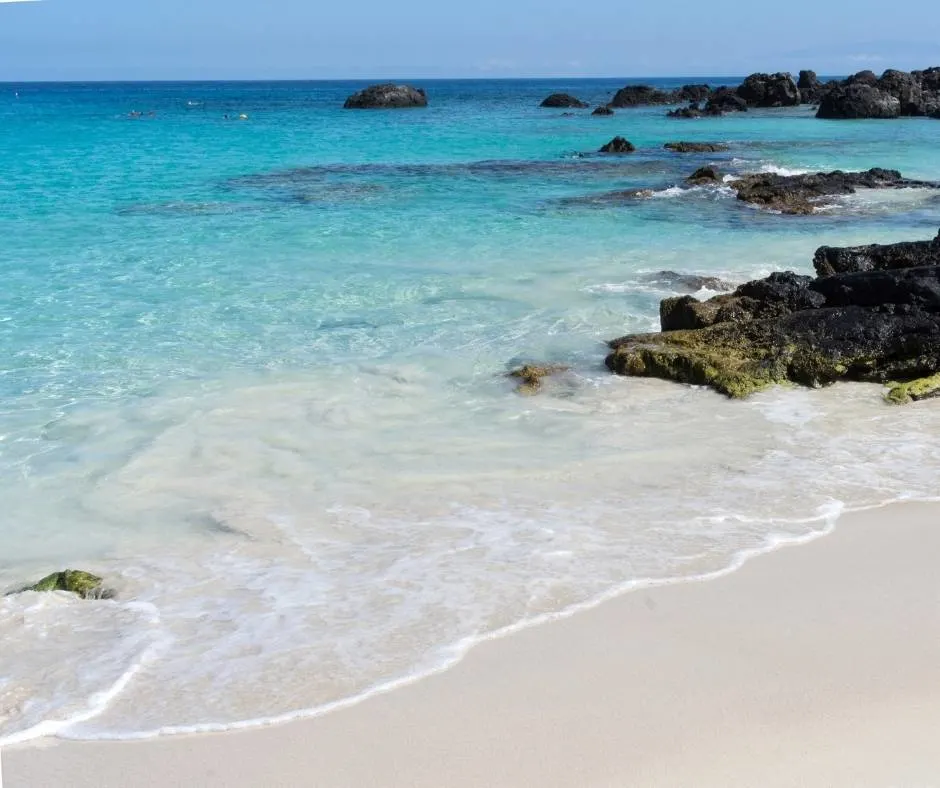 Located north of Kailua-Kona and south of Waikoloa, Manini'owali Beach is known for crystal blue waters and lovely white sand. The beach sits on Kua Bay and widely regarded as one of the best beaches on the Kona side of the island.
Manini'owali is a good beach for swimming, body surfing, boogie boarding, and even snorkeling. It is also a great place to watch a sunset.
Amenities: There are restrooms, showers, and a lifeguard. There is a parking lot which can fill up early on weekends and holidays so arrive early if you are visiting during peak times. There is no food or activity concession, but the occasional food truck does show up.
Recommended Nearby Hotel for Families: If you are looking for luxury look not further than the Four Seasons Resort Hualalai. This dreamy resort has five restaurants, an 18-hole Jack Nicklaus golf course, full spa, and a salt water pool.
11. Waialea Beach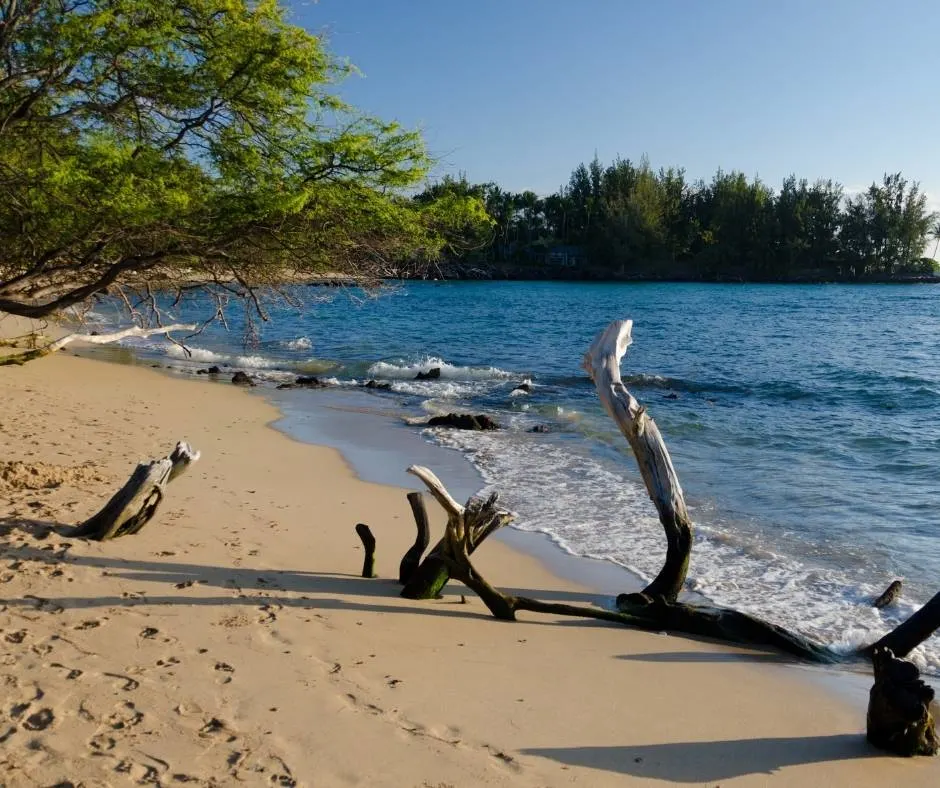 Located south of Hapuna Beach, Waialea Beach tends to be more under the tourist radar than nearby Hapuna and Mauna Kea beaches north of Waikoloa.
Still, there are no secrets anymore thanks to the internet, so it can get busy during peak times. This beach is also known as Beach 69 due to the number 69 utility pole near the beach's parking area.
The waves tend to be small here, making it a good place to swim and snorkel. One great thing about Waialea Beach is that there are big trees on the sand which provide a nice escape from the intense, Big Island sunshine.
Amenities: There is a parking lot as well as showers and restrooms.
12. Spencer Beach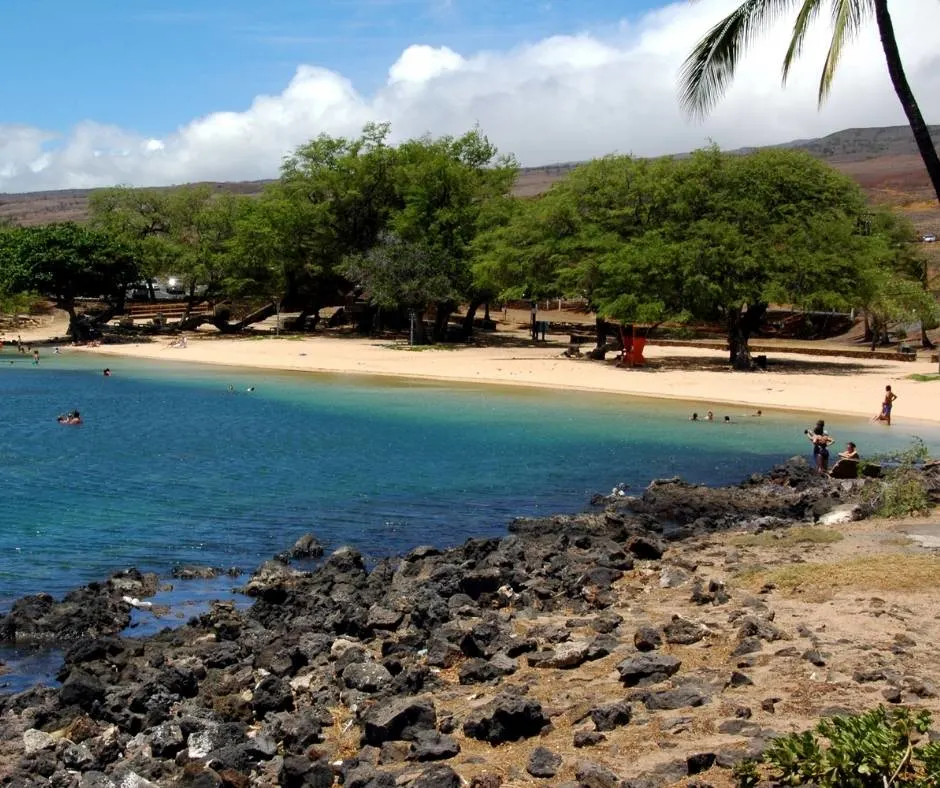 North of Waikoloa and Kailua-Kona near the turnoff for Waimea and the Big Island upcountry is Spencer Beach. It is quiet and has shade, and is a great beach to combine with a visit to Puukohola Heiau National Historic Site.
This beach tends to be less crowded than some of the others on the west side because it is further from the major tourist destinations. Families love that there is a nice grassy area next to the beach to picnic and play on. They also like snorkeling in the shallow reef offshore.
Amenities: Parking lot, tree-shaded lawn, picnic tables, showers, and restrooms. There is a lifeguard on duty during weekends and holidays.
13. Waipio Beach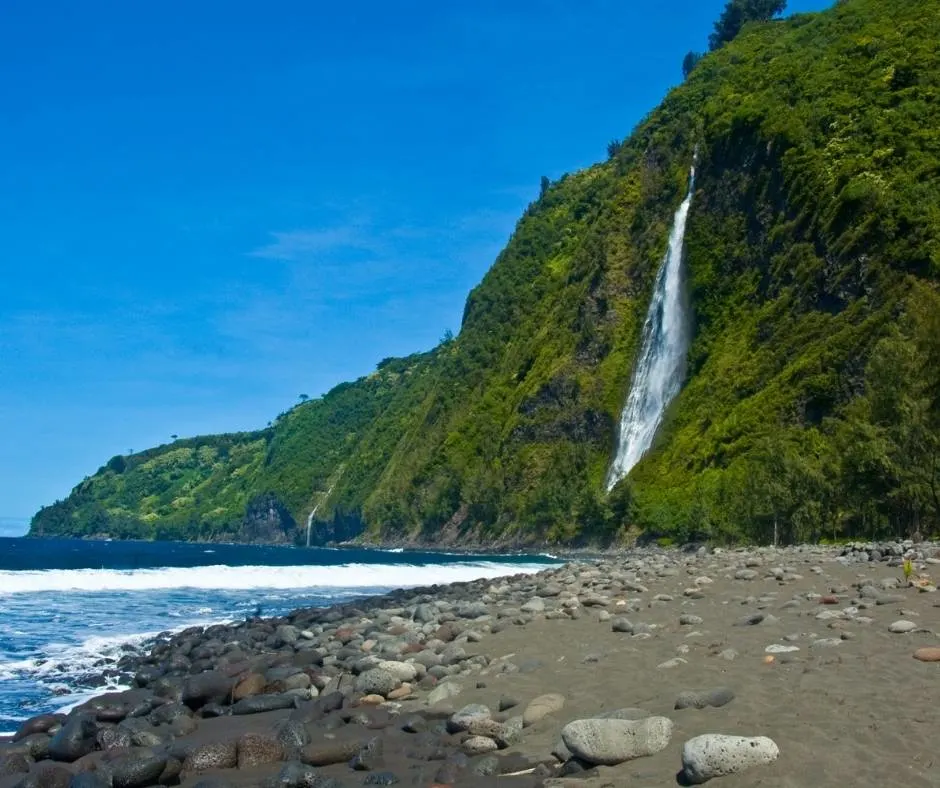 In the remote and gorgeous Waipio Valley on the northeastern portion of the Big Island is Waipio Beach. This black sand beach was once the retreat for Hawaiian royalty and continues to enchant those who make the journey down the steepest road in the United States.
The beach itself is beautiful, and there are waterfalls and streams to admire as well. The water is not safe for swimming.
You can drive a 4WD down the road but it is suggested that you leave the driving to those who are familiar with this super steep road and take a tour. Another option is park at the top and walk down, but keep in mind that you will have to gain 975 feet in elevation on the walk back up.
There are a variety of tours that are great options for exploring the Waipio Valley, including horseback rides, ATVS, and 4WD waterfall adventures.
Amenities: None. There is a parking lot at the top and a place to park at the bottom, but that is about it.
14. Richardson Beach Park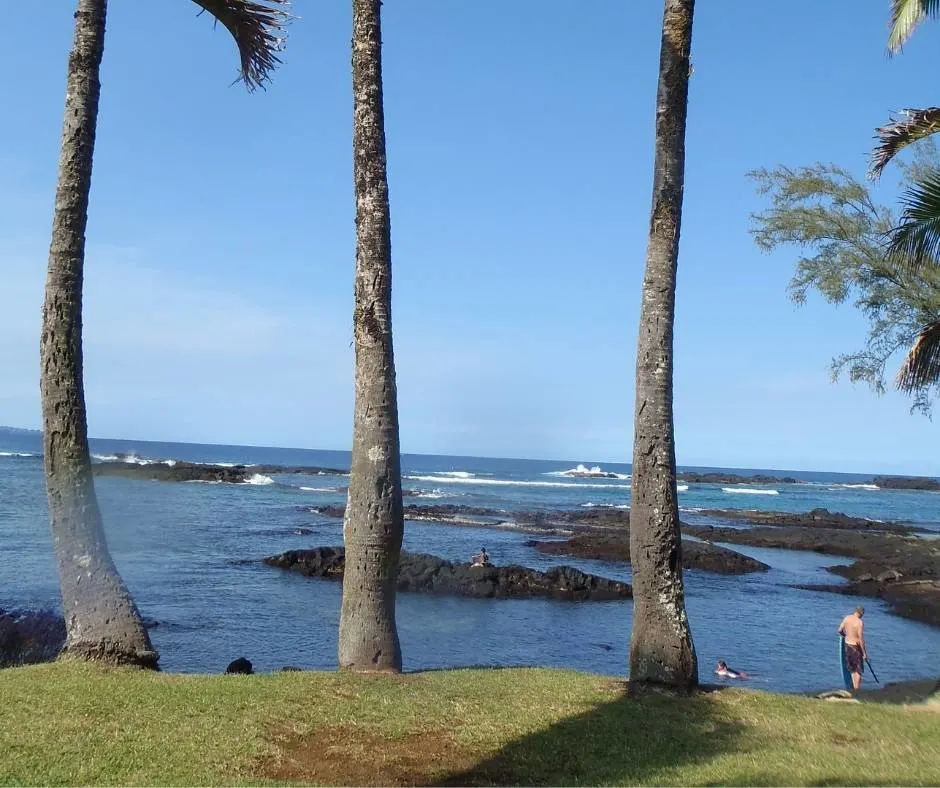 If you are spending time on the Hilo side of the island, Richardson Beach Park is a good option for families. There are stretches of black sand at this beach which are broken up by lava outcrops. There are also some green olivine flecks in the sand which are always fun to find.
This beach is a great place to enjoy wildlife. There are sea turtles and Hawaiian monk seals that frequent the shore and you might even see humpback whales from December through April. It is also a good place to snorkel thanks to all the volcanic rock. Kids also love exploring the tide pools.
Amenities: There is parking at the beach along with a picnic area, showers, and restrooms. There is a lifeguard on duty.
Recommended Nearby Hotel for Families: Our top pick for lodging in Hilo is the Castle Hilo Hawaiian Hotel. It is located on tranquil Hilo Bay and within steps of scenic Liliukalani Garden. It is one of the only full service hotels on this side of the island.
15. Carlsmith Beach Park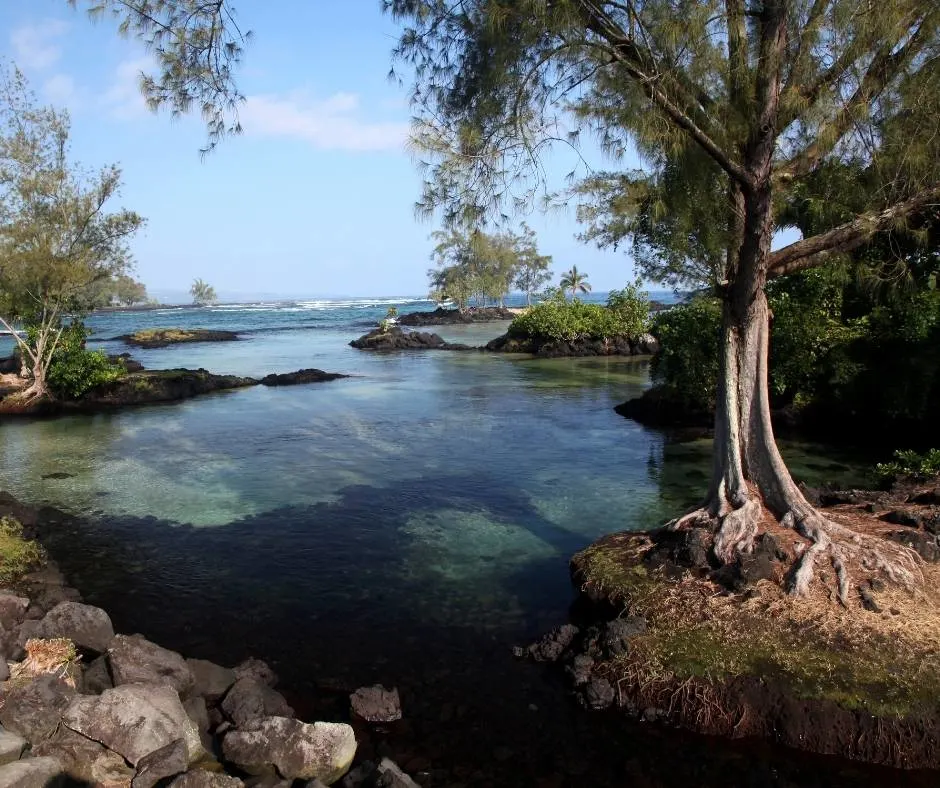 Another nice beach for kids to swim at in the Hilo area is Carlsmith Beach Park. It doesn't have sand but it does have a couple lagoons created by reef and lava rock that makes for a nice, protected area to swim. There is also plenty of grass to throw your towels and chairs on.
Sea turtles absolutely love the lagoons and sightings are pretty much guaranteed. This area is quite popular with locals and can get very busy on weekends and holidays.
Amenities: There is a parking lot, picnic area, showers, and restrooms. There is a lifeguard on weekends and holidays.
More Hawaii Travel Coverage: