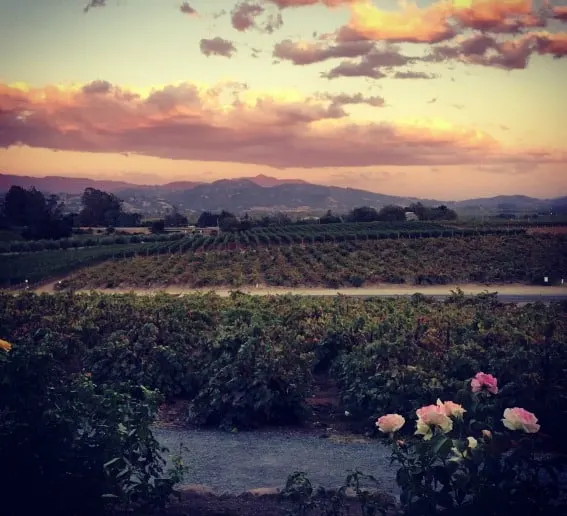 Photo by Kristine Dworkin
It may be hard to believe, but there is a wine country where you can not only bring your kids, you are encouraged to do so. Located about one hour north of San Francisco, Sonoma Wine Country, which encompasses towns like Santa Rosa, Geyserville, and the Russian River area, offers beautiful parks and gardens, family-friendly wineries, outdoor adventures, movie memorabilia, and the Peanuts Gang! I know this all sounds too good to be true, so in the event that I've struck a skeptical chord with you, let's start by looking at a couple of wineries and move on from there.
Francis Ford Coppola Winery
At the top of a grand staircase straight out of the Great Gatsby, visitors to the Francis Ford Coppola Winery not only enjoy fine wine and food, they are treated to a fabulous collection of memorabilia from Coppola's movies (including the Godfather desk, which thrilled my husband), gorgeous views, and during the spring and summer, an unrivaled pool scene. While parents enjoy wine tasting here, kids can learn how to experience different flavors and smells of seasonal fruits at a smoothie tasting. There are also four regulation-sized bocce courts among other gaming activities available to use free of charge.
Paradise Ridge Winery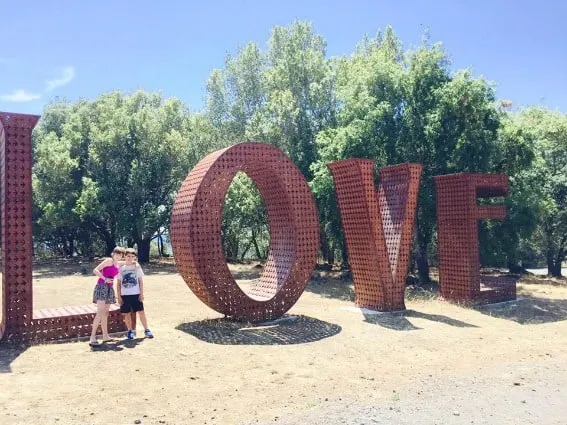 Photo by Kristine Dworkin
Paradise Ridge Winery has an amazing collection of sculptures that inspire conversation and spark imagination for visitors of all ages. As we walked the connected footpaths in Marijke's Grove examining square, angular, and colorful sculptures, the art critics that live inside my sweet children came out. I kept wondering how the artists would feel about that, especially when my son compared a piece called, "Converse: The Onus in Bonus," to Rock 'em, Sock 'em Robots. Just below the winery building itself are two of the property's largest sculptures competing with a breathtaking view of the Santa Rosa landscape behind them. This art walk provided a great opportunity to listen, not just to the sounds of nature, but also to my children. I was very surprised by some of what they had to say about the art they were seeing.
Birthplace of the Peanuts Gang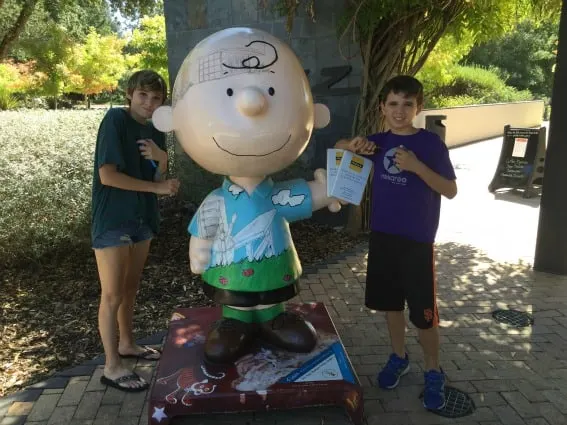 Photo by Kristine Dworkin
With the release of The Peanuts Movie, the first feature film based on the comic strip in 35 years, it is a great time to get reacquainted with the Peanuts Gang. The Charles M. Schulz Museum pays homage to all that is Peanuts including their creator who called Santa Rosa home. The collection of mementos not only showcases the history of the comic strip, they highlight Schulz' life. Visit a replica of his studio or wander the galleries and examine the current displays of comic strips. No matter which comics are out at the time (the display changes on rotation), the evolution of the characters is easy to trace as you go. It was fun to see early versions of Snoopy and the gang. If you have the time, visit the rest of the Schulz campus, the Warm Puppy Cafe, Snoopy's Home Ice, as well as Snoopy's Gallery and Gift Shop. You won't be disappointed.
Howarth Park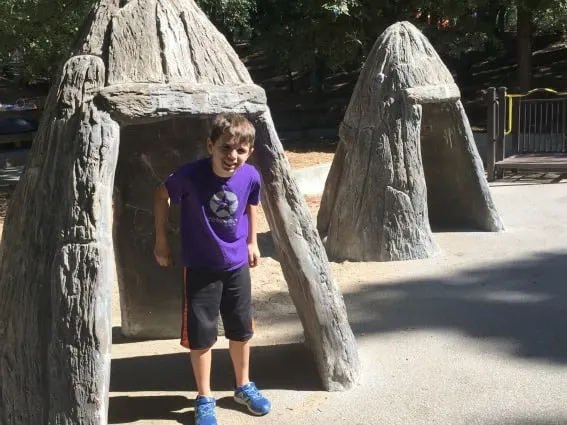 Photo by Kristine Dworkin
Ride a steam train through a mysterious spooky cave, hop on the carousel, and time travel in a playground that is a nod to the early days of Santa Rosa; Howarth Park is a testament to what happens when play and learning are blended together. This park is referred to as the "jewel" of Santa Rosa and with good reason. There are miles of jogging and hiking trails, an animal farm, pony rides, and endless recreational opportunities for fishing and boating, as well as fields for various competitive sports.
Go Kayaking with Getaway Adventures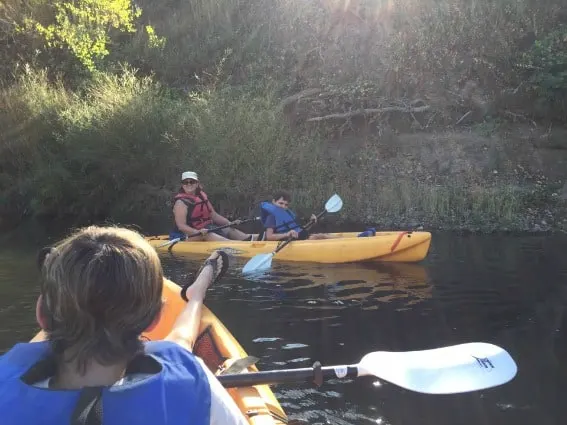 Photo by Jimmy Dworkin
Despite the fact that California is in the midst of a serious drought, it is still possible to go kayaking with the family. We choose Getaway Adventures to provide us with an appropriate experience, equipment, and guide — and they delivered big time. We set off in tandem kayaks; my husband and I each had a child in our vessels. Quiet and peaceful on the water, herons flew over head and we even spotted some fish and small otter in the water. It was a great morning outdoors in the fresh air, communing with nature, laughing, marveling in the natural beauty of Northern California, and sharpening our kayaking techniques with a true enthusiast.
Eat Here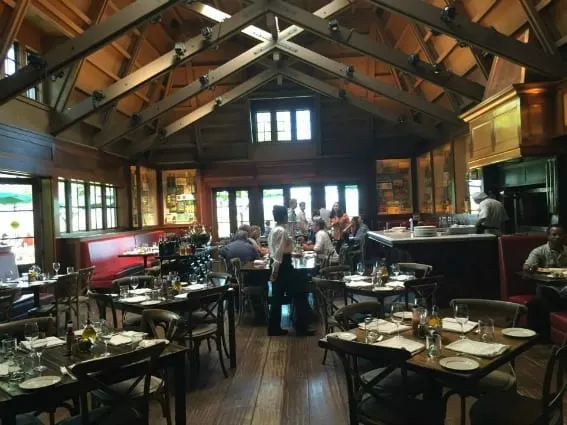 Photo by Kristine Dworkin
RUSTIC, Francis' Favorites: Located at the Francis Ford Coppola Winery, RUSTIC is a testament to Francis' favorite recipes, many of which were collected during world travels. For those skeptical about dining with kids at a winery, consider these items listed on the kids menu: pizza w/no green stuff, pasta w/ butter and cheese only, spaghetti with meatballs, macaroni and cheese, and that is just for starters. There are more adult favored choices on the menu of course and many are grilled on the dining room Parrilla, an authentic Argentine grill. Among the diners, we saw young couples headed off to their local high school's homecoming dance, older couples toasting with the winery's finest in their glasses, groups chatting and mingling around long tables on the patio, and families just like ours dining together. The mood was festive and happy; how could it not be when all of these scenes — whether inside or on the restaurant patio — had backdrops like beautiful lush vineyards, blooming rose bushes, and a sunset that sent sprays of pink across the sky.
Stay Here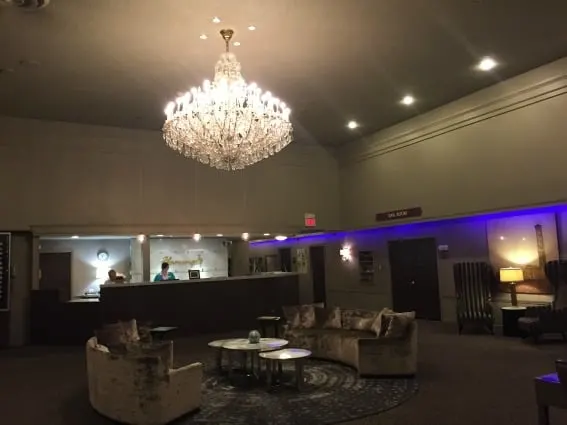 Photo by Kristine Dworkin
Opened in the 1950's, the Flamingo Conference Resort & Spa was a favorite weekend escape for Hollywood celebrities like Jayne Mansfield. The touches of Hollywood glamour are still present on the sprawling manicured grounds; it is now a great headquarters for families looking to savor the Sonoma Wine Country. The hotel has several "family suites," standard rooms where extra space in the architecture has been maximized to include sleeping space for kids. In our room, that space was a narrow adjoining room that fit two twin beds in it positioned end-to-end. Our kids found this area to be pretty cool and dubbed it, "The Secret Room," like one you would find behind a secret panel, although it was behind a standard door. The huge hotel pool also got big thumbs up from them as well as the collection Peanuts Gang statues scattered throughout the buildings. The kids loved trying to find all of them.
Disclosure: My family was hosted by Visit Santa Rosa during our Sonoma Wine Country adventure. We greatly appreciated the hospitality but all opinions are my own.