A few remaining groves of old California redwoods stretch like a ribbon along the northern coast of California where the giant trees have been growing for over 1,000 years. Redwood National and State Parks work together to protect these natives for all to enjoy. Up at the very top of California, just miles from Oregon, lies Jedediah Smith Redwoods State Park. Located along the wide Smith River are groves of some of the oldest growth of redwoods, saved from the search for lumber to build homes for the growing population. Here is a guide for exploring this wonderful California treasure with kids.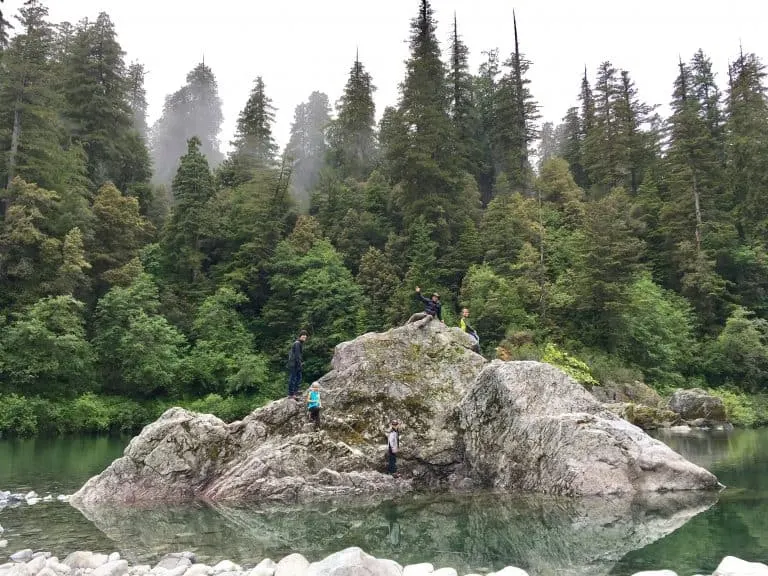 Exploring Jedediah Smith Redwoods State Park with Kids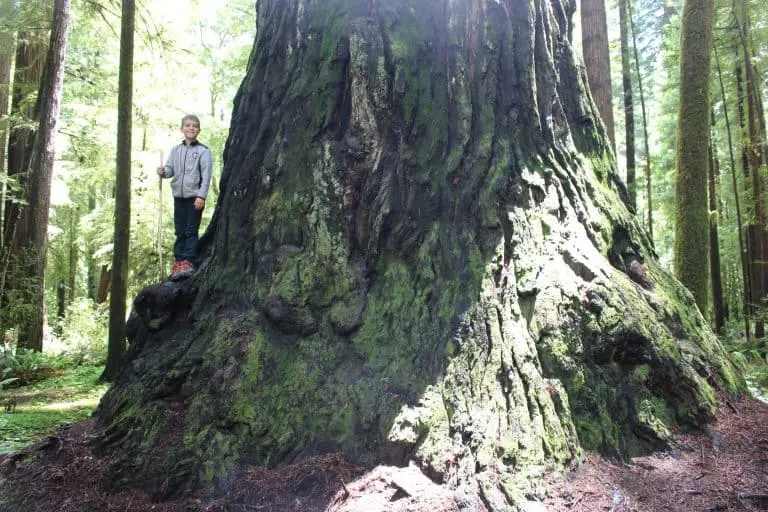 I was born and raised in California but had never visited the redwoods of the coast until this last summer. Even though I had read about them, seen many beautiful photographs, and had seen real redwoods in California, none of that actually compared to walking through the quiet forest and spending time soaking in their shade. Their immense size can only be appreciated in person.
Explore more of the Golden State. Here are the best things to do in California with kids.
What To See in the California Redwoods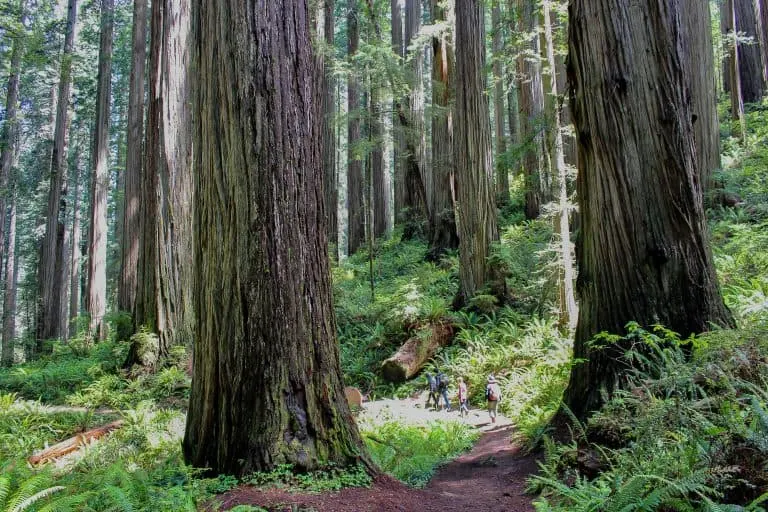 When raindrops fall in Jedediah Smith Redwoods State Park it is a dramatic event. I didn't realize how unique it would be until we stood under the towering giants and looked up to see collected water droplets falling from 300 feet up above. Each drop collects more water as it rolls off of the tips of the needles and my kids found out it makes a really fun game to look up into the green canopy and try to catch these large drops in their open mouths. The best part as a mom was watching them run around like weirdos with their mouths gaping open, bumping into each other, like the ultimate game of "toss-the-popcorn-in-your-mouth."
Hiking through the California Redwoods is the best way to see the trees and appreciate them. While exploring the Jedediah Smith area with kids, taking a family hike through the Stout Grove in the Northern section should be a priority. The 1-mile loop is fairly accessible (although it might not be for wheelchairs) with a short descent and then a fairly level path. Nearby is a longer, out and back hike on the Boy Scout Tree Trail that is great for elementary and older kids. Look for nursery trees – fallen redwoods that play host to new trees, plants, and ferns. Keep eyes peeled for the clovers that love the shade and will droop their leaves in the sunlight. We all squealed with every slimy banana slug that we spotted (they honestly creeped some of us out). We didn't let the daily and near-constant rain of June stop us. We bundled up, took our umbrellas, and hiked through the trees, appreciating that all that rain is what makes them grow!
Redwood National Park is large and spread out along the coast. Here are other great hikes in areas south of Jedediah Smith: Redwood Hikes for kids on California's North Coast
Where to Stay to visit the Redwoods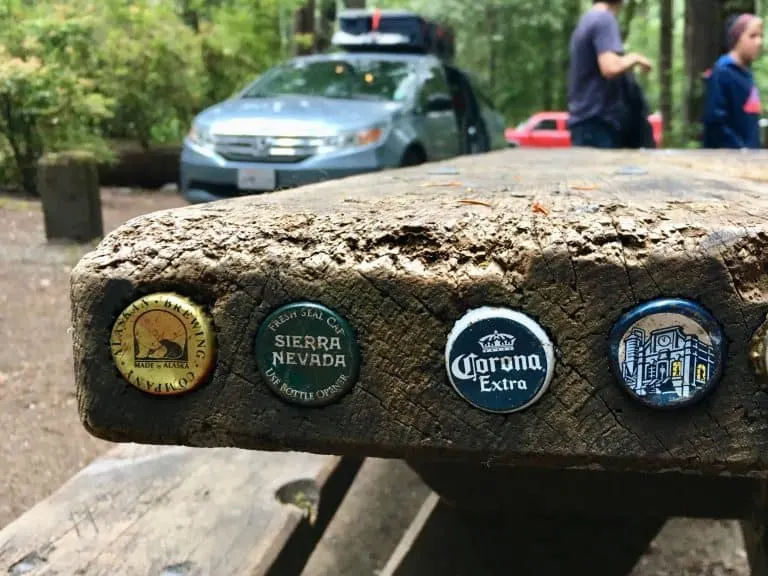 Jedediah Smith Redwoods State Park is the most northern section of California Redwoods and is a fantastic collection of some of the oldest growth of giants. A campground right on the banks of the Smith River is a popular spot for families. Book a campsite or reserve a cabin and enjoy campfire programs, clean restrooms with showers, and a small wildlife center.
The nearby town of Crescent City is a great place to find family-friendly hotels, restaurants, and a good Walmart for any normal family needs (we had to pick up some umbrellas and were so thankful to get them for $5!)
There are many campgrounds and places to stay throughout Redwood National Park with kids. Here are a few great campgrounds throughout the area: Family Friendly Campgrounds on the California / Oregon Border
What else is there to do in the Redwoods
You may be tempted, as were my kids, to think, "once you've seen a Redwood, you've seen them all. Now what?" We faced this issue during the 5 days we stayed at Jedediah Smith and it actually is a good question. There are plenty of hikes to take all through the redwoods, but it is true that they start looking the same, and their size, although impressive, doesn't sustain it's "impressiveness" for kids. Here are some other fun activities to do while visiting Redwood National Park.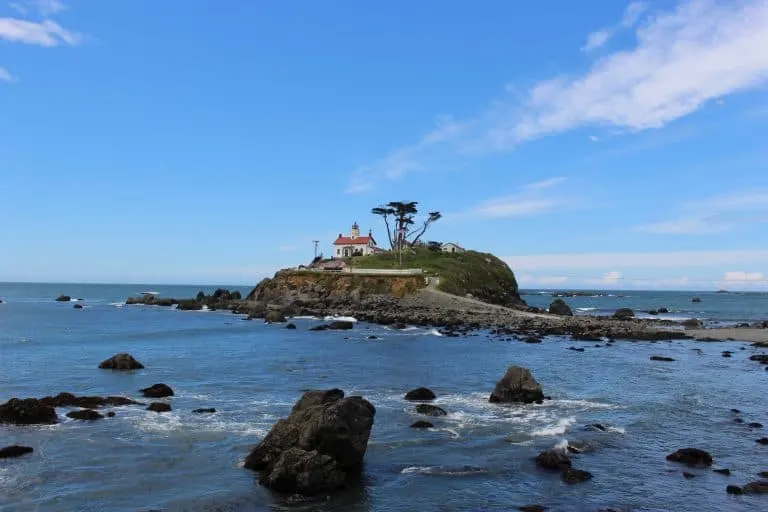 Cross the ocean to a lighthouse – The Battery Point Lighthouse is only reachable at low tide when visitors can cross the rocks to tour this working lighthouse. When the tides rush in, water blocks access to this historic working home.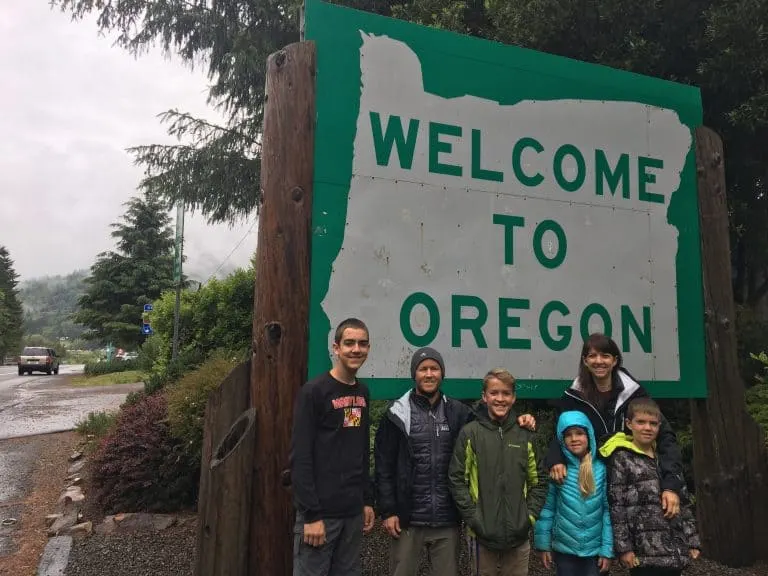 Drive to a new state – the prospect of crossing a state line is somehow an exciting event for my California kids that rarely leave their state, so when Oregon is just a few miles away, it makes for a fun destination! There are some beautiful beaches and cities to explore not far over the border.
Float down a river – the Smith River is one of the many beautiful rivers offering fun recreation for families. Fish, kayak, swim and toss rocks into this flowing body of water.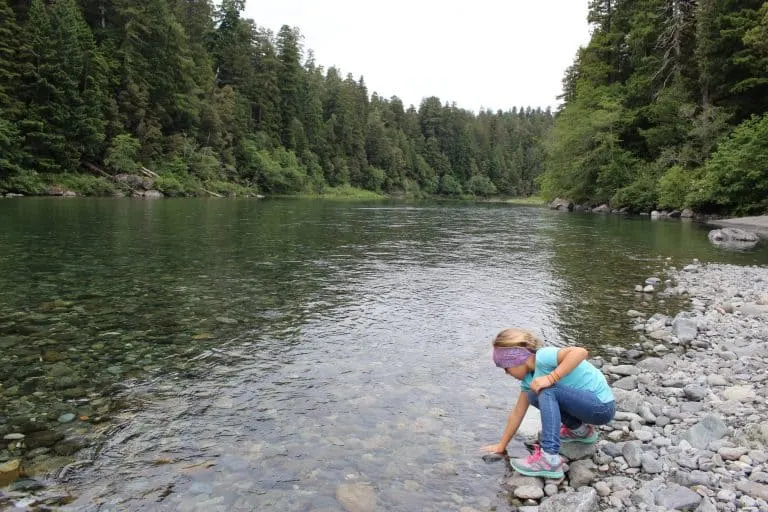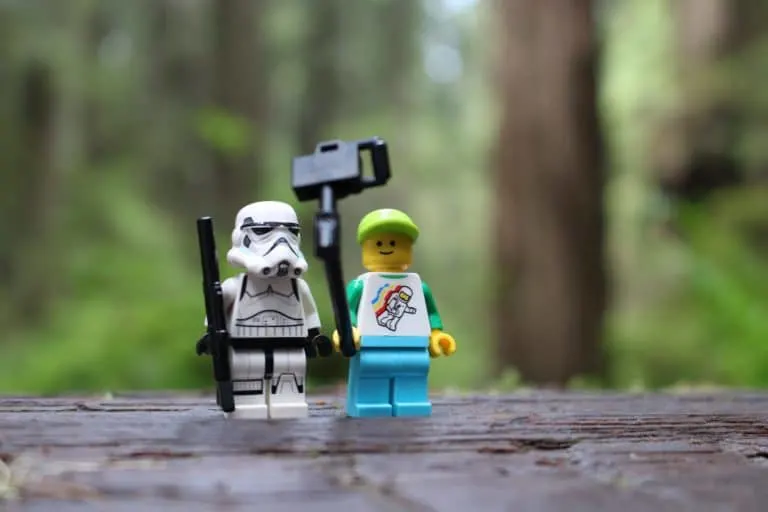 Reenact some favorite movies – Teenagers may be intrigued by searching out the locations for the filming of Star Wars and Jurassic Park in the groves of redwoods. Somewhere near Jedediah Smith (on some private property), speeder bikes flew through the trees and cuddly Ewoks built their homes high on the tree trunks. Take a hike through Fern Canyon to see the 30-foot high tall canyon walls covered with ferns which were the backdrop for Jurassic Park – Lost World. Start at Prairie Creek Redwoods State Park.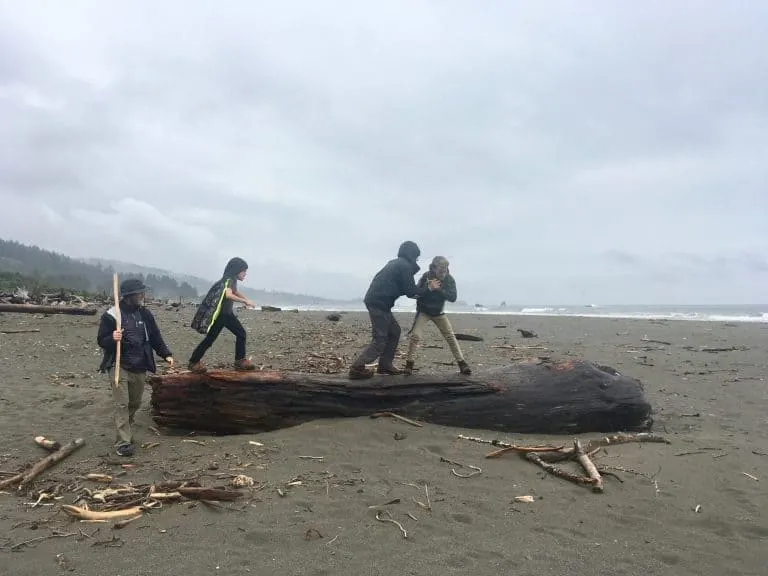 Play at the beach – There are many stretches of sand and waves to spend a day exploring. Bring a kite to fly in the brisk wind and search for driftwood to build makeshift teepees.
Visiting the Redwoods south of Jedediah Smith? Check these out! 5 Must Sees for Families on California's Redwood Coast
Explore more great national park adventures!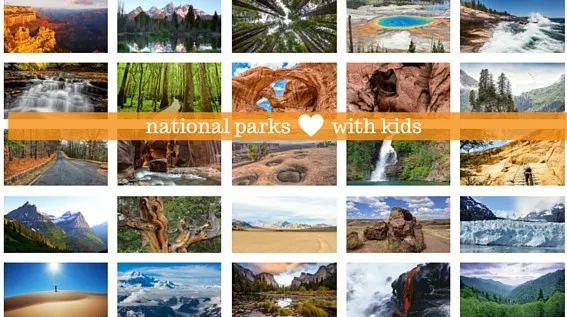 Ready to explore national parks with your family? Our guide to America's National Parks is the best resource to get started.
All images by Michelle McCoy