Arizona ghost towns tell the stories of the state's past. An estimated 100,000 mines hide among the towering cactus and dusty roads of Arizona. These mines produced rich minerals, causing small town populations to increase quickly, then fade away as mining operations wrapped up. The buildings they abandoned fell into disrepair, leaving over 200 ghost towns in Arizona.
Some of these Arizona ghost towns survived due to restoration efforts. They are historic treasures you won't want to miss. Explore the best ghost towns in Arizona to learn about the lifestyles and history of this state's Wild West past.
The 10 Best Arizona Ghost Towns You Need to Visit
Fairbanks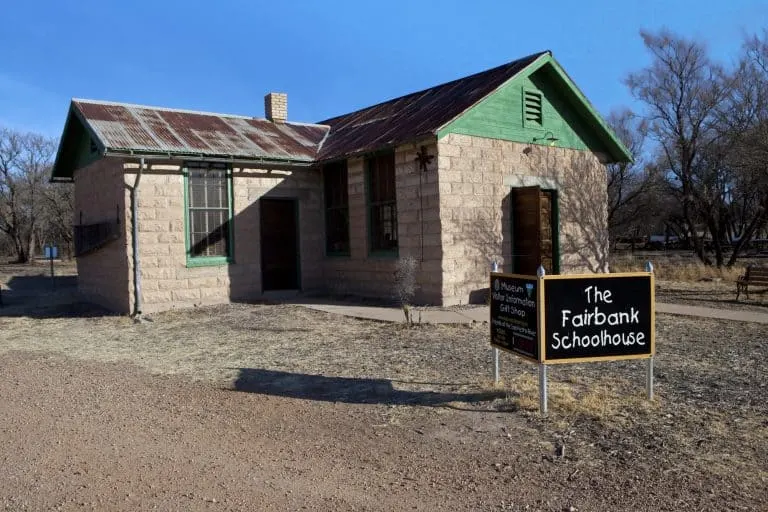 Take a self-guided tour through the once thriving town of Fairbanks. The only building currently safe to enter is the restored 1920 school house. Inside, families enjoy displays of the history of Fairbanks.
After passing by the crumbling buildings, visit the historic cemetery. Humble graves reside on the mesa overlooking the San Pedro Riparian National Conservation Area. Consider taking a hike up to the old mill. The 3-mile trek provides beautiful scenery and Old West adventure.
Chloride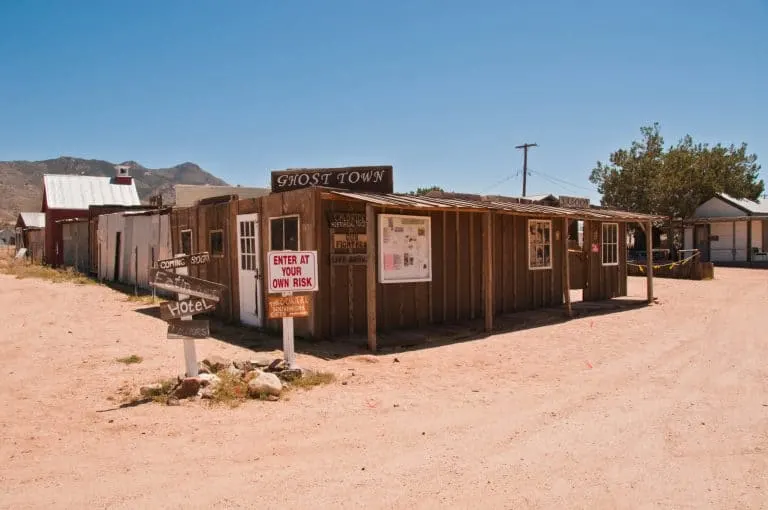 This living ghost town houses Arizona's oldest continually operating post office as well as one of Arizona's oldest cemeteries. Chloride was founded in 1862 when a deposit of silver ore was discovered. At its peak, over 75 mines operated here.
Today, only a few mines remain, but the historical society preserves buildings from the past. Stroll past the Old Jail and the Playhouse, then peak into some shops to find a unique treasure.
Afterward, drive around town to see the old houses, each with its own unique flair. Did you know, one of Chloride's charms lies in the hills behind the town? The boulders display an interesting mural created by artist Roy Purcell in 1966.
Jerome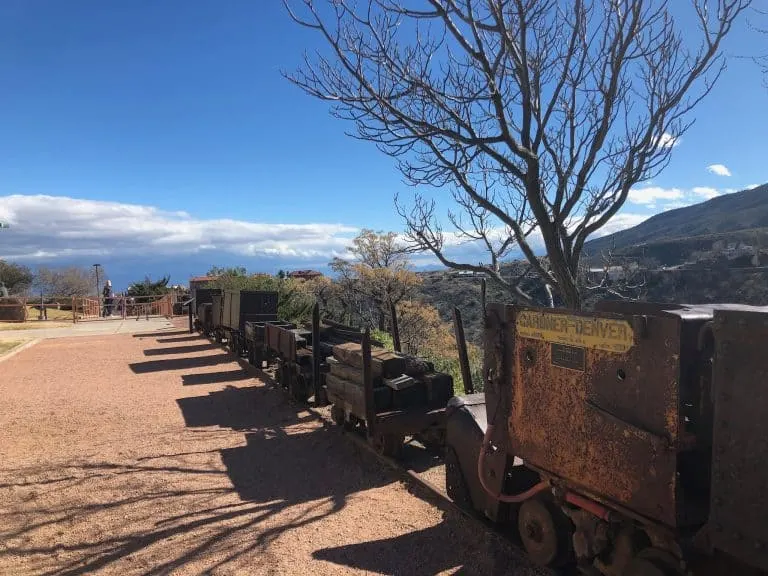 In the 1920's, the bustling mining town of Jerome peaked at a population of 15,000 which quickly dwindled after the depression hit. Fires and rebuilding changed the look of the town over the years. It recently transformed into a thriving artistic and tourist community.
Start at Jerome State Historic Park to get an overview of the area and its history. Then head down the hill to Audrey Headframe Park to peer down the 1918 mine shaft.
Next, see some cars and buildings from Jerome's hay day at Gold King Mine and Ghost Town. Then wander around town to see ruins between restored buildings and new artisan shops. Want to do more? Here are all the best things to do in Jerome with kids.
Jerome is an easy day trip from Flagstaff. Read this article to discover Things to do in Flagstaff with Kids.
Goldfield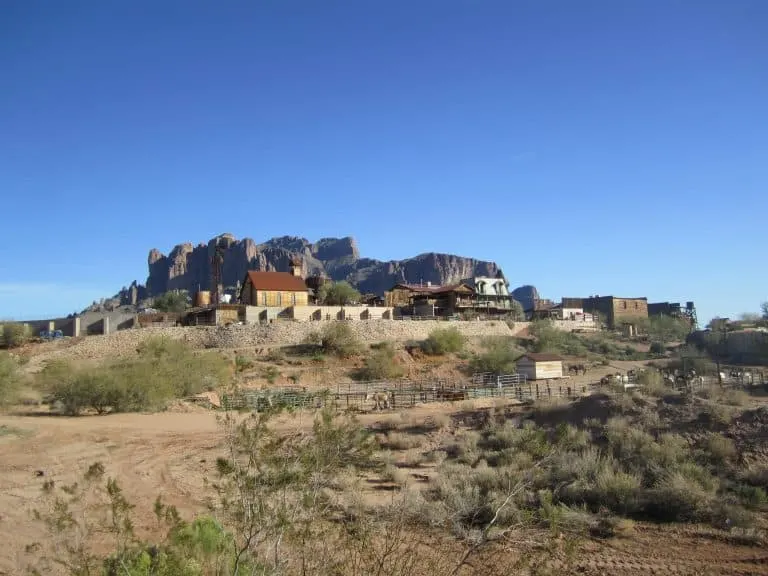 This twice over ghost town boomed once in the late 1800s and again in the early 1900s for just five years. In the 1980's, some buildings and the mine tunnel were reconstructed on the original foundations for a tourist attraction.
Although this Arizona ghost town has been called a tourist trap, it offers lots of history as well.
Start with a ride on the Superstition Narrow Gauge Railroad to hear the history of Goldfield and the Superstition Mountains. Then take a tour of the underground mine tunnel to learn about the life of a miner. Finally, head to LuLu's Bordello to learn the role of women in the 1800's. Stick around for ziplines, general store, and weekends gunfights.
Goldfield is close to the thriving community of Mesa. Here are our favorite things to do in Mesa, AZ with kids.
Oatman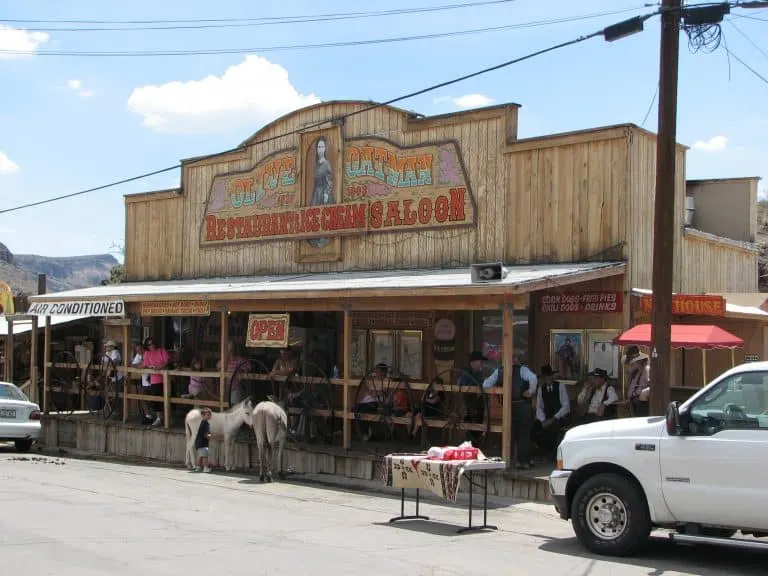 Wild Burros roam the street waiting to be fed by tourists in Oatman. These friendly fellows descend from the pack animals used by early prospectors in the area. Most shops sell feed and carrots as well as Route 66 souvenirs and handmade goods.
In 1915, a couple of miners uncovered a rich vein of gold which caused the town to boom for a few years. Then, a fire in 1921 burned down most of the original buildings.
Visitors can still see the two-story adobe Oatman Hotel, built in 1902. On weekends, witness staged wild west shootouts from the wooden sidewalks lining the streets.
Explore the diverse lands of Arizona and check out our Top 10 Things To Do in Arizona.
Tombstone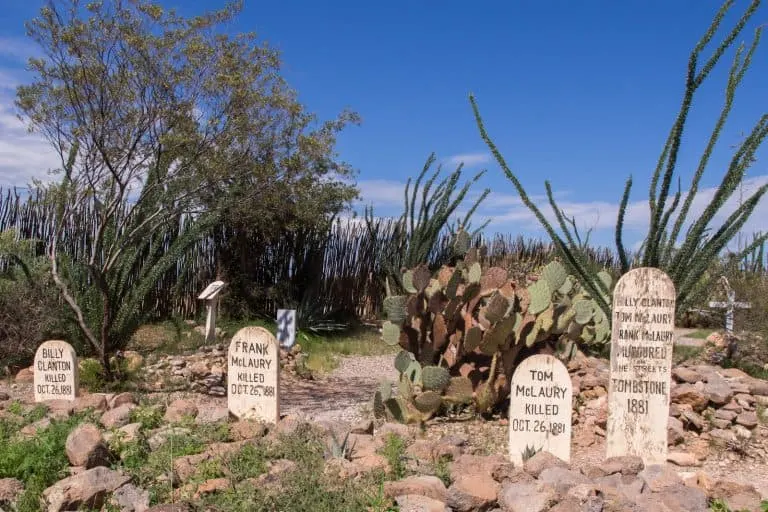 No Arizona ghost town draws tourists like Tombstone, the town too tough to die. The dusty streets invoke images of gunfights and old western movies. First, take a stagecoach tour to hear an overview of the history of the city. Then, head to the O.K. Corral to experience a reenactment of the infamous gunfight between Wyatt Earp and Doc Holliday.
Did you know, the Tombstone Courthouse is now a state park and museum where antiques and artifacts from the past are displayed? Explore here, then take a tour of the bullet-ridden Bird Cage Theater or grab a bite to eat at Big Nose Kate's.
Make sure to stop by Boothill cemetery to read the restored headstone inscriptions before heading out for the day.
Check for deals on family-friendly hotels in Arizona. As a Booking.com affiliate Trekaroo is thrilled to offer its readers the lowest rates.
Vulture City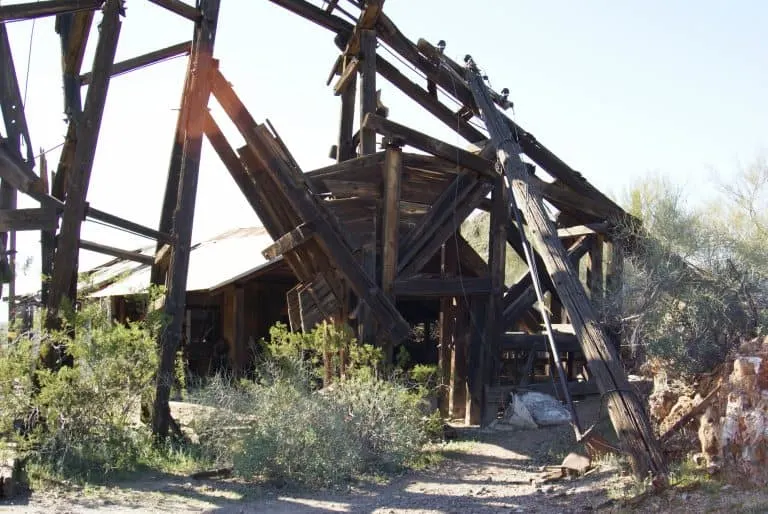 The recently restored ghost town of Vulture City was once home to the largest producing gold mine in Arizona, as well as plenty of violence and infamy. Legend says that 18 men hung to death on the 300-year-old ironwood tree beside founder Henry Wickenburg's cabin. Their crimes ranged from theft to murder.
A tour of the town leads visitors through the Assay Office, Cookhouse, Brothel, and more restored buildings. Additionally, artifacts left behind by miners and residents past help to show what life was like in a booming Vulture City. Stop by on a weekend (excluding summers) for a guided tour.
Wickenburg is just an hour northwest of Phoenix! Discover our Top 10 Things to do in Phoenix with kids
Bisbee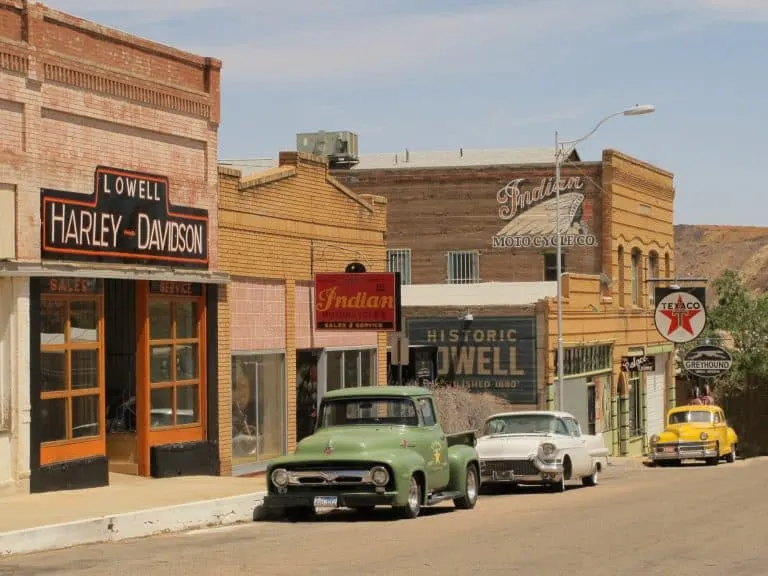 Bisbee was once world renowned for its wealth of Copper and mining operations which continued here until the 1970s. When the miners left, creative individuals moved in to make the area a haven for art, architecture, music, and history.
Begin your time here with a visit to the Bisbee Mining & Historical Museum. It is housed in the old Copper Queen Consolidated Mining Company headquarters and gives families a history of the area. Take time to explore and enjoy the charm of the town.
The main attraction is the Queen Mine Tour. Tour the mine to discover techniques, dangers, and lifestyles of miners from the late 1800's.
Stopping in Tucson on your way? Read our guide of the Top Things to do in Tucson with Kids.
Castle Dome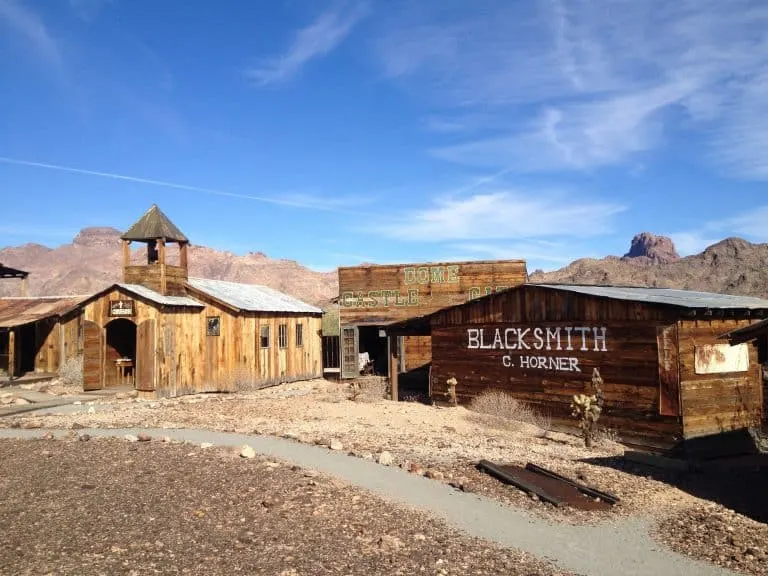 Explore over 50 buildings restored to look as they did when Castle Dome was booming in 1878. A self-guided tour of this Arizona ghost town leads families through stories of the past.
Some of the buildings even have mannequins reenacting those stories. Other buildings contain interactive elements like costumes to try on or desks to sit at.
After exploring the town, meander down the trail past the abandoned mine tunnels. Here you'll discover the graveyard, bunkhouse, and debris left by miners. Before you leave, stop by the second floor of the doctor's office for a great view of the area.
Check out our article Things To Do in Yuma, Arizona to find more fun in the area.
Ruby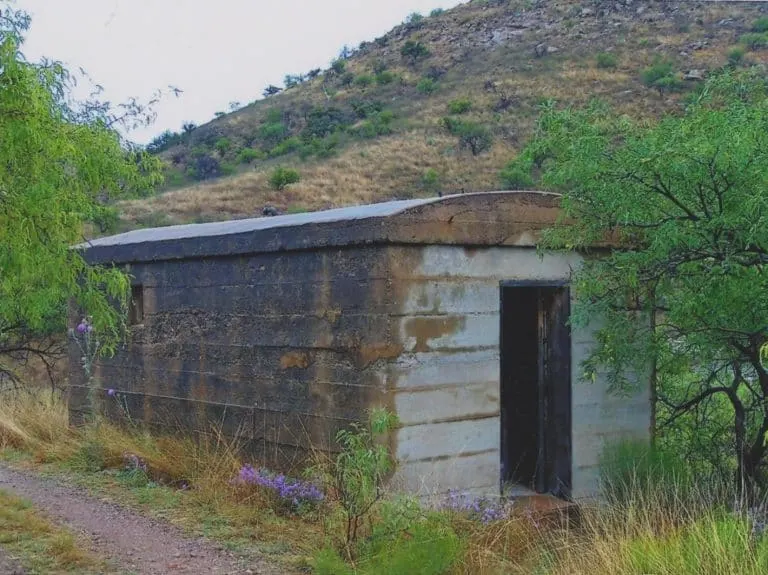 Ruby is one of the best-preserved ghost towns in the state. You won't find tourist shops and souvenirs here. Only remnants of a once bustling mining town remain.
After traveling on a partially paved road, you'll arrive at Ruby, just four miles from the Mexican border. Check in with the caretaker before wandering past adobe and wood-framed houses in various stages of disrepair.
If visiting between May and September, watch the skies around dawn and dusk. For 10 minutes, Mexican freetail bats blanket the skies as they leave and return to their home in the old mine shaft.
There is no gas, water, or cell coverage and only well-maintained outhouses, so be sure to bring everything you will need. Consider enjoying a picnic beside Town Lake. Or take some time to fish or even swim here, depending on the season. Please note: Ruby is only open Thursday through Sunday.