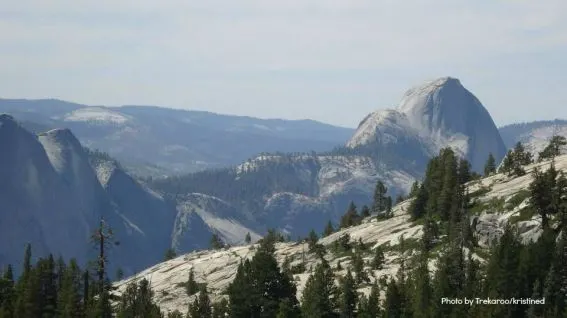 Geological wonder, rustic wilderness, wide open plains, and varied topographies, that's just the beginning of what's awaiting your family in California's Eastern Sierras. Native Americans flourished here in the shadow of the majestic mountain range, and in the wake of discovering gold, rough and tumble outposts took root on its landscapes filling it with settlers hoping to strike it rich. Telltale signs of these histories still exist today as do many of the still tiny towns waiting for a curious and adventurous family to come explore them.
Bridgeport's Small Town Charm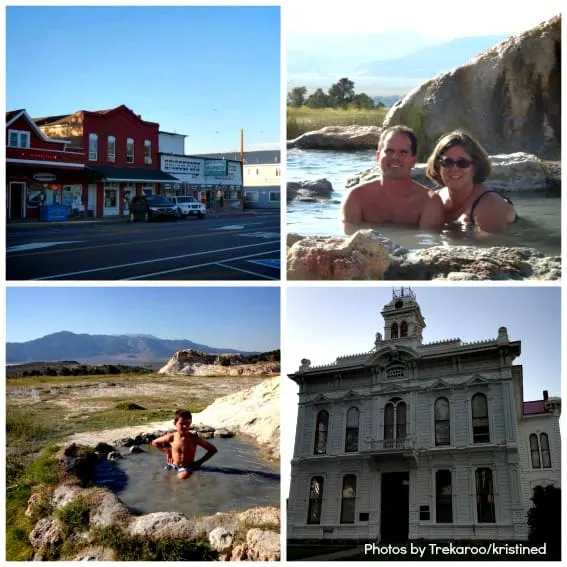 Once known as Big Meadows (which will make great sense to you when you see the vast colorful meadows surrounding the place), visitors flock to Bridgeport to fish in its trout streams and lakes. My family stopped by to sit in its natural hot springs. While there are several in the area, we choose Travertine Hot Springs. Located on California State Park land just south of town, it is one of the easiest springs to get to and it didn't hurt that it was mere minutes from our night's lodging either. Its natural scalding water flows down rock formations where it collects in pools which bring the temperature down to a comfortable level. Once we settled into the water, we enjoyed stunning views of the Sierras while we soaked.
Bridgeport itself is a quaint little town. Comprised of one main street (with no traffic light), it's impossible to miss the local courthouse, built in the 1880's, as well as the tidy homes and quaint, small businesses. To me it was reminiscent of a bygone era; to my 9-year-old son it looked like Radiator Springs from the Pixar movie Cars (minus the arid desert).
Time to Explore a Ghost Town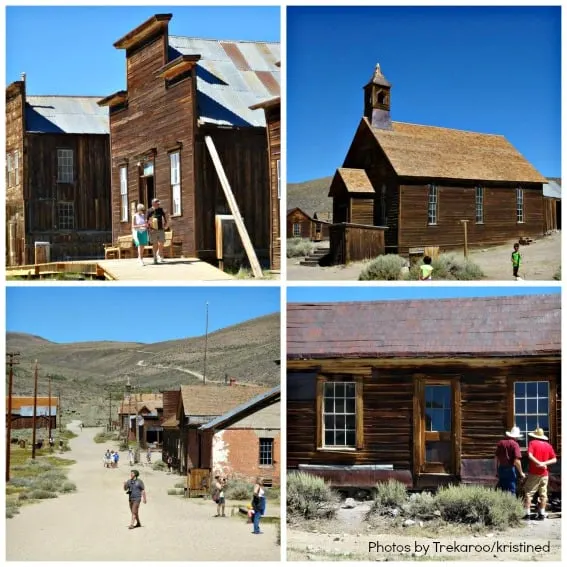 Bodie State Historical Park is a California gold mining era ghost town where visitors wander its abandoned streets peering in windows and peeking in exterior building cracks at remnants of the town's seedy past. At its boom, the population was about 10,000 strong; this growth was sparked by the huge gold strike known as the Comstock Lode. Only about five percent remains of what was once a seemingly lawless town. Maintained in a state of "arrested decay," much of Bodie has been left as it was — in some areas it's as if the residents left moments ago with cups left on tables, a wheel barrow dumped over in a yard, a tricycle parked on the porch, while in other parts of town the history is feels further away and more haunting.
My kids enjoyed imagining the street life that played out in the town's heyday when 65 saloons did business with miners and fights were frequent. Fortunately my children's imaginations dredge up visions of Michael J. Fox's character trying to escape the Wild West in Back to the Future 3 and not the mayhem that actually occurred.
Onward to Mono Lake
Estimated to be over a million years old, this beautiful body of water is thought to be one of the oldest lakes in North America. But that's not the only unique point about Mono Lake. Tufas, calcium-carbonate pillars and knobs of varying heights and sizes, protrude the lake's surface and stand guard around its shoreline. They're formed by the interaction of freshwater springs and alkaline lake water. All originally took shape under the water's surface but as the lake has evaporated in recent decades, groves of Tufa Towers have become visible on what was once part of the lake's bottom. They now make for a fascinating and easy family hike that will have your kids pretending they've landed on some sort of crazy moonscape.
One of the largest collections is the South Tufa area. Located along Highway 395, 13 miles east of Yosemite National Park near the tiny town of Lee Vining, it will take about 20 minutes to walk to the area and back to the reserve's parking lot. While swimming in the lake is allowed, keep in mind that the water is two to three times saltier than the ocean.
High Flying Adventure at Mammoth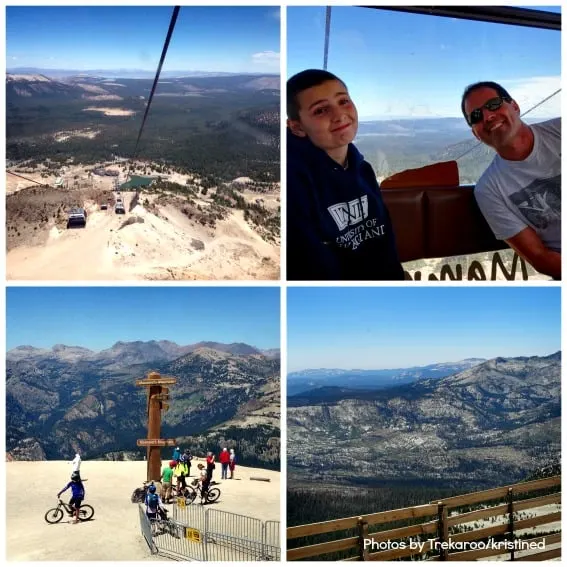 No visit to Mammoth would be complete without a ride in the mountain resort's scenic gondola. Ascending more than 11,000 feet, traversing through some pretty spectacular landscape, one of the most stunning 360⁰ views in the state awaits at the top. Many gondola riders loaded mountain bikes into the little cars with the intention of riding them down one of Mammoth's trails, a prospect that led to a split vote in my family as to whether that was such a good idea. The mountain trails looked hair-raising steep and massive to half my crew, and like an incredibly adventurous amusement to the rest. All of us were in agreement though that Tahoe looks really tame in comparison.
At the top, we checked out the Explore Mammoth Interpretative Center. Hands-on activities and other learning opportunities in the center help visitors understand the geologic history and human impact on Mammoth Mountain, including a collection of small telescopes which were labeled and positioned to get a closer look at the seemingly endless collection of peaks around us. There were also stations where it was possible to learn more about animals living in the area, native people, and snowfall. Two well-informed and passionate docents also made themselves available to field questions.
Topping the Gondola ride is not easy, but Adventure Center located at the Main Lodge, is sure to help your kids work out any energy they could have left in them after such a high altitude adventure. My kids tackled climbing walls, while others hollered their way across a zip line and bounced on a Bungee trampoline. There's also a bike park practice loop where they can get an early start on working their way to those daring pathways higher up the mountain.
Driving through Yosemite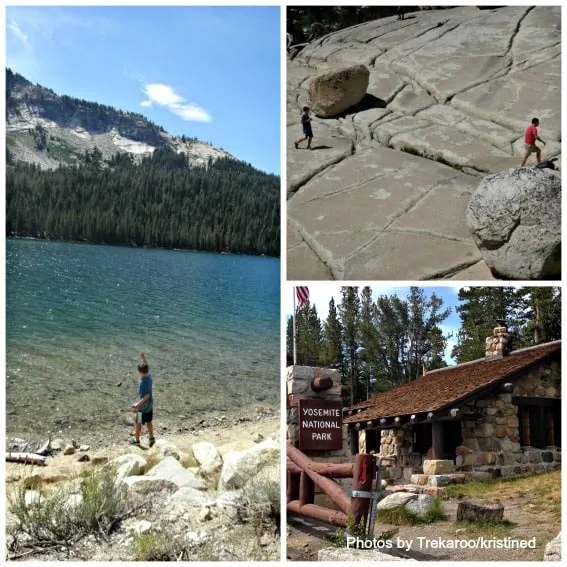 Rather than winding our way back over Highway 395, we decided to shell out the $20 fee to enter Yosemite National Park. It was immediately worth the price of admission. The granite splendor beside Highway 120 had climbers positioned on its face and the sparkling waters of Tenaya Lake beckoned to my son to come skip rocks across it surface. Tuolumne Meadows' colorful carpet could also clearly be seen. But the sight that really left us in awe was Half Dome. The sweeping panoramic views are best seen from Olmsted Point where visitors can get a great look at the northern side of the massive dome. We also saw some portions of the park that had been scarred by fire in recent years. This sight led to some great conversations in the car about the environment and our impact on nature.
Where to stay
Located on the southern edge of Bridgeport, the Walker River Lodge has many guests who are in route to Bodie. The pool is as inviting as the lodge staff and the continental breakfast included in your stay will fuel you up nicely for a day of exploring.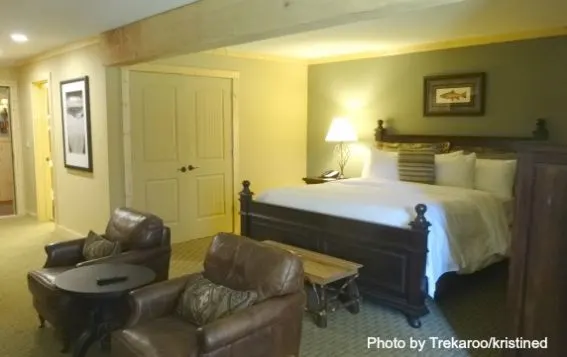 From a mini golf course on the premises to the kids' Cub Club, the Sierra Nevada Resort boasts a very impressive list of family friendly amenities. There are also lawn games, a playground, comfy lodge room where we saw many guests hanging out together, three restaurants, and so much more await guests!
Read reviews of kid-friendly lodging in the Eastern Sierras on Trekaroo.
Where to Eat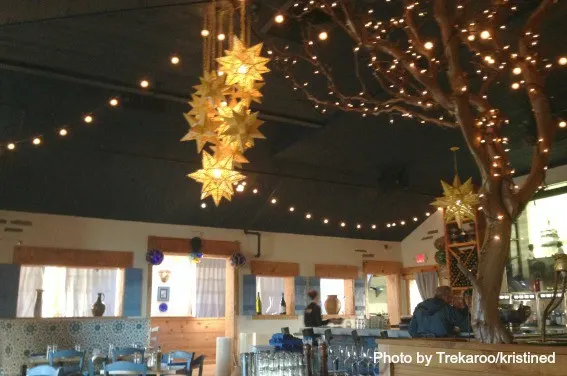 Dining experiences in the Eastern Sierras are as unique as the area itself. The Woah Nellie Deli while chaotic and crowded provided us with the most upscale and yummy meal you will ever have in a gas mart. Excuse me, but when was the last time you purchased Lobster Taquitos at a Mobil? I will go Greek at any meal but when served at Jimmy's Taverna, the family got to enjoy delicious food in style! This is the only Greek restaurant we've visited where the establishment's dip sampler didn't run out before the Pita bread served with it! One of the three restaurants on the grounds of the Sierra Nevada Resort, the food at Rafters is fantastic and the atmosphere is fun! If you happen to be around during Bingo Night, you are in for a boisterous competition.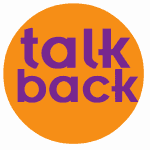 We'd love to hear from you. Are the Eastern Sierras on your bucket list? Does your family prefer the thrill of mountain adventures or the lure of a peaceful lakeside afternoon?
Disclosure: Thank you to the Sierra Nevada Resort and Explore Mammoth for hosting my family. Although we received complimentary lodging and activities to facilitate this article, my opinions are my own and not influenced by staff or its affiliates.