While the beaches in Texas will do just fine most summers, sometimes you may want to truck-it east on I-10 to reach the glorious, white sandy beaches of the Alabama Coast or the Florida Panhandle. Thankfully, a Texas to Florida road trip can be quite fun!
If that time is now, you're in luck because we've already scoped out all the best stops along the entire route from Texas to Florida! You're looking at about 12-15 hours of drive time, so keep it fun and break it up with great stops along the way. The journey becomes the destination. Well, almost. Check out all of the great places to explore on your next Texas to Florida road trip.
Texas to Florida Road Trip Itinerary
Texas to Florida
Road Trip Stop 1: Houston, Texas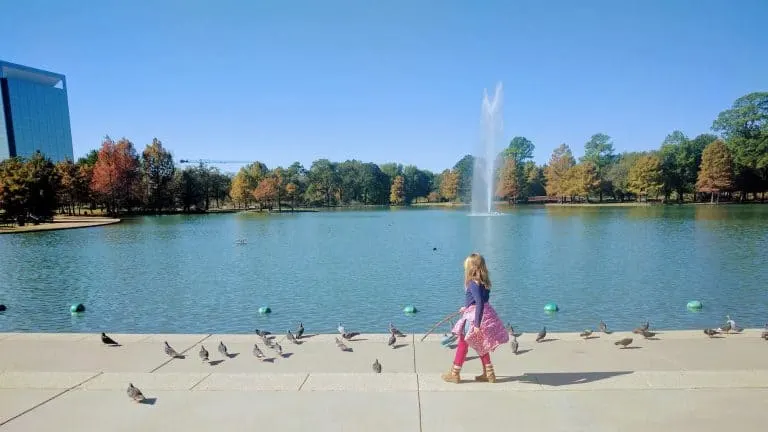 Houston is three hours to the east of Austin. Your back won't exactly be aching yet, but it would be a shame not to see a little something of Houston as you pass through. It really is more than interstate, we promise.
Here is Trekaroo's list of Top 10 Things for Families to Do in Houston. Pick your favorite for a fun afternoon, or take a few nights to fall in love with the city.
Texas to Florida Road Trip Stop 2: Lafayette, Louisiana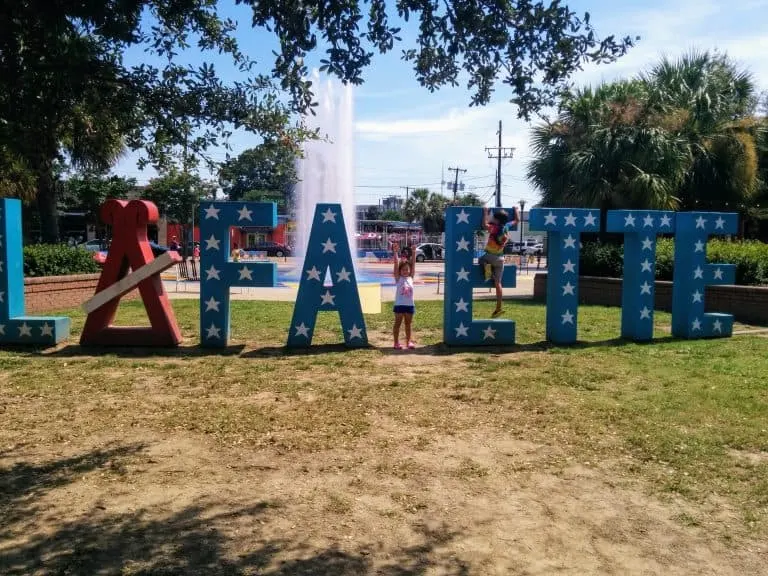 Lafayette is a funky little Cajun town with a lively food and music scene, about 3.5 hours east of Houston. It is a great place to stop on your Texas to Florida road trip.
For a quick stop, you'll want to hit Girard Park. It's in a beautiful neighborhood with wide open green space that includes creative play equipment for the kids, and a long jogging path.
Agave is the perfect downtown joint for a Mexican fueled lunch. For a longer escapade, try a swamp tour with Cajun Country Swamp Tours or visit the Vermilionville living history park.
Road Trip tip: Outlet malls make for a perfect pit stop. They usually offer a variety of food choices that are healthier than fast food, and they often have shaded walkways, a playground, and clean bathrooms.
Texas to Florida
Road Trip Stop 3: New Orleans, Louisiana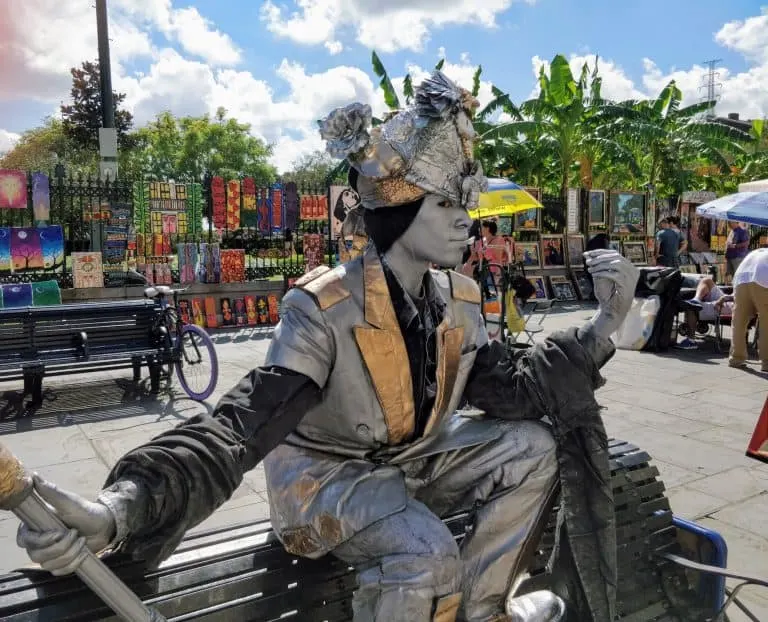 If you're willing to deviate from the route just a smidge (i.e. you aren't pressed for time, or gasp, a "Type A" road-tripper ), then head down to New Orleans!
C'mon, it's the Big Easy, the home of Louis Armstrong and Cafe du Monde. Those beignets melt in your mouth and you need a little street trumpet boogie to keep up morale. It only adds about half hour to your total drive time.
Obviously, New Orleans is one of a kind, and contrary to reputation, very kid friendly. Here is Trekaroo's list of Top 10 Things to Do in New Orleans with Kids.
Texas to Florida Road Trip Stop 4: The Infinity Science Center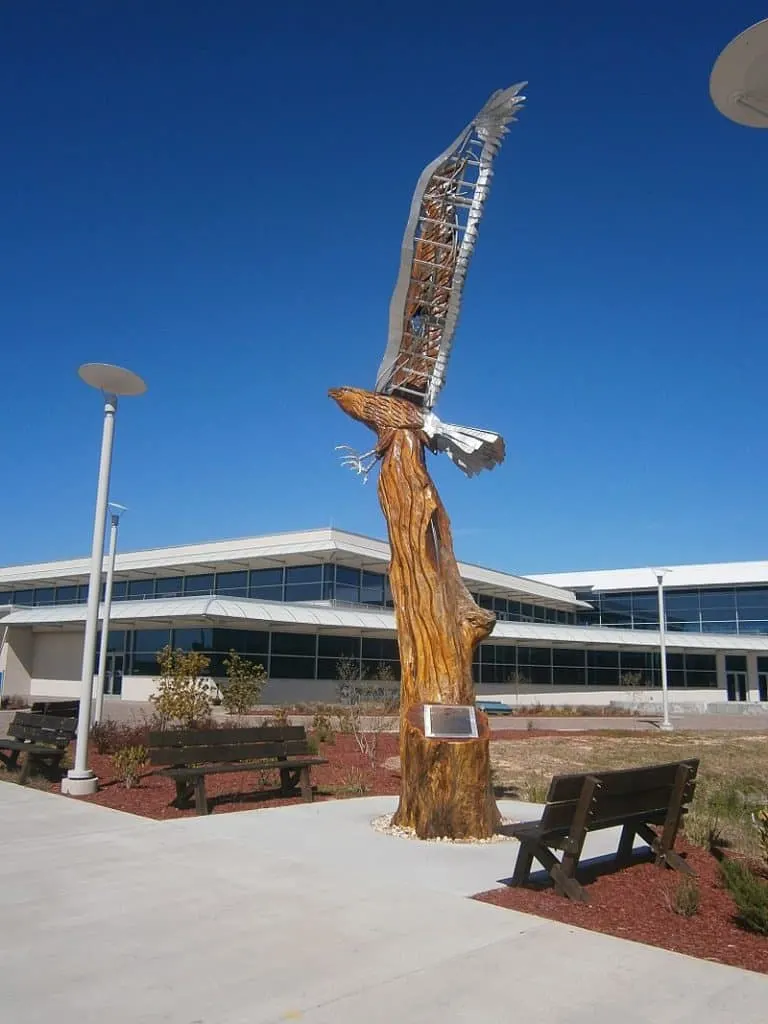 The Infinity Science Center is just another 45 minutes east, right over the Mississippi border from Louisiana. It is a large, state of the art facility and well worth a visit.
It's the official NASA visitor center for the Stennis Space Center so the content is heavily geared toward space and earth science. Don't miss the carnivorous plant gallery or the butterfly garden. There is a cafe, movie theater, and gift shop on site as well.
Texas to Florida Road Trip Stop 5: Ocean Springs, Mississippi
This is my favorite little town in all of Mississippi! It's another hour east, right on the Biloxi Bay. The small downtown has streets lined with art galleries, restaurants, and huge oak trees. You can stop in just long enough to ooh and aah at the gorgeous Southern homes that overlook the bay. Or grab a donut at Tato-Nut.
If you have a little longer, let the kids run around on the waterfront splash pad and playground. If you haven't soaked up enough southern charm in an afternoon, hang your hat at Front Beach Cottages. One word: adorable.
Learn more about visiting the Mississippi Gulf Coast.
Texas to Florida Road Trip Stop 6: Mobile, Alabama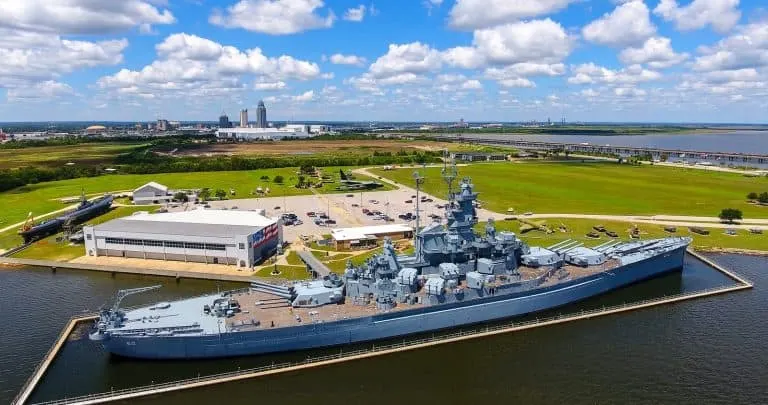 The USS Alabama Battleship Memorial Park is another hour east in Mobile, Alabama. This is a huge attraction where you can tour two battleships, and get up close and personal with multiple retired aircraft and tanks. It's the ultimate stop for every little boy obsessed with things that go vroom.
Texas to Florida Road Trip Stop 7: Gulf Shores and the Alabama Gulf Coast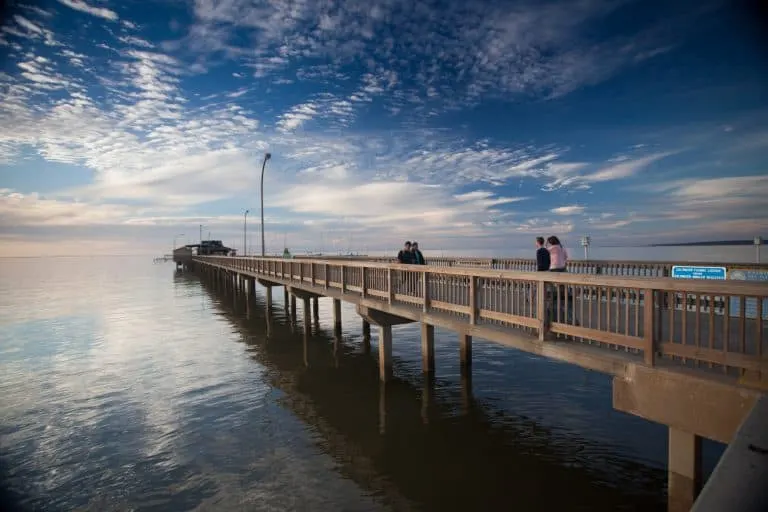 If massive battleships aren't your thing, the small town of Fairhope, Alabama is just around the bend on the other side of Mobile Bay. This is one of the most charming towns in the whole state.
If you skipped New Orleans and Ocean Springs, spend a couple of hours in Fairhope. It's kind of like the small town baby of the two.
Relaxed southern life on the bay, with a French Quarter to boot. Massive oaks, hidden courtyards, hot beignets, quirky bookstore…you get the idea.
The Park at OWA in nearby Foley, Alabama is a new amusement park with rides for kids of every age. With plenty of space to run around and multiple restaurants, it's the perfect stop for an afternoon of fun.
Itching to see the ocean yet? The beaches around Gulf Shores present the first opportunity on this route to set your toes in soft, white sand. In Alabama, you will notice the water color has shifted from the brown tones of Texas and Mississippi to blue-green tones.
Take it all in from anywhere along Alabama's Gulf Coast. Play for a few hours on the beaches of Gulf State Park, or stay for a few nights at The Beach Club by Spectrum Resorts.
Destin, Florida and 30A Beaches
Your Texas to Florida road trip is in the books! Two hours east of Fairhope, it's time to roll down the windows and breathe a slow, deep inhale. That's the salty fresh air of some of the best beaches in the country.
The 60 mile stretch of powdery white, sandy beach, known as the Emerald Coast, is book-ended by two big tourist hubs. Destin on the west, and Panama City Beach on the east. Those hubs are where you will find big resorts, cheesy souvenir shops, water parks, go-karts, and unique mini-golf courses.
If you don't fancy yourself the hardcore beach bum, you may want to stay closer to a hub for lots of entertainment options. There is no shortage of fun things to do in Destin (see our guide to Destin, Florida with Kids), but really the shining sea star is the beach.
Conversely, if you want to truly get away from it all, walk or ride your bike everywhere, and perhaps forego shoes for a week – you'll want to be on "30A" (somewhere between Grayton Beach and Rosemary Beach). All of these little towns are connected by a bike path and run together so that you can't necessarily tell where one ends and the next begins.
Each town has it's own personality. Rugged dunes in Grayton, food trucks around a family green in Seaside, and fancy restaurants in Rosemary Beach (the most upscale of the bunch).
Check out the best places to eat with kids in our guide to the Best Restaurants on 30A. In prime season, there is always a wait. Don't worry though, you'll adopt the slow Southern groove of the locals in no time.
Lead image by Bigstock/CherylCasey