Ready for a road trip that includes dramatic landscapes, fascinating history, and classic roadside attractions? This epic Arizona road trip takes explorers through eight Arizona state parks and nine national parks in just 10 days! Load up the snacks, the perfect playlist, and your sense of adventure, then hit the road.
This trip is fast paced, giving just a quick taste of each site. Feel free to add days, cut stops, or come back another time to the places you didn't get enough of. Arizona summers can be brutal and northern Arizona gets icy in the winter so the best time for an Arizona road trip is late fall or early spring.
As you plan your Arizona road trip, keep in mind lodging reservations, especially at destinations like the Grand Canyon can fill up quickly, so book well in advance or keep your eyes out for last minute cancellations.
10-Day Arizona Road Trip Itinerary
Arizona Road Trip Day 1: Phoenix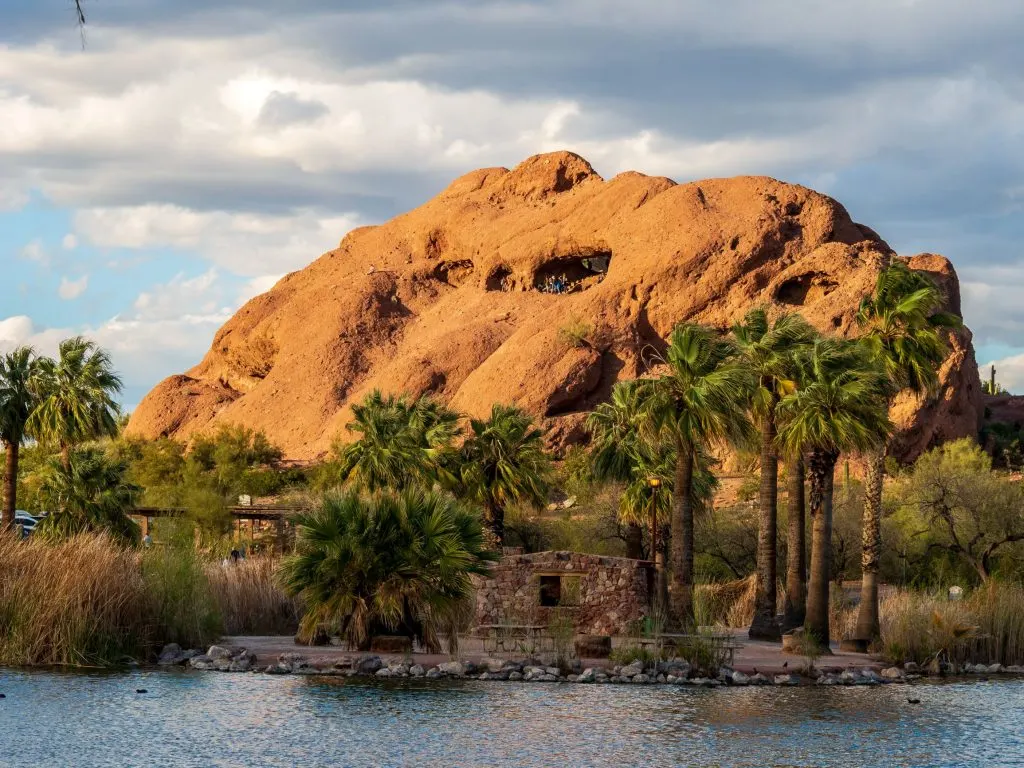 Phoenix makes a great starting point for your Arizona road trip. Phoenix's Sky Harbor Airport is a major hub for both American and Southwest Airlines, and is one of the busiest airports in the country, so flying into this airport is easy. From here you can rent a car and begin your Arizona road trip!
Before heading north, check out the Phoenix area's amazing attractions. With just a day, I recommend hiking the iconic Hole-in-the-Rock at Papago Park, wandering the grounds of the Desert Botanical Garden, and dining at one of the authentic Mexican restaurants in Phoenix.
If you have more time, check out the Top 10 Things to do in Phoenix with Kids.
Arizona Road Trip Day 2: Phoenix to Sedona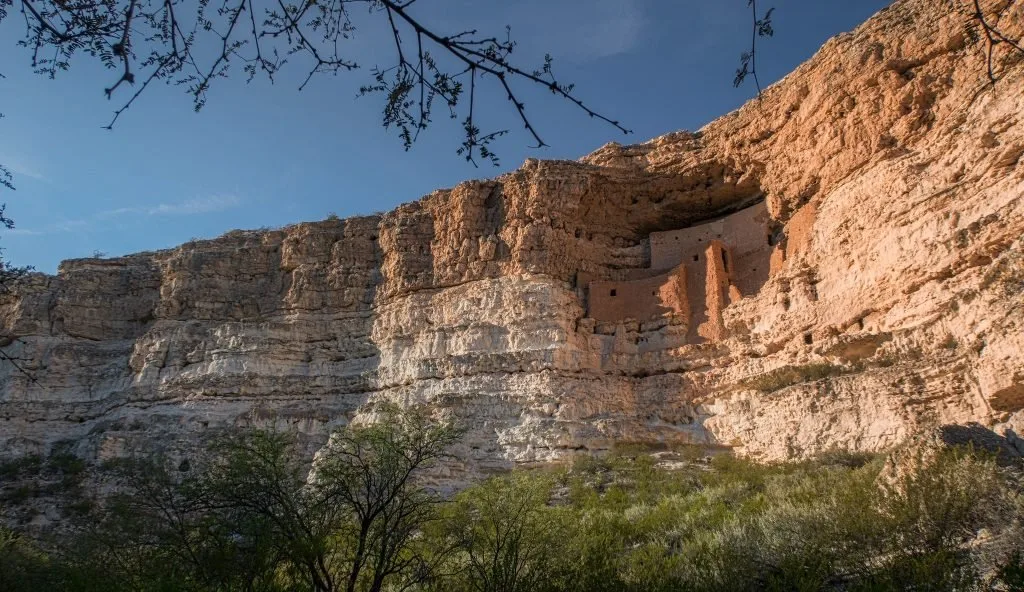 After exploring the city, head just an hour and a half north to Montezuma Castle National Monument. Here you'll find one of the best preserved cliff-dwellings in the United States. The walk to the ruins takes only a few minutes, and with time to explore the visitor center, plan for about 60-90 minutes.
Then continue on to the red rocks of Sedona. Spend the day hiking Bell Rock or taking a jeep tour through the rocky terrain. If you have time, visit nearby Oak Creek Canyon and Slide Rock State Park.
Find places to stay, and more ways to play with our article Things to do in Sedona with Kids.
Arizona Road Trip Day 3: Sedona to Flagstaff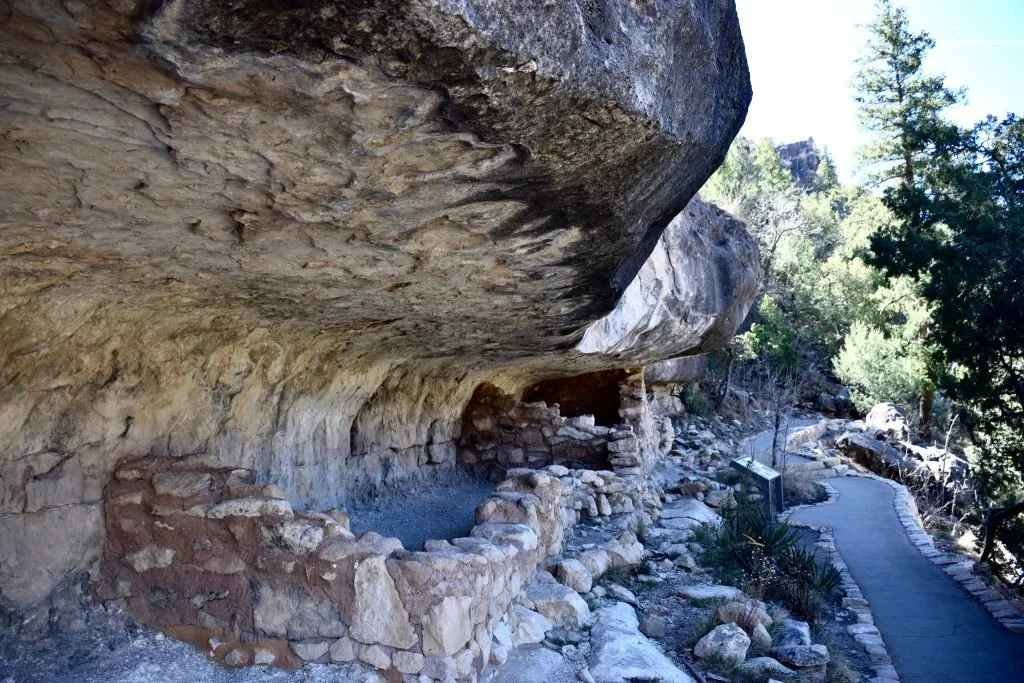 From Sedona, resume your Arizona road trip with a short drive to Flagstaff. Flagstaff may be only 30 minutes from Sedona, but the landscape changes drastically as red rock gives way to ponderosa pine forests.
Optional Itinerary: Another option would be to stay two nights in Sedona and visit Flagstaff as a day trip.
Three amazing national parks showcase the ancient history of the area. Sunset Crater Volcano National Monument lets visitors see how the local landscape was formed as they hike through the dormant volcano's lava beds.
Wupatki National Monument houses the prehistoric pueblos, while Walnut Canyon National Monument allows visitors to step inside 900-year-old cliff dwellings.
Plan about 90-120 minutes for each park. Sunset and Wupatki are connected by a scenic 34-mile loop, so plan to do those together. Between parks, consider visiting Riordan Mansion State Historic Park to experience more modern history.
Looking for something different to add to your itinerary? Here are 15 Fun Things to do in Flagstaff with Kids.
Arizona Road Trip Day 4: Flagstaff to Grand Canyon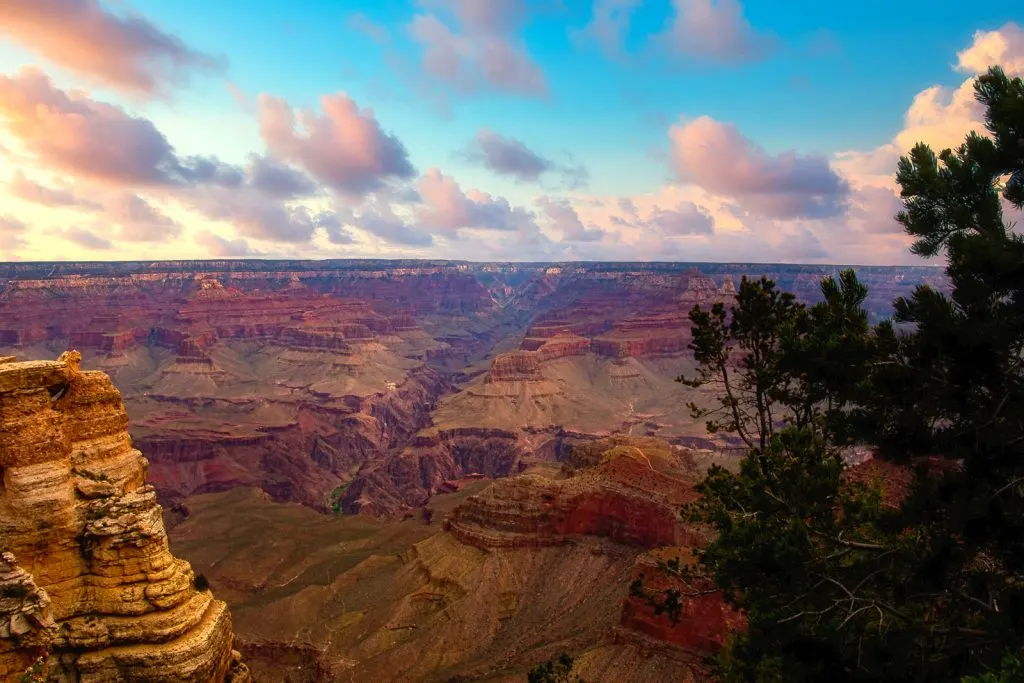 To avoid traffic entering the Grand Canyon National Park, leave Flagstaff no later than 7:30am. Arriving after 10 sometimes means waiting up to two hours at the entrance station!
Park near Grand Canyon Village and start with the view at Mather Point before stopping by the visitor center. Take the shuttle along the rim, stopping for short hikes along parts of the Bright Angel and South Kaibab Trail. And make sure to walk to Trail of Time to understand the geological and historical significance of the canyon.
Make the most of your day by reading our article, Things to do on the South Rim of the Grand Canyon.
Visitors who venture out after dark witness an epic night sky. The Grand Canyon's remote location makes it one of the best places in the world to see the stars.
Trekaroo Tip: Reservations to stay in Grand Canyon National Park fill fast. If you aren't lucky enough to score a room/campsite, continue to Page after sightseeing and plan to stay two nights.
Arizona Road Trip Day 5: Grand Canyon to Page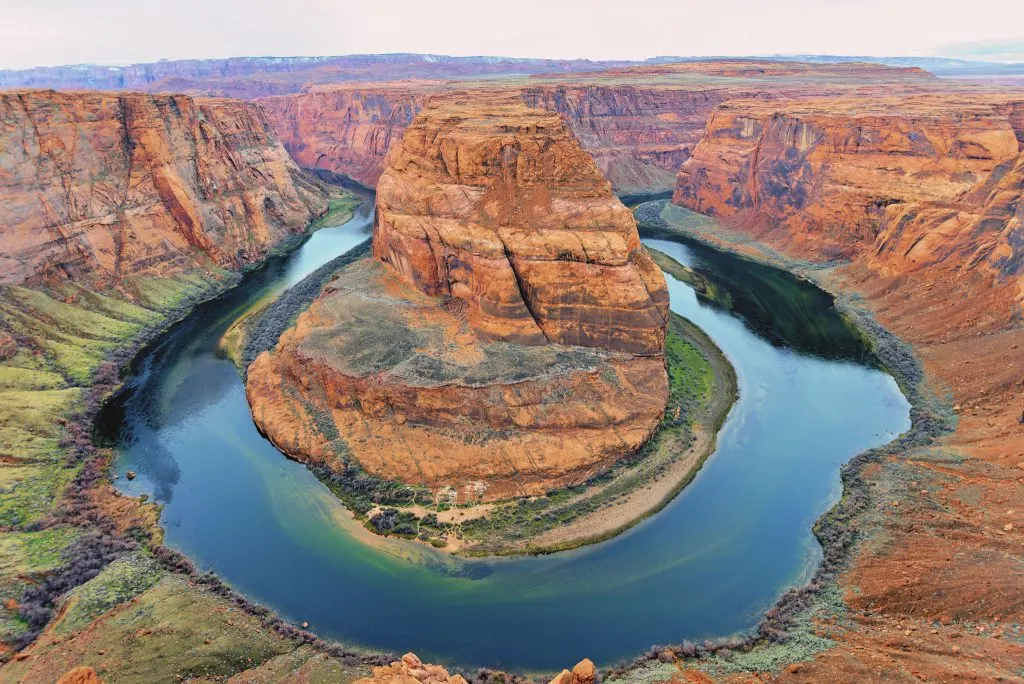 Head out of Grand Canyon National Park through the east entrance toward Cameron. Make sure to get an early start to make the most of your day.
If you haven't passed Cameron by 8 AM, stop by the Historic Cameron Trading Post for a quick breakfast of prickly pear French toast or authentic Navajo fry bread. The gift shop is also a great place to buy some handmade Native American jewelry, baskets, pottery, and more.
The Insta-famous Horseshoe Bend is the next stop on your Arizona road trip. A short ¾-mile hike leads to a breathtaking overlook. Your whole visit here, including the hike and enjoying the view, shouldn't take more than an hour.
Beware-No guard rail protects visitors from the 1,000 ft drop into the Colorado River so hold little hands tightly.
Finally, arrive in Page, Arizona. Page is a great place to stay for a few days. Lake Powell and the Glen Canyon National Recreation area offer so many opportunities for exploration.
If time constraints limit you to just the day, top priorities should be a slot canyon, such as Antelope Canyon or Canyon X, and kayaking or paddle boarding on Lake Powell. If you fall in love with Lake Powell like we did, be sure to check out our article on houseboating on Lake Powell so can plan your own trip.
Find lodging in Page, Arizona. As a Booking.com affiliate, Trekaroo is proud to offer our readers the lowest rates guaranteed.
Arizona Road Trip Day 6: Page to Holbrook via Monument Valley & Canyon de Chelly
Once again, you will want to get an early start because this is your busiest driving day on your Arizona road trip. Head east from Page, winding through the northern end of the Navajo Nation. Amazing rock formations line the highway, but the main rock attractions stand in Monument Valley Tribal Park.
To experience Monument Valley, drive the 17-mile Tribal Loop Trail past the most popular sites in the park. Then get up close to the massive formations by hiking the Wildcat Trail, the only hike available without a guide. Total time for the drive and stops should take 2-4 hours.
After recreating the iconic Monument Valley Forrest Gump scene, head back the way you came, down to Kayenta. Stop here for a quick potty break (and maybe see the Code Talkers exhibit in Burger King) before continuing an hour and a half to Canyon de Chelly.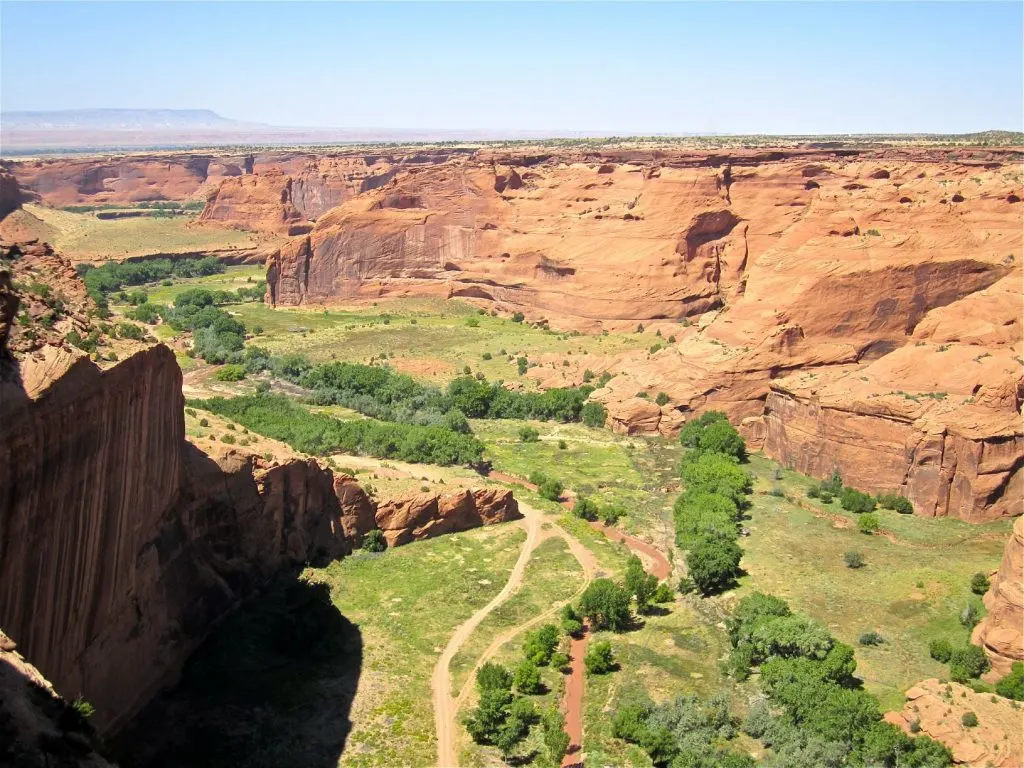 Canyon de Chelly National Monument consists of the south and north rim drives, and the canyon. The canyon can only be accessed with a guide. Since time is limited on this road trip, just drive the two-hour South Rim Drive, stopping at all seven scenic overlooks.
If you happened to have made good time, or didn't stay too long at Monument Valley, you might be able to squeeze in a hike or guided tour. The White House Overlook trail on the South Rim takes about two hours and leads to ancient pueblo ruins. This is the only unguided hike available.
From Canyon de Chelly, drive just under two hours to Holbrook for the night. This cute Route 66 town boasts the Wigwam Resort, where guests stay in concrete teepees. A perfect place to stay on an iconic Arizona road trip.
Arizona Road Trip Day 7: Petrified Forest to Benson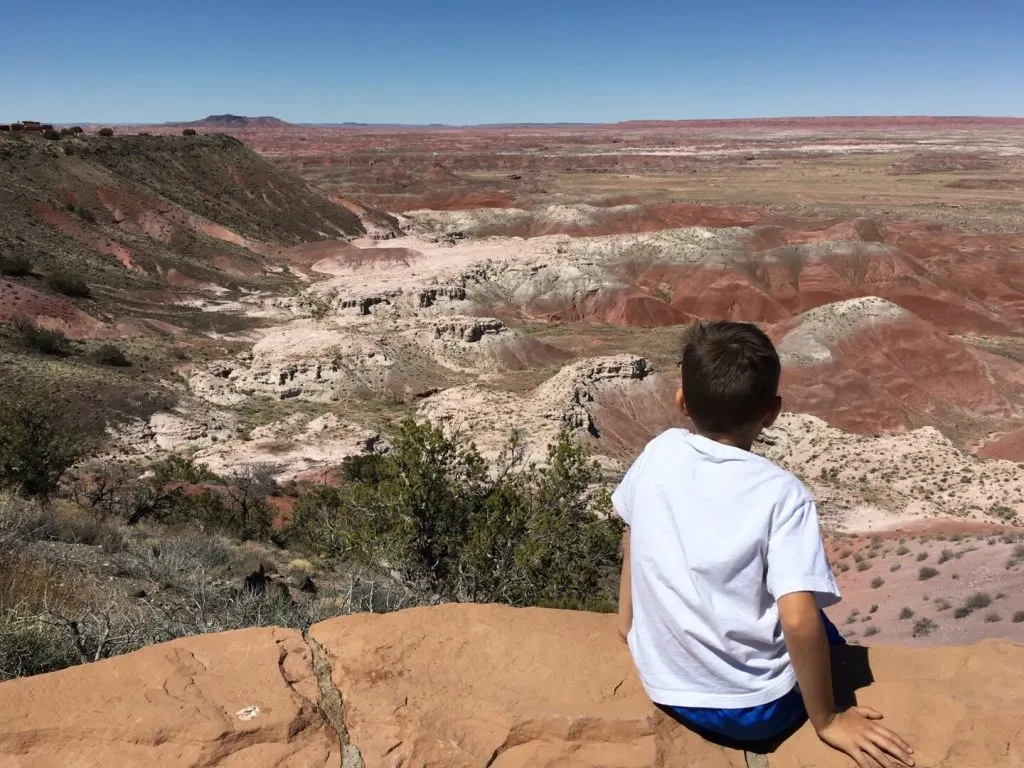 Start your day by driving east on US-180 toward the south end of Petrified Forest National Park. Rainbow-hued petrified wood fills the southern half of the park, while the north end displays Painted Desert vistas.
Can't miss hikes include Giant Log and Crystal Forest Trails, Blue Mesa Road Loop, and the Painted Desert Rim Trail.
A scenic drive from one end of the park to the other, including a few short stops for trails and overlooks, takes about an hour. Exit the park on the north end, continuing west on I-40 toward Holbrook.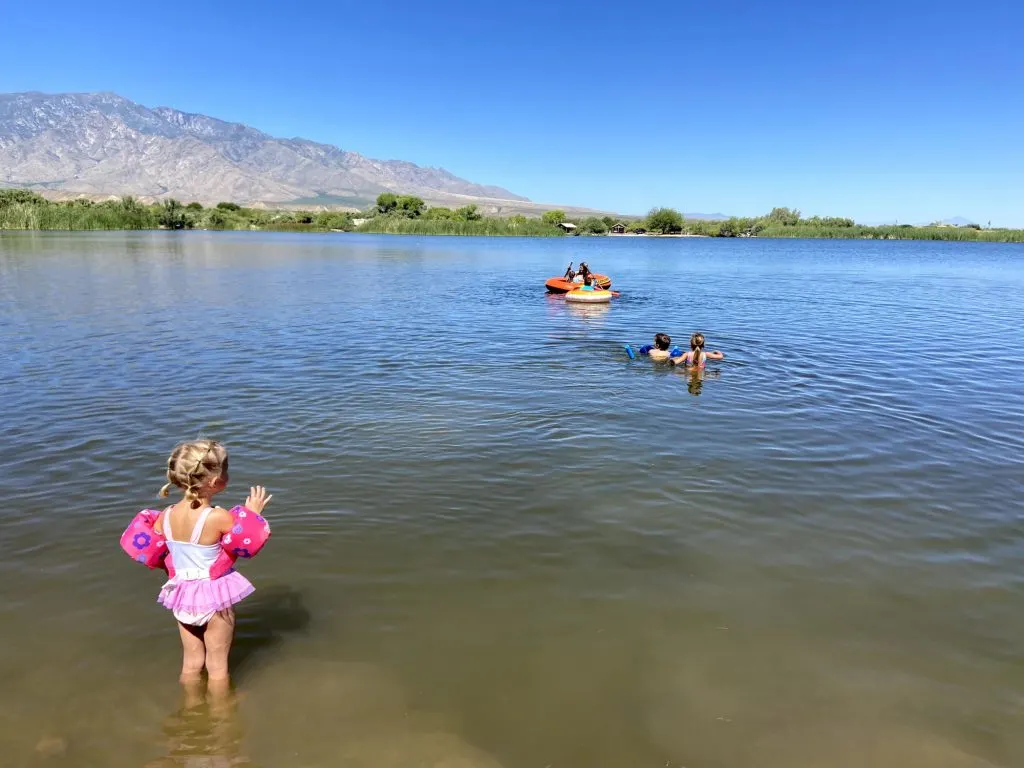 Today has the longest stretch of driving on the Arizona road trip; five hours from Holbrook to Benson. Along the way there are some beautiful, little gems to see if you want to split it up.
In the summer, rent a kayak and get out on the lake at Fool Hollow State Park. If the seasonal rentals aren't available, you can still enjoy the hiking trails around the lakes perimeter.
Another state park along your route, Roper Lake State Park, provides the perfect opportunity for a short swim. And if you happen to be driving in the fall, stop by Apple Annie's in Willcox to pick your own produce or just buy some fresh from the farm.
After this long day of driving, you'll be ready for a good night's rest. Stay the night in Benson so you'll be fresh for the next day's adventures nearby.
Keep exploring Arizona with our article 10 Best State Parks in Arizona.
Arizona Road Trip Day 8: Benson & Tombstone to Tucson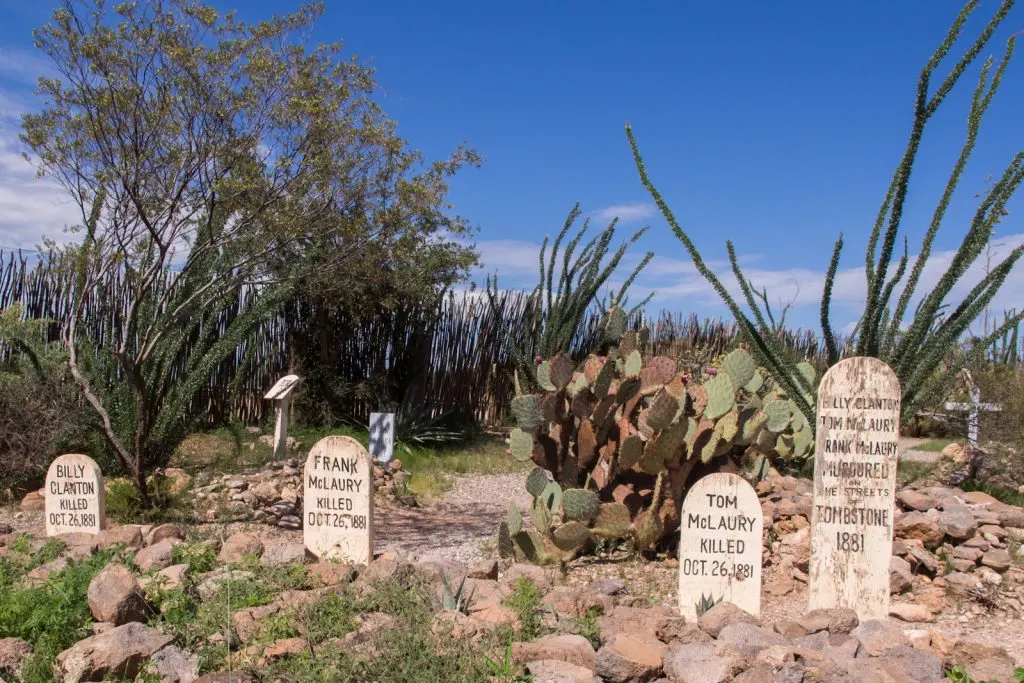 Take a little time to check out the small town of Benson before heading out to Kartchner Caverns State Park. Book a tour of the cave to see the impressive formations growing inside.
While you are waiting for your tour to start, check out the visitor center, which explains the discovery of the cave, along with the history of the area. And if the weather cooperates, hike the trails in the park that showcase a variety of desert vegetation.
Then head south to the town too tough to die: Tombstone, Arizona. Walking these dusty streets transports visitors back to when the west was wild-especially during a gunfight reenactment. Make sure to visit Tombstone Courthouse State Park to see the antiques and artifacts on display.
When you are ready to get back to modern times, say goodbye to the wild west and make the hour drive to Tucson.
Love ghost towns? Keep exploring with our article 10 Best Ghost Towns in Arizona.
Arizona Road Trip Day 9: Tucson and Saguaro National Park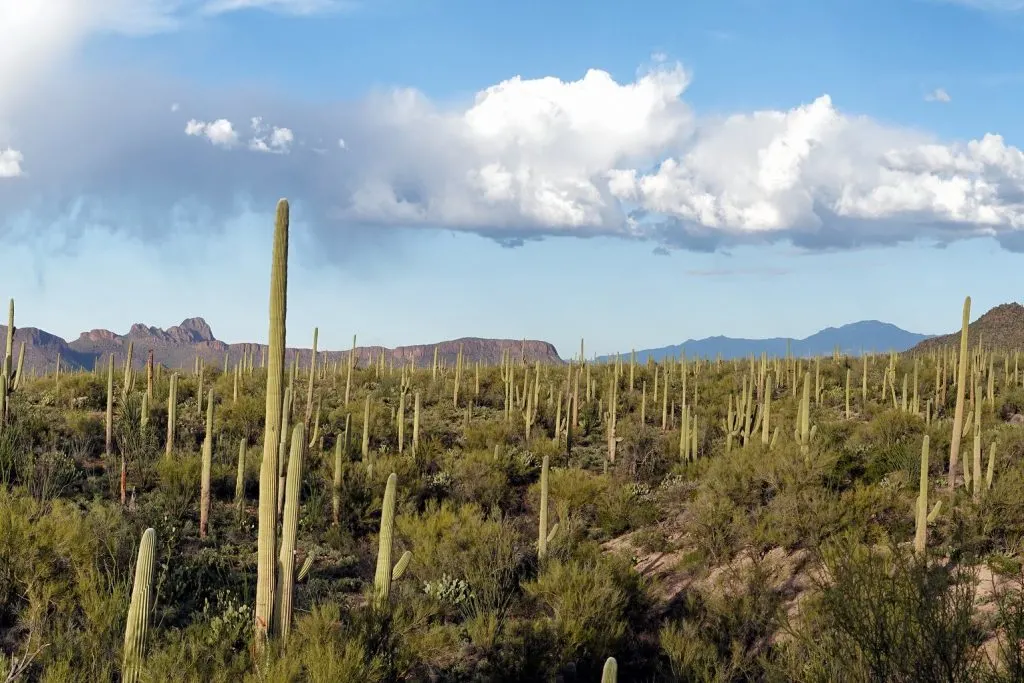 Tucson offers as much variety in activities as Phoenix, with one big difference: Saguaro National Park. Since this is a road trip, take the Bajada Loop Drive to see the densely populated cacti of the Tucson Mountain District (west side), stopping to do a quick hike up signal hill to see petroglyphs (ancient rock art).
To explore the Rincon Mountain District (east side) cruise along Cactus Forest Drive, making sure to enjoy the scenic Sonoran desert viewpoints and snap lots of pictures.
In addition to the national park, while in Tucson you could also visit Catalina State Park. Here you'll find towering saguaros, hikes with seasonal stream crossings, and beautiful springtime wildflowers. This park also houses several unique geocaches worth searching for.
One more must see attraction in Tucson is the Arizona-Sonora Desert Museum. Get up close to the desert animals that have been hiding just out of sight as you explored the parks. More than just a zoo, here you will learn all about the region through interactive exhibits and garden trails.
Explore more of the city with our article, Things to do in Tucson with Kids.
Arizona Road Trip Day 10: Tucson to Phoenix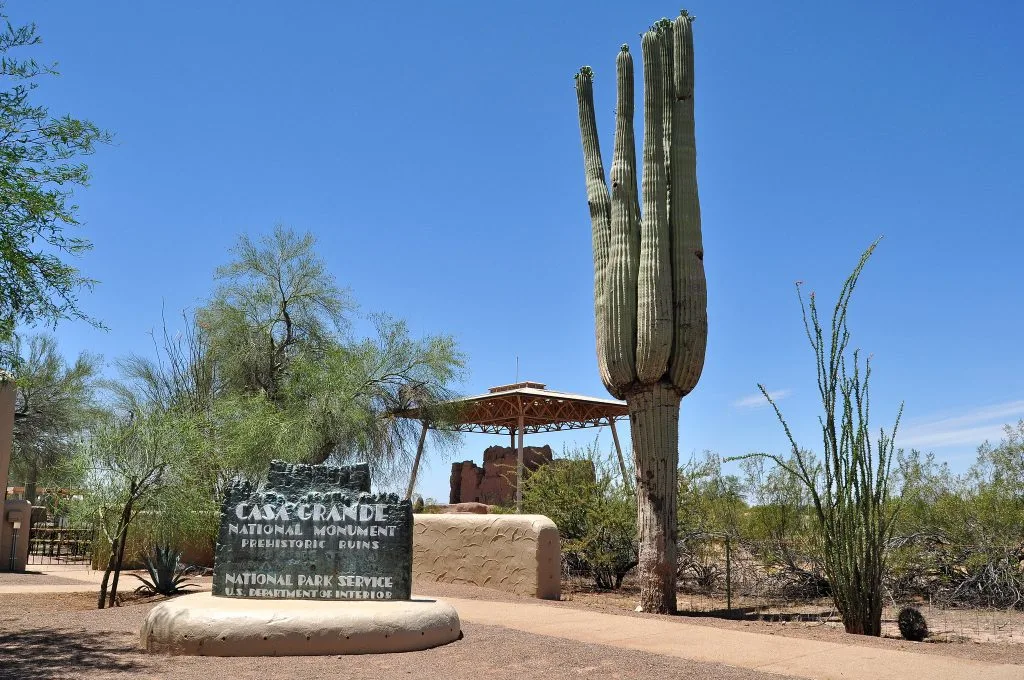 Traveling on I-10 on your way back to Phoenix you'll pass Picacho Peak State Park. The Children's Cave Trail here provides a quick view of the park, with a fun little cave to explore at the end. For more of a challenge, try the daunting Hunter Trail to the top of the peak, but beware, steel cables up steep surfaces means this trail is not family-friendly.
From Picacho Peak, veer north to visit Casa Grande National Monument. This park preserves the remains of Hohokam structures built around 700 years ago. The ruins are impressive but fairly small, and including the visitor center, this stop shouldn't last more than an hour.
Once you leave Casa Grande, drive the last hour of your Arizona Road Trip to Phoenix. Here you can take some time to experience anything you missed at the beginning of your trip, or just rest up before heading home.